Instant Pot Sweet Potatoes gives you perfect cooked, fluffy and creamy  potatoes every time. Mash with cube of butter, load them up with your favorite fillings for a healthy meal or simply serve it up as side dish. Either way, it's PERFECT!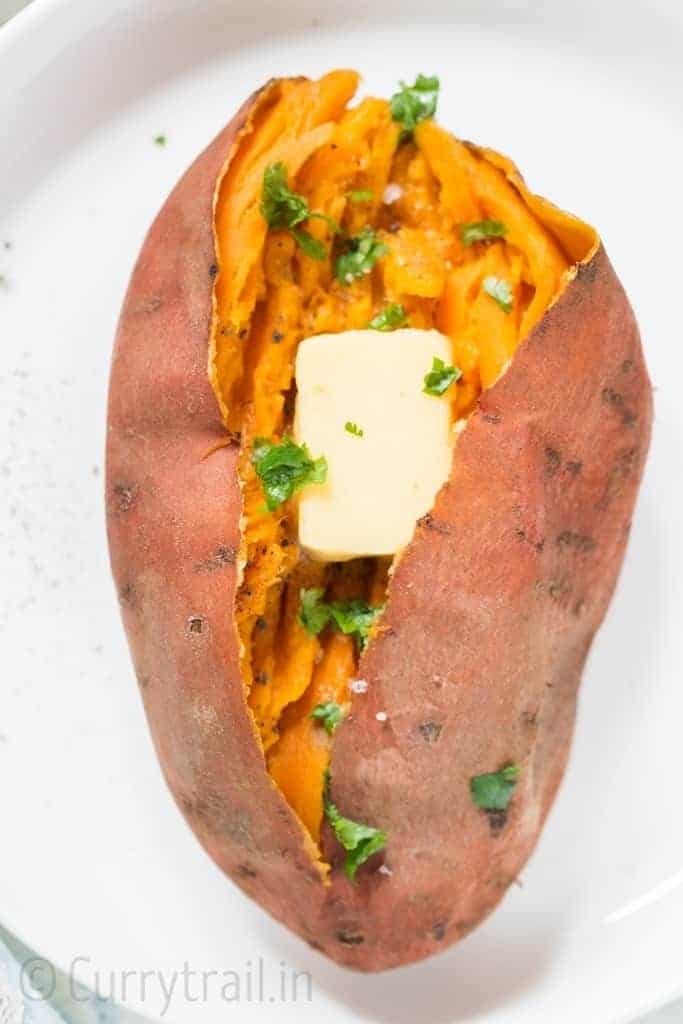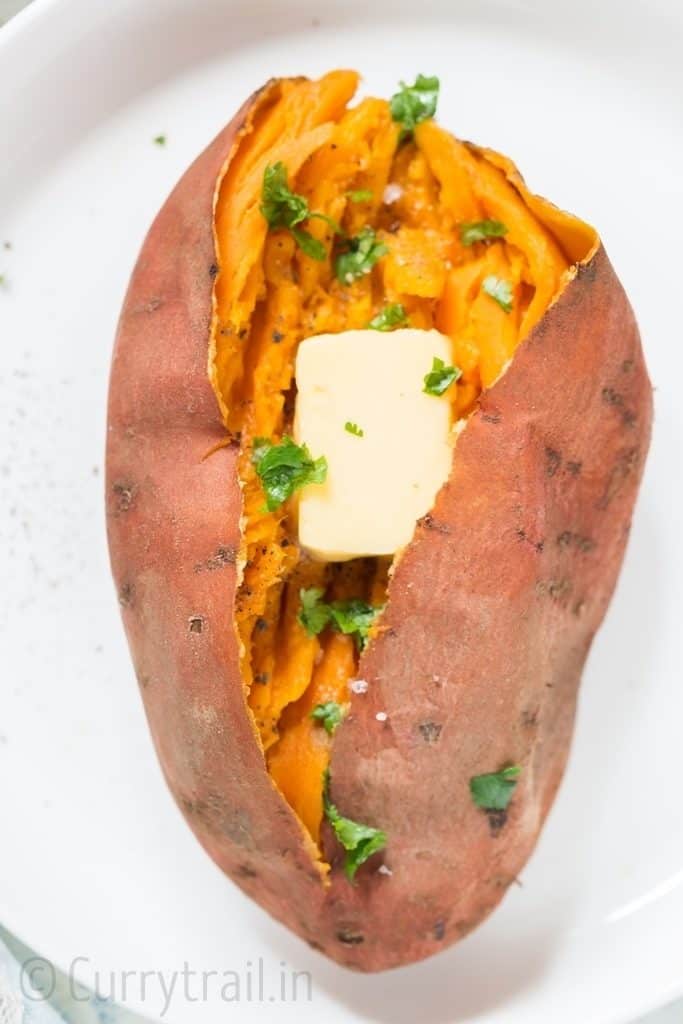 Whip up perfectly cooked instant pot sweet potatoes in 20 minutes. Just cook whole sweet potatoes in pressure cooker and serve, easy peasy. This recipe couldn't be simpler! So go grab your instant, we are about to make favorite fall food recipe.
Mash sweet potato and serve as side dish for thanksgiving, or make sweet potato casserole.  A darn healthy side dish isn't it! Simply toss potatoes in pot and wait for the magic to unfold.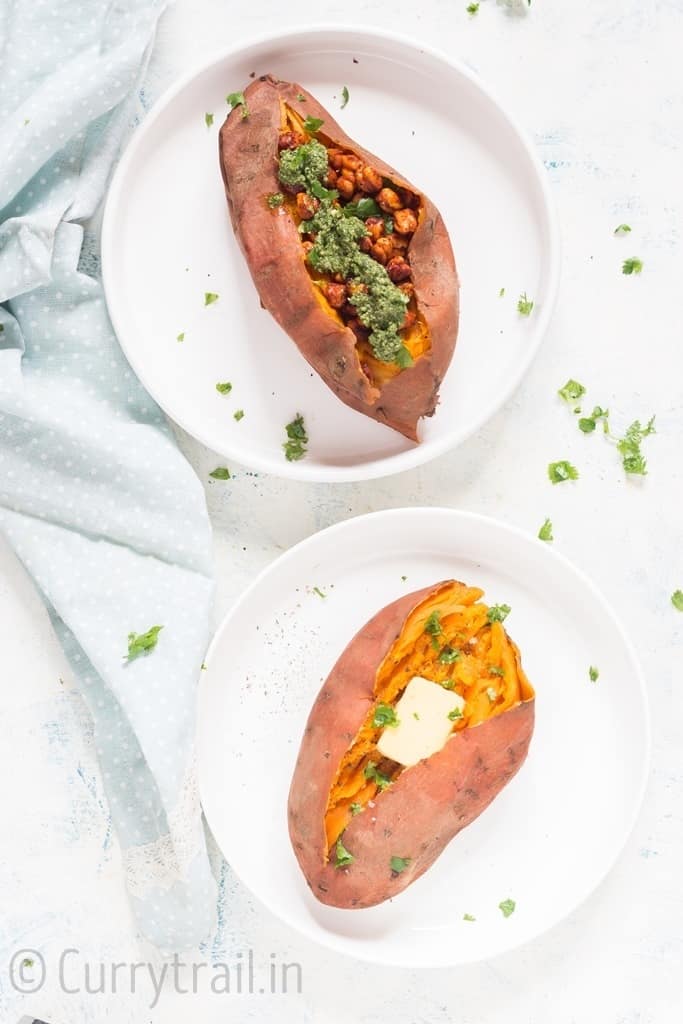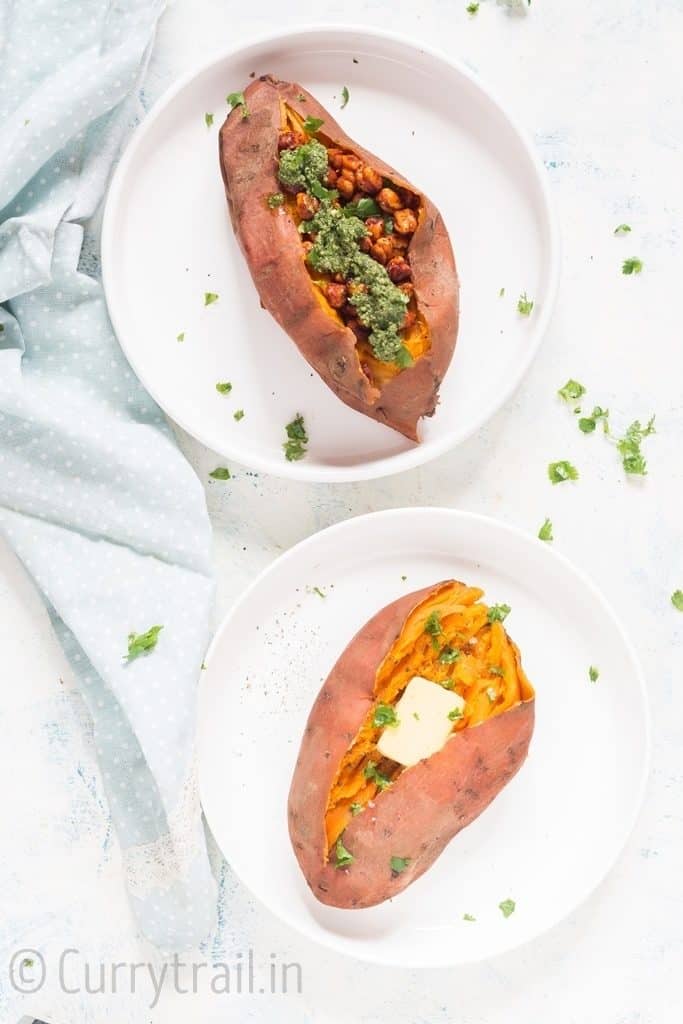 Many of my blog visitors jumped on to me saying "you don't have to make everything in instant pot. Definitely not those recipes which can easily be made on stove top!" To them I reply saying, yes of course certain recipes can be conveniently made on stove top.
Why shouldn't I be using instant pot for those recipes when I know the fact that my cooking time is going to reduce to almost half in instant pot.
The best thing about instant pot unlike other traditional pressure cooker, you can set it and walk away to finish my other chores! That to me is convenient cooking. So why not!
When life gets busy, it's time to grab instant pot, to make quick and easy meals! It's time to make sweet potato and load with your favorite stuffing.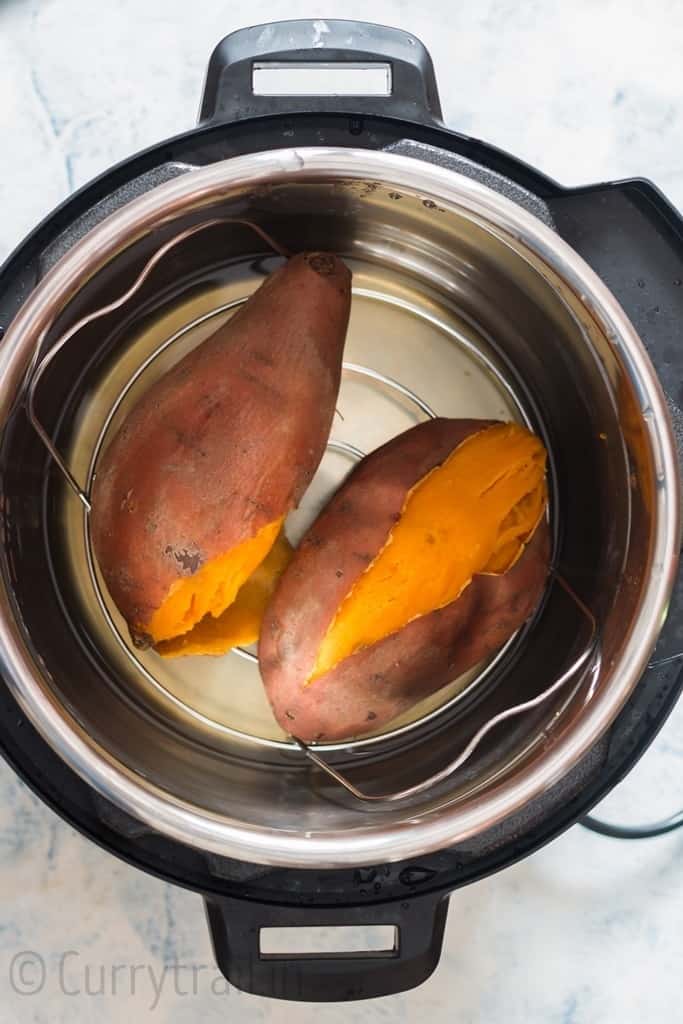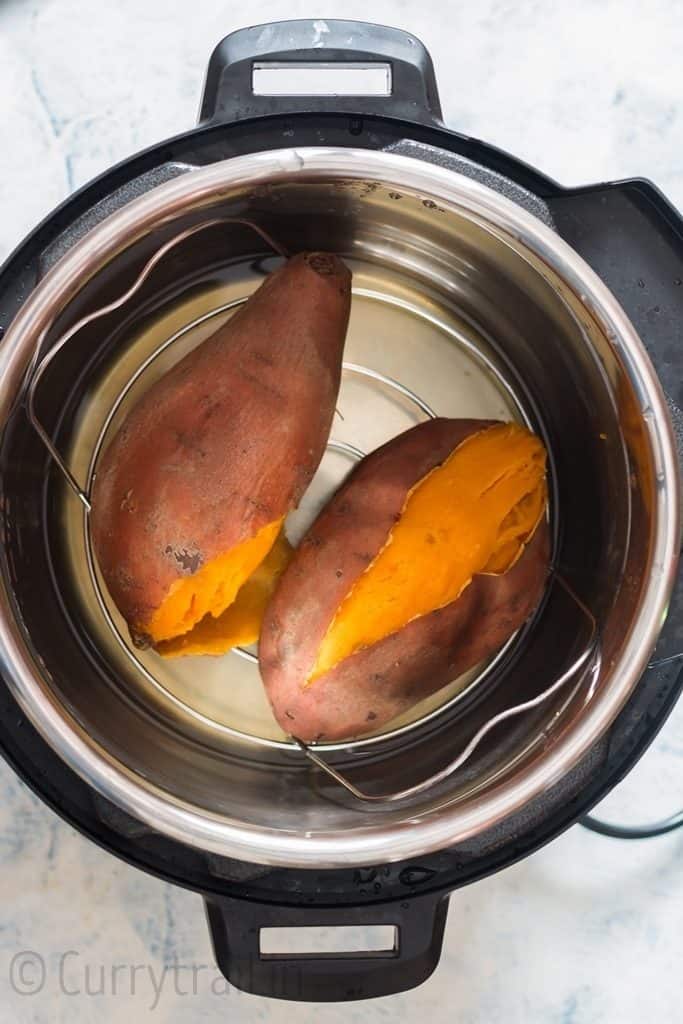 Sweet potato instant pot not just cooks sweet potatoes perfect fluffy and creamy, they cook much faster. If you tired of soggy sweet potatoes, cooking sweet potato instant pot is your solution to the problem. Depending on the size of sweet potatoes you use, you'll need somewhere between 11 minutes to 22 minutes.
Smaller thinner potatoes need lesser time, around 8-10 minutes.
Medium sized potatoes will need approximately 15-16 minutes.
Large sized potatoes I would set timer to 17-20 minutes.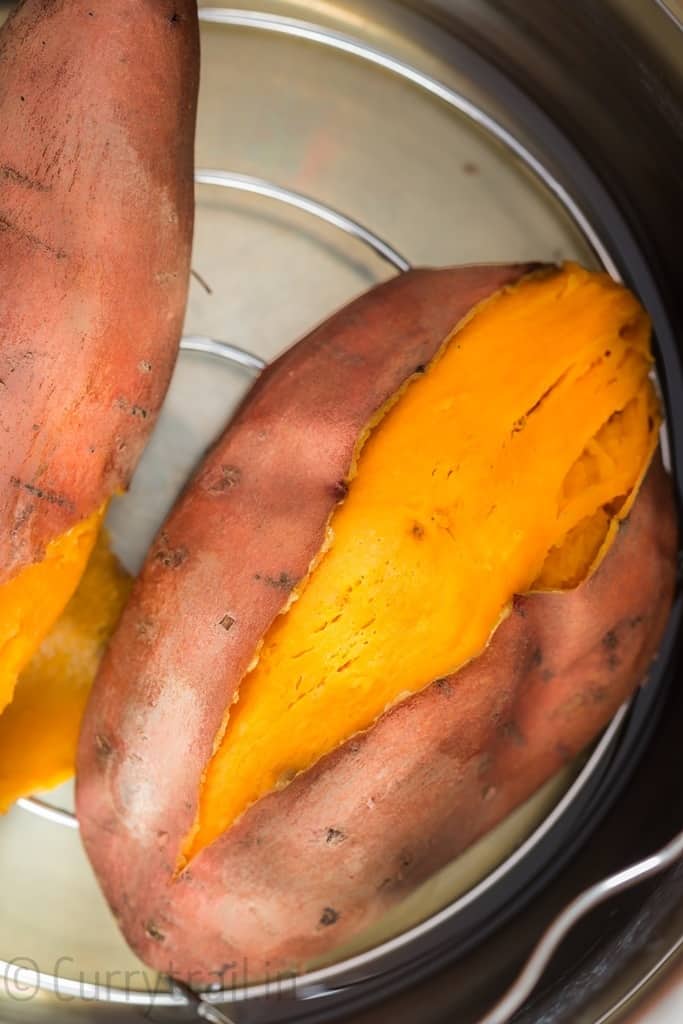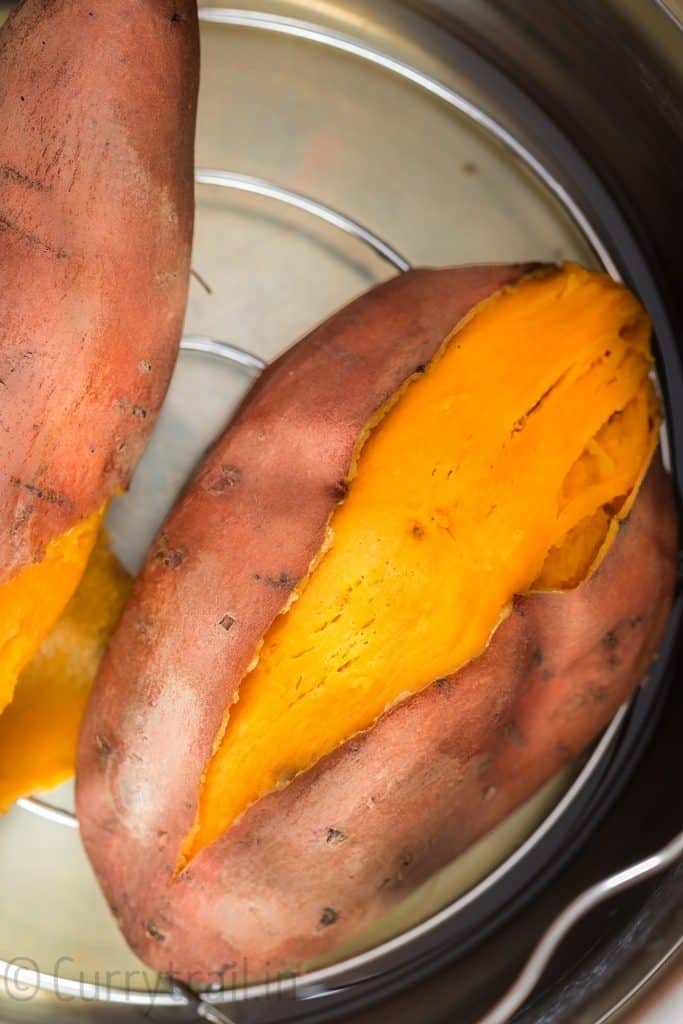 What You Need For This Recipe
Sweet potatoes – scrubbed and cleaned well.
Instant pot – we used 6 Qt Duo Plus Instant Pot.
Trivet – a trivet ring or steamer basket to place sweet potatoes.
Water – to help steam sweet potatoes.
Wooden Spoon with long handle – to help carefully remove steamed sweet potatoes from the pot.
Your favorite stuffing – you can eat mashed sweet potatoes as it is with bit of butter with salt and pepper or you can stuff with your favorite stuffing. We are thinking BBQ chicken (shredded), roasted chickpeas with pesto, or simply maple syrup, cinnamon powder, ginger powder and pepper.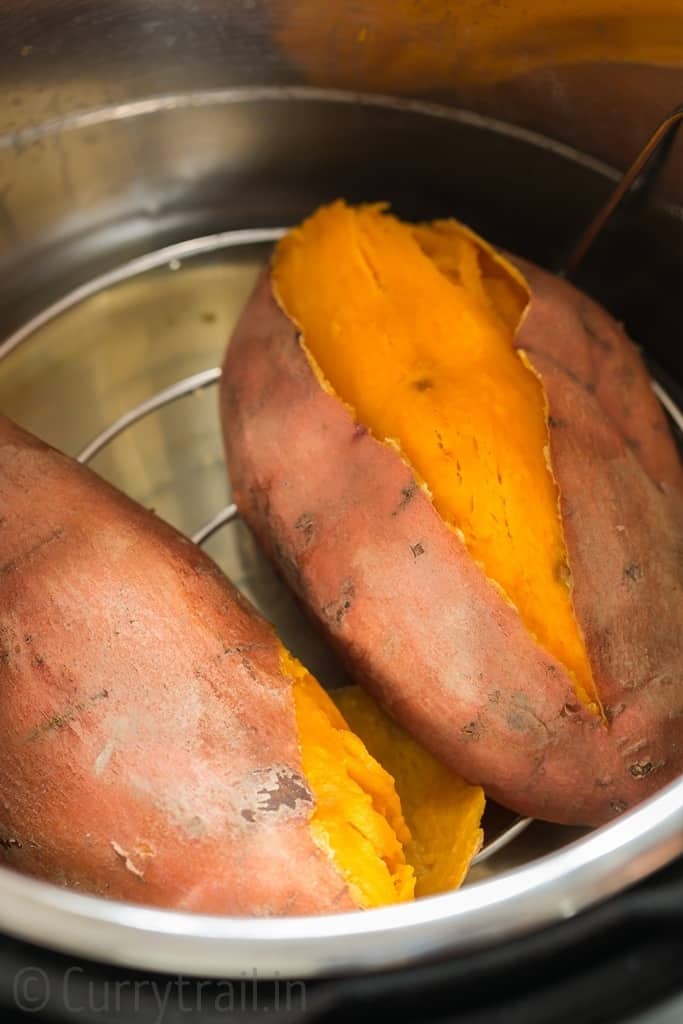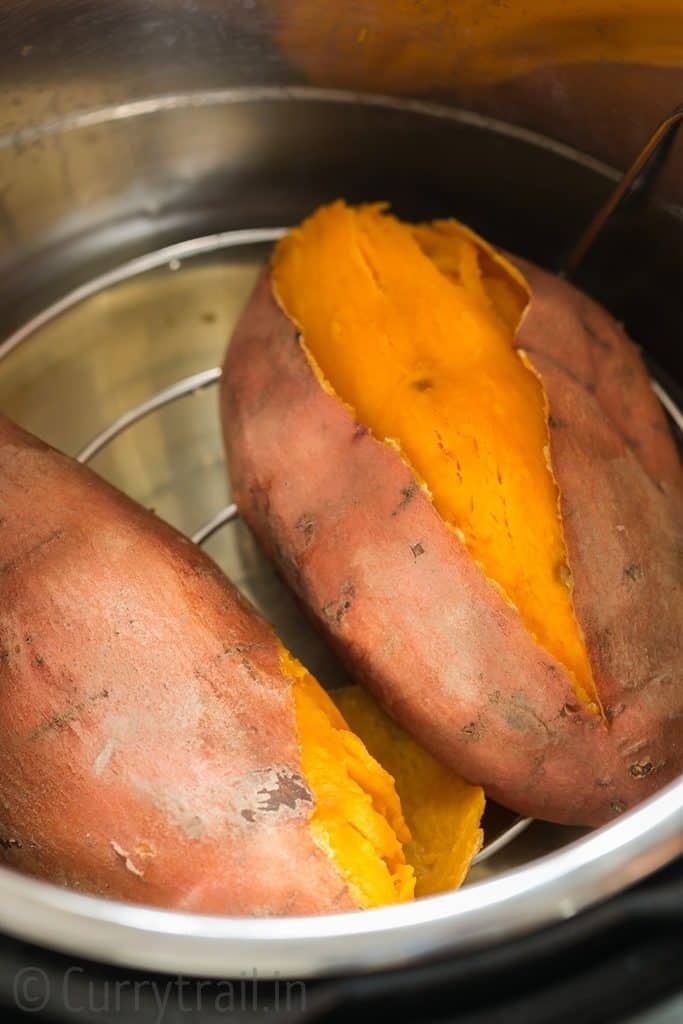 How to Use Sweet Potato Instant Pot
Use this method to cook sweet potato instant pot to make purees, mashed potatoes, sweet potato casserole or whip up creamy sweet potato soup with your favorite spices. Or use these mashes sweet potato for meal prep, like  recipes breakfast burritos, sweet potato hummus, that goes in meal prep boxes.
If you want to make mashed potatoes, cook sweet potato in instant pot following the recipe. Peel skin off ,mash.Viola!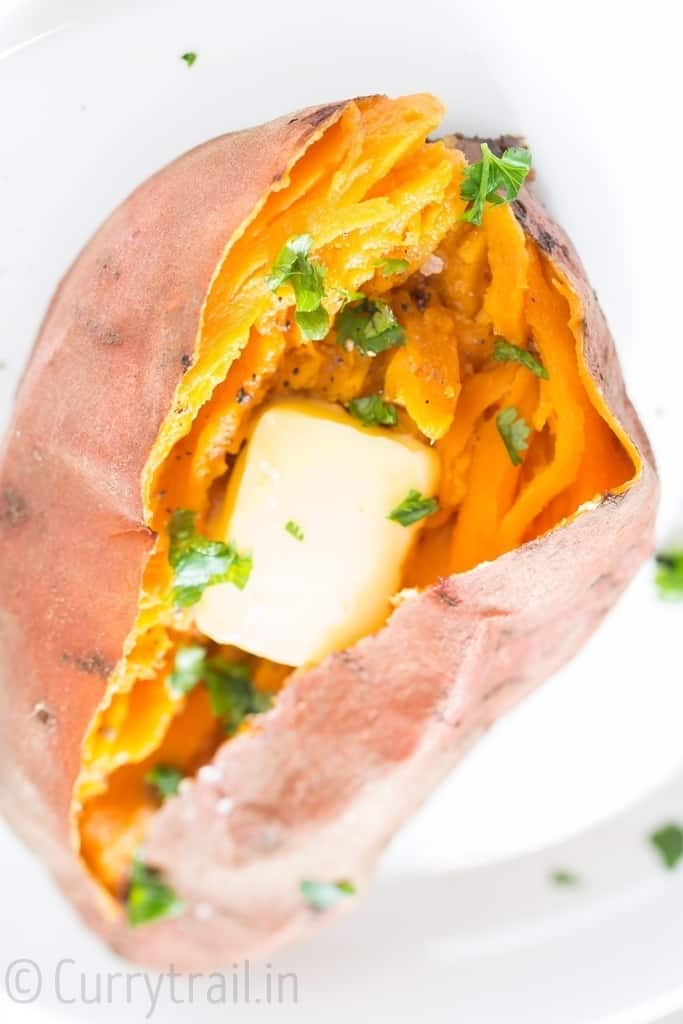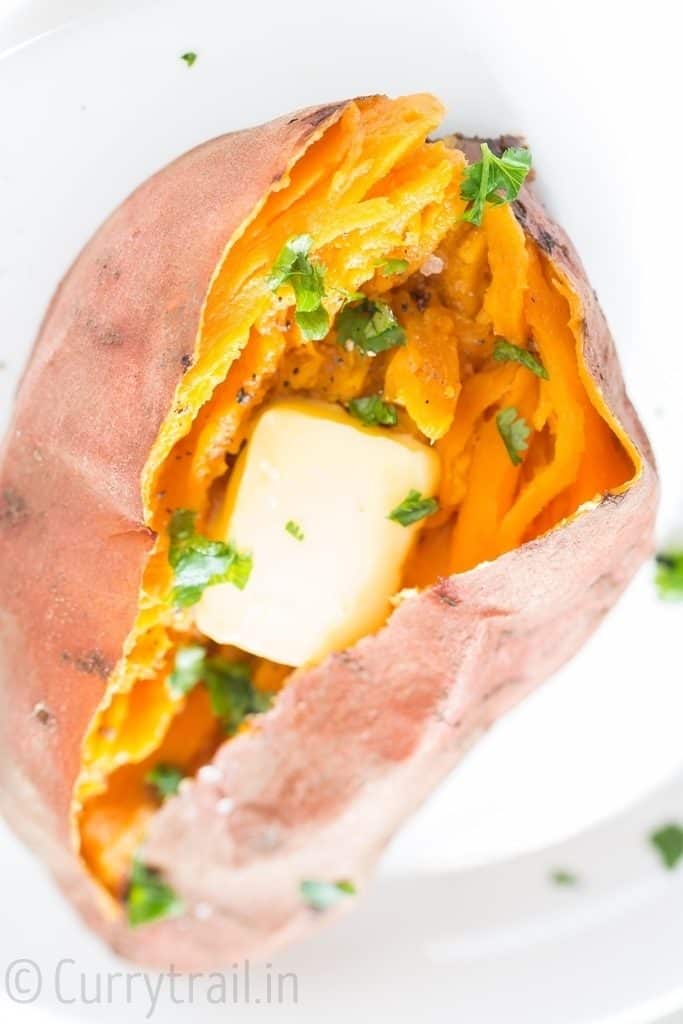 How to Cook Instant Pot Sweet Potatoes 
Cooking sweet potatoes in instant pot couldn't be any simpler than this.
First scrub sweet potatoes and clean it with water.
Then go grab your instant pot, pour a cup of water into the pot.
Place the steamer trivet inside the pot. No need to wrap these potatoes inside aluminium foil. One less step!
Place sweet potatoes on the trivet.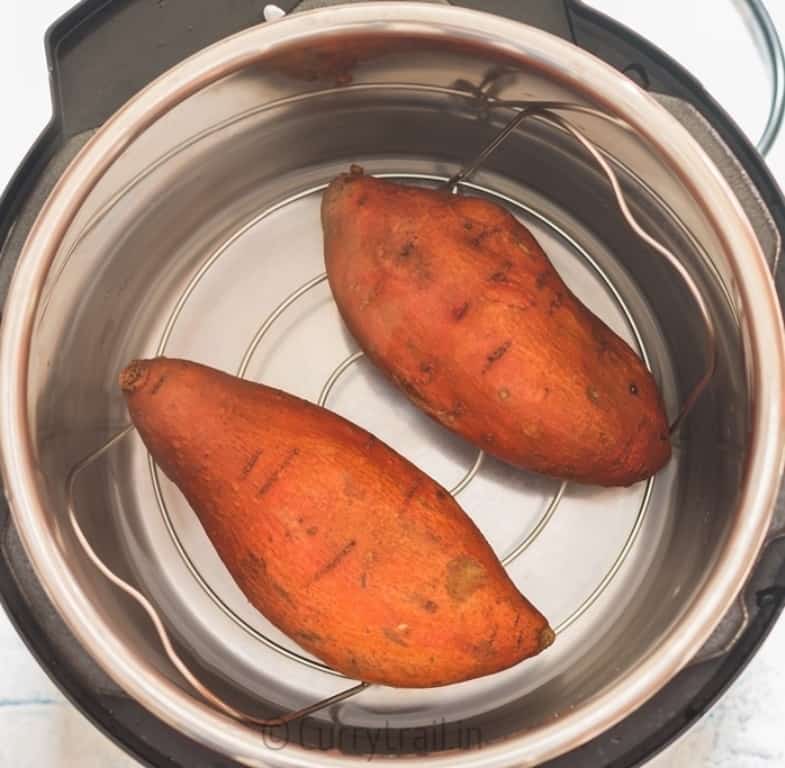 Close lid ensuring pressure valve in on the SEALING position.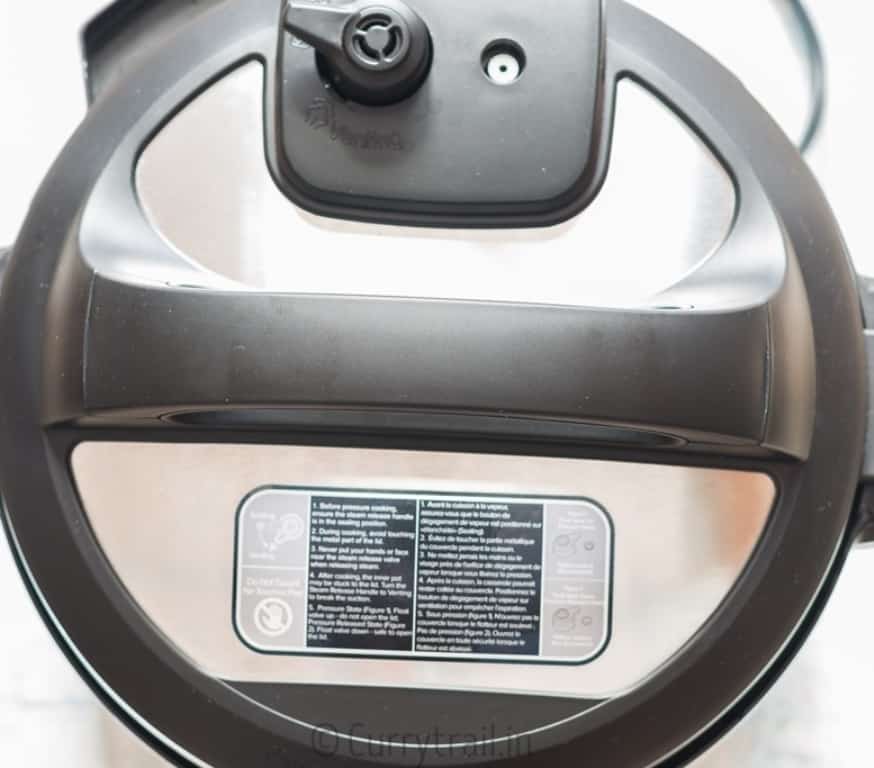 Select HIGH PRESSURE setting. Set timer to 12 minutes to 20 minutes depending on the size of the sweet potatoes you use.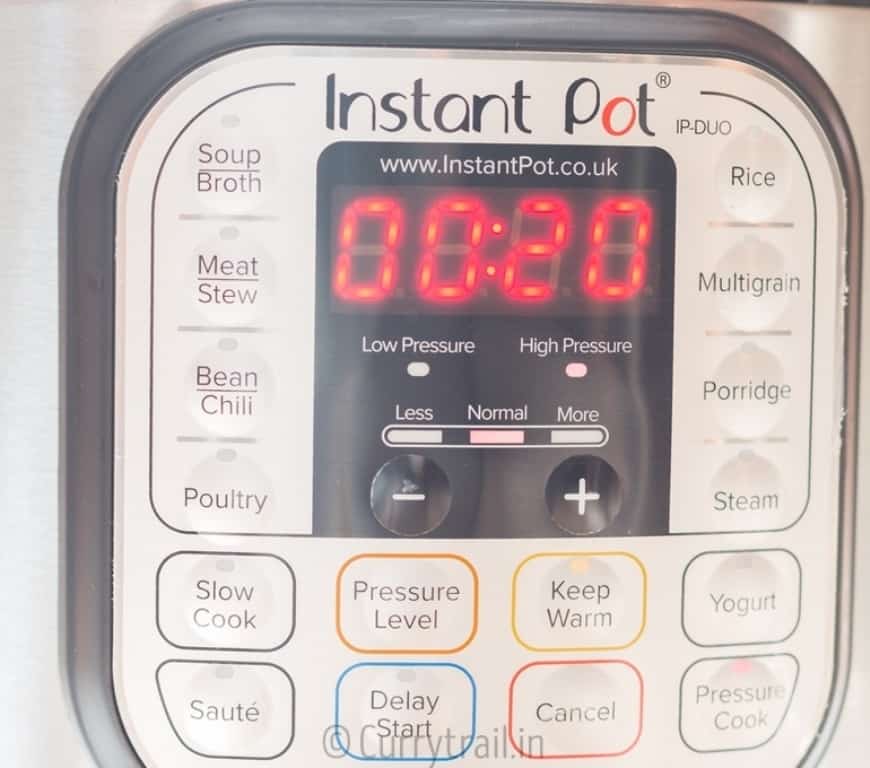 Wait for 5 minutes for NATURAL release. Then turn valve to VENTING position for QUICK release. Carefully unlock and remove the lid from the instant pot.
Gently remove sweet potatoes from the pot onto a plate.
Mash potato.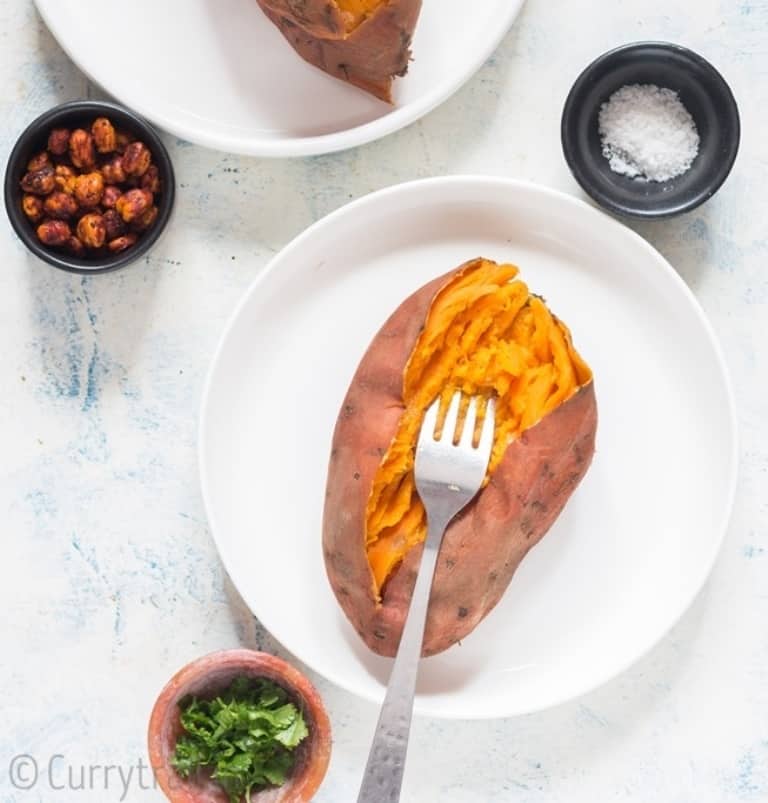 Stuff with your favorite stuffing, or eat them with a bit of salt, pepper and butter. Below is Spicy Roasted Chickpeas stuffing with Basil Walnut Pesto drizzle on top.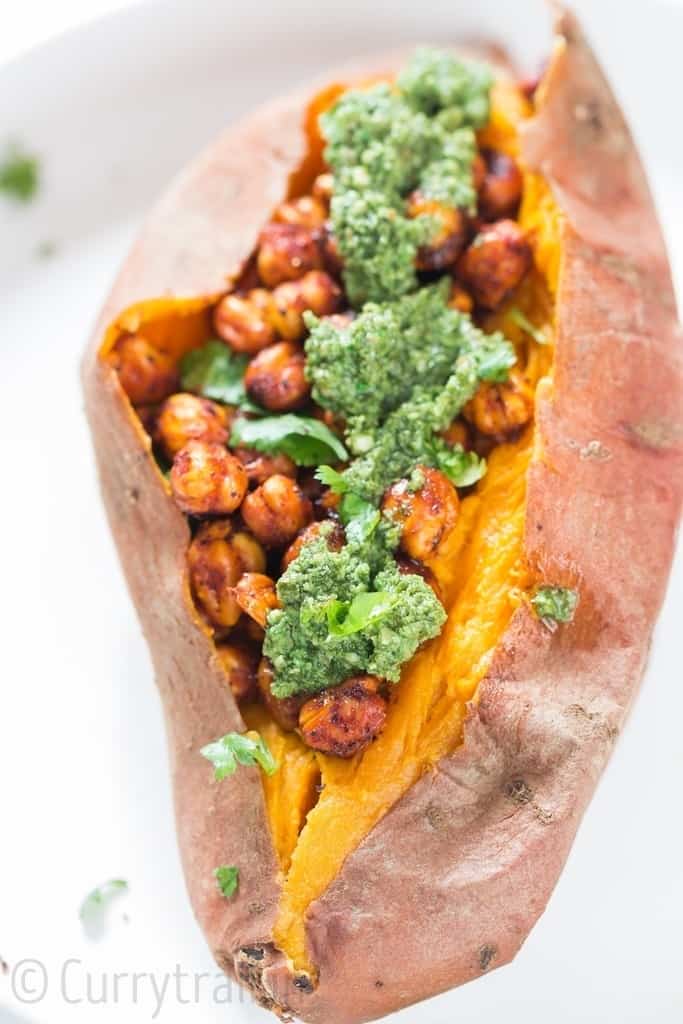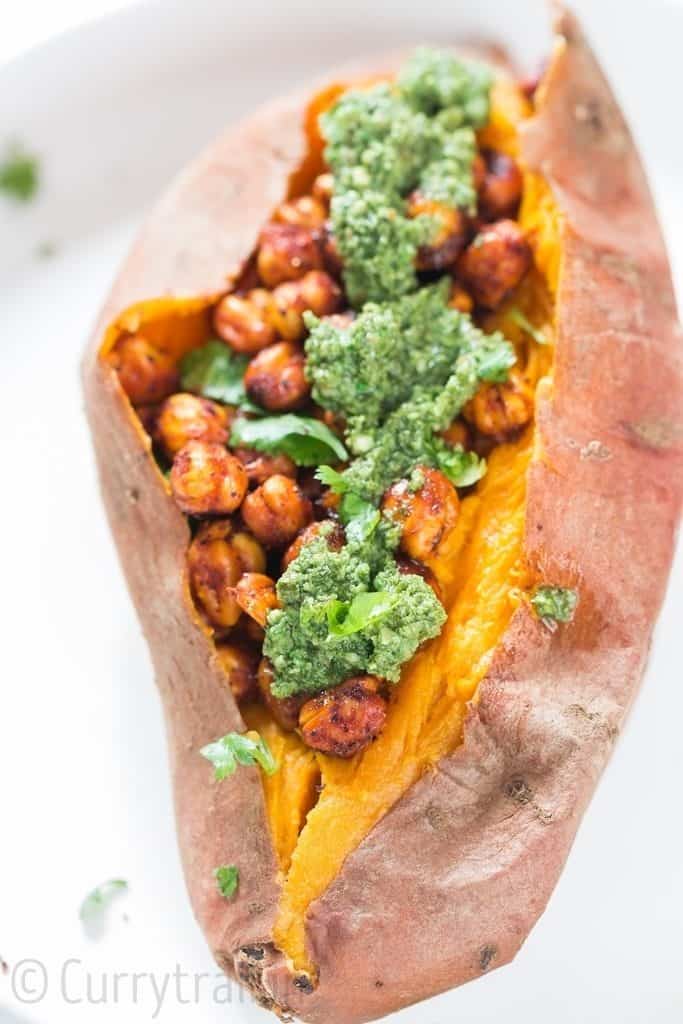 Serving Suggestions 
Serve sweet potatoes as it is or follow one of the below suggestions –
Butter + Salt and pepper
Butter + Maple Syrup
Butter + Cinnamon sugar + Nutmeg Powder + Salt
Butter + Sauteed Cinnamon Apples
Buffalo chicken + Ranch Dressing
Black bean chili + Chipotle Ranch
BBQ pulled pork + Jalapenos + Cilantro
Roasted Turkey + Cranberries + Walnut Honey Drizzle on top
Mexican Quinoa + Chipotle Sauce
Spicy Roasted Chickpeas + Pesto + Salt n Pepper + Cilantro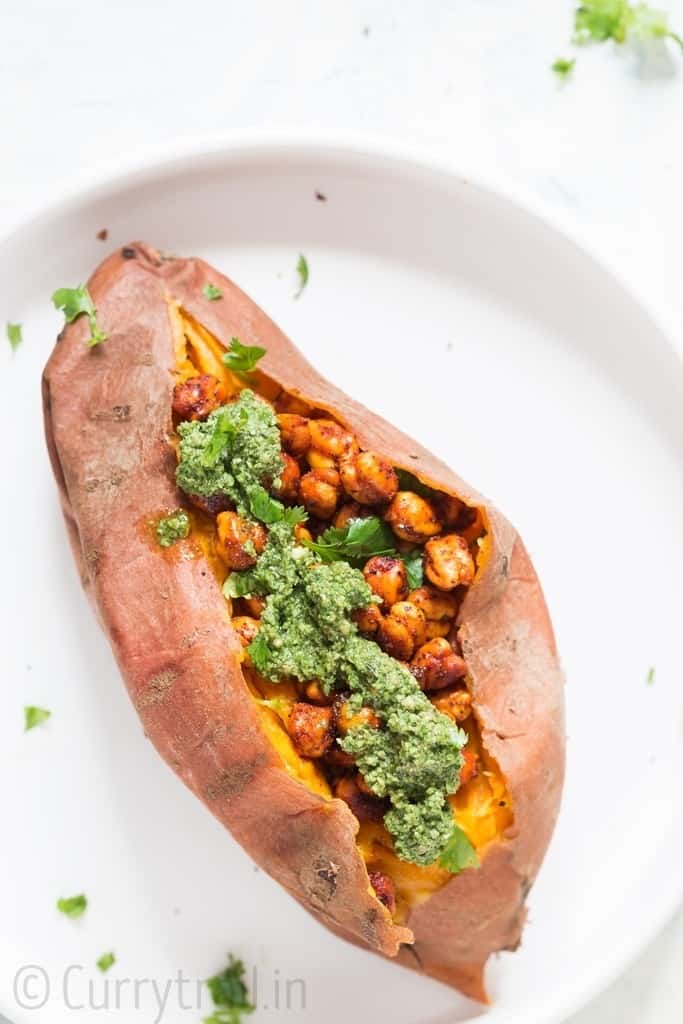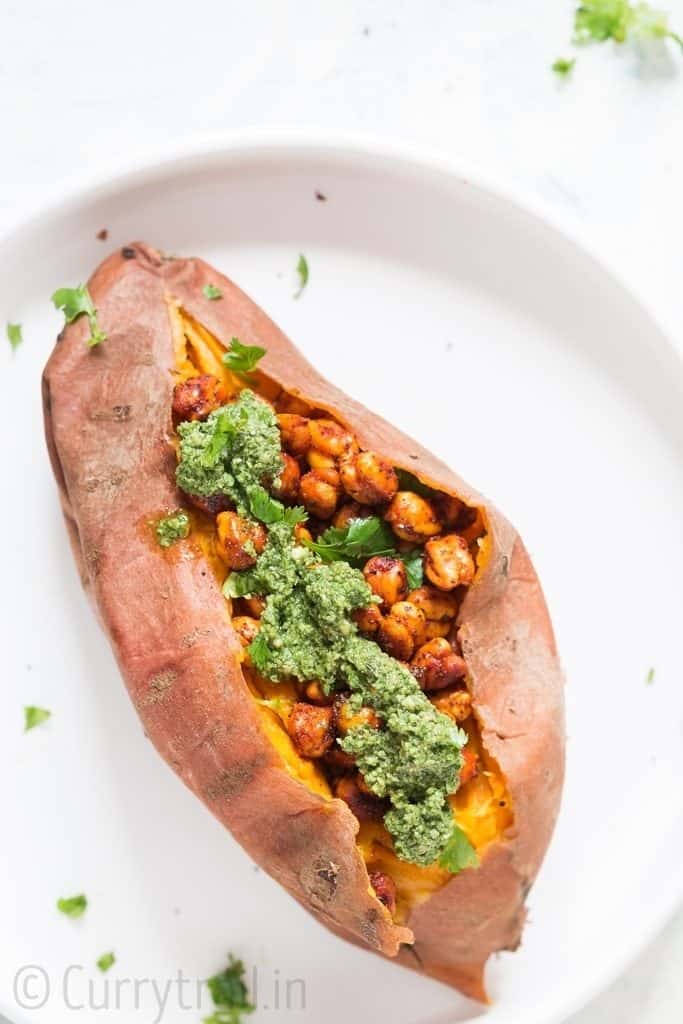 CHECK OUT OUR OTHER FAVORITE INSTANT POT RECIPE COLLECTIONS –
INSTANT POT POPCORN +3 WAYS TO FLAVOR IT
INSTANT POT CHICKEN NOODLES SOUP
PRESSURE COOKER WHOLE CHICKEN – ROTISSERIE STYLE
INSTANT POT GENERAL TSO CHICKEN
HOW TO BOIL PEANUTS IN INSTANT POT
INSTANT POT CHICKEN PARMESAN MEATBALLS
INSTANT POT BUTTERNUT SQUASH SOUP
SPICY CAJUN INSTANT POT CHICKEN AND RICE
CREAMY INSTANT POT CHICKEN MARSALA
INSTANT POT SPINACH AND CHICKEN CURRY
CREAMY INSTANT POT MAC N CHEESE
HOW TO COOK RICE IN INSTANT POT
Don't forget to Subscribe to CurryTrail  Recipes below to get our newest recipes delivered straight to your inbox.
LOVE THIS RECIPE? KEEP IN TOUCH AND DON'T MISS OUT ON ANY OF CURRYTRAIL RECIPES! FOLLOW ME ON INSTAGRAM, PINTEREST, FACEBOOK, TWITTER.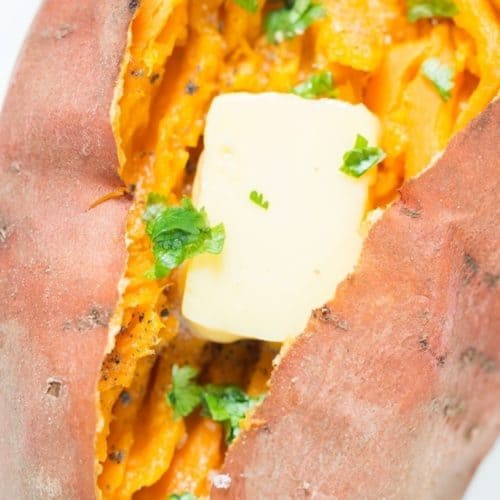 Perfect and Creamy Instant Pot Sweet Potato
Perfect every time, fluffy and creamy Instant pot sweet potatoes. Perfect start to fall with these sweet potatoes in instant pot that can be served so many ways.
Ingredients
2 large sweet potatoes
1 cup water
To serve
Salt and pepper for seasoning
1 tablespoon butter cubes
Parsley for garnish
Or
Spicy roasted chickpeas
Walnut pesto
Parsley for garnish
Instructions
Prep sweet potatoes -
Scrub potatoes, and wash well under running tap. Using a fork prick few holes all over sweet potatoes to ensure steam is evenly distributed and potatoes don't explode.
Instant pot settings -
Pour water. Place steamer trivet inside the pot. Arrange potatoes along with skin on the trivet. Close lid, ensure pressure knob is in SEALING position. Select PRESSURE COOK setting on the pot and adjust timer to 20 minutes. Please note time setting depends on the size of potatoes that you use.

Once cooking time is complete, NATURAL RELEASE for 5 minutes then MANUAL RELEASE by turning pressure valve to VENTING position.

Open pot once pressure valve drops down.

In my case one of the potatoes blistered perfectly in the middle and for other one there was a small opening at one end.

If potato skins don't open up, carefully tear open the skin of the potatoes in the middle leaving the ends intact. Using a fork mask the potato well.
To serve -
Sprinkle rock salt, pepper over the mashed potato. Place a cube of butter sprinkle with chopped parsley or cilantro. Warmth inside potatoes will melt the butter. Mix it up and eat it just as it is with a spoon.

For extra texture, flavor and taste- to mashed sweet potato spoon in spicy roasted chickpeas and top with walnut pesto. Serve hot sprinkled with fresh parsley.
Nutrition
Serving: 0gCalories: 161kcalCarbohydrates: 26gProtein: 2gFat: 5gSaturated Fat: 3gCholesterol: 15mgSodium: 127mgPotassium: 438mgFiber: 3gSugar: 5gVitamin A: 18620IUVitamin C: 3.1mgCalcium: 39mgIron: 0.8mg