Super easy, quick, one-dish meal is what this Instant pot chicken stew recipe is all about. Loaded with vegetables along with hearty potatoes its a perfect meal that can be made in instant pot or stove top.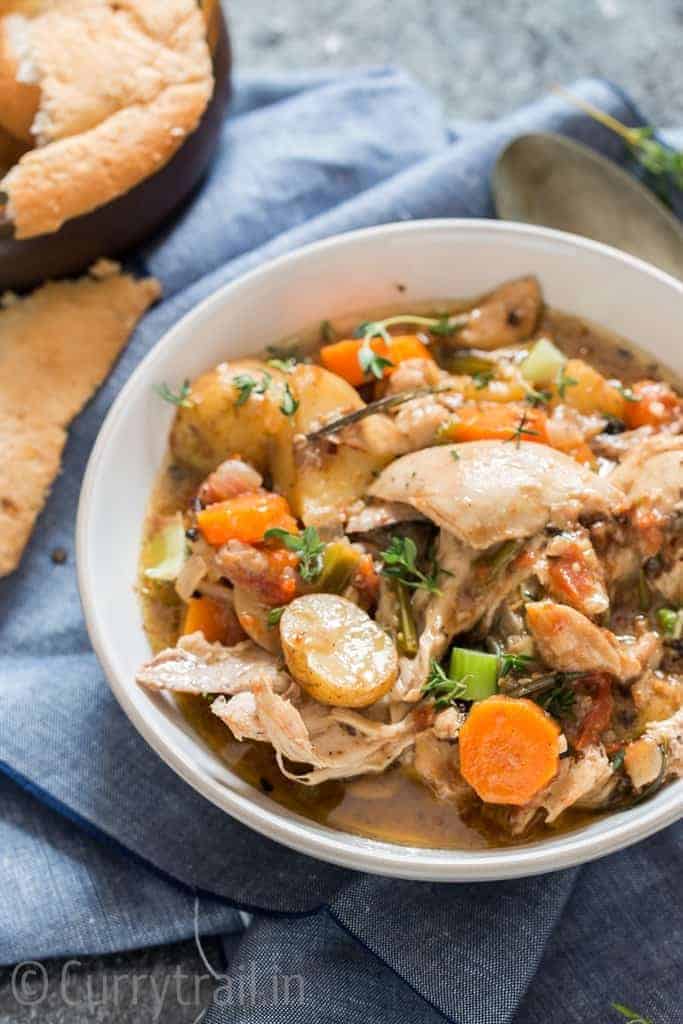 One of the best things to cook in instant pot is stew. Stew that otherwise simmers for hours can be done in minutes. Beef, pork or lamb stew usually takes longs hours to simmer and cook, but in a pressure cooker stew can be easily made in matter of minutes. Chicken stew takes much lesser time. That gives you all reason why you should be including this ridiculously simple and easy to make instant pot chicken stew recipe to your weekly dinner menu list.
Before you guys jump on to me and tell it's ridiculous to make everything in instant pot when you can make it on stove top, let me tell you this. We don't claim that all things have to be made in instant pot, No! We are saying instant pot is convenient and a life saver.
Most dishes that you cook on stove top can be made in instant pot too, but only with much lesser time. When we say lesser time, we mean spend less time standing next to the pot to keep constant watch, and less overall cooking time.
Dinner is a breeze with instant pot for any busy person. Also there are so many households that don't have a stove. Instant pot recipes are for such people. If you are a mom who has kids to take care and have very little time to stand in kitchen and cook up a meal, you will love instant pot versions.
So yes chicken stew recipes can be made on stove top too. If you want to know how you can follow this recipe and make stew chicken on stove top, read below, we have included the stove top instructions.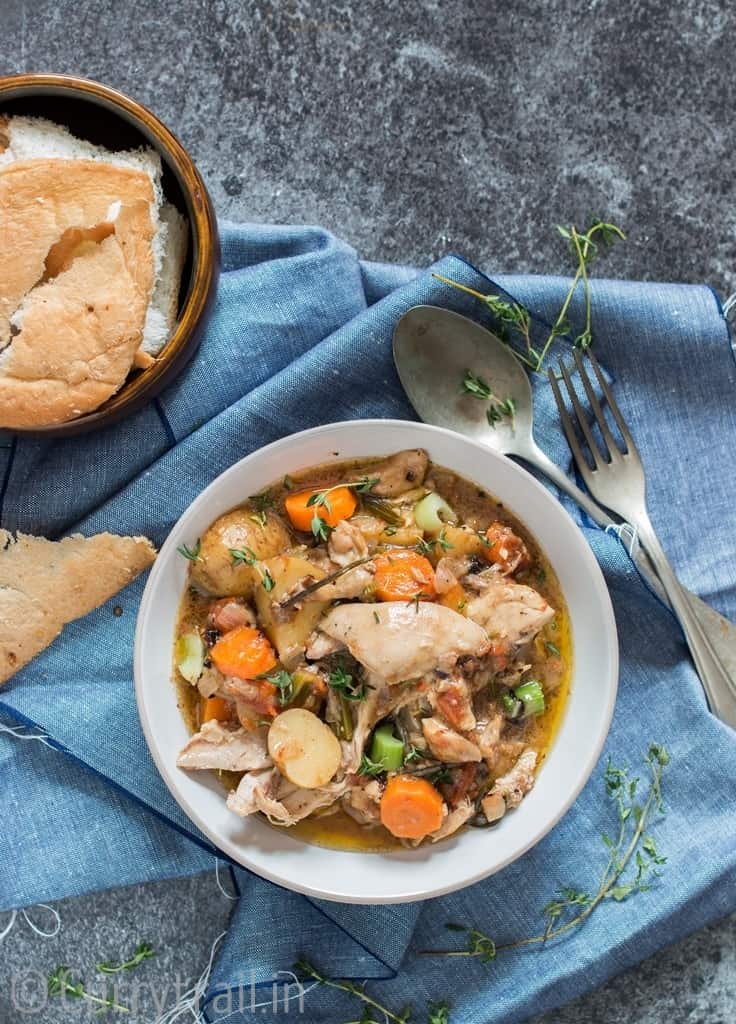 Instant pot chicken stew is all made in one pot, where everything is dumped into the pot and stew cooks itself. Ultra tender juicy chicken pieces and soft vegetables in gravy like sauce makes this chicken stew the best and it's perfect winter meal with some crusty bread to dunk into the saucy stew.
This stewed chicken is winner all the way. Dunk your crusty bread into stew or mop it all up with the bread. Nothing can be more comforting and healthy as this instant pot chicken stew recipe on cold winters.
Love this stew? Here's more stew recipes for you. Do check it out.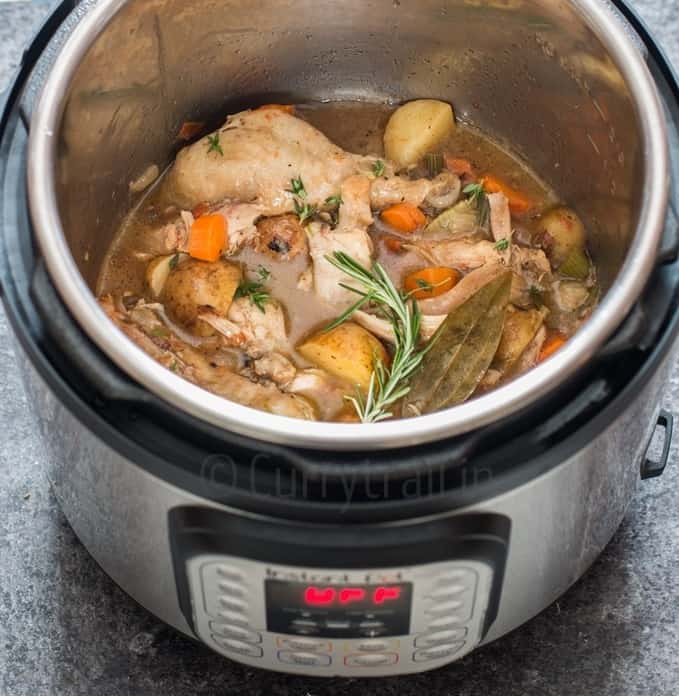 Let's talk about the savory saucy stew, shall we!
A good stew is one which has balanced vegetables and meat ratio. Use as many types of vegetables you want to use. The main ingredients for stewed chicken are chicken, carrots, onions and of course potatoes.
Simmer stew ingredients for few minutes to get everything together. A gorgeous brown stew chicken bowl is thick enough and warms you from inside. It's rustic meal, hearty and delicious.
A bowl of warm and comforting stew chicken and few pieces of crusty bread for dunking is filling enough, you won't need anything for sides.
What flavors goes into instant pot stew chicken
Stew chicken is lighter meal with clean flavors in it.
This is not an ordinary, bland stew chicken recipe. The aroma of bay leaf and rosemary is extraordinary.
It's packed with some amazing flavors. Flavors from garlic, onions, bay leaf and rosemary along with tomatoes give it somewhat rich flavor profile to soup. Look at the color! We are taking the poor man's food and giving it a new flavor twist.
More additional flavoring agents like
Worscestershire sauce
Red wine vinegar
Adds a new dimension to stewed chicken.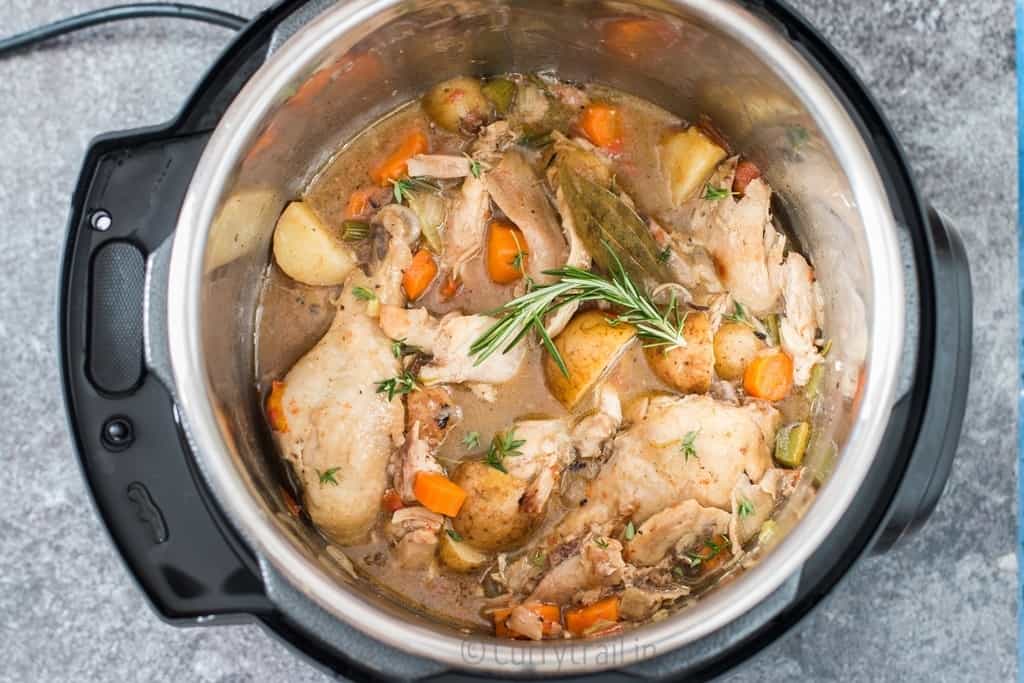 Helpful Kitchen Tools:
How to make stew chicken
Prep work for chicken stew – Using chicken pieces with skin is what I prefer. We are making chicken stew without oil, and the fat from the chicken pieces is needed for me.
I find chicken thighs and chicken legs best for instant pot chicken stew. If you do not like fatty stew, please use skinless (fat less chicken pieces). Wash chicken pieces well. Pat dry them.
Pro-Tip : Chicken with skin is what i prefer. For my palate it has just enough fat that wont mess up the stew. But if you find skin on chicken pieces is super fatty, please feel free to remove the skin on the chicken and any extra fat on it.
Chop onions and tomatoes. If using baby potatoes cut into half length-wise. Cut carrots into ½ inch pieces, celery into chunks. Mince garlic.
Pro-Tip : additional vegetables like mushrooms, broccoli can be added too.
Cook in instant pot – add all ingredients into instant pot. Select PRESSURE COOK setting and adjust timer to 10 minutes.
Note : 10 minutes on timer does not mean instant pot chicken stew would be ready in 10 minutes. Remember pot once turned on will take time to heat up and build pressure inside it. I timed it and noted it takes close to 20 minutes for the pot to come to pressure(you'll notice steam coming out).
Use 10 minutes cooking time for chicken thighs with bones. If using chicken breast adjust time to 6 minutes.
I recommend chicken stock to cook the stew. Chicken stock enhances the flavors of the stew. Water can be substituted for chicken stock.
Once cooking time is over allow the pot for 10 minutes natural pressure release. Then open the lid.
Flavoring it up – fresh and dried herbs and spices creates herb-flavored saucy broth. Bay leaf(fresh or dried) and rosemary sprig makes a aromatic broth in which chicken gets cooked. The aroma of stew is simply amazing.
Additional flavoring agents – don't just stop at herbs, you can add in a few more additional flavoring agents to brighten this chicken stew.
A splash of white wine (optional, we skipped)
A few spoons of Worscestershire sauce and a dash of red wine vinegar(to be added at the end) to lift the dish up making the broth full of color and flavor.
Thickening – cooked chicken stew will be dilute and weak. Thicken it by adding a few teaspoons of flour mixed in water. Pour in more chicken stock and simmer. You can added more chicken stock later on if you find stew begins to dry out.
Once flour mixed with water is added let the stew simmer in saute mode for few minutes (about 3 to 4 minutes).
Serving it up – just before serving, you can shred chicken pieces and any bones can be removed or discarded. If you don't mind messing your hands, serve chicken stew with whole chicken pieces. Use your hands to tear apart the flesh of chicken with bread. We sometimes like rustic food and don't mind messy eating. Well that's just me!
No need to remove chicken pieces out of the pot separately to shred it. Do it inside the pot itself.
Serve warm chicken stew in a serving bowl with warm crusty bread.
Dunking crusty warm bread into the saucy stew turns the hard bread into a soft delicious slice to chew on.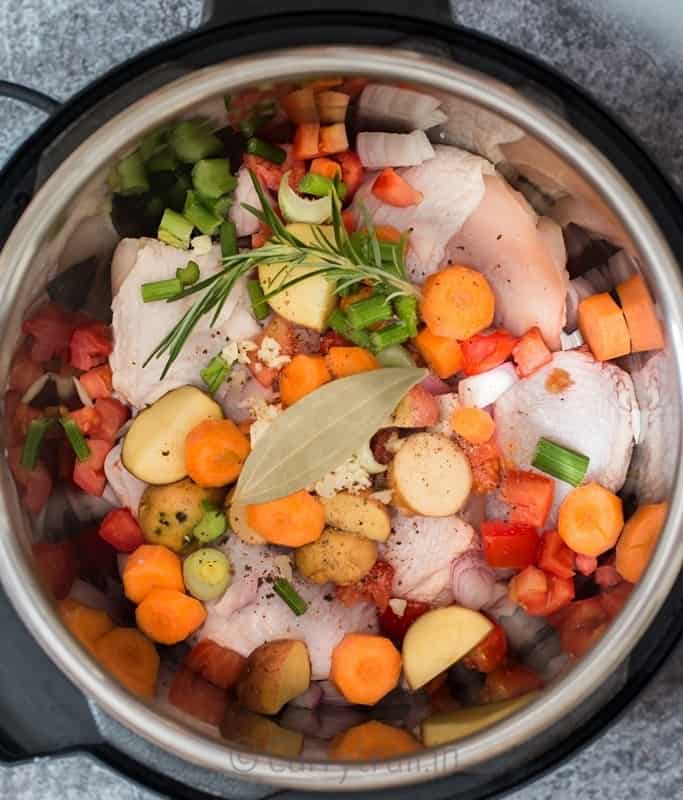 How to make stew chicken on stove top
First cook chicken pieces in a sauce pan with little oil. Remove and set aside. Then into the same pan saute onions and carrots and cook for 5 minutes, until onions just begins to brown. Keep stirring.
Add garlic and cook for a minute.
Add white wine if using.
Add chicken broth, scrape all the browned pieces from the pan that might be sticking.
Add tomatoes and stir in for a minutes.
In a small bowl whisk flour with water. Pour into the pan.
Stir in chicken pieces, 3-4 cups of chicken broth, season with salt and pepper, add bay leaf and rosemary sprigs.
Pour in Worcestershire sauce.
Cover partially and simmer for 25 minutes.
Place cut potatoes into the sauce pan. Simmer for 20 minutes more uncovered.
The stew will thicken as it cooks. Add more chicken broth or liquid as needed during cooking.
Remember stew will thicken as it cools down.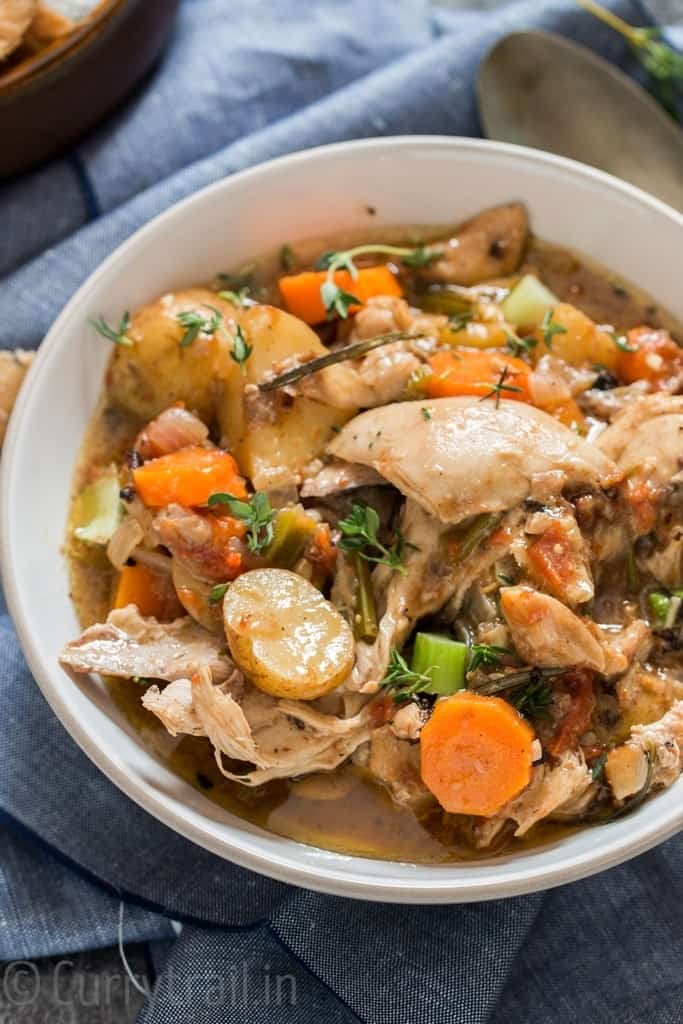 Love instant pot recipes? Check out CurryTrail's favorite instant pot recipes –
INSTANT POT BUTTERNUT SQUASH SOUP
EASY-TO-PEEL INSTANT POT HARD BOILED EGGS
INSTANT POT GENERAL TSO CHICKEN
HOW TO BOIL PEANUTS IN INSTANT POT
INSTANT POT CHICKEN PARMESAN MEATBALLS
INSTANT POT CHICKEN NOODLE SOUP
CREAMY INSTANT POT CHICKEN MARSALA
INSTANT POT SPINACH AND CHICKEN CURRY
CREAMY INSTANT POT MAC N CHEESE
HOW TO COOK RICE IN INSTANT POT
Don't forget to Subscribe to CurryTrail Recipes below to get our newest recipes delivered straight to your inbox.
LOVE THIS RECIPE? KEEP IN TOUCH AND DON'T MISS OUT ON ANY OF CURRYTRAIL RECIPES! FOLLOW ME ON INSTAGRAM, PINTEREST, FACEBOOK, TWITTER.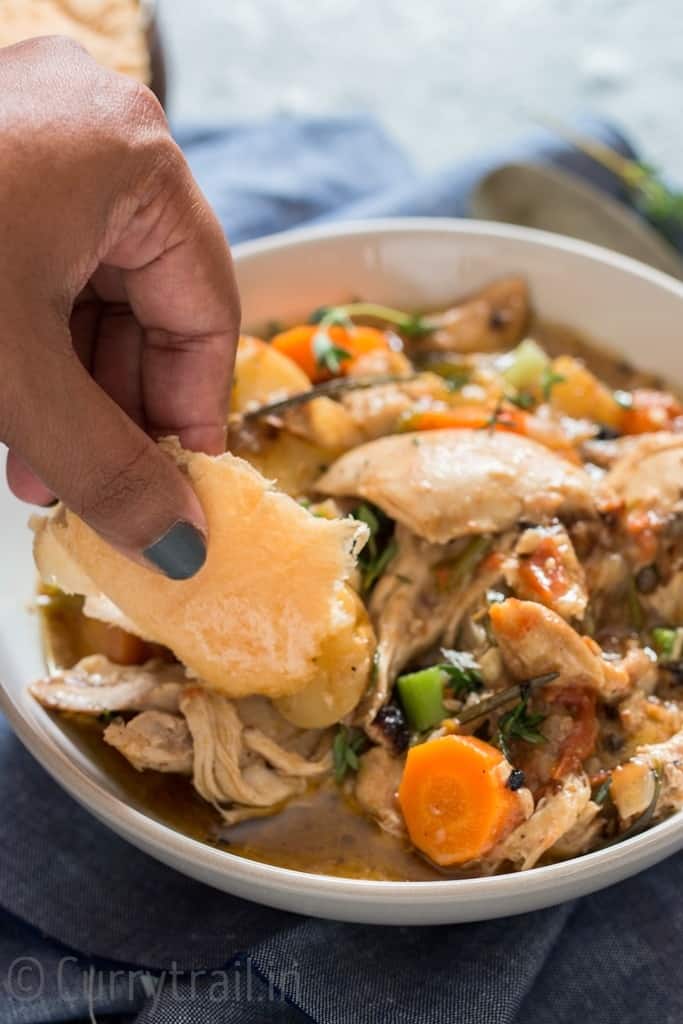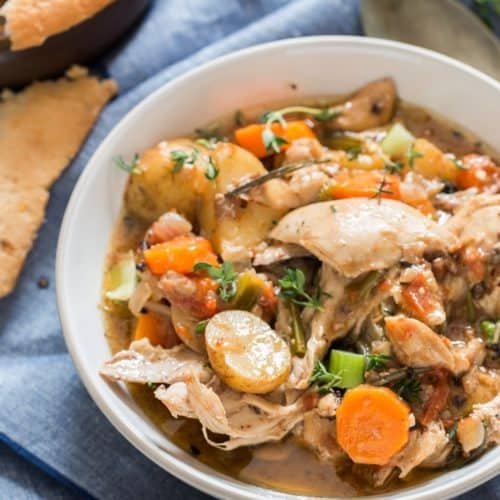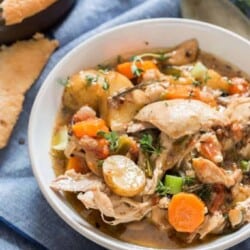 Instant Pot Chicken Stew
Super easy, quick, one-dish meal is what this Instant pot chicken stew recipe is all about. Loaded with vegetables along with hearty potatoes its a perfect meal that can be made in instant pot or stove top.
Ingredients
1.5 lb chicken preferably with skin on (about 5-6 pieces, thighs and leg pieces are best)
2 onions chopped
2 to matoes chopped
1 lb baby potatoes halved
3 carrots cut into ½ inch pieces
3 celery stalks cut into chunks
5 cloves garlic minced
Salt and pepper to taste
1 bay leaf
Few sprigs of rosemary
¼ cup white wine optional
2 teaspoon Worscestershire sauce
2 cups of chicken stock
2 teaspoon red wine vinegar
¼ cup flour for gluten free option use – corn starch, rice flour or arrow root flour
Instructions
1. Add chicken pieces (thighs and legs with skin on) into the pot along with onions, tomatoes, potatoes, carrots, celery stalks, garlic, salt and pepper, bay leaf, rosemary leaves, worscestershire sauce and little chicken stock or water into the pot.


2. Put the lid on and make sure the pressure valve is in sealing position. Use manual setting and adjust timer to 10 minutes. Remember instant pot will take time to build pressure, about 20 minutes. Only after that the cooking timer will start.


3. Once cooking time is over, allow instant pot to sit for 10 minutes (Natural pressure release).


4. Turn pressure valve to venting position to release any pressure left in the pot.


5. Open the lid.


6. Stir in red wine vinegar. In a small bowl whisk flour with water. Pour into the pot.


7. Select saute setting and let stew simmer for 3-4 minutes more or until it thickens. Remember chicken stew will thicken as it cools down.


8. Garnish with fresh thyme and serve it with crusty warm bread.

Notes
If you don't like even a tiny weeny bit of fat in your stew, use skinless chicken in the recipe. Also remove any extra fat in the stock before adding .
Before serving shred chicken well.
To make it even more easier, use boneless chicken so shredding is less work. But note, chicken with bones adds more flavor to the stew.
Use any vegetables of your choice. Feel free to adjust the spices and seasoning as per your taste preference.
This stew can be frozen. Use freezer friendly zip lock bags or air tight containers to freeze. Can be stored in freezer for 2 to 3 months.
Nutritional Info - Please keep in mind that nutritional information provided is only a rough estimate and can vary greatly based on products used.
Nutrition
Serving: 0gCalories: 272kcalCarbohydrates: 30gProtein: 15gFat: 9gSaturated Fat: 3gCholesterol: 43mgSodium: 204mgPotassium: 787mgFiber: 4gSugar: 6gVitamin A: 5520IUVitamin C: 27.1mgCalcium: 47mgIron: 1.9mg