This Sriracha Spicy Ramen Noodles Soup is going transport you to spice heaven.This recipe is so simple and easy to make, the soup is ready in 20 minutes. Who said a bowl of ramen noodles soup is bland and boring.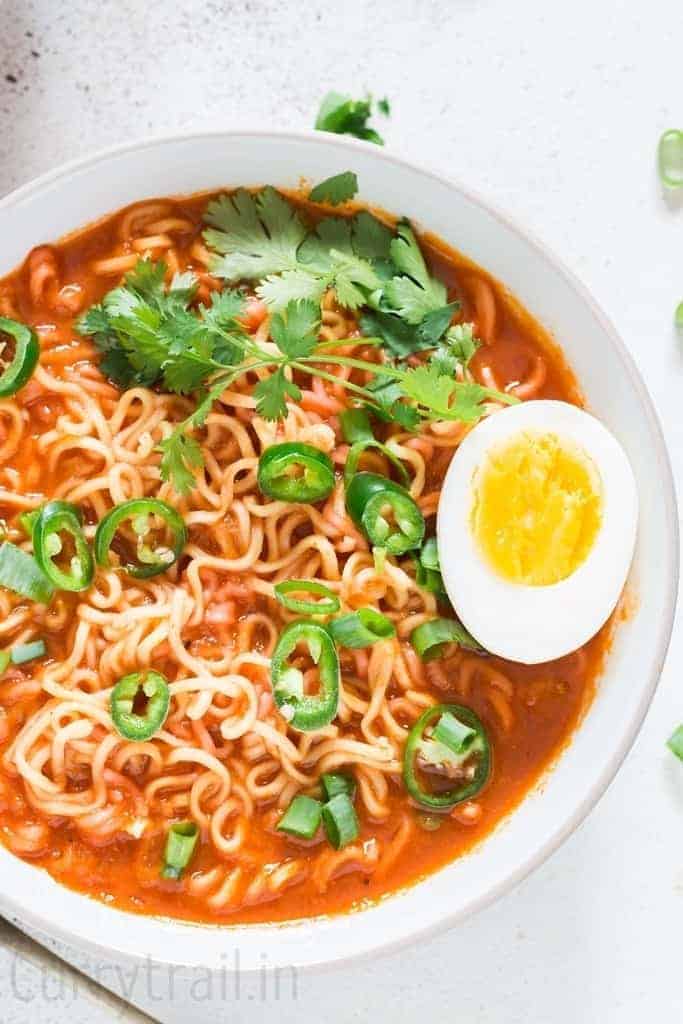 Let's be honest, I know you got hooked up as soon as I said 'Sriracha' Spicy Ramen noodles soup. Simple homemade soups are just fine and all if there is no flavor to it. Elevated flavor in this ramen soup is anything but …Bold and Delicious! Spicy delicious! I call it spice lovers heaven!
I'm throwing a spicy ramen noodles challenge to you guys! Do you think you can handle it, handle the spices, the heat!?
Spices are heaven! Oh yes, I love all spicy food.  I can handle hot spicy food well. I really can because I love spice! There are days, I still ask mom to cook my favorite food spicy just like the way she used to cook when I was younger. It was pure bliss for me then and it is pure bliss now. I would take a bite of my favorite food, drink a sip of water, take another bite, drink another sip of water and repeated that again and again. That's my love for spicy food.
No, I don't feed my kids the kind of spicy food I'm used to, at least not yet! They are still young and they already sometimes find my "very moderately spiced" food something "very spicy" and complaint about it. I say, come on, it's not spicy, eat it! Because I know it's not and it won't harm them in anyways. I keep hoping, as they grow they should be able to handle a little bit more spice. I really like to start cooking my favorite food the way I like it; spicy (a little bit at least)! Some days I really crave bad for spicy food. And those days if time permits I do something extra special, extra spicy just for me! Like this easy spicy sriracha ramen noodle soup just for me and a little for Raj, I didn't mind sharing!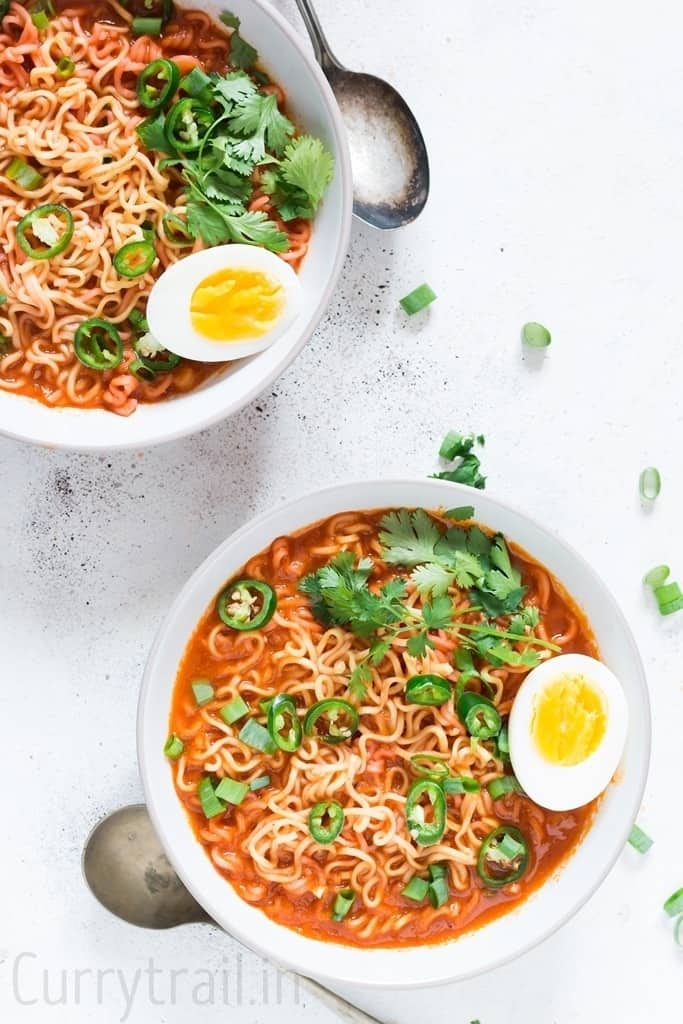 I know instant ramen noodles are often looked upon with scorn as cheap food for starving school/college kids. Those cheap little packages of instant noodles with the silver foil flavor packets served up a big bowl of nostalgia. Most nights instant noodles filled the hungry tummy. And we obviously experimented with it. We have our favorite ramen noodle recipes. We made it with masala, added eggs to it, and even thought we are making it healthier by adding vegetables. Tried all! Loved all!
Today's I'm bringing back some of those fond memories of hot ramen noodles with a recipe that is a little different than what I'm used to making. A hot spicy ramen noodles soup using Sriracha sauce, an Asian soup to be precise. Usually it's this simple spicy onion-tomato-capsicum masala base ramen noodles that I make during the days I carve for ramen noodles. But this spicy soup recipe is different in terms of flavor combination. It's also easy to make, ready in 30 minutes uses some very simple ingredients which might be in your pantry already! A soup you satisfy your sudden cravings for instant noodles. Even now I do get that craving for noodles some times.
If you are looking for spicy ramen recipe this might be just for you. While hot and spicy noodle soup is most common soup that we all love, this Sriracha ramen noodles soup is a new refreshing twist to your regular spicy noodle soup.
I've made a very simple basic spicy ramen noodle bowl; you can add some proteins to the soup. Chicken, beef, prawns does justice to this soup. For vegetarian options use Portobello mushrooms or any other mushrooms.
This recipe is so simple and easy to make, the soup is ready in 20 minutes. Who said a bowl of ramen noodles soup is bland and boring. This soup is anything but bland and boring bowl of soup.
I know it's not the healthiest soup recipe for you!
But I urge you to give this easy spicy ramen noodles recipe a try!
Why?
Because it's budget friendly.
You will someday get sudden cravings for ramen noodles!
You will want to make a dinner that is so easy and simple that you don't want to spend hours in kitchen.
Recipe uses pantry staples you already have on hand.
And that soft boiled egg on the top…so yum!!
For more protein…use chicken or prawns.
These spicy ramen bowls are insanely good! Raj and I basically licked our bowls clean. I finished every last drop on the bowl.
This piping hot Sriracha Ramen Noodle Soup is quick, easy, and crazy delicious!
Here is a note before you try the recipe– if you can't handle spice well, then I suggest you to start with a dash of Sriracha sauce to keep it mild.
But if you are someone opposite embrace the heat by adding the Sriracha sauce extra! The spice level is up to you.
My idea of perfection would be 4 glorious spoonful of Sriracha sauce.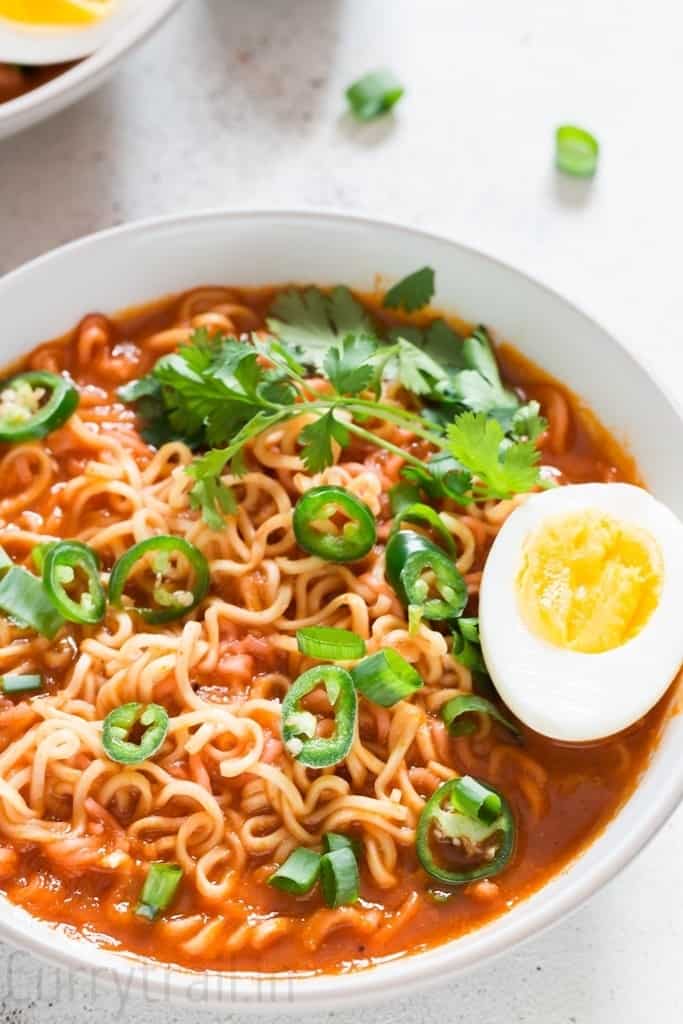 What goes into Sriracha Spicy Ramen Noodles Soup?
A list of very few simple ingredients really – ginger, garlic, white spring onions, tomato paste, Sriracha sauce, soy sauce, vegetable broth or water. Sriracha sauce might be that one ingredient you may or may not have in your pantry. So you are going to have to buy sriracha sauce. There are so many possible ways to use Sriracha sauce. I'm planning to share some more recipes using Sriracha. It's that sauce that won't be the kind which you use for just one recipe and the bottle goes sitting in your pantry waiting to be used. No it's not. There are many possible ways to use Sriracha. So don't worry about wasting a bottle of Sriracha sauce.
You should check out my  Spicy Schezwan Noodles or Cantonese Style Chicken Chowmein. If you get a chance to try this Sriracha Spicy Ramen Noodles Soup, let me know!
I'd love to hear from you. You can leave a comment here or tag @currytrail on Instagram so I can happy dance over your creations! I can't wait to see what you whip up!
Watch this quick sriracha spicy ramen noodles soup recipe video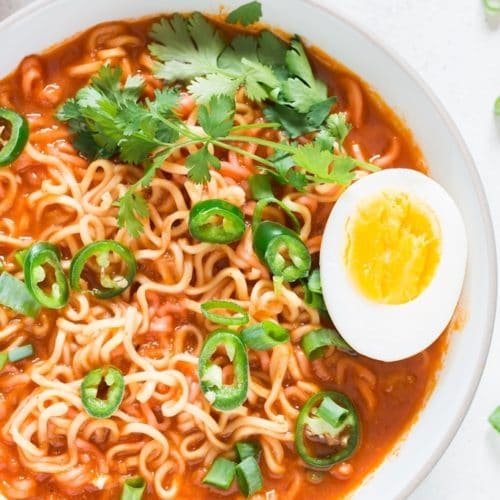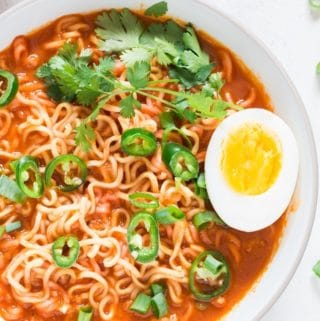 Easy Spicy Sriracha Ramen Noodles Soup
This easy spicy Sriracha ramen noodles soup is going transport you to spice heaven.This recipe is so simple and easy to make, the soup is ready in 20 minutes. Who said a bowl of ramen noodles soup is bland and boring.
Print
Pin
Rate
Ingredients
2

packets

individual ramen noodles

(used 2.5oz/70 grams packet)

1

tablespoon

sesame oil

1

tablespoon

garlic, minced

1

tablespoon

ginger, minced

1

cup

white spring onions

2-3

tablespoon

tomato paste/puree

3-5

tablespoon

Sriracha sauce

1

tablespoon

soy sauce

1/2

teaspoon

vinegar

2-3

cups

vegetable broth
For garnish-
Fresh coriander leaves

Few sliced Jalapeno peppers

Green spring onions

Soft boiled eggs
Instructions
1. Heat sesame oil in a large sauce pan. Cook minced garlic and ginger until raw smell is gone.

2. Saute chopped white spring onions for few minutes.

3. Add tomato puree or paste into the pan and cook stirring regular intervals.


4. Pour ½ cup vegetable broth/chicken broth/water. Bring it to boil.


5. Then blend the broth mixture using a hand blender or a mixer blender.


6. Pour the pureed broth back into the sauce pan. Pour the remaining broth into the pan.


7. Add Sriracha sauce, soy sauce and vinegar and give it a stir.


8. Once the broth starts boiling add ramen noodles and wait for few minutes.


9. Stir well and let it boil till ramen noodles are perfect cooked, firm but cooked.


10. Pour the soup into bowls.


11. Garnish with fresh coriander leaves, sliced Jalapenos, green spring onions and a soft boiled eggs.

Nutrition
Calories:
123
kcal
|
Carbohydrates:
13
g
|
Protein:
3
g
|
Fat:
7
g
|
Saturated Fat:
1
g
|
Cholesterol:
0
mg
|
Sodium:
2114
mg
|
Potassium:
347
mg
|
Fiber:
1
g
|
Sugar:
5
g
|
Vitamin A:
1275
IU
|
Vitamin C:
28.7
mg
|
Calcium:
49
mg
|
Iron:
1.5
mg