Fresh basil walnut pesto an easy, delicious vegan pesto that swaps the pricey pine nuts with walnut. A great recipe to grab all the fresh basil from your garden and turn into a pesto.
1 pesto sauce – many ways to use it!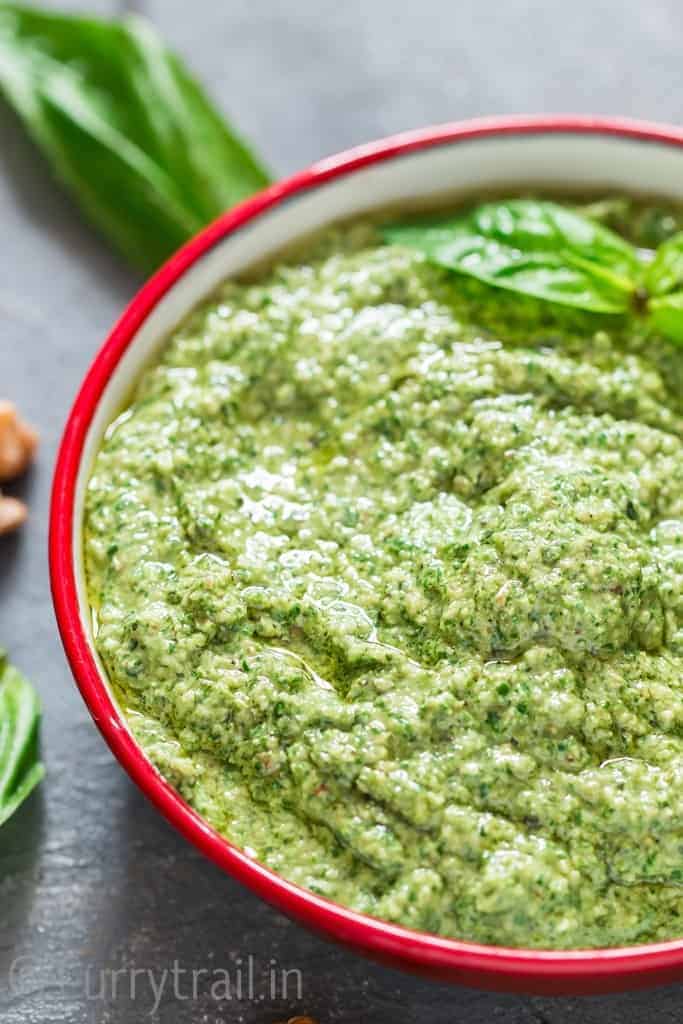 This basil walnut pesto is easy to make and comes together in under 10 minutes. It needs just 7 readily available ingredients. Like with any thing, home made pesto definitely scores. You wont turn back to store-bought bottles of pesto once you make it at home.
Traditionally pesto that originated from Italy is made in a mortar pestle. Pesto means to pound. So all ingredients were pound in a mortar pestle giving you a coarse consistency sauce that you can put it on almost everything.
The amount of time and patience one need to get a pesto done the traditional way is unimaginable in this modern world. These days we our life revolve around our gadgets to make up for the fast pace of life. Food processor or blender comes handy in so many ways in this fast pace life.
Summer time brings life to the garden and the garden flourishes with loads of herbs. And one of the easy ways to use all the herbs from your garden would be to made pesto sauce.
This homemade walnut basil pesto is rich but with healthy fats from walnuts and olive oil. Easy, homemade, vegan basil walnut pesto is great with pasta, pizza, sandwiches, zoodles, with chicken, salmon, basically with everything.
What's In Fresh Basil Walnut Pesto
Fresh basil –
Pesto is an Italian basil-based sauce that has basil and pine nuts (or any other nut variety) as the main ingredients. Along with it, garlic, salt, pepper, lime juice and extra virgin olive oil is used to flavor the sauce. Hard cheese like Parmesan is grated into the pesto and usually served with pasta, vegetables, spread over meat, sandwiches, even pizzas!
There are many recipes out there on the internet that uses frozen basil leaves to make pesto. Though I recommend fresh basil for this walnut basil pesto recipe, you can use frozen basil leaves when you can't get hold of fresh basil. Imagine pesto craving kicking in during winters? What do you do? You make pesto with frozen basil leaves!
Nuts –
Traditional pesto from Italy uses pine nuts with fresh basil.
Pesto usually has pine nuts in it along with rest of the pesto ingredients. In my part of the world pine nuts are fancy stuff. And I don't want a big hole in my wallet sourcing pine nuts from gourmet shops. Walnuts are great substitution for pine nuts. Almonds, pecans, hazelnuts works too.
Pro tip– toasting the nuts adds a wonderful nutty flavor to the pesto. Don't skip this step.
Garlic –
It's not pesto if there is no garlic in it. Don't skip it!
Pro tip –Toasting garlic with skin enhances the flavors of the pesto. This step is optional.
Seasoning –
Always add rock salt and fresh crushed pepper to your pesto recipe. This elevates the taste of basil walnut pesto.
Lime juice –
Lime juice not just enhances the taste, but also gives a nice vibrant green color to it.
Extra virgin olive oil –
Oxygen turns pesto brown. While blending fresh herbs they tend to oxidize and lose it's vibrant green color. Add extra virgin olive oil while blending and also add small layer of olive oil to the jar of pesto before storing it. This will keep pesto in it's vibrant green color for days.
Cheese –
We left the cheese out to make it vegan and healthy.
Add grated Parmesan if you are not aiming for vegan pesto.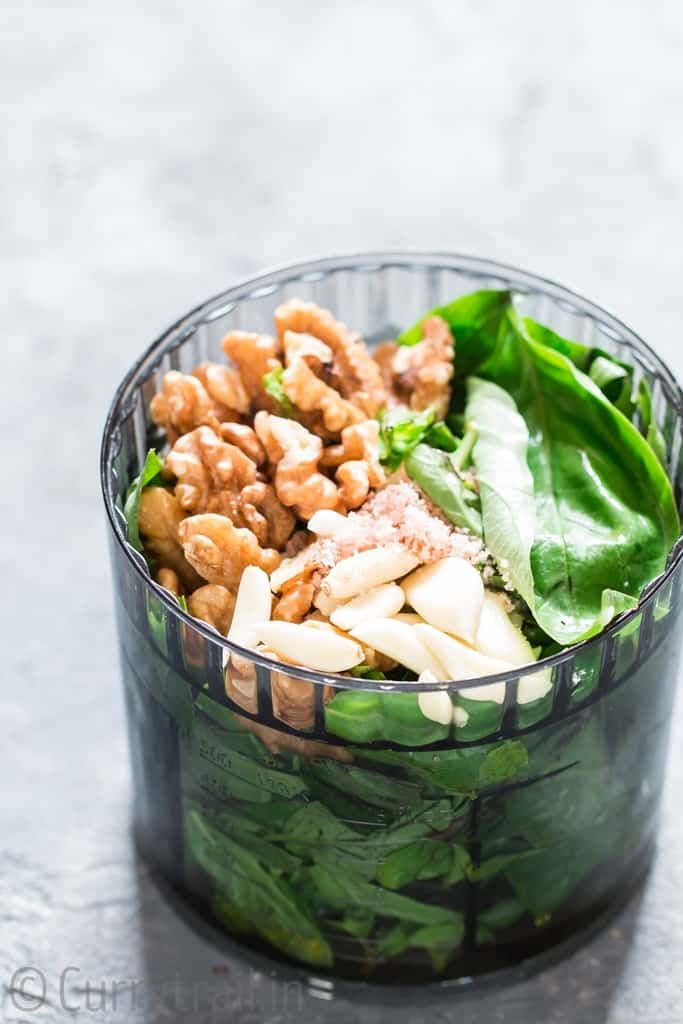 Can I Freeze Basil Walnut Pesto?
Yes. This basil walnut pesto recipe is freezer-friendly. Pour into glass jars (do not fill it all the way up) top a layer of olive oil into the jar so the pesto is covered in olive oil(so it doesn't brown) and then freeze.
You can also pour basil pesto with walnuts into ice cube trays, make sure to leave empty space on top for expansion, do not fill all the way up. Add a small layer of olive oil on top and freeze. Once the pesto is frozen, remove from ice tray, put in zip lock covers and place it back in freezer. It will stay good for many months.
How To Use Basil Walnut Pesto?
You can serve pesto on:
Pastas
Pizzas
Stuff it in chicken along with feta cheese and grill
Smear over salmon, grill
With shrimp
Drizzle over soups
Ditch the mayonnaise based sauce and use basil walnut pesto to spread on your sandwich
For seasoning vegetables while roasting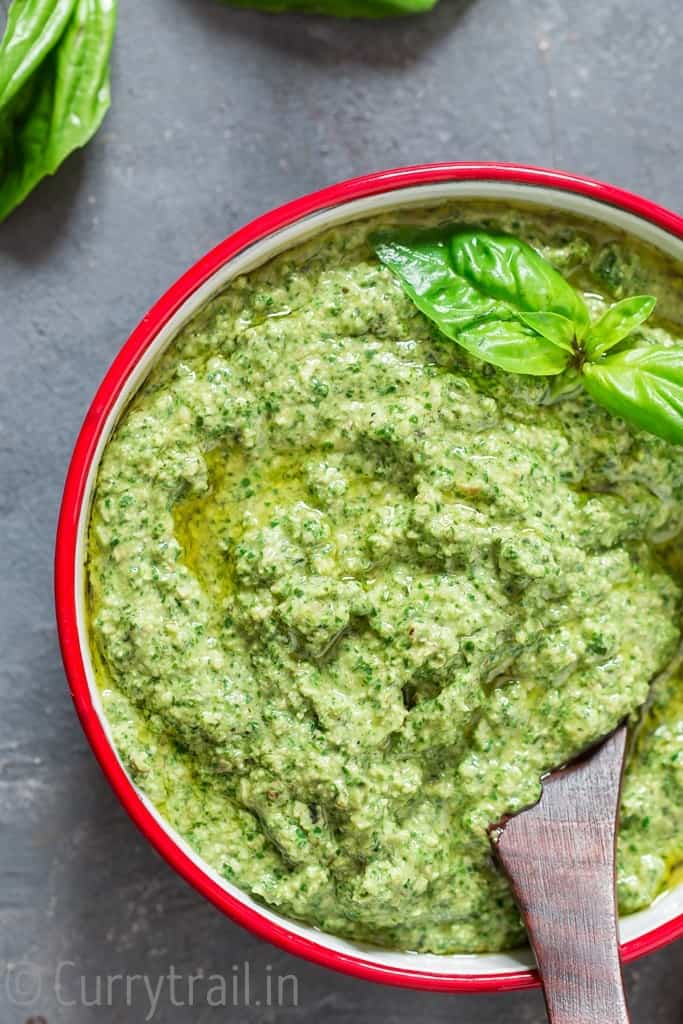 Pesto Variations
Traditionally made with fresh basil, pine nut and Parmesan, pesto can be made with any variety of herbs of greens. The basic recipe is to have fresh herbs, nuts, Parmesan along with garlic, salt and pepper, lime juice and good quality olive oil.
Use the base recipe formula and create your own version of pesto with herb of your choice. You can experiment with a variety of herbs and nuts. Use the same portions listed in this basil walnut recipe and combine various ingredients to create your own version of delicious pesto sauce.
Basil pesto can have – flat leaf parsley, cilantro, mint, sage, tarragon.
You can even experiment with leafy greens – like kale, spinach, aurgula.
Basil and pine nuts
Basil with cashews
Baby spinach and almonds
Kale and cashews
How To Store Basil Walnut Pesto
Use basil walnut pesto fresh soon as it's made. Any leftovers can be stored in air tight containers for about 3 days in fridge and for about 3 months in freezer.
Important Note – Cover the top surface of pesto with olive oil. Smooth the surface and add thin layer of olive oil on top. This will prevent pesto from turning brown.
Basil tends to oxidize when exposed to air. This will tend to turn the bright vibrant green sauce into brown. Browned pesto can still be serve, it's delicious, but not so pretty as you would expect. Imagine pasta that's browned with browned pesto? Not good right!
MORE HOMEMADE SAUCE INSPIRATION FOR YOU-
LOVE THIS RECIPE? KEEP IN TOUCH AND DON'T MISS OUT ON ANY OF CURRYTRAIL RECIPES! FOLLOW ME ON INSTAGRAM, PINTEREST, FACEBOOK, TWITTER.
HAVE YOU TRIED ONE OF MY RECIPES? I'D LOVE TO SEE WHAT YOU'VE MADE! TAKE A PICTURE AND USE THE HASHTAG #CURRYTRAIL ON INSTAGRAM SO I CAN SEE! I'LL DO A HAPPY DANCE IF YOU TRY MY RECIPE AND SHARE IT WITH US!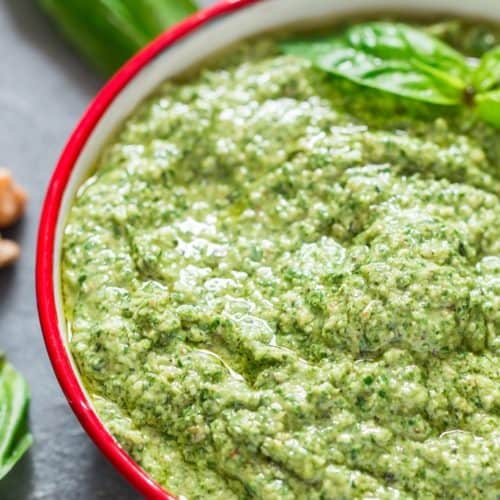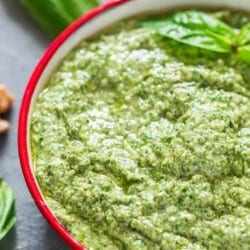 Fresh Basil Walnut Pesto
Fresh basil walnut pesto is easy and delicious vegan pesto that swaps the pricey pinenut with walnut. A great recipe to grab all the fresh basil from your garden patio and turn into a pesto that can be put to use in so many different ways.
Ingredients
2 cup fresh basil leaves tightly packed
¾ cup walnuts, toasted
10 cloves garlic, toasted (Optional)
1 teaspoon rock salt
1 tablespoon crushed pepper
Juice of 1 lime
½ to ¾ cup extra virgin olive oil
Instructions
Place all ingredients in a food processor or blender and blend into coarse sauce.

Store in air tight container and refrigerate it.

It will last for few weeks.
Nutrition
Serving: 0gCalories: 709kcalCarbohydrates: 31gProtein: 17gFat: 62gSaturated Fat: 9gCholesterol: 0mgSodium: 2343mgPotassium: 648mgFiber: 7gSugar: 11gVitamin A: 2530IUVitamin C: 19.1mgCalcium: 248mgIron: 4.6mg