I got two words for this healthy honey sweetened Instant Pot cranberry sauce – FRESH, HEALTHY! A simple homemade cranberry sauce that you would be proud to put it on your Thanksgiving/Christmas dinner table.
We are talking no addition of refined white sugar, but using other natural sweeteners like honey to make the sauce!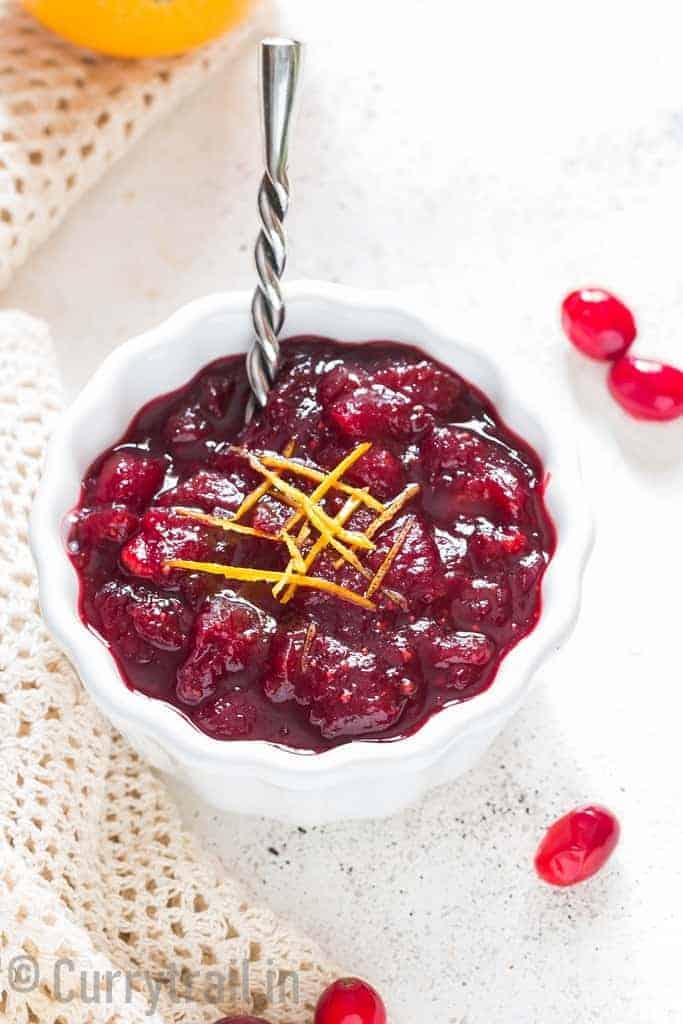 Walking through the super market imported section aisle, I couldn't resist beautiful red cranberries. I picked up a packet, turned it over just to get shocked on how expensive all imported berries are in my part of the world (India!).
A 12 ounce packet of fresh cranberries costed me ~$10! Holy Moly! I almost decided not to buy, then I thought it's Thanksgiving holiday season. I should be making the traditional Thanksgiving dish – the traditional cranberry sauce. So I convinced myself and got a packet of fresh cranberries.
I knew exactly what I wanted to make out of cranberries. Off the entire hundred recipes I could try, I put my hand on cranberry sauce recipe.
It was just the right time; Thanksgiving is just a few days away. Thought my readers would appreciate a good cranberry sauce recipe.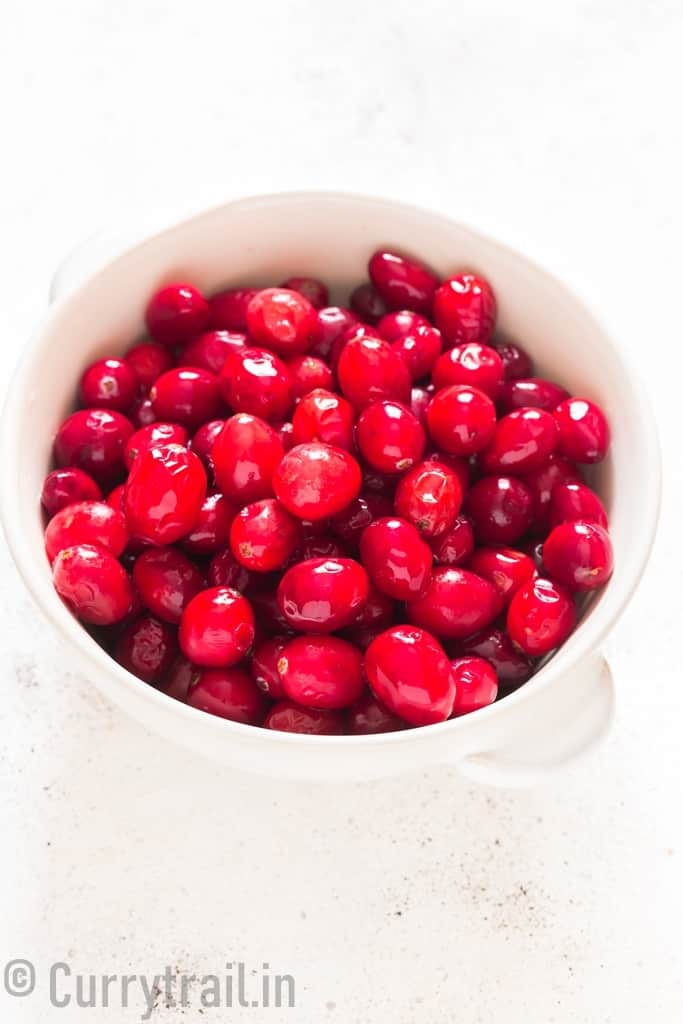 Homemade Cranberry Sauce
A mandatory ingredient in any cranberry sauce recipe is sweetener. To balance the extreme tartness of the cranberries, sweetener (mostly sugar) is what is used.
But this classic holiday staple need not be the most sugar-laden(refined white sugar) dish on your Thanksgiving table!
Low carb, sugar free healthy cranberry sauce is perfect fixture on your holiday table. You certainly won't be scarifying the taste keeping it all healthy!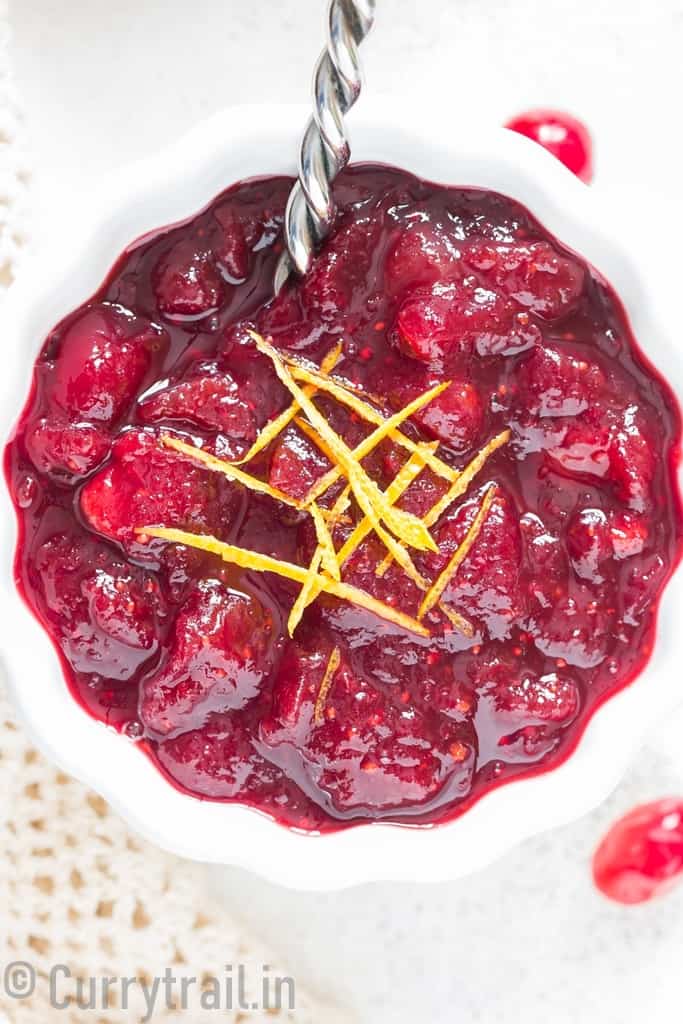 This low carb sugar free cranberry sauce recipe needs just 5 ingredients and it's incredibly simple. Fresh cranberries and Oranges are the main ingredients. It takes 15 minutes to make in instant pot (considering into account the time IP takes to build pressure) to make homemade cranberry sauce from scratch.
This recipe uses fresh cranberries, but you can use frozen as well. "Dump and Push Start" – that's exactly how this cranberry sauce is made in Instant Pot. Dump all the ingredients, push start (timer) button! Easy!
You guys, you need this stuff this festive season! This fresh clean eating cranberry sauce is so much better than canned stuff and it's super easy to make as well. You can make ahead and store it in fridge for your thanksgiving dinner.
The smell of cranberries cooking in orange juice with cinnamon and vanilla will fill your house! And it's the perfect holiday season scent you want to have your home filled with!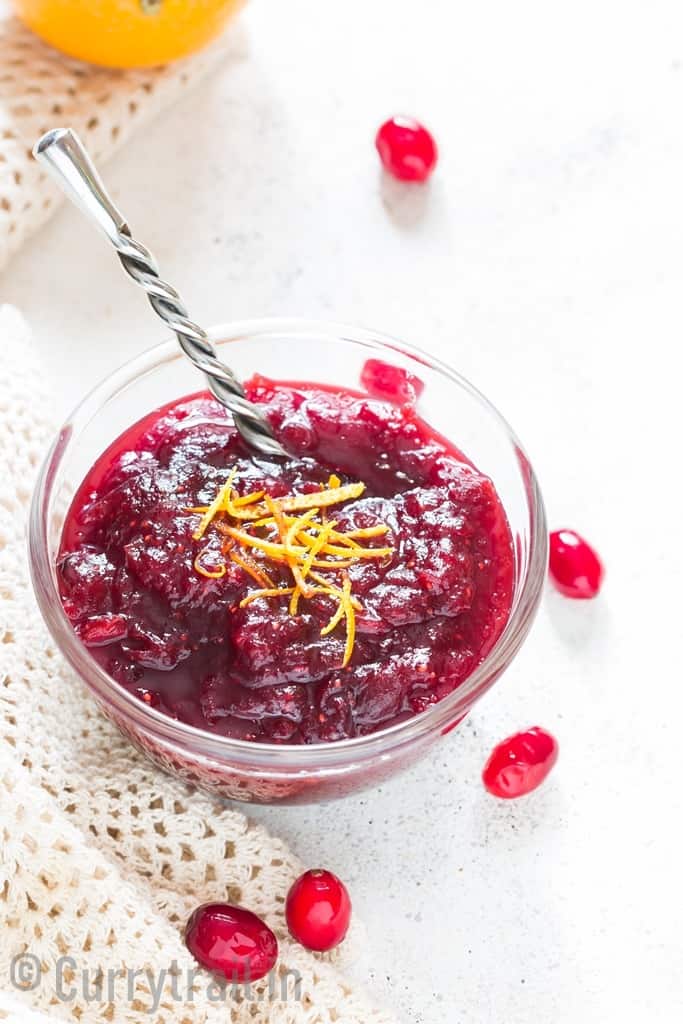 How do you make the mild muted taste of turkey perk up?
Along with gravy that you put on roasted turkey, serve this homemade cranberry sauce. The mild savory taste of turkey, along with sweetness and acidity of the cranberry sauce provides a bit of feast to your taste buds. So this cranberry orange sauce is a real picker up!
Cranberries are absolutely PERFECT with turkey and MUST HAVE side dish for Thanksgiving.
Honey Sweetened Fresh Cranberry Sauce
Easy, sugar free cranberry sauce recipe couldn't be easier! Using pressure cooker (Instant Pot) to cook this sauce only means, less effort and less monitoring time! Dump all ingredients, push start button, walk off to finish other chores.
Pressure cook fresh cranberries in orange juice and honey along with orange zest, cinnamon stick and vanilla extract for that umami flavors.
Cook cranberry sauce on stove top or Instant Pot pressure cooker – the time required would be almost the same. But pressure cooker version has advantage over stove top cooking method. It needs lesser hands on time, clearly less effort. You don't have to stand near stove and monitor the pot.
NOTE: The pressure timer setting is 2 minutes, but please remember IP takes time to build internal pressure. Please consider 13-15 minutes time that IP needs to build pressure.
It's really that fast and easy. There's no reason you should be buying the canned stuff anymore.
You must also try our other favorite Instant Pot recipes –
EASY-TO-PEEL INSTANT POT HARD BOILED EGGS
INSTANT POT GENERAL TSO CHICKEN
HOW TO BOIL PEANUTS IN INSTANT POT
INSTANT POT CHICKEN PARMESAN MEATBALLS
INSTANT POT BUTTERNUT SQUASH SOUP
SPICY CAJUN INSTANT POT CHICKEN AND RICE
CREAMY INSTANT POT CHICKEN MARSALA
INSTANT POT SPINACH AND CHICKEN CURRY
CREAMY INSTANT POT MAC N CHEESE
HOW TO COOK RICE IN INSTANT POT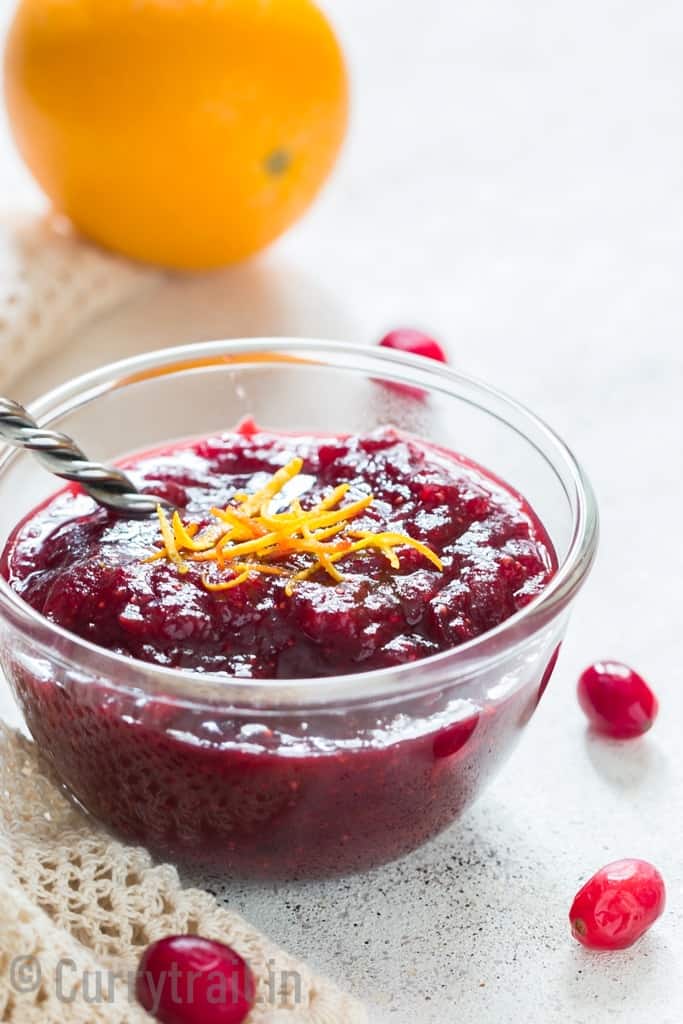 How to Make Cranberry Sauce
STEP 1 :
Add orange juice and fresh cranberries to the pressure cooker.
For extra flavors add orange zest, cinnamon stick and vanilla extract.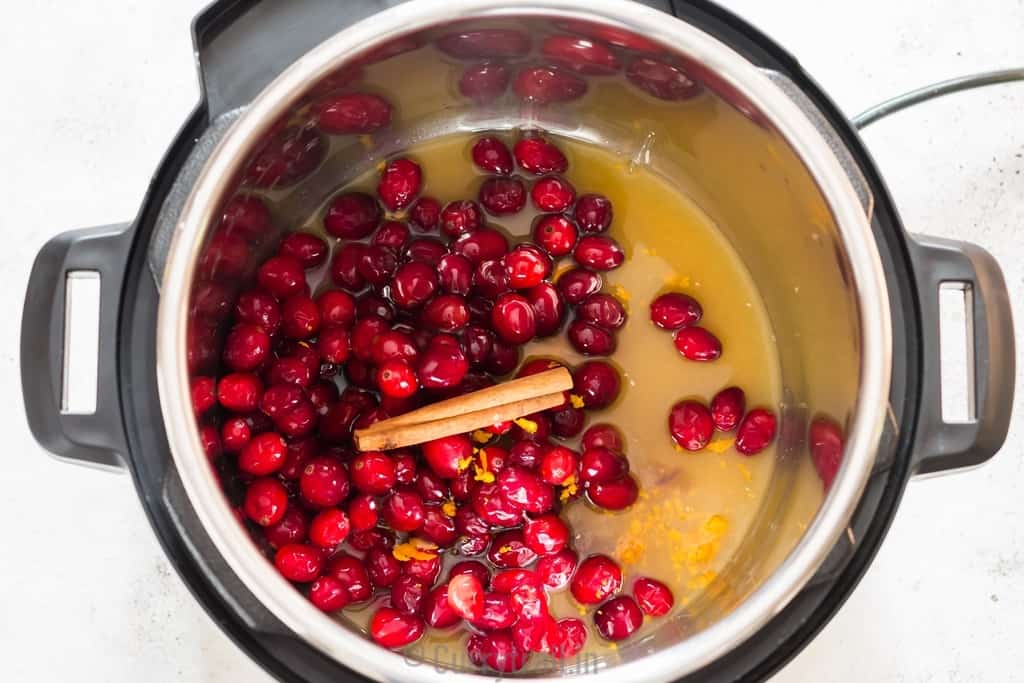 Cranberry sauce with orange juice needs extra added sweetness to balance out tartness of cranberries. Raw organic honey is my choice of sweetener. Feel free to substitute honey with one of the following sweeteners-
Pure Maple syrup
STEP 2:
Secure lid of pressure cooker and set pressure cook timer to 2 minutes.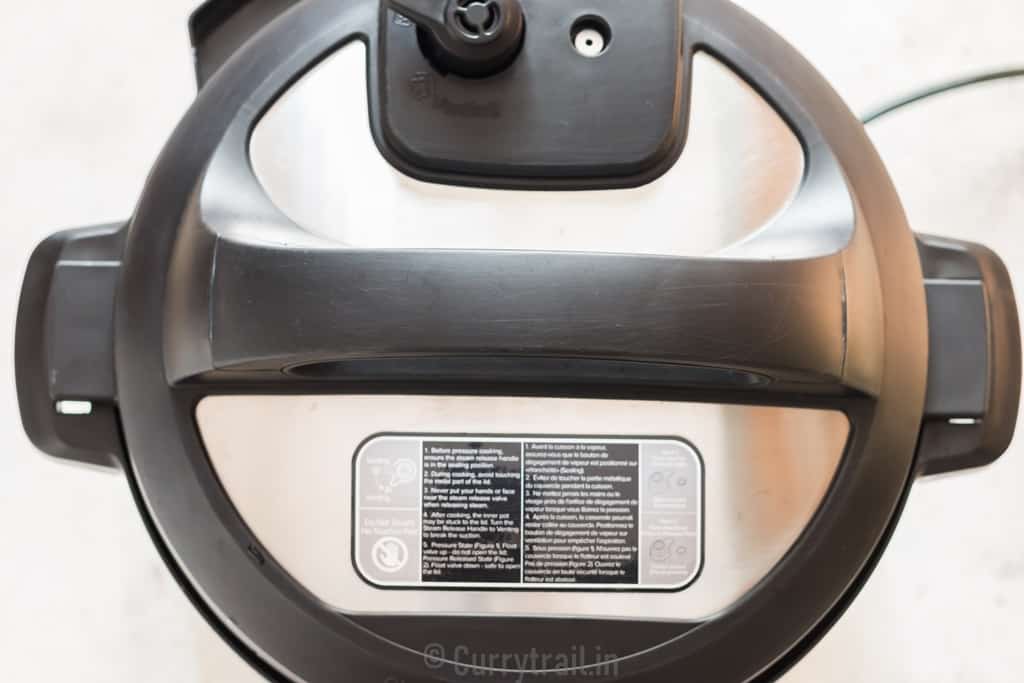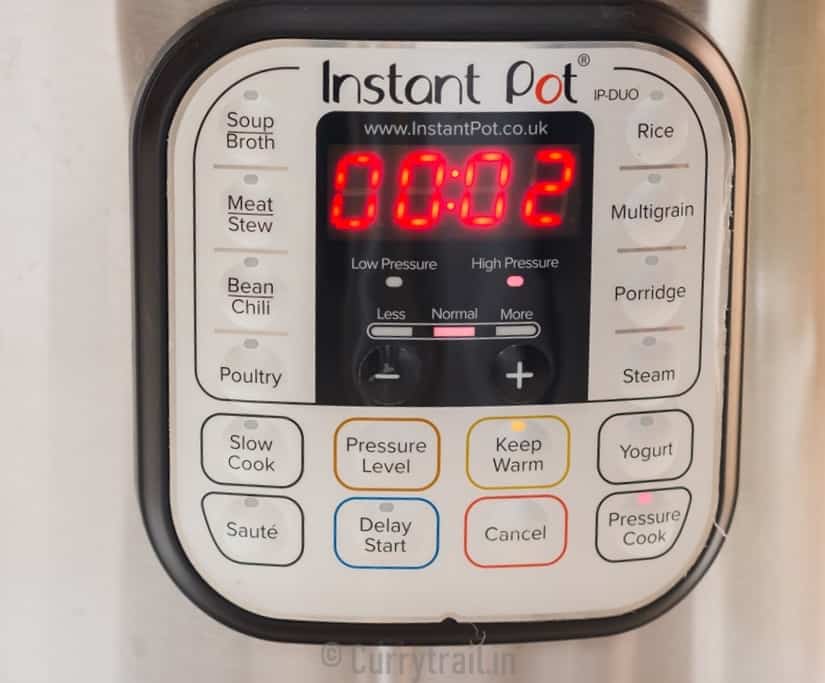 STEP 3 :
After cooking time, let instant pot naturally release pressure for 10 minutes.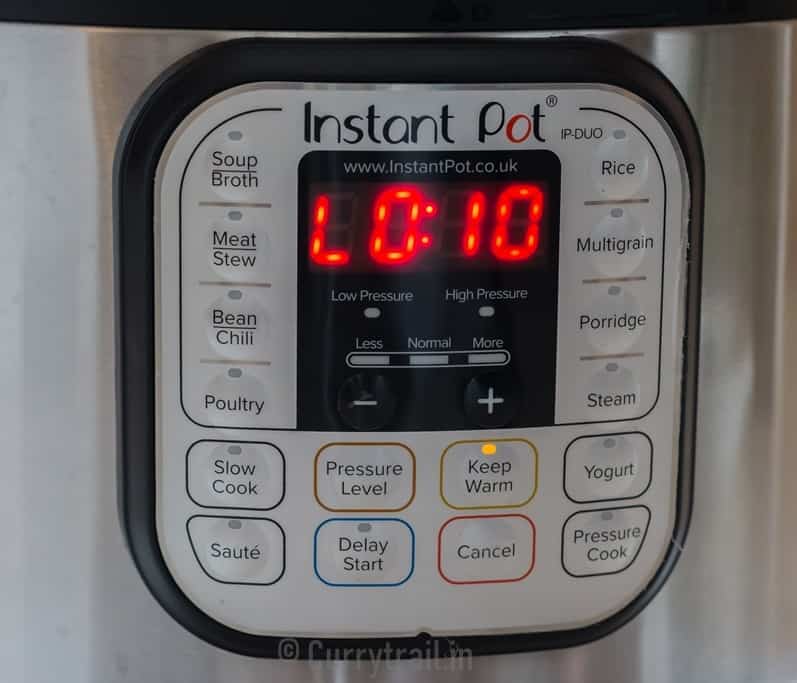 STEP 4 :
Manually release the pressure by turning pressure valve to venting position.
Open lid. Remove cinnamon stick from the pot.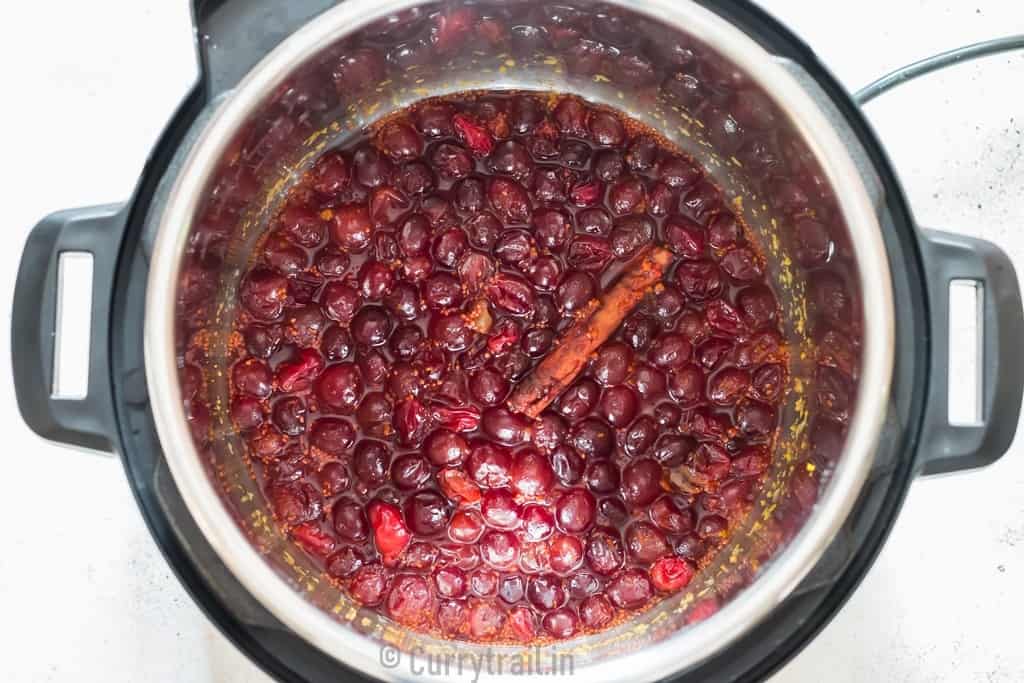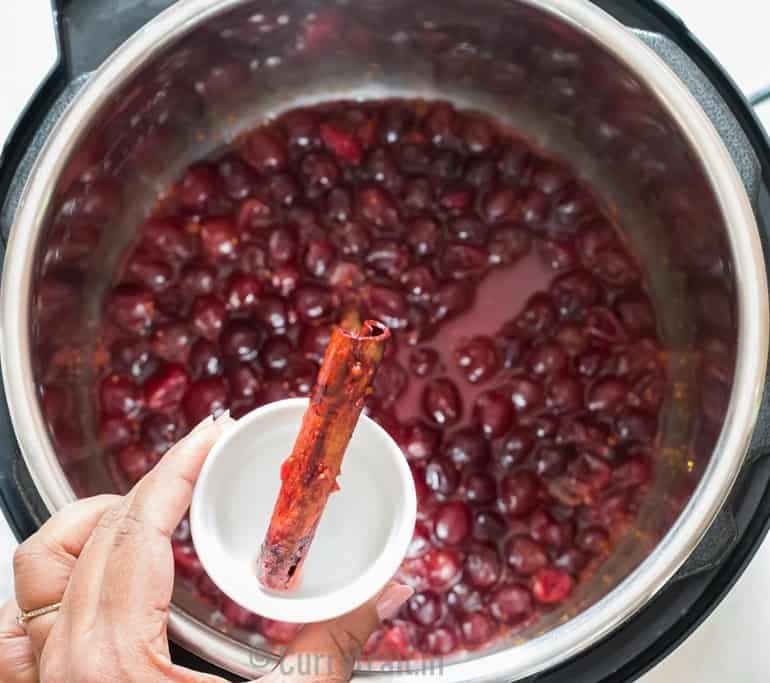 STEP 5 :
Select SAUTE mode and cook the sauce by mashing and stirring with back of wooden spatula.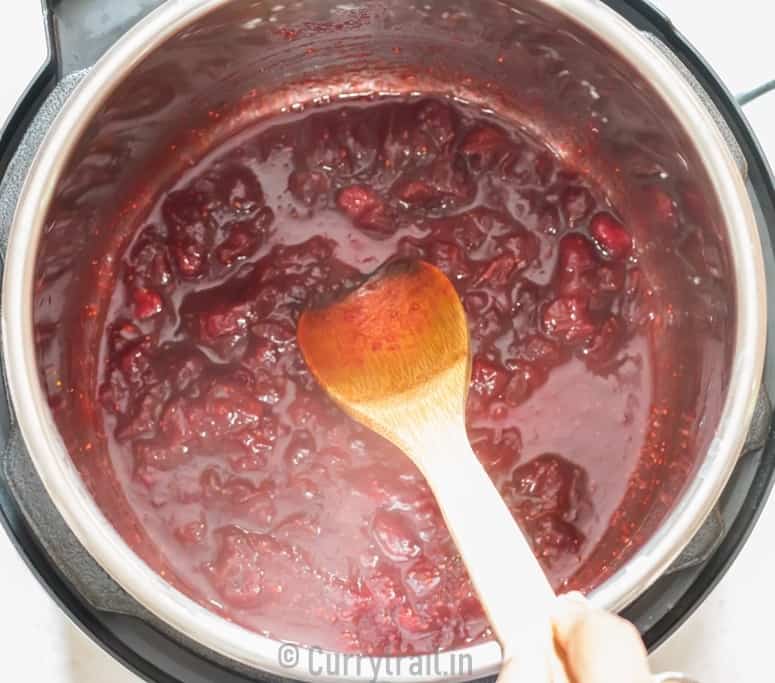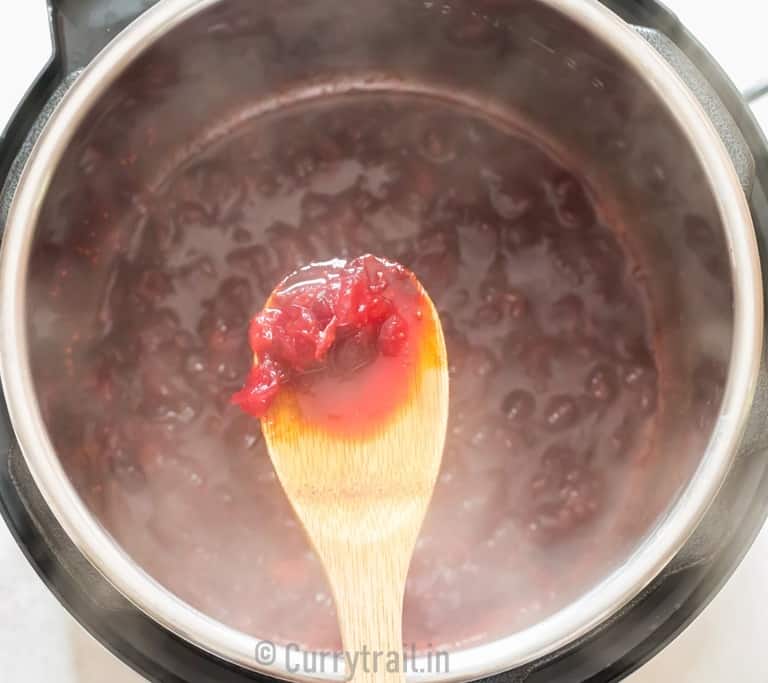 STEP 6 :
Off the instant pot.
Serve cranberry sauce with turkey or roast chicken.
Looking for more Thanksgiving recipes? I got some more amazing Thanksgiving main and Thanksgiving sides recipes for you guys, go check them out too.
Don't forget to Subscribe to CurryTrail Recipes below to get our newest recipes delivered straight to your inbox.
LOVE THIS RECIPE? KEEP IN TOUCH AND DON'T MISS OUT ON ANY OF CURRYTRAIL RECIPES! FOLLOW ME ON INSTAGRAM, PINTEREST, FACEBOOK, TWITTER.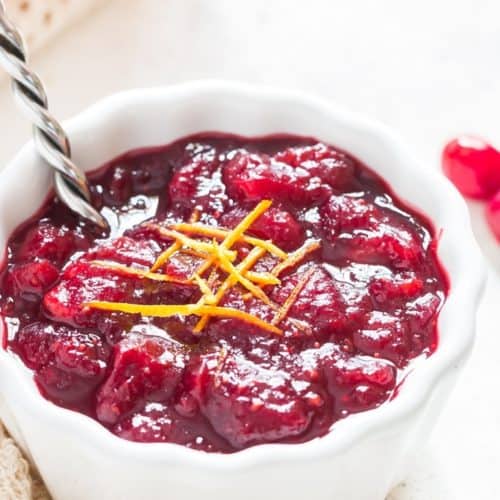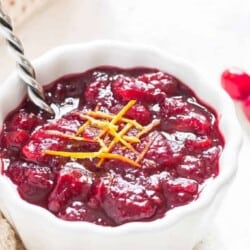 Healthy No-Sugar-Added Instant Pot Cranberry Sauce
I got two words for this healthy honey sweetened Instant Pot cranberry sauce – FRESH, HEALTHY! A simple homemade cranberry sauce that you would be proud to put it on your Thanksgiving/Christmas dinner table.
Ingredients
12 ounce fresh cranberries
½ cup freshly squeezed orange juice
1 ½ tablespoon orange zest
½ cup organic raw honey
1 cinnamon stick
2 teaspoon vanilla extract
Instructions
Rinse cranberries and remove any squishy ones.

Pour orange juice into instant pot.

Add in the rinsed cranberries.

Orange zest goes in next.

Pour organic honey.

Place a cinnamon stick inside the pot.

Pour vanilla extract.

Cover lid. Select HIGH PRESSURE button and adjust timer to 2 minutes. Please not Instant Pot will take about 13 to 14 minutes time to build pressure inside, after that the actual cooking timer starts. Please consider time needed to build pressure when planning to make this recipe.

Once cooking time is completed, allow the pot to natural pressure release for 10 minutes.

Release any leftover pressure in the pot manually.

Open lid.

Remove cinnamon stick.

Select SAUTE mode and cook the sauce while mashing it lightly with a wooden spatula for 2 to 3 minutes.

Turn off pot.

As the sauce cools, it will thicken.

Serve cranberry sauce immediately with any main course dish or even starters.

You can also store it in glass container with lid in fridge for about 4 to 5 days, and in freezer for longer storage.
Notes
Cranberry sauce will continue to thicken once cooled. Cook until sauce begins to thicken.
You can make cranberry sauce in crock pot as well. Cook it for 8 hours on low and 4 hours on high.
This is great make ahead Thanksgiving side dish, that reheats well. SO make ahead and store it in fridge.
Just before serving heat it and serve it hot. It tastes better when hot and consistency is good.
Leftover sauce can be store in air tight glass bottles in fridge for up to 2 weeks, and in freezer for up to 3 months.
Increase honey measurement if you want more sweetened cranberry sauce. Or less honey if you prefer more tart cranberry sauce.
Nutritional Info – Please keep in mind that nutritional information provided is only a rough estimate and can vary greatly based on products used.
Nutrition
Calories: 767kcalCarbohydrates: 200gProtein: 2gFat: 0gSaturated Fat: 0gCholesterol: 0mgSodium: 16mgPotassium: 625mgFiber: 18gSugar: 164gVitamin A: 450IUVitamin C: 120.4mgCalcium: 101mgIron: 2.1mg