If you are looking for super-fast and easy side dish for this Thanksgiving celebrations, then we have the best ever garlicky sauteed mushroom recipe for you! Mushrooms never fail, so is this sauteed mushrooms. The key to cooking mushrooms – KEEP IT SIMPLE!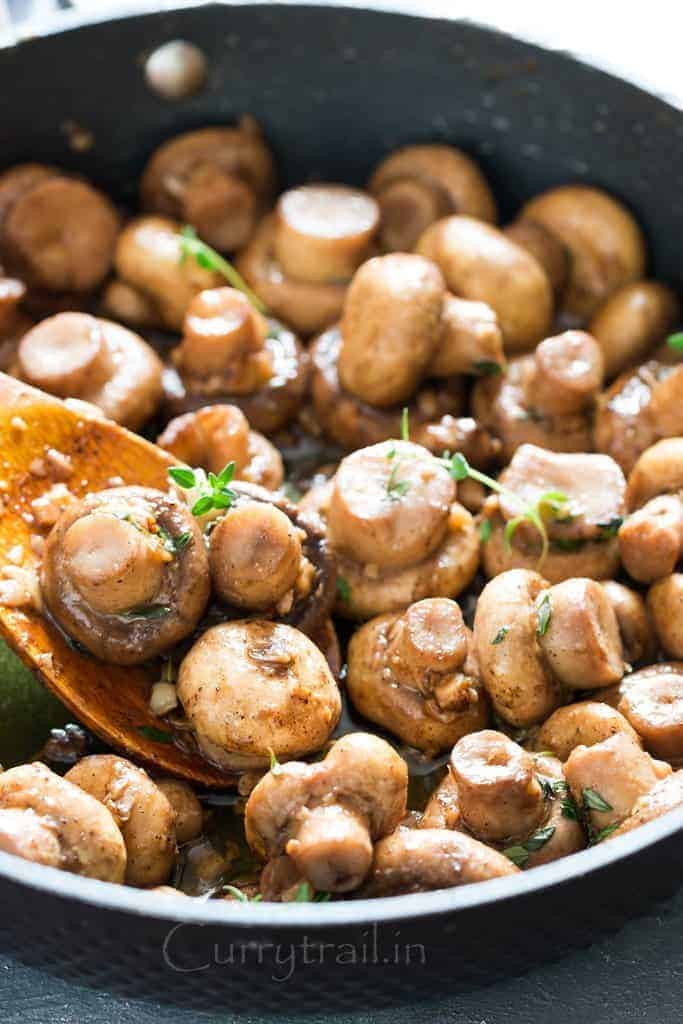 Yes! Simple flavors that makes mushroom feature it's rich, healthy and wonderful. In about 10-13 minutes you'll have the most amazing sauteed mushroom recipe with flavors that WORKS BEST! We are talking healthy, but i'm using butter instead of oil in the recipe?! Yes, that's me! I just wanted to have a luscious rich sauteed mushrooms! But please feel free to use oil instead of butter.
Mushroom recipes needs very minimal ingredients really. As mushrooms has it's own flavors we want to develop those instead of over powering it with some other ingredient and suppressing the earthiness of mushrooms.
Garlicky sauteed mushroom recipe enhances the flavors of mushrooms with helpers like garlic and fresh herbs like thyme cooked in luscious butter for richness. That's all you need for this sauteed mushroom recipe – garlic, butter and fresh herbs with simple salt and pepper seasoning.
Serve a unique mushroom side dish to your guests this thanksgiving that is healthy and easy to make. The browning on the mushrooms is achieved by cooking mushrooms in it's own juices at high heat to loose it's mushroom and turn brown hence enhances it's flavors.
In cooking world, those brown bits and pieces while cooking is GOLD! Mushrooms have their own umami. And caramelized mushrooms shines that umami flavors.
Take my word you are absolutely going to love it. Luscious butter browned with garlic enhances so much flavor then mushrooms get sauteed in that wonderful luscious butter. This brings all the wonderful earthy flavors and enhances the taste of mushroom.
There are lot of mushrooms and each one of them has it's own flavor profile and texture. While baby bella mushrooms would be the BEST CHOICE for sauteed mushroom recipe, we went ahead with the most pedestrian white button mushrooms (that's the name it's given in this side of the world).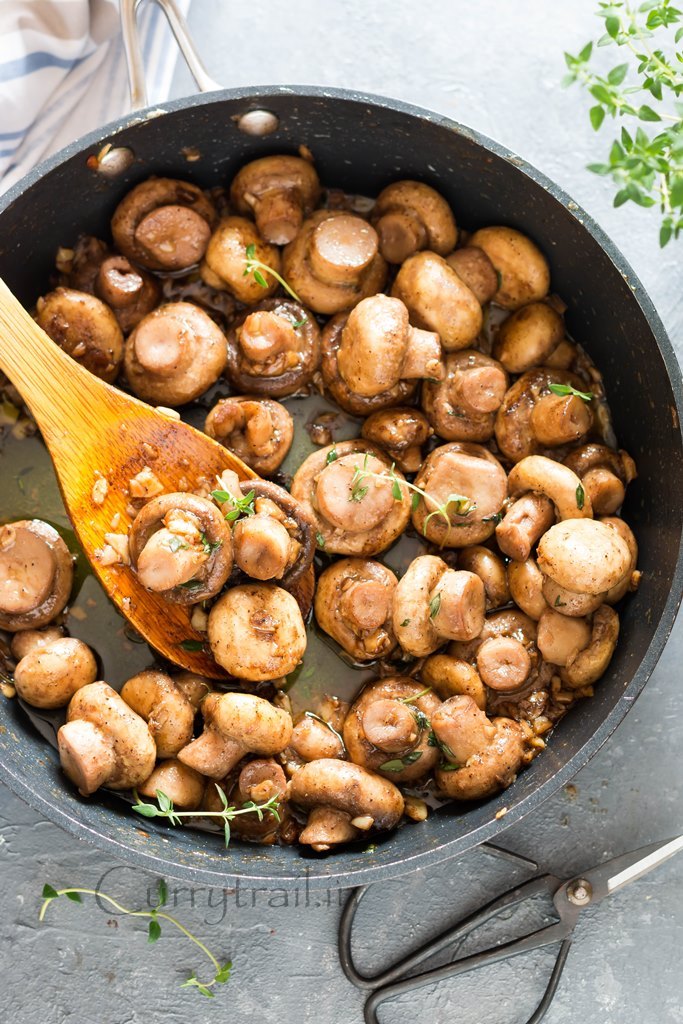 How to Saute Mushrooms
Cooking mushrooms can't be any simpler with sauteed mushroom recipe. Like the title says, we are going to be sauteing.
To get started, you need fat to help saute and brown mushrooms. Most of the mushroom recipes calls for olive oil for cooking, but we are going to do it with rich fat – Butter! Because we want richness. It's thanksgiving after all!
PRO-TIP: Alternatively you can simply brown mushrooms on heated skillet on all sides until nicely browned and then throw in the butter to prevent burning.
Thrown in mushrooms onto heated skillet, DO NOT STIR. Let it brown on one side and then using heat proof spatula turn it over and allow it to cook. This will ensure the browning of mushrooms are perfect!
Cooking mushrooms on stove top needs a wide skillet that can handle high heat and preferably the ones with handle to hold on to.
Place the skillet on high heat. Add in loads of butter. If your feeling dizzy looking at the butter content in my recipe, feel free to reduce the quantity or even substitute with olive oil. I believe every one should be able to cook as per their personal preference.
Once butter melts, thrown in loads of garlic and saute it until garlic looses it raw smell and begins to brown. We talked about all those brown bits as gold remember? Yes we want to saute until it's all golden brown to enhance the rich flavors.
Next throw in cleaned mushrooms into the skillet along with salt and pepper to taste. Saute and cook on high heat. Mushrooms will release liquids of it's own, so no need to add water or stock. Just continue cooking mushrooms in it's own juices until all liquids evaporate and mushrooms begins to turn brown.
Finally sprinkle in fresh thyme. Serve it as sides for your Thanksgiving dinner!
Sauteed mushrooms are great when topped over steak!
How Long to Cook Mushrooms
Cooking mushrooms does not need long time. This earthy vegetable cooks really fast. Add mushrooms in heated skillet. Let it JUST COOK for 3-4 minutes or until it's browned nicely. You'll know when to stir/flip. Mushrooms will begin to reduce in size and the edges would develop a nice golden color.
Then using heat proof spatula like wooden spatula turn it and allow it to cook.
Add butter to the skillet to avoid burning mushrooms. We want light browned or golden browned mushrooms which take about 8 to 10 minutes to get there!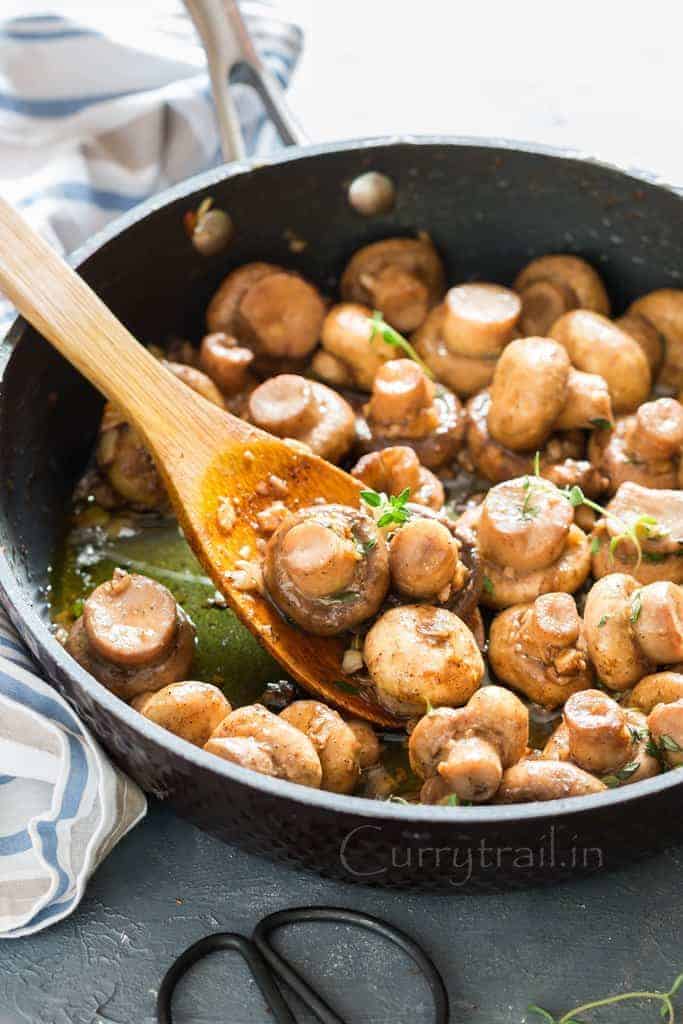 To Wipe Mushrooms or Rinse Mushrooms
A lot of people would tell you to wipe mushrooms with damp kitchen towel to remove dirt. But i'm that person who has no patience. I mean imagine wiping boxes and boxes of mushrooms while cooking for a crowd like Thanksgiving dinner party! Who has that kind of time! I clearly don't!
So I always rinse mushrooms in colander right in the sink under running tap directly. I leave mushrooms in the colander and shake it off well to remove excess water. Leave it near the sink for few minutes and your cleaned, drained mushrooms are ready to use.
Don't get worried if you rinse your mushrooms you won't be able to achieve gorgeous brown sauteed mushrooms. Remember to shake off excess water from mushrooms. And do not crowd the pan. add mushrooms in batches if you have to, and cook them in batches until browned!
If you watch my video I have rinsed mushrooms and I have cooked it skillet and they brown just fine!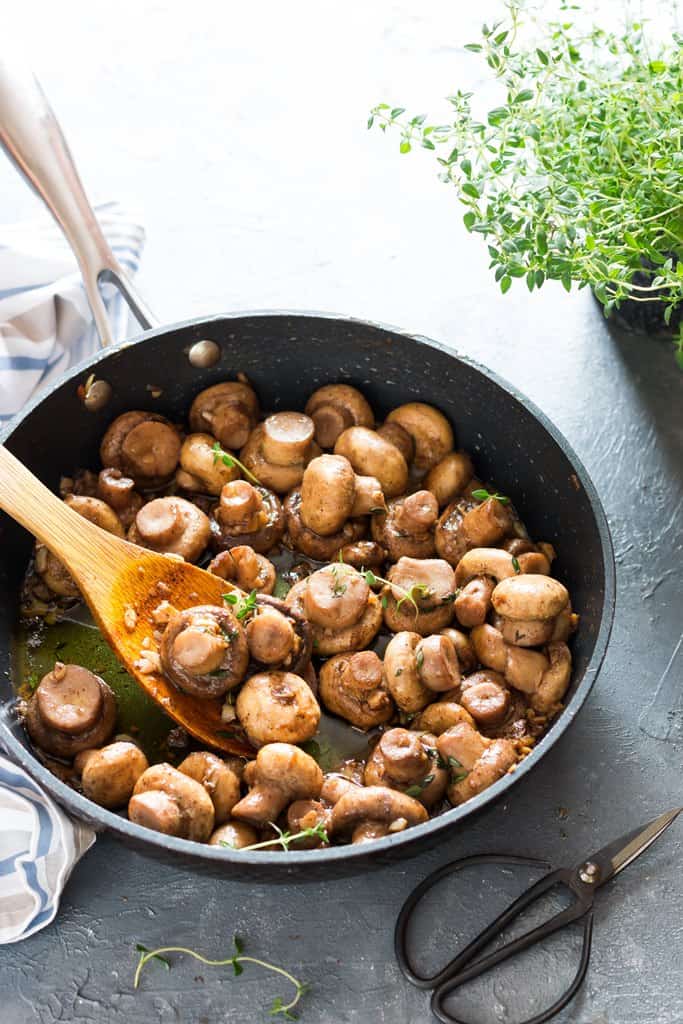 This Thanksgiving cook this simple mushroom stir fry dish for the sides. Infusing the garlic flavor in the butter before throwing in the mushrooms is the key step here. Make sure you saute minced garlic well in the butter and brown it a little for that great taste. A mess free one pot dish will be one of the star dishes on your Thanksgiving table.
There are some vegetables that need to be treated well. Simple flavors to make the dish stand out is important when you are dealing with vegetables like mushroom. Mushroom has this wonderful earthy flavors that has to be enhanced and the right ingredients to enhance it's flavors like butter, garlic and some fresh herbs makes mushroom tastes absolutely killer. You simply got to love simple dishes like these. So go ahead try it.
Looking for more mushroom recipes? I got some more amazing recipes for you guys, go check them out too.
Stuffed Mushroom with Italian Sausage
Mushroom Fenugreek Leaves Brown Rice
Cantonese Chicken with Mushrooms
Mushroom Butter Masala(the vegetarian version of Chicken butter masala)
Instant Pot Chicken Marsala with Mushrooms
Don't forget to Subscribe to CurryTrail Recipes below to get our newest recipes delivered straight to your inbox.
LOVE THIS RECIPE? KEEP IN TOUCH AND DON'T MISS OUT ON ANY OF CURRYTRAIL RECIPES! FOLLOW ME ON INSTAGRAM, PINTEREST, FACEBOOK, TWITTER, GOOGLE+.
Here's a quick video showing how you how fast and easy is sauteed mushroom recipe. You can scroll down to recipe card if you want written recipe.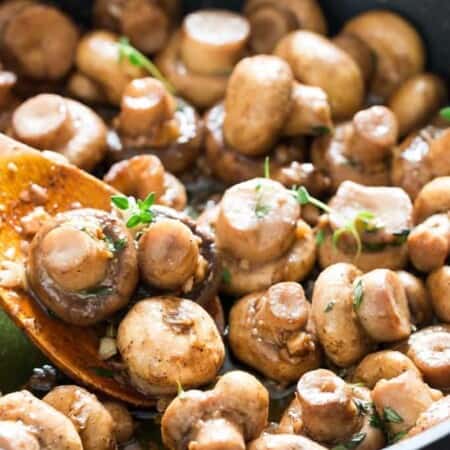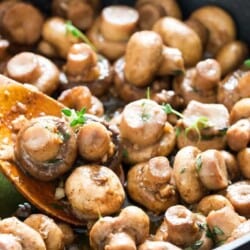 Garlicky Sauteed Mushroom Recipe
If you are looking for super-fast and easy side dish for this Thanksgiving celebrations, then we have the best ever garlicky sauteed mushroom recipe for you! Mushrooms never fail, so is this sauteed mushrooms. The key to cooking mushrooms – KEEP IT SIMPLE!
Ingredients
2 cups button mushrooms (or baby Bella mushroom)
2 tablespoon garlic minced
50 grams unsalted butter (go ahead use olive oil for butter instead if you prefer healthy)
2 teaspoon ground pepper powder (adjust to taste)
Salt to taste
2 to 3 teaspoon fresh thyme
Instructions
Scrub out all the dirt from mushrooms carefully and wash them clean.

Heat butter in wide pan. Let it brown a bit. Saute minced garlic in butter until the raw smell cooks off. You need to cook garlic until it's fragrant. We want to add layers of flavors to the dish. It starts off with garlic fist. If you do not wait until garlic is browned enough, you would have that extra flavor of garlic. Garlic that is browned well is going to bring out amazing flavor.

Once garlic is browned, time for mushrooms to go in. Allow mushrooms to cook for 3-4 minutes on the side so it gets cooked. Mushrooms will release a lot of moisture, you want to cook mushrooms in high heat (please ensure you don't burn mushrooms). Once you see mushroom shrinks and changes it's color a bit, flip them over. Continue to cook on other side as well.

Season the dish with salt and ground pepper to taste. Saute well and continue to cook for few more minutes.

Finally add chopped fresh thyme leaves and mix well.

Remove from heat and serve it hot.Sauteed mushrooms goes perfect with your steak. This is a great side dish on your Thanksgiving dinner plate.
Notes
We have used whole button white mushrooms. Other varieties of mushrooms that you can use are - Baby bella(cremini) mushrooms would be a great choice. Feel fee to slice them up if you do not prefer whole mushrooms. Slice it into half if that's you favorite way to eat mushrooms. Wild mushrooms. Olive oil can be used instead of butter if you are aiming at healthy low-fat side dish.
Nutrition
Calories: 434kcalCarbohydrates: 14gProtein: 7gFat: 41gSaturated Fat: 25gCholesterol: 107mgSodium: 18mgPotassium: 727mgFiber: 3gSugar: 4gVitamin A: 1250IUVitamin C: 9mgCalcium: 59mgIron: 1.6mg
"PIN IT" TO YOUR SIDES BOARD