Homemade pumpkin pie spice recipe is MUST HAVE fall and winter spice mix that you will reach for throughout holiday baking. Pumpkin pie spice is a simple mix with all "warm" spices. It's time for pumpkin everything and it's time to go sprinkling PUMPKIN PIE SPICE.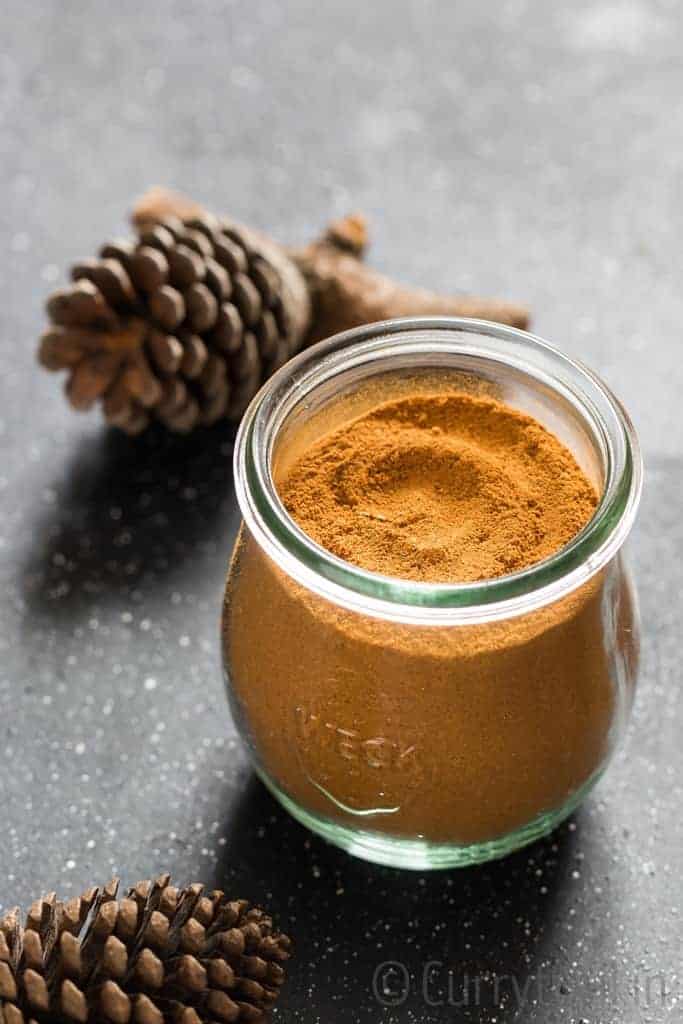 You guys! It's that time of the year – its pumpkin everywhere. Who else is excited already with pumpkin recipes pouring over internet in full swing already?! I know I'm definitely excited. Every time I see some amazing delicious pumpkin recipe, I make sure I save it to try later. I have been testing a few unique pumpkin recipes to share with you guys soon. So stay hooked here, if you love pumpkin everything.
Making your own spice blend always is BEST. Not just they save money, but also you get the FRESHEST spice mix. Also making your own spice mix gives you're the liberty to get it made to your personal preference.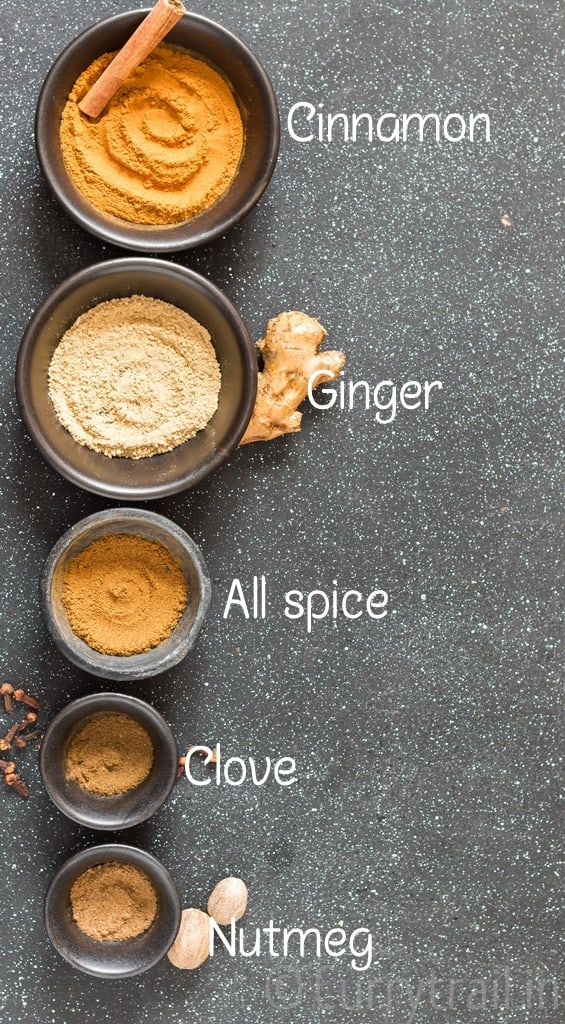 Homemade pumpkin pie spice is definitely better than store-bought versions. You need just 5 spice powders. Why shell out $6 for a tiny bottle of pumpkin pie spice, when you can make your own with way lessss money.
Plus make just as much as you would need.
All needed spices are common pantry ingredients and in case you don't have spice powders, you can blitz a few whole spices to have you own spice powders made for this pumpkin pie spice.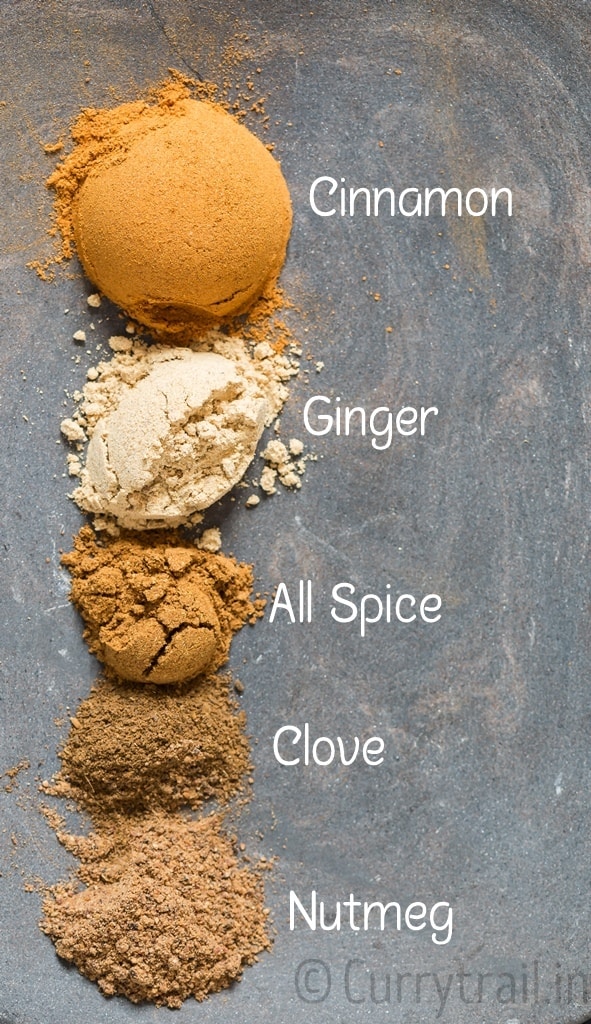 Don't buy ready made powders to make pumpkin spice. A bottle of nutmeg powder costs like $6 and a tiny bottle of clove powder works out like $7-8. You're not going to end up saving anything at all.
I made my own clove, nutmeg powders. Whole nutmeg has longer shelf life and you can just buy a few and keep it in pantry. And using a mini grater grate it just about the quantity you want. The grated nutmeg goes back into small glass jars to be stored for later use.
Similarly for clove powder, I lightly roasted cloves and blitz in my mini blender jar. You could sieve the blend powder to get fine powder and left over residues of cloves – don't throw that away. Sprinkle the residues in curries.
Why Homemade Pumpkin Pie Spice
Making your own spice blend mix has loads of benefits.
Cheaper – doing your own spice blends saves money for sure. You don't have to shell out hefty $. Also when you buy store bought spice blend you get a big batch. If you are someone who buy a particular spice just for one dish, later have those spice cans buried in your pantry for ages not even remembering you have that spice blend, then you are someone who should restore to homemade spice mixes.
It gives you total control – make the spice blend that works for you. For some reason store bought pumpkin pie spice has predominant cinnamon flavor and taste to it. Balance the spices just right to work best for your palate with homemade spice. Or simply amp up warm flavors by adding a little extra bit of cloves and nutmeg, ginger or make it cosy comforting spice mix with extra hints of cinnamon in it. Just the way you like it!
Fresher spice – Making yourself not just saves you money but ensures spices are fresh. Homemade spice blend are definitely fresher, with strong flavors of each individual spice thus making it tastier than store bought ones.
As much needed – Make just as much pumpkin pie spice you need and store in weck jars or any glass containers with air tight lid.
Your autumn/fall/holiday baking sorted – it's a season of pumpkin everything and with pumpkin pie spice in hand your good to go. Not just pumpkin, but a whole lot of fall baking dishes calls for pumpkin spice, so it's worth doing a fresh batch of pumpkin pie spice once just when your getting ready for fall.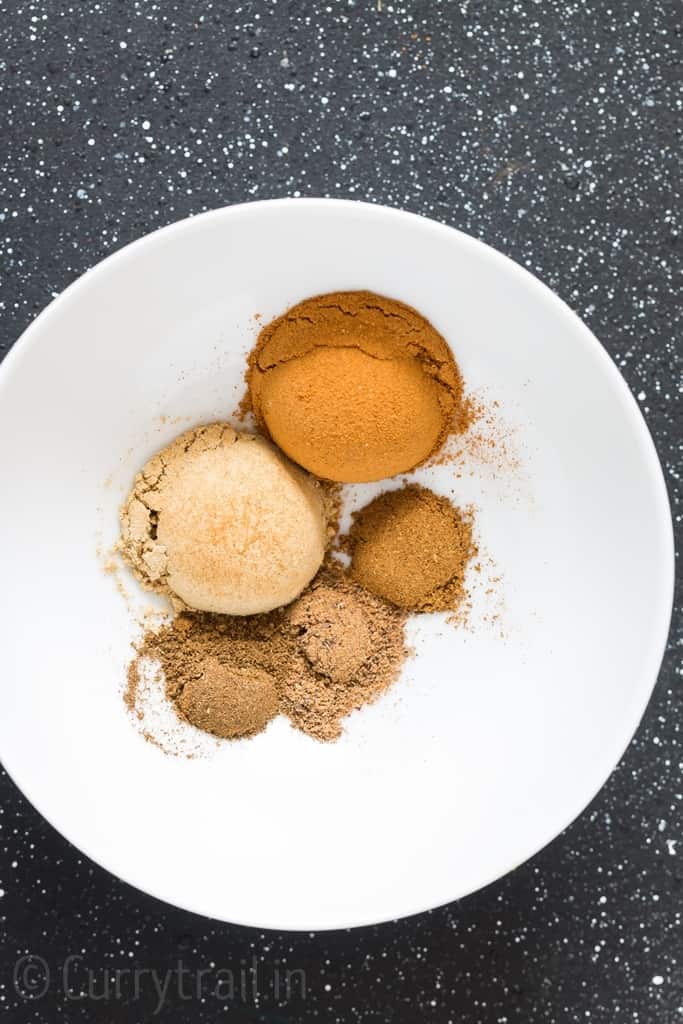 What's in Pumpkin Pie Spice Recipe
Fall recipes are all about warm, soothe your soul and tummy types. The spices that usually you pick would be something like cinnamon, ginger, cloves, nutmeg. All warm spices.
Pumpkin pie spice is a well balanced mix of all these warm spices that usually is used in pumpkin pies, pumpkin smoothies, pumpkin bread, pumpkin dip, pumpkin cheesecakes and many other baking recipes.
Pumpkin pie spice is very easy to make and needs
Cinnamon, ginger, all spice, cloves and nutmeg. That's all! That's all is there in my pumpkin pie spice.
The recipe is flexible. A particular spice you like – add a generous extra pinch of that to make it perfect for you. Any spice that puts you off – add in lesser quantity or leave it off completely. It's all about what taste and smell that soothes you and fits your taste preference.

How to use Pumpkin Pie Spice
So now you got a small jar of your own version of pumpkin pie spice, what's next?
How to you use it?
Have you experienced the pumpkin mania on the internet yet? I have, totally. So many delicious pumpkin recipes and many of it calls for pumpkin pie spice.
I would be sharing soon a few pumpkin recipes using pumpkin pie spice in it. Until then here are some ideas on how to use pumpkin pie spices –
pumpkin pies
pumpkin cheesecakes
pumpkin latte
pumpkin cakes
Pumpkin muffins
Cinnamon rolls
Pumpkin dip
Granola
Overnight oats
In roasted squash and potatoes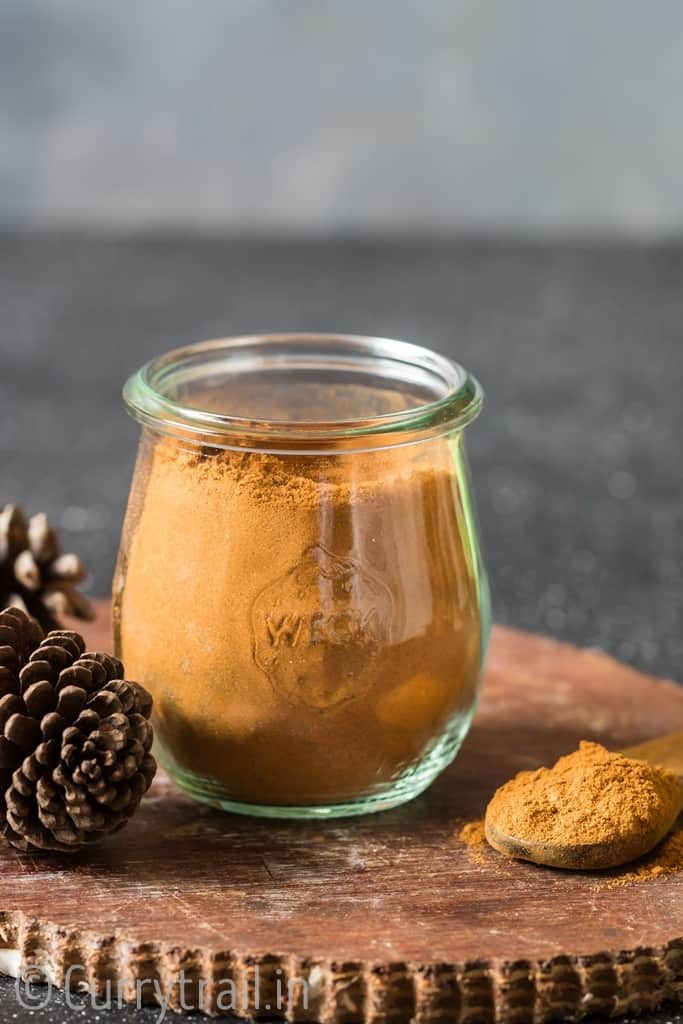 Check out other homemade spice blends recipe –
Don't forget to Subscribe to CurryTrail Recipes below to get our newest recipes delivered straight to your inbox.
LOVE THIS RECIPE? KEEP IN TOUCH AND DON'T MISS OUT ON ANY OF CURRYTRAIL RECIPES! FOLLOW ME ON INSTAGRAM, PINTEREST, FACEBOOK, TWITTER.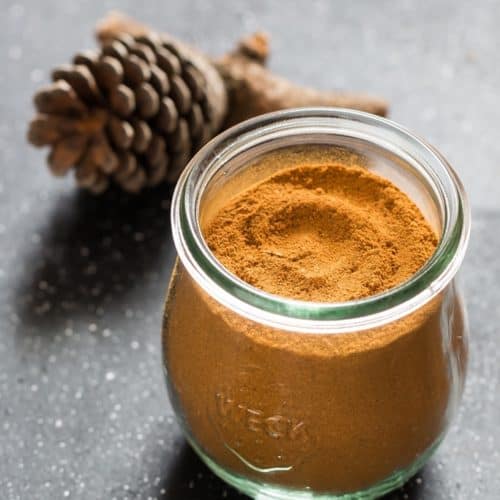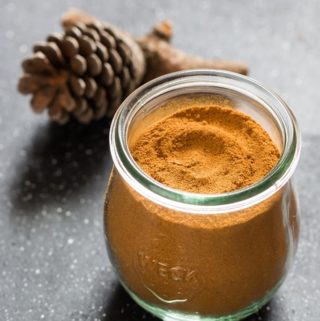 Homemade Pumpkin Pie Spice
Homemade pumpkin pie spice is MUST HAVE fall and winter spice mix that you will reach for throughout holiday baking. Pumpkin pie spice is a simple mix with all "warm" spices. It's time for pumpkin everything and it's time to go sprinkling PUMPKIN PIE SPICE.
Print
Pin
Rate
Ingredients
3

tablespoon

cinnamon powder

2

teaspoon

ground ginger

1

teaspoon

all spice powder

½

teaspoon

ground clove

½

teaspoon

nutmeg powder
Instructions
To make pumpkin pie spice blend, simply add all the spice powders to a bowl whisk together until well combined.

Store the spice blend in air tight glass jars in cool dry place.
Notes
If making your own spice powders – do this
Ground cloves – first lightly roast whole cloves in low heat until it turns warm. Remove from pan, and blend it in small blender to fine powder. You could also sieve the ground clove to get fine powder if your blender does not help you.
Nutmeg powder – just grate whole nutmeg using a mini grated.
Ground ginger – you need dried whole ginger to make ground ginger. Dried ginger can also be grated in mini grater.
Nutritional Info – Please keep in mind that nutritional information provided is only a rough estimate and can vary greatly based on products used.
Nutrition
Calories:
45
kcal
|
Carbohydrates:
13
g
|
Protein:
0
g
|
Fat:
0
g
|
Saturated Fat:
0
g
|
Cholesterol:
0
mg
|
Sodium:
3
mg
|
Potassium:
81
mg
|
Fiber:
8
g
|
Sugar:
0
g
|
Vitamin A:
45
IU
|
Vitamin C:
0.6
mg
|
Calcium:
153
mg
|
Iron:
1.5
mg