Nutella Strawberry French toast Roll Ups are soooo amazing! These are best breakfast ever! Guys you will have to try it out to believe me.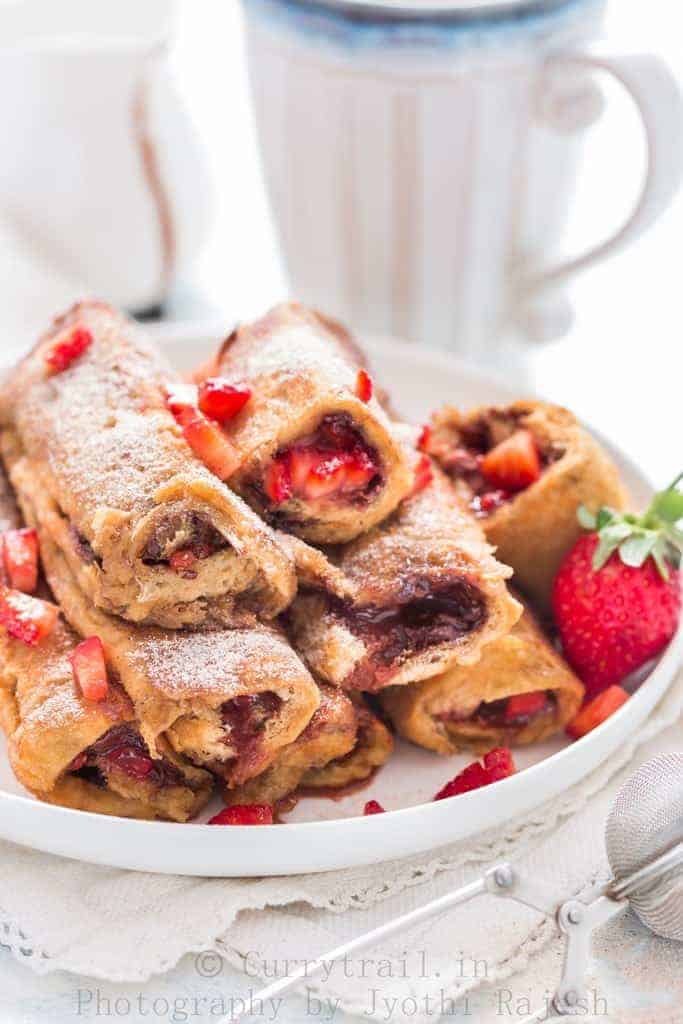 My kids looove Nutella, I mean …. NUTELLA!! Who doesn't?! This Nutella Strawberry French Toast Roll Ups is wonderful dessert recipe, perfect treat for energy breakfast or snack.
Imagine waking up on a Sunday morning and you decide to do French toast. Sunday's deserve to be binge day. Treat yourself with all-you-want-to-eat food. Now French toast sounds amazing on a Sunday morning. But wait,…what if you can up the toast game a little more indulgence, a true treat for all your sweet tooth lovers!
These Nutella French toast rolls are not any ordinary French toasts that you roll it up. But only more special.
A lot more special.
And why? Because it's made decadent by smothering ridiculous amount of your favorite Nutella and load them with fresh strawberries. And just like that you have the serious indulgence strawberry Nutella French toast roll ups for breakfast. Isn't that the most gorgeous breakfast ideas you think of?! I think so too.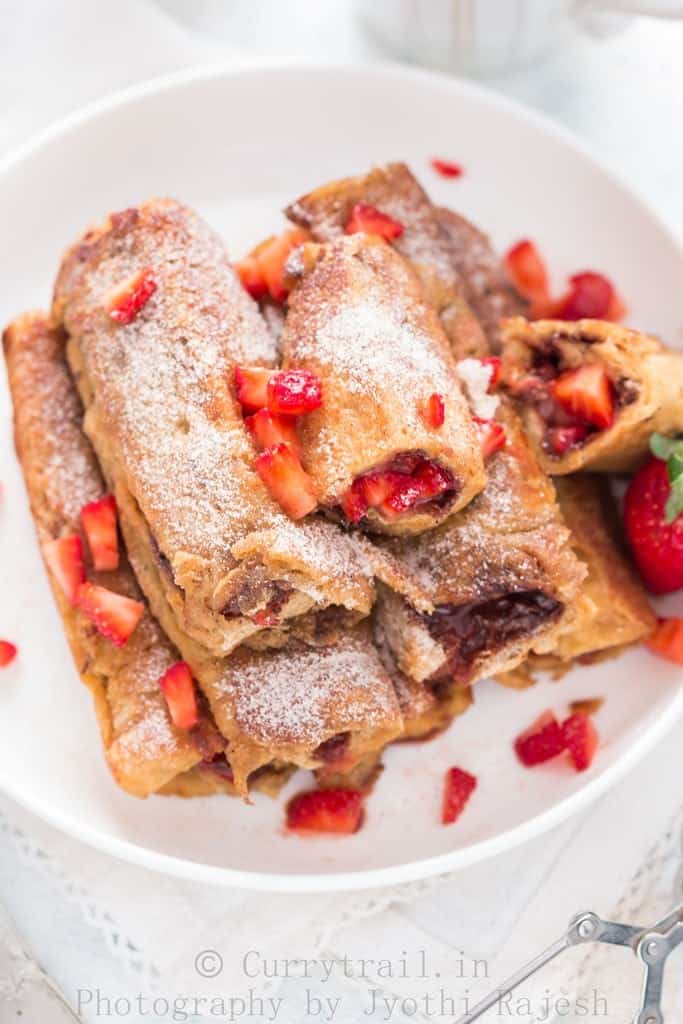 Breakfast rolls are …I'll repeat again, are amazing. Imagine Sunday morning, in your pajamas, eating these for breakfast doing what ever you love to do on Sunday morning. Want to just laze around, read your newspaper page to page, or turn on tele for a movie marathon. Yes that's allowed, tele early morning on Sundays if that's what you prefer.
This Nutella bread rolls are fun and fuss free to eat. You don't need to on dinning table, you don't need those forks and knife. Just hold these French toast roll ups in your hand, news paper on the other hand and enjoy your Sunday morning. Yea that's how I and Raj spent our last Sunday. And oh yea, I'm so repeating the experience this Sunday too. :D.
Love French toast recipe?
You'll love this one too Coconut Crusted French Toast.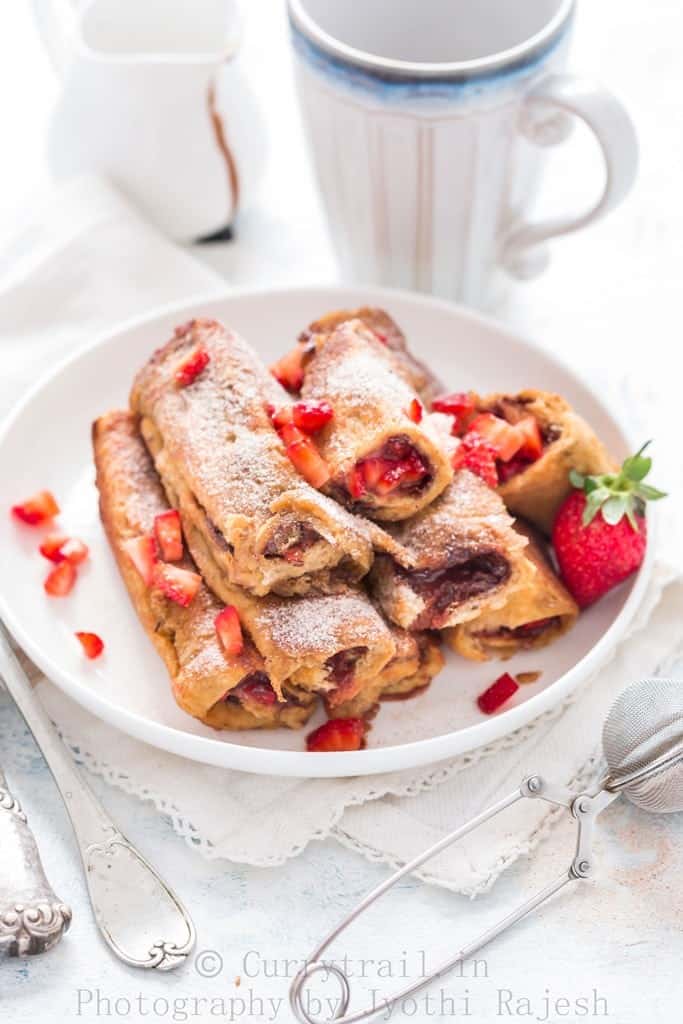 Nutella filling turn delicious gooey when these rolls comes out hot from the pan. The golden brown buttery outside crust with coating of sugar and cinnamon powder with soft gooey filling all melts in your mouth.
Nutella strawberry French toast rolls recipe is so easy and it takes literally 15 minutes tops to get it done. So this recipe makes sure you don't sweat it out in the kitchen hour's to-gether, especially not on a Sunday morning! Kids and adults love them! I've always loved French toast and this is like French toast all dressed up and ready to party. Recipe adapted from recipetineats.
How To Make Nutella Strawberry French Toast Roll Ups
To make Nutella breakfast rolls, the edges of the bread get trimmed first. Any white bread or even brown bread can be used. I used sandwich bread. Each slice of bread is flattened out with rolling pin. The flattened bread slice is then smothered with Nutella. Be generous. Stuff with chopped strawberries and roll bread.
Cook on a skillet set over medium flame with loads of butter, yes loads of butter. You want a nice outer buttery crust.
Finish with a generous dusting of cinnamon sugar mixture, one of the best things on earth. Tuck it as it is hot or you can dunk these French toast roll in maple syrup.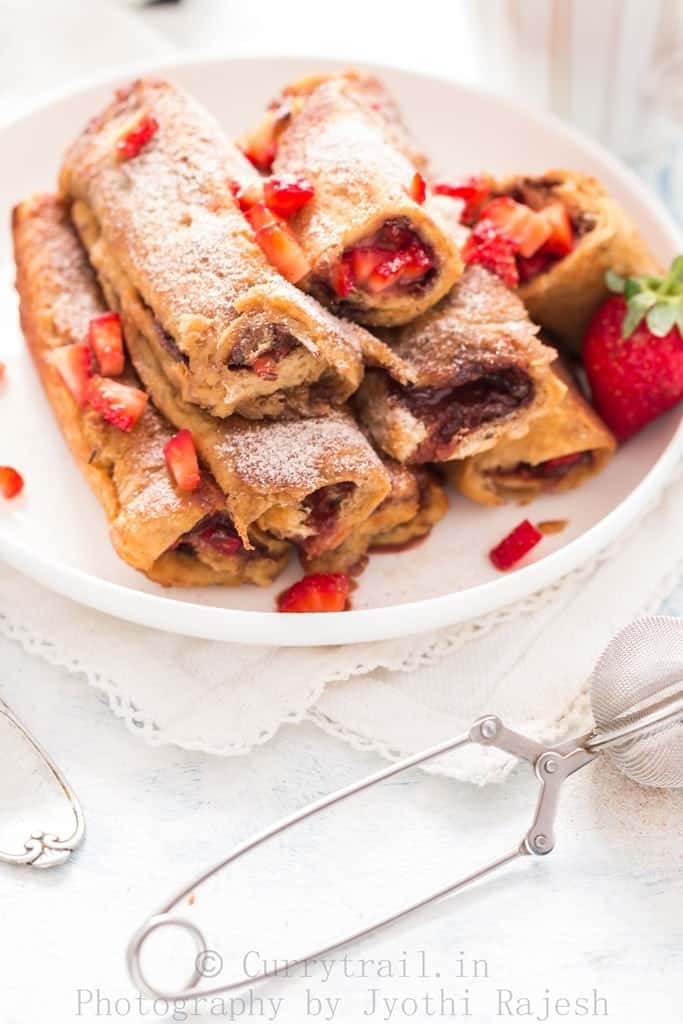 Nutella Strawberry French Toast Roll Ups Without Eggs
I love eggs and eat it all day. But some of my readers often come and ask me on my blog this question. Can I do this recipe without eggs? What's the substitution for eggs in this recipe?
So to answer to all readers who don't eat eggs – YES you can make these French roll ups without eggs.
I've experimented and tested this recipe many times just for my readers.
For egg less option 1 –
Leave out the eggs completely and just whisk milk and sugar. Dunk the bread roll ups in the milk sugar mix and cook on skillet. But then the toast do not get that crisp as you'd like. And the inside too tends to be softer.
For egg less option 2 –
Custard powder (or corn starch) is added as a substitute for eggs. This works really well for egg less French toast recipe. Whisk custard powder, milk and sugar well until sugar is dissolved. Stuff bread slices with Nutella spread and strawberry pieces roll. Dunk bread rolls in the mix and cook on medium flame on a skillet.
Substitutions For Nutella in French Toast Roll Ups
What?
Seriously?!
Come on, we all looove Nutella, we don't need substitution for Nutella!
Right? Exactly what I thought until one of my reader actually asked me "sorry not a Nutella fan, any substitution?"
I'm not joking. Someone really asked me that question!
This is for them.
All hard core Nutella lovers just scroll down, you don't have to read this guys.
I can think of some of the spreads that you can use in this French toast rolls recipe. Please remember I haven't tried any of this substitution.
Cream cheese sweetened with honey and then filled with strawberries.
Peanut butter and strawberry stuffing.
Jelly.
Nut butter. Why not!
Marshmallow fluff! Ooooo.
Dulce de leche. Nice!!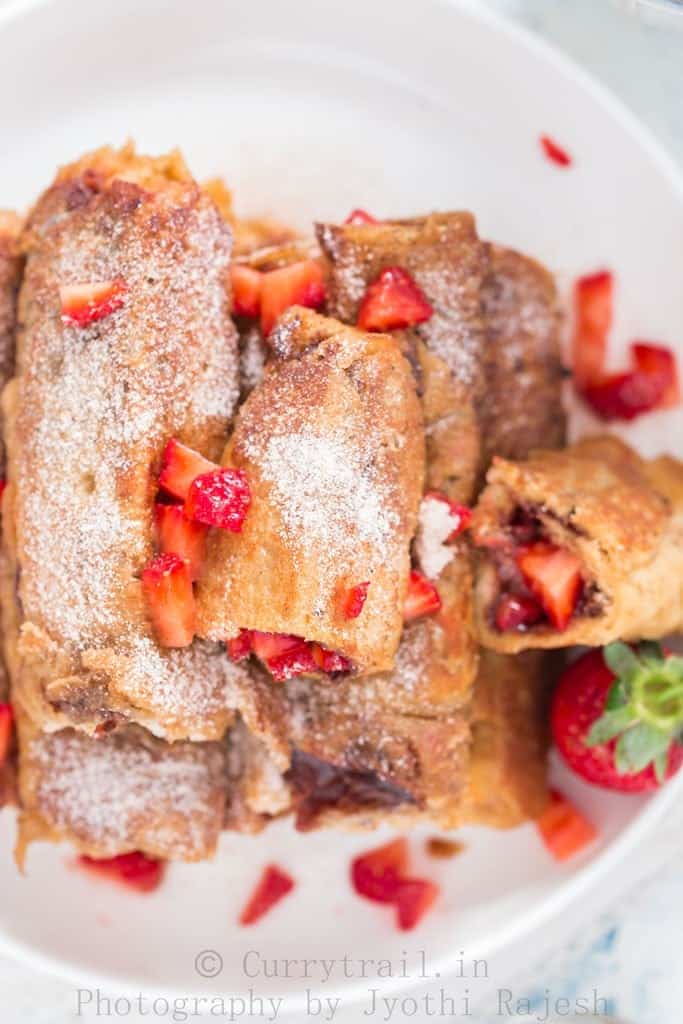 A great Christmas breakfast would be this Nutella Strawberry French toast rolls recipe. These are perfect during holiday season too. The warm cinnamon spice used in the recipe would remind you of Christmas morning.
I'd serve this on bed for Valentine's Day breakfast too. It's just that chocolate is believed to be one of the most popular ingredients you have to use to make any Valentine's Day special recipe. And strawberry is a beautiful adds on for Valentine's special recipes. Why? I guess it's the heart shaped juicy red fruit reminds us all of heart which symbolizes to Valentine's Day.
Well I may not have used the 'actual' chocolate here, but guys Nutella is so much better than chocolate and Nutella loves to be on bread. This is a dish you want to make for your loved ones and for yourself the day you are feeling blue and want something to pep you up.
Just remember this, when you make this Nutella breakfast rolls, keep your guilt feelings aside. Because these roll ups are bad ass. It has a good amount of Nutella spread on it and then there are eggs into which it dipped and fried/cooked in butter.
This dish would not be complete without a generous amount of cinnamon sugar sprinkled on top. You know what I'm talking about! Yeah, that's why I call it bad ass roll ups.
Indulge! Occasionally we all, even the hard core diet conscious people need to indulge! So go indulge in Nutella smeared strawberry stuffed French Toast Roll Ups today! Let's think of diet tomorrow!
TRYING TO THINK OF MORE BREAKFAST DISHES? TRY THESE RECIPES –
Spinach And Eggs Breakfast Pizza
Don't forget to Subscribe to CurryTrail Recipes below to get our newest recipes delivered straight to your inbox.
LOVE THIS RECIPE? KEEP IN TOUCH AND DON'T MISS OUT ON ANY OF CURRYTRAIL RECIPES! FOLLOW ME ON INSTAGRAM, PINTEREST, FACEBOOK, TWITTER.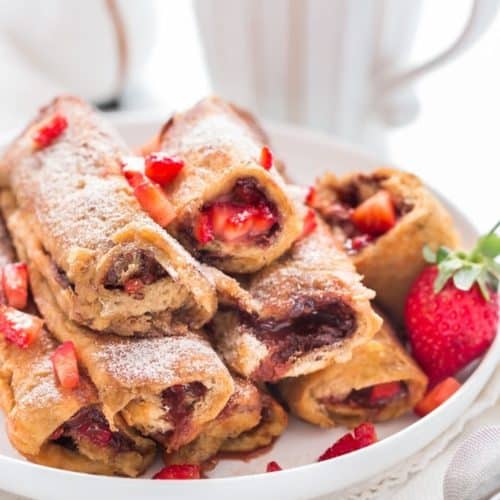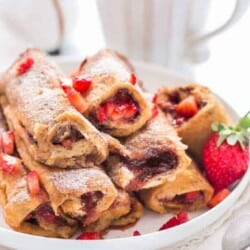 Nutella Strawberry French toast Roll Ups
Nutella Strawberry French toast Roll Ups are soooo amazing! These are best breakfast ever! Guys you will have to try it out to believe me. My kids looove Nutella, I mean …. NUTELLA!! Who doesn't?! This Nutella Strawberry French toast Roll Ups is wonderful dessert recipe, perfect treat for energy breakfast or snack.
Ingredients
10 slices bread(white sandwich bread)
1 cup strawberries
10 tablespoon Nutella
⅓ cup unsalted butter
3 eggs
3 tablespoon milk
¼ cup sugar (I used a bit lesser than ¼ cup)
For dusting
¼ cup powdered sugar
1 tablespoon cinnamon powder
Instructions
1. Trim the edges on the bread. Slightly roll the bread. Keep aside.

2. Hull the strawberries and chop into small pieces.

3. In a shallow bowl whisk add eggs, milk and sugar until sugar is fully dissolved.

4. Take a slice of bread, spread generous amount (about 1 tablespoon) Nutella over it. Place a spoon full of chopped strawberries on one edge. Carefully roll the bread and seal the ends tight to ensure the strawberries stays intact inside. Repeat this for rest of the bread slices.

5. Dip the rolls carefully in egg mixture. (For egg less option please read the post above)

6. Add butter to a skillet set over medium flame. Let the butter melt. Do not brown the butter. Place the rolls dipped in eggs seam side down into the pan and shallow fry until the bread turns golden brown on all sides.

7. Remove Nutella strawberry French toast rolls from the skillet on to a plate.

8. Mix powdered sugar and cinnamon powder well. Dust it generously on the roll ups. Serve immediately.

9. You can serve these roll ups for breakfast, after school snacks or even as desserts.
Notes
1. Serve French toast roll ups fresh i.e. hot or warm. It will turn soggy if let to rest. Always better to serve immediately! Nutrition mentioned below is for one serving. Size of bread, amount of Nutella smeared and strawberries stuffed inside can be different from my version and so does calculation of nutritional information. Please keep in mind that nutritional information provided is only a rough estimate and can vary greatly based on products used.
Nutrition
Calories: 963kcalCarbohydrates: 118gProtein: 19gFat: 46gSaturated Fat: 32gCholesterol: 219mgSodium: 582mgPotassium: 574mgFiber: 9gSugar: 68gVitamin A: 890IUVitamin C: 28.2mgCalcium: 277mgIron: 7.2mg