Homemade Schezwan sauce (Szechuan) is 'extremely spicy' but 'extremely tasty' sauce that you should be making at home right away. This chili sauce recipe is one of those sauces you should definitely try.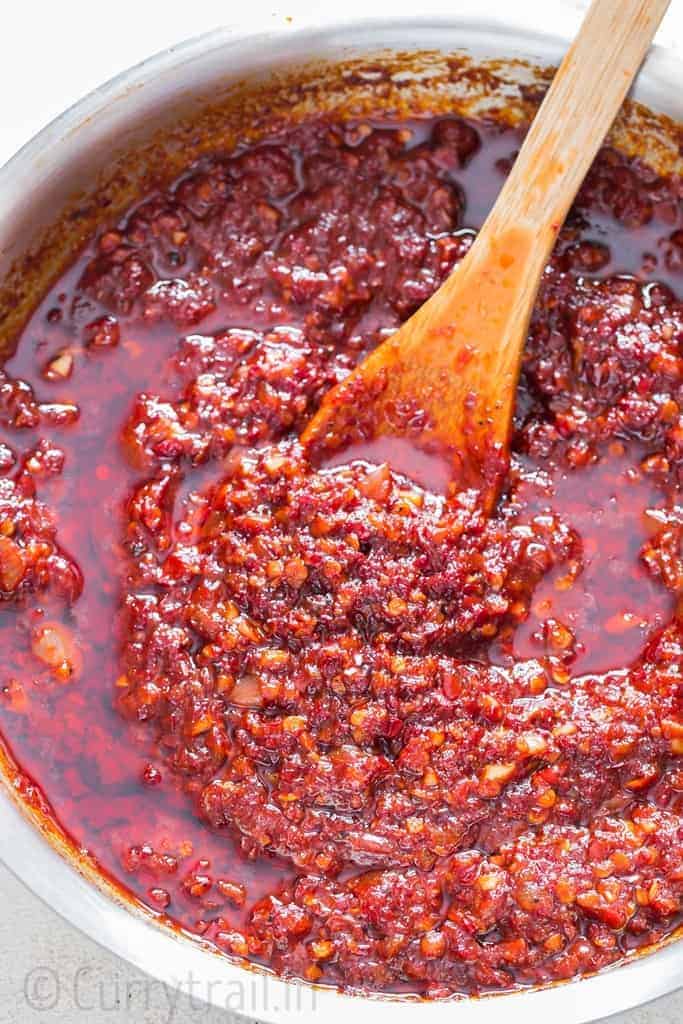 The recipe was originally posted Nov 2015. Updated photos and added video in 2019. Recipe is the same. It's just PERFECT!
Older photo ->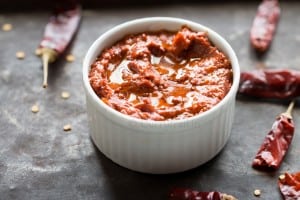 Szechuan sauce – DAMN TASTY SAUCE!
Word of Caution : Schezwan sauce will make you sweat and bluster. Use quantity depending on your palate and spice tolerance levels.
Nothing can beat the taste of noodles cooked in spicy schezwan sauce. It's a sauce that can be made easily at home. If you like Schezwan noodles or fried rice, then you should make this easy sauce at home.
Why Schezwan Sauce Is So Damn Tasty?
Is it Szechuan sauce or Schezwan sauce the correct spelling?! I guess both are correct. Different countries have their own way of pronouncing and calling a dish. Call it however you want, this schezwan-style sauce should definitely be one of the sauces you should try right away!
Because this homemade schezwan sauce recipe is spicy, sour and slightly sweet and it's that ONE SAUCE you need to perk up any of your meals. Yes, any meals, and we mean it. Add it to your fried rice or noodles for dinner, spoon it in over chicken stir fry (any meat stir fry), use drops of it over soup or simply use it for dipping.
Millions of trillions recipe can be found out there, but the legitimate Szechuan sauce features Chinese dried red chilies, Szechuan peppers, fresh ginger and garlic, rice wine vinegar, soy sauce, sugar all cooked in sesame seed oil.
Szechuan sauce recipe is nothing but chili garlic sauce. In India we call Schezwan sauce and it's an fusion Indo-Chinese recipe. Ingredients include red peppers (dried red chilies) soaked in water besides loads of garlic and ginger, some shallots, Schezwan peppers, soy sauce, white vinegar, sugar and little bit of ketchup.
This spicy sauce is an ultra flavorful, extremely tasty dipping sauce that's perfect on meat, chicken, stir fried veggies, with fried rice and Chinese noodles or even with soups! It's best with chicken nuggets. Remember those super flavorful, spicy Mc Donald's Szechuan sauce you get with chicken nuggets?! Clearly the best way to eat chicken nuggets was with Mc Donald's Szechuan sauce.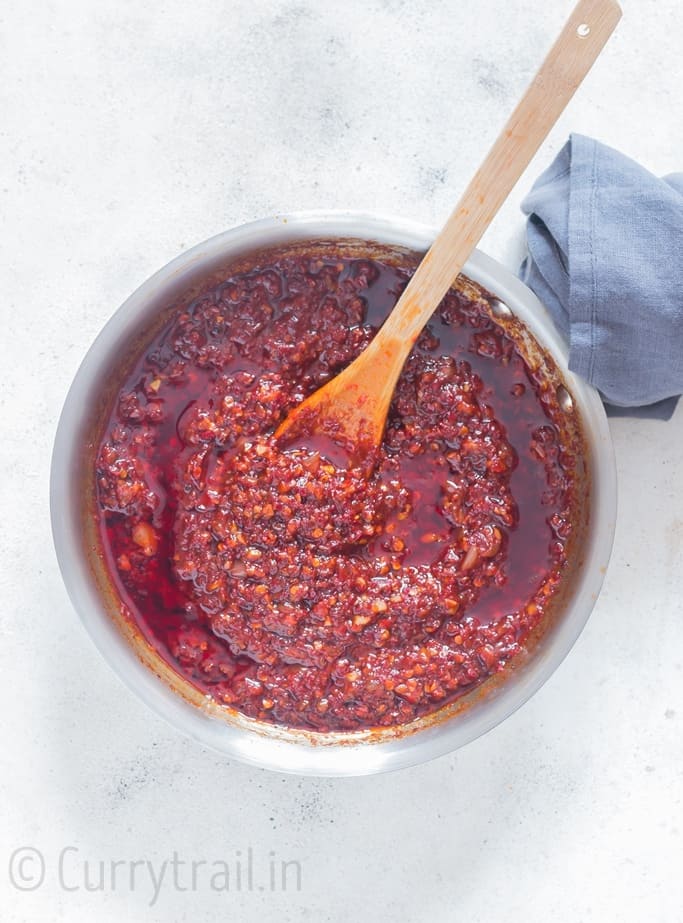 This Szechuan sauce recipe not exactly what you get at Mc Donalds as dipping sauce. It is slightly different compared to Mc Donald's Szechuan sauce in terms of consistency and ofcourse we have the added flavors here that makes it more on the savory spicy sauce than sweetish spicy sauce.
Like with everything else, homemade recipe is always the best.
You have total control on how spicy you want to make.
You make just the quantity of sauce you like you'll need.
You can add in more flavors or ignore any ingredient that does not fit your palate.
Make it once at home and it stays good in refrigerator for 2-3 weeks. That means 2 weeks of delicious stir-fries and meat marinade is ease as breeze.
What is Szechuan Sauce (Schezwan Sauce)
It's is hot and spicy usually serves as chicken nuggets compliment in Mc Donalds. In India it's this popular Indo-Chinese sauce that is used to make schezwan noodles, schezwan fried rice, schezwan stir fried chili chicken, also as a compliment with potato wedges, momos (dimsum), spring rolls.
It's a gluten-free vegan sauce that will tingle your palate with it's spicy, sour and sweet flavors.
If you're looking to perk up your meals, add Szechuan sauce to your favorite chili recipe, stir-fry or to your meat.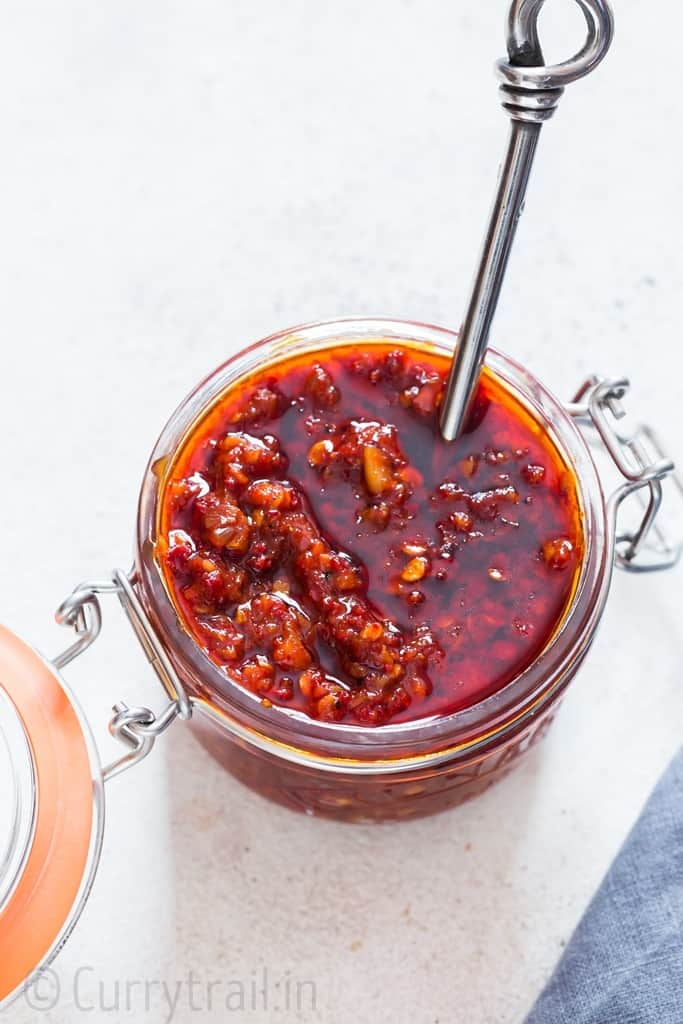 Ingredients Needed
Simple basic pantry ingredients is what you need to make ultra delicious.
Dried red chilies – we used mix of two varieties of dried red chilies. One for the heat and other to impart bright red color (byadagi chilies – the wrinkled ones). This combination gives a good balance of heat, flavor and color to the sauce. Choose chili variety depending on your spice tolerance level and taste buds.
Loads of garlic – finely chopped
Loads of ginger – finely chopped
Shallots – finely chopped
Soy sauce
White wine vinegar
Schezwan peppers (ground)
Salt
Ketchup
Sugar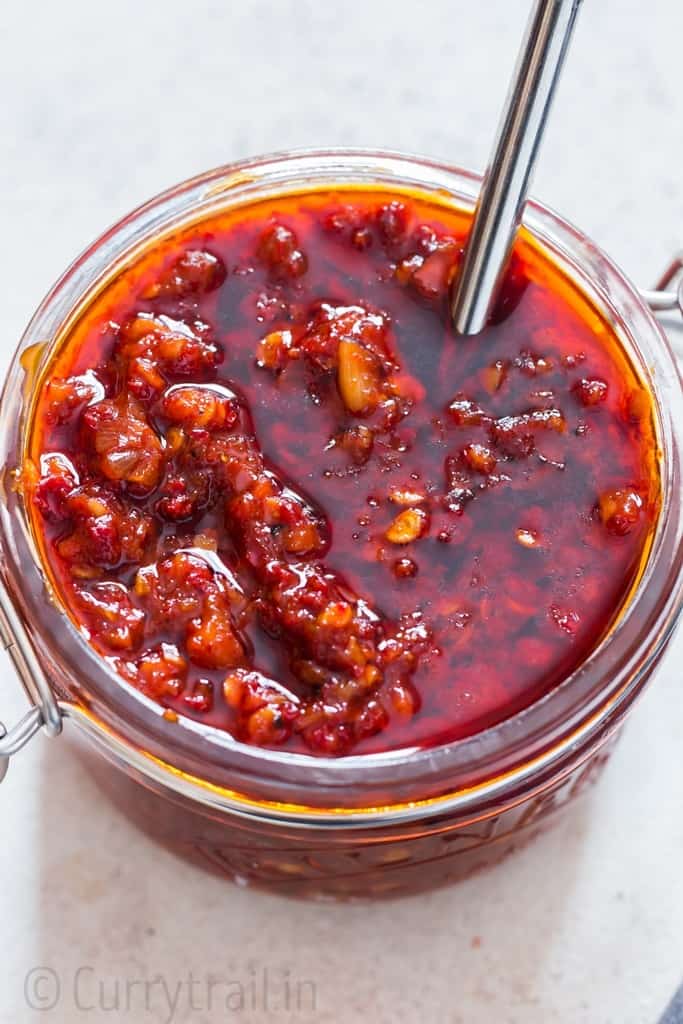 How to Make Schezwan Sauce (Szechuan Sauce)
This spicy hot chili garlic sauce has lots of dried red chilies along with loads of garlic, ginger and some shallots. It's not chili sauce if there is no schezwan peppers.
Chinese cooking requires minimal knife skills. If you can chop fresh ginger, fresh garlic and shallots fine, you sauce consistency turns out great.
If you can't chop ingredients fine, use food processor to do the fine chopping, but do not make a paste. I find the texture and even the taste of this chili sauce changes if you use paste of ginger, garlic shallots instead of finely chopped.
Dried red chilies are soaked in water for few hours and then ground to paste.
Saute lots of garlic, ginger and shallots in sesame seeds oil until raw smell vanishes. Then add in ground chili pasta. Cook until oil separates from the side of the pan.
Add in soy sauce, ketchup, white wine vinegar, salt, ground schezwan peppers, and sugar.
Simmer for 5 minutes and it's done!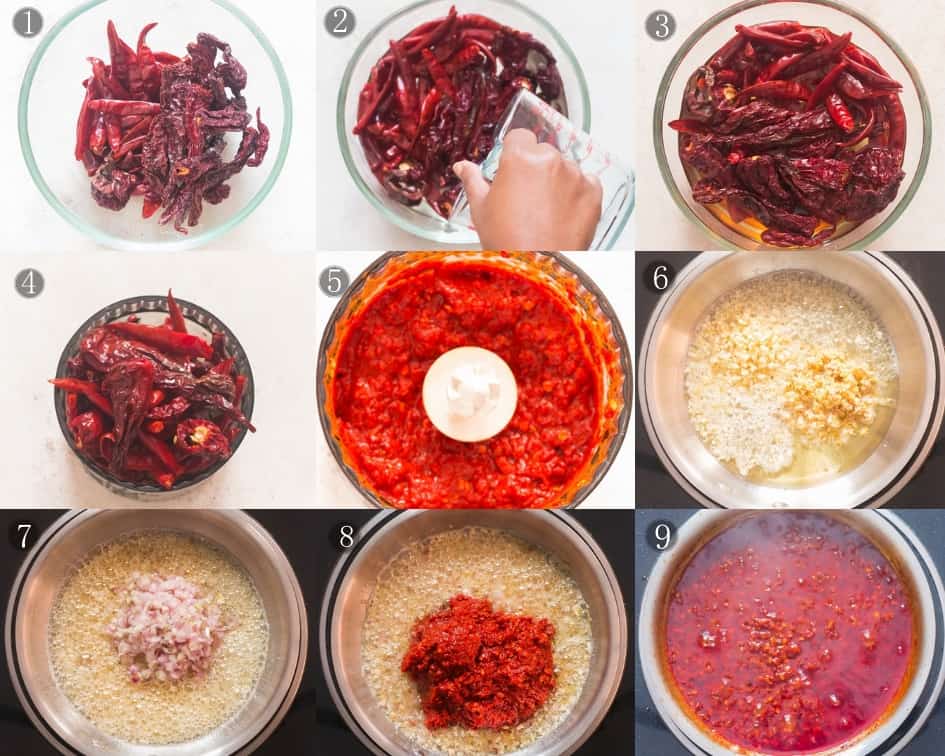 You can use this spicy chili sauce in stir fry noodles.
Here's an old but very popular recipe on curry trail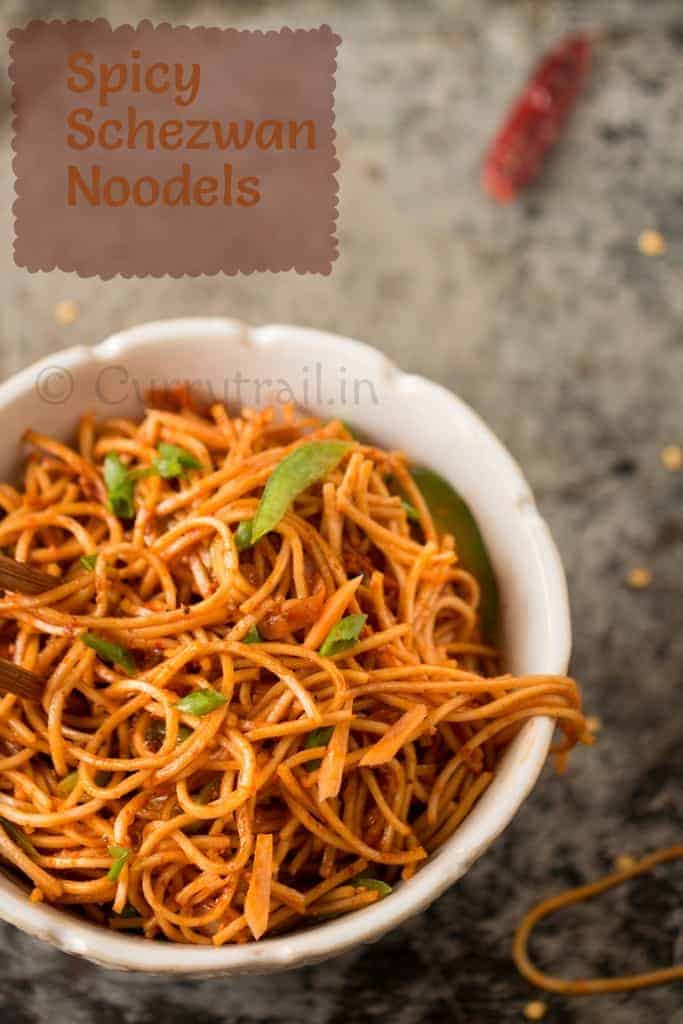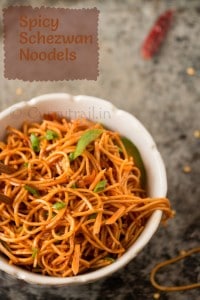 Does it make you crave for some stir fry noodles now?! I'm hungry now! 😛
Use this sauce in these recipes –
Don't forget to Subscribe to CurryTrail Recipes below to get our newest recipes delivered straight to your inbox.
LOVE THIS RECIPE? KEEP IN TOUCH AND DON'T MISS OUT ON ANY OF CURRYTRAIL RECIPES! FOLLOW ME ON INSTAGRAM, PINTEREST, FACEBOOK, TWITTER.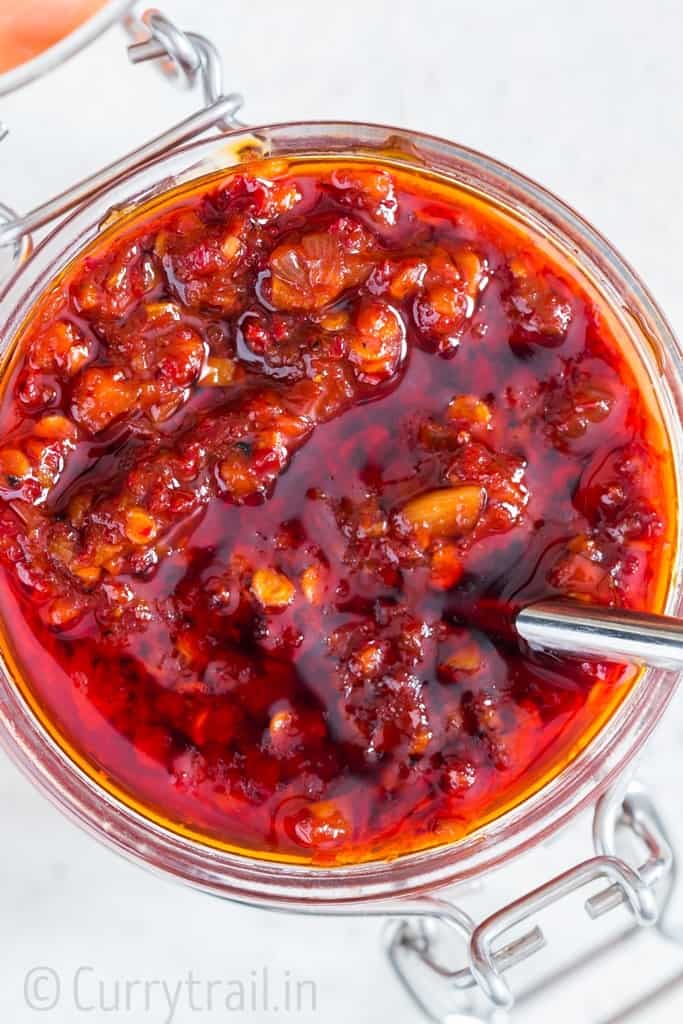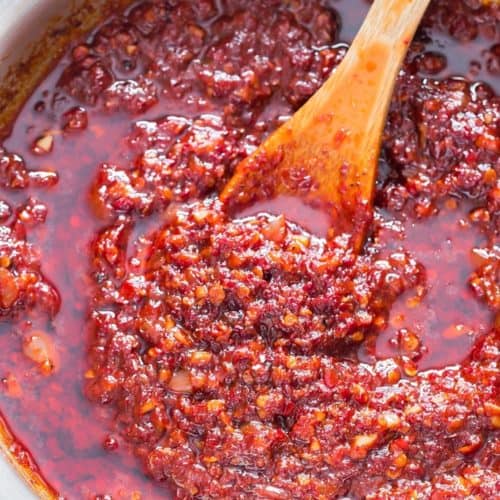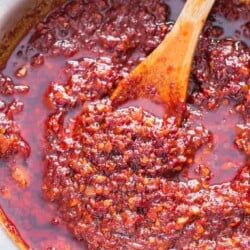 Homemade Schezwan Sauce (Szechuan)
Homemade Schezwan sauce (Szechuan) is 'extremely spicy' but 'extremely tasty' sauce that you should be making at home right away. This chili sauce recipe is one of those sauces you should definitely try making at home.
Ingredients
20 number dried red chilies 10 spicy hot red chilies and 10 mildly spiced ones like kashmiri or byadagi , for color
15 cloves garlic finely chopped
2 inch ginger finely chopped
4 tablespoon shallot finely chopped
½ cup sesame oil
1 teaspoon salt
1 tablespoon ground schezwan pepper corns
1 teaspoon white vinegar
1 teaspoon soy sauce
2 tablespoon ketchup
4 tablespoon sugar brown sugar
Instructions
Soak dried red chilies in warm water for about an hour. Then grind it into a smooth paste. If you want you can remove the seeds from the chilies

Heat sesame oil in a pan. Add finely chopped ginger and garlic. Saute for a 40 seconds on low flame or until raw smell vanishes.

Add finely chopped shallots and cook for about 3 minutes.

Now add ground chili paste and cook until oil separates from the sides of the pan.

Add salt, ground schezwan pepper corn , white wine vinegar, soy sauce, ketchup, sugar. Mix and let it simmer for another 5 minutes.

Turnoff flame and let it cool completely. Store in air tight container refrigerated. This sauce stays good for few weeks(2-3 weeks) refrigerated.

Use this Schezwan sauce in Schezwan noodles or fried rice recipe. Or serve it as dipping sauce with chicken nuggets.
Notes
The spiciness of this sauce widely depends on the variety of dried chilies that you use. Some variety of chilies are super hot, handle with caution.
The reason I have used two different variety of chilies is to add vibrant color and good amount of heat to the sauce.
If you can't find two variety of dried chilies, use one whichever is available to you.
Taste sauce first ( tiny morsel of it maybe) to judge on the quantity of the sauce you want to use in your stir fry or other recipes.
Sauce can be used in stir fry recipes, can be used as dipping sauce for dimsum and spring rolls or drizzled over tofu and served.
Nutrition value mentioned is for 1 cup (approximately 8 oz size cup measurement)
Nutritional Info – Please keep in mind that nutritional information provided is only a rough estimate and can vary greatly based on products used.
Nutrition
Calories: 1325kcalCarbohydrates: 88gProtein: 6gFat: 110gSaturated Fat: 16gSodium: 2982mgPotassium: 639mgFiber: 6gSugar: 59gVitamin A: 802IUVitamin C: 18mgCalcium: 141mgIron: 3mg