Golden Milk made from golden turmeric paste has so many health benefits that makes you want to drink this beverage everyday, all year long. And it's super TASTY drink.
Recipe originally posted in Jan 2017, updated in Mar 2019
Old pic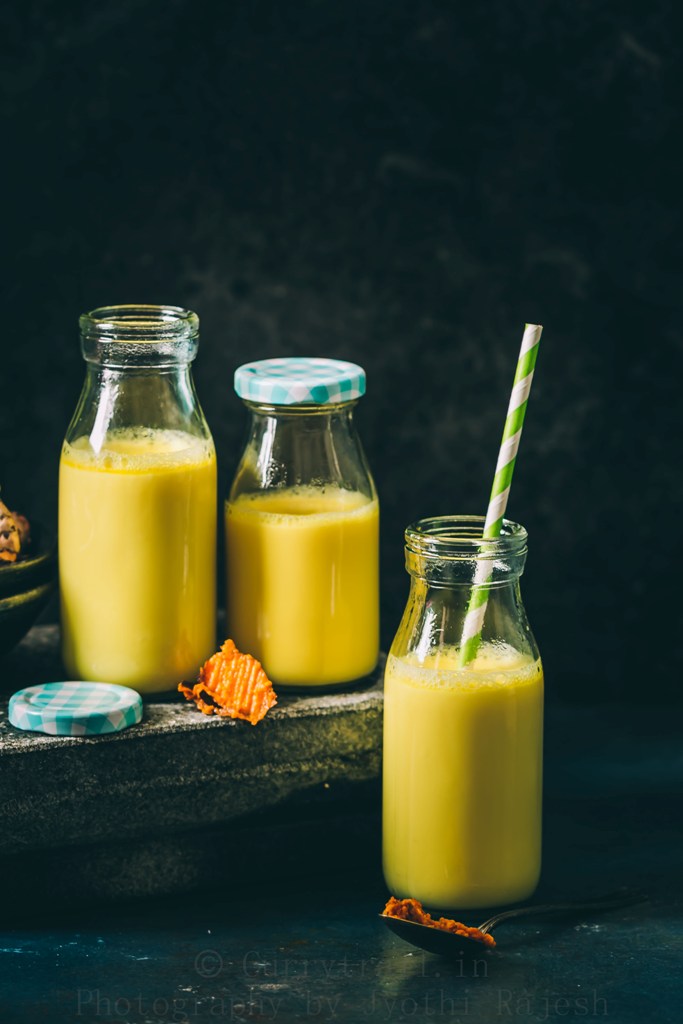 Need to boost immunity or comfort yourself when you are feeling under the weather this turmeric golden milk or turmeric latte is all you need!
Golden milk also known as turmeric milk is ancient to India. We call it Haldi doodh or masala haldi doodh. This ancient Indian drink has been gaining popularity in the West off late. The world suddenly started going ga-ga over it!
This golden bright yellow colored beverage have great health benefits. It's anti-bacterial and anti-viral properties helps prevent your body from infections. That's why you should be drinking this beverage all year long, not just when infection (cold, cough, sore throat) kicks in.
Need a immunity boost?
Drink turmeric golden milk!
Their anti-inflammatory and antioxidant properties helps strengthen your immunity system. Soothing warm spices used to make golden milk paste like black pepper, ginger and cinnamon gives your throat soothing effect and helps you sleep better in the night when you are struggling with cold and cough.
This creamy and bright beverage is THE BEST remedy to boost immunity and stay off illness. Every time there's a season change, my body takes a toll. Not just me, my kids get affected too. Past a month little one was under the weather. I can't seem to understand how he gets his cough back within a day after he started to feel better from coughing. And all the congestion..from where does it come!? :X
Daughter got it too and now both kids are coughing and have chest congestion. Been off medicine as I saw it was not helping much and also I hate giving medicine to kids. The best way to deal with kids cough was to restore to home remedy, just like my mom did it for us and still does it when ever I visit her. Khashaya's(Indian herbal medicinal drink), turmeric milk, warm waters, steam inhalations..all of it are great!
One of the most immediate medicine mom used to give us when we were down under the weather was this turmeric milk. Turmeric powder mixed in hot milk, and a dash of pepper powder along with ginger, cinnamon powder and honey is the immediate medicine that was given to us. We call it at home haldi doodh and to the world it's called turmeric latte or golden milk.
You really don't need a recipe for this, because it's simply a mix of turmeric powder, fresh grated ginger, pepper and cinnamon powder all milk into warm milk sweetened with honey. But in case you want to know golden milk recipe, read the post (or simply click on "JUMP TO RECIPE" button on the top)
Feel free to use fresh turmeric roots whenever it's available. This recipe uses Golden Turmeric Paste that we shared with you guys a few days back to make turmeric golden milk. Turmeric powder or fresh turmeric root, either can be used. Make sure you use the best organic turmeric powder for the recipe.
NOTE: Yellow powder to be used for golden turmeric recipe is TURMERIC POWDER and not the yellow curry powder that you get in Asian stores. Yellow curry powder looks almost like turmeric powder.
GOLDEN MILK BENEFITS
Not one or two but there are plenty of reason why you should consume golden milk on regular basis –
1. Turmeric milk or golden milk made with turmeric paste is go-to remedy when one is fighting cold, cough or flu. Turmeric has a wonderful property of decreasing mucus and supporting immune system. A glass of warm turmeric milk in the night will promote healthy and relief sleep.
2. Research says people suffering from asthma, chronic sinus infections get relief with a glass of turmeric milk. It's believed to reduce the changes of lung cancer.
3. Curcumin (one of the main constituents of turmeric) is believed to prevent and treat cancer including prostate, breast, skin, liver, stomach, duodenum and colon cancer.
4. The anti-inflammatory properties of turmeric can help reduce pain and fever. It's also popular for it's antioxidant, antibacterial, anti-carcinogenic properties and it's used to treat conditions like bronchitis, laryngitis, diabetes and arthritis.
5. Turmeric golden milk is not made with just turmeric, it's got other supportive natural ingredients (which by the way you shouldn't leave out) thus enhancing it's natural properties. Black pepper that is added to golden paste recipe helps our body absorb the curcumin in turmeric. Curcumin is the main constituent of turmeric which gives it bright vibrant color. Our body cannot effectively utilize curcumin compound on it's own, adding black pepper to turmeric paste increase the bio availability of curcumin in our body.
6. One of the best and most popular ways to intake turmeric is through food. Use good quality organic turmeric to enhance the flavors of your meal thus enriching it. Widely used in curries and meat dishes. It's believed turmeric can hide strong flavors like in meat dishes.
7. Make a jar of turmeric paste and store in fridge for upto 3 months or freeze it for longer. Having a jar of golden turmeric paste in fridge only means, you can have plenty cups of golden turmeric milk or use it in curries whenever you want it.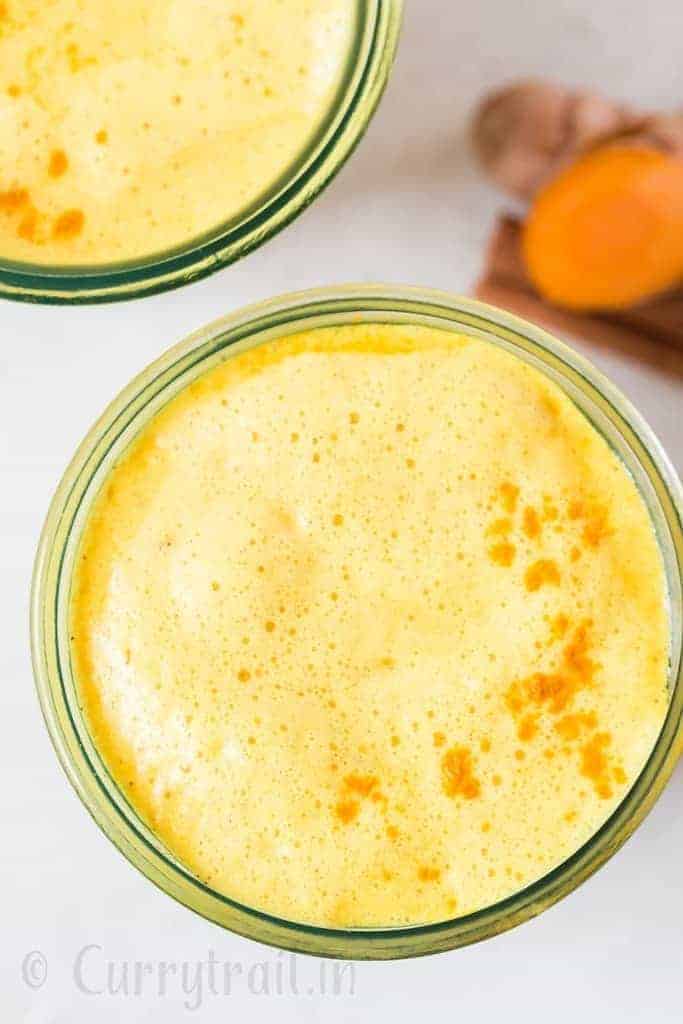 WHAT GOES IN TURMERIC GOLDEN MILK RECIPE
I highly recommend you make a jar of turmeric paste and store it in fridge. Simply use turmeric paste anytime you want to drink golden milk. It's easy and fast.
For Turmeric Paste-
You'll need-
Organic Turmeric Powder – Or you could also use fresh turmeric if available to you.
Unrefined Virgin Coconut Oil – Or ghee(clarified butter) many Ayurveda remedies calls for ghee instead of coconut oil. Coconut oil will keep it from spoiling sooner.
Note – some people can't tolerate coconut oil for some reason and they get diarrhea. If your tummy feels funny with coconut oil I'd recommend you use ghee instead of coconut oil. Ghee is clarified butter, which can be easily found in Indian stores or can even be made at home. I DON'T recommend olive oil or vegetable oil purely for reasons stated as Ayurveda benefits.
Black Pepper – very important ingredient and should not be left out.
Note – of making paste for face mask, then you may want to leave it out.
Fresh Ginger
Water
Cinnamon Powder
To Make Golden Milk-
To Make 1 cup of golden milk use,
1 tablespoon (or adjust as preference) of turmeric paste
1 cup of hot milk (any milk of your choice. For vegan options use almond milk)
2 teaspoon organic honey.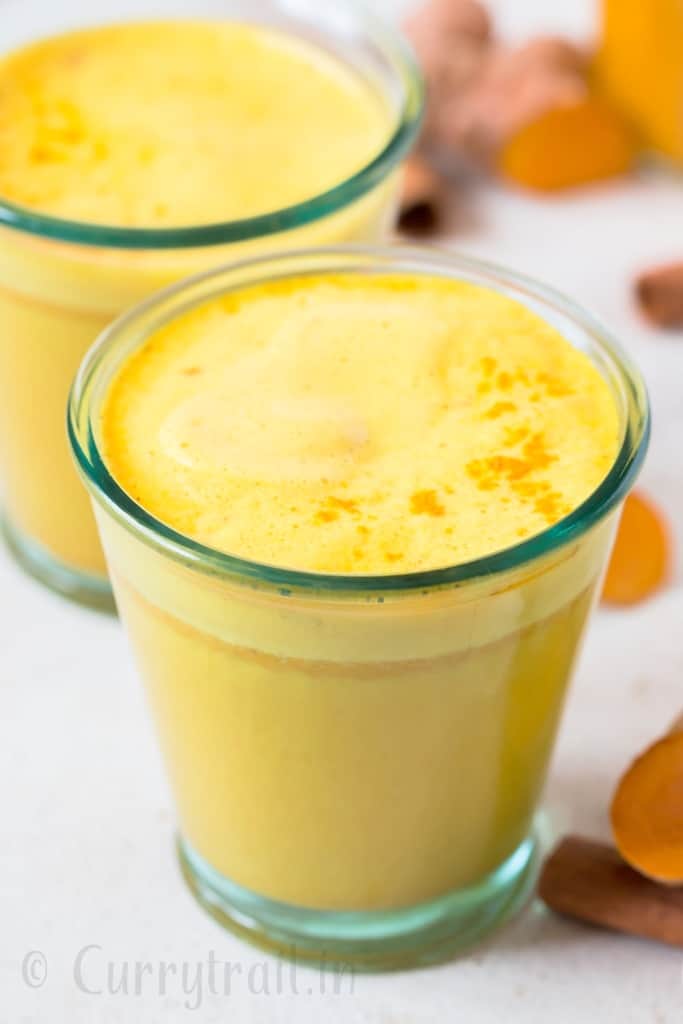 HOW TO MAKE GOLDEN MILK (STEP-BY-STEP PHOTOS)
Start with turmeric paste.
Step 1 – Add turmeric paste into serving cup or glass.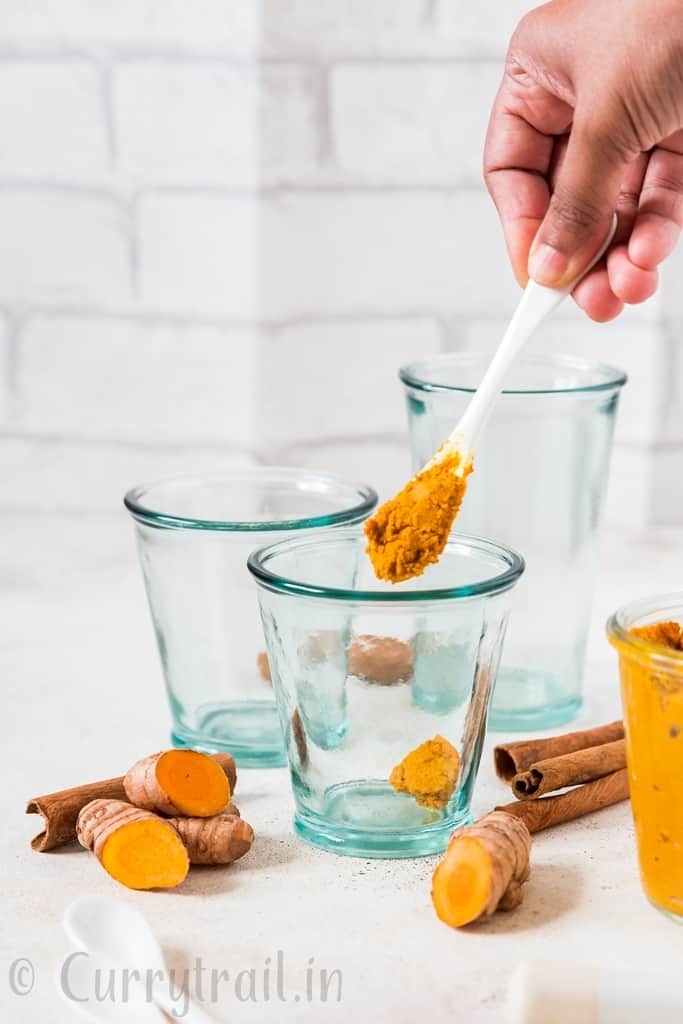 Step 2- Pour hot milk into it.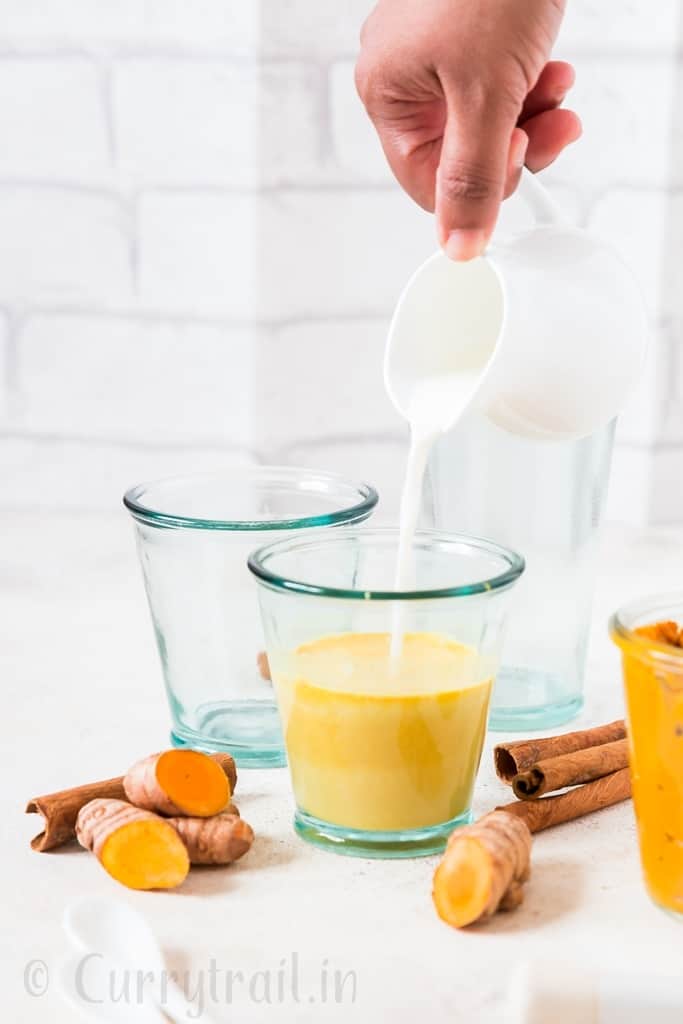 Step 3 – Add honey as per taste. Use organic honey.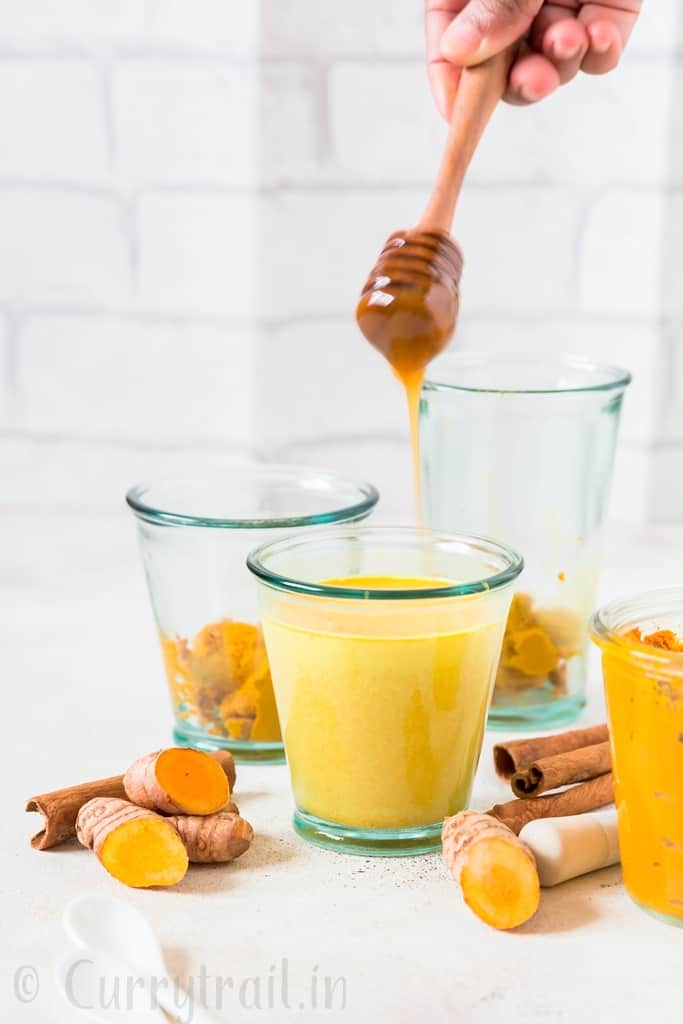 Stir and drink immediately.
DON'T MISS OUT OUR OTHER BEST HOMEMADE REMEDY RECIPES THAT WILL HELP YOU –
Don't forget to Subscribe to CurryTrail Recipes below to get our newest recipes delivered straight to your inbox.
LOVE THIS RECIPE? KEEP IN TOUCH AND DON'T MISS OUT ON ANY OF CURRYTRAIL RECIPES! FOLLOW ME ON INSTAGRAM, PINTEREST, FACEBOOK, TWITTER.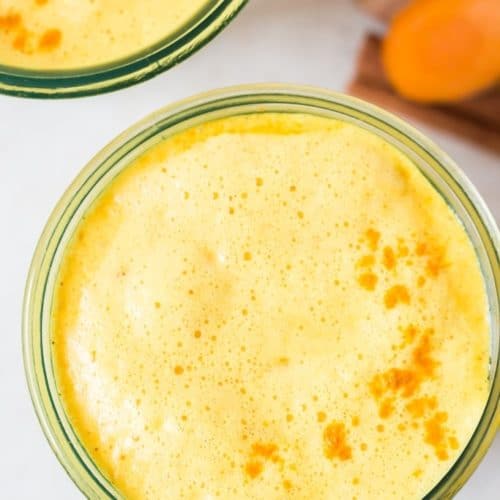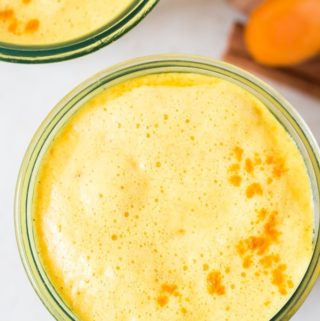 Anti-Inflammatory Golden Milk
Golden Milk made from golden turmeric paste has so many health benefits that makes you want to drink this beverage everyday, all year long. And it's super TASTY drink.
Print
Pin
Rate
Ingredients
1

tablespoon

turmeric paste

1

cup

milk of you choice

2

teaspoon

organic honey
Instructions
Heat up milk in a sauce pan. Once milk turns hot remove it from heat.

Add turmeric paste into a cup.

Pour hot milk.

Add honey as per taste into the cup, Best use organic honey.

Stir and drink immediately.

If you prefer you can top it with dried rose petals, or a pinch of turmeric powder or even chopped nuts like walnuts or almonds.
Notes
You can make vegan golden latte by using coconut milk.
Adjust the amount of sweetener you want to use according to your liking.
Drink it before bedtime, helps you sleep like a baby!
Nutritional Info – Please keep in mind that nutritional information provided is only a rough estimate and can vary greatly based on products used.
Nutrition
Calories:
218
kcal
|
Carbohydrates:
24
g
|
Protein:
7
g
|
Fat:
10
g
|
Saturated Fat:
6
g
|
Cholesterol:
24
mg
|
Sodium:
105
mg
|
Potassium:
322
mg
|
Fiber:
0
g
|
Sugar:
23
g
|
Vitamin A:
395
IU
|
Calcium:
276
mg