Drink a glass of golden milk before sleep or when you are feeling under the weather. Not only does it soothe you, it has so many health benefits and is super TASTY to drink.
Need a immunity boost? Drink turmeric golden milk!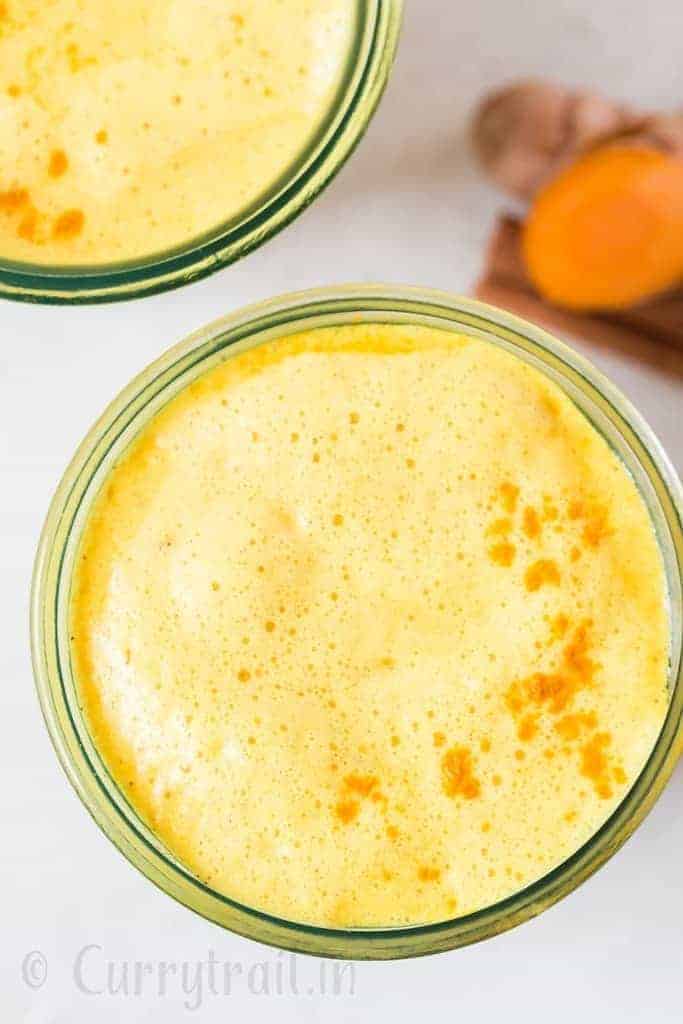 Recipe originally posted in Jan 2017, updated in Mar 2019
Jump to:
You really don't need a recipe for this, because it's simply a mix of turmeric powder, fresh grated ginger, pepper and cinnamon powder all milk into warm milk sweetened with honey. But in case you want to know golden milk recipe, read the post (or simply click on "JUMP TO RECIPE" button on the top)
In this recipe, I used turmeric paste. Turmeric powder or fresh turmeric root, can also be used. Make sure you use the best organic turmeric powder to make golden latte.
Golden milk healthy benefits
Turmeric golden milk made with turmeric paste is go-to remedy to fight cold, cough or flu. Turmeric has medicinal properties of decreasing mucus and supporting immune system. A glass of warm turmeric milk in the night will promote relief sleep.
Research says people suffering from asthma, chronic sinus infections get relief with a glass of turmeric milk. It's believed to reduce the changes of lung cancer.
Curcumin (one of the main constituents of turmeric) is believed to prevent and treat cancer including prostate, breast, skin, liver, stomach, duodenum and colon cancer.
The anti-inflammatory properties of turmeric can help reduce pain and fever. It's also popular for it's antioxidant, antibacterial, anti-carcinogenic properties and it's used to treat conditions like bronchitis, laryngitis, diabetes and arthritis.
While you can make golden milk is with just turmeric, to make even better I always add other healing medicinal spices. Black pepper helps our body absorb the curcumin in turmeric. Body cannot effectively utilize curcumin compound on it's own, adding black pepper to turmeric paste increase the bio availability of curcumin in our body.
Including turmeric in food helps. Use good quality organic turmeric to enhance the flavors of your meal thus enriching it. Widely used in curries and meat dishes.
Make a jar of turmeric paste and store in fridge for up-to 3 months or freeze it for longer. Having a jar of golden turmeric paste in fridge only means, you can have plenty cups of golden turmeric milk or use it in curries whenever you want it.
Ingredients you'll need
First we made turmeric paste.
For turmeric paste-
Organic turmeric powder
Virgin coconut oil
Black pepper
Fresh ginger
Water
Cinnamon powder
For golden milk-
1 tablespoon of turmeric paste
1 cup of hot milk (any milk of your choice. Use almond milk to make it vegan)
2 teaspoon organic honey (vegans use agave nectar or maple syrup, coconut sugar)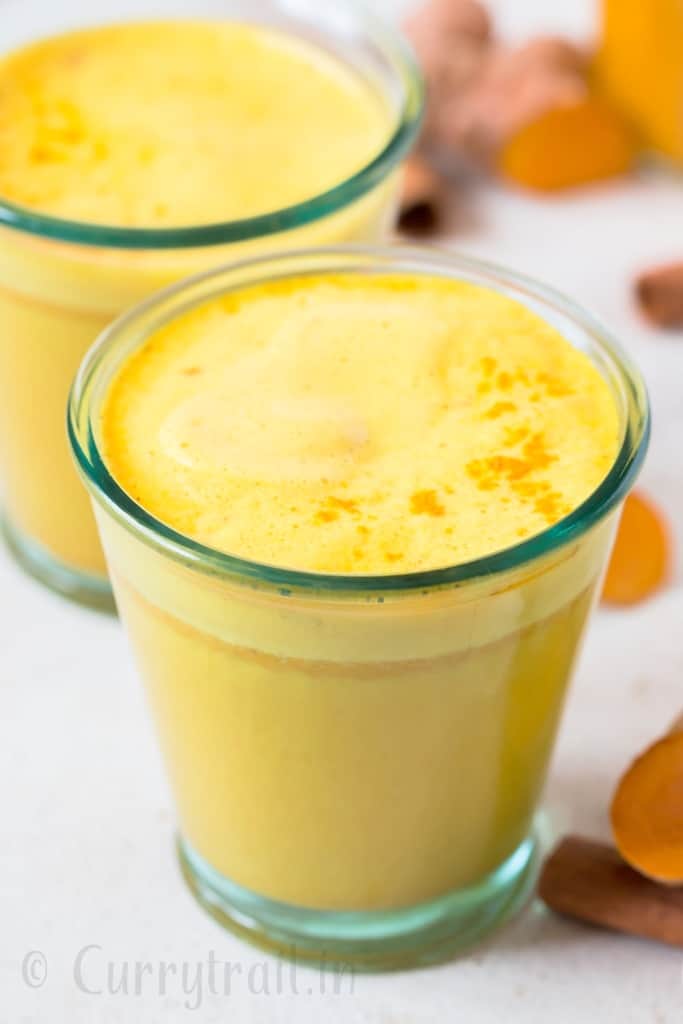 How to make golden milk (with step-by-step pictorial)
Start with turmeric paste.
Step 1 – Add turmeric paste into serving cup. If not using turmeric paste, use turmeric powder directly.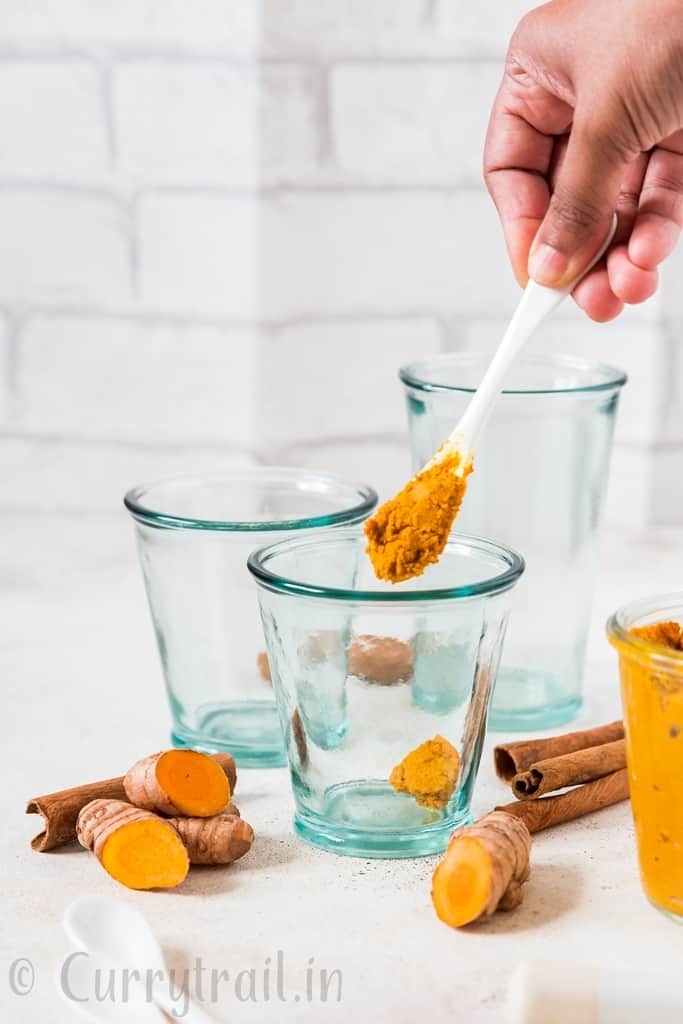 Step 2- Pour hot milk.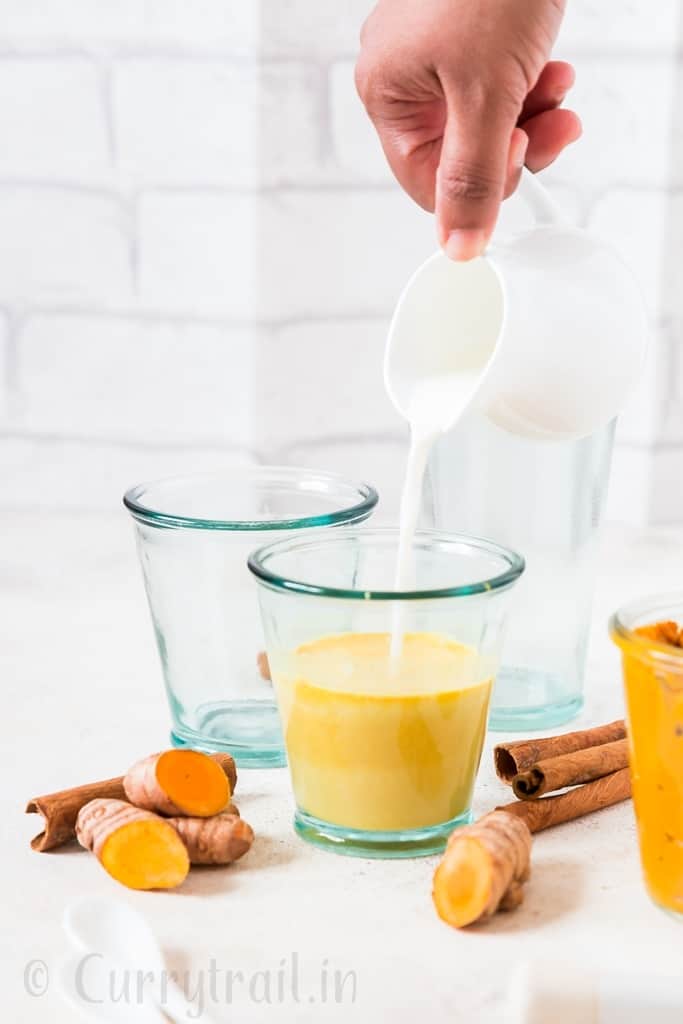 Step 3 – Add honey per taste. To make it vegan use coconut sugar or maple syrup.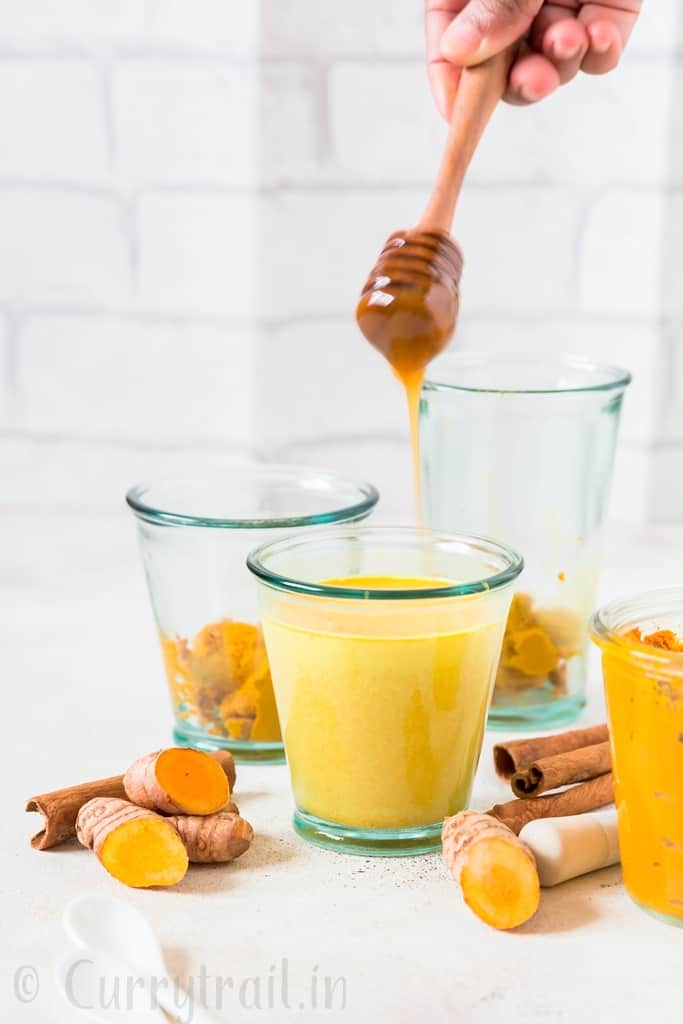 Stir and drink immediately.
MORE SOOTHING DRINKS TO TRY
Don't forget to Subscribe to CurryTrail Recipes below to get our newest recipes delivered straight to your inbox.
LOVE THIS RECIPE? KEEP IN TOUCH AND DON'T MISS OUT ON ANY OF CURRYTRAIL RECIPES! FOLLOW ME ON INSTAGRAM, PINTEREST, FACEBOOK, TWITTER.
HAVE YOU TRIED ONE OF MY RECIPES? I'D LOVE TO SEE WHAT YOU'VE MADE! TAKE A PICTURE AND USE THE HASHTAG #CURRYTRAIL ON INSTAGRAM SO I CAN SEE! I'LL DO A HAPPY DANCE IF YOU TRY MY RECIPE AND SHARE IT WITH US!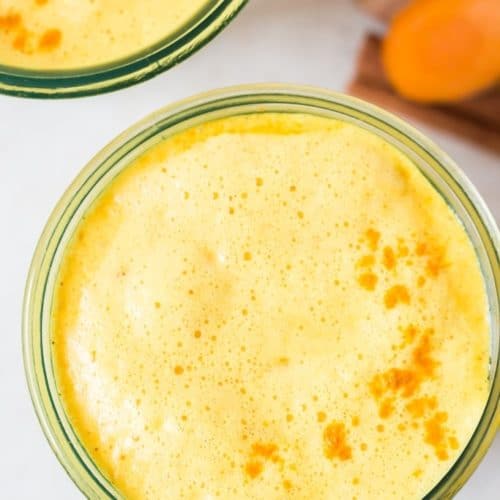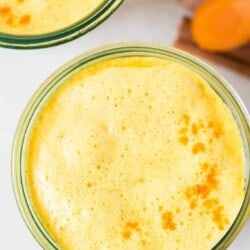 📋Anti-Inflammatory Golden Milk
Drink a glass of golden milk before sleep or when you are feeling under the weather. Not only does it soothe you, it has so many health benefits and is super TASTY to drink. Need a immunity boost? Drink turmeric golden milk!
Ingredients
1 tablespoon turmeric paste
1 cup milk of you choice
2 teaspoon organic honey
Instructions
Heat up milk in a sauce pan. Once milk turns hot remove it from heat.

Add turmeric paste into a cup.

Pour hot milk.

Add honey as per taste into the cup, Best use organic honey.

Stir and drink immediately.

If you prefer you can top it with dried rose petals, or a pinch of turmeric powder or even chopped nuts like walnuts or almonds.
Notes
You can make this drink vegan by using coconut milk and coconut sugar.
Adjust the amount of sweetener you want to use according to your liking.
Drink it before bedtime, helps you sleep like a baby!
Nutritional Info – Please keep in mind that nutritional information provided is only a rough estimate and can vary greatly based on products used.
Nutrition
Calories: 218kcalCarbohydrates: 24gProtein: 7gFat: 10gSaturated Fat: 6gCholesterol: 24mgSodium: 105mgPotassium: 322mgFiber: 0gSugar: 23gVitamin A: 395IUCalcium: 276mg