Chicken and broccoli stir fry is a great healthy weeknight dinner. If you are looking for  super-fast dinner recipes then this dish is perfect. This stir fry dish is a crowd pleaser, how I know?, everyone in my family loved it!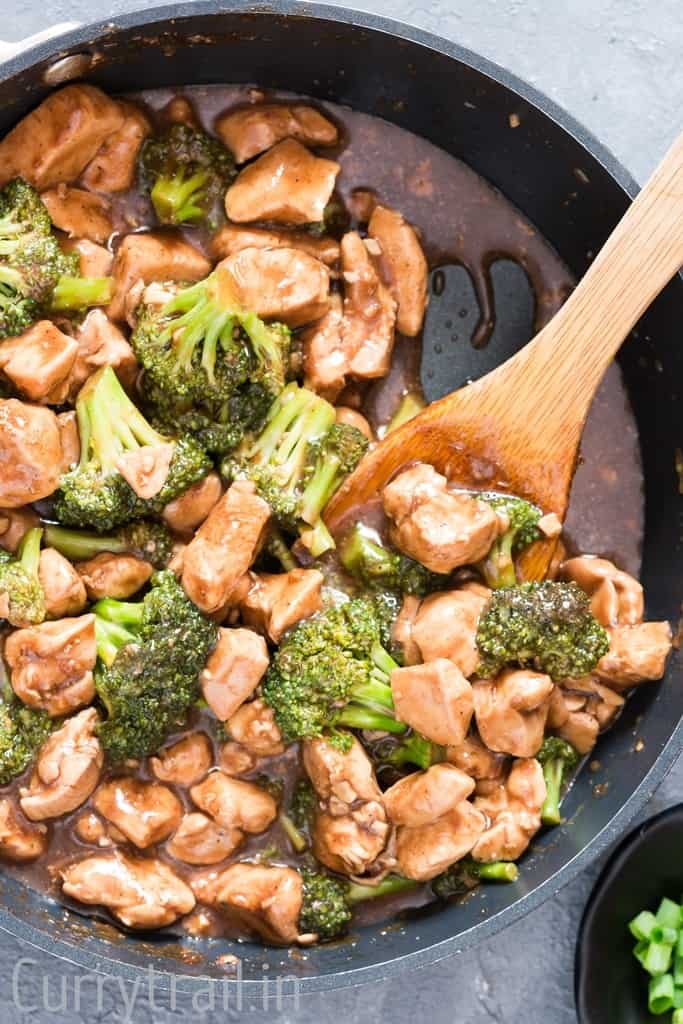 Luckily this chicken broccoli recipe doesn't require THAT much prep, and as with all stir fries, the cooking part is pretty fast. This low carb chicken stir fry can be easily transformed into weekly meal prep boxes too.
Stir fry recipes are becoming my new favorite now. There's my confession. Stir fry recipes are usually simple,  quicker, healthy and so much better than those Chinese takeout. You literally need 15 minutes time to get a delicious meal to the dinner table. And when you make it at home, you definitely can turn them healthier. Go for low sodium soy sauce, use lesser oil, and lean meat like chicken. There you go. Healthy! Right?
That is exactly what you have in here, easy healthy chicken and broccoli dish. Chicken and broccoli is classic killer combination.  And when 2 healthy ingredients come together you get a dinner recipe that I'm sure you are going to try it over and over again. Because you'll be putting in 15 minutes of your time. So you see this recipe works for busy weekdays too.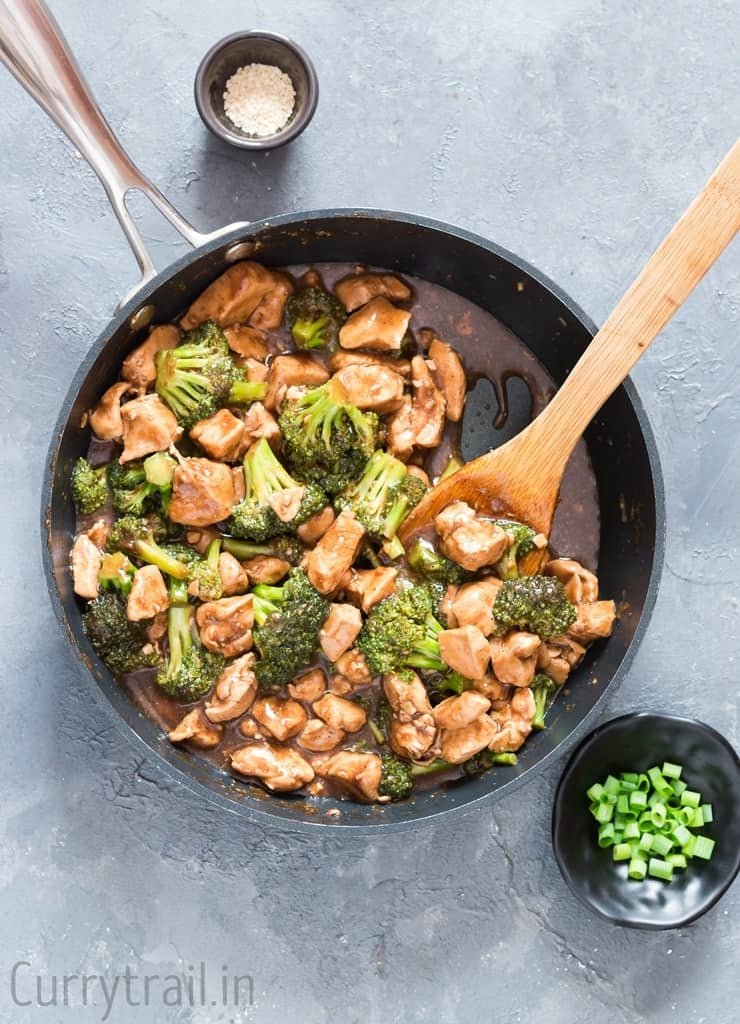 After a long day be it at work or home; a simple, loaded with flavor, double punch of meat and vegetable, a wholesome meal – who wouldn't love that! No elaborate cooking and as a bonus, you can whip it up in one-skillet. I hate post meal clean up stress. I wish I had a pair for 8 extra hands to get all the clean up done, the messy kitchen, the dishes that pile up in the sink! I don't even want to start thinking about the post-meal stress now!
Let's talk about ingredients for this easy chicken and broccoli stir fry, shall we. Sesame oil – I think that one ingredient you probably might or might not have in your pantry. But it's definitely not hard to find sesame oil in super markets these days. Thanks to the ever growing food enthusiast around the world, super markets are getting loaded with all types of ingredients with the demand. If you do not want to use sesame oil, go ahead with vegetable oil, works just fine.
Chicken breasts works best for chicken broccoli stir fry recipes. Why chicken breasts? – because breast cooks faster and that's what we are aiming for. Toss all ingredients and literally cook everything in matter of minutes.  Clearly, using meat without bones, so you have a meal ready in the time you aim for.
Feel free to add in additional vegetables that you like – mushrooms, bell peppers, carrots too, why not! For vegan option swap chicken breasts with tofu.
I know when it comes to Asian stir fries, I'm all about the sauce. A simple yet killer sauce that goes into this Asian chicken and broccoli dish. Simple ingredients but flavor wise we bought it up a top notch. Cumin powder in the sauce is a unique twist for this one pan chicken and broccoli dish. If you do not like cumin flavors (especially in Chinese stir fry dish, please avoid it and use Chinese all spice powder).
We'd like to call it the defining feature of this sauce from the regular common types of Asian sauce for stir fry. Like any other stir fry dish, this recipes also has the basic ingredients for a sauce – ginger, garlic, rice wine vinegar, corn flour, brown sugar and soy sauce that makes the base of the sauce.
Use low sodium soy sauce for healthier options. And if you could get your hands on the Chinese cooking wine "the real stuff" that makes the stir fry dish delicious.  If you ever wondered "why on earth my stir fry doesn't taste as good as restaurant ones!" , the answer is Chinese cooking wine.
Serve this stir fry chicken and broccoli to your choice. You can serve with brown rice and for low carb options serve with cauliflower fried rice.  Toss them with Chinese noodles – definitely!
Chicken And Broccoli Stir Fry – as with all stir fries, the ingredients cooks in super high heat and cooks super-fast. There is a reason why the vegetables are chopped bite sized pieces. You don't want to cook them over and definitely don't want to burn them. That is exactly the reason why I suggest to 'chop' ginger and garlic instead of mince. You see minced garlic and ginger when cooked on high heat can burn in the wok.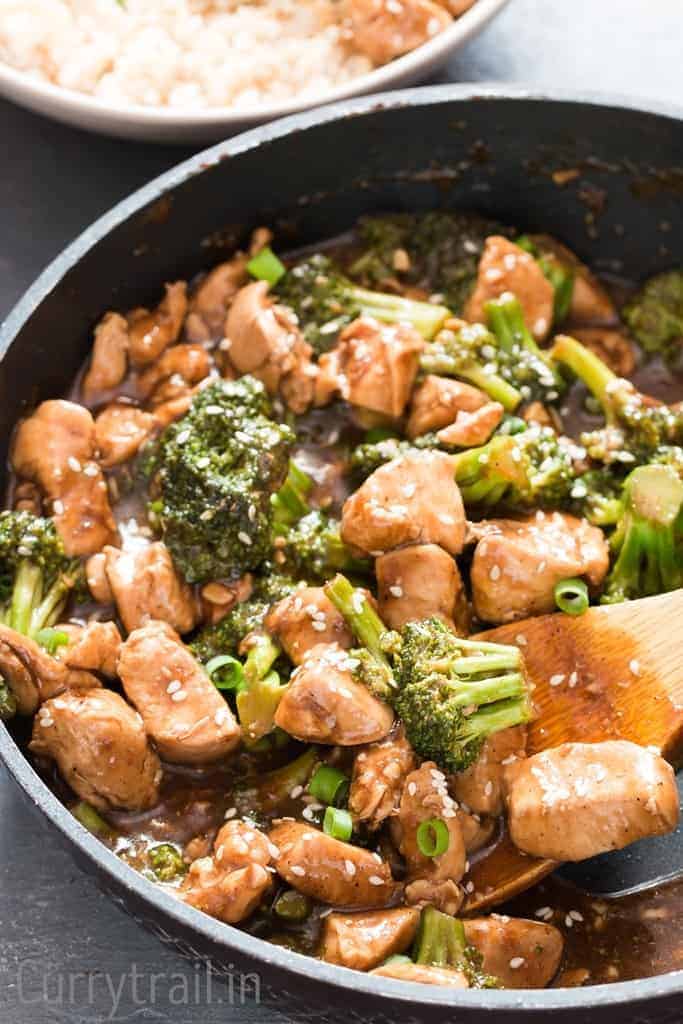 How to make the best chicken and broccoli stir fry
-Chinese Wok – Use good old fashioned Chinese wok (or skillet) to toss all the ingredients. Speaking of wok I still don't own a proper wok! No doubt I love stir fries, and I manage to get away with skillet stir fry, I could be excused for that right? So this dish is actually one pan chicken and broccoli stir fry 😉
-A solid Sauce makes a big difference – Like mentioned above Chinese cooking wine is the key that gives the proper authentic taste to stir fry and if ever scratched head why the homemade stir fry fails to taste 'exactly' the same as restaurant ones, then this is why! The sauces that's used in stir fry or for that matter any Asian recipes makes a big difference.  I whisk all ingredients of the sauce ahead before starting the cooking process (don't get confused watching the video).
-Cooking on high heat – You want to get that wok or skillet to smoking hot. Literally! Heat up the wok/skillet to a point at which you can smell the hot wok. Then you cook fast, really fast. This is kind of crucial step!
– Mise en place – the most important step in any stir fried dish means you get all the ingredients chopped and ready near the stove to be thrown into the pan and tossed.
– Keep tossing – The ingredients as they are added should be constantly stirred or tossed if you are a master toss, toss, toss. I need to learn the technique of tossing ingredients in my pan without spilling it all on the stove!  Do not let the ingredients sit for more than a few seconds. Stir, stir stir.
 
Stir-Fry Sauce 
This would the simplest Asian chicken stir fry sauce you would make. This ginger-garlic base stir fry sauce is made with Chinese cooking wine and low sodium soy sauce. Ever wondered why your chicken stir fry never tasted like the ones from your favorite Chinese restaurant?  It's the sauce, you probably did not use the right ingredients to make the right sauce. Chinese cooking wine is one of the key ingredients. You are most likely to find it in Asian store near you or give it a try on Amazon.
Chinese cooking wine is whisked with low sodium soy sauce, brown sugar,  minced ginger and garlic along with a little cumin powder for extra flavor.
You can use this sauce on almost on Asian recipes – stir fries, Chinese soup, everything!
How to serve chicken and broccoli stir fry
This chicken broccoli stir fry is a killer saucy dish. That sauce scooped over steamed rice (white, brown or even wild rice) is my favorite and according to me the best choice to serve saucy chicken broccoli stir fry.  But feel free to use Asian noodles instead of rice.
MORE QUICK STIR FRY RECIPES YOU'LL LOVE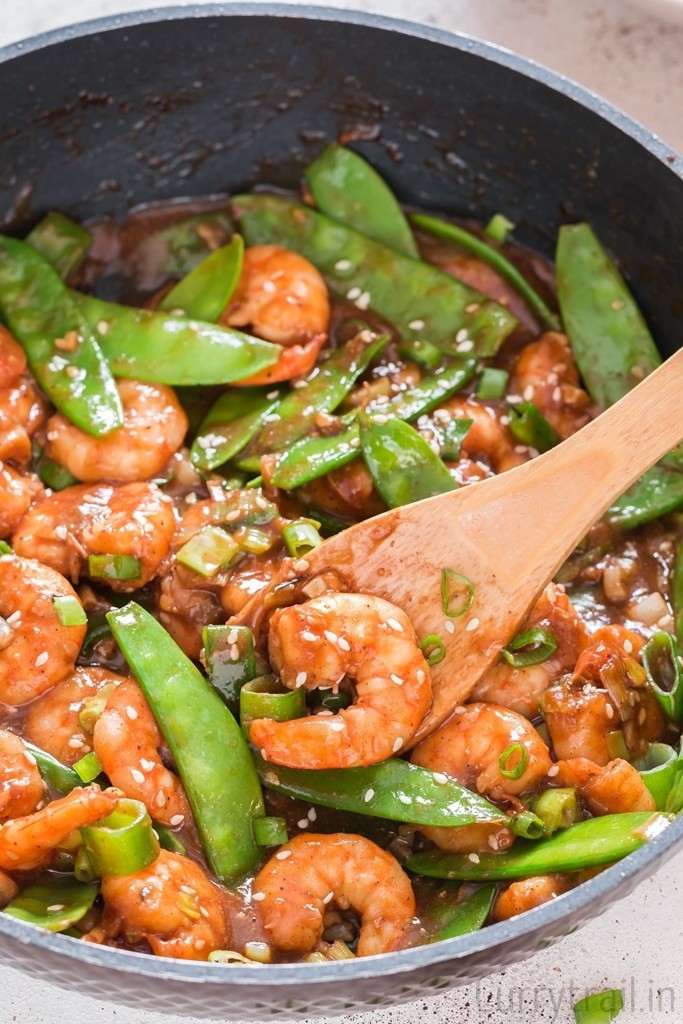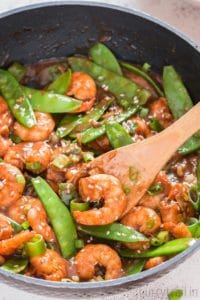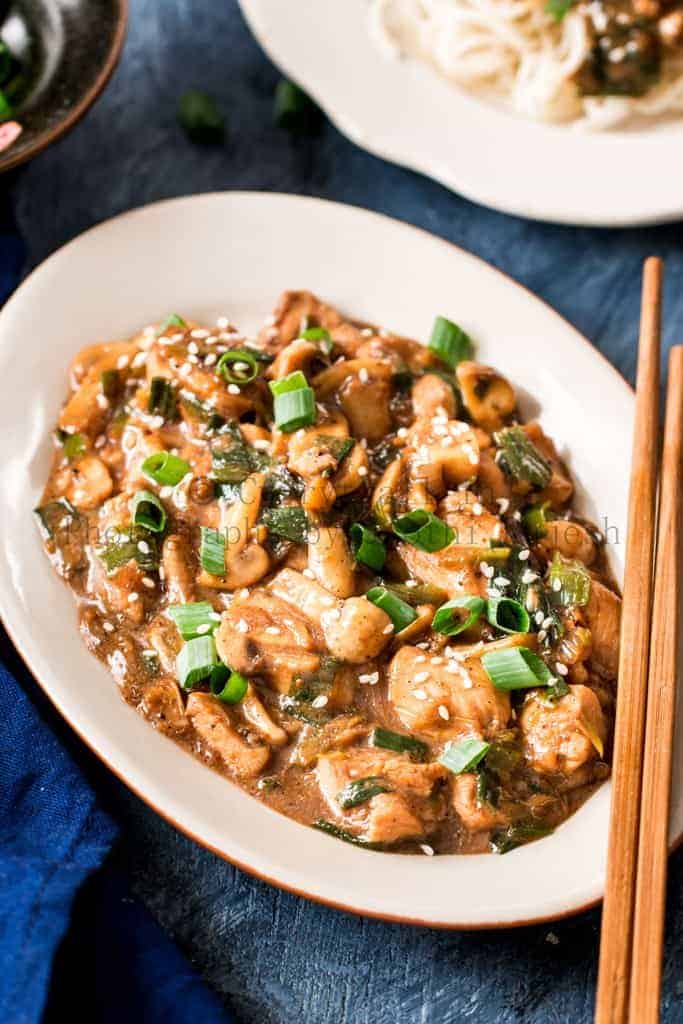 Don't forget to Subscribe to CurryTrail  Recipes below to get our newest recipes delivered straight to your inbox.
LOVE THIS RECIPE? KEEP IN TOUCH AND DON'T MISS OUT ON ANY OF CURRYTRAIL RECIPES! FOLLOW ME ON INSTAGRAM, PINTEREST, FACEBOOK, TWITTER.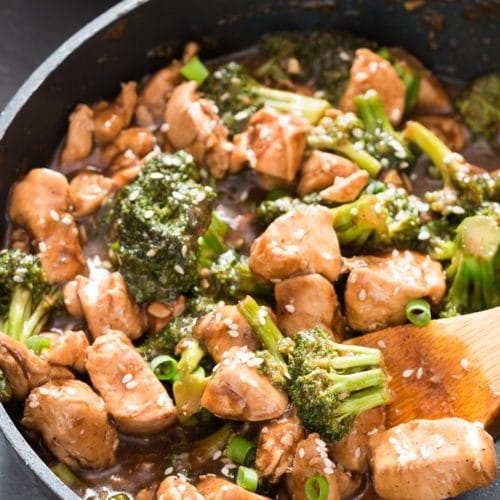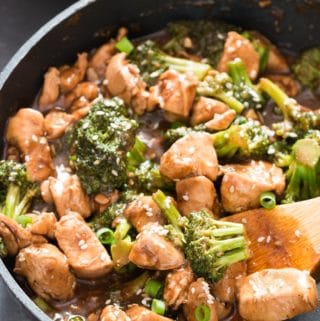 15 Minutes Chicken and Broccoli Stir Fry
This easy 15 minutes chicken and broccoli stir fry makes great healthy weeknight dinner. If you are looking for superfast dinner recipes then this dish is perfect. This dish is sure a crowd pleaser. My family loved it.

Print
Pin
Rate
Equipment
Wok or skillet

Mixing Bowl

Tongs
Ingredients
1

lbs

chicken breasts

cut into bit size cubes

1

big

broccoli florets

1

tablespoon

sesame oil

2

teaspoon

ground pepper

(adjust quantity as per spice tolerance levels)

Pinch

salt
For the sauce-
¾

cup

water

1

tablespoon

garlic

chopped

1

tablespoon

ginger

chopped

½

cup

Chinese cooking wine

(sub with Mirin or dry sherry or plain rice wine)

1 ½

tablespoon

brown sugar

2 ½

tablespoon

low sodium soy sauce

1 ½

tablespoon

corn starch

1 ½

tablespoon

cumin powder

(please use Chinese five spice if you do not want cumin in your stir-fry recipes)
For garnish
Sesame seeds and finely sliced green onions/scallions

optional
Instructions
First make the sauce
In a small bowl whisk together water, Chinese wine vinegar, garlic ginger, brown sugar, low sodium light soy sauce, corn starch, cumin powder into lump free sauce. Keep it ready near the stove.
Stir-Fry
Heat up a wok or large skillet to smoking hot. Heat sesame oil in the pan. 

Add chicken to hot oil and toss (or if your tossing skills are challenged like me just stir, stir and stir :D) for few seconds until chicken begins to turn pink.

Sprinkle salt and pepper powder over the chicken and stir again. 

Add broccoli florets and cook stirring frequently, until tender, about 2-3 minutes. Don't forget to stir.

Pour in the stir fry sauce and mix stir. Keep stirring frequently and once the sauce thickens in 2-3 minutes the dish is ready. 

This stir fry broccoli and chicken goes well with brown rice. For low-carb options used cauliflower fried rice. 

Serve immediately, garnished with sesame seeds and green onions if desired.  
Video
Notes
Chinese Wine : Substitute Chinese wine with Mirin, dry sherry or rice wine in place.
Dry or Saucy : You can make this dish as dry or as saucy you want. My personal preference for saucy stir fry dish over a bed of rice. Adjust water quantity while making sauce. 
Spice Powder : If you read the recipe through, you know I mentioned cumin powder in this stir fry as my personal choice for my taste preference (as I don't like Chinese five spice powder taste). Please add Chinese five spice powder if cumin does not sound good to you.
Nutritional Info – Please keep in mind that nutritional information provided is only a rough estimate and can vary greatly based on products used.
Nutrition
Serving:
0
g
|
Calories:
250
kcal
|
Carbohydrates:
12
g
|
Protein:
25
g
|
Fat:
7
g
|
Saturated Fat:
1
g
|
Cholesterol:
73
mg
|
Sodium:
474
mg
|
Potassium:
491
mg
|
Fiber:
1
g
|
Sugar:
5
g
|
Vitamin A:
65
IU
|
Vitamin C:
2.2
mg
|
Calcium:
38
mg
|
Iron:
2.2
mg
" PIN IT" to your ASIAN BOARD for later