Gorgeous red, delicious homemade cherry jam made of fresh cherries needs just 3 ingredients and your jam will be ready in about 30 minutes. No pectin used.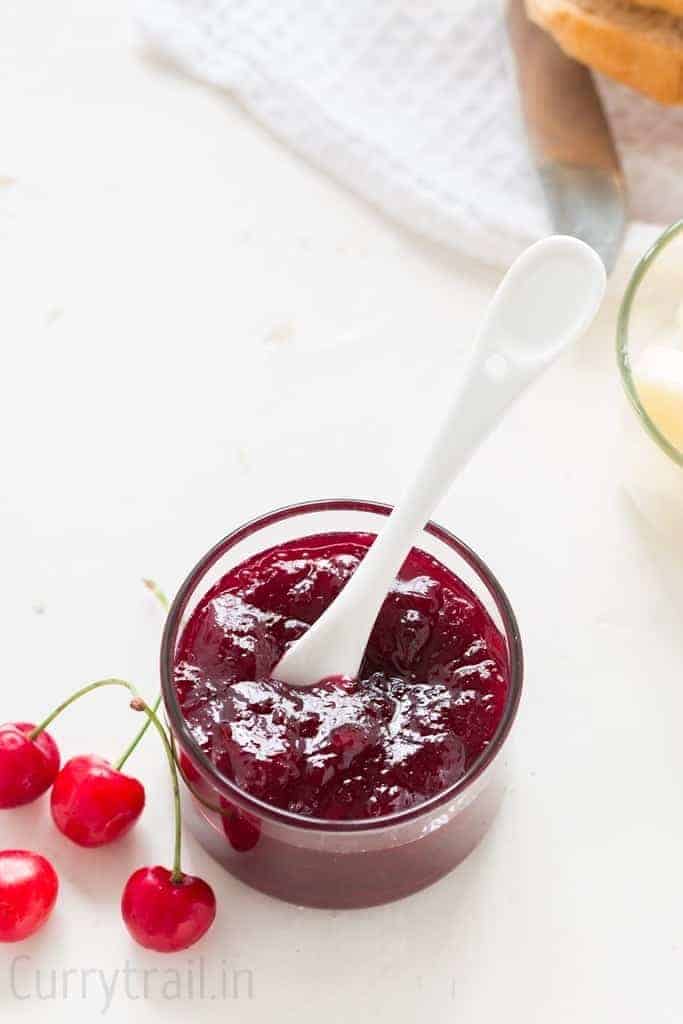 Recipe originally posted in May 2016, updated in June 2018.
I don't like sweets and I'm not even a jam lover. But my kids LOOOVE jam, and they would eat almost everything with jam, bread, rotis, dosas, idli, everything. I guess if I give them an option, they would eat rice with jam! *face palm*
Our breakfast usually consists of South Indian breakfast dishes like idli, dosa, upma, pongal. And the day we decide to eat bread for breakfast(which I must say, is once a week only), kids and hubby enjoy their toast with jam. I have serious problems those days.
How do I eat my bread?! I don't like to eat bread with jam. I have to have egg omelette with lots of onions and green chilies in it, that's the only way to eat bread for me. No jams, no Nutella, no peanut butters on my toast.
When you have a herd at home who loves jam, it's natural that you feed them that! You also try to make it at home, sometimes. Yea let's be honest, I don't make jam regularly at home. With seasonal fruits are in the market I always get this urge to make jam of out them. Nothing like fresh seasonal fruit jams.
After all kids love jam, so be it homemade! 😛 I had made strawberry jam last year and this year it's cherry jam. Fresh cherries got me tempted into trying something new using them. Half of my stock that I bought has been turned into homemade cherry jam. I'll be using the other half into something more interesting! Let's wait and watch what that might be!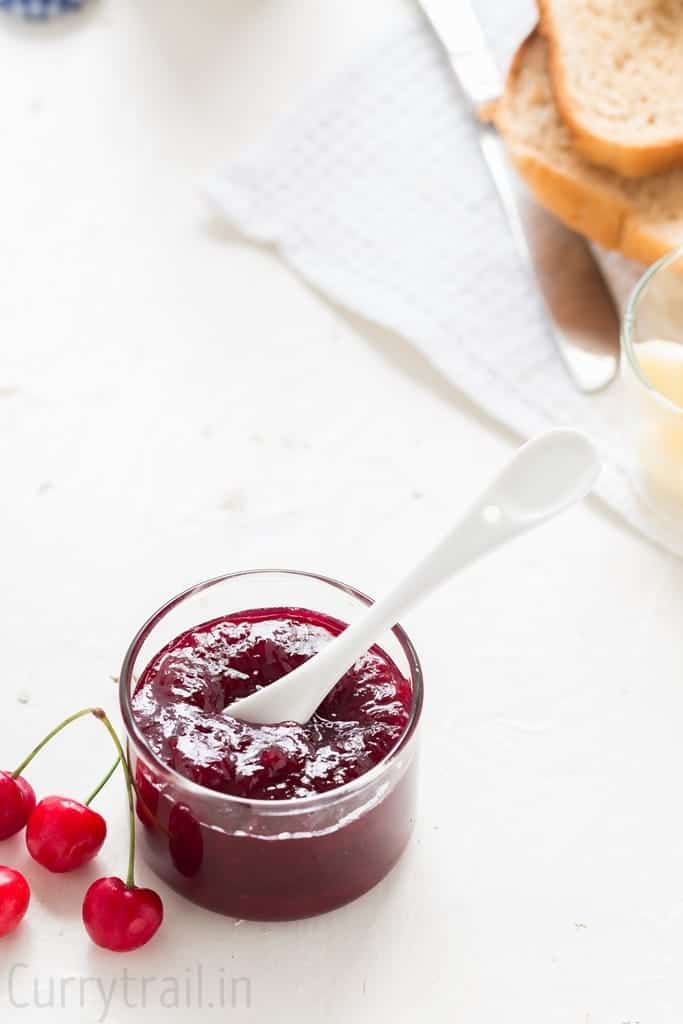 When the market gets flooded with cherries, it hard to walk by those punnet of cherries. You got to stop and buy them. Summer brings so many seasonal fruits and I wait for those seasonal fruits.
Mangoes, cherries, berries – you have them all. And if you need a reason why you should go picking berries or buying a large punnet of cherries, think of way to extend the taste of summer a little longer. Think of preserving those delicious summer fruits. Think of easy, delicious homemade jams!
What I'm sharing with you is a simple easy to make 3 ingredients cherry jam without pectin. We are using fresh sweet cherries here. I got a box full of organic cherries and cherry jam turned out terrific! Those wondering if it's possible to make jams at home without pectin, let me assure you, YOU CAN!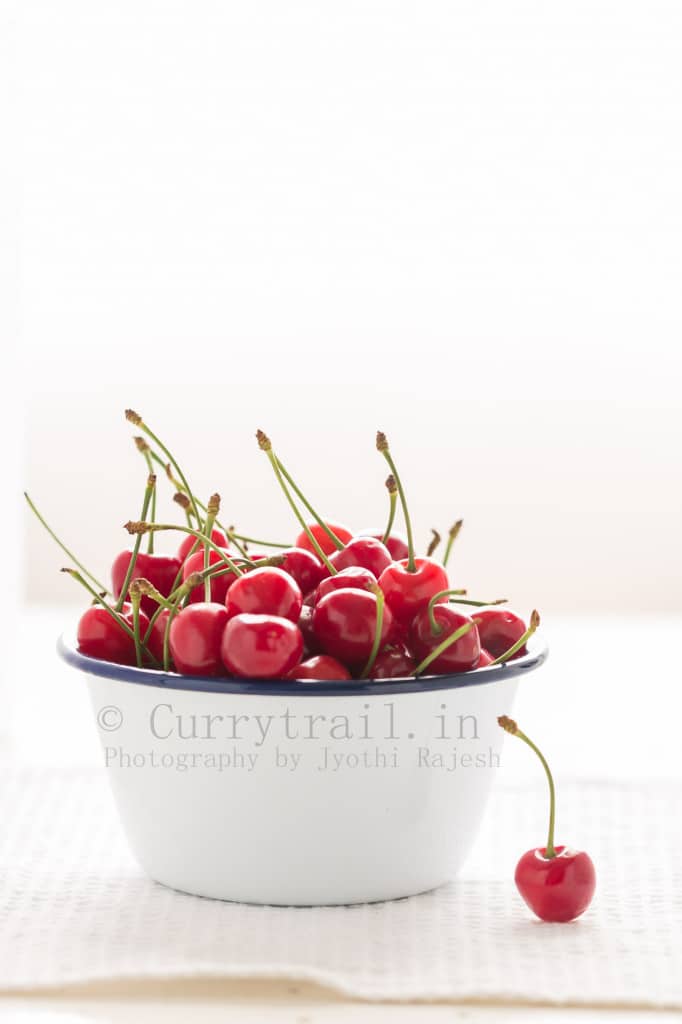 What Is Pectin?
Preserving techniques usually uses pectin. Jams, jellies, marmalades and preserves call for pectin. Pectin is a starch that is naturally occurring in some of the berries, apples and most fruits. It's a soluble gelatinous polysaccharide which is present in ripe fruits and is used as a setting agent in jams and jellies.
It is composed of pectic acid and pectinic acid molecules. When you heat the fruit together with sugar it causes thickening, because of pectin content in it. Orange peel has the highest amount of pectin, followed by apples, citrus pulp, carrots and berries.
A prepared pectin that you get in the market are whitish in color powder sachets that is used in making jams and marmalades.
Is Pectin Good For You?
Pectin is naturally occurring soluble dietary fibers present in various fruits. It's a dietary fiber so it passes through us. The many health benefits of pectin include improvement in digestive health, regulation of bowel movements and prevention of heart disease. While natural pectin is good for you when consumed in moderation.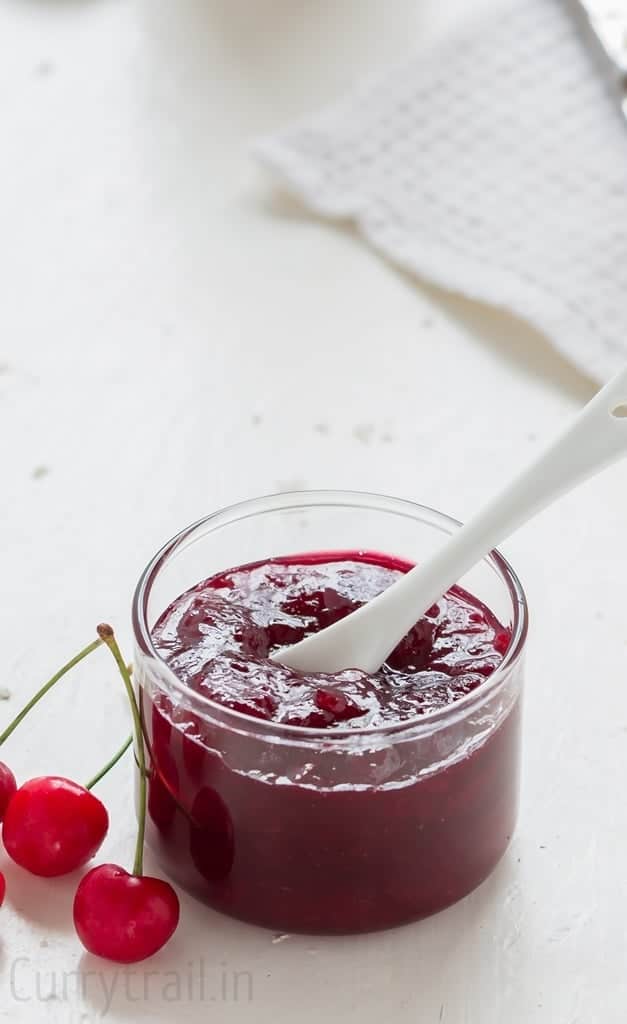 Fresh Cherries or Canned/Frozen Cherries For Cherry Jam Recipe?
Nothing, I mean nothing beats fresh fruits. When you use fresh fruits it shows in your jam. You get luscious, fruity, delicious jam. As much as I recommend fresh cherries for this cherry jam recipe, you could still get away with canned or frozen cherries too.
Just remember that canned cherries or preserved cherries will have high sugar content that is used to preserve them. If using frozen cherries, thaw the cherries overnight in the fridge and use them in the morning.
Why Homemade Cherry Jam Is Better Than Store Bought Jam
I won't deny picking up a bottle of jam from the supermarket is so much more convenient, makes life easy. But homemade jam is better than store brought ones for all these reasons –
Store bought jam is loaded with sugar. Homemade jam is fruitier and definitely less sugar (quantity of sugar depends on the fruit you use). You can make just the amount of jam you need and can them.
Homemade jams are great food gifts for Christmas, thanksgivings. Those cute little gift bottles/cans of jams will make you a star among your friends and family.
You know your homemade jam has all the natural ingredients as opposed to the store bottled ones which has all these ingredient most of it you can't even pronounce.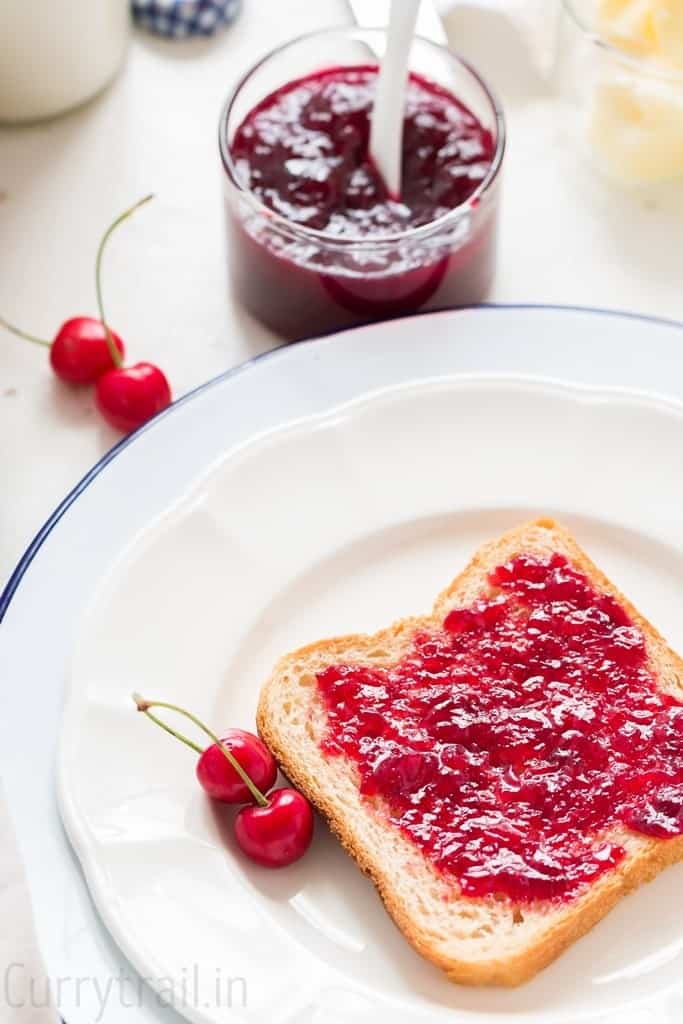 Cherry Jam Ingredients
Simplest cherry jam has just 3 ingredients.
Fresh cherries
Sugar
Lemon juice
How To Make Cherry Jam
Remember those delicious chunky fruity jams our grandmothers made? Our grandmothers probably did not use pectin yet we had the jam consistency just right and delicious!
So we can make jam without pectin for sure, it just need few extra minutes of stirring the hot boiling pot of jam. Cook the vitamins out of the fruits slowly and stirring constantly until you get a thicker consistency jam.
For 2 cups of fresh cherries use 1 cup sugar and 3 tablespoon lemon juice.
Cook pitted cherries, sugar and lemon juice in a deep bottomed pan over medium heat stirring constantly and mashing the fruit as you stir. Continue to stir and cook for 20 – 30 minutes until cherry jam reaches thicker consistency.
Meanwhile keep 2 plates in the freezer to be used for testing jam consistency.
Drop a blob of jam on to the freezer plate and leave it for few minutes. Press the jam with your index finger and if it wrinkles even a bit, jam is set. Remove from heat immediately. Skim and pour into sterilized cans and cover once cooled.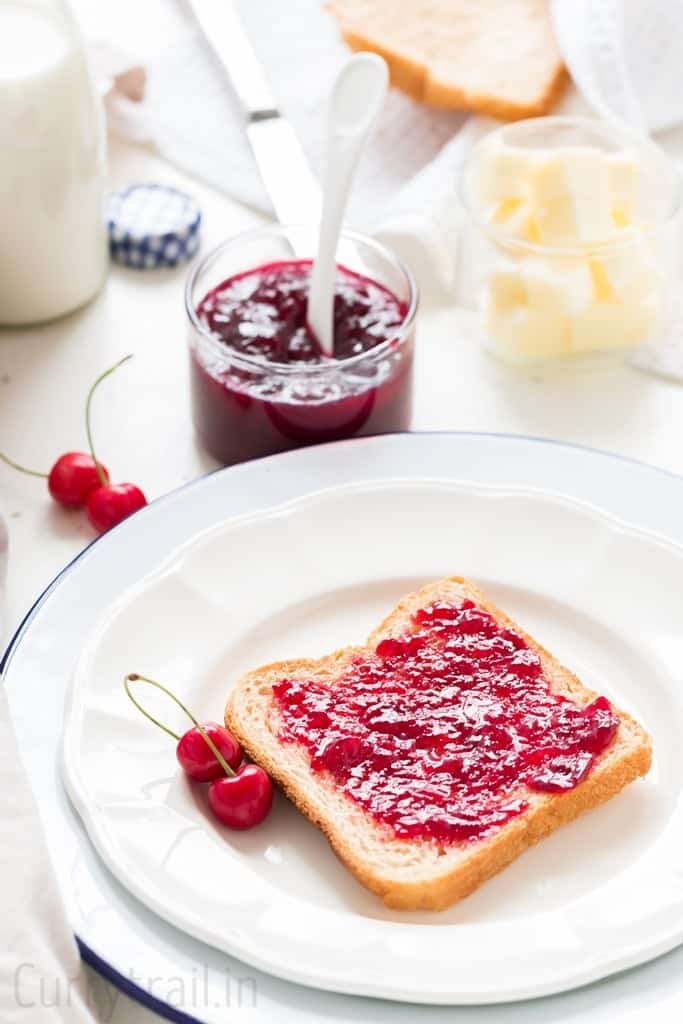 Interested in more seasonal fruit recipes? Check these out –
LOVE THIS RECIPE? KEEP IN TOUCH AND DON'T MISS OUT ON ANY OF CURRYTRAIL RECIPES! FOLLOW ME ON INSTAGRAM, PINTEREST, FACEBOOK, TWITTER.
HAVE YOU TRIED ONE OF MY RECIPES? I'D LOVE TO SEE WHAT YOU'VE MADE! TAKE A PICTURE AND USE THE HASHTAG #CURRYTRAIL ON INSTAGRAM SO I CAN SEE! I'LL DO A HAPPY DANCE IF YOU TRY MY RECIPE AND SHARE IT WITH US!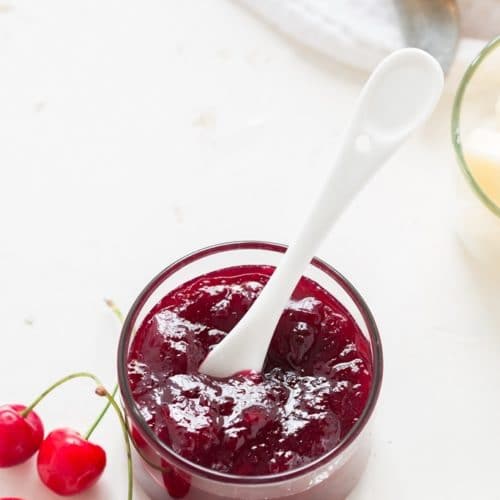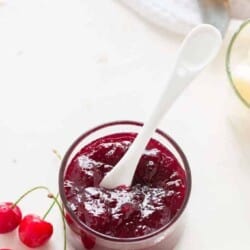 Cherry Jam Recipe without Pectin
Gorgeous red, delicious homemade cherry jam made of fresh cherries needs just 3 ingredients and your jam will be ready in about 30 minutes. There is no pectin here!
Ingredients
1.5 lb fresh cherries pitted, halved
0.7 lbs sugar adjust according to your preference
3 tablespoon lemon juice
Instructions
Prepping work before you start –
Wash and clean the cherries. Pit the cherries using a cherry pitter. Chop them into half. Keep 2 small plates in the freezer to use for jam test.
Cooking the jam -
Place the cherries in a sauce pan and cook on medium heat stirring constantly. With a potato masher or back of a wooden spoon mash the cherries. Place a plate in freezer for testing the consistency of jam.When cherries turn soft, add sugar, lemon juice and keep mashing and stirring. Once sugar begins to boil, add lemon juice and mix thoroughly.

Keep a sterilized clean and dry bottle ready.
Test jam consistency -
At this stage take a plate from freezer add few drops of the jam on the plate. Drop a blob of jam on to the freezer plate and leave it for few minutes. Press the jam with your index finger and if it wrinkles even a bit, jam is set. Jam has reached its correct consistency. Remove from flame immediately. Do not overcook it, the jam will turn hard.


If the freezer plate test shows jam set, turn off flame immediately and transfer it into a sterile bottle and cover it tightly.

Store in a cool dry place. Always use clean dry spoon to scoop out the jam.
Notes
Make sure to have a clean, dry, sterile bottles ready before starting to cook the jam. From the quantity mentioned I got about 1.5 standard jar approximately.
Nutrition
Serving: 0gCalories: 1112kcalCarbohydrates: 286gProtein: 4gFat: 0gSaturated Fat: 0gCholesterol: 0mgSodium: 2mgPotassium: 1042mgFiber: 9gSugar: 269gVitamin A: 290IUVitamin C: 40.8mgCalcium: 59mgIron: 1.6mg