These 2 ingredients strawberry mango popsicles are fabulously refreshing and perfect for hot days. Warm days ahead and we can't think of better way to cool off with this delicious naturally sweet fruity popsicle! These are refined sugar free, diary free, vegan and healthy.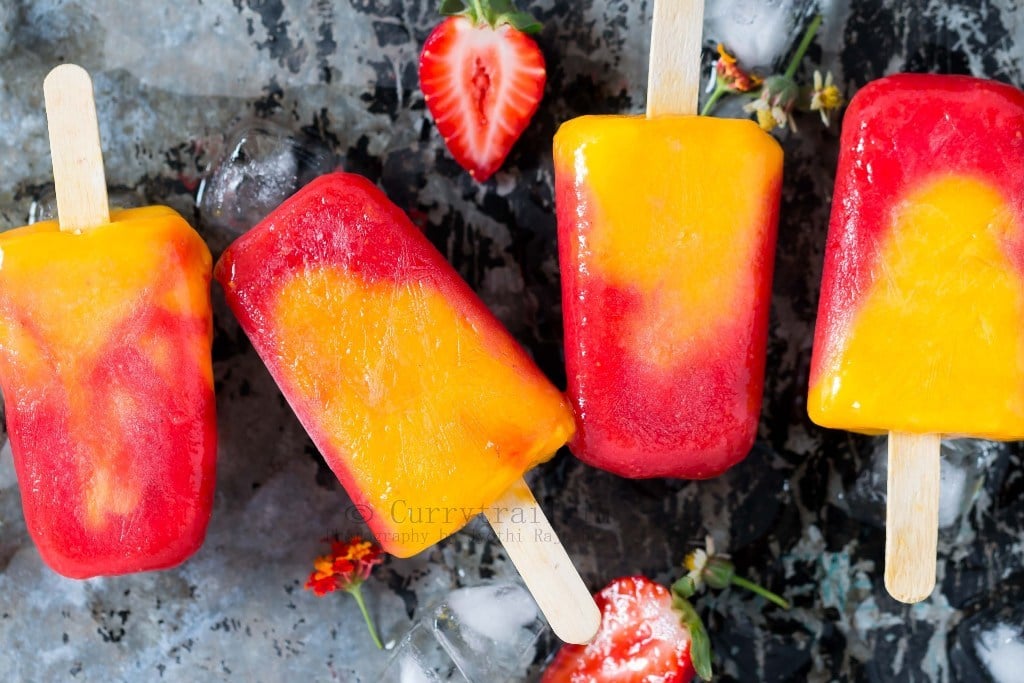 Come summer, it's time to bring those popsicle moulds out. Because popsicles are always on the menu. Ice creams, ice pops, popsicles, milkshakes, summer definitely is the best season of the year.
There are million ways to make a popsicle at home and let's talk about fruity popsciles here! Million possibilities again! Right? The best part of homemade popsicle is the layering. Choose any fruit of your choice, puree it and pour layers of it into the popsicle moulds. It's natural for the layers to blend into one another a little bit, but that looks so gorgeous too right! I think it does.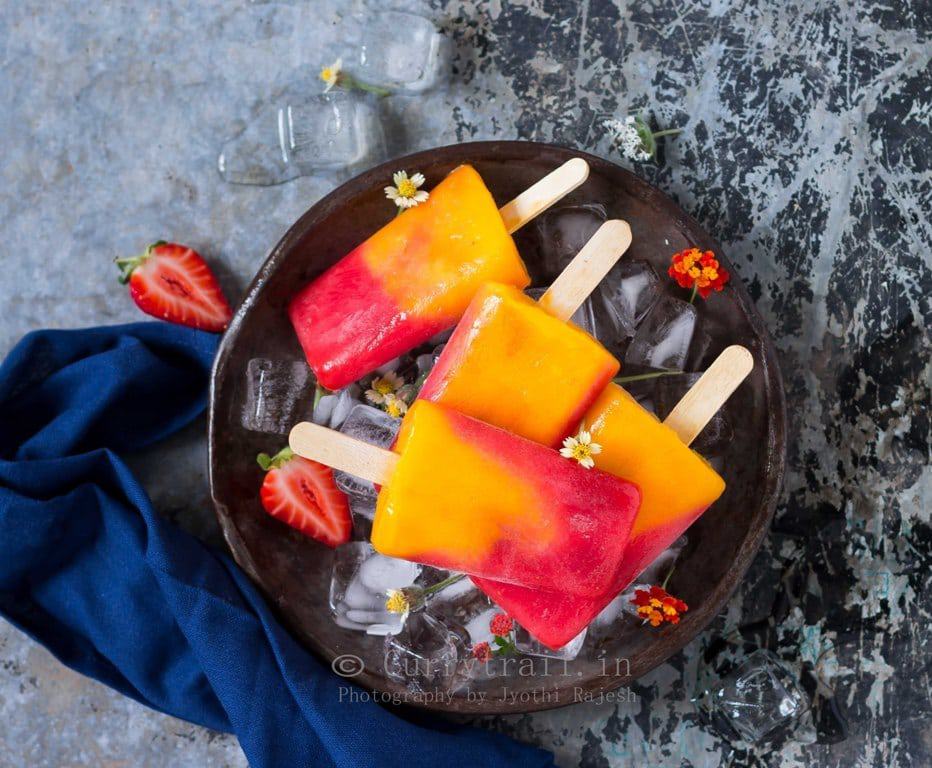 During the weekly vegetable shopping, I saw a packet of unbelievably fresh strawberries. Unbelievable cause, they were really fresh in spite of the end of strawberry season here. I immediately picked the box and I knew I was making strawberry Popsicle that very moment. When I entered home, mangoes on the dining table were all ripped and calling me out with it's aaaaamazing scent. The smell of ripe mangoes is…..amazingly wonderful. So with 2 best seasonal produce, strawberry mango Popsicle's got done in a jiffy. Yes in a jiffy, so little prep work. Only thing that takes time in this mango popsicles recipes is popsicles setting time in the freezer.
In India the varieties of mangoes we get are mind blowing. So many of them, yet my heart always goes to Alphonso mangoes, the best quality mangoes that has right amount of sweetness and very very mild sour taste. It's simply THE BEST MANGO VARIETY. And the meat in these mangoes – oh my god, the best I say! I definitely recommend you to use Alphonso mangoes while making mango Popsicle.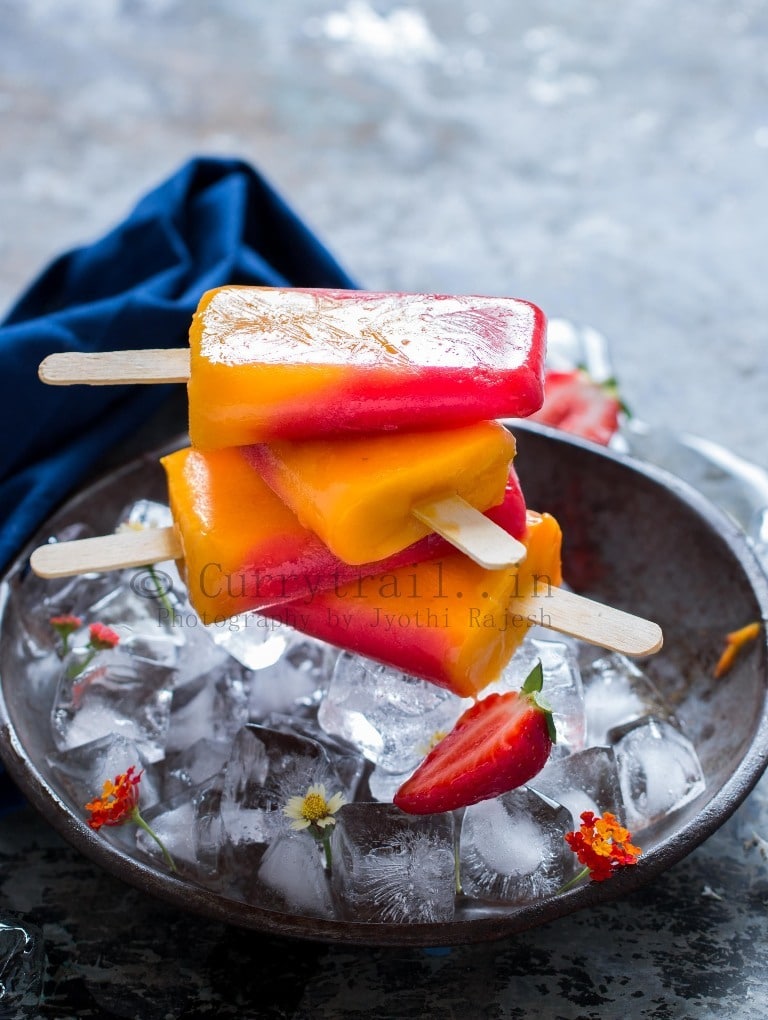 My kids love all frozen treats ice creams, Popsicle, everything. And this delicious 2 ingredients Popsicle has quickly become a favorite of theirs. Not just for the colors, but because it has 2 of their favorite fruits. Thank God they have some fruits that they eat without whining, complaining and making up stories as to why they don't want to eat the fruits I give them.
LIKE THIS MANGO POPSICLE? THEN YOU HAVE TO TRY THESE POPSICLES AS WELL :
Vegan Chocolate Mint Popsicles
Indian Black Berry Popsicles (Jamun popsicles)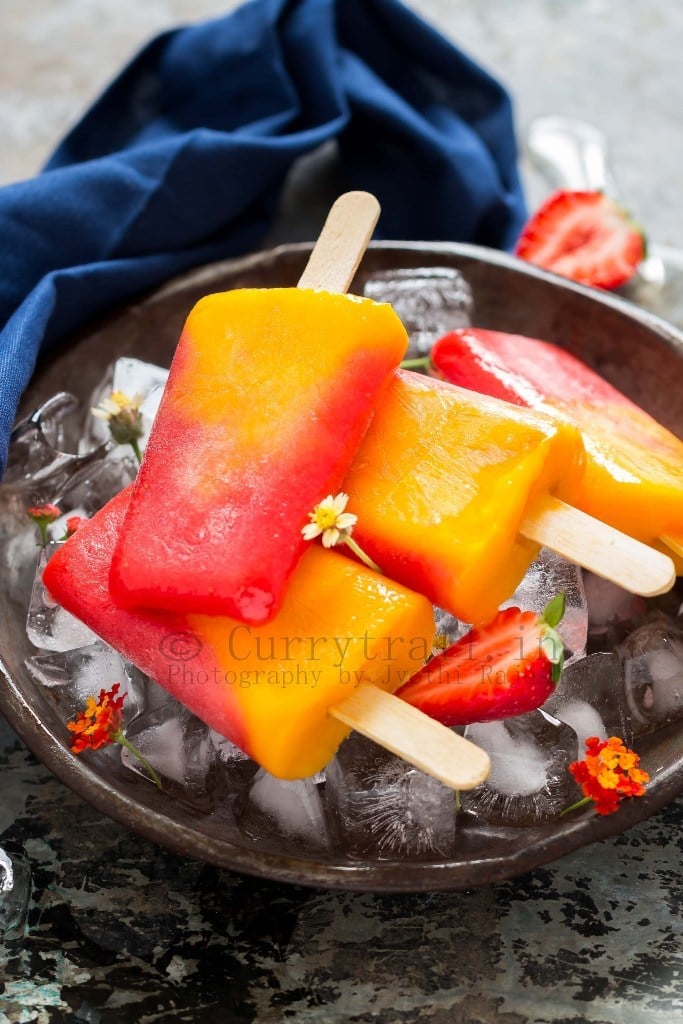 Why Should You Make Mango Popsicles At Home?
Come on guys, it's summer!
Really simple to make
ALL Healthy ingredients is used
No added refined sugar, no food dyes
So much fun to eat and serve with all natural colors
Fun way to enjoy fruits (for kids and adults too)
Homemade strawberry mango popsicles scores full marks in hygiene factor
Just 2 ingredients needed (you could add honey if you needed extra sweetness)
Popsicle Mold – Popsicles are fun and you need a popsicle mold, a good one really. The shape of the mold can be anything, but when choosing I'd go for something that makes freezing the popsicles easy. First of all molds should hold it's place and not shift while shutting the freezer door. And removing the frozen popsicle shouldn't be hard too. I used this popsicle*
mold which is my FAVORITE.
How Long To Freeze The Popsicles?
Preferably overnight. Or 5-6 hours until they are set and frozen.
Change It Up
You can switch to another similar fruits in place of strawberries. Raspberries are delicious to use in a popsicle.
Use mango and yogurt combinations.
Use sliced fresh fruits like kiwi, strawberry slices, fresh mango slices and then pour in mango puree to the popsicle moulds.
Change it to make to your taste.
How To Easily Remove Strawberry Mango Popsicles From Mould
When removing the Popsicles from the molds give them a few minutes to thaw around the edges so they come out easier. Don't force them by pulling it hard, be gentle to get popsicles out neat.
Dip each mold in luke warm water for 10 seconds or less and then try pulling it gently. Popsicles should come out neat.
*this is an affiliate link and I might get a commission if you buy the product through the link at no extra cost to you.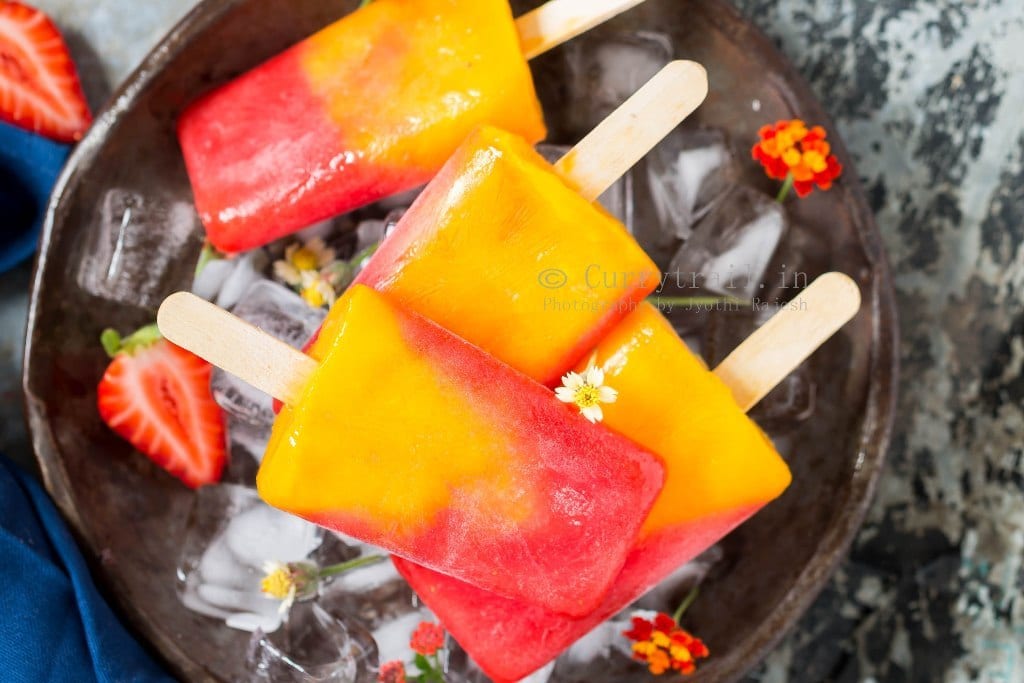 How To Make Strawberry Mango Popsicles
Popsicles are super easy:
Just puree the fruits, pour into molds and freeze.
Done.
If you get a chance to try this strawberry mango popsicles recipes, let me know!I'd love to hear from you. You can leave a comment here or tag @currytrail on Instagram so I can happy dance over your creations! I can't wait to see what you whip up!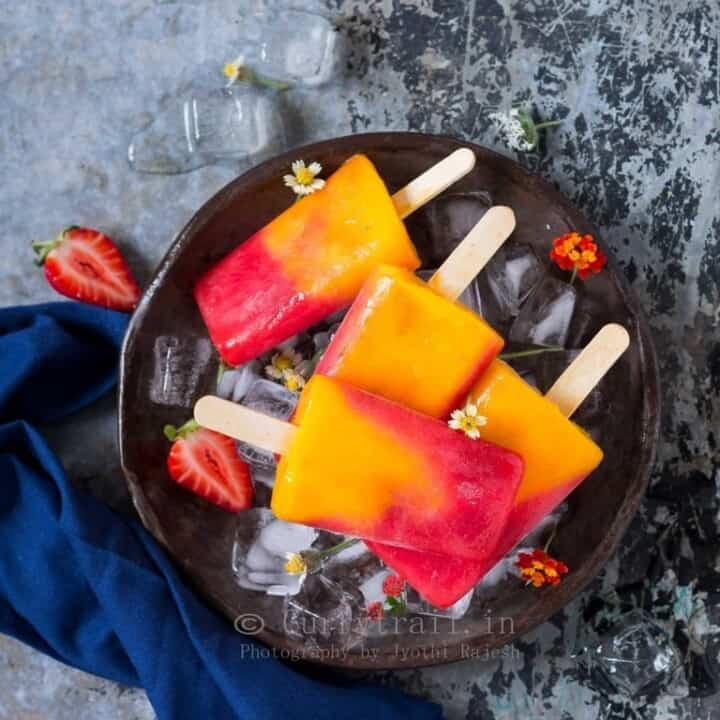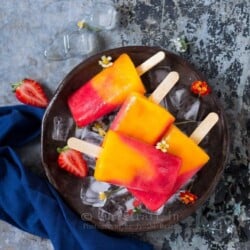 2 Ingredients Strawberry Mango Popsicle
These 2 ingredients strawberry mango popsicles are fabulously refreshing and perfect for hot days. Warm days ahead and we can't think of better way to cool off with this delicious naturally sweet fruity popsicle! These are refined sugar free, diary free, vegan, healthy fruity popsicles.
Ingredients
1.5 cups fresh strawberries
3 ripe mangoes (alphonso variety works best)
Instructions
Hull strawberries and chop into pieces. Blend it in a blender or food processor until you get a smooth strawberry puree. Add ½ to 1 tablespoon water if needed.

Peel the skin on mangoes and chop the pulp into pieces. Blend it until you get smooth mango puree.

Alternatively pour each fruit juice into the Popsicle mold. If you wish you can pour in small quantities to make more layers.


Cover and place it in freezer for 15 minutes.


Remove from the freezer and insert the Popsicle stick now that way the stick stays in it's place.


Cover and freeze for another 30 minutes. Homemade, healthy, fruity, bright summer colors Popsicle is ready.


Just before serving, remove the mold from freezer and dip the mold in warm water for 5 to 7 seconds. Then gently pull the Popsicle out holding on the stick. This should help the Popsicle come out of the mold easily without breaking.

Nutrition
Calories: 91kcalCarbohydrates: 22gProtein: 1gFat: 0gSaturated Fat: 0gCholesterol: 0mgSodium: 1mgPotassium: 290mgFiber: 3gSugar: 19gVitamin A: 1340IUVitamin C: 76.8mgCalcium: 22mgIron: 0.4mg
**This post may contain affiliate links.
"PIN IT" TO YOUR POPSICLE BOARD