This easy and fresh summer mango salsa recipe is terrific for scooping up with chips. I bet you will see it disappear in a snap when served with corn chips (tortillas).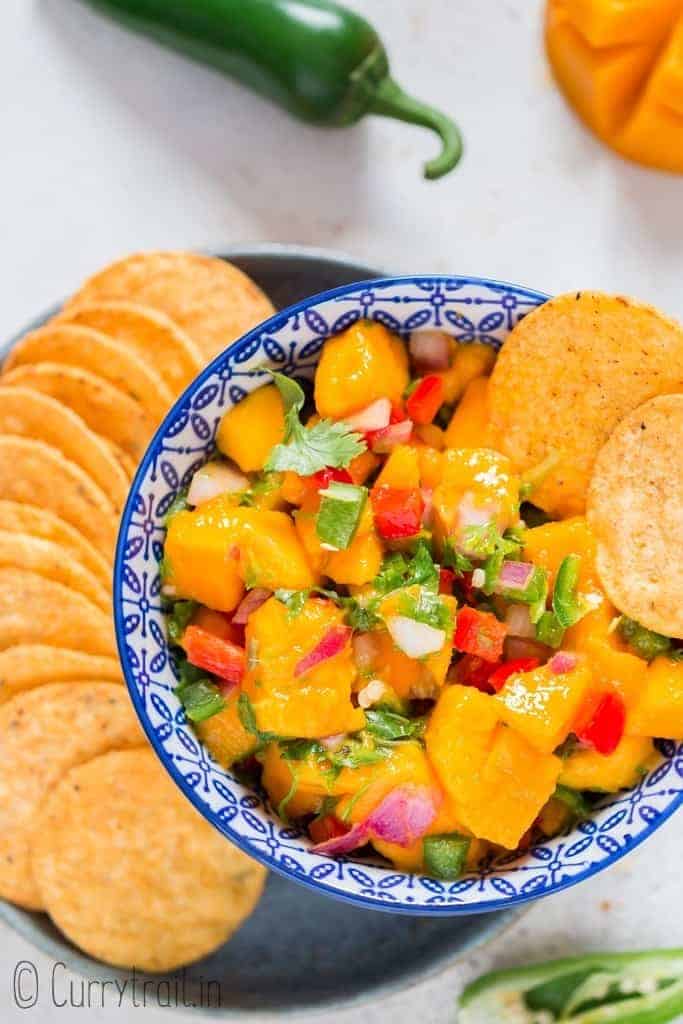 Why You Need To Try This Salsa?
Bright vibrant summer salsa makes a perfect dip and spread for any parties to get started.
Mango salsa is one of those most simple yet delicious dip or side recipe. This 10 minute mango salsa is all you need to your summer party started. 10 minutes I say for all the chopping work to get done.
The thing with salsa is you can chop the ingredients as fine/small as you like. But with mangoes it's better when you have them cut in chunks, not so large and not so tiny too. You want to get a mouth full of those delicious mangoes to enjoy, relish and take it all in slowly.
Mango adds tangy-sweetness to the salsa and paired with the tang from the lime and spiciness from the jalapenos, it will truly be a treat for taste buds.
If the mango you use is sweet, to make this salsa do try to oomph up it's flavor with a little extra jalapeno for that extra kick. I added little extra jalapenos as mangoes we get here are much sweeter.
I love all things spicy, I use jalapenos with seeds, yes seeds on. Personally I think some extra spice is needed to balance out the sweetness from mangoes. And for extra crunch I added red bell peppers too. It was truly the best homemade salsa. Feel free to adjust the amount of jalapenos that goes in your salsa. Keeping the seed of jalapeno on or removing it off is your choice.
Serve it as a spread over bread or grilled fish or chicken you have meal on the plate. Easy summer mango salsa heralds the arrival of summer. Let's get those picnic hats out.
I served it with corn nachos and also used them up in fish tacos.
If you haven't tried fish tacos with fruity mango salsa then you are in for a treat! I've had many tacos before, but I never had a fish taco that was as DELICIOUS and fresh as these.
This is everything you need for the warmer days – well seasoned tilapia fish, fruity summery easy to make and ridiculously tasty summer salsa all folded in a warm corn tortillas from the grill.
A perfect summer meal that you can easily carry it on for summer picnic in your basket too. It's fun layering up and building your own taco while you sit under the shade of a tree with sweet breeze. Get the kids to build their own tacos. It's a wonderful fun time with family.
Ingredients Needed
Below pic shows all you need for salsa –
How To Make Mango Salsa ?
This summer salsa is super easy to make and perfect for summer. I can safely say this mango salsa recipe has sure to become a new favorite!
Chopping the ingredients –
This is probably the only job you need to do. Chopping! I love to chop all the ingredients except mangoes really fine as possible. Use a good sharp knife to chop them fast and fine. I diced the mangoes.
Toss all together.
Squeeze lime juice.
Add salt to taste.
Serve it up.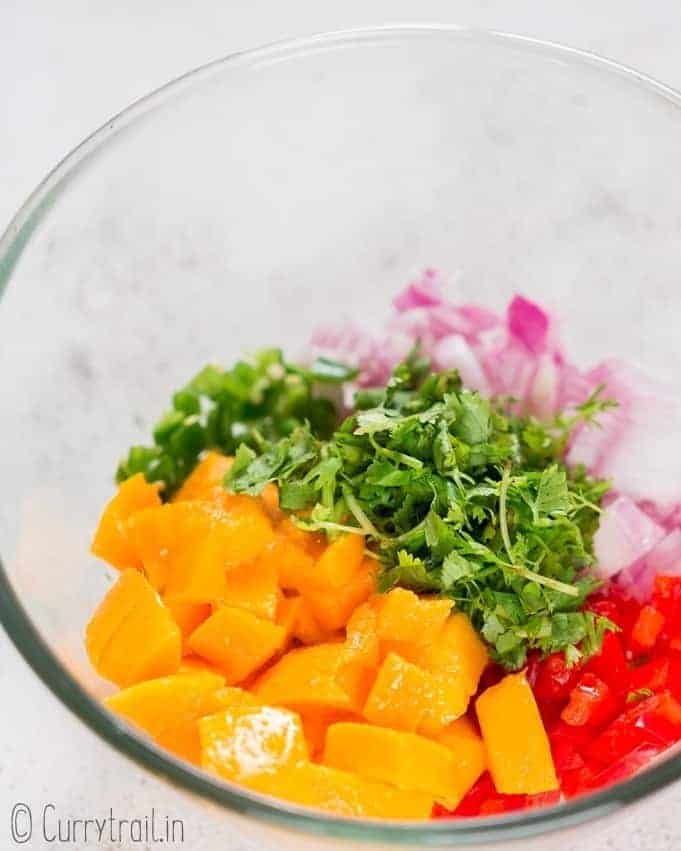 How To Choose Mango?
Crucial step here is choosing the right mango. Select a nice firm and ripe mango.
To check if mango is ripe, gently squeeze the mango, it should slightly give. If it's too hard = Not ripe.
Too squishy = flesh will be too mushy
Gives slightly and firm = perfect mango!
How To Cut Mango?
Wash the mango. Slice each side just past the seed. Make the same cut on the other side. You got out most of the mango flesh.
Then cut the flesh into grid like pattern without going through the skin(first slice the flesh without going through the skin, turn it and make dice cut again without going through the skin). Use a large spoon to scoop out the flesh from skin. You have diced mangoes – nice and easy.
This salsa is ridiculously easy and is perfect for summer, with a fun fresh and vibrant look. And it tastes SO GOOD!
Pair this easy and fresh mango salsa with nachos, chips, or fill it in tacos, or use it to dress up your grilled fish, chicken, they just make a perfect summer delight!
How To Store Leftovers?
Transfer any leftover salsa into a container with tight lid. Store refrigerated for up to 3 days covered tight.
Can You Freeze Mango Salsa?
YES! YAY – that means you can extend the mango season a little longer even after mangoes disappear from the market!
For longer storage you can freeze this salsa in zip lock bags or air tight freezer containers. Freeze up to 2 months.
To serve frozen salsa, simply thaw it in the fridge overnight or leave it on counter for couple of hours before serving.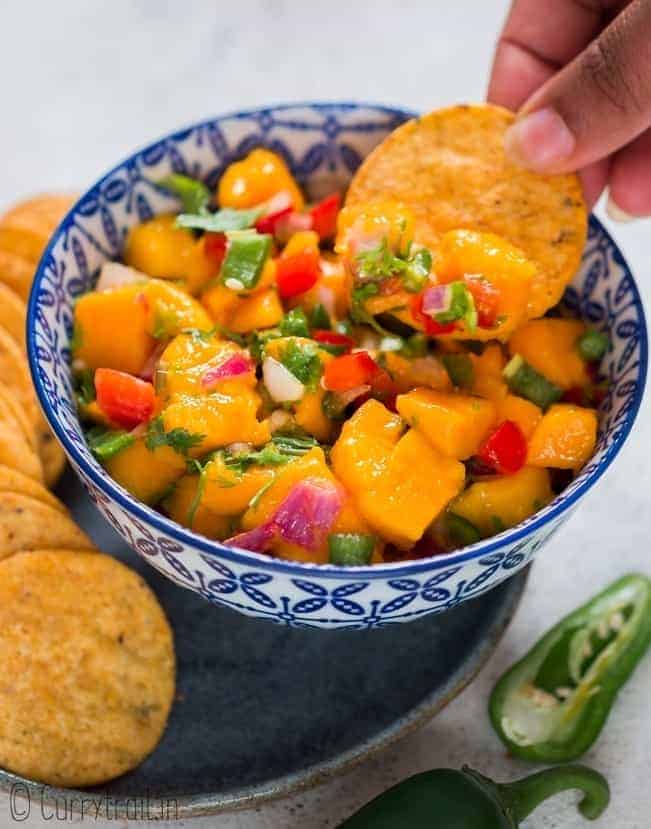 Can You Make This Salsa Ahead?
Yes you can! This salsa keeps good refrigerated for 2-3 days.
Can You Skip Cilantro?
As hard it may be to accept and believe the fact that I LOVE cilantro and I would suggest you don't skip it in this recipe. But I'm realistic and well aware of the fact that there are thousands if not millions who hate cilantro. If you are reading this, i'm guessing you might be one of them.
If you hare cilantro, feel free to skip it. You'll need to add a fresh element to make this salsa taste great. Substitute fresh mint instead of cilantro. Salsa that lacks freshness like fresh herbs isn't a great salsa in my world.
Tips To Make The Best Mango Salsa
Use only fresh ingredients. It makes a world of difference.
Make sure the mango you use is ripe, not over ripe.
Get those ingredients chopped as fine and even as you can. Chop red onion, Jalapenos and red bell peppers fine and almost the same size.
Use freshly squeezed lime juice.
Don't forget fresh herb in the salsa. Highly recommend you use cilantro, if not a fan substitute it with fresh mint.
You can add other ingredients to the salsa. Get creative and have fun. Avocados, black beans, fresh pineapple, strawberries all these pairs well with mango salsa.
Love mangoes? Then try our other favorite summer mango recipes –
Don't forget to Subscribe to CurryTrail Recipes below to get our newest recipes delivered straight to your inbox.
LOVE THIS RECIPE? KEEP IN TOUCH AND DON'T MISS OUT ON ANY OF CURRYTRAIL RECIPES! FOLLOW ME ON INSTAGRAM, PINTEREST, FACEBOOK, TWITTER.
HAVE YOU TRIED ONE OF MY RECIPES? I'D LOVE TO SEE WHAT YOU'VE MADE! TAKE A PICTURE AND USE THE HASHTAG #CURRYTRAIL ON INSTAGRAM SO I CAN SEE! I'LL DO A HAPPY DANCE IF YOU TRY MY RECIPE AND SHARE IT WITH US!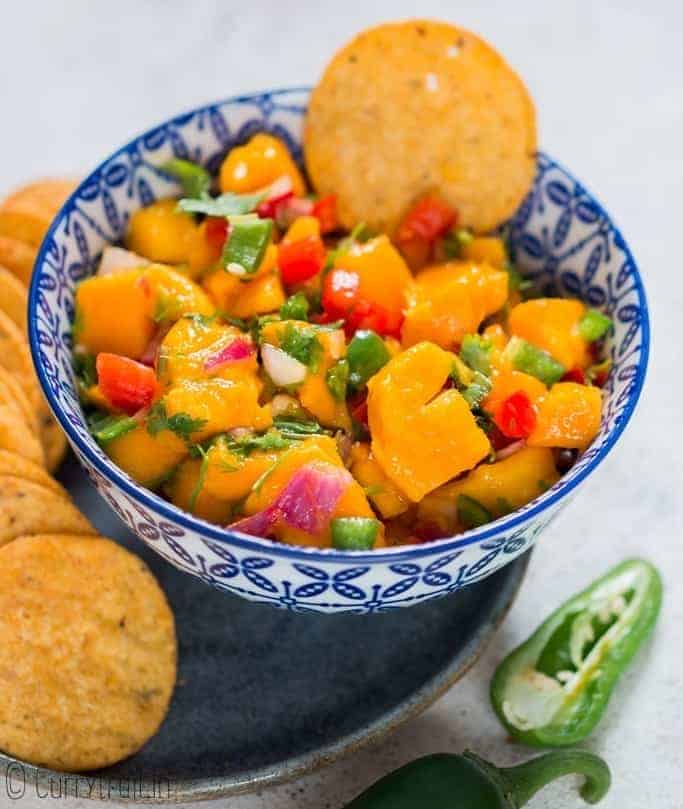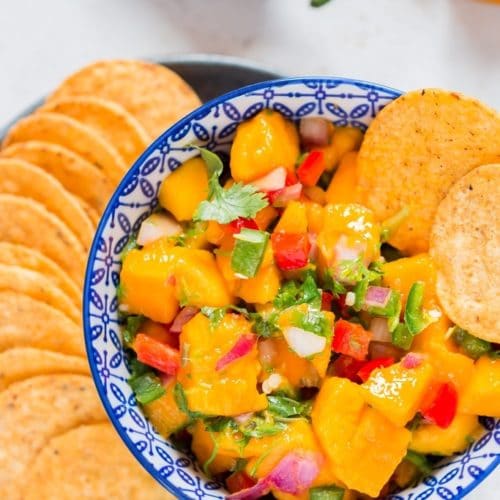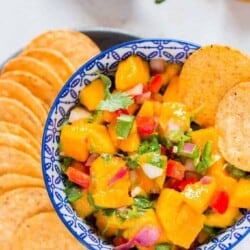 Easy and Fresh Summer Mango Salsa Recipe
This salsa is ridiculously easy and is perfect for summer, with a fun fresh and vibrant look. And it tastes SO GOOD! Pair this easy and fresh mango salsa with nachos, chips, or fill it in tacos, or use it to dress up your grilled fish, chicken, they just make a perfect summer delight!
Ingredients
3 number Ripe mangoes peeled, pitted and diced
1 no Red onions chopped fine
½ Red bell peppers diced
1 no Jalapenos diced
Salt to taste
3 tablespoon Lime juice
4 tablespoon Coriander leaves finely chopped
Instructions
Peel and chop ripe mango into small cubes/pieces. Chop onions, tomatoes, pickled jalapenos, coriander leaves into small pieces.

Add all the ingredients to a medium bowl and toss gently.

Serve them with nacho chop, over tacos, quesadillas, or as side for nachos, grilled fish, chicken.
Notes
Adjust Heat – Jalapenos to be adjusted as per taste. Depending on the heat, use jalapenos as per your spice preference. 
Frozen Mangoes – Can easily use frozen mangoes when mangoes are not in season. Drfrost frozen mangoes, drain all the juices and you are good to go.
Canned Mangoes – I wouldn't recommend canned mangoes for salsa recipe. As canned mangoes are loaded with sugar. Mangoes naturally has enough sweetness and using canned mangoes even after rinsing it does not remove all the extra sugar added to it for canning. But if you do not any other option left and canned mangoes are your only choice, then you can use canned mangoes. Make sure to drain canned mangoes, rinse it well and then use it to make salsa recipe.
Mango Salsa Variation – Feel free to change the recipe depending on your preference. Add avocados, chopped strawberries, diced tomatoes.
Serve it up – Mango salsa serves great with tortilla chips. It's also a great accomplishment for fish, shrimp, pork, chicken, tacos. 
Nutritional Info – Please keep in mind that nutritional information provided is only a rough estimate and can vary greatly based on products used.
Nutrition
Serving: 0gCalories: 11kcalCarbohydrates: 3gProtein: 1gFat: 1gSaturated Fat: 1gSodium: 1mgPotassium: 59mgFiber: 1gSugar: 1gVitamin A: 657IUVitamin C: 31mgIron: 1mg