Egg Stew Kerala style is very easy, delicious and nutritious stew fit for breakfast or brunch. You got to pair it with fresh homemade rice string hoppers(idiyappam). Pure bliss!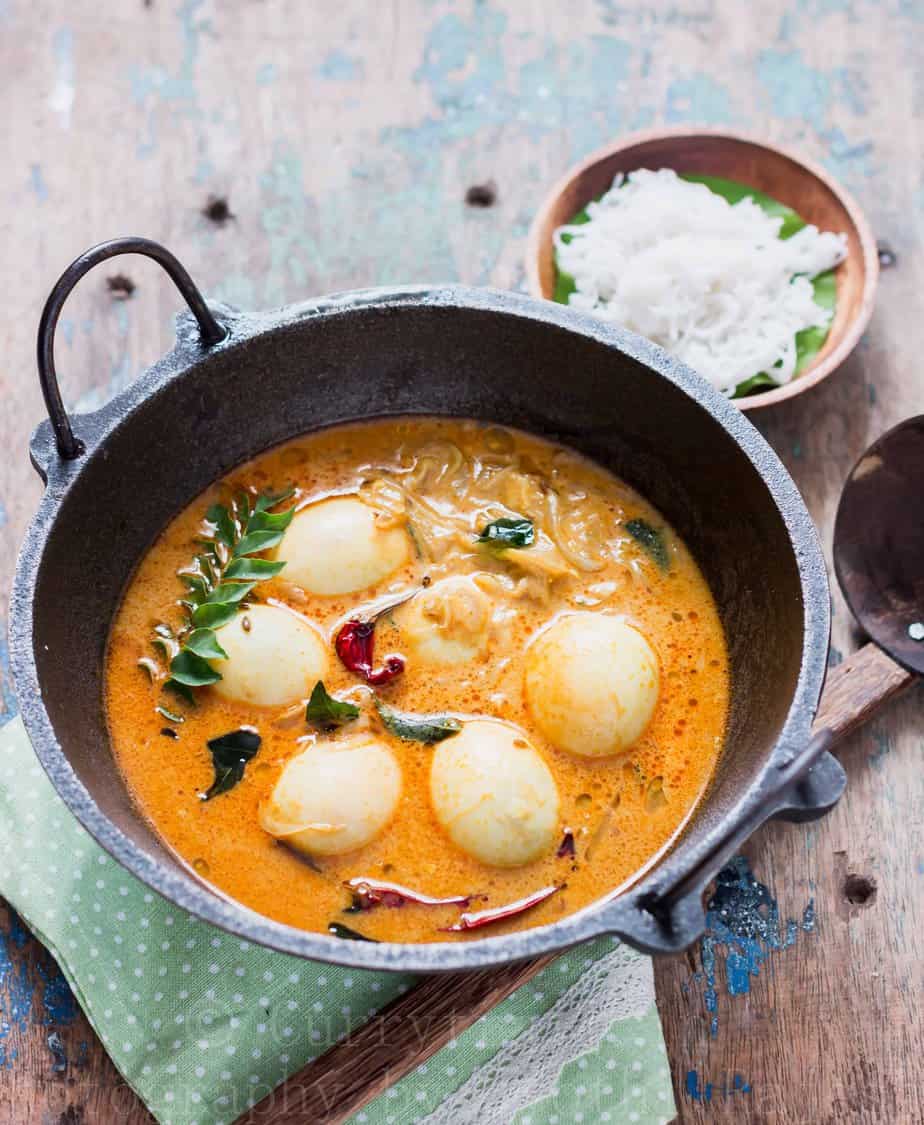 Oh it's that month of the year when I'm gonna be busy preparing for 4 parties. 4 parties in one month you may ask! Yeah, strange except for our son's birthday, all the other special days fall in January! Daughter's birthday comes first, and after a day we celebrate our anniversary, then in about 10 days Raj's birthday and the very next day(not exactly in January) it's my birthday. Too much happening in the month I say. At times it's difficult to host so many parties. January is the month we party hard and have a gala time at home.
Also because my birthday is just next after Raj's birthday, and there was a special anniversary dinner a week back, we mostly end up doing absolutely nothing for my birthday. I have been thinking, damn maybe I'm missing out all the special things for my birthday just cause of so many other parties before mine!
I do get my birthday gift, and I make sure it's all nicely wrapped, with a label on it and all lovey dovey notes, otherwise I do not accept my gifts! 😀 But I think I miss the special treatment on my birthdays. We are all so tired after so organizing so many parties, I decide to just sit back and relax rather than planning and organizing one more party.
I am so thankful that our son's birthday is not in January. A reason to cheer up thinking there is one more party even after January is over! Hahaha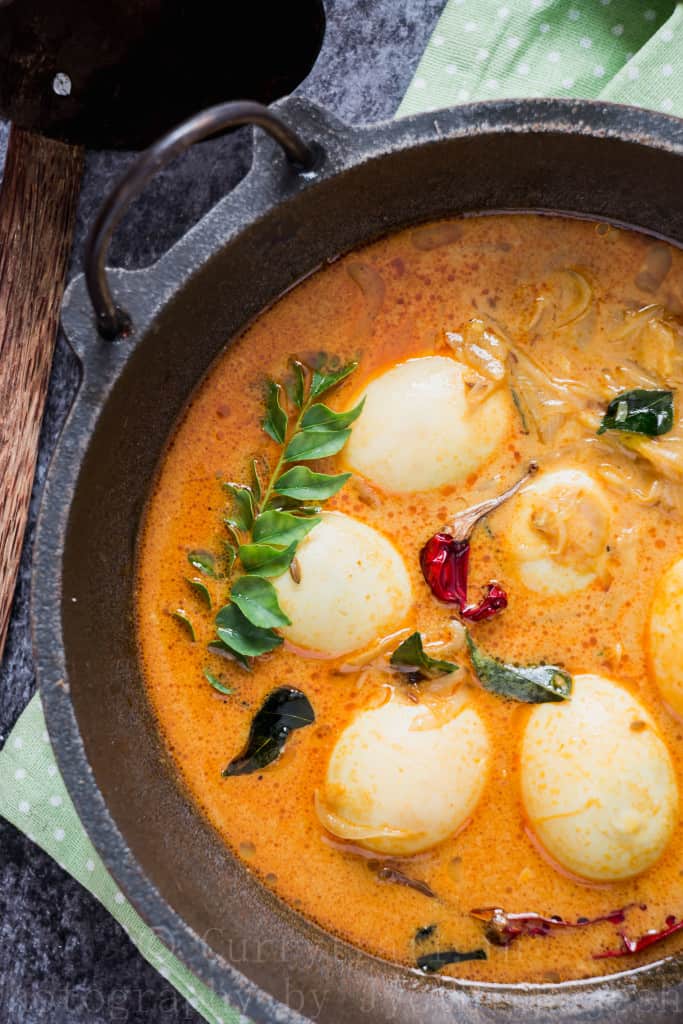 If anyone of you was wondering and expecting new form of recipes, probably healthy ones like salads and soup in January from my blog, I'm very sorry to disappoint you. You see I stopped making new year resolutions, stopped the idea of feeding my tummy and family salads soon as new year begin in the idea of healthy eating. I stopped all of that! So sorry if I disappointed you.
All I believe in is healthy eating all day, throughout the year and indulge yourself in all your favorite delicacies once in a way.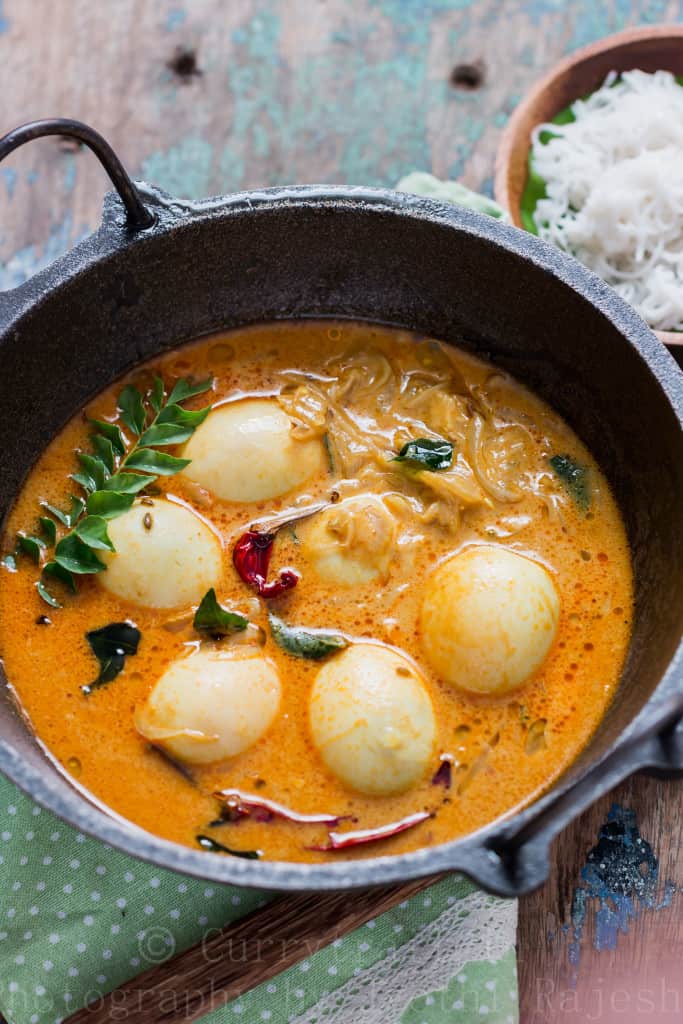 When it comes to breakfast I'm more comfortable with all the Indian delicacies on days I crave for Indian food. After all it's those foods that I ate and grew up. Even if some of the dishes take time in preparing, I feel it's all worth it, totally!
This Kerala style egg stew is one of my all time favorite. Paired with fresh homemade idiyappam (rice string hoppers), I see my kids who are fussy eater and wipe off the plate clean. There is no satisfaction big than seeing your kids eat all that you put on the plate.
Try this delicious, very easy and nutritious Kerala style egg stew for your next breakfast.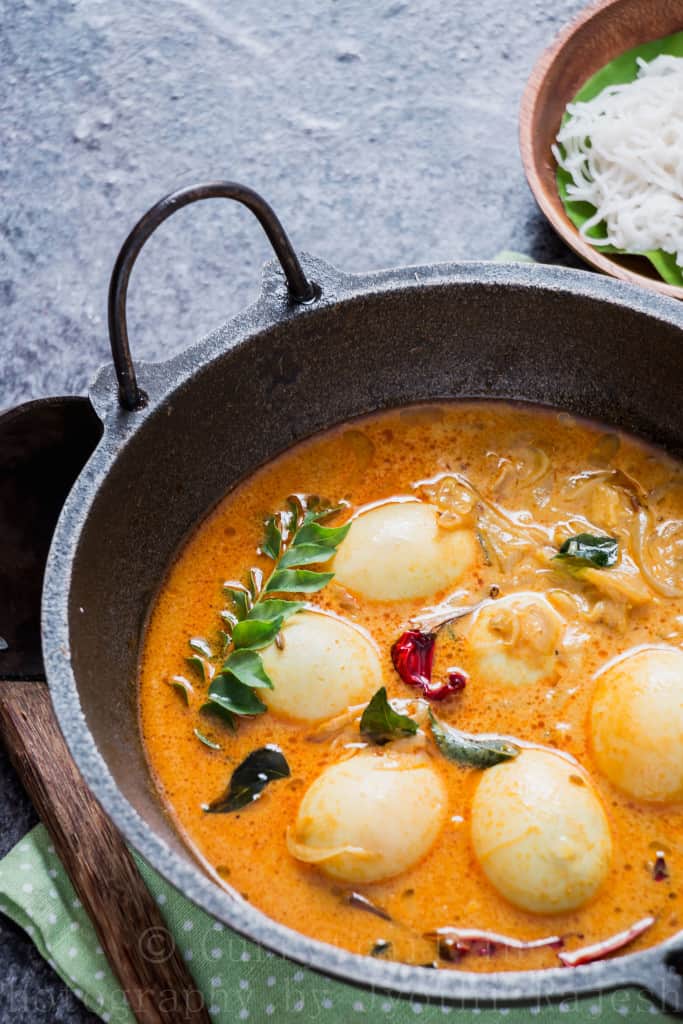 How To Make Egg Stew Recipe Kerala Style
You definitely would have heard and tried beef stew, chicken stew in your life! How about egg stew? Is that something new to you?
Egg stew is Indian classic dish stew popular from the Southern India, Kerala. It's subtle spiced, creamy and nutritious!
Hard boiled eggs in onion base stew which is spiced with chili powder, dried red chilies makes the most comforting and healthy stew that is best served with rice string hoppers.
Chili powder(can be substituted with cayenne pepper) is seldom used in preparation of authentic egg stew recipe. The spice in the stew is from slit green chilies and dried red chilies alone. Thus making this Kerala style egg stew very subtle in spice, creamy and delicious!
But if you have been following me here, you know by now my love for spicy food. I need spicy food, I want spicy food in my life! 😀
So it was only natural for me to add some extra heat to the egg stew recipe. If you aren't a fan of spice food, leave out the red chili powder (or cayenne pepper).
Start by making the onion base for the stew. For this you'll need lots and lots of sliced onions. Heat oil in a pan. Vegetable oil is good.
Saute dried fennel seeds, cumin seeds, wait until it splutters.
Add lots of thinly sliced onions and saute until it turns pink.
Add chopped ginger and garlic along with sliced green chilies.
Mix all spice powders in a teaspoon of water and add it to the pan.
Wait until spices cook through. You should see oil separating from the sides of the pan.
Thin coconut milk is poured in next.
Pro-Tip: Fresh coconut flesh that is ground in blender with little water. Milk that is strained and extracted is first extract or thick coconut milk.
Thin coconut milk is the second extract of coconut milk. The strained residues of coconut flesh is added back to blender and little more water is added and blend. Strained. The milk you get is thinner in consistency and usually used to curries and stews while boiling, this second extract does not split.
Once stew reaches it consistency, hard boiled eggs are added to the stew and allow to simmer for few minutes.
Serve warm with freshly homemade string hoppers.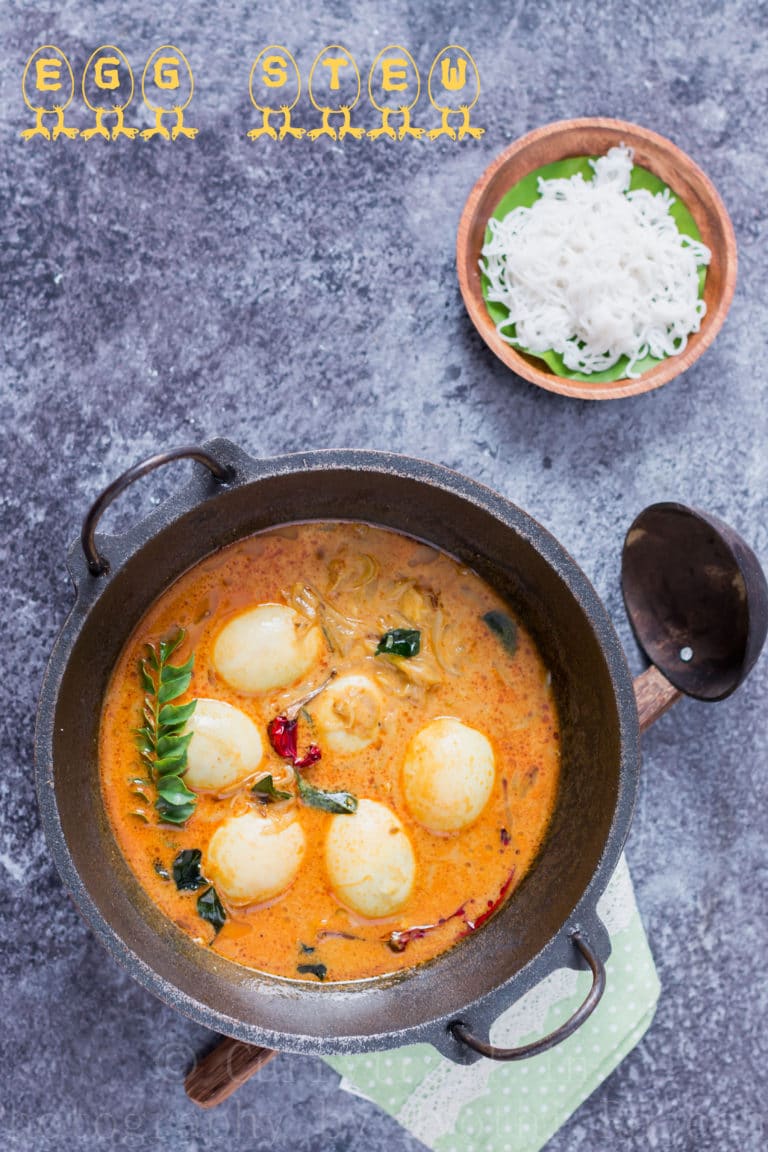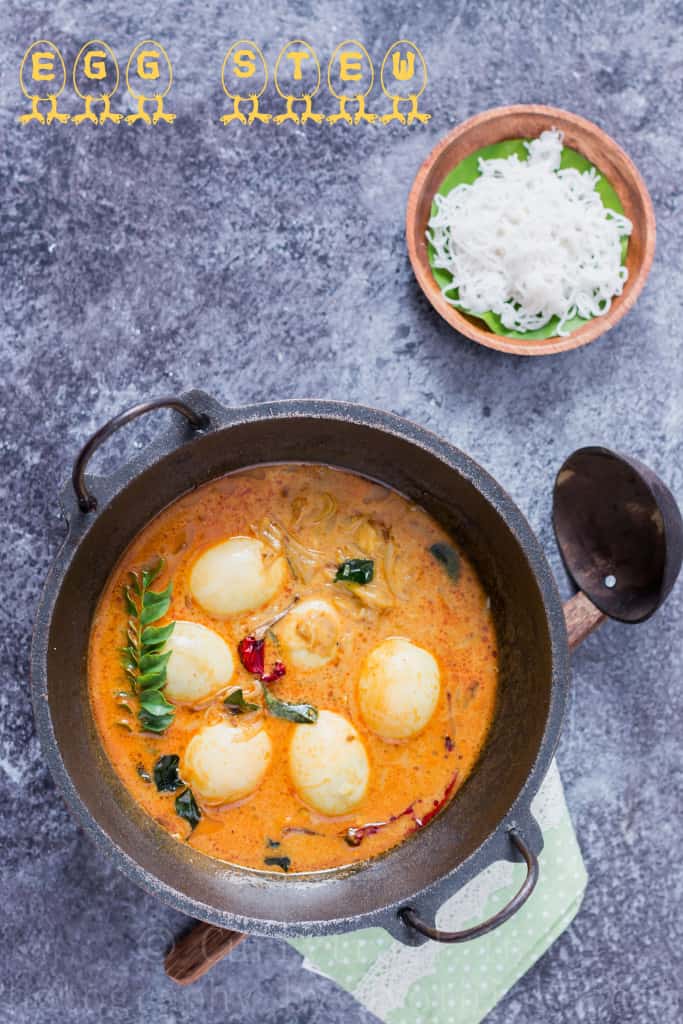 More Egg-licious recipes for you to try-
Easy-To-Peel Instant Pot Hard Boiled Eggs
Don't forget to Subscribe to CurryTrail Recipes below to get our newest recipes delivered straight to your inbox.
LOVE THIS RECIPE? KEEP IN TOUCH AND DON'T MISS OUT ON ANY OF CURRYTRAIL RECIPES! FOLLOW ME ON INSTAGRAM, PINTEREST, FACEBOOK, TWITTER, GOOGLE+.
KERALA STYLE EGGS STEW RECIPE VIDEO
Click play to watch video or you can scroll down to recipe card if you want written recipe.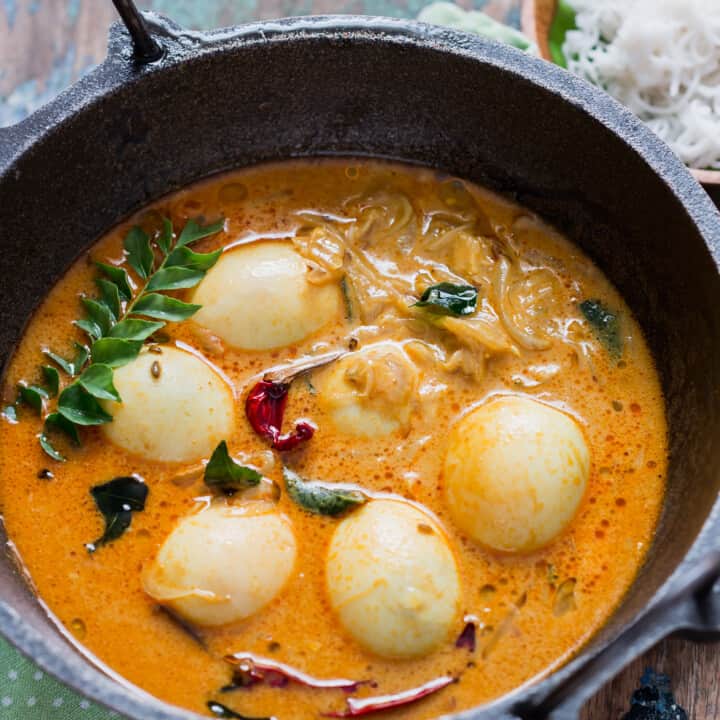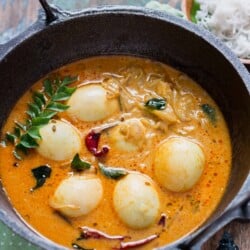 Kerala Style Egg Stew
Egg Stew Kerala style is very easy, delicious and nutritious stew fit for breakfast or brunch. You got to pair it with fresh homemade rice string hoppers(idiyappam). Pure bliss!
Ingredients
6 hard boiled eggs
1 onion thin sliced
4-5 green chillies slit
1 sprig curry leaves
2 teaspoon crushed ginger garlic
¼ teaspoon fennel seeds
½ teaspoon cumin seeds
½ teaspoon red chilli powder
1 teaspoon coriander powder
¼ teaspoon turmeric powder
2 cups thin coconut milk thin second extract
Salt to taste
3 teaspoon oil
Instructions
Heat oil in a pan , add fennel and cumin seeds and saute until they splutter, add sliced onion and salt to taste.Saute for 2 to 3 minutes .

Mix red chiili powder, coriander powder and turmeric powder in 1-2 tspn of water , mix well, keep aside

Now add chopped ginger , garlic and green chilies.Saute till raw smell of ginger garlic goes.

Reduce the flame to low and add the powder masala(from step 2) and saute till oil separates.

Add thin coconut milk. Cook for 3-5 mins on low flame.

Add hard boiled eggs and switch off the flame.

Serve with idiappam(string hoppers) or appam.
Nutrition
Calories: 340kcalCarbohydrates: 13gProtein: 13gFat: 23gSaturated Fat: 12gCholesterol: 373mgSodium: 443mgPotassium: 179mgFiber: 3gSugar: 4gVitamin A: 620IUVitamin C: 16.6mgCalcium: 63mgIron: 1.7mg
"PIN IT" TO YOUR STEW/CURRY BOARD (Thanks for pinning!)