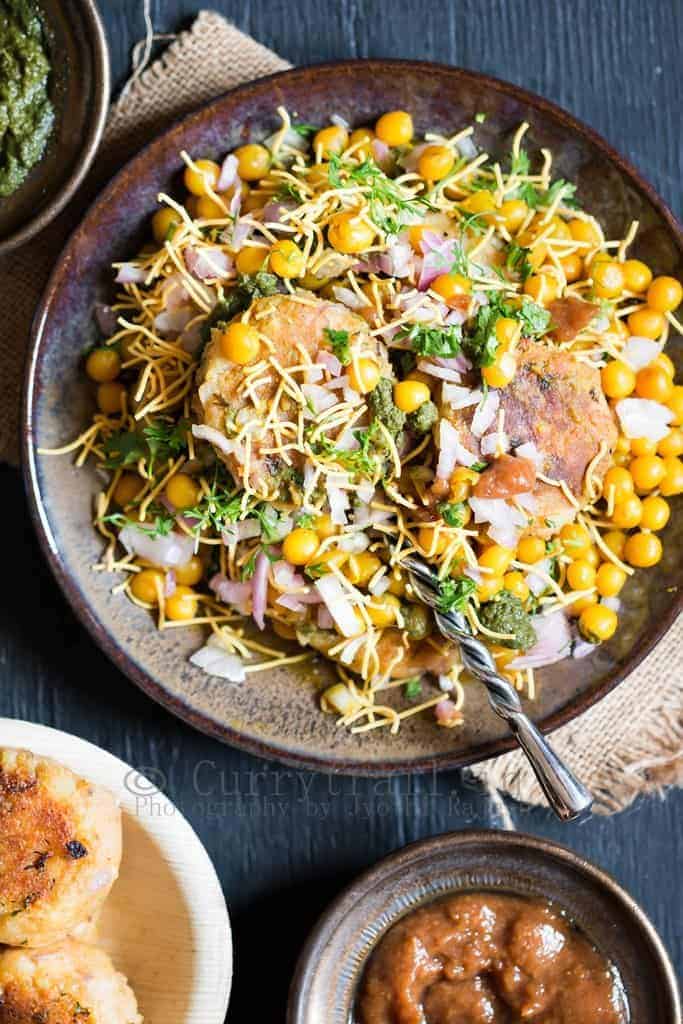 When we talk about Indian street food chaats, samosas, kachoris, jelabis comes to mind first. The taste buds are sure to explode with all these delicious Indian street food. Aloo tikki chaat is one such delicious decadent chaat that is every ones favorite. Pan fried potato patties dunked in white peas masala along with spicy tangy sweet chutney and some raw onions and sev, this chaat is sure to explode your taste buds. Dribble some fresh curd if you prefer on top.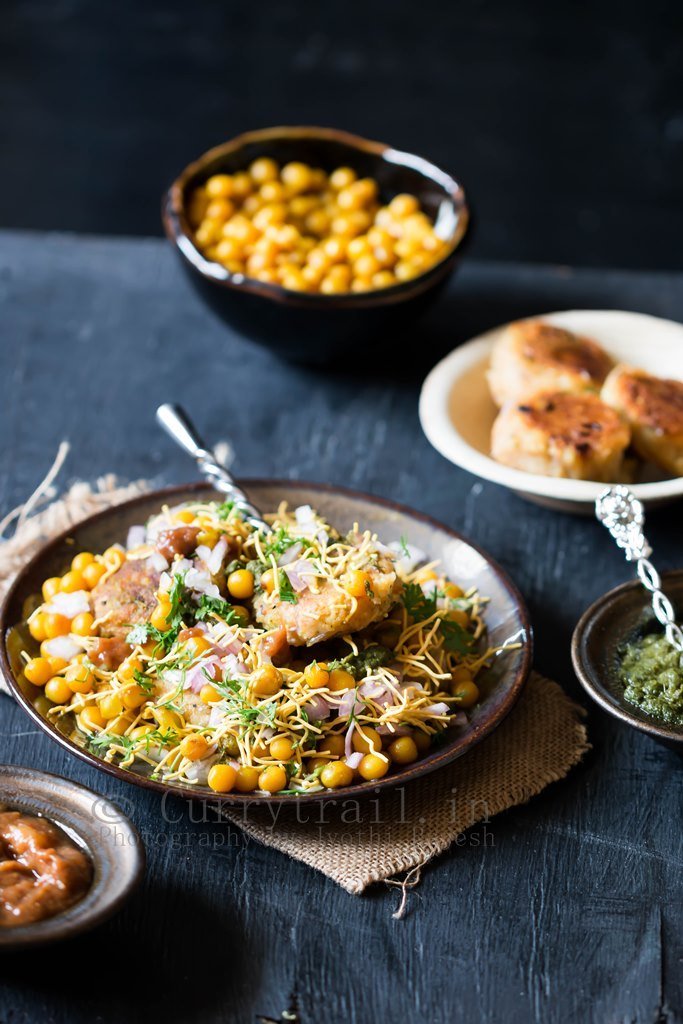 Ingredient
For aloo tikki
2 large potatoes
1 onion
4 tablespoon coriander leaves
1 ½ tablespoon corn flour
1 tablespoon red chili powder
1 ½ teaspoon roasted cumin powder
Salt to taste
Few tablespoons of oil for shallow frying the tikkis
For peas masala
1 cup white peas
1 teaspoon roasted cumin powder
1 teaspoon red chili powder
Salt to taste
Water as required
For chaat assembly
1 onion, finely chopped
½ cup coriander leaves, finely chopped
4 tablespoon mint chutney
4 tablespoon tamarind chutney
½ cup sev
Black salt
Chaat masala powder
Lime juice
Method
1.Soak white peas in enough water over night. Next morning, drain all water from white peas, add fresh water, salt, roasted cumin powder, red chili powder and pressure cook for 2 or 3 whistles. Keep aside.
2. Cook potatoes with 1 teaspoon salt. Once fully cooked, mash it well. Add finely chopped onions, fresh coriander leaves, red chili powder, roasted cumin powder, salt corn flour and mix well. Divide equal portions, roll it balls and flatten it a bit to resemble the shape of disc.
3. Heat a pan and add 1 tablespoon oil. Place the potato patties and shallow fry until it turns golden brown on both sides. Repeat with all the patties, add oil if the pan turns dry.
4. Now to assembly – place the potato patties(aloo tikki) on serving plate. Pour enough peas masala on top. Pour min t and tamarind chutney over it. Sprinkle finely chopped onions, coriander leaves, lime juice, chaat masala, black salt and sev over the top. If you prefer you can add a few tablespoon of yogurt too. Serve immediately.