Easy Idiyappam recipe or rice string hoppers are a traditional South Indian recipe consisting of rice flour pressed into strings(noodles). Making fresh homemade idiyappam (rice string hoppers) is so satisfying. You should definitely try it.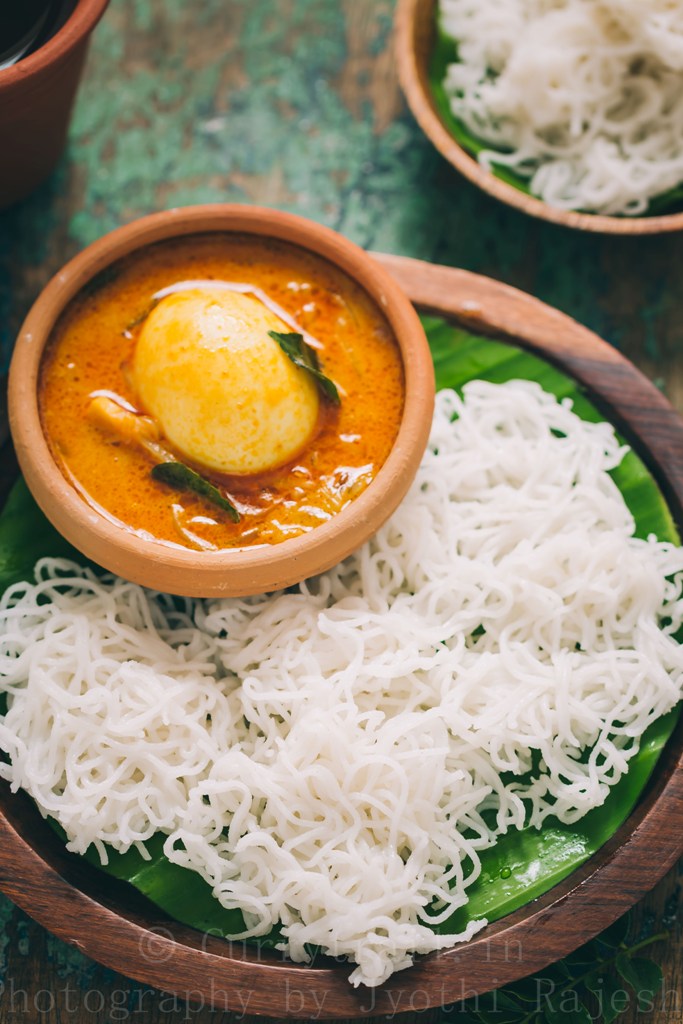 Steamed and served for breakfast or light dinner, this dish comes together pretty fast than you would think. Idiyappam with spicy stew or curry is the best way to eat it according to me. You could also serve it with fresh grated coconut flesh mixed with sugar. YUM
To make idiyappam at home you'll need a special tool. This idiyappam maker is actually called Idiyappam Ural
*, Rice flour is mixed with hot water and salt to make soft dough. Idiyappam flour is readily available in most super markets these days. Idiyappam flour is actually plain rice flour, but it's super fine.
The most important aspect of idiyappam recipe is idiyappam flour, rice flour made freshly from raw rice soaked for few hours, then dried indoors for an hour and ground in blender (while it's still moist) and sieved to remove fine flour. Making idiyappam flour at home is time consuming, but so worth it.
The old school method of making idiyappam flour is making it freshly at home. Mom always even today makes idiyappam flour at home, fresh-every-single-time.
I got to confess – I do make my own idiyappam flour for idiyappam recipe at home, fresh, well some days. Not all the days.
I do end up buying idiyappam podi from super market, why not! When it's convenient and makes life easy, why not! I have tried making idiyappam with plain rice flour (not the ones labelled as idiyappam flour) and I have had great success making soft fluffy idiyappam.
It's labelled as Idiyappam podi on the packets. Idiyappam podi is raw rice flour, roasted, dried and packed.
All you need to keep in mind while buying rice flour for idiyappam recipe, ensure the flour is made of raw rice. Raw rice is different from the usual regular rice. Visit Indian stores to find out about raw rice if you aren't familiar with what raw rice is.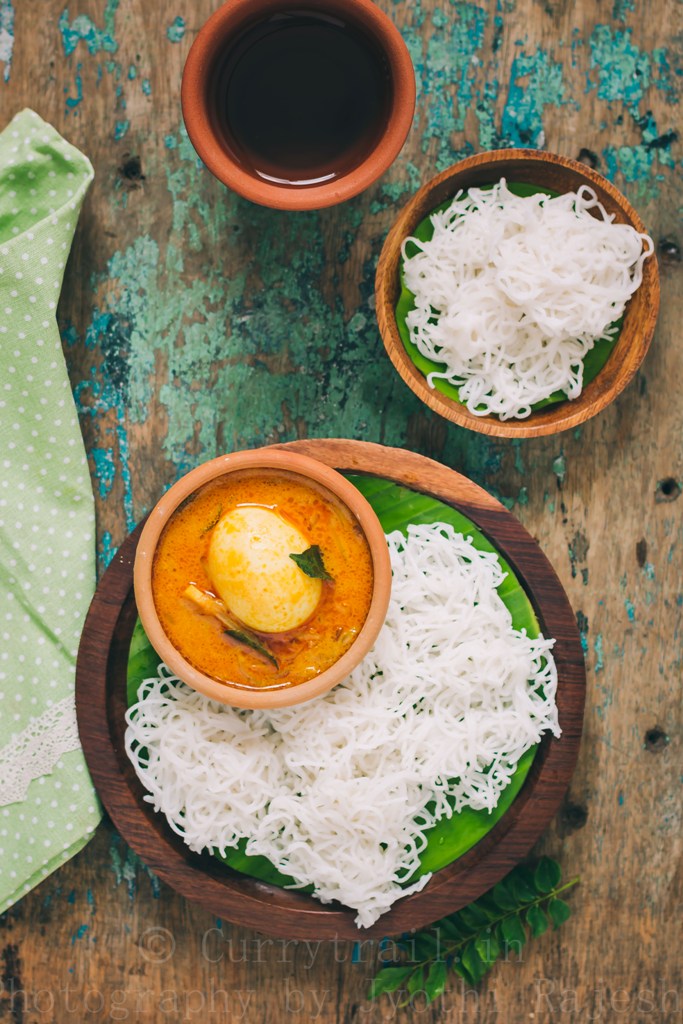 Homemade idiyappam flour, or store bought flour – use whichever is convenient for you. The recipe works for both types.
Once the flour is ready, the dish actually comes to gether pretty fast. The estimated time for idiyappam recipe mentioned in this post is not inclusive of making idiyappam flour at home(if you prefer that!).
How To Make Idiyappam
Start with idiyappam flour.
Boil water in a pan. While water is boiling, get the idiyappam flour ready in a wide bowl.
To boiling water add salt and 1 to 2 teaspoon flavorless oil (like sunflower oil). Wait until water comes to rolling boiling point.
You want to get your steamer filling with little water ready on stove. Once idiyappam dough is formed, you'll have to work super fast to press idiyappam on steamer plates and place it for steaming.
If idiyappam dough sits for longer time, it'll begin to dry.
Pour boiling water little by little at a time on idiyappam flour. Using a wooden spoon mix water and flour. You need to work fast and make sure no lumps are formed.
Keep adding water, and keep mixing fast until you see the dough comes together.
Once dough comes together, grease your palm with oil and start kneading the dough to remove any lumps in it and to make soft but stiff dough.
NOTE : Dough will be warm(or hot) , be careful while working with bare hands.
Divide equal portions of idiyappam dough. Fill idiyappam maker with dough, close and press it down directly on to steamer plates (Use idli plates/moulds if you don't have steamer plates).
Place pressed idiyappam in steamer steaming hot with water. Cover with lid and let it steam for 5 to 7 minutes.
Turn off stove. Allow steamer to cool for 5 minutes.
Remove idiyappam from idiyappam plates.
Serve hot with any curry or stew of your choice. You can also serve with fresh grated coconut mixed with sugar.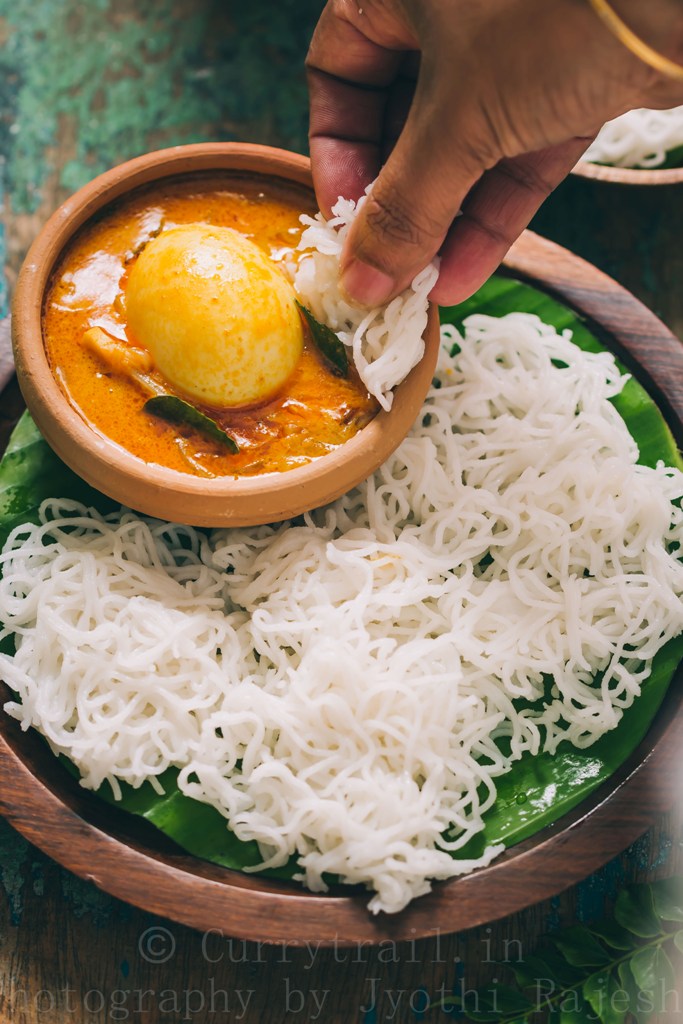 Rice string hoppers are steamed and served mostly as breakfast with coconut infused curry masala(egg curry, chicken curry or veg stew). It can also be served with fresh grated coconut and sugar.
Every time I go to Kerala, I make sure I eat these yummy Idiyappam. It's so light and yet satisfying – I consider it as a whole some dish. I can eat it for breakfast, lunch or dinner, or other time in between 😛 :).
I have made Idiyappam several times in my kitchen. It's almost instant dish and you can prepare it under 30 minutes (when idiyappam flour is ready).
Tips To Make Perfect Idiyappam At Home Every Time
Idiyappam Flour –
Homemade – soak rinsed raw rice in enough water for 4 hours. Drain and spread rice over cotton cloth for an hour. Then grind in dry blender while it's still moist. Using fine sieve, sieve flour. Collect fine sieved flour in a big bowl. Keep it covered with cloth all the time to retain the moisture. Repeat this until all rice is ground.
Store bought – make sure you pick idiyappam podi or raw rice flour that is roasted. If you don't get idiyappam podi in your part of the world, buy raw rice flour and dry roast it lightly on low heat for about 3 to 4 minutes. Then use the flour for idiyappam recipe.
Boiling Water –
Always use boiling water to knead idiyappam flour. We mean rolling boiled water. It's important to season water with salt and little oil as well. This not just seasons idiyappam with salt, but also making idiyappam dough that is not very dry due to oil.
Keep fresh ground rice flour covered with cloth ALL THE TIME.
The water quantity used to knead idiyappam dough varies widely with the type of rice flour you use. Start adding little by little water at a time to rice flour until you get soft and stiff dough.
NOTE : I recommend you to knead idiyappam dough at the end with bare hands to remove lumps and form uniformly kneaded soft stiff dough. The dough will be hot, BE EXTRA CAREFUL WHILE WORKING WITH BARE HANDS.
Work Fast –
Multitasking. Work fast, multitask. That's the key.
Have 2 stoves on. On one, boil water (seasoned with salt and oil) to use it for kneading rice flour. And on another stove, keep steamer ready filled with water.
Start kneading rice flour only when water comes to rolling boil. Use wooden spatula first to mix rice flour and water.
Knead dough, until soft and stiff. Formed dough should be covered with cloth all the time. Do not let the dough dry.
Press idiyappam in batches (while it's still warm) and as soon as pressed over greased plates or idli moulds, steam immediately to get soft, fluffy idiyappam. Do not let pressed idiyappam sit on counter. This will dry the strings and you'll end up with dry idiyappam.
Over Steaming –
DO NOT over steam idiyappam. This will make idiyappam rubbery. You don't want that.
Idiyappam as soon as pressed should be placed in steamer that is steaming with boiling water immediately. Close with lid and steam for not more than 7 minutes.
Touch test – and you may think it's still wet and uncooked. Believe me, that rice string hoppers are already cooked to perfection. The wetness on your fingers is due to the hot steam in the steamer. Once you let it sit for few minutes, you'll see it's perfect.
Turn off stove and let idiyappam sit in steamer for 5 minutes. Then remove from steamer and scoop it out gently. PERFECT idiyappam.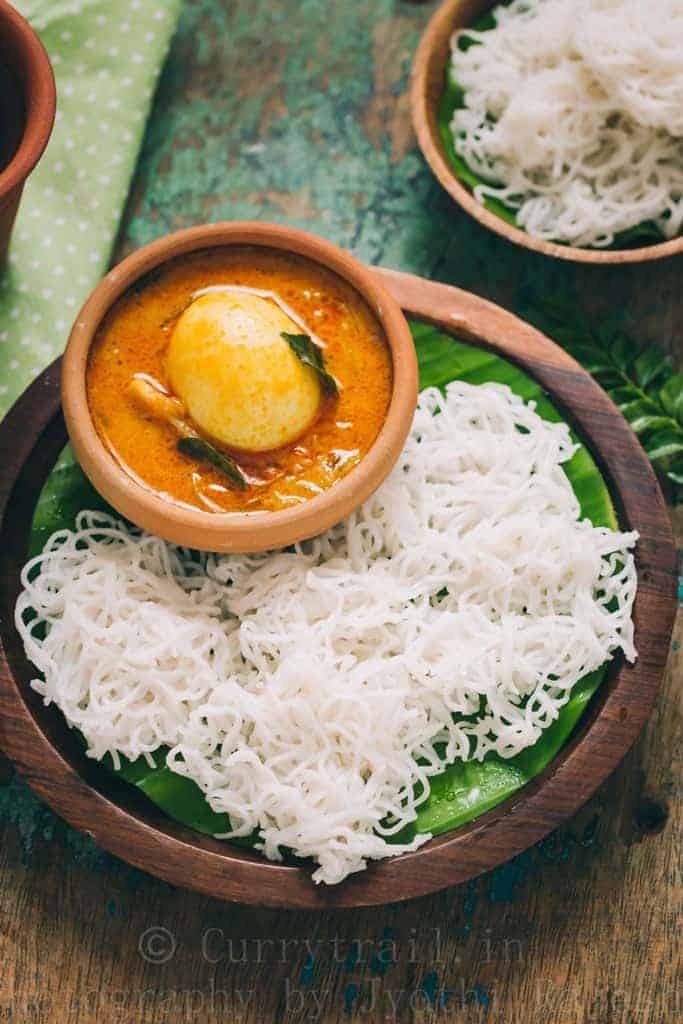 LOVE INDIAN BREAKFAST RECIPES? TRY OUR OTHER FAVORITE INDIAN BREAKFAST RECIPES –
Don't forget to Subscribe to CurryTrail Recipes below to get our newest recipes delivered straight to your inbox.
LOVE THIS RECIPE? KEEP IN TOUCH AND DON'T MISS OUT ON ANY OF CURRYTRAIL RECIPES! FOLLOW ME ON INSTAGRAM, PINTEREST, FACEBOOK, TWITTER, GOOGLE+.
IDIYAPPAM RECIPE VIDEO
Click play to watch video or you can scroll down to recipe card if you want written recipe.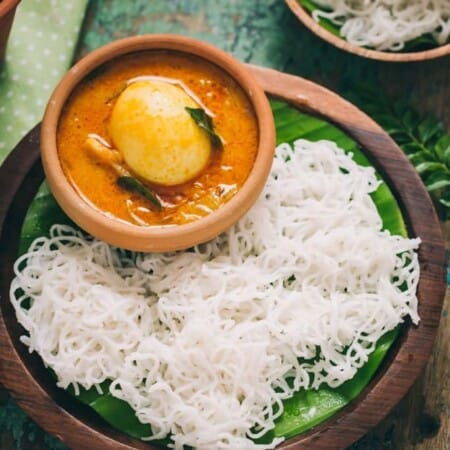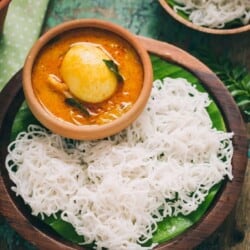 Easy Idiyappam Recipe
Easy Idiyappam recipe or rice string hoppers are a traditional South Indian recipe consisting of rice flour pressed into strings(noodles). Making fresh homemade idiyappam (rice string hoppers) is so satisfying. You should definitely try it.
Ingredients
1 cup Idiyapam flour
1 ¼ cup Boiling hot water plus 2-3 tspns extra
Salt
3 teaspoon Vegetable
Instructions
In a wide bowl sieve Idiyappam Flour and keep aside.

Boil 1 ½ cups of water. Allow the water to boil. Add salt to taste and 1 teaspoon of oil.

To the flour add boiling water and using a wooden ladle knead well to form a soft dough. If you find the dough is too dry add about 1 teaspoon of boiling water at a time and knead well.

Allow the dough to cool for 3-5 mins or until you can handle the heat, then oil your palm with and knead the dough well until it's smooth and shiny for about 2-3 mins.

Grease the Idiyappam ural(idiyappam maker)with oil. Fill this dough into an idiyappam press.

Steam these in a idli steamer for about 5 to 7 mins. Do not over cook the idiyappam, as they will turn rubbery.

Serve hot with egg curry or any stew of your choice or even sweetened coconut milk.
Nutrition
Calories: 86kcalCarbohydrates: 16gProtein: 1gFat: 1gSaturated Fat: 0gCholesterol: 0mgSodium: 0mgPotassium: 15mgFiber: 0gSugar: 0gCalcium: 2mgIron: 0.1mg
*This post contains affiliate link. I might get a commission if you buy the product through the link at no extra cost to you.
"PIN IT" TO YOUR BREAKFAST BOARD