Garden fresh tomato bruschetta is without doubt my summer time favorite finger food. You only needs 10 minutes to prep this. Its light, fresh, ideal for a summer gathering with friends. An easy Italian starter that is fresh, tasty and full of flavor.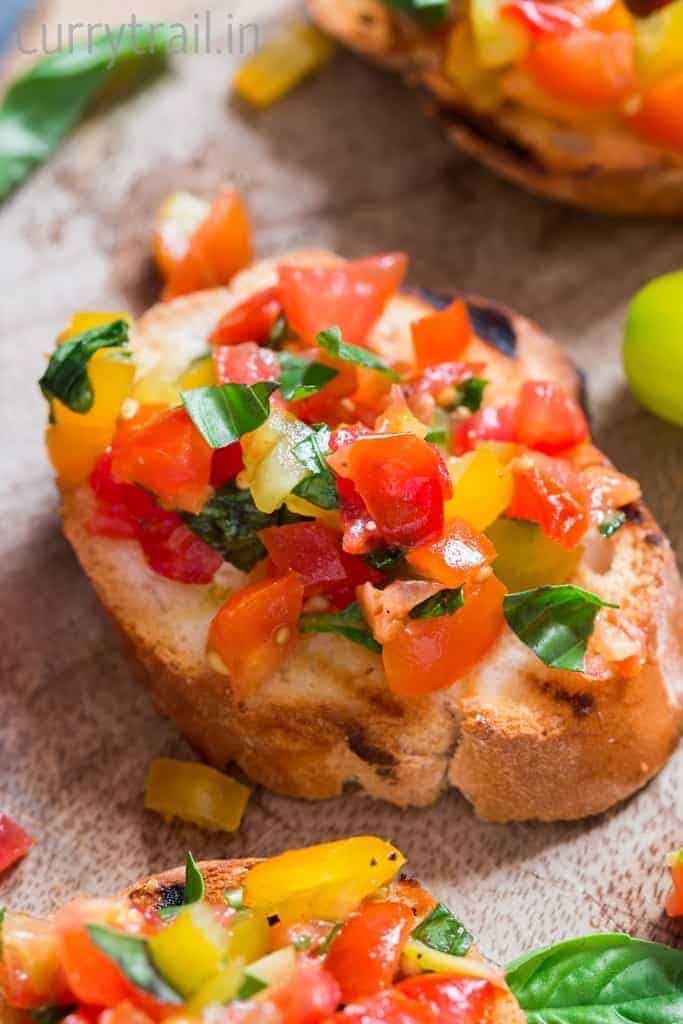 Jump to:
Why you should try tomato bruschetta
A wonderful way to use all the fresh tomatoes and herbs you get at the farmers market.
Garden fresh ripe tomatoes (cherry tomatoes from the garden), fresh basil, and good quality olive oil along with salt & pepper seasoning are all you need to make tomato basil bruschetta. This is probably the EASIEST and SIMPLEST bruschetta recipe.
Roasted tomatoes for bruschetta are great, when extremely fresh beautiful tomatoes are flooded in market. If you think you don't have time to roast, you got to make bruschetta with fresh tomato. No doubt tomatoes are great eat them raw, roast them – either way.
For vibrant rainbow colors use a mix of yellow and red cherry tomatoes.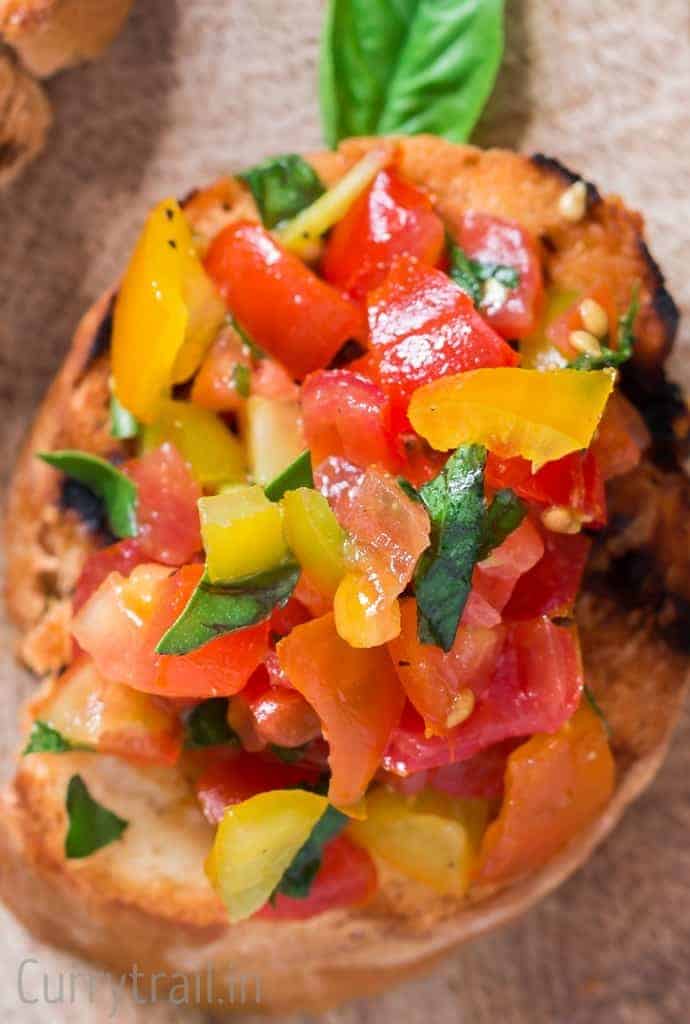 How to make tomato bruschetta
If you have the tomatoes prepped and ready (chopped)  you can serve bruschetta in literally minutes. Don't even bother removing the seeds (unless the seeds are super huge or you really really hate the bite of tomato seeds). And we are flavor enhancing these bruschetta with generous rub of garlic onto the French loaf bread.
There are 2 ways of adding flavor of garlic to these amazing bruschetta –
you could mince garlic and add it to the tomato filling. You will end up eating raw garlic.
you rub generous amount of garlic to the French bread , drizzle with olive oil and grill them. The kick of garlic in the bread is heaven. No more raw garlic smell or taste.
So what are we drizzling on top you may ask? It's a secret drizzling sauce that you won't believe how delicious and simple it is. Balsamic glaze drizzled over bruschetta is definitely the best kind of drizzle you might think, but the aim is to keep it very simple with no fancy ingredients, fresh and healthy as possible, so balsamic glaze – be gone!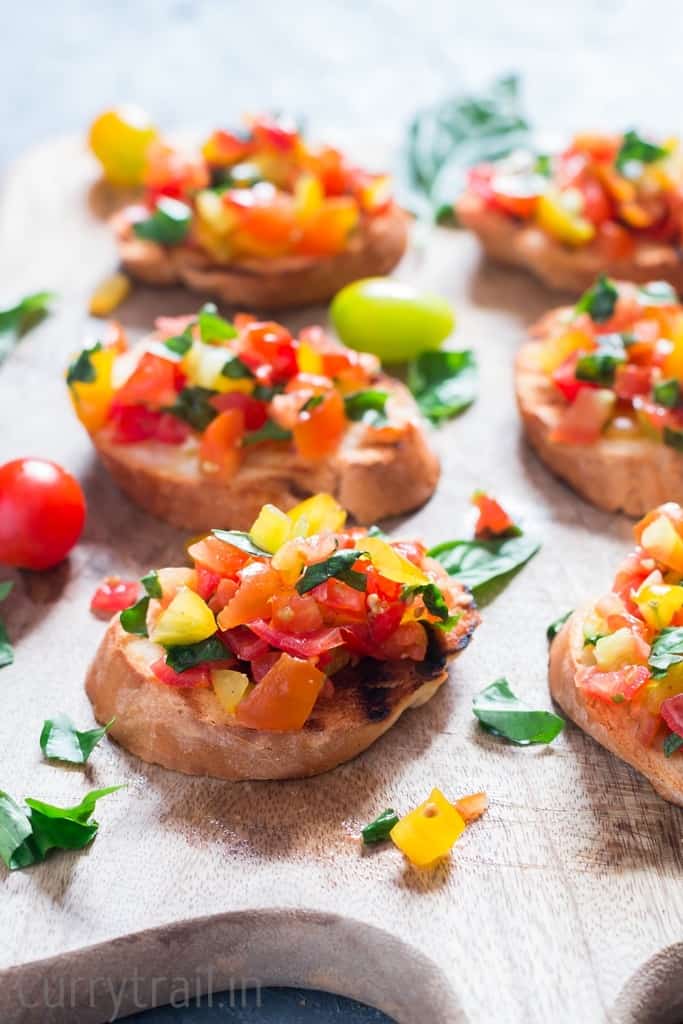 The left over juices from the tomato basil mix in the bowl which is usually thrown away is what we drizzle over our healthy bruschetta. Bruschetta recipe is remarkably simple. The left over juices in the bowl dresses the bruschetta taking it to a whole new level!
How To Prepare Tomatoes For Bruschetta?
Diced tomatoes makes great bruschetta. We are talking fresh tomato bruschetta and not the roasted types. Also you can leave the seeds on really. Some folks wont agree with me. They believe tomato seeds in bruschetta is a BIG NO. But the seeds really did not bother me in the bruschetta, I hardly got to bite the seeds while eating. Unless the tomatoes that you use has HUGE seeds(that can be annoying to bite into), don't bother removing. And make use to have cut tomatoes into even dices.
How To Drain Tomatoes For Bruschetta?
Mix diced tomatoes, basil chopped into thin strips, sea salt, cracked pepper and good quality olive oil. Cover and rest it for atleast 1 hour. Tomatoes will absorb all the flavors and release some liquid into the bowl.
Toast French baguette slices and rub garlic on top. Drizzle olive oil. Olive oil helps the bruschetta from turning soggy too fast. You want tomato bruschetta that has crunch from the bread and fresh bite from tomato-basil.
Just before serving scoop out from top tomato-basil mix and spread it over the grilled French baguette slices. You should be serving this immediately.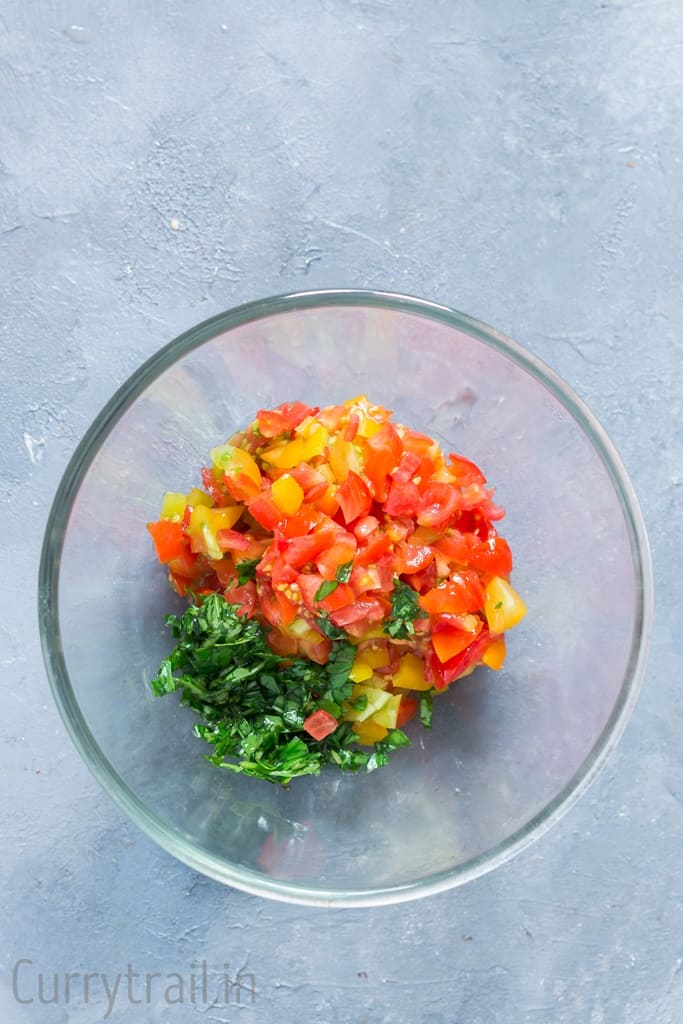 FAQS
What is tomato bruschetta?
It's a rustic appetizer that can be served as light lunch or snack! Also great to pair it with BBQ meat for a light side. It's comprised of grilled bread. fresh garden tomatoes are simply chopped and mixed with some fresh amazing herby flavors.

Alternatively, you can roast tomato to pack in more flavors, and believe me it won't take too much time or effort to make roasted tomatoes. Roasted tomatoes on bruschetta is next level.
Which variety of tomato is best to use?
Fresh, seasonal tomato variety like cherry tomato, grape tomato, heirloom tomatoes, and fresh ripe Roma tomatoes works great to make tomato bruschetta.

Use FRESH and RIPE tomatoes to make bruschetta that is incredible in taste. Seasonal tomatoes (tomatoes grown in summer) are the best!
Can I make this ahead?
Yes absolutely. Mix all the fresh ingredients and seasoning in a bowl. Cover and refrigerator the mix in fridge over night (not longer than a night).
You can fill the tomato filling on grilled chilled if serving immediately.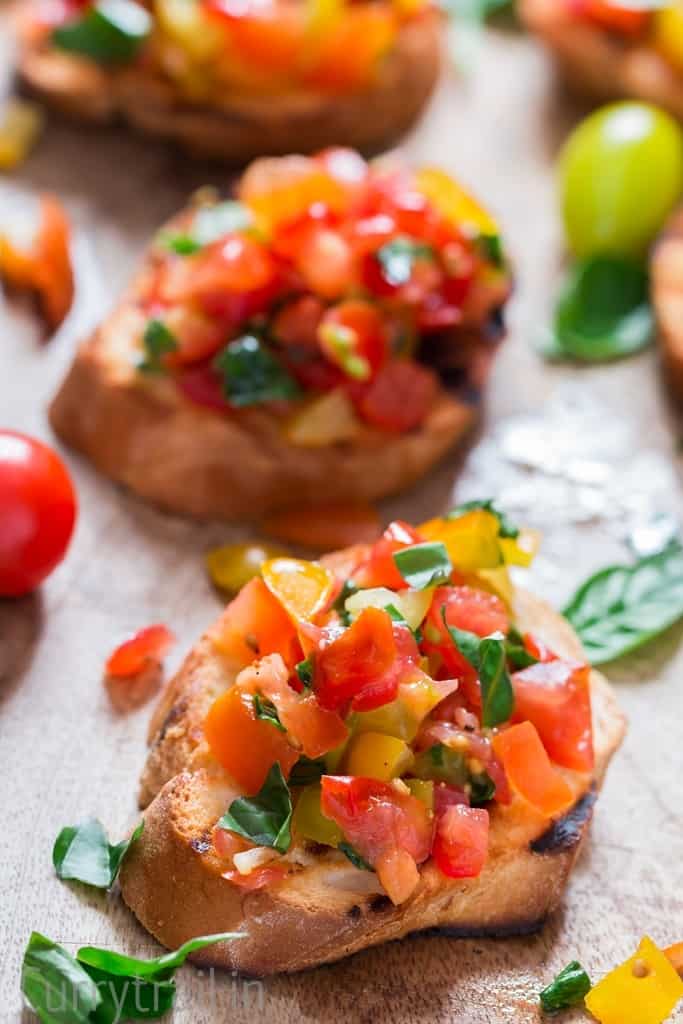 Let's get grilling more this summer with these other favorite grilling recipes –
Grilled Pineapple Shrimp Skewers
Mexican Grilled Chicken Fajitas
LOVE THIS RECIPE? KEEP IN TOUCH AND DON'T MISS OUT ON ANY OF CURRYTRAIL RECIPES! FOLLOW ME ON INSTAGRAM, PINTEREST, FACEBOOK.
HAVE YOU TRIED ONE OF MY RECIPES? I'D LOVE TO SEE WHAT YOU'VE MADE! TAKE A PICTURE AND USE THE HASHTAG #CURRYTRAIL ON INSTAGRAM SO I CAN SEE! I'LL DO A HAPPY DANCE IF YOU TRY MY RECIPE AND SHARE IT WITH US!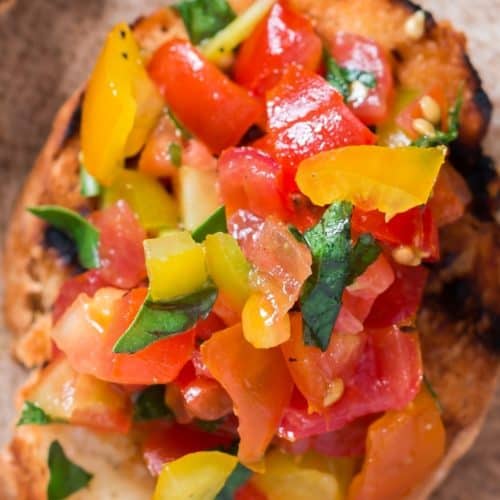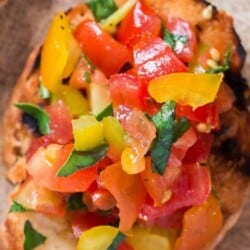 📋Garden Fresh Tomato Bruschetta
Garden fresh tomato bruschetta is light, fresh, and packs big flavors. Ideal for a summer gathering. Can be serves as light lunch or snack!
Ingredients
1 loaf crusty French baguette
1 cup cherry tomatoes
8-9 fresh basil leaves
4-5 cloves of garlic
80 ml good quality olive oil
Sea salt – to taste
Crushed pepper – to taste
Instructions
Prep work for tomato bruschetta –
Dice tomatoes. Chop fresh basil leaves into thin strips or chop them fine. Slice the baguette loaf diagonally into 12 thick slices. Keep peeled garlic ready.

Mix them up –
In a large bowl, mix tomatoes and basil, taking care not to mash or break up the tomatoes too much. Add salt, crushed pepper to taste. Mix gently. Cover and let tomatoes drink in all the flavors and seasoning.

Toast the bread –
Brush olive oil on both sides and lightly grill them until they are get nice golden grill marks on both sides. Rub garlic over the grilled bread. You can rub garlic before grilling and then drizzle olive oil. Works just fine wither ways. Scoop out the tomato basil mix and spread on the grilled or toasted bread. Place these tomato bruschetta on rustic wooden serving platters and serve immediately.
Notes
To glaze or not to glaze-
Balsamic glaze drizzled over bruschetta may be the best kind of drizzle you might think, but we are keeping it low carb, balsamic glaze – be gone!
We are simply taking the flavors up of this tomato bruschetta by drizzling the juices from the bowl of the tomato-basil filling.
But if you think you need a hint of acidity to your bruschetta for flavor balancing, add a splash of red wine vinegar, balsamic vinegar – just a splash.
Nutritional Info – Please keep in mind that nutritional information provided is only a rough estimate and can vary greatly based on products used. 
Nutrition
Serving: 0gCalories: 357kcalCarbohydrates: 33gProtein: 6gFat: 22gSaturated Fat: 3gCholesterol: 0mgSodium: 388mgPotassium: 161mgFiber: 2gSugar: 1gVitamin A: 225IUVitamin C: 9.4mgCalcium: 58mgIron: 2.3mg