You guys! I bring to you an delicious, easy Mexican chicken fajitas recipe today. It's quick and makes a fun weeknight night. I say these chicken fajitas recipe is perfect Friday night dinner. Forget the take away, just 30 minutes and you get healthy and delicious meal on the table.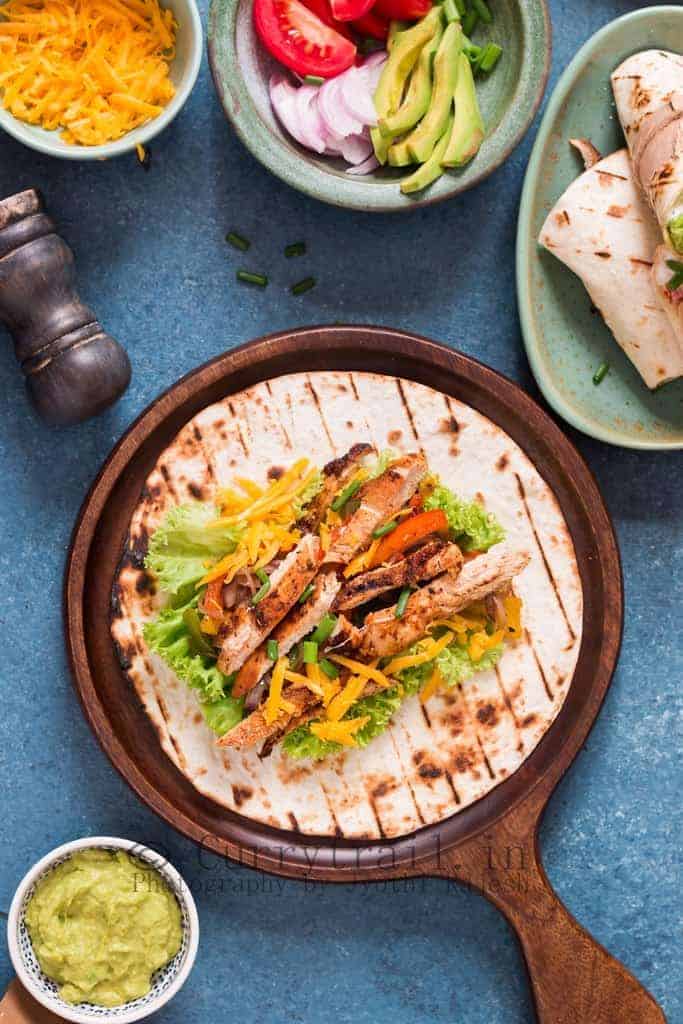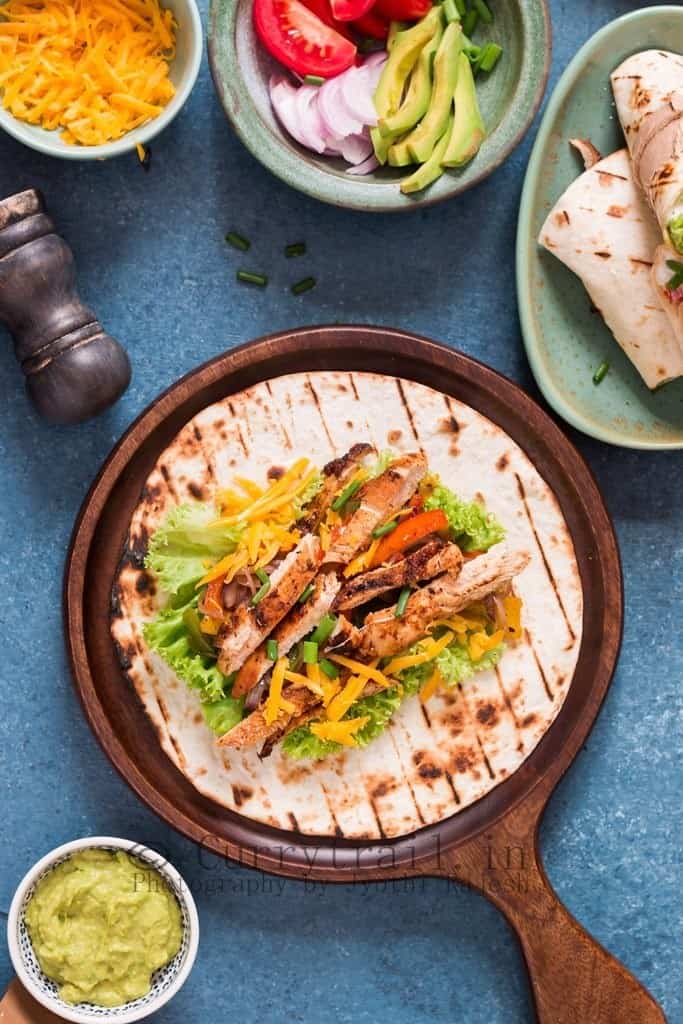 Can't believe that one month of Summer holidays are already coming to an end. This month has been a roller coaster for us. I have had days where I cooked and clicked 5 recipes a day and I have also had days when I just didn't cook anything at all, left the kitchen all clean and shiny. Since kids are enjoying their time with their grandparents, I decided to utilize this break well
Made solid plans – I shopped a lot, yay waiting for that holiday we have been planning for past 6 months. It's almost vacation time!
Ate as much possible outside whenever I was shopping, ate all things my favorite at what ever time I preferred to eat.
Completed 3 projects , so my holiday is definitely going to be a stress free one.
And enjoyed some tele, "me" time whenever I could.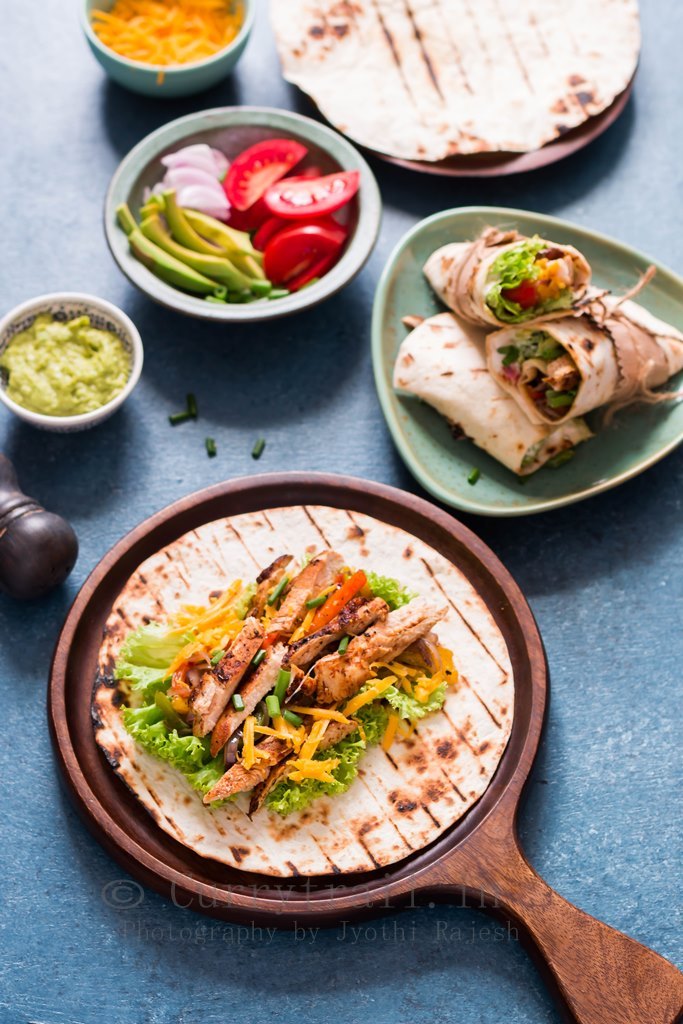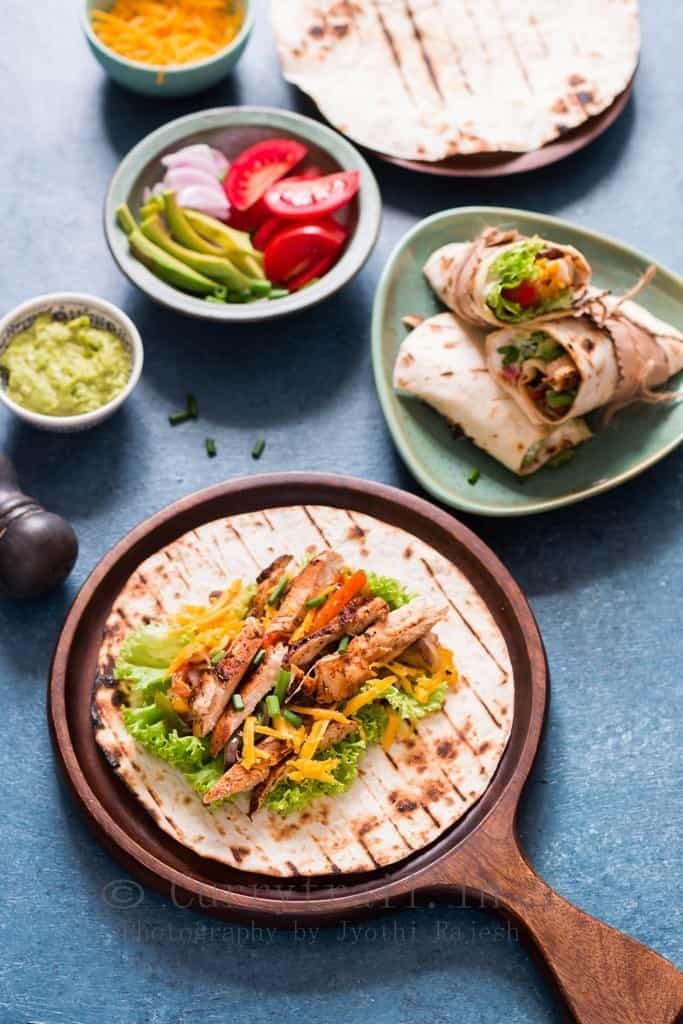 Now that I got all my free time and had a gala party all by myself, it's time to get the kids back home. I have been literally visiting kids and spending time with them and mom almost every 3rd day 😀 You see it's hard to be away from them, even though I do enjoy the free time I get 😉
One of the dish I made for us (me and hubby) last week was this fajitas. Simple, easy and very budget friendly recipe these fajitas makes a quick weekend treats that you may be thinking. If you have the guacamole and sour cream ready, you just grill the chicken and roll it up. Voila your brunch/lunch for that relaxing weekend is ready!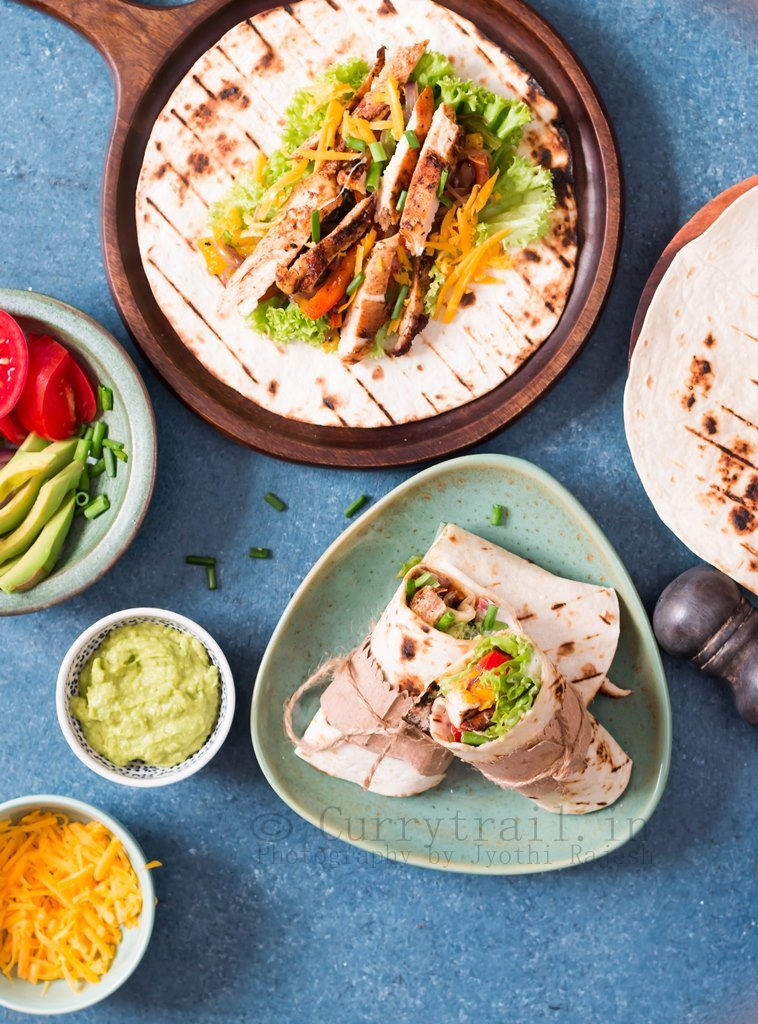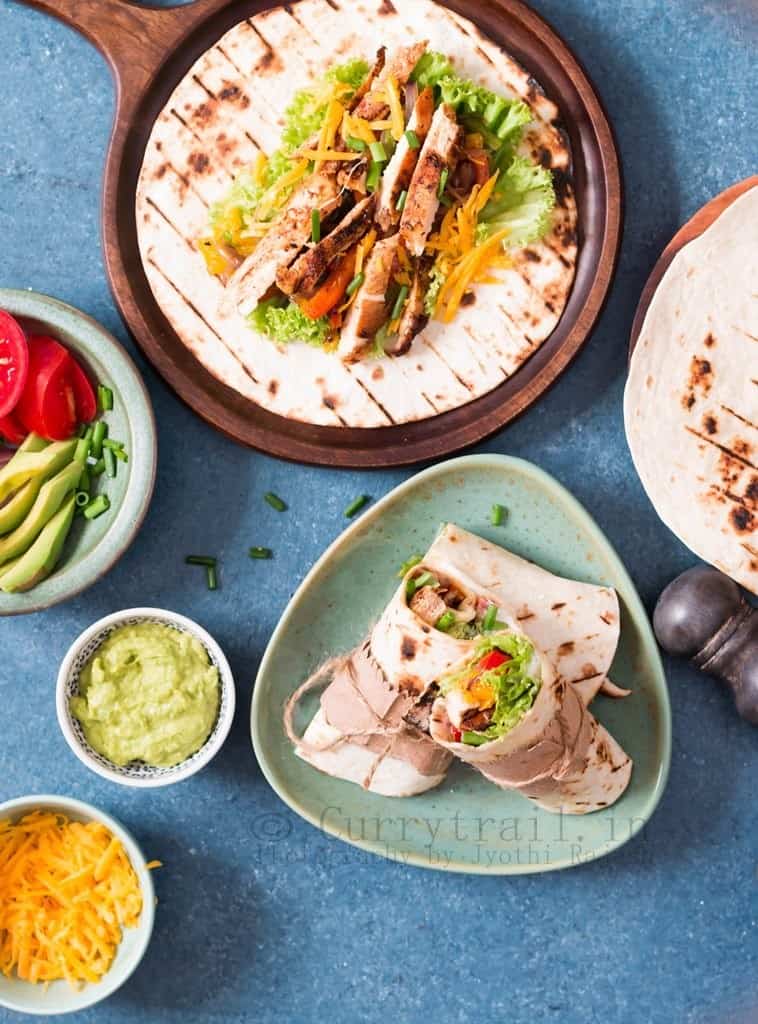 Mexican fajitas are amazing take along meal that you would love to have when you are on the go. The tender chicken strips with all the Mexican flavors topped with sour cream and guacamole is one of the delicious wraps that will make you want more. Fajitas has a lot of popularity among many around the world and it makes a good finger food for a party or get together. Make the guest wrap their own fajitas to make the whole process fun.
Homemade Chicken Fajita Seasoning Recipe
While you could easily you the store bought fajita seasoning and use it in Mexican recipes. I won't deny it's convenient and makes life so much more easy. But I prefer the homemade fajita seasoning because it works out cheaper for me and when it comes to things that are homemade, it's always the BEST.
Plus since I always have variety of spices stocked in my pantry it works out so easy for me. I make just the right amount of fajita spice that I need and don't have to make plans on how to use the left over bottle of fajita.
When it comes to homemade fajitas seasoning, you can always expect the seasoning to be more unique and customized to once palate and preference. Like in my homemade Mexican fajita seasoning I always tend to add my paprika and cumin powder a few pinches more. That's just me. The way I like it.
To make easy homemade fajita seasoning – in a bowl, combine 1 tablespoon olive oil, juice of 1 lime, 1 teaspoon chili powder, 1 teaspoon paprika, 1 teaspoon onion powder, ¾ teaspoon pepper powder, 2 teaspoon cumin powder and salt. Mix well and your easy homemade chicken fajitas seasoning is ready.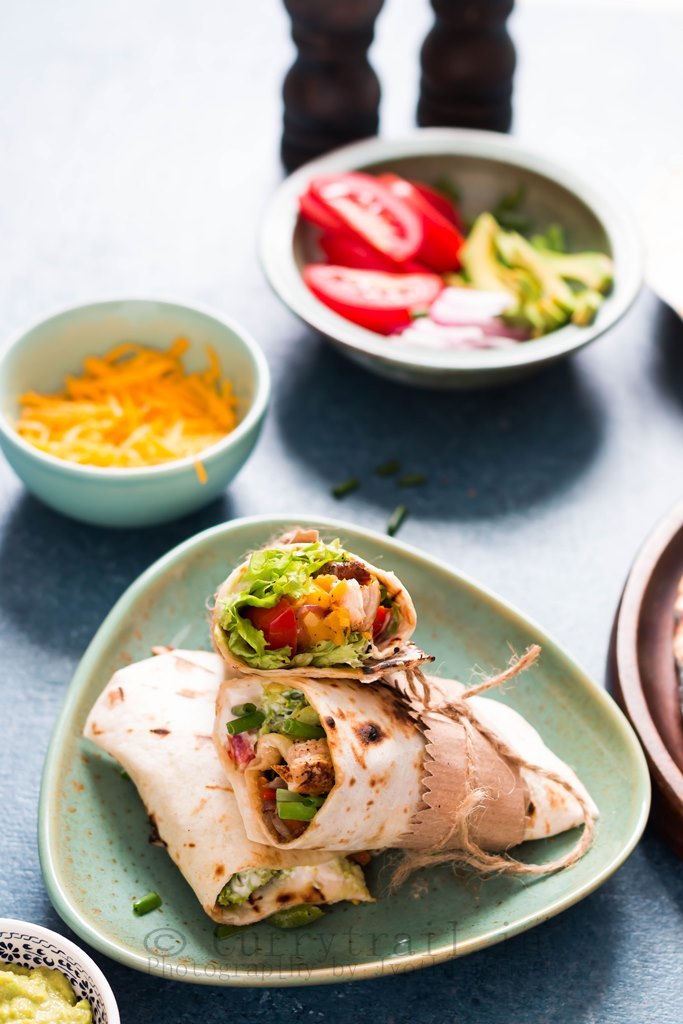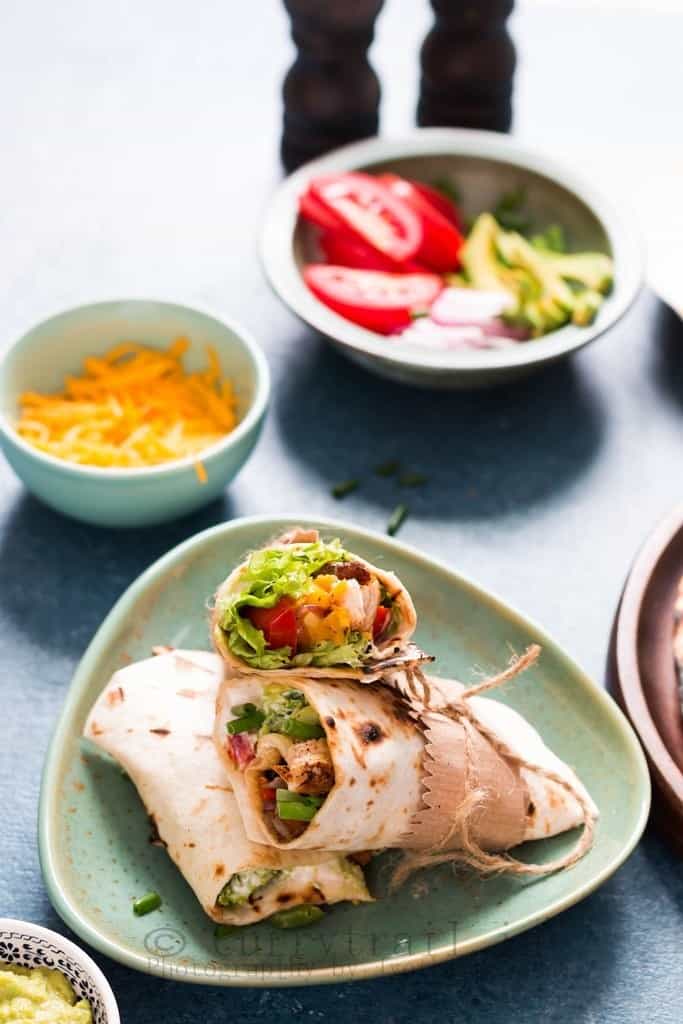 How to Make Chicken Fajitas Recipe?
This is a one skillet recipe. You cook everything in the same skillet. Saves you from cleaning the large pile of dishes after a cooking up a meal. Oh I hate that.
This easy chicken fajitas recipe uses literally just these – 1 large bowl to mix the fajitas seasoning and marinate the chicken in the same bowl. One skillet to cook chicken and vegetables. And your cutting board and knife to cut peppers and onions slices. And your serving platters/plates. Yes I actually did the counting to let you know how hassle-free this easy Mexican chicken fajitas recipes is to cook. LOL.
Marinade chicken in homemade fajita seasoning for 5 minutes. Heat olive oil and cook chicken strips in the skillet. Once chicken is almost cooked, add the thinly sliced vegetables and cook for 2-4 minutes. That's all!
Healthy Chicken Fajitas Options
Use low fat cheese in the recipe.
Greek yogurt in place of sour cream.
Use corn tortillas(instead of flour tortillas) for healthier version of fajitas.
Hungry for more?
Try our favorite mexican grilled corn , Apple Enchilada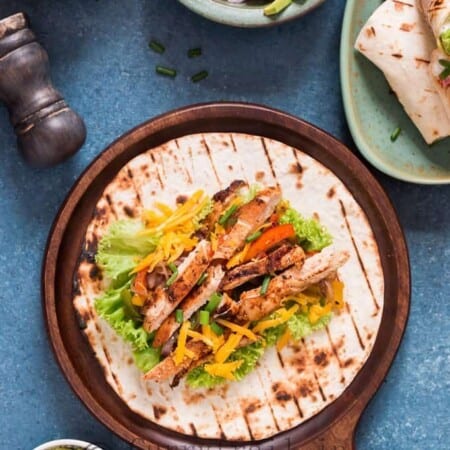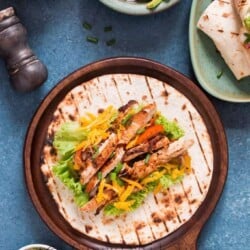 Easy Mexican Chicken Fajitas Recipe
You guys! I bring to you an delicious, easy Mexican chicken fajitas recipe today. It's quick and makes a fun weeknight night. I say these chicken fajitas recipe is perfect Friday night dinner. Forget the take away, just 30 minutes and you get healthy and delicious meal on the table.
Ingredients
8 flour tortillas
2 chicken breasts
2 teaspoon cumin powder
1 teaspoon chili powder
1 tablespoon paprika
¾ teaspoon black pepper powder
1 teaspoon onion powder
Juice of 1 lime
2 teaspoon minced garlic
2 teaspoon salt
1 tablespoon olive oil + 1 tablespoon extra
2 teaspoon oregano
1 large onion sliced
½ bell peppers all 3 colors, sliced thin
Toppings
1 cup sour cream
¾ cup guacamole
½ cup grated cheese mozzarella or cheddar
Few ice berg lettuce leaves
Instructions
Cut chicken breasts into thin strips. Marinate it with cumin powder, red chili powder, paprika, black pepper powder, onion powder, juice of lime, salt, oregano and 1 teaspoon olive oil. Let chicken rest in marinade for 5 minutes.

Heat a pan with 1 tablespoon olive oil. Add chicken pieces and cook until the pieces are cooked and juicy. About 5-7 minutes.

Into the same pan add remaining olive oil. Add thin onion slices and bell peppers and toss until the veggies turn soft. Add a pinch of salt to the veggies, toss and remove from pan.

Slightly warm the tortillas.

Place good 2 to 3 tablespoon of chicken and vegetable mix to the center of the tortillas. Spoon over some sour cream and guacamole. Place few lettuce leaves over it. Then place another spoon full of chicken vegetable mix. Sprinkle some grated cheese over the top. Fold from one edge, then fold in the edges into the center and then roll the tortillas as tight as possible without tearing it.

Serve the Mexican chicken Fajitas immediately.
Nutrition
Serving: 0gCalories: 250kcalCarbohydrates: 0gProtein: 0gFat: 0gSaturated Fat: 0gPolyunsaturated Fat: 0gMonounsaturated Fat: 0gTrans Fat: 0gCholesterol: 0mgSodium: 0mgPotassium: 0mgFiber: 0gSugar: 0gVitamin A: 0IUVitamin C: 0mgCalcium: 0mgIron: 0mg
Repin this easy weeknight meal