Egg dum biryani – It's simple, delicious, full of flavors and definitely makes it a celebration dish.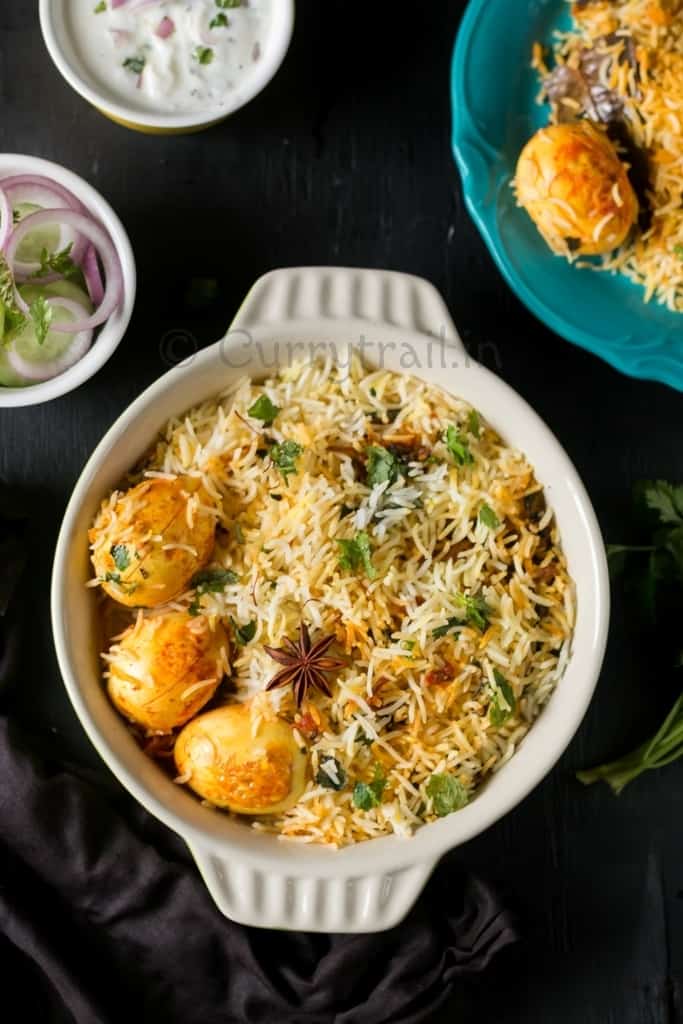 The weather has been bad in Bangalore. We are having dark, gloomy days.  Sun is shying behind those dark clouds and refuses to show his face.  We are just longing for a nice bright sunny day!
Last week was first day of son's school. Yes he has joined playgroup. Finally! 😀 We got ready and started walking out. He assumed we were going shopping. Oh yes, we have been doing a whole lot of shopping together. Be it grocery shopping, vegetable shopping, window shopping or festival shopping, we did it together. So there was excitement in his face. The excitement was going out of the house. But little did he know that we weren't actually headed to a mall. Walked out of the gate and he pointed to the car indicating he wanted to go in the car. Being a 2 year old, he understands a lot of things but not all. So when I said to him, we are going to a school, little did he understand what it actually meant!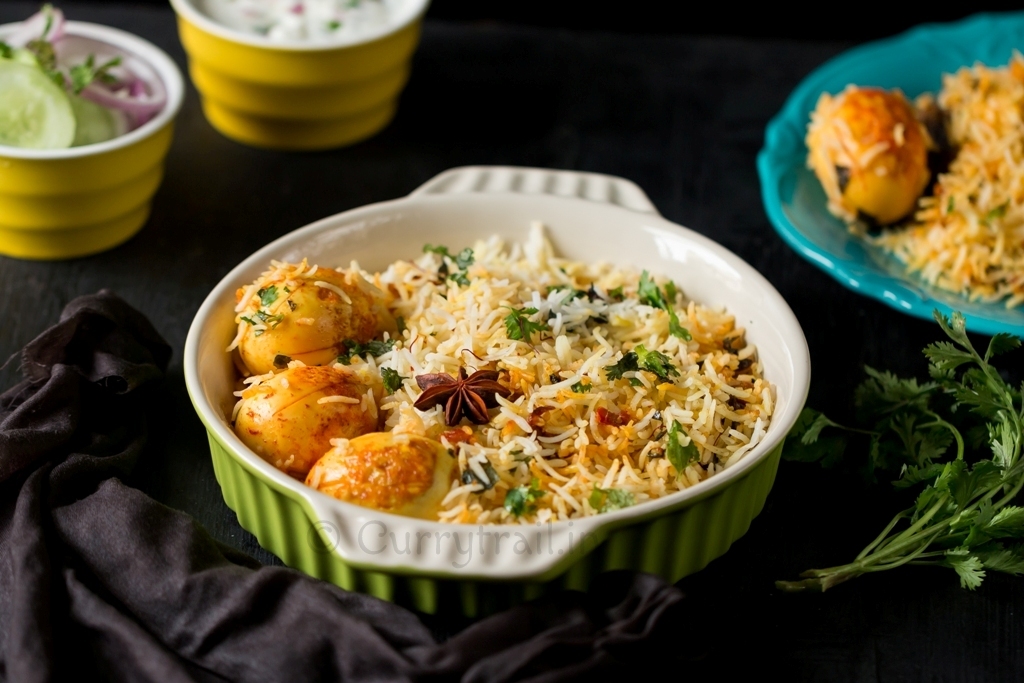 We walked to the next street and entered the school, a small play school operated in a residential plot. We walked in, I handed out the bag and gave some instructions to the teacher about his language the words he uses and it's meaning.  Son was looking at me with suspicion! There were a dozen of children playing, coloring, and running around. His left hand cling on to my leg tight, he looked scared.  Then when I tried to hand him over to the teacher and waved good bye, the realty stuck in for him. He was going to be alone without his mama or dada or sister next to him and that he is going to take care of things himself! More than him, it was me who was petrified by these thoughts.  And added to that, when I saw him scream and cry, it made my heart ache so badly.  I didn't want to leave, for a moment I thought I will take him back home and forget about his school for another year. But I had to be strong. With a heavy heart I turned back and walked out of the building.
But I didn't walk back home. I stood there near a window without being visible to my son and watched him. He cried and cried. But after a few minutes, he stopped. That's when I thought, "Ok, he will settle down. May be in a few days or may be in few weeks.  I need to be strong". And I walked back home. This was the exact experience I went through when I had to leave my daughter to school on the first few days.
Next day morning when I mentioned the word school, he would just cry, cry and cry. And then when we walked to the school, he understood where he was heading. He would point at a direction away from school and tell me to take him there! It continued for 2 more days. On the fourth day, he seemed to be alright when walking. He just made a sad puppy dog face when I left him in the school, awwww :*. Cried for few minutes and then instantly stopped. Now it's been 2 weeks and he seems to be doing alright. Touch wood.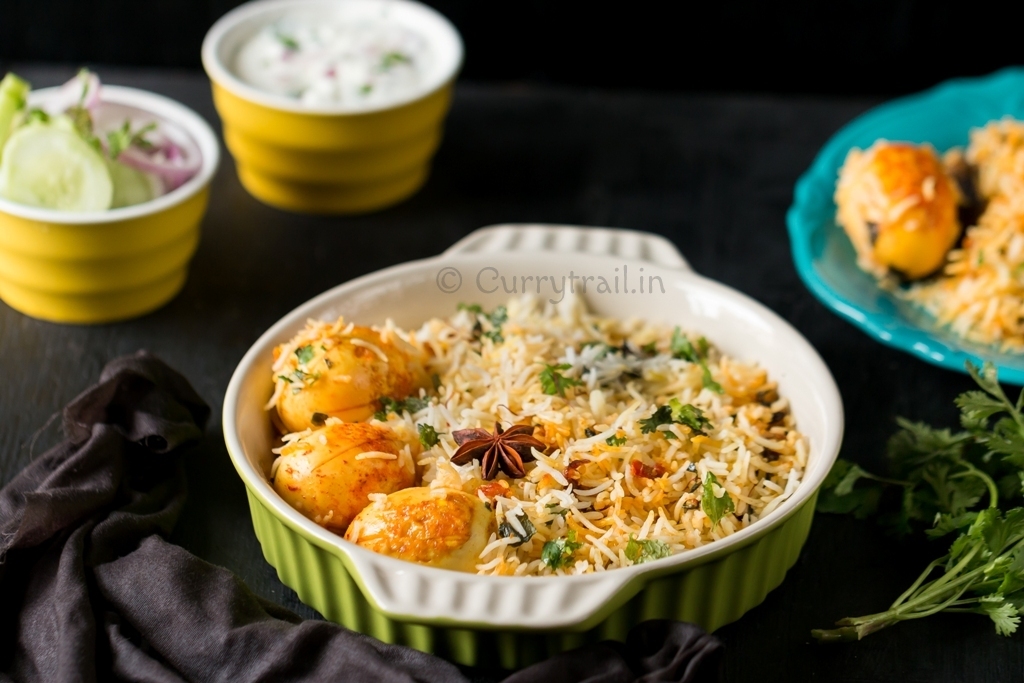 Though he seems to be handling the situation ok, it is me who worries when he is in school. The thought, is he doing alright?, What if any kids pushed him down? What if he needs a diaper change,  did the teacher notice that? Is he crying?…These thoughts where in my mind all the time. Mothers needs no training. They are born to worry about their kids even if everything is alright! Agree with me?
So the day he seemed alright in school, I wanted to celebrate it! 😀 seriously! It was a huge thing for me. That day hubby worked from home. So I had 2 reasons to cook something nice for us. Egg dum biryani came to my mind. It's simple, delicious, full of flavors and definitely makes it a celebration dish. :D. I used the dum method to make this biryani.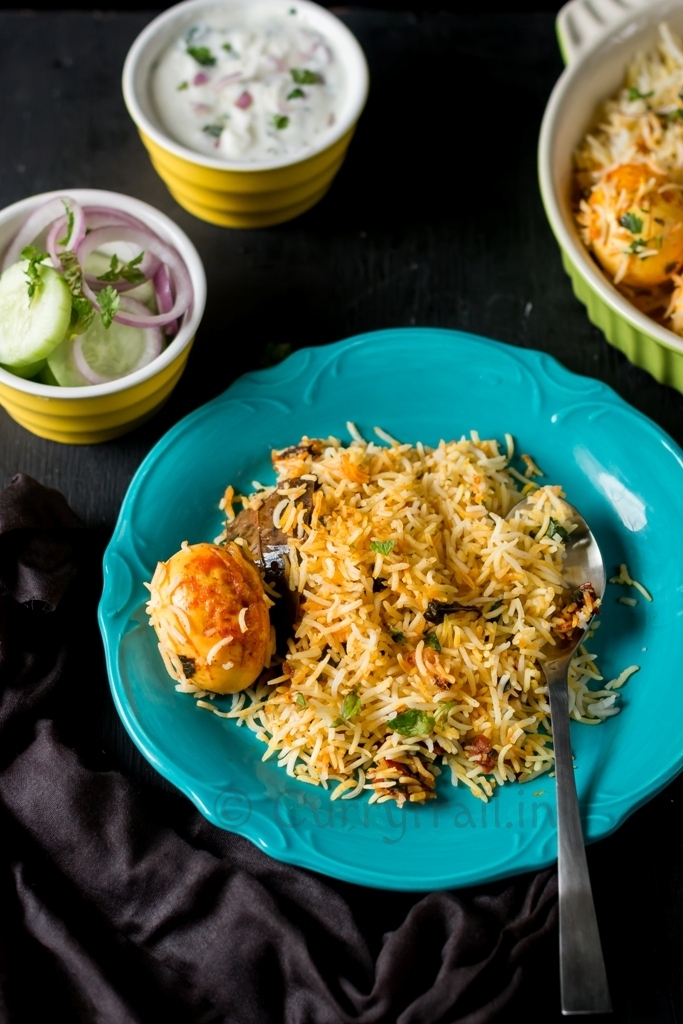 Here's how I make my egg dum biryani
Ingredients
6 Eggs
2 cups basmati rice
3 onions
3 tomatoes
4 green chilies slit
2 teaspoon ginger garlic paste
½ + ½ teaspoon turmeric powder
2 tablespoon red chilli powder
2 teaspoon coriander powder
1 teaspoon garam masala powder
½ cup finely chopped coriander leaves
½ cup finely chopped mint leaves
3 tablespoon oil + 1 tablespoon ghee
2 piece cinnamon
4 cloves
4 cardamoms
2 Javathri
2 bay leaves
Salt to taste
10 strands of saffron
¼ cup warm milk
Water as required
Instructions
Boil eggs, peel the shell. Make a few slits on the egg white carefully without penetrating deep into the yolks. Apply turmeric powder and a pinch of salt into the slits and all over the egg. Soak saffron strands in warm milk.
Heat a teaspoon of oil in a non-stick pan. Add eggs and roast them for about 3 to 5 minutes on low flame carefully turning them all sides. Remove from oil and keep aside.
Soak basmati rice in water for about 30 minutes. Wash the rice gently ensuring to take out only starch and not break the grains. Mean while add about 4 liters of water in a large vessel and bring it to boil. Once water starts to boil, add about 1 teaspoon of cooking oil, 1 cinnamon, 2 cloves, 1 javathri, 1 bay leaves and 1 teaspoon of salt. Add the soaked and washed rice, stir gently once and cook until it is ¾ done for about 3-5 minutes. Keep an eye on rice as some brands of basmati rice cooks very fast and some takes time. My rice was ¾ done in 4 minutes. Drain the water immediately and spread the rice on a large plate and let it cool.
In a deep bottomed pan add oil, once oil gets heated add 1 onion slices and fry it until brown (don't burn the onions). Remove browned onion from oil and keep it aside. This will be used for garnishing and will making the layers.
To the same pan add remaining onions (2 onions) slices and green chilies and sauté till onions turn translucent. Next add ginger-garlic paste and sauté till the raw smell goes off.
Add chopped tomatoes and sauté till tomatoes turn slightly mushy. Next add red chili powder, coriander powder, turmeric powder, garam masala powder and salt. Sauté for 2 minutes.
Reduce the flame to low. Remove half of this masala and keep aside. We will do the layering now. Spread the masala in the pan all over. Place 3 eggs and then add cooked basmati rice over the eggs and gently spread the rice to cover the eggs. Pour ½ quantity of saffron infused milk over the rice, sprinkle finely chopped mint and coriander leaves too. Finally some golden browned onions on top. This is one layer.
Repeat the above step for another layer.
Close the pan with a lid. Ensure the flame is low and place a heavy weight on top of lid to trap the steam inside. Leave it alone for 10 minutes and your dum biryani is ready.
Before serving, take layers of rice, masala and egg all the way from top to bottom carefully without breaking the eggs. Serve hot with onion raita and cucumber salad. Enjoy!
BTW my photo and styling is inspired from Farrukh's egg biryani photo! Do check it out! Thank you Farrukh for the inspiration.
Looking for more biryani recipes? I have a few interesting ones. Click on the link to go to detailed recipe
Donne Biryani – Speciality from Karnataka
One Pot Meal – Chicken Biryani