Chicken dum biryani is a ever green classic that needs no introduction in parts of countries like Persia, India and others! Dum biryani is goodness of rice and meat that comes in layers! Layers of rice and meat cooked with rich and finger licking good masala in it's own steam pressure until rice is fluffy and meat cooked just to perfection. A lengthy cooking process but all totally worth it! Trust me!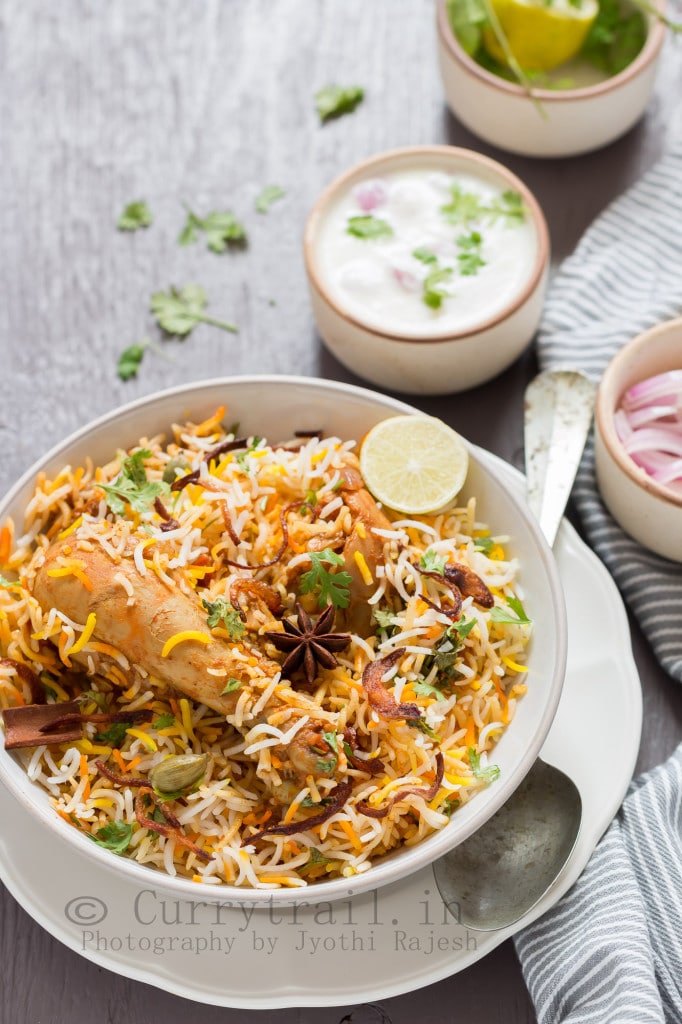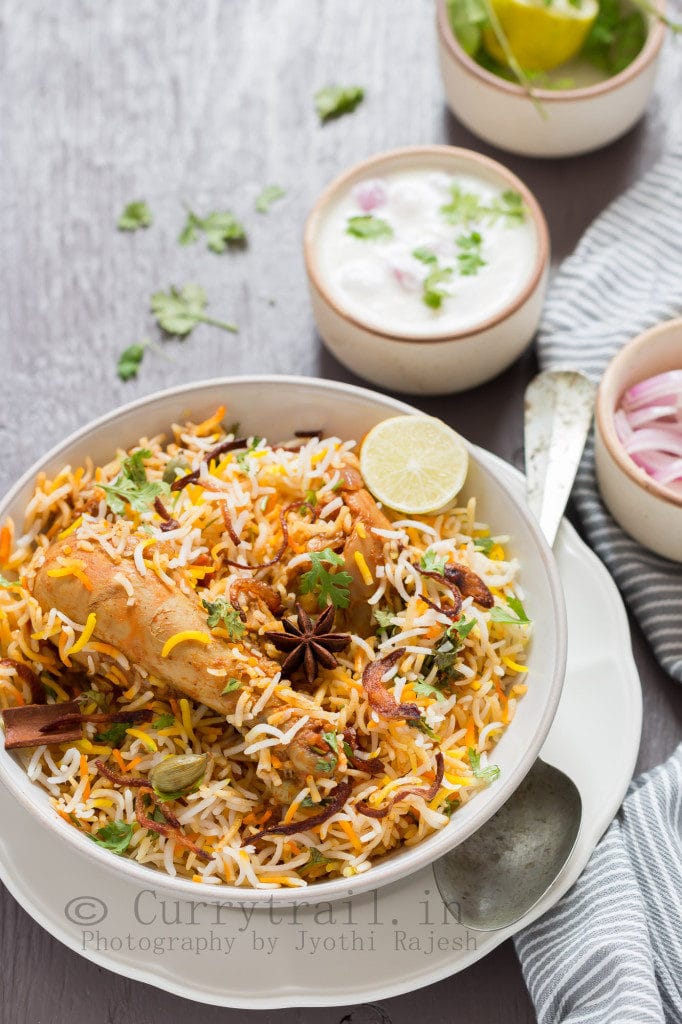 Sunday's are a gift in today's hard-working busy lifestyle. For me Sunday means a day without goals and deadlines. Stay in bed as long as I want without any "should's", "don'ts", "have tos". Have a leisure breakfast. Cook in your pyjamas, listen to music, take your own time! Watch favorite movie on Netflix, explore a book, take a nap, take a long bath. A great trick to enjoy Sunday is not feel guilty about not being productive. That's Sunday, a perfect Sunday for me!
Sunday means BIRYANI for lunch if eating at home. I cannot imagine a Sunday without briyani.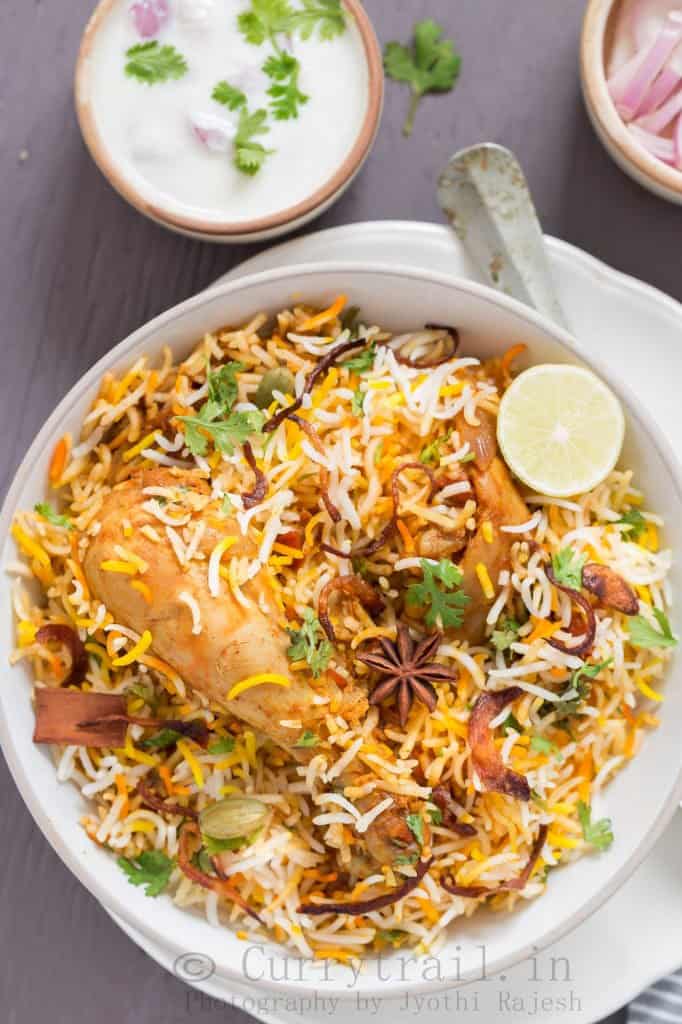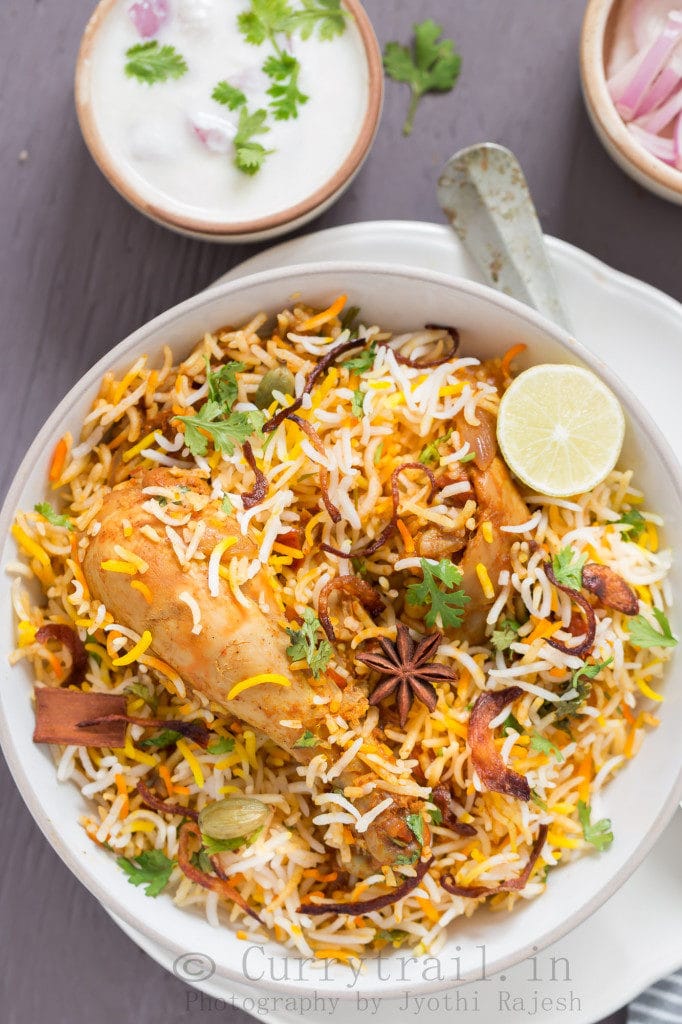 Derived from the Farsi word 'birian' originated in Persia, biryani was introduced to India during the British rule. Biryani preparation varies every 100 miles within India. Each of the variation being loyal to it's regional gastronomical history.
With the variations of biryani in every local region, each style of biryani is distinctive and one is spoilt for options.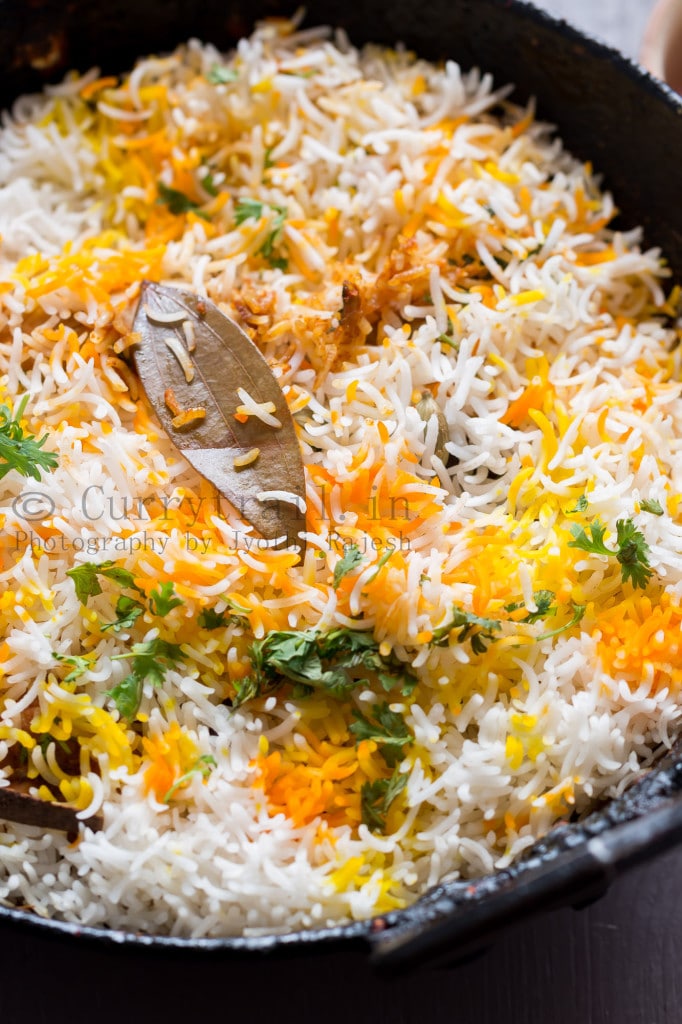 Down south in most regions like Karnataka and Tamil Nadu, biryani is usually made using small grain rice called "jeera samba rice". But in Northern parts of India biryani is compulsorily made using long grain rice called "basmati".
Dum style cooking involves cooking rice and meat (in layers) in deep bottomed heavy pan (called handi). In this style of cooking  food is tightly sealed and cooked over a slow fire in it's own steam.
This recipe is fail proof recipe. It has been million times tried, tested and validated by ALL friends who visit us. I'm not exaggerating, it's TRUE! So i do dare to call this our fail-proof Chicken dum biryani recipe.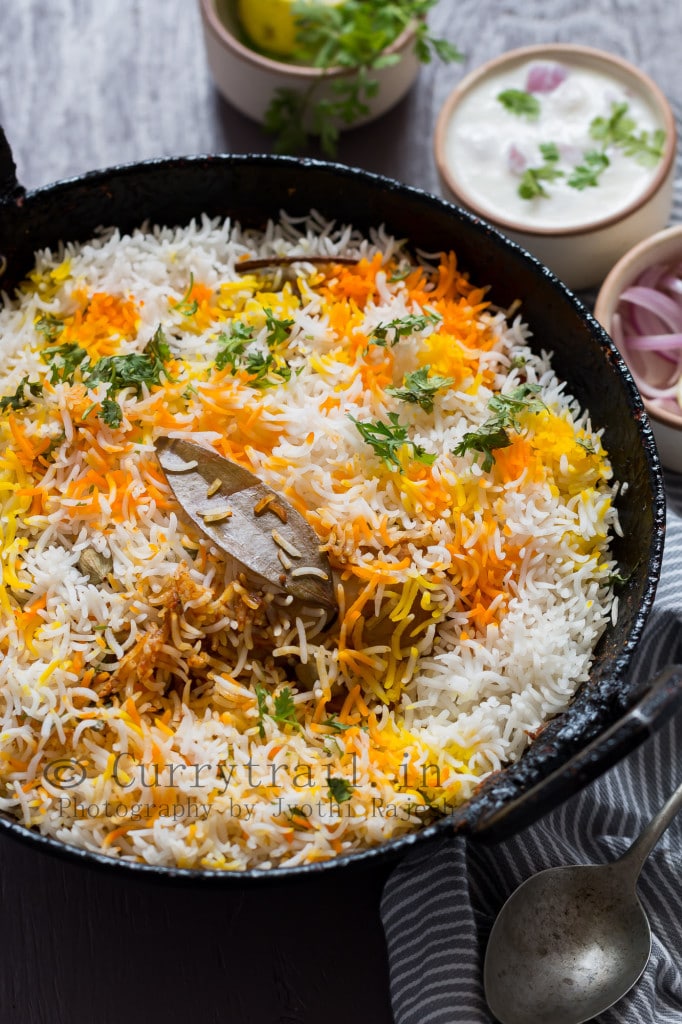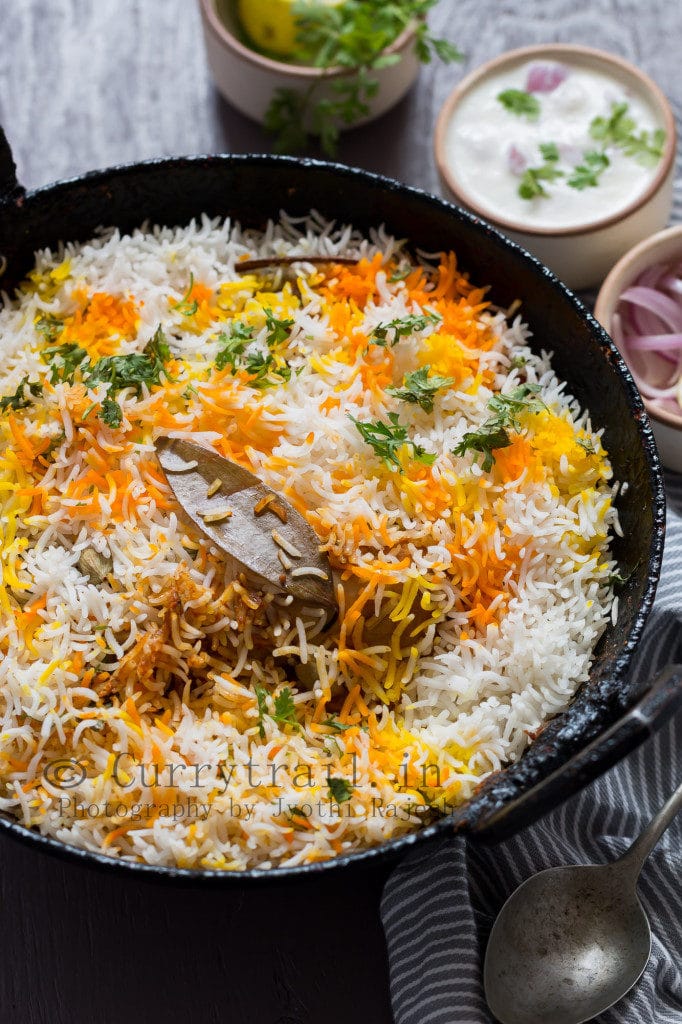 No matter what what style of biryani you make, in our world  biryani tastes simply delicious in all variations. I am a huge biryani lover and I have tasted 6 to 8 types of biryani . My Sunday's are not complete without biryani for my meals. I love chicken and Sunday's are invariably chicken biryani at home.
Do I get bored of chicken biryani?
Nooo
How to prepare hyderabadi chicken dum biryani
Marinate chicken in curd, red chili powder, turmeric powder and salt. Marinate chicken overnight in fridge for best results. If you don't have time, you can let it marinate for at least 45 minutes.
Cook basmati rice (long grain rice)
Always use deep bottomed pan to make chicken dum biryani. In oil or ghee saute onions, tomatoes, green chilies, ginger garlic paste and other masalas until oil separated from the sides. Add marinated chicken and cook. You want to cook chicken until it's half done.
Finally make layers of rice and chicken (at least 2 layers of rice and chicken) sprinkle with fresh coriander and mint leaves. Seal the pan with lid using dough( to make tight seal). Reduce flame to low and cook it in dum for atleast 10-15 minutes.
To serve gently scoop out biryani from the pan from the bottom, so you get layers of rice and meat along with all the wonderful masalas. Best served with cool refreshing raita.
Some more biryani love from our blog to show how much we LOVE biryani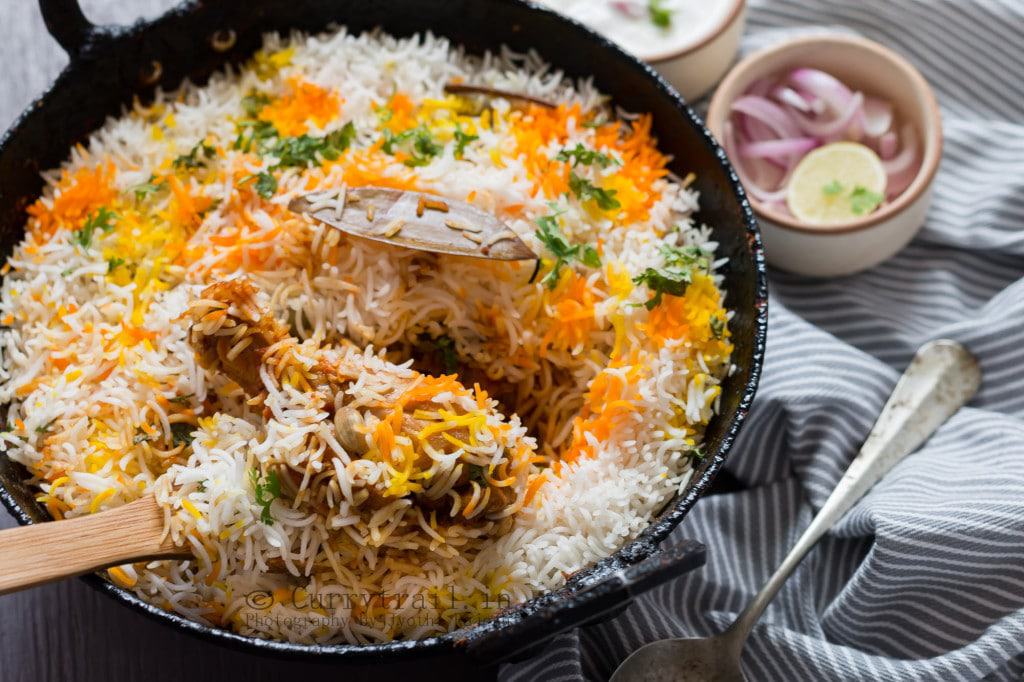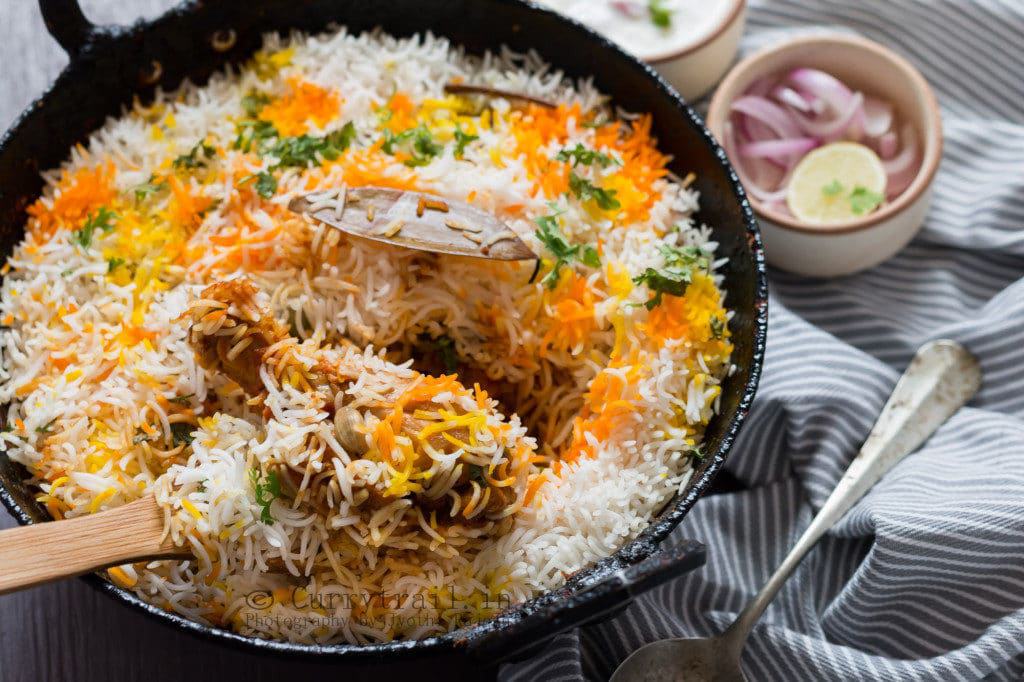 Hyderabadi chicken dum biryani is the popular version of biryani out there. Walk into any restaurant you will be served with Hyberadabi dum biryani. Each restaurant has their own style, own masala that goes in the dum biryani making it taste slightly different from the others. What really varies in the proportion one uses, be the onion-tomato base, or the masala powder for biryani they make. Biryani taste would also varies with the chili powder you use. No matter what you put, biryani ultimately is one delicious Sunday custom in India!
LOVE THIS RECIPE? KEEP IN TOUCH AND DON'T MISS OUT ON ANY OF CURRYTRAIL RECIPES! FOLLOW ME ON INSTAGRAM, PINTEREST, FACEBOOK, TWITTER, GOOGLE+.
HAVE YOU TRIED ONE OF MY RECIPES? I'D LOVE TO SEE WHAT YOU'VE MADE! TAKE A PICTURE AND USE THE HASHTAG #CURRYTRAIL ON INSTAGRAM SO I CAN SEE! I'LL DO A HAPPY DANCE IF YOU TRY MY RECIPE AND SHARE IT WITH US!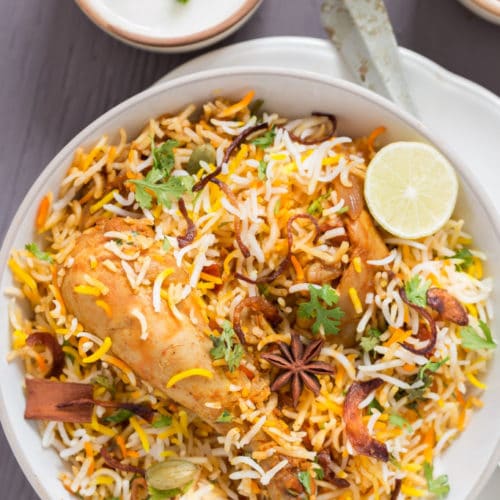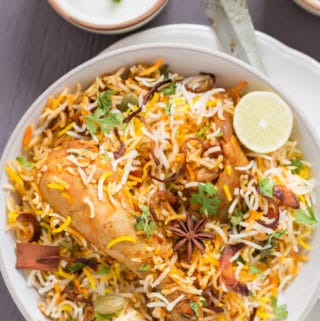 Chicken Dum Biryani
Chicken dum biryani is a ever green classic that needs no introduction in parts of countries like Persia, India and many others! Dum biryani is goodness that comes in layers! Layers of rice and meat cooked with it's own steam pressure until rice is fluffy and meat cooked just to perfection. A lengthy cooking process but all totally worth it!
Print
Pin
Rate
Ingredients
500

grams

chicken

4

cups

basmati rice

3

onions (sliced thin)

4

tomatoes (chopped fine)

4

green chilies, slit

3

tsp

ginger-garlic paste

2

tbsp

red chili powder

2

tbsp

coriander powder

1

tbsp

garam masala powder

1/2

cup

coriander leaves (finely chopped)

1/2

cup

mint leaves (finely chopped)

3

tbsp

oil

1

tbsp

ghee

salt to taste

Orange food grade colors (optional)
For Marination
2

tsp

curd

1

tbsp

red chili powder

1

tsp

turmeric powder

1

tsp

salt
Instructions
To cook basmati rice separately:-Soak basmati rice in water for about 10 minutes. Wash the rice gently ensuring to take out only starch and not break the grains. Mean while add about 4 liters of water in a large vessel and bring it to boil. Once water starts to boil, add about 1 teaspoon of cooking oil and 1 teaspoon of salt. Add the soaked and washed rice, stir gently once and cook for about 3 to 5 minutes(I usually take it off heat by 3 ½ minutes). Keep an eye on rice as some brands of basmati rice cooks very fast and some takes time. My rice was cooked in 5 minutes. Drain the water immediately and spread the rice on a large plate.

Clean and wash the chicken thoroughly for at least 3 times. Add a little salt while washing the chicken(this will help to get rid off the smell to an extent)

Marinate the chicken with ingredients mentioned under marinating list. Marinate for at least 1/2 hour.


In a deep bottomed pan add oil, once oil gets heated add 1 onion slices and fry it until brown (don't burn the onions). Remove browned onion from oil and keep it aside. This will be used for garnishing and will making the layers.

To the same pan add remaining onions(2 onions) slices and saute till onions turn translucent. Next add ginger-garlic paste and saute till the raw smell goes off.

Add slit green chilies and mix for a minute. Add chopped tomatoes and saute till tomatoes turn slightly mushy. Next add red chili powder, coriander powder, garam masala powder and salt(to taste, remember chicken marinate contains salt as well). Saute for 2 minutes.

Add 3 tbspns of both coriander and mint leaves and mix. Add marinated chicken and mix well. Cook until chicken is fully cooked(chicken pieces should be very tough, if you pull the chicken flesh, it should come off from bones). DO NOT add any water as onion tomato gravy and the chicken marination (as we have used curd) will release enough water. Once chicken is cooked if you find there is excess water remove the water from the gravy and keep it aside. You can use this gravy water while layering and also can serve this with biryani along with raita. The gravy water will taste very close to "salna".

Take the Dum pan, add ghee and spread it to coat all the bottom and sides of the pan, reduce the flame to low. Add about 2 full tbspns of the chicken gravy(remember it shouldn't be very watery) spread all over the bottom. Next add cooked basmati rice over the chicken and gently spread the rice to cover the chicken. At this stage you can use the watery gravy that you removed in step 6. Use a tea spoon and remove the top oily layer from gravy and drizzle over the rice, this will add flavors to the rice and also give color or you can add colors(saffron soaked in milk and orange food color)

Repeat step 7 until you have used up all rice and chicken. Over the top sprinkle coriander and mint leaves and browned onions and close with a lid. Ensure the flame is low and place a heavy weight on top of lid to trap the steam inside. Leave it alone for 10 minutes and your dum biryani is ready.

Scoop out biryani from the edges of the pan, making sure not to break the rice grains. Serve hot with onion raita.
Notes
Hyderabadi chicken dum biryani has to be made with long grain rice like basmati rice. Do try not to replace basmati rice with other normal rice to experience authentic taste.
The spice quantity can be increased as per your taste preference. 
Chicken can be easily replaced with mutton in this recipe.  
"Pin it" for later