Before we talk about anything else I want to thank you guys for the amazing response for my first short video recipe that I posted few days back. Those baked potato roses were not just a hit at home, but a big hit among the followers as well. If you haven't checked the recipe and my short recipe video yet, click here to check it out!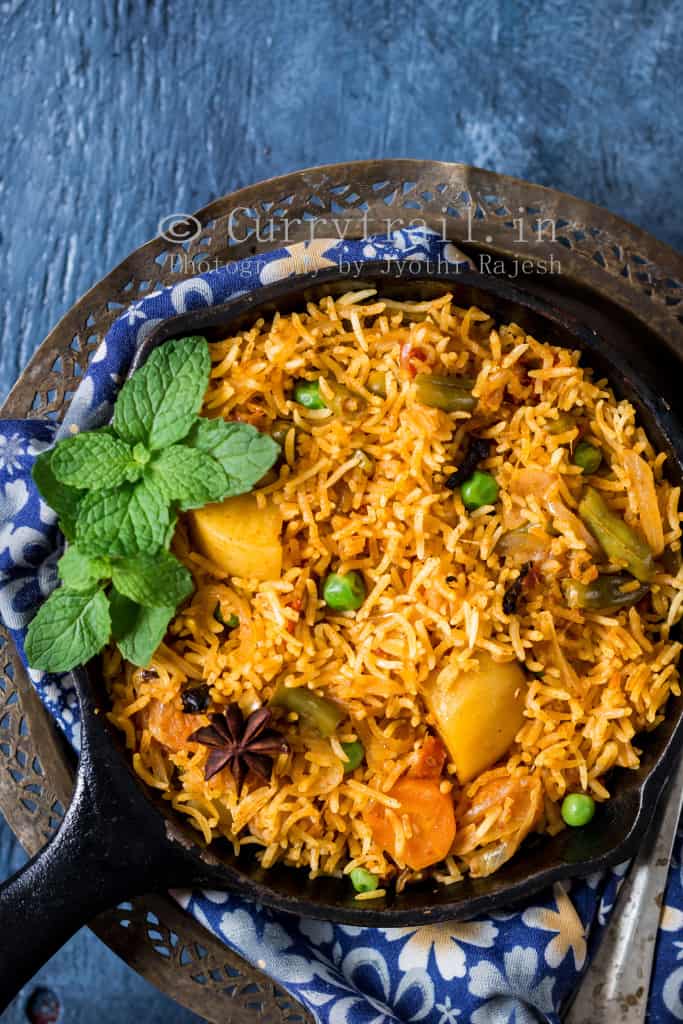 I have a confession to make! Some of my friends and followers think I cook a whole lot in my kitchen and that too I do on every day basis. That my dining table has always a spread of an entire meal or variety of dishes laid out for the family for lunch and dinner. But the truth is, I DON'T! I do cook, may be a little more than I used to usually cook before I attained the status of a food blogger, but not on every day basis, and definitely not a entire meal every day. When you do a job(be it even cooking for your family) every single day, then arrives a day when your bones cry out not to do any work and turn lazy. It is perfectly ok to break from the mundane and laze around, and TAKE A BREAK!
Those days, when my legs refuse to move and hand fails to lift even a spoon, I simply decide not to cook. Those days, we survive either on 2 minute ramen noodles cooked by husband or simply eat out. BTW, Raj always argues that he makes the perfect ramen noodles, that is perfectly cook with right amount of liquid in it, while I always over cook it and make it dry! Honestly, I think he does a better job in cooking ramen noodles than me! 😀 Just that!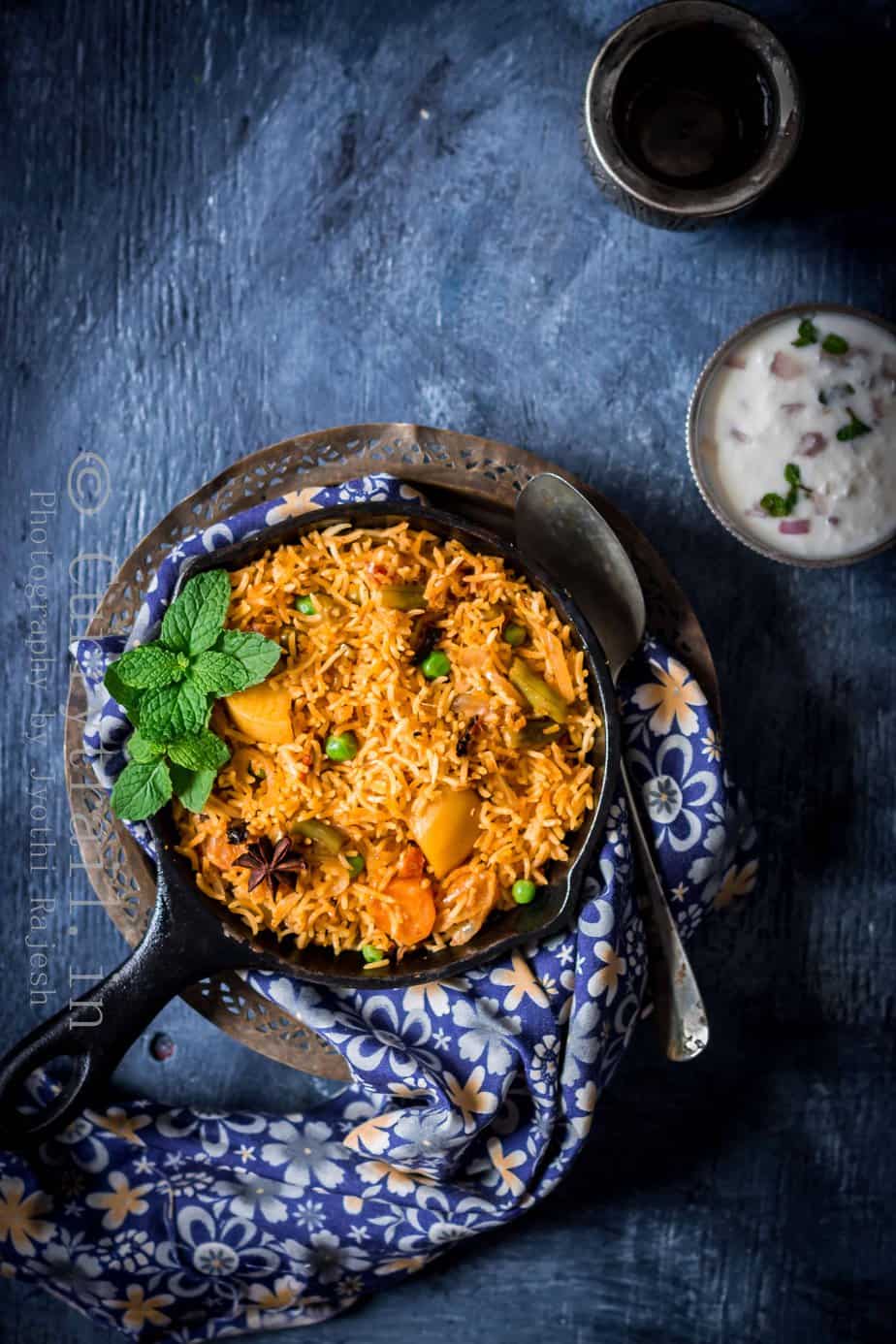 Sunday's I usually love to cook, and it has to be non vegetarian. And by now you guys all know that my Sunday special has to be biryani. I don't feel satisfied if there was no non vegetarian food on Sunday. But I'm a vegetarian for the rest 6 days! And the day I make biryani, Sunday's become extra special. I br
I stick to once a week non vegetarian meal plan. But the biryani craving kicks in mid week sometimes, unannounced! Those days, vegetable biryani comes to rescue. Like last Friday, I was craving for biryani. I made this simple and easy vegetable dum biryani to satisfy my cravings.  The tastiest ingredient was of course the potatoes. Like there is always a fight for leg piece in chicken biryani, we always fight for the last piece of potato in a vegetable biryani.
For all you all time vegetarians, selected day vegetarians (like me) this biryani is a must try. It wont let you down in front of your family or friends. Do try it and make sure you add a few extra pieces of potatoes, so each one of you relishing the biryani gets an extra share of potato on their plate! 😀
Ingredients
2 cups basmati rice
1 carrot
10 beans
¼ cup green peas(fresh or frozen)
4 small potatoes
2 large onions
1 tomato
3 teaspoon cooking oil
3 teaspoon ghee
2 bay leaves
2 inch cinnamon stick
6-8 cloves
4 cardamom
3 green chilies, slit
¾ tablespoon red chili powder
1 tablespoon coriander powder(fresh ground preferably)
1 teaspoon turmeric powder
1 teaspoon garam masala powder
1 ½ inch tablespoon ginger-garlic paste
Salt to taste
2 tablespoon thick curd
2 tablespoon coriander leaves
1 teaspoon lime juice
Method
Soak basmati rice in water for about 30 minutes. Wash the rice gently ensuring to take out only starch and not break the grains. Mean while add about 4 liters of water in a large vessel and bring it to boil. Once water starts to boil, add about 1 teaspoon of cooking oil and 1 teaspoon of salt. Add the soaked and washed rice, stir gently once and cook until it is ¾ done for about 3-5 minutes. Keep an eye on rice as some brands of basmati rice cooks very fast and some takes time. My rice was ¾ done in 4 minutes. Drain the water immediately and spread the rice on a large plate and let it cool.
In a deep bottomed pan heat oil and ghee. Add all the whole spices (bay leaf, cinnamon, cloves, and cardamom). Then add ginger-garlic paste. Cook until the raw smell of the ginger garlic is gone.
Add onions and green chilies and cook till onions turn soft and pink.
Add finely chopped tomato and cook till tomatoes turn soft and release their juices.
Add potatoes first and cook for about 3 minutes.
Add all the other vegetables and cook for another 3 minutes.
Add the spice powders (red chili powder, coriander powder, turmeric powder) and salt. Stir and mix well. Add curd and mix again. Add little water (I added about ¼ cup) and cook until vegetables are ¾ cooked (about 8 minutes)
Reduce flame to low. Remove half the quantity of vegetable mix. We will do the layering now.
On top of the vegetable masala in the pan spread half quantity of basmati rice. Sprinkle some finely chopped fresh coriander leaves. Spread the remaining half of the vegetable mix on top of rice, and layer the remaining rice on top. Sprinkle coriander leaves. Cover the pan tightly with lid and cook in dum for about 10 to 12 minutes on low flame. Turn the heat off and let the biryani rest for about 15 minutes, and then sprinkle 1 teaspoon lime juice. Gently mix from bottom and serve vegetable biryani hot with onion raita, and some salad.