You really can't go wrong with truffles, especially when they're Chocolate + Rum. Christmas rum balls recipe made from biscuits is perfect last minute Christmas treat ! It's very simple to make and guaranteed to wow your guests at the Christmas party.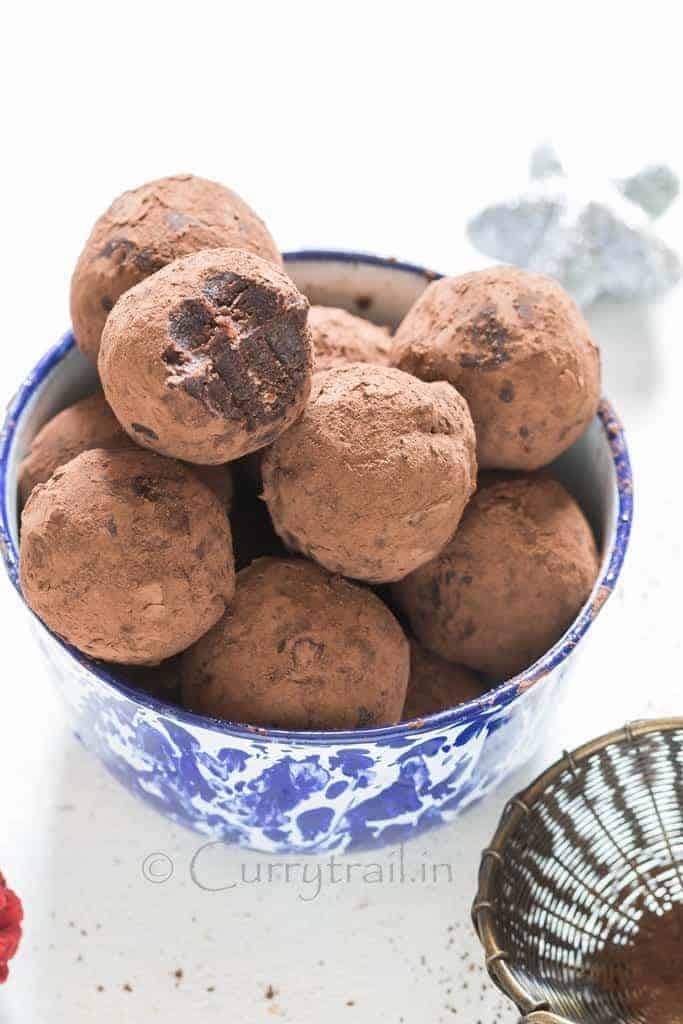 Have you been busy this holiday season that you couldn't find time to bake all those delicious "must-have" Christmas cookies and cakes this year? So Christmas is just a few day away. And if you are feeling bad about not been able to whip up all those delicious Christmas special treats just like me, then I got something to cheer you up guys!
I've been busy with so many things on personal front past few weeks that I couldn't really bake all the delicious Christmas treats that I had planned to. But this morning I decided to bring the Christmas spirit on. Made rum balls for us and friends to gift. Also made a batch of it without the alcohol kids treat.
Christmas rum balls recipe or Christmas truffles as we call it are great for holiday gatherings and parties. They also make a wonderful gift for Christmas. The best part of these Christmas rum balls recipe, these can be made in no time. So if you are held up this holiday season with things that is keeping you busy, then you can still have wonderful Christmas goodies made in a jiffy.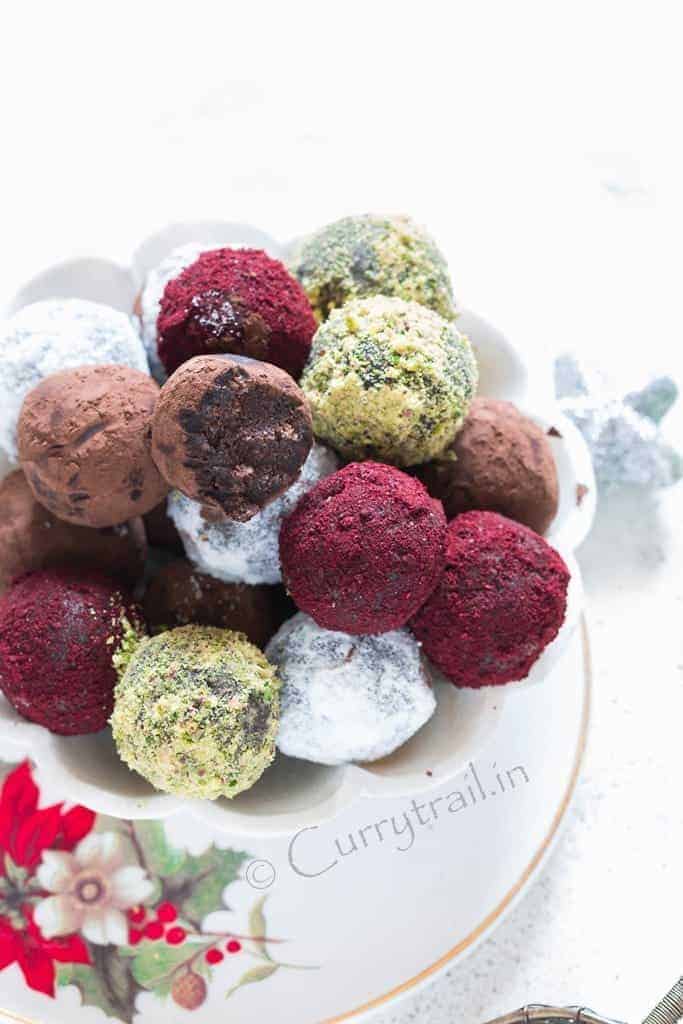 These rum infused balls are made from crumbled cookies (vanilla biscuits or digestive biscuits) and are perfectly sized for adults. Delicious rum ball cookies are NO-BAKE goodies that looks so festive and delicious, I bet you can't stop eating it. What could be better holiday endorsement that these gorgeous rum ball cookies.
Truffles are perfect for holidays. It's so easy to make truffles that you don't just wait for holiday to indulge. Today's easy truffle recipe is something that is perfect for holiday or any time. Just crumble some wafers or biscuits, add in rest of the ingredients, and roll into balls. I bet you can't have easier dessert than truffles.
There are million and millions truffles recipe "out there", so why would you consider using this one?
To begin with, we have a bit of health quotient going on in this truffles recipe. There is walnuts added and we use dark chocolate(yea there may be other truffles recipe using that too…). Come on guys that 'healthy' isn't it!?
I know some of you will raise up and question – Do I really have to bother about 'health factors', 'calorie count' when it's holiday season!! I know what you mean….just saying…..it's somewhat 'healthy'. HAHA
Easily available ingredients including rum. I'm not judging, but come on it's holiday season, and I know you guys have a bottle of rum in your attic! And in case you don't have a bottle of rum, get it!
This Christmas rum balls recipe makes insanely delicious truffle balls, literally can't-stop-eating-it-delicious!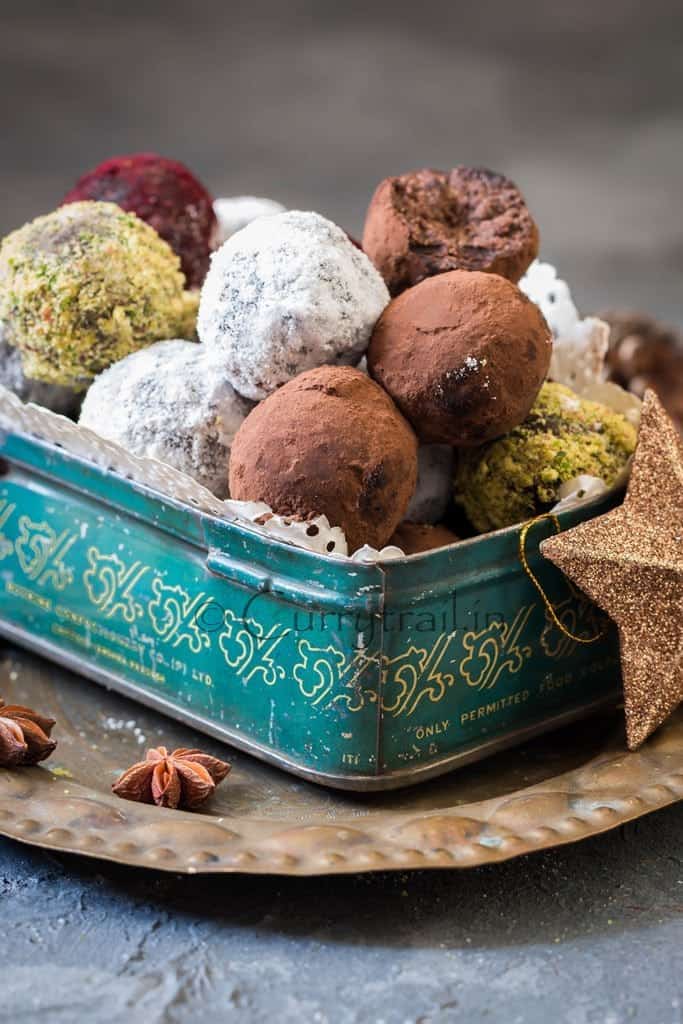 How to Make Rum Balls Recipe
Start with crumbling walnuts and vanilla biscuits (or use digestive biscuits). We used a blender to powder it.
Melt dark chocolate chips or bark in microwave for 30 seconds interval, stirring in between.
To the melted dark chocolate add the crumbled biscuits and walnuts.
Mix in caster sugar and add little vanilla extract for added flavor.
Pour rum into the mix. You can use some where from 3 tablespoon to rum to about ¾ cup rum, depending on how boozy you want. ¾ cup rum will make you go ….HICK! 😀 Make your choice!
A little raw organic honey in the end to make little more sweeter rum truffle balls.
Mix all in until well incorporated.
Cover and refrigerate the mix for 30 minutes to an hour.
Then scoop out small portion of truffle mix and roll into balls.
You can stop there. Or to make it looks fancy and attractive roll these rum truffle balls in cocoa powder, beet root powder, pistachio sand or even desiccated coconut(coconut flakes), in powdered sugar, dip it in chocolate melt and drizzle some over the top for decoration. Just go wild!
Looking for easy Christmas treat with less effort to make?
Here you go –
10 Minutes Boozy Microwave Chocolate Pudding
Don't forget to Subscribe to CurryTrail Recipes below to get our newest recipes delivered straight to your inbox.
LOVE THIS RECIPE? KEEP IN TOUCH AND DON'T MISS OUT ON ANY OF CURRYTRAIL RECIPES! FOLLOW ME ON INSTAGRAM, PINTEREST, FACEBOOK, TWITTER.
Do check out other popular Christmas cookie recipes from CurryTrail –
Merry Christmas and Happy Holidays all you lovely people. C-H-E-E-R-S!!!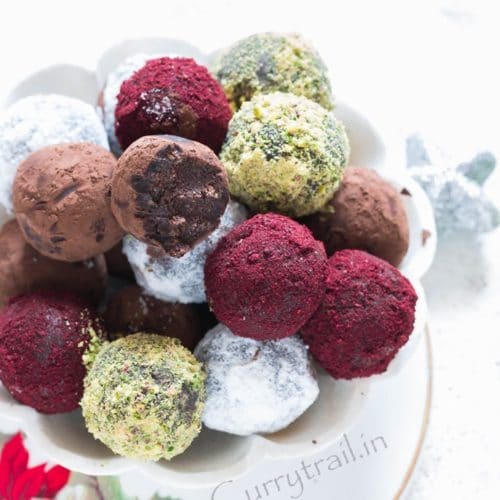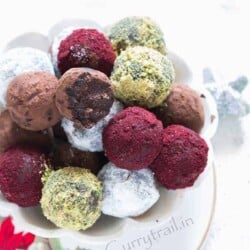 Christmas Rum Truffle Balls
You really can't go wrong with truffles, especially when they're Chocolate + Rum. Christmas Rum Truffle Balls made from biscuits is perfect last minute Christmas treat recipe! It's very simple to make and guaranteed to wow your guests at the Christmas party.
Ingredients
Truffle-
1 cup Walnuts
5 packs Vanilla Biscuits
1.3 cup Dark Chocolate
1 cup Caster Sugar
1 teaspoon Vanilla Extract
3 tablespoons Rum (you can adjust the quantity as preference)
½ cup Honey
Truffle coating-
Cocoa powder
Coconut Powder
Pistachio Sand (optional)
Beetroot Powder (optional)
Instructions
1. Pulse or grind walnuts and biscuits separately in a food processor. Keep aside.2. Melt dark chocolate in microwave at high power for 2 minutes stirring every 30 seconds.3. Whisk caster sugar to melted chocolate.4. Add ground walnuts and biscuits to melted chocolate and whisk well.5. Mix in vanilla extract and rum into the mixture.6. Add honey and whisk well.7. Cover and refrigerate for 30 minutes to an hour.8. Scoop out small portions of truffle mix, roll tight and coat in any or all of the truffle coating mentioned in the list above.9. Serve
Notes
I got approximately 20 medium sized balls.
Leave out the rum from the recipe if making treat for kids.
I have used walnuts, pecans, almonds will work too.
If you want sugar-free rum balls use double the quantity of honey mentioned in the ingredients list.
These can be stored in refrigerator for 2 weeks.
Nutrition
Calories: 178kcalCarbohydrates: 23gProtein: 2gFat: 9gSaturated Fat: 3gCholesterol: 1mgSodium: 4mgPotassium: 112mgFiber: 2gSugar: 20gVitamin A: 4IUVitamin C: 1mgCalcium: 15mgIron: 2mg