When Mom says no, it means "Definitely NO!". And when dad says no, it means….No,… Maybe,..ok go ahead!  Grrrr….
Over the weekend we planned to go to a Christmas food festival. It was post lunch time. I guess people who were at the event planned to stay for dinner as well. But we had other plans, so we decided to spend short time there. I was walking around the stalls checking out the food and I was disappointed to see a whole lot of pork(I don't eat pork). A smile appeared on my face when I saw a stall selling chicken. We took a plate of chicken momos and sat down to eat. My daughter was continuously nagging me. She wanted to check out one particular stall which was selling some fancy makeup items, like Christmas hats, funny goggles, crazy hairdo wigs and more. After we ate the momos I took her to the stall. She tried out a couple of things and they didn't fit her. It was either too big, too small and some very too creepy to wear. I said her that she won't like to wear it after she hears even from a single person how it looks. I also told her we will check out some other store and buy something that is nice! She didn't say a word. She stood there and looked at some more stuffs. I took a few tried it on her and asked her to look at herself in the mirror; she said she didn't like it. So we walked out of the stall. She kept asking me over and over again that if she can buy something, maybe one thing from the stall. And I kept saying, no. You don't like it so no point in buying it! This went on for about 15 minutes. Hubby watched the whole scenario and said no to her as well(at that point of time)!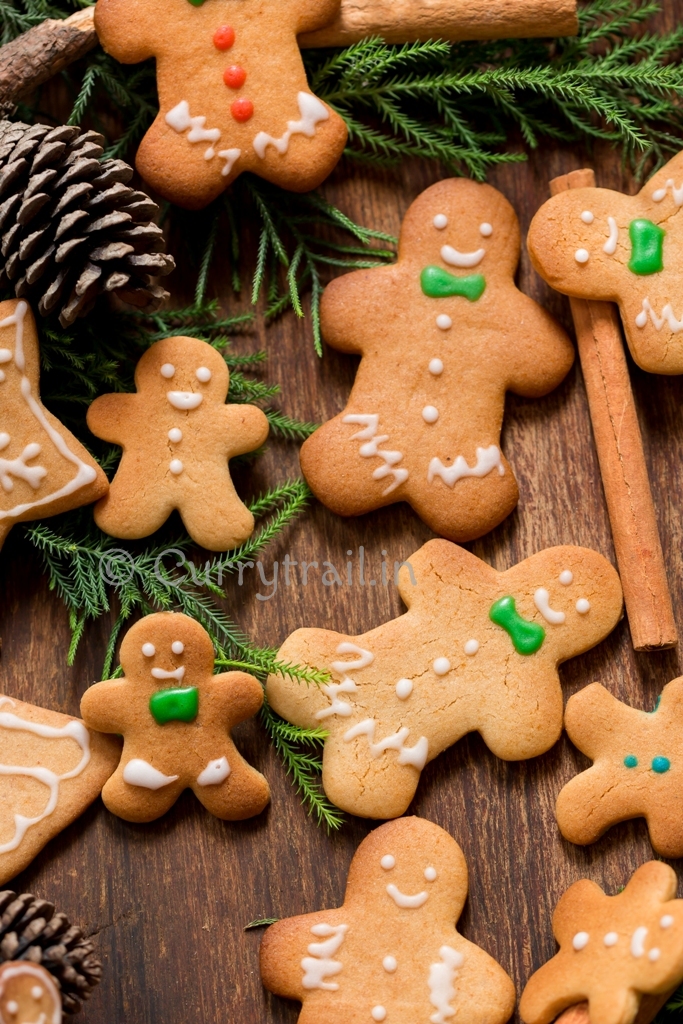 Then I walked out checking other food stalls. She quietly went to her dad and asked her to take her back to the stall. Hubby who knew why I was saying no, without even a thought took her and bought a "devil horns" that hardly fit her head. I come back from with a bowl of boiled channa chat(boiled chickpeas with spices) kind of dish and see her holding the horns. I was in fumes but I refused to even check about what happened and what was in her hands. I couldn't resist though. I wanted to argue with hubby, but I tried to keep quite. After a couple of minutes I asked her, "Do you know what is it called that you are holding in your hands?". She answered, in a soft voice, sensing my anger, "No amma". That is it! I walked out again checking more stalls. This time I didn't want to buy any more food, but I just wanted to walk out, as I knew what exactly was going to happen next. She would ask her dad what is it, and when she realizes what is actually is she would tell him that she doesn't want that and make him buy her another thing. And guess what…that is what exactly happened. Once she knew the name, "devil's horn" she asked him what does it mean. Once he explained to her, she took him to the stall and bought another item. This time she bought something that is not devilish and that is pink, too big for her and that she says is cute! And when I asked her what was she going to do with devils horn, she promptly replied, "amma devils horn I bought for Ashu(her brother). They look so cute on him, see!" . Yeah, like I would believe her! 😀
So the point here is, I knew she would wear it and I knew she is not going to even touch it once we reach home, so I decided not to waste money! So when a mom says no it means NO, all the time. But when dad says no, he actually means, no, maybe later, ok YES! Wufff.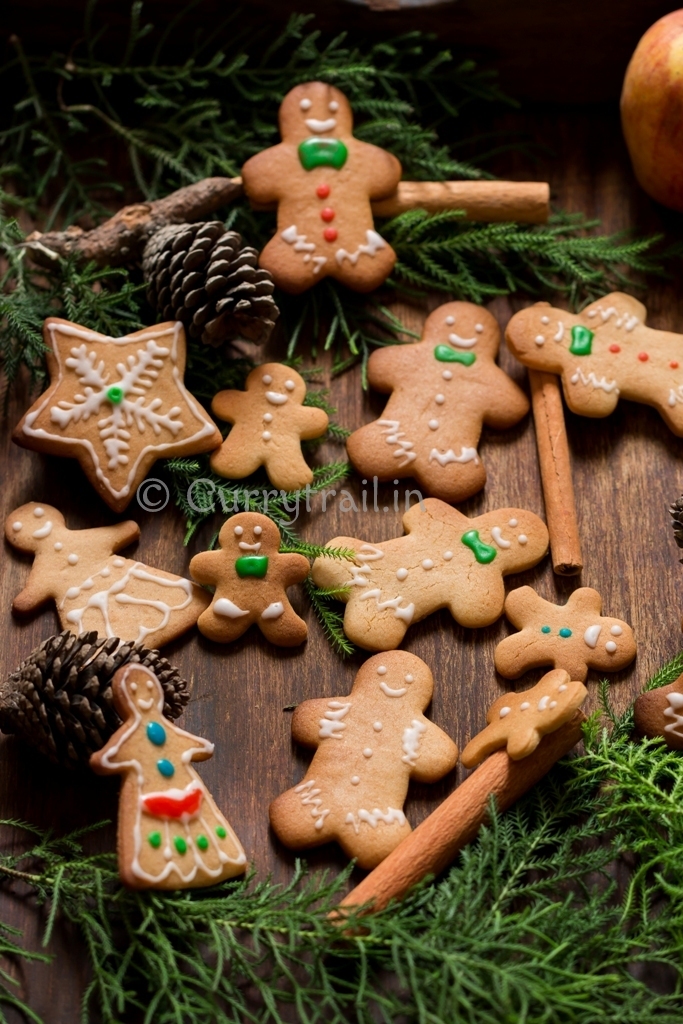 Let's forget about the dads and what they mean when they say 'no' for now and concentrate on our cute little ginger bread man cookies, shall we?! Aren't these guys adorable? And not to forget, they taste delicious too. This ginger bread cookie recipe is made without molasses, in India molasses are not readily available and the ones available would burn a hole in your purse. So I decided to go ahead without molasses and substituted honey in place. With wonderful warm winter spices and honey, these ginger bread man cookies turned out super yum. Do give it a try for Christmas.
Ingredients
1 ½ cups all purpose flour
1 teaspoon of baking powder
1 teaspoon cooking soda
½ teaspoon salt
½ cup powdered demerera sugar
5 tablespoons unsalted butter, room temperature
1/3 cup honey
¾ teaspoon ginger powder
½ teaspoon cinnamon powder
¼ teaspoon clove powder
½ teaspoon nutmeg powder
½ teaspoon cardamom powder
For royal icing
4 tablespoon icing sugar
1 teaspoon corn flour
1 teaspoon milk
Food colors – red, green, blue
Instructions
1.Sift flour with baking powder and baking soda. Add salt, and all the spice powders and mix well. Keep aside.
2.Add powdered demerera sugar and softened butter in a bowl and whisk until it turns soft and fluffy.
3. Add honey and whisk again. Now add half the flour and fold until well combined. Add the second half of the flour and fold until all ingredients are well combined. The dough will be soft and smooth in texture. Wrap in a cling film and pop into fridge for about an hour.
4. Pre heat the oven to 170 degree centigrade. Take out the dough from fridge and roll it into 1/4 inch thick, cut shapes with cookie cutter. Place them on baking tray lined with parchment paper, keep them 3 to 4 inch apart. Freeze the cut cookies for 10 minutes.
5. Now bake for 7-9 minutes. When cookies are done, remove and let it cool completely before you decorate them.
6.To make royal icing, mix all the ingredients mentioned under the list 'for royal icing'. Divide the icing sugar into equal portions. Add required food colors and mix well. Put them into individual small piping bags and decorate the cookies. Let them sit for 20 to 30 minutes to dry.
7. Once it dried completely, store them in air tight containers.