Cheese and herbs savory monkey bread is going to steal your heart away! A showstopper bread that you can put up at the center of your dinner table in a party! The cheesy stuffed little bread balls are such a delight, you won't just stop pulling one.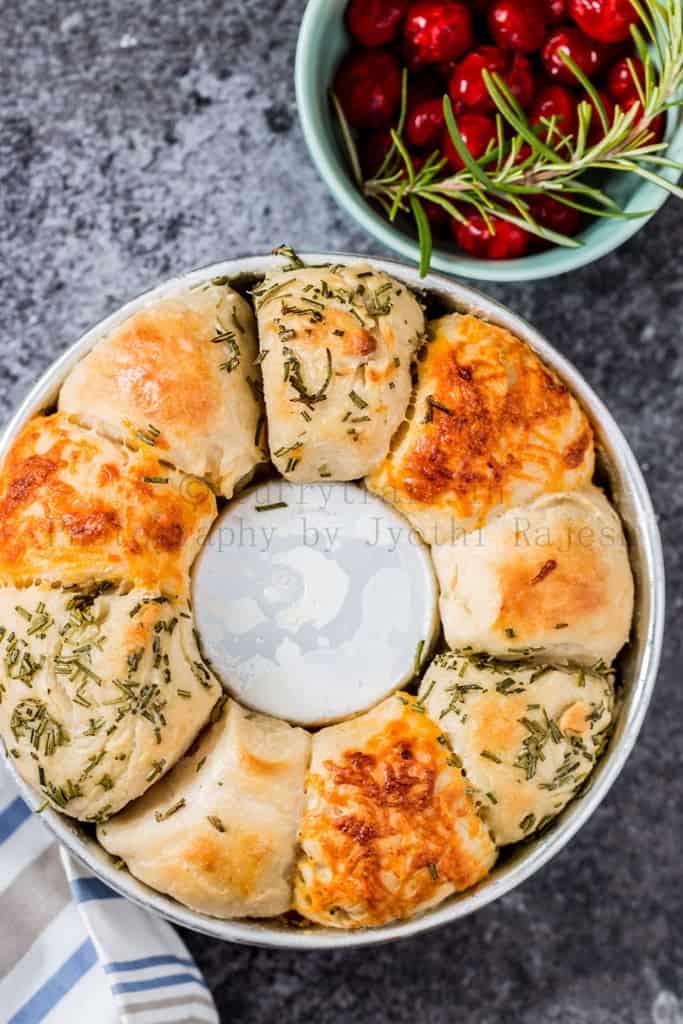 With garlic butter and aromatic herbs like rosemary-thyme and cheddar cheese stuffed inside and sprinkled out, this bread comes out of the oven super soft and gooey cheesy in the center.
It's just few days away until Christmas! With all the hustle and bustle the season brings, there is always the excitement, the joy, the celebrations, the food that we all look forward to! It's a season to spread love, a season to gift someone in need and see a smile on their face, a season to sit back and enjoy a meal or two with your family and friends.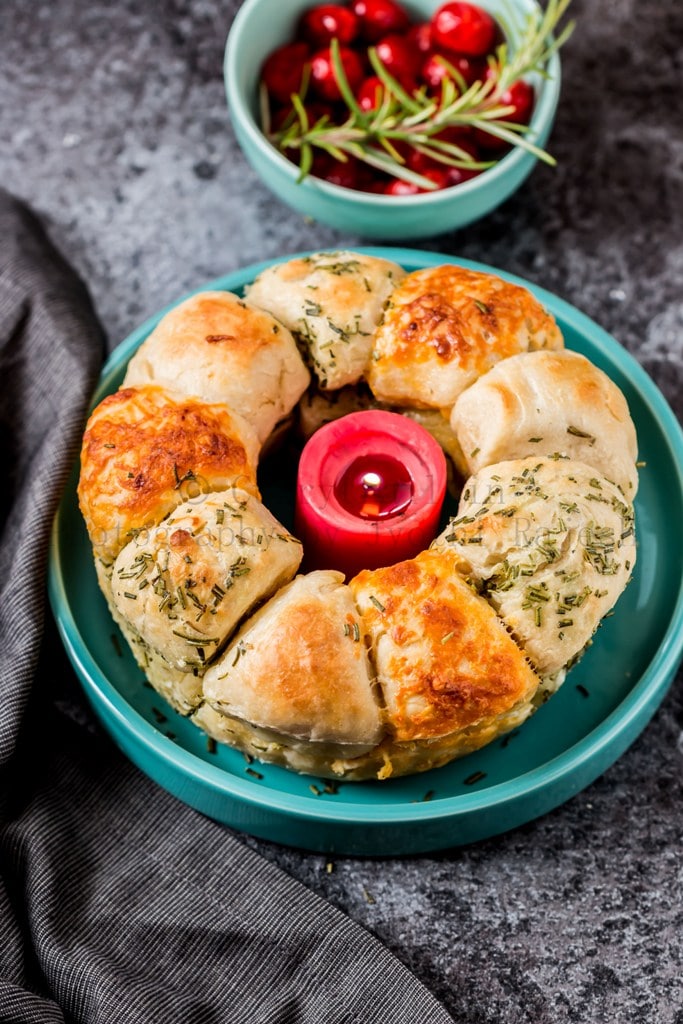 Christmas, to some, is all about cookies! Planning on cookies to bake, deciding on the cookie cutter to use, the icing on the cookie, the decorations added on top of it, isn't it all fun!
And the fun doubles when you get the kids involved in the process. My kids love to smother icing over the cookies, decorating it to their taste.
When I came across Samantha's Savory Monkey Bread, I was awe struck and knew this is one bread that I definitely have to bake for Christmas. Trying Samantha's cheesy, herby, savory monkey bread is going to be a definite show stopper on your Christmas table. Do try it!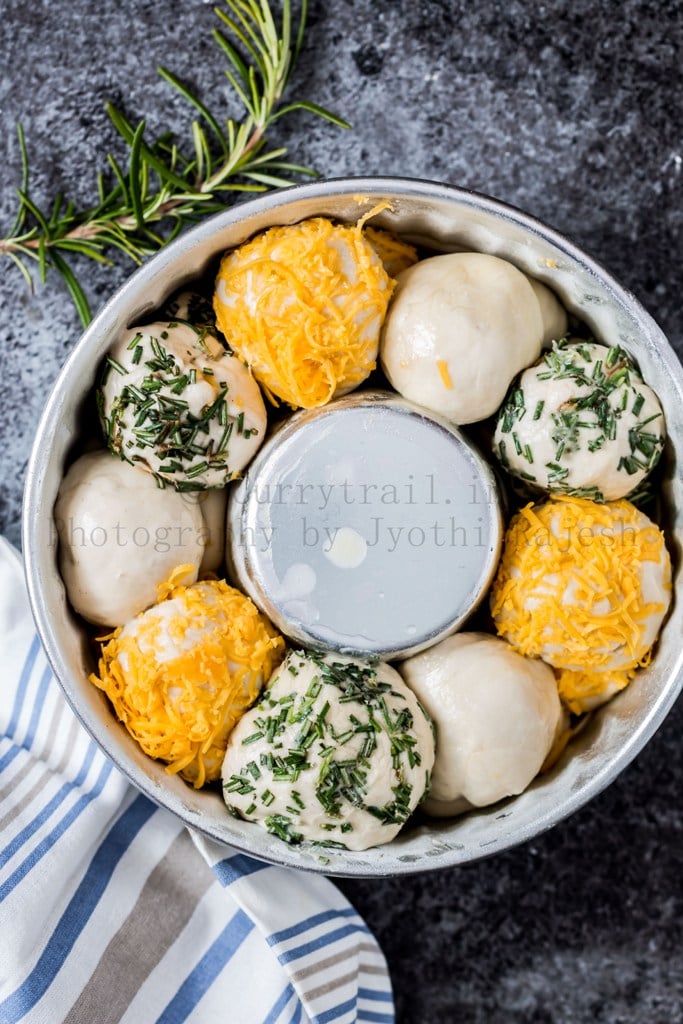 Why Should You Bake This Cheese and Herbs Savory Monkey Bread For Christmas?
This herb and cheese stuffed savory monkey bread recipes is made from scratch. You can add any favorite herb and cheese of your choice.
Cheddar cheese gives that lovely orange-ish color on the bread, Parmesan, Mozzarella or any of your favorite cheese would work.
Recipe is customizable.
While this recipe for savory monkey bread is all made from scratch, you can use readily available refrigerated canister biscuits for stress free baking.
A fun center piece for any gathering! Think game day, holiday season, Christmas dinner or any other party!Kids will love it and adults won't be able to keep their hands off it. A REAL CROWD PLEASER!
Toppings can be changed as per your choice – from nuts to dried fruits, different herbs, seeds – literally million different ways to top and stuff this bread!
While sweet versions of pull apart bread like cinnamon and sugar or pumpkin spiced pull apart loaf would do so well as a warm breakfast treat on winter mornings, savory monkey bread recipe can be served as sides with salads, soups or as main dish.
What Type of Flavors Should I Use in Savory Monkey Bread?
The flavoring in this bread is simple but amazing. Garlic and fresh herbs mixed in butter along with cheese stuffed inside each bread balls. That's it!
Savory monkey bread that you see is a monkey pull apart bread version, and it's actually one very easy pull apart bread recipe.
For cheese I use
Mix of Cheddar and Mozzarella
For Herbs –
Rosemary, Thyme and Sage.
If you like to add any other toppings then try these-
Nuts toppings like –
Chopped Hazelnut
Almonds silvers
Dried berries would work too. Chopped Cranberries.
Bacon bits
Sprinkled with paprika
Coated with poppy seeds
You can go as creative as you want.
I decided to go with making bread from scratch, mixed dough with yeast, let it rise and then flavor and roll into ball.
If you are looking for straight forward pull apart bread recipe that you can get it on the dinner table in no time, then you can go ahead and make it with ready made bread like French loaf or biscuit dough or crescent rolls.
Call it pull apart bread or tear apart bread or monkey bread, doesn't matter. It's simply delicious!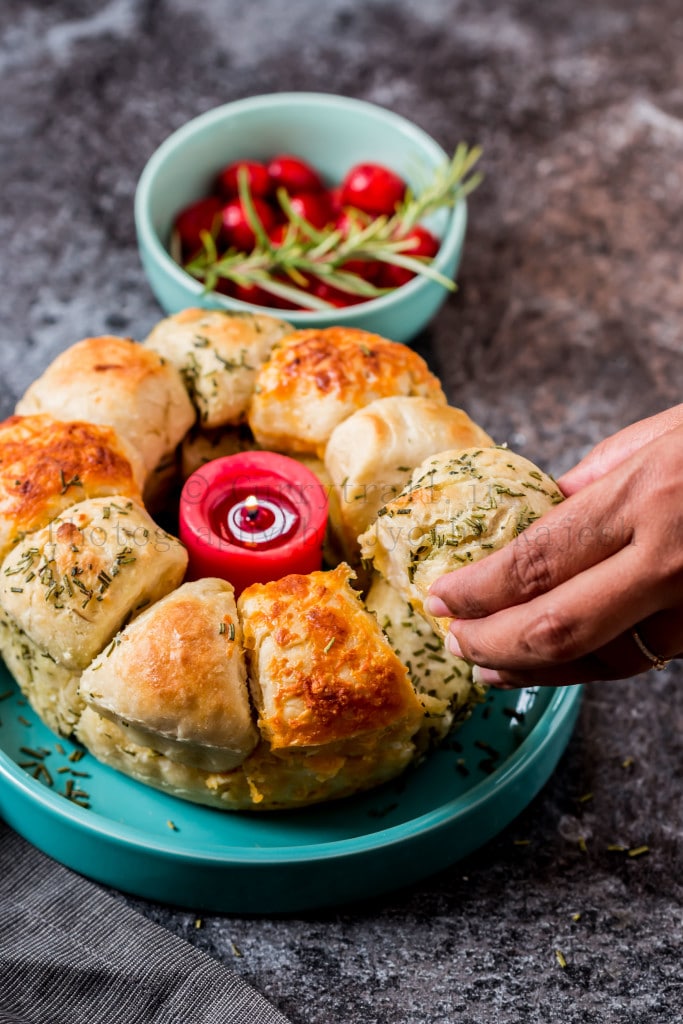 With aromatic herbs like rosemary-thyme and cheddar-Parmesan cheese this bread turns is super soft and gooey cheesy in the center. The cheesy stuffed little bread balls are such a delight, you won't just stop pulling one.
I let the dough proof in the refrigerator overnight, and then next day they were bought to room temperature and let it proof again.
Rolled the small bite sized balls, stuffed cheese in some of the balls, and other dipped in butter and then coated in herbs and grated cheese.
Let the balls rise again for about an hour, and finally baked until nicely browned on top. The result was amazing, super soft, cheesy bread!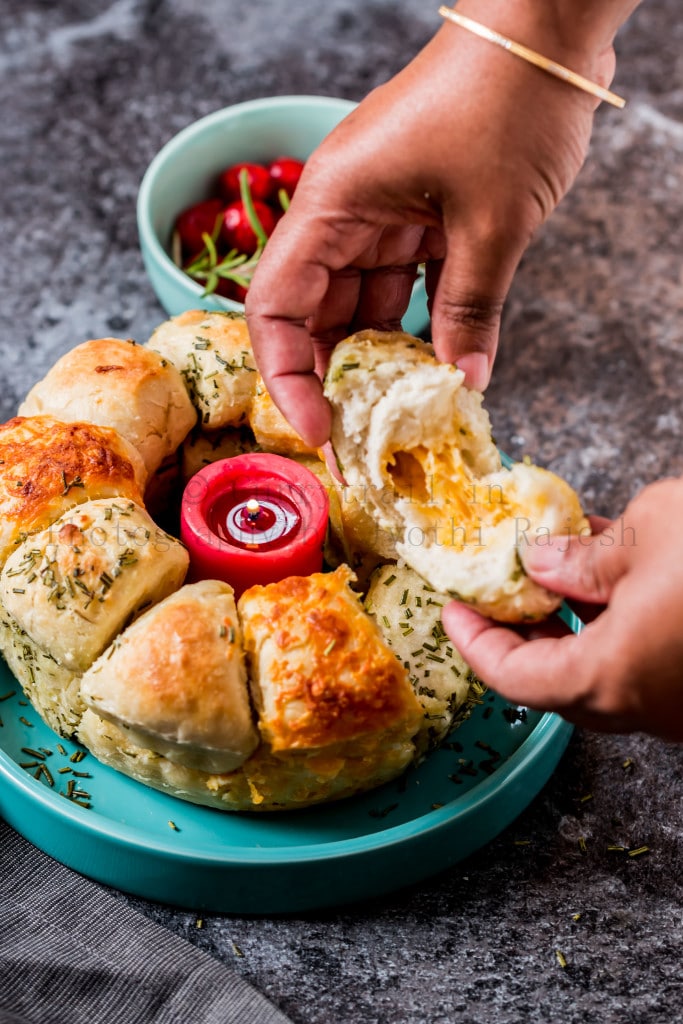 Though a bit time consuming (most of it goes in letting the dough proof) this is a super simple recipe, with amazing results. Bake this bread for your family and friends and enjoy the festive night.
Here's another version of pull apart bread –
If you are looking for Christmas cookies recipe then chick these out-
Don't forget to Subscribe to CurryTrail Recipes below to get our newest recipes delivered straight to your inbox.
LOVE THIS RECIPE? KEEP IN TOUCH AND DON'T MISS OUT ON ANY OF CURRYTRAIL RECIPES! FOLLOW ME ON INSTAGRAM, PINTEREST, FACEBOOK, TWITTER, GOOGLE+.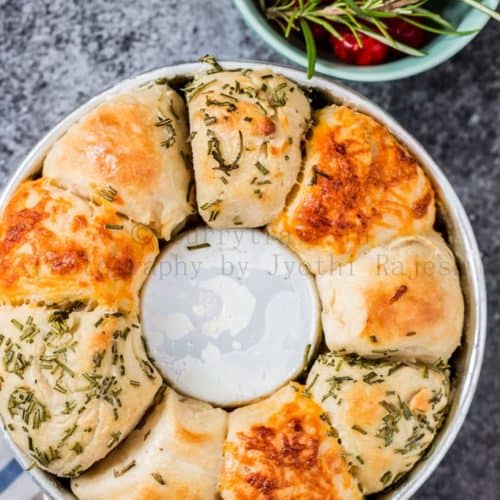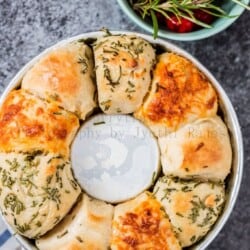 Cheesy Garlic and Herb Pull Apart Bread
Cheese and herbs savory monkey bread is going to steal your heart away! The cheesy stuffed little bread balls are such a delight, you won't just stop pulling one
Ingredients
2 ¼ cups all purpose flour
½ teaspoon salt
1 ¼ teaspoon instant yeast
1 tablespoon sugar
1 tablespoon olive oil
¾ cup luke warm water
For stuffing/Coating-
1 - 2 cups cheddar cheese (you may use any cheese of your choice)
¼ cup fresh herbs like rosemary, sage and thyme
2 tablespoon garlic, minced
⅓ cup melted butter
¾ cup Parmesan
Instructions
In a bowl mix together flour, salt, sugar, oil and yeast.

Add water to make slightly sticky dough.

Transfer to the counter and knead it for 10 minutes until soft and elastic.

Grease a bowl, oil the surface of the dough in oil and place the dough covered in damp cloth in fridge overnight.

Next morning remove the dough from fridge, bring it to room temperature and let the dough proof for an hour or two until it rises double.

Punch down the dough and take it back to the counter and knead for a minute.

Divide dough into small equal sized portions. Roll each portion into small balls.

Grease a oven proof bunt pan with butter, then coat it with flour all over evenly.

Whisk minced garlic in butter. Dip a ball in melted butter, then roll it in finely chopped fresh herbs, place it in the bunt pan.

Next take a half portion of both cheese, mix and stuff it in the center of a ball. Cover and roll it well so cheese is covered inside. Then dip in rolled balls in melted butter-garlic mix and coat the outside with grated cheese (you can mix both cheese together or keep them separate and coat individual balls with each type of cheese). Place this ball next to the herbed bread balls, alternatively.

Roll another set of balls, dip it in butter and leave it plain. Place this next to the cheesy bread ball. Repeat this process for the dough. Stack a few layers depending on the size of the bread balls and the size of your bunt pan.

Take a bowl big enough when inverted won't touch the edges of the bundt pan and covers it completely. Invert that bowl over the bundt pan and let the bread balls proof again.

Meanwhile pre heat the oven at 350 degree F.

Once the dough has risen, bake it in pre heated oven for about 20 – 30 minutes until the outside of the bread start to turn golden brown. Brush with milk the top of the bun to get evenly browned bread.

Remove from oven and let it sit for 5 minutes.

Invert the pan and tap the bottom of the bundt pan to release the bread. Transfer the bread to serving place and serve it immediately while it's still warm.
Notes
The prep time is calculated based on making bread dough from scratch. This time won't apply if you are using ready made crescent rolls or refrigerated biscuit dough.
Use any cheese like of your choice.
You can make multiple layers of the bread by placing the bread rolls on one top of the over. By making smaller balls than what is shown in picture.
If you do not like the strong flavor of any of the herbs, leave that out. But make sure you add at least one of your favorite herb.
Nutrition
Calories: 701kcalCarbohydrates: 80gProtein: 21gFat: 32gSaturated Fat: 17gCholesterol: 71mgSodium: 976mgPotassium: 192mgFiber: 3gSugar: 4gVitamin A: 930IUVitamin C: 2.1mgCalcium: 329mgIron: 4.8mg