No-bake OREO truffles eggs are sinful! Effortless to make and very delicious. With just 4 simple ingredients and 10 minutes of work, you'll have a decadent treat ready! A simple, yet perfect treat for Easter!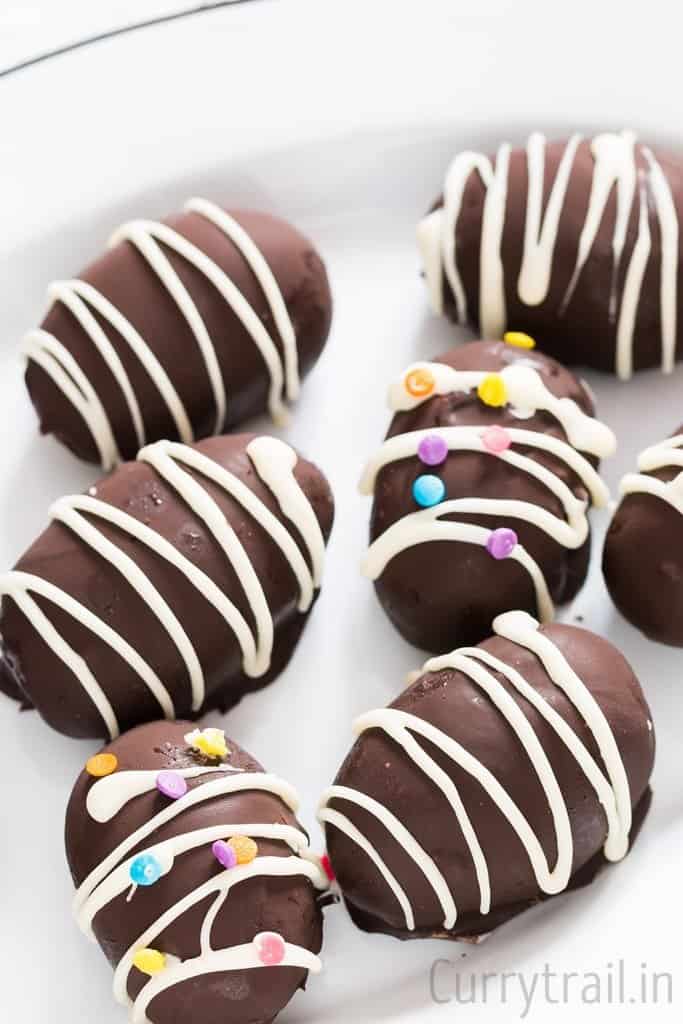 Jump to:
To all the OREO lovers, this is for you. Treats made of OREO such as OREO mug cake or dirt cups are perfect last minute treats.
Decadent. Chocolate. Indulgence. Truffles!
Easter is just around the corner and these OREO truffles are great for last-minute treats. It needs just 3 main ingredients – OREO cookies, cream cheese, white chocolate, and dark chocolate.
If you are going to try to make OREO truffle balls with milk or melted butter, here's a heads-up – truffles won't easily come together. Shaping was hard!
Cream cheese not only helps hold the shape of the oreo truffle eggs but also balances the sweetness of the cookies (the cream center is sweetish).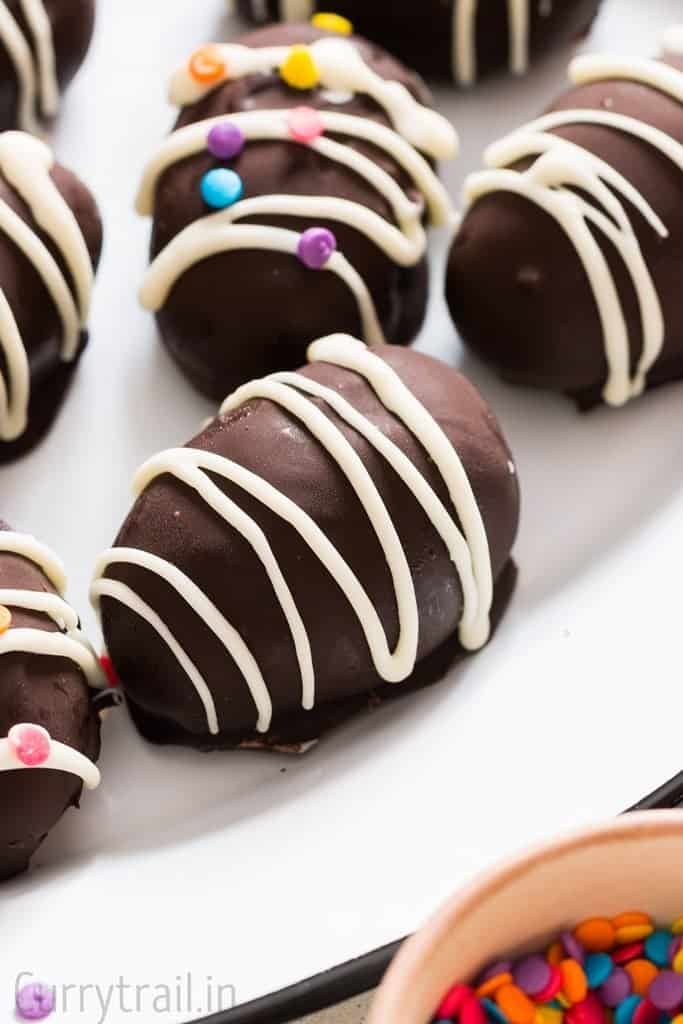 How about using condensed milk, you may ask. I didn't try it because I don't like too sweet desserts much. OREO cookies by itself are sweet enough, condensed milk would just make it too sweeter, which is not my preference. If you like condensed milk and love sweet truffles, then please do use condensed milk.
4 Ingredients OREO Truffles
THE simplest truffle that you can whip up in no time.
Fudgy easy-to-make desserts always score. Oreo truffle eggs are fudgy inside, decadent, and irresistible. You won't be able to stop at one! It's a crowd-pleaser!
OREO truffles recipe is really easy to customize for special occasions and parties. If you are planning to make some OREO truffles for Easter, shape them into eggs. For Christmas celebration shape truffles into a ball. You can coat the truffles in white chocolate mixed with green food color and sprinkle with some crushed peppermints or red-green sprinkles on the top, like these Rum truffle balls.
Don't wait for special occasions or holidays to make these truffles. When you have cravings for desserts, treat yourself to dessert therapy with these guilty pleasure dessert truffles! It's a perfect last-minute treat!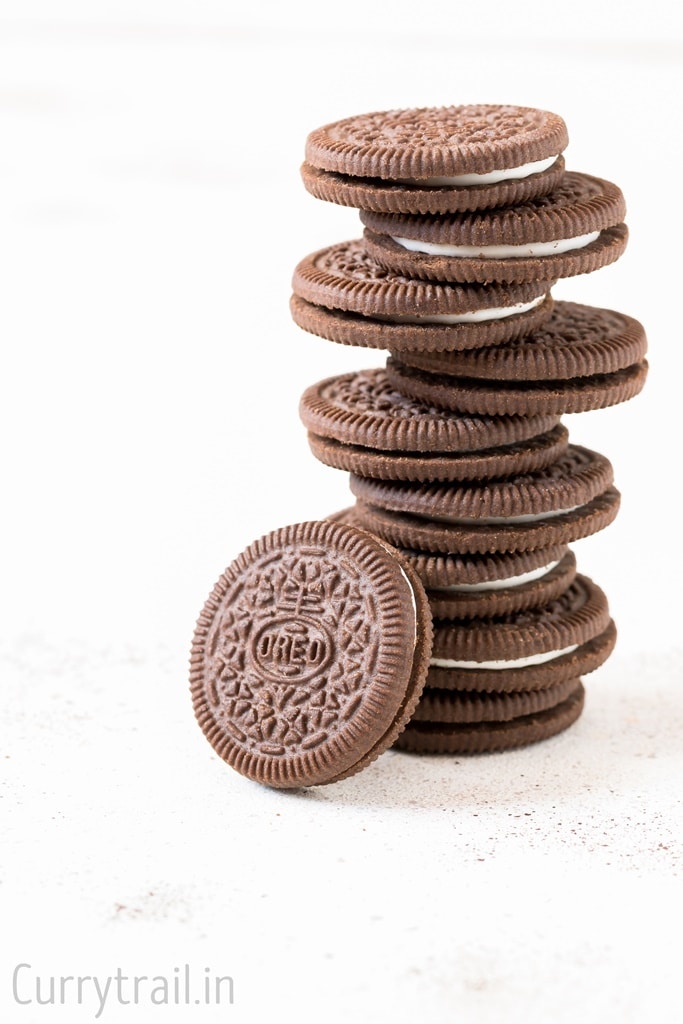 How to make OREO truffles
Pulse OREO cookies in a food processor. If you don't want to use food processor put OREO cookies inside zip lock bag, release all air and then seal it. Crush OREO using rolling pin into crumbs.
Add cream cheese, pulse again. If you use less cream cheese, the mix will be too crumbly and it won't shape into balls or eggs. If you use too much cream cheese then the mix is going to be too wet and again you are going to have a hard time trying to shape the truffles. So be sure to use the correct ratio of OREOs cookies and cream cheese. For 40 OREOs I used 200 grams(8 oz) of cream cheese.
Shape truffles as you want. I shaped into eggs.
Freeze.
Cover in melted chocolate. Decorate truffles as you like. No bake OREO truffles are ready!
Best way to dip oreo truffles in chocolate
The first time I tested this recipe I had issues with getting the truffles coated with chocolate evenly. The coating cracked soon the chocolate was set. I had placed the shaped truffles in freezer for long. So it's important to freeze these OREO cookie truffles just enough (not long) . 15 minutes is what worked perfectly for me. The truffles were chilled and firm enough to be dipped in chocolate.
Line up a tray with parchment paper or you could even use small waxed cupcake liners.
Use good quality chocolate. Choco chip melts works too. But I used a good quality dark chocolate (yes I used dark chocolate because I was aiming for less sweeter truffles. I hate those sweet overdose desserts. I know! I know! I'm repeating this many time). Melt it as per instructions on the chocolate cover or go ahead and microwave it for a minute or minutes and half removing the bowl every 30 seconds, giving it a good whisk. Little chunks of chocolate in the bowl will melt off with the heat on the bowl . So melt the chocolate till you start to see shiny, glossy chocolate melt.
Remove one or two truffles from the freeze. Dip truffles in chocolate melt and using a fork take truffle out and shake off excess chocolate. You must do this really fast, cause chocolate tends to set pretty quickly, which is good and bad. Bad because if you held truffles on fork for longer, it will stick to fork and ultimately break when you try to get truffles off the fork. So the key tips here is dip, shake, and slide the truffles on to the tray as quick as you can.
You can coat with white chocolate too. Add food colors of your choice to melted white chocolate to make interesting colorful truffles.
Once coated in chocolate just set it in fridge for 10 minutes or even less. Drizzle melted white chocolate over these eggs. Any leftover OREO cookie crumb can be used to decorate the truffles too. After coating truffles in chocolate, before chocolate sets, sprinkle the cookie crumb of top and let it set.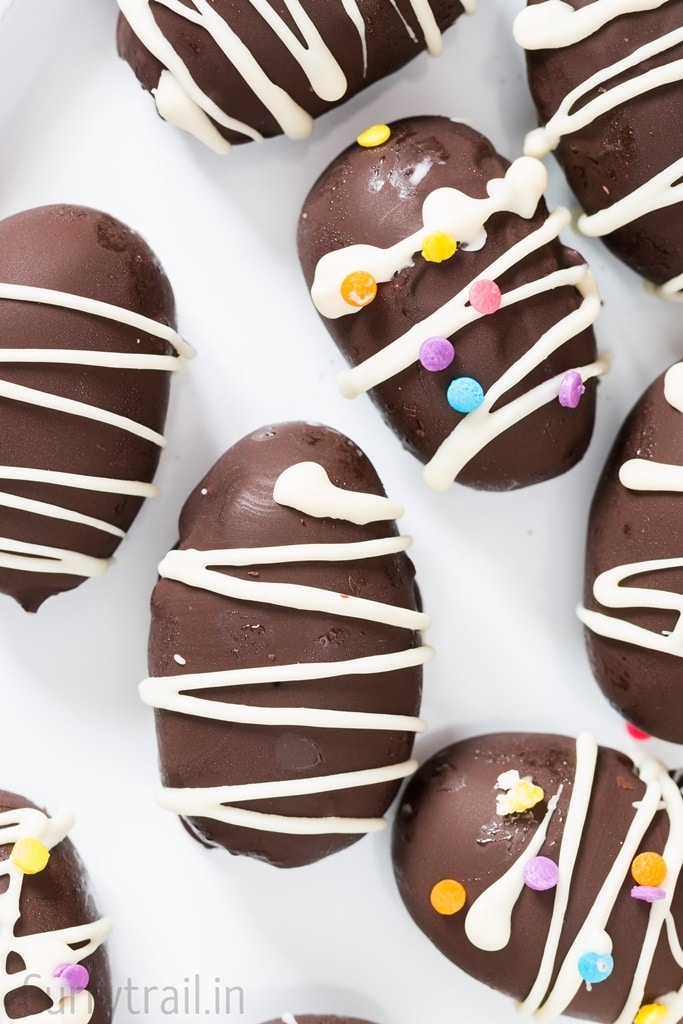 How to store OREO truffles
So how long can you store these no bake OREO truffle eggs? The perishable nature of cream cheese is in question here.
I say for weeks if you put them in freeze and just about a week if you want to store them in fridge.
I froze the truffles. I left them at room temperature for few minutes before serving. I even ate a few frozen one and it tasted good 😉
Tips for flavoring OREO truffles
I used vanilla cream OREO cookies for this recipe. If you want that vanilla flavor to stand out, add 1 teaspoon of vanilla extract for that flavor boost.
Other ways to add flavor to truffles is by using other OREO cookie varieties. We don't get mint OREOs here in India, but I'm so looking forward to trying mint OREOs. Hope we get it soon in Indian market. The minty OREO will give a nice fresh mint flavor to the truffles.
Golden OREO's might be another option too.
OTHER NO BAKE DESSERTS –
Don't forget to Subscribe to CurryTrail Recipes below to get our newest recipes delivered straight to your inbox.
LOVE THIS RECIPE? KEEP IN TOUCH AND DON'T MISS OUT ON ANY OF CURRYTRAIL RECIPES! FOLLOW ME ON INSTAGRAM, PINTEREST, FACEBOOK.
HAVE YOU TRIED ONE OF MY RECIPES? I'D LOVE TO SEE WHAT YOU'VE MADE! TAKE A PICTURE AND USE THE HASHTAG #CURRYTRAIL ON INSTAGRAM SO I CAN SEE! I'LL DO A HAPPY DANCE IF YOU TRY MY RECIPE AND SHARE IT WITH US!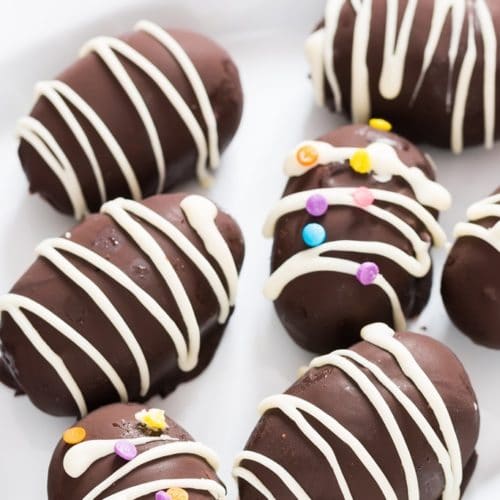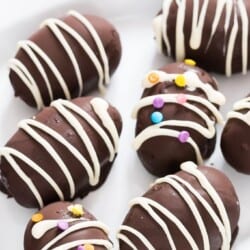 📋No Bake Oreo Truffles Eggs
No-bake OREO truffles eggs are sinful! Effortless to make and very delicious. With just 4 simple ingredients and 10 minutes of work, you'll have a decadent treat ready! A simple, yet perfect treat for Easter!
Ingredients
3 packets (200 grams) OREO (Vanilla cream)
200 grams (8 oz) cream cheese
200 grams dark chocolate bark
50 grams white chocolate
Instructions
1. If you have a food processor, put all OREO cookies into it and pulse until you the cookies are broken into crumbs. You can break OREO cookies into pieces and then put them in food processor too. I didn't bother to break it down. MY food processor did it's job. Reserve some cookie crumb if you plan to use it as topping.


2. Add softened cream cheese into the processor and pulse. You should get well combined cookie dough texture.


3. Scoop about 1 tablespoon mix, shape it into eggs. Place the truffles on tray lined with parchment paper. Repeat this for all the cookie dough.


4. Place the tray in freezer for about 10 to 15 minutes so it gets chilled and becomes firm.


5. Meanwhile melt grated chocolate in microwave safe bowl for about a minute, removing it out every 30 seconds and whisk it well. Once you see nice shinny chocolate melt, it's ready. Do not microwave more. Else the chocolate melt will lose it's texture and turn hard.


6. Remove 2 OREO truffle eggs at a time from the freezer. Dip truffles in chocolate melt and using a fork take truffle out and shake of excess chocolate and slide it carefully onto another tray lined with parchment paper. Sprinkle some cookie crumb over the truffles if you plan to do that. You must do this really fast, cause chocolate tends to set pretty quickly. Coat all OREO truffles eggs in chocolate.

7. Place the tray in fridge for about 5 minutes. By them the chocolate will set.


8. While the truffles are resting in fridge, melt white chocolate. Pour melted white chocolate into a piping bag. Make a tiny cut at the end to make thin and even drizzle over the truffles.


9. Remove OREO truffles from fridge. Quickly drizzle the white chocolate over it. Again this will set pretty fast at room temperature too. But you can pop in fridge for 5 minutes, before serving. Scroll above to read on how to store these truffles.
Notes
Nutritional Info – Please keep in mind that nutritional information provided is only a rough estimate and can vary greatly based on the products used.
Nutrition
Calories: 270kcalCarbohydrates: 16gProtein: 3gFat: 21gSaturated Fat: 12gCholesterol: 29mgSodium: 92mgPotassium: 231mgFiber: 2gSugar: 10gVitamin A: 345IUCalcium: 55mgIron: 3.1mg