Fire up your grill you guys! Shish kebab is here. It's loaded with flavors with wonderful chicken marinade that will blow your taste buds. And it's perfect for summer grilling!
This Lebanon kebab dish is popular in every Middle Eastern country and it's called by the name SHISH TAOUK or Shish Tawook. In the western world, people call it kebab as chicken cubes are marinated in aromatic spice mix and skewered in iron rods (or bamboo sticks) along with vegetables like onions, peppers and grilled.
There is something very comforting about Middle Eastern dishes. From the subtle flavorful pilaf, to the spice fragrant Kebabs to lip smacking baklava. Not to forget the diverse variations of dips, spreads, sauces from different regions of the Middle East.
Mostly in the Lebanon cuisine, shish normally uses lamb. But a lot of people are switching to white meat in place of red meat due to health aspects. The popularity of chicken around the world made people to adapt and use boneless chicken for shish tawook. This Lebanon grilled chicken skewers is very simple to make with a lot of flavors in it. The marination of the meat overnight yields the most tender and juicy chicken.
This Turkish kebabs are perfect summertime grilling dish that you would love it for your BBQ party. Serves great with saffron rice or other flavored rice or tuck it in pita pockets, serve it as roll with pita bread or naan.
Popularly called as shish kebab in the west, the recipe is pretty simple. It's marinated cubes of meat grilled to perfection. Turkish sword or skewers is used to roast or grill meat. The sight of meat skewered over those long sword and grilled over fire is nothing but makes you wonder how every country develops it's own way of cooking meat on so many different methods.
Traditionally lamb meat is used all over Middle East, but chicken and beef along with vegetables are popular choice preparation in west for shish kebab recipe.
Today we are talking chicken shish kebab. Feel free to use the same marinade and recipe instructions to make beef shish kebab. Only difference there will be is cooking time for beef shish kebabs compared to the cooking time of chicken shish kebab recipe.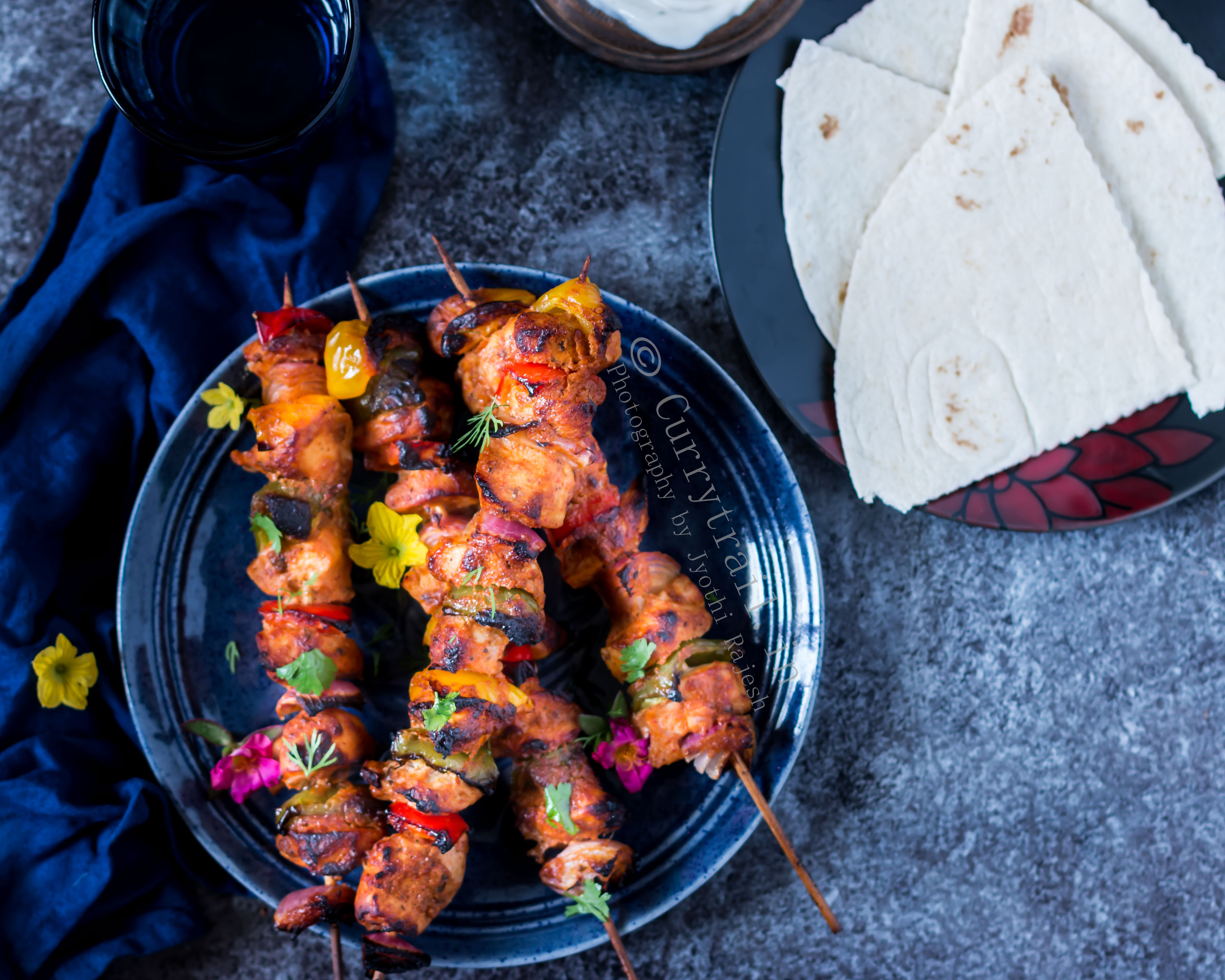 Red onions and bell peppers are my go-to choice of vegetables along with cubes of meat. But you can definitely use other vegetables as well.
I'm thinking button mushrooms along with bell peppers.
Shish Kebab Marinade
The marinade is the star of the dish. The aromatic spice blend makes the chicken kebab the best summertime meal. The rainbow colored vegetable skewers along with meat will truly become your most favorite picnic meal. Plus it's so easy and fast to make.
The marinade is a mix of 1½ tablespoons paprika, 1 cup plain Greek yogurt, 3 tablespoons olive oil, 2 tablespoons red wine vinegar, 2 tablespoons tomato paste, 2 teaspoons kosher salt, 1 teaspoon freshly ground black pepper, 6 cloves of garlic (grated), 1 tablespoon ginger (grated) and the juice from one lemon. Mix until seasonings are evenly distributed and there you go, you kebab marinade is ready.
Kebab Threading
Assembling your skewers can be done so many ways and there is really no such thing as 'right' way to kebab threading. Some like to assemble their skewers by separating out meat and vegetables and skewering them separately.
The advantage of this method will ensure you have perfectly cooked meat and perfectly cooked vegetables. Because vegetables and meat have different cooking times, this method will ensure you have perfectly cooked 'both'! Meat and vegetables!
The other group of people like me prefer to have meat and vegetables both skewered to the same skewer. By combining both vegetables and meat together, you have vegetables that has enhanced it's flavors from the meat.
But you may end up with some of the vegetables either burnt out because meat took longer time to cook or you have vegetables that are under-cooked.
If combining meat and vegetables together to thread into skewers, make sure to choose vegetables that has the same (almost) cooking time as the meat. That will ensure you have both meat and vegetables cooked well and perfect.
It's really a matter of preference. You can thread in meat and vegetables separately or together in the same skewer. Whichever method of kebab threading you follow, keep in mind the following things-
Thread everything loosely. You want the heat to get in between and cook the vegetables and meat perfectly. If you smush everything together, you'll end up with charred meat or vegetables on the edges, and under-cooked meat(or vegetables) in the middle.
Ensure to have your veggies and chicken cut to the same size. I recommend to use 1 to 1 ½ inch cubes of chicken pieces. Onions and bell peppers cut to the same size.
Alternate between veggies and meat while threading. You can choose to insert 2 pieces of meat, 2 pieces of same or different veggie (based on what you're using). Or a simple threading like I made, one piece of chicken cube, 1 piece of onion, 1 piece of bell peppers, followed by pieces of chicken and repeat.
The best method to cook skewered meat is of course BBQ. The smoky charred flavors on the meat from BBQ is super tasty. But you can definitely grill it in the oven.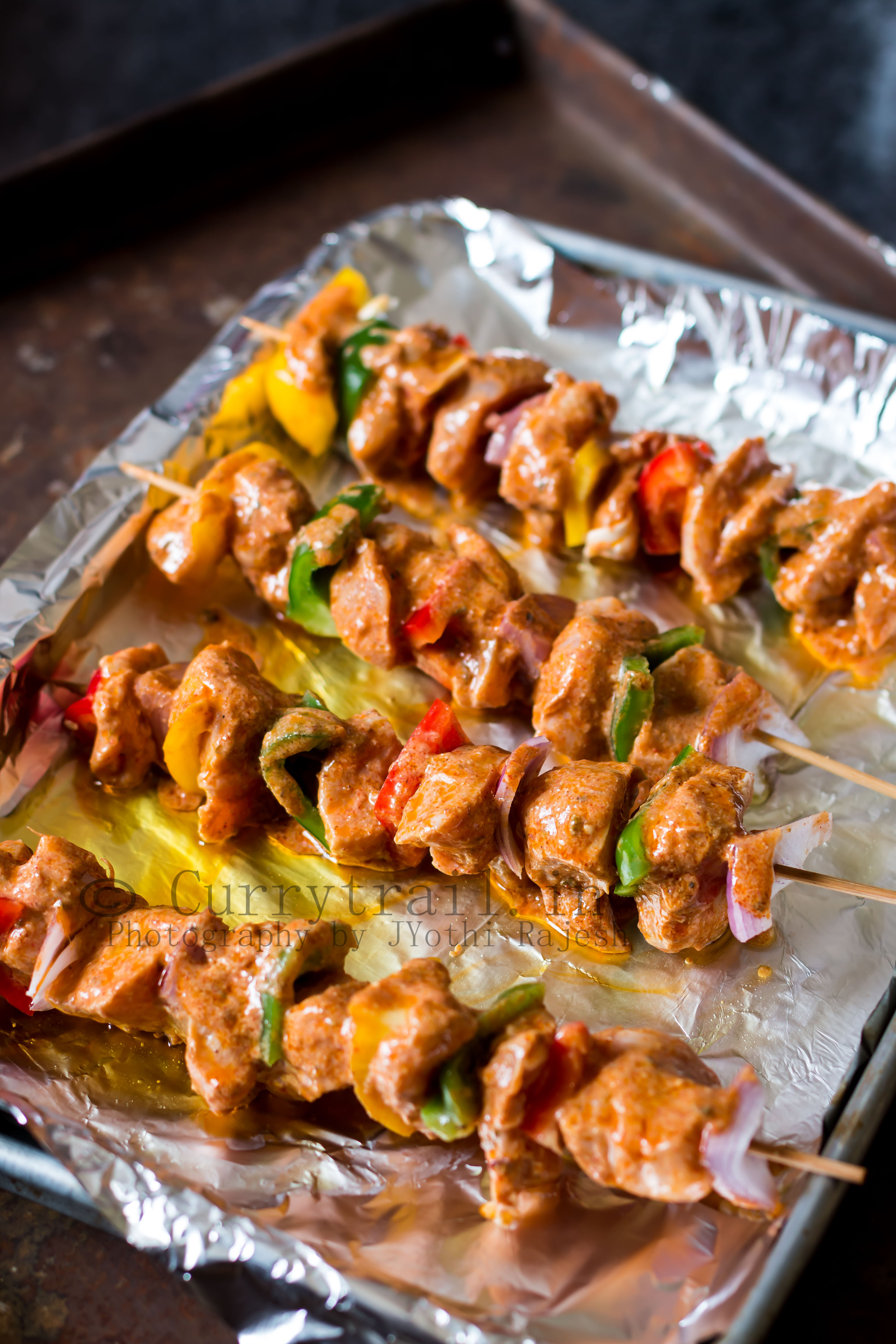 The Secret To Grilling Perfect Shish Kebab
The key to making the best shish kebabs is marinating the meat in yogurt and aromatic spice blend overnight, so you get succulent grilled meat.
Another tip you want to remember to make the best kebab is grilling it on hot grill and grill it fast. Grilling for longer time will make kebabs dry and rubbery.
Choose the cut of meat which has enough fat to keep it moist and tender even when you grill on high heat. Chicken thighs are great choice to make chicken kebabs.
Make sure meat is cut into 1-1 ½ inch cubes so they roast uniform.
If using metal skewers, use stainless steel ones. If opting for bamboo skewers, ensure the bamboo sticks are soaked in water fit 30 minutes and then lightly spray in with oil before skewering the meat.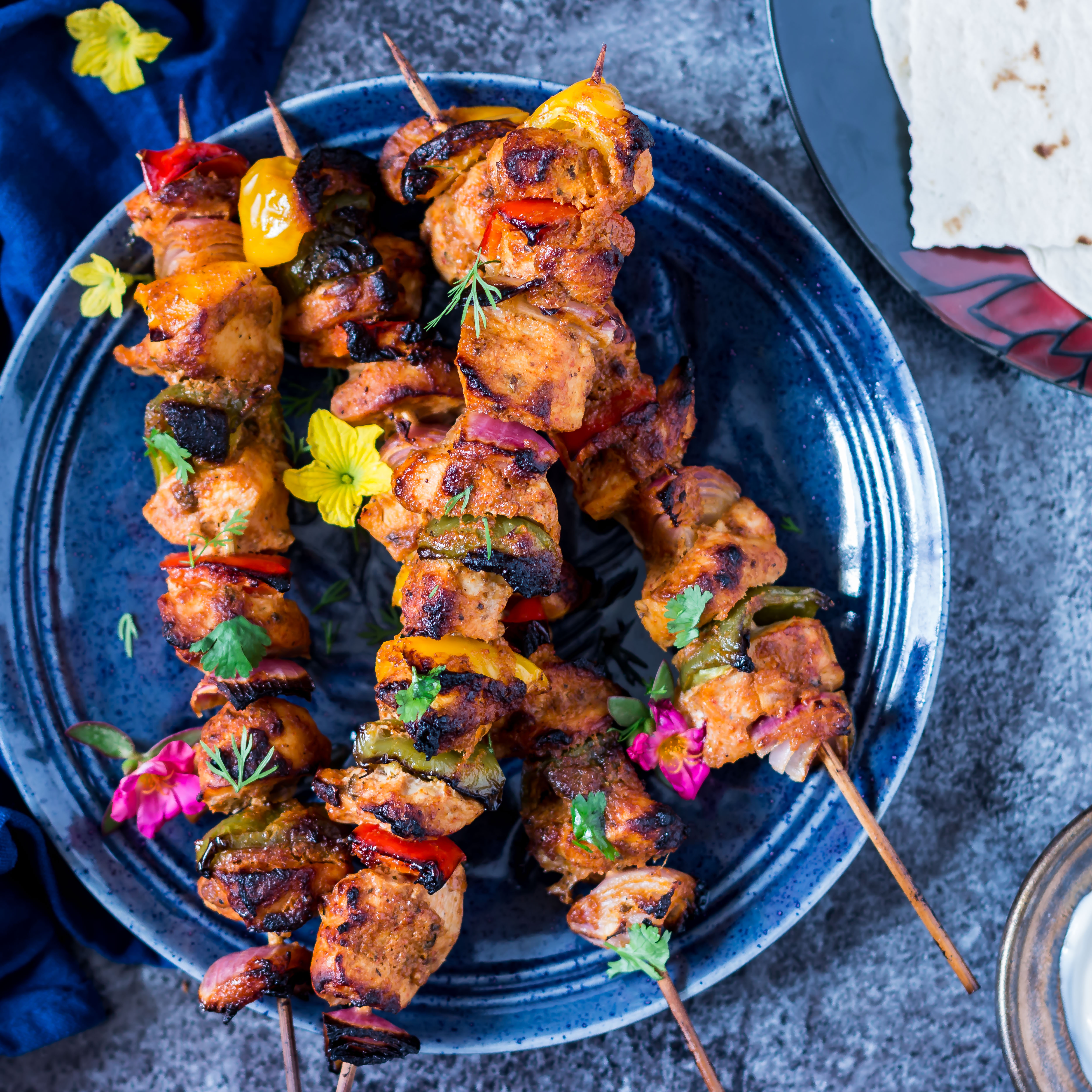 TRY THESE FOR SUMMER GRILL OUT-
Grilled Potatoes In Foil Packs
Don't forget to Subscribe to CurryTrail Recipes below to get our newest recipes delivered straight to your inbox.
LOVE THIS RECIPE? KEEP IN TOUCH AND DON'T MISS OUT ON ANY OF CURRYTRAIL RECIPES! FOLLOW ME ON INSTAGRAM, PINTEREST, FACEBOOK, TWITTER.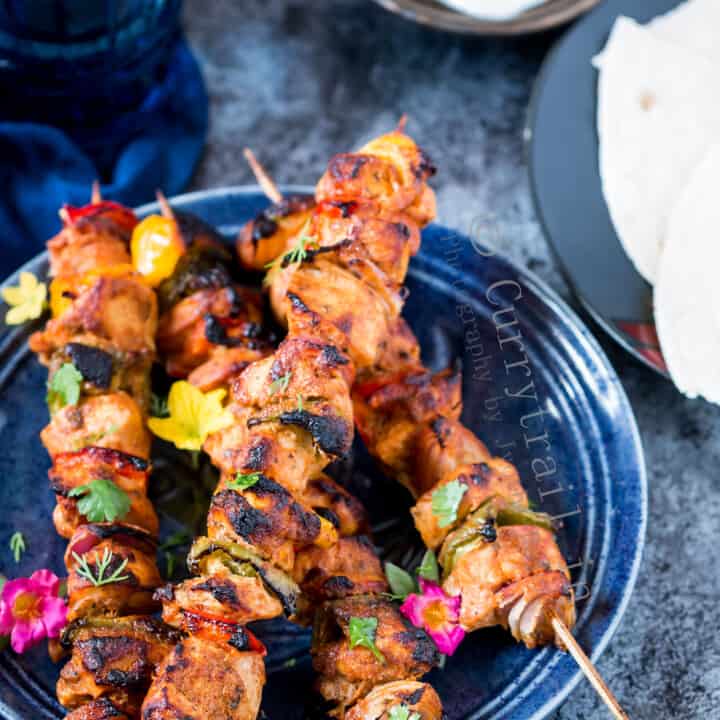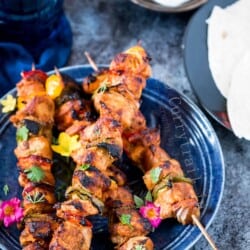 Shish Kebab
Fire up your grill you guys! Shish kebab is here. It's loaded with flavors with wonderful chicken marinade that will blow your taste buds. And perfect for summer grilling!
Ingredients
1 lb boneless chicken thighs cut into 1 to 1 ½ inch cubes
¼ cup Greek yogurt
1 ½ tablespoon paprika
6-8 cloves minced
1 teaspoon ginger grated
2 tablespoon olive oil
Juice of 1 lime
1 teaspoon tomato paste
1 teaspoon ground pepper
Salt to taste
Bell Peppers cut into 1 to 1 ½ inch cubes I used all 3 colors of bell peppers for color
Red Onion cut into 1 to 1 ½ inch cubes
Instructions
Mix all spice ingredients together. Add it to Greek yogurt along with lime juice. Whisk well.

Add chicken cubes to the chicken marinade and mix well to coat every piece evenly.

Cover and marinate over night in the fridge. Try to marinate chicken for atleast 4 hours.

Next day, fire up your outdoor grill.

Immerse skewer sticks in water for about 30 minutes. Remove from water and lightly spray in with oil before skewering the meat. If you are using metal skewers rod, you can just go ahead with the next step.

Skewer the chicken cubes along with cubed capsicum and cubed onions. Pour the remaining marinate over the skewed chicken.

Place on hot grill and grill until meat begins to brown. Turnover and grill the other side too. Once meat is grilled on both sides, remove from grill.

Serve it hot with pita bread and hummus or aioli.
Nutrition
Calories: 438kcalCarbohydrates: 4gProtein: 26gFat: 35gSaturated Fat: 8gCholesterol: 149mgSodium: 142mgPotassium: 433mgFiber: 1gSugar: 1gVitamin A: 1870IUVitamin C: 0.4mgCalcium: 38mgIron: 1.8mg
"PIN IT" TO YOUR GRILLING BOARD