This Lebanese style baked chicken and potatoes is simple but amazing flavored chicken dish that you want to put on your dinner plate every-single-day. This baked chicken and potatoes are meal in itself or can be served with pilaf, tabbouleh, couscous.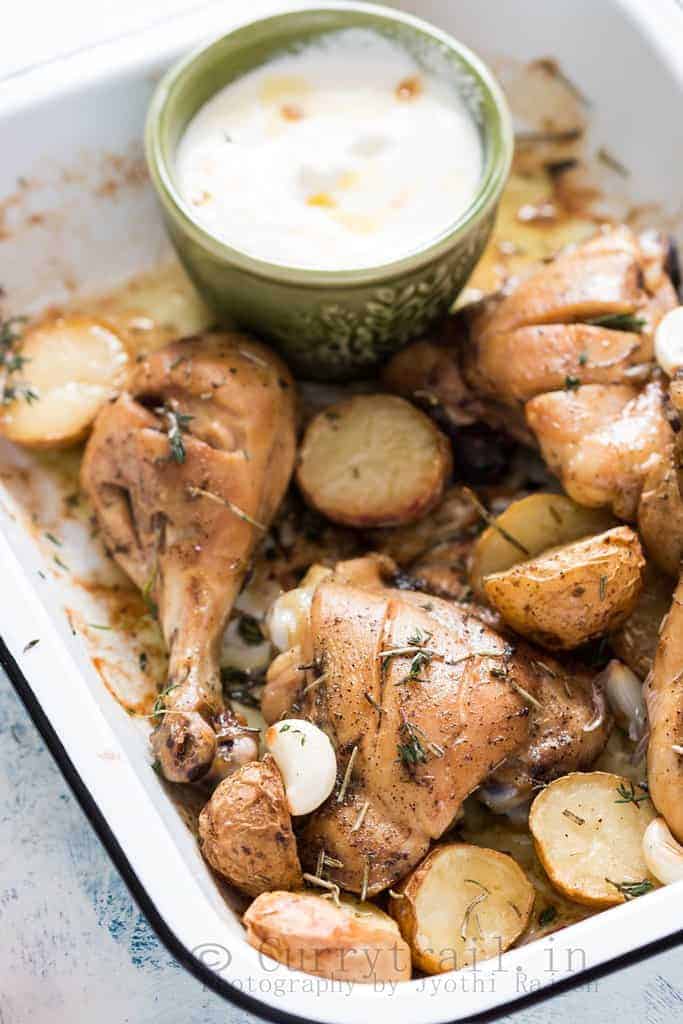 Chicken…you can't go wrong with that. Saute it, curry it, fry it, bake it all tastes amazing and makes you want to reach out for more. The thing about chicken is you always have to remember to keep it moist and succulent. The trick to that is do not overcook the chicken. Just keep that in mind.
My husband loooves fried chicken and I'm sure there tons who love fried chicken. He went crazy over the Southern Fried Chicken that I made few weeks back. Boy it was delicious and this I say and I'm not even a fan of fried stuffs in true sense! I don't mind a very small portion of fried chicken on my cheat days, but I love chicken in my curries, chicken in soups and this baked chicken and potatoes. This is truly the best combination ever!
Baked chicken and potatoes, two of my favorite things in the world. Did you know i'm a potato addict. So anything with potatoes is heavenly. And when indulgence comes with health, why not indulge! This is exactly what baked chicken and potatoes is- you can indulge yourself in eating a piece or two more. Happy tummy, happy me!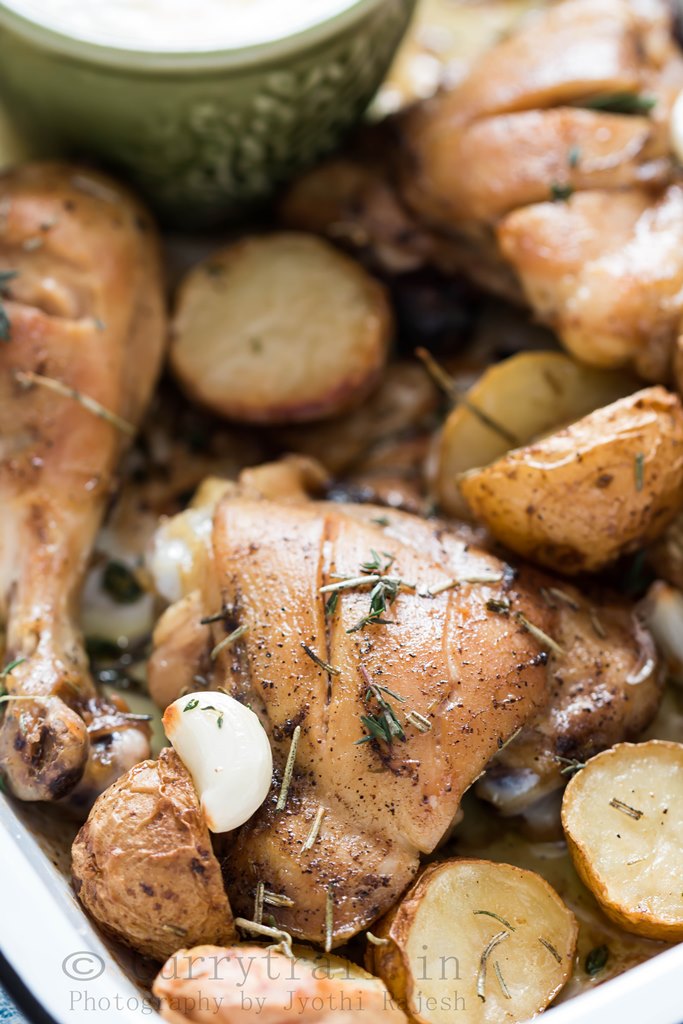 BAKED CHICKEN AND POTATOES – LEBANESE STYLE
Baked chicken is one of the simplest ways to cook chicken without adding too much oil/fat. The flavors and spices in this baked chicken and potatoes is very simple. The star though is Lemon and garlic here. No Lebanese dishes is complete without lemons. Use fresh ones or preserved lemons, which ever is best for your palate.
This tangy- garlicky flavored Lebanese Style Baked Chicken is a twist to the traditional Lebanese dish that includes potatoes in it. It's a meal in itself. But works great as a side dish along side flavored rice like saffron pilaf, couscous or over tabbouleh.
Don't skip lemons in this recipe. Lemons not just add tangy flavor to the baked chicken and potatoes, but it also helps tenderizing the meat, keeping it moist and juicy. We are using every cut of meat with bones here. I prefer boneless chicken days when I want to bake my dinner quick and easy. Let's face it, chicken with bones are definitely without a doubt more tastier and tends to keep moist after baking. It does take a bit of time, but that's not too long.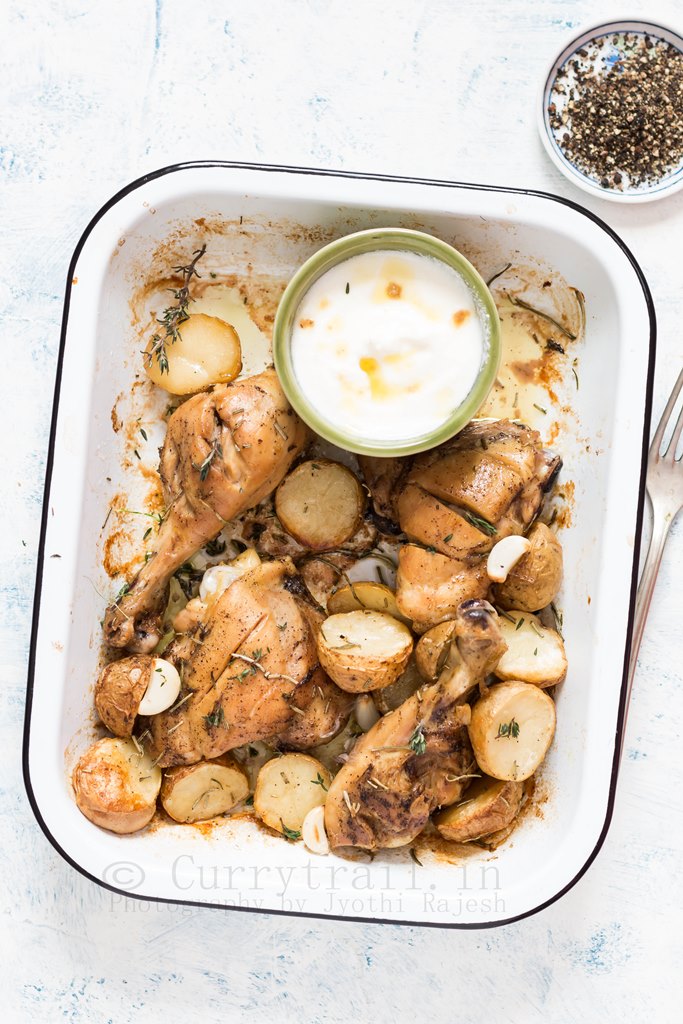 LOOKING FOR MORE CHICKEN DINNER RECIPES? DO CHECK OUT THESE –
Chicken Meatballs In Creamy Sauce
Instant Pot Chicken Noodles Soup
Pressure Cooker Whole Chicken Rotisserie Style
Instant Pot General Tso's Chicken
Don't forget to Subscribe to CurryTrail Recipes below to get our newest recipes delivered straight to your inbox.
LOVE THIS RECIPE? KEEP IN TOUCH AND DON'T MISS OUT ON ANY OF CURRYTRAIL RECIPES! FOLLOW ME ON INSTAGRAM, PINTEREST, FACEBOOK, TWITTER, GOOGLE+.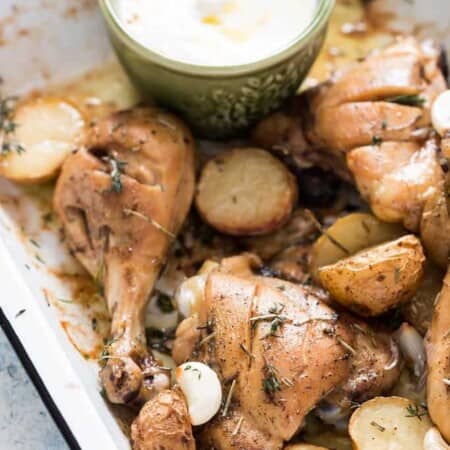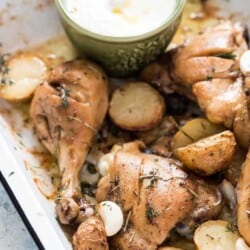 Lebanese-Style Baked Chicken And Potatoes
This Lebanese style baked chicken and potatoes is simple but amazing flavored chicken dish that you want to put on your dinner plate every-single-day. Served with smooth, creamy garlic sauce on the side
Ingredients
2 chicken thighs
2 chicken drumsticks
4 medium potatoes cut into quarters
15 cloves garlic lightly crushed
4 tablespoon lemon juice
1 Lemon sliced
4 tablespoon olive oil
Salt to taste
1 tablespoon pepper powder
1 tablespoon cumin powder
1 teaspoon coriander powder
1 teaspoon dried mint powder
Pinch of nutmeg powder
Instructions
Rinse chicken things and drumsticks well. Pat dry with kitchen towel.

Cut the chicken thighs into two. Keep the leg piece whole. Make slits on both sides.

Blend together garlic cloves, olive oil, pepper powder, salt, lime juice.

Rub the blend juices over the chicken pieces.

Rub all the spice powders as well all over the chicken pieces.

Place the chicken on the baking sheet.

Pre heat oven to 200 degree centigrade. Bake chicken pieces in oven for about 10-12 minutes. Baste the chicken at regular intervals with its own juices in between to keep it moist.

Arrange potato quarters in between the chicken pieces.

Pour all the oil-lemon juice mix. Throw in a few extra whole garlic into the baking sheet.

Broil for 10 – 15 minutes until potatoes lightly browned and chicken is baked completely.

Serve immediately.
Nutrition
Calories: 941kcalCarbohydrates: 71gProtein: 45gFat: 55gSaturated Fat: 11gCholesterol: 180mgSodium: 221mgPotassium: 2459mgFiber: 14gSugar: 2gVitamin A: 1230IUVitamin C: 97.8mgCalcium: 234mgIron: 18.5mg