Try this soothing lemon ginger tea as a relief to all your winter woes – cold, cough and flu. Learn how to make simple detoxifying drink with step-by-step photos tutorial and quick video recipe along with all the health benefits of the drink.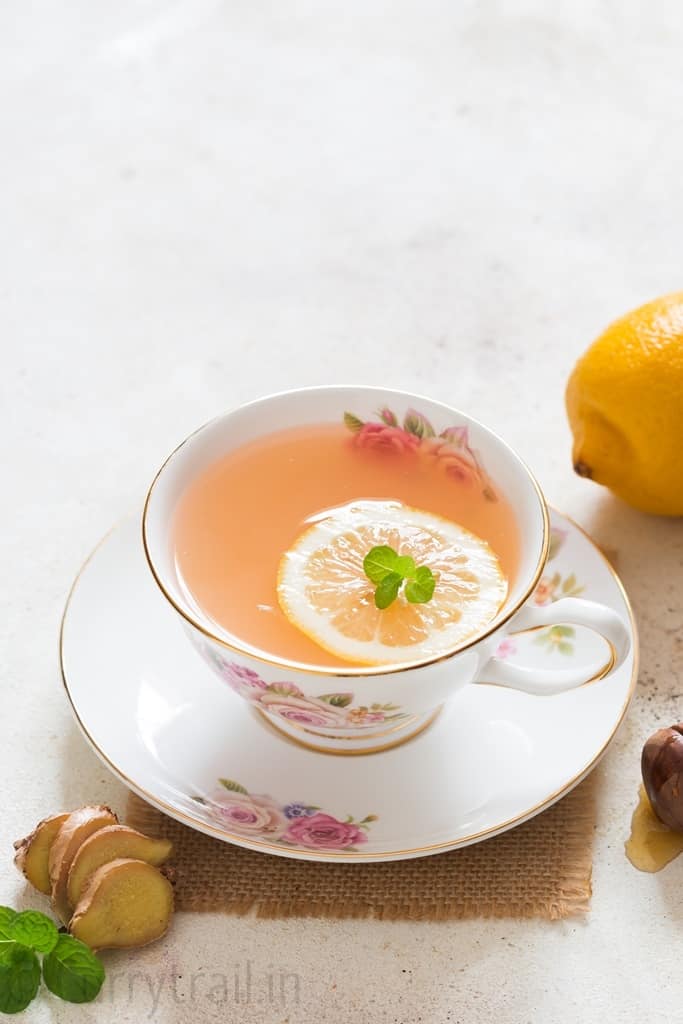 Homemade honey-lemon ginger tea is millions times better than any store bought syrups. Agree on that? It takes minutes to make, and is something quick, easy and delicious!
A detoxifying drink that is both delicious and good for you. Drinking tea first thing in the morning not just refreshes you but does more than that. Read on the post to know more.
Popularly known as cold and flu tea by my mom, she would readily make it soon as we had start of itchy throat or stuffy nose. It's without doubt a simple homemade remedy to fight nasty cold, coughs and sniffles.
My mom always added fresh turmeric along with ginger and lemon, honey helped us down the drink without complaints ( i need a little bit of sweetener in the drink).
This simple homemade remedy has always been my secret weapon to help relieve the symptoms of cold and flu as soon as it strikes. It sure helps you get back to feeling your best when you are down under the weather.
Flu season is upon us and you should be drinking this lemon ginger tea every day to keep your body warm inside out. Healing ginger tea is also a great stress buster. 3 main ingredients of this drink is ginger, lemon and honey. You can add in some of the other natural healing ingredients like turmeric, cayenne, crushed pepper and many more.
Immunity boosting ginger lemon honey tea is great to be sipped in the morning and I make it a point to follow it as my morning ritual. Soon as my kids are out to school, I curl up with a cup of lemon ginger honey tea to comfort myself and all the stress is gone.
There are days when I prefer a cup of freshly brewed Indian filter coffee in the morning! I'm really a coffee person, but when it comes to tea I only drink cleansing tea like this lemon and ginger tea.
I'm not really a chai(tea) person, you know those tea leaves with milk and sugar – NO! But soothing teas like this are definitely worth drinking.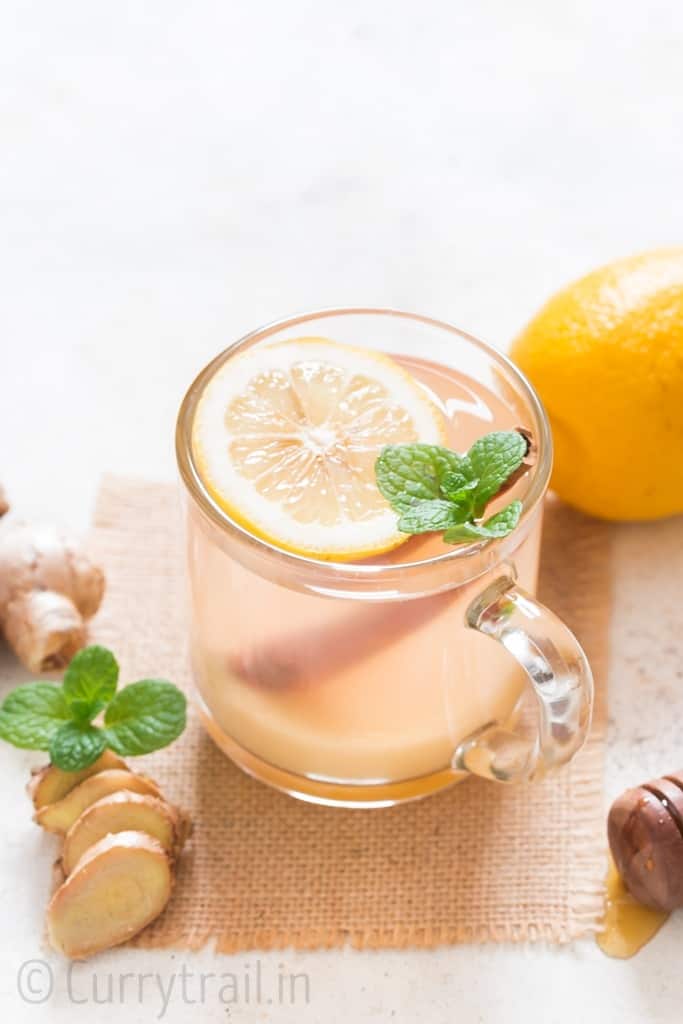 I drink lemon and ginger tea warm during winters and drink it cold on hot summer days. Yes, you can drink this tea ALL YEAR LONG. However you drink it, it's super refreshing and helps you stay bright and chipper all year long.
Lemon ginger honey tea can be enjoyed during summer as iced tea. You can freeze the concentrate in ice cubes and serve it with chilled water or simple make it fresh and add ice cubes to serve.
It really doesn't take long to make, you see. This tea definitely keeps you hydrated. So include a few cups of this tea if you struggle to enough enough water for the day.
The base of this healing tea is just plain warm water in which I steep ginger and lemon. This gets poured over fresh squeezed lemon juice and raw honey. I stirred hot tea with cinnamon stick.
The heat of the liquid extracts some of the cinnamon flavor giving the warm, cozy flavor to it. If you do not like cinnamon flavor over powering in your tea, then this way would help you intake cinnamon without having an overpowering taste. Stir and sip!
Lemon ginger tea recipe can be made with so many variations. You can add to steeping ginger and lemon water, green tea bags for added wonderfulness. Grate in fresh turmeric into hot water along with rest of the ingredients. Like we said, lemon ginger tea recipe is completely customizable.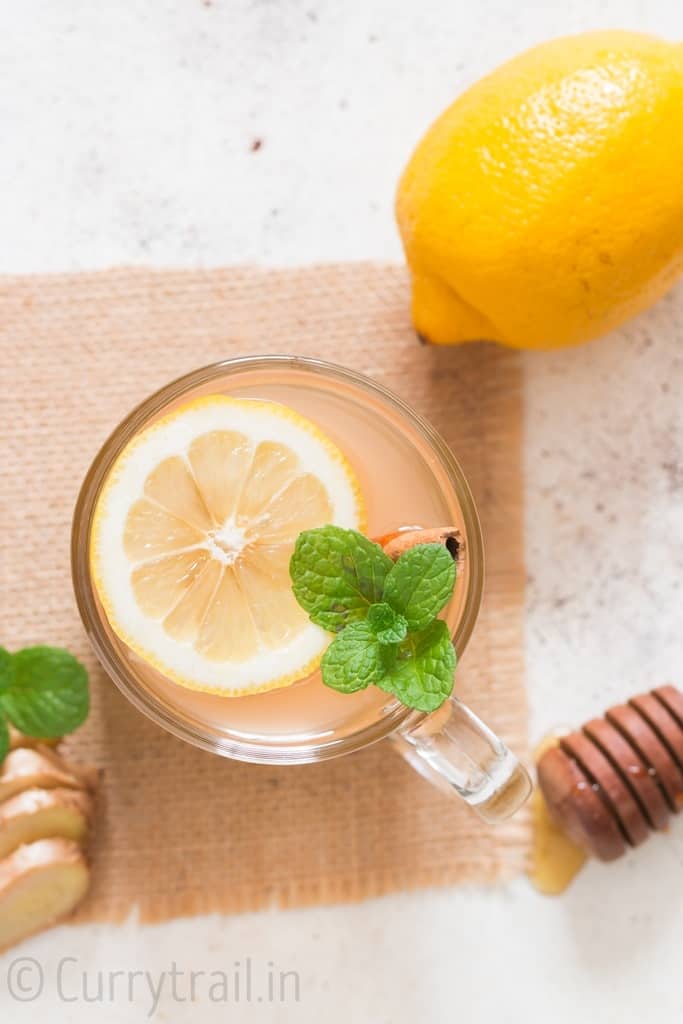 Lemon Ginger Tea Benefits
While we all know lemon ginger tea is soothing magical elixir, there are so many natural health benefits that you can get from the drink. Health promoting properties of each of the natural ingredients that goes in making one delicious drink is vast. Let's look at a few of the health benefits of lemon ginger tea drink.
Ginger – works as an detoxifier helping remove all the unwanted chemicals from our body. It's also considered to help reduce inflammation. It's acts to aid in nutrient absorption, clear sinus, helps with menstrual pain and cramps. Ginger root works as immunity booster, suppress your appetite and fires up your metabolism.
Lemon – For all those who detox their body regularly know that lemon is the key ingredient in any detox drink. Lemon is rich with vitamin C, and is natural antioxidant. It's great to boost immune system and help in prevention of cold and flu. Lemon also freshens your breath and improves in skin and hair.
Raw Honey – Unprocessed or unfiltered honey is raw honey. Unprocessed raw honey has all the nutritional benefits intact in it. Raw honey is a source of antioxidants. It also has anti fungal and antibacterial properties. Honey helps soothe an itchy throat and cough. Pro-Tip:

While purchasing honey, make sure to buy raw honey. Traditional honey are mostly processed honey that are pasteurized and refined with chemicals. This simply means the honey is NO GOOD and all it's natural health promoting properties are removed.

Cinnamon – is believed to aid in digestion, plus it's an amazing immune booster, an anti-bacterial, anti-fungal, an antioxidant and more. All the wonderful power packed ingredients put together can only make the drink so good and healthy, you'll want to drink it every day. And trust me, you should be drinking it every day.
Please Note: I'm no doctor or an health expert. I'm simply sharing facts and information pertaining to the health benefits of lemon ginger detox tea ingredients on commonly available information based on my research online. Consider this as a rough guide. Consult a health expert or doctor if you like to know more about the exact benefits and how it might help/affect you.
While there are so many health benefits of lemon ginger detox tea, here are top 10 benefits that I think is the most important ones.
Helps fight cold, sniffles and cough.
Boosts your immune system.
Instant relief from nausea and indigestion.
Improves blood circulation.
Eases menstrual discomfort and provides pain relief.
Lowers the effect of diabetics.
Beautiful healthy hair and flawless skin.
Lemon ginger tea for weight loss – Apt drink for weight-loss, as it helps reduce cholesterol levels.
Drink to calm your stress and keep you energetic.
Prevention for cardio vascular diseases and stroke.
How To Make Ginger Lemon Tea
You can start off with green tea base and steep in ginger and lemon in it. Or simply boil water and steep grated or chopped ginger and lemon slices for about 15 to 20 minutes.
I prefer to steep just ginger and add lemon juice to the glass while serving. For some reason I find the drink to be a bit bitter when I add lemon slices along with ginger to boiling water or green tea base. You can do it either it. It's your choice.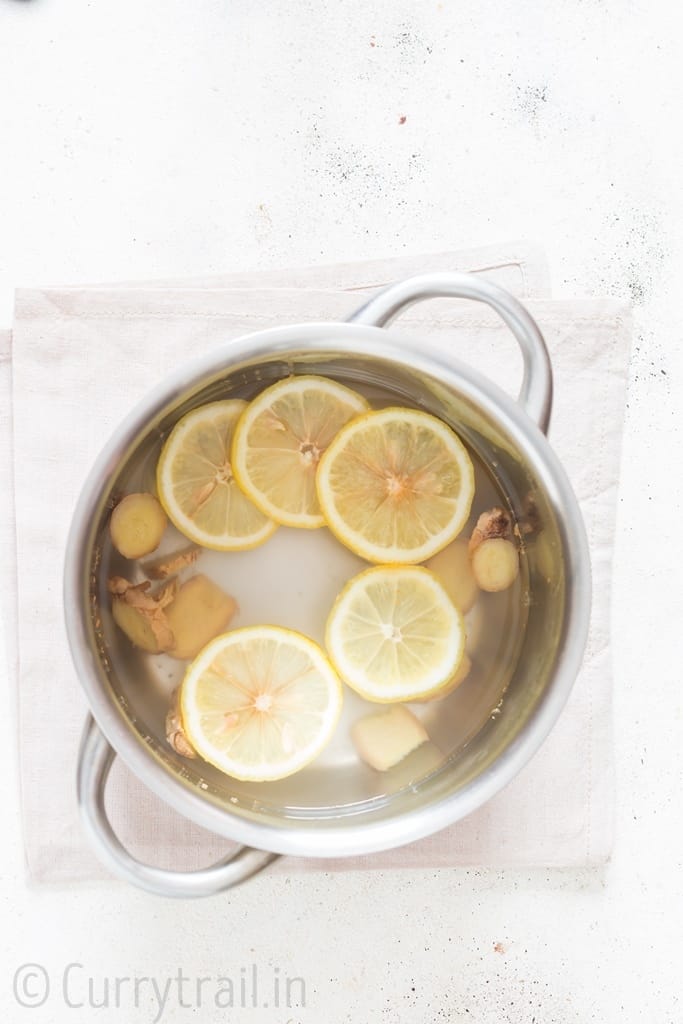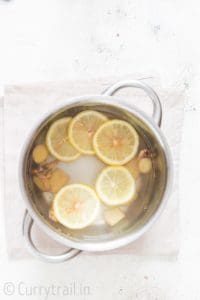 Once the tea has steeped, filter it out to remove all ginger and lemon slices.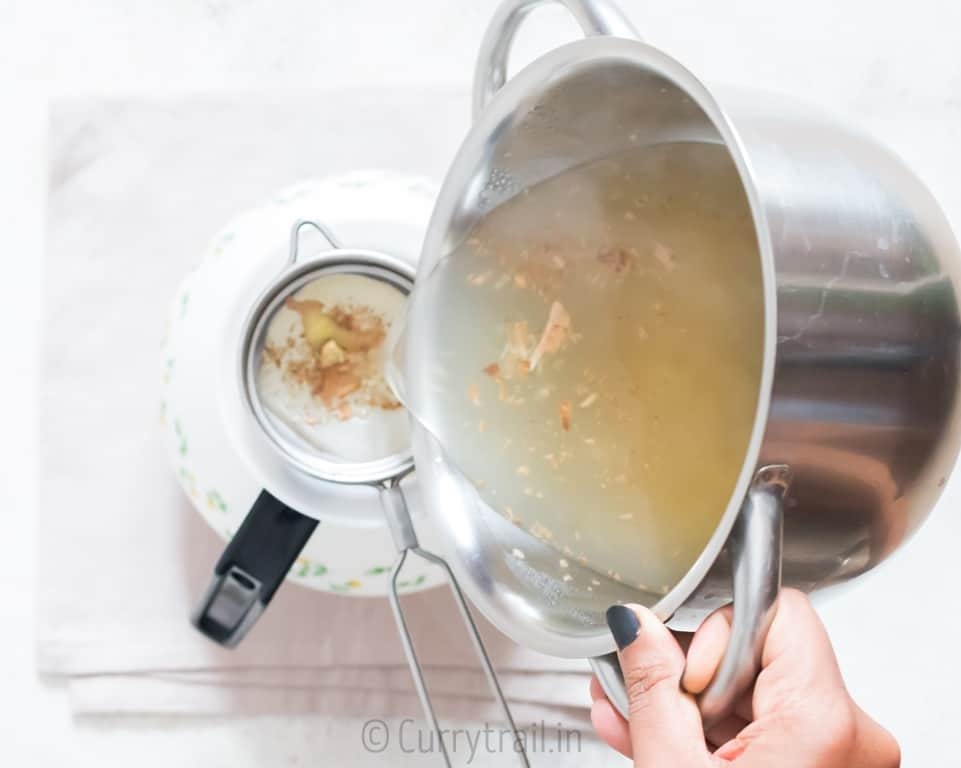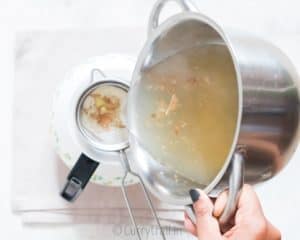 Note – I'm using regular pan to steep my tea, so I had to strain, plus the floats bother me, so that me! You can drink it as it is.
Squeeze in lemon juice into serving cups, pour tea, and add raw honey as per your taste.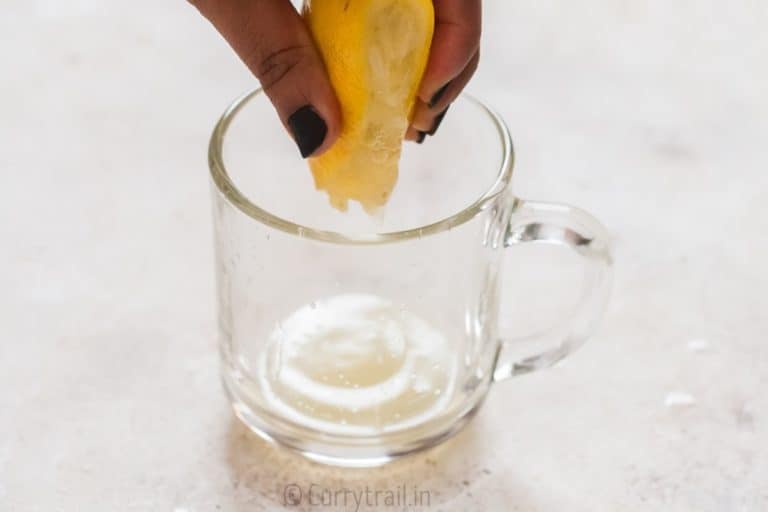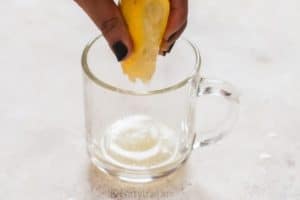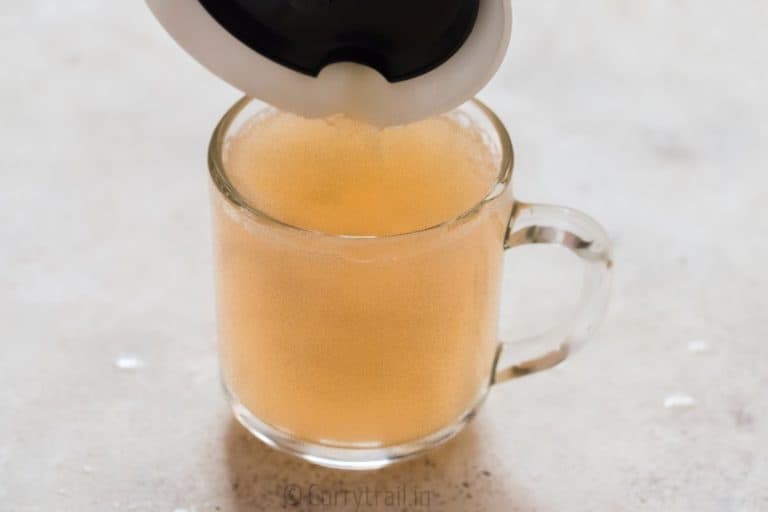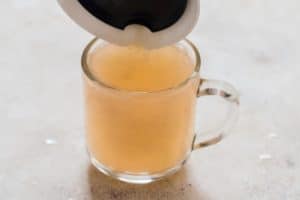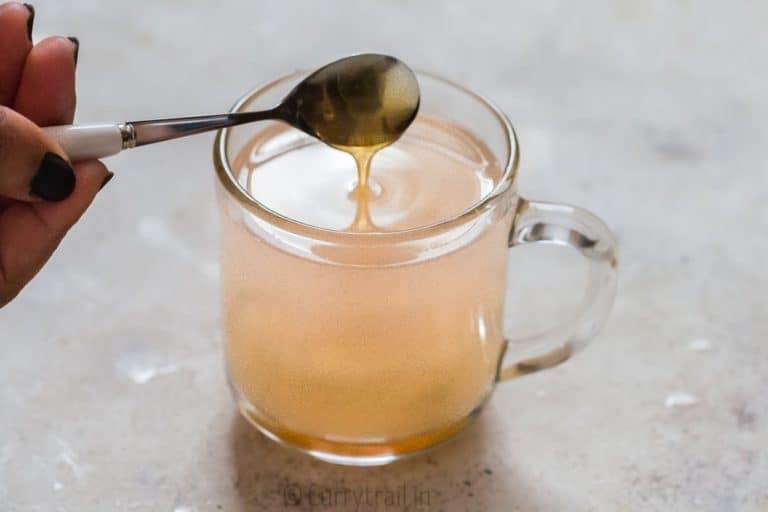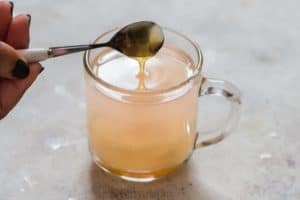 Stir with cinnamon stick to get that additional of cinnamon and the flavor. Serve.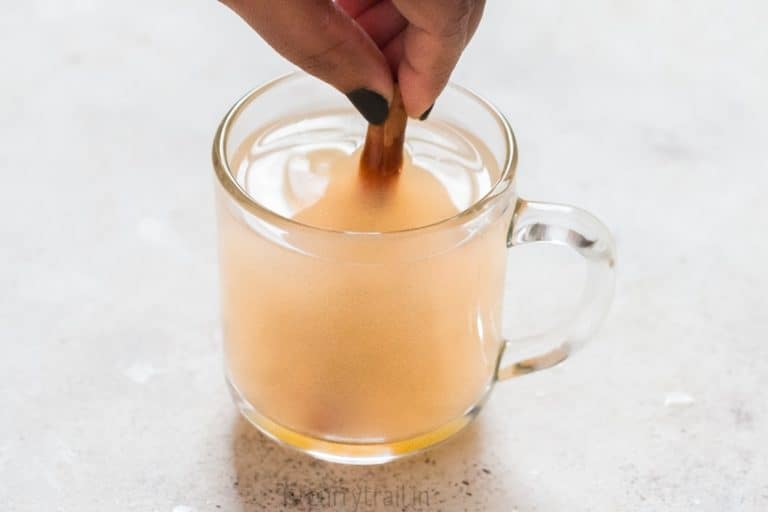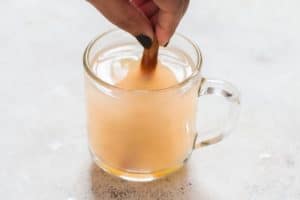 You could also pour in raw honey and lemon juice to steeped tea. Stir in. Pour the whole thing into thermos and sip it all day long.
Variations or Add-ons for Lemon Ginger Tea
Lemon, ginger and honey forms the base of tea. And that's all you need to make amazing lemon ginger herbal tea. But if you are looking for more variations of this amazing lemon ginger herbal tea, some variations and add-ons to this tea wouldn't hurt anyways. Try these-
Lemon ginger garlic tea – along with lemon and ginger add garlic while steeping the tea. Garlic is also believed to have many health promoting benefits.
Lemon ginger turmeric tea – this is something I make most often especially when fresh turmeric is available in the market. I add fresh chopped (grated) turmeric and steep the tea.
Apple and cinnamon lemon ginger tea – place a few pieces and apples and cinnamon stick along with ginger and lemon to brew your fresh tea. Apple and cinnamon accentuates its warm and comforting aspects.
Lemon ginger cayenne pepper tea – A generous sprinkle for cayenne pepper to garlic and lemon and brew your tea. This is for those who don't mind extra kick in their tea. The spiciness of cayenne pepper helps with flushing out phlegm.
Side Effects and Precautions
It's advisable to consume 2 to 3 cups of the tea in a day. Drinking more might give you side effects.
Consuming too much ginger in any form might cause diarrhea, vomiting and nausea.
It's not advisable to feed children below 2 years raw ginger and raw honey.
Looking for more drinks recipes that's fit for winter?
Check these out –
Homemade Remedy for Cold and Cough
Don't forget to Subscribe to CurryTrail Recipes below to get our newest recipes delivered straight to your inbox.
LOVE THIS RECIPE? KEEP IN TOUCH AND DON'T MISS OUT ON ANY OF CURRYTRAIL RECIPES! FOLLOW ME ON INSTAGRAM, PINTEREST, FACEBOOK, TWITTER.
Soothing Honey-Lemon Ginger Tea
Try this soothing lemon ginger tea as a relief to all your winter woes cold, cough and flu. Learn how to make this simple detoxifying drink with step-by-step photos and quick video tutorial along with all the health benefits of the drink.
Print
Pin
Rate
Ingredients
4

cups

filtered water

4

inch

ginger

1

lemon sliced or 2 tablespoon lemon juice

1 to 2

tablespoon

raw organic honey

1

cinnamon stick
To garnish
A lemon slice per cup

Few fresh mint leaves
Instructions
Bring 4 cups of water to boil.

While water is boiling, you can clean ginger root. Scrub and wash ginger. Do not bother peeling the skin if you are going to strain it out like me. If you are planning to drink it as it is, peel the skin on ginger root.

Slice ginger into thin slices. Or you can grate it as well.

Once water starts boiling, turn off the heat. Add ginger, lemon slices (if using lemon to steep in the tea).

Cover and let it steep for 30 minutes.

Strain and drink it at room temperature as it is. Or warm it up and serve.

I prefer to add lemon juice to steeped tea as per my taste preference. Add raw honey for sweetened tea – that's my preference.

So to serve like the way I did – steeped and strained tea in tea kettle.

Into individual serving cup, squeeze lemon juice. Pour hot ginger lemon tea. Add raw honey to your taste preference.

Stir it with cinnamon stick. Garnish with a lemon slice and mint leaves. Serve.
Notes
NOTE : Adding grated ginger to steep tea gives strong ginger flavor to the tea. If you don't like the spiciness and strong flavor of ginger, you can just roughly chop ginger and add to boiling water.
You can drink the tea at room temperature. If you prefer it warm, just reheat the steeped tea, bit DO NOT boil it.
If you prefer green tea base, then use that to steep in ginger and lemon slices instead of just plain boiling water.
Left over tea can be stored for 4-6 days in refrigerator and reheated (NOT BOILED) when you want to serve.
Nutrition
Calories:
15
kcal
|
Carbohydrates:
4
g
|
Protein:
0
g
|
Fat:
0
g
|
Saturated Fat:
0
g
|
Cholesterol:
0
mg
|
Sodium:
14
mg
|
Potassium:
66
mg
|
Fiber:
1
g
|
Sugar:
0
g
|
Vitamin C:
14.7
mg
|
Calcium:
23
mg
|
Iron:
0.2
mg