Learn How to Make Best Iced coffee at home with best tips and tricks. Refreshing coffee is perfect drink to beat the heat.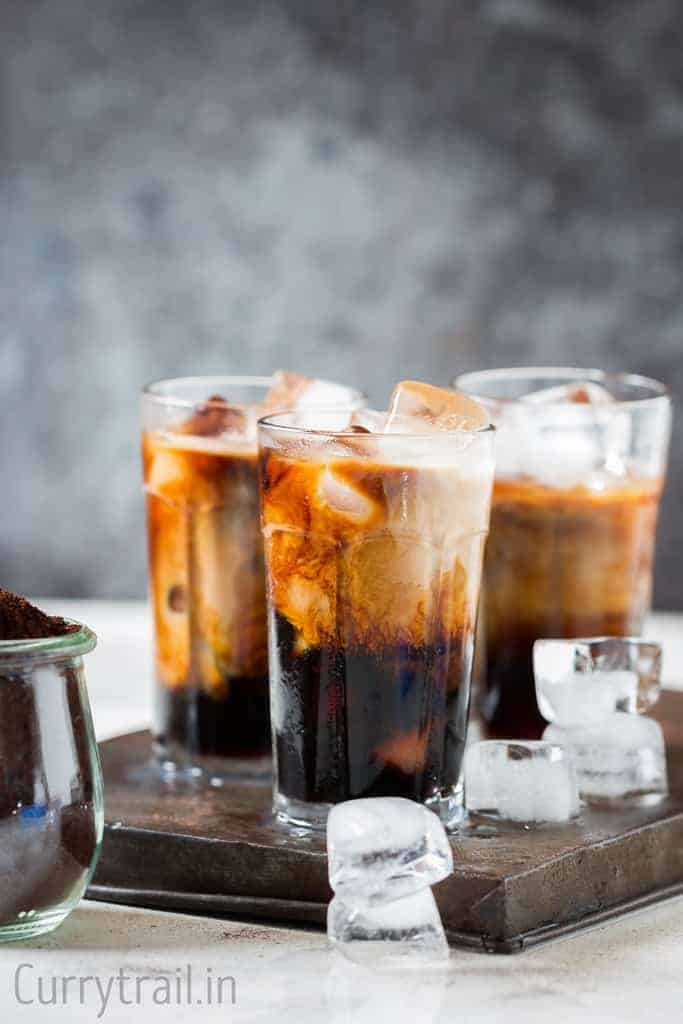 Originally Posted May 2016– Photos & Post Updated May 2018.
Getting your caffeine fix got so much more better with this guide to how to make best cold coffee at home. With just 4 ingredients and under 5 minutes(with coffee concentrate ready). If you are a coffee lover, then this one is a must try! Forget the gourmet, high on pocket take out coffee, make great tasting coffee at home everyday.
Call me saint, because I don't drink coffee or tea. Yeah you heard me right. I can "occasionally" drink coffee but never tea. My entire life I might have had just exactly one sip of tea, that's it! And when the world started talking about green tea and how healthy it is, I stayed away from it, the only reason, "I don't like tea", and so I assumed green tea would be same as normal tea.
After a while when I was trying to tone up and loose weight, I thought "I will make peace with green tea and give it a try"! The first sip made my eye balls roll. No, not because I loved the taste, but because I couldn't gulp the sip.
I struggled and managed to swallow it. And since hubby insisted me on trying a couple of more sips, I struggled to take it down. But, I did not like it. Later I tried a couple of other flavors, told myself it's not that bad(was trying to trick my brain). Now I can manage to drink green tea if someone offers me.
Ingredients Needed
Coffee beans (roasted and coarsely ground)
Half n half (or milk or even condensed milk)
Sugar Syrup (simple syrup)
Ice cubes
And scoop of vanilla ice cream if you are looking to jazz it up!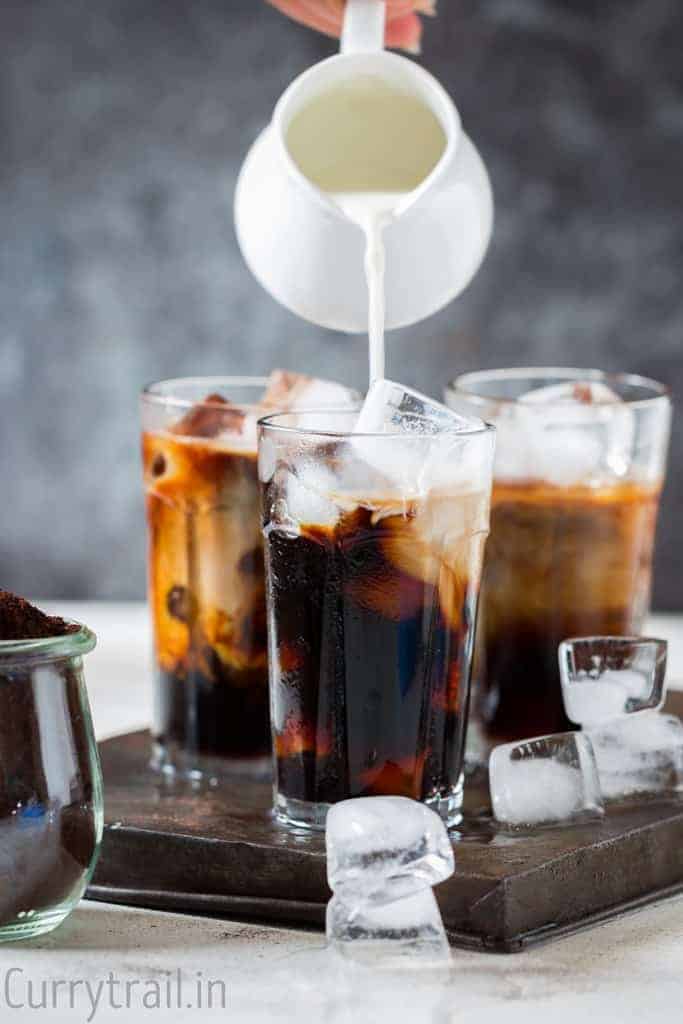 Coffee!! I don't hate it at all. It's just that I don't drink it on regular basis. And when we friends meet up at coffee shop I enjoy my cappuccino. But that doesn't tempt me to drink coffee every day. I LOVE my homemade fresh filter kapi (we call It degree kapi). The aroma of coffee brewing in the old traditional coffee maker is very tempting. While I love my hot filter kapi, I also love Ice cold coffee.
Best drink to have in summer to keep you cool and refreshed. Cold coffee is a boom to all coffee lovers on hot summer days. Forget spending $4 for a cup at some fancy coffee house! Forget queuing at local or gourmet cafes, once you try this recipe you will go "oh so easy to make at home!". It's easy to make at home, perfectly creamy and sweet every day. All under $4. This is going to be the best iced coffee of your life!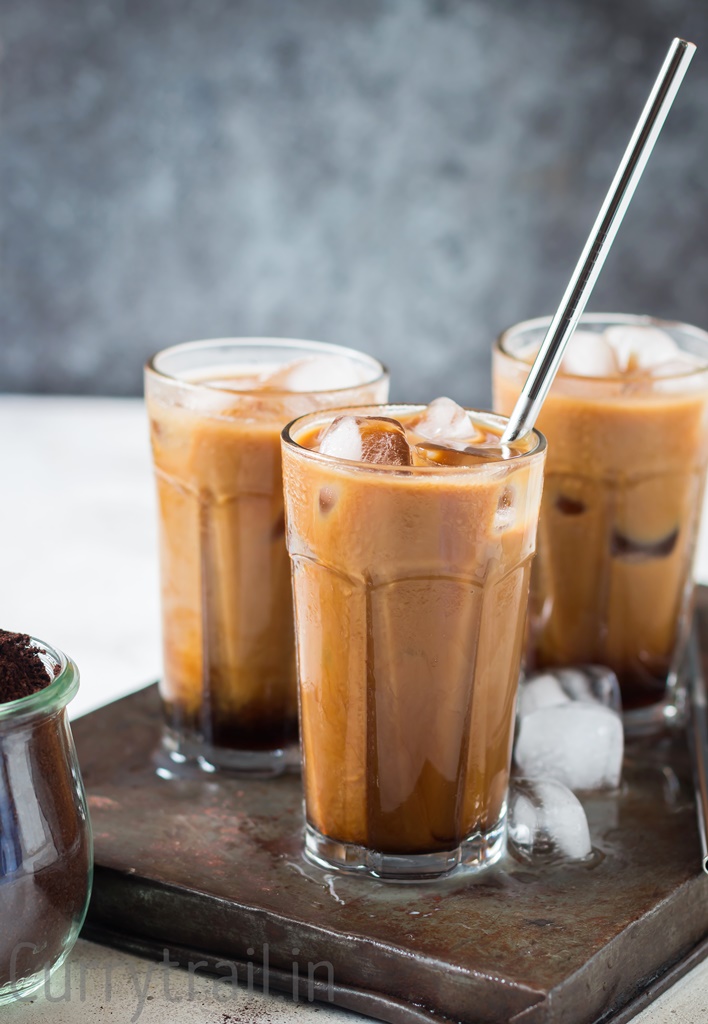 Yes cold coffee is much more expensive than its piping hot counterpart (at least in India). The reason the cafes charge you more for a cup of iced cold coffee is the amount of labor that goes in making a cup of cold coffee. The preparation time is longer and the coffee concentrate is quite strong that is used to make chilled coffee.
Iced coffee is not simple hot coffee concentrated poured over ice. The amount of coffee beans or coffee powder (coarsely ground ones) to make 1 cup of coffee concentrate is quite a lot, that's how I do my homemade iced coffee. We use about 3 to 4 cups of coffee powder.
That's a loooot of coffee powder you see. Thin watery coffee is a big disappointment. Since we add ice cubes to the cup of coffee you want to have the coffee concentrate ridiculously strong. Don't compromise there. You won't enjoy your coffee otherwise.
Pro-Tip : If you want to make best iced cold coffee at home without compromising on the taste, you could freeze coffee decoction (coffee concentrate) and use coffee ice cubes instead of plain ice cubes. Top coffee ice cubes with simple syrup, half n half and serve immediately. No more watery cold coffee! Only delicious and best iced coffee at home.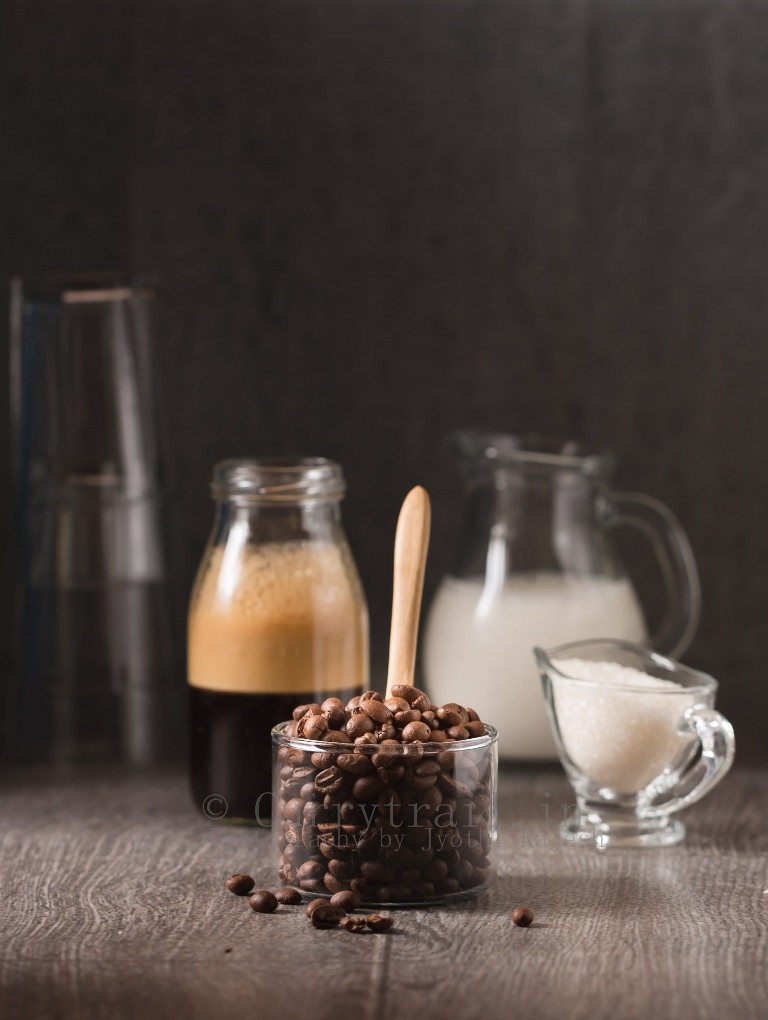 Iced Coffee Recipe
Ice Cold coffee is very simple to make. All you do is brew the coffee, add chilled milk, sweetener. And if you are in the mood to indulge, add a big scoop of vanilla ice cream on top, who doesn't want another excuse to eat dessert! You can use coffee concentrate made the traditional way using Indian coffee maker too.
Or do it the simple way, brewing freshly and coarsely ground coffee powder with water in a bowl overnight and strain over coffee mesh. With just 4 ingredients and 5 minutes, this refreshing coffee is one of the best way to beat the heat if you are a coffee lover!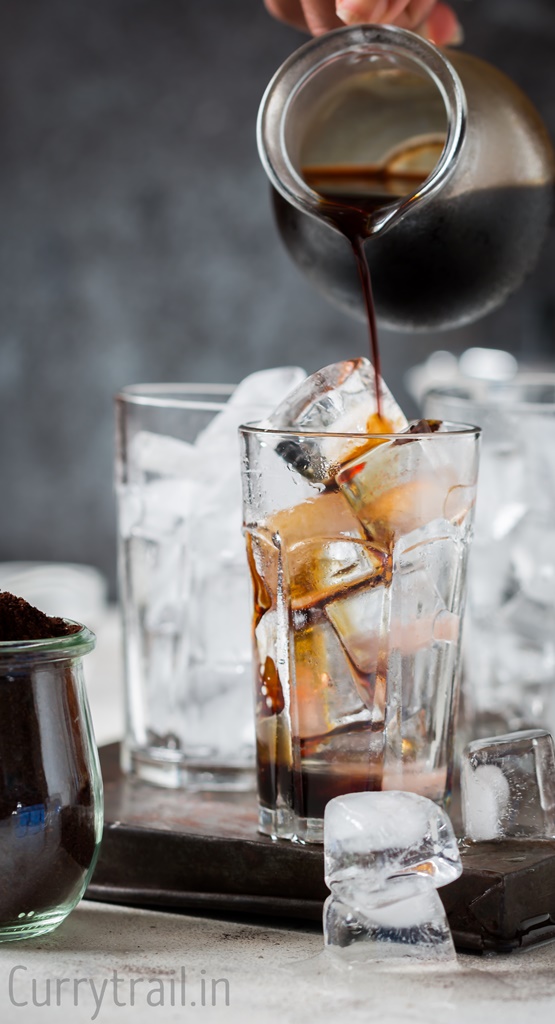 Tips for Making Great Cold Coffee at Home
Coffee to water ratio– To make best coffee you'll need the strong coffee concentrate. Use coffee to water ratio depending on your taste. 4:1 yields medium strong coffee. If you are a strong coffee lover then go experiment with the ratio. Use 6:1 ratio or even 8:1.
Coffee Beans – Use good quality coffee beans. You'll need medium or dark roasted coffee beans and coffee beans.
Freshly Ground – The coffee tastes so much better when you ground it coarsely and it's freshly ground. If grinding at home get a good coffee grind.
Brew coffee overnight so it has enough time to chill. The coffee is never heated to make cold coffee. Rather coarse coffee grounds are added to water and allowed to steep at room temperature or in the refrigerator over night.
Jazz it up – If you are feeling adventurous, then flavor your coffee. Put on your creative caps and add flavors that you think might work with iced coffee. Would you like to hear some of my go-to list of flavors for cold coffee? Read on..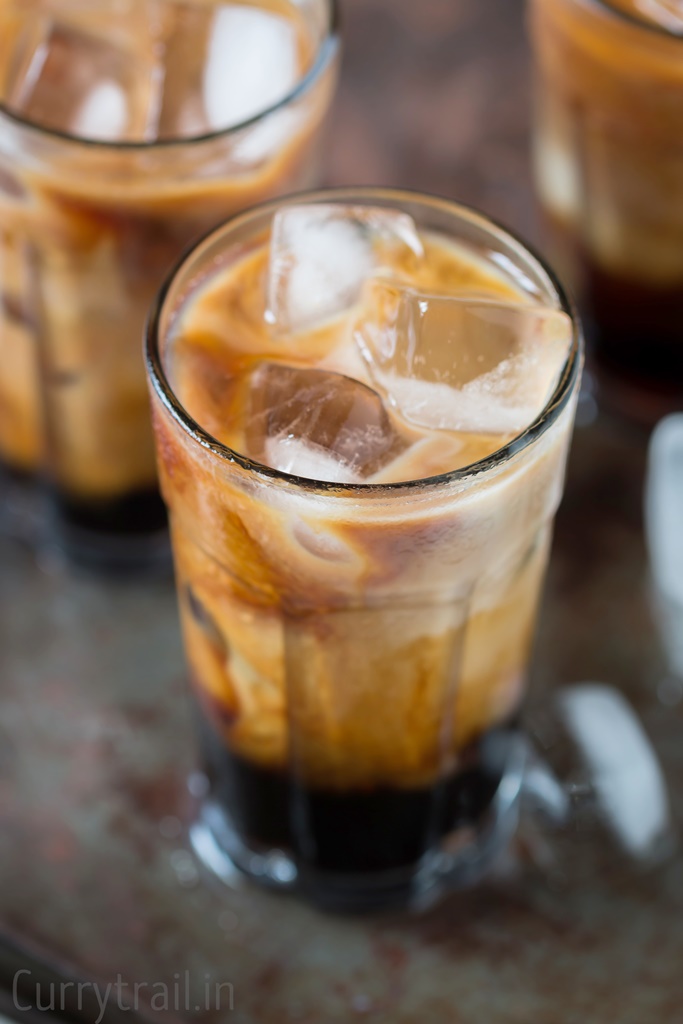 Jazz it Up (Flavoring Options)
Add flavors to your coffee that all works together. Flavors that blends well. Flavors that works for your mood.
Have you ever had iced coffee in winter?! Oh it's perfect, trust me. And if you can flavor it with all winter warm spices like pumpkin spice. You will be hugging your jar of iced coffee.
Or think about flavoring with fresh mint for summer. Lovah!
Vanilla bean to coffee.
A dash of sea salt sprinkled over cup of coffee with whipped cream.
Cinnamon powder.
Cocoa powder.
Alcohol! It really works. Alcoholic coffee drinks are a great stress buster after a long day of work.
So many possibilities. Simply choose a flavor that suits your mood!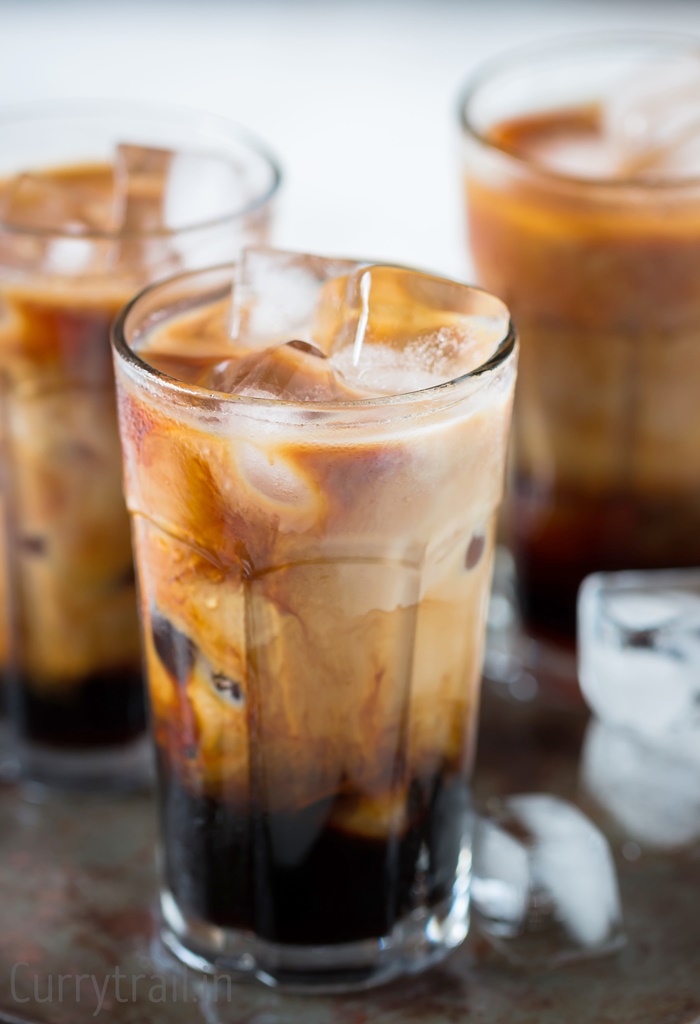 How To Make The Best Iced Coffee At Home
Homemade cold coffee is the easiest thing to prepare ahead of time. This refreshing cold brew coffee will quickly become one of your favorite drinks. And it's damn easy to make too.
Start by brewing coffee overnight so you have good chilled coffee concentrate ready in the morning.
Also make simple syrup my stirring in 1 cup of sugar with 1 cup water on medium heat until sugar is fully dissolved.
When you are ready to drink – fill up your cups with ice cubes. Pour coffee concentrate, simply syrup, and half and half. Stir! That's it.
It's a great pick-me-up-and-go drink to get you charged or keep you cool and refreshed any time of the day.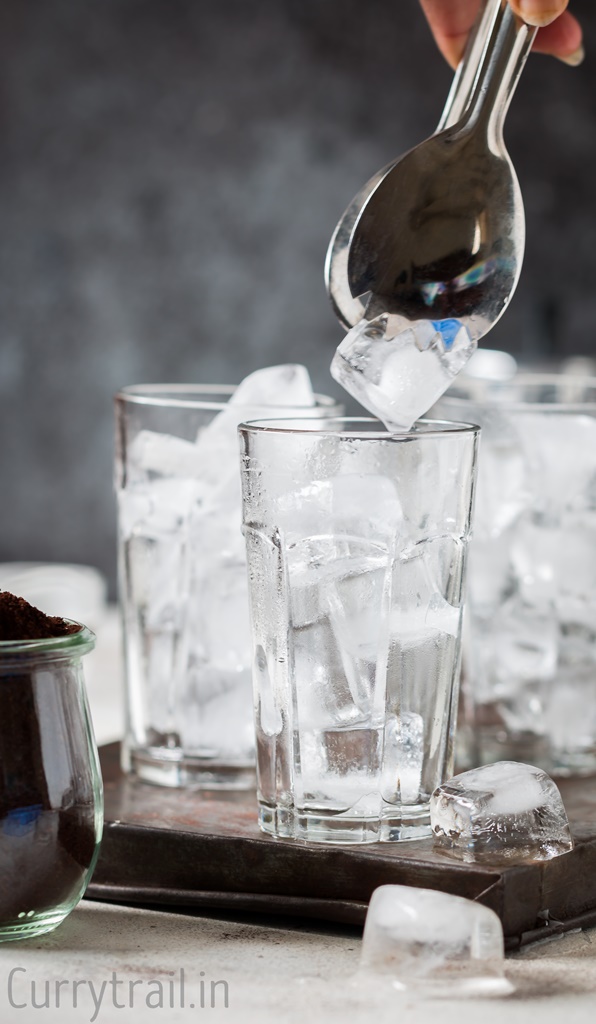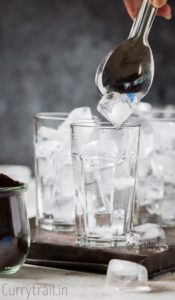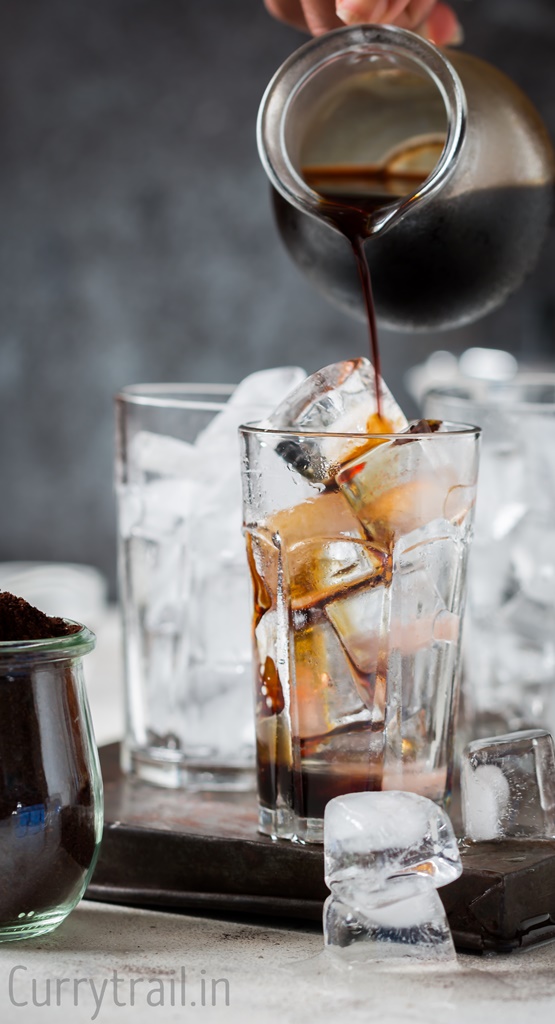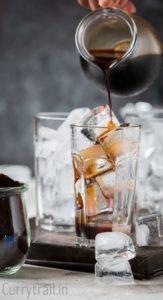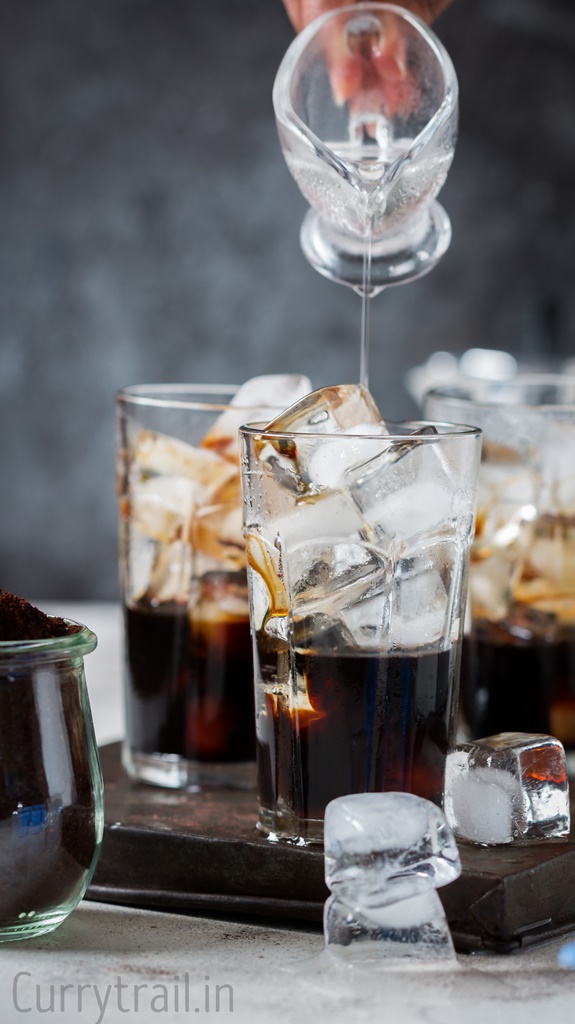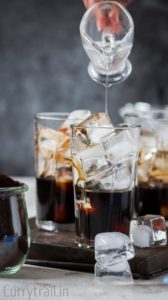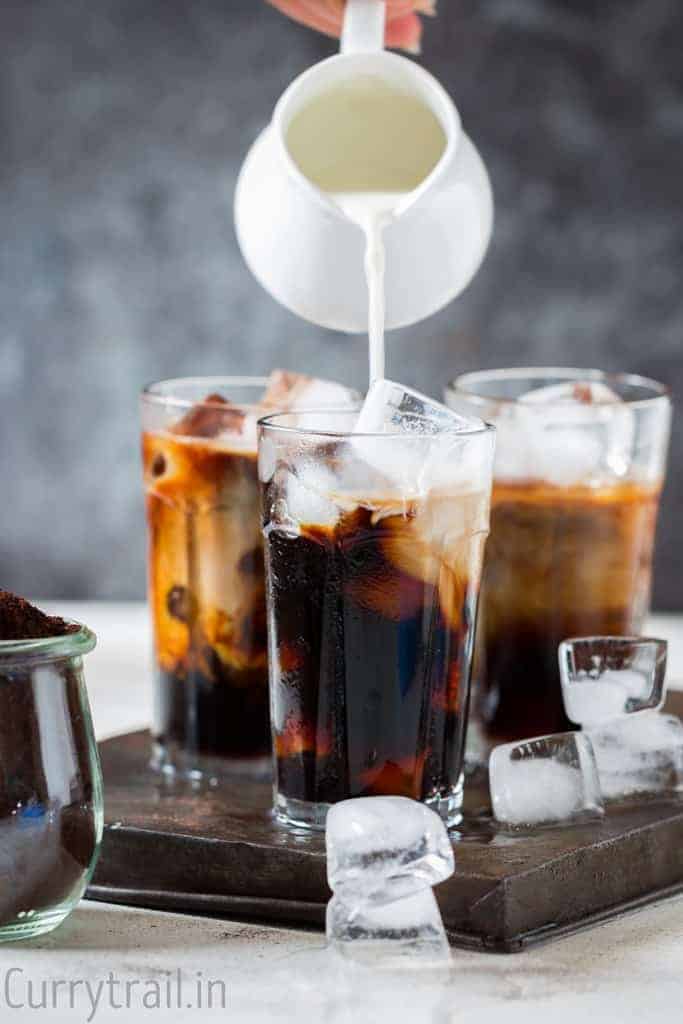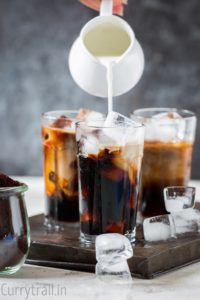 RECIPES INCLUDING COFFEE –
Microwave Coffee Chocolate Pudding
MORE REFRESHING SUMMER DRINKS YOU MUST NOT MISS –
Don't forget to Subscribe to CurryTrail Recipes below to get our newest recipes delivered straight to your inbox.
LOVE THIS RECIPE? KEEP IN TOUCH AND DON'T MISS OUT ON ANY OF CURRYTRAIL RECIPES! FOLLOW ME ON INSTAGRAM, PINTEREST, FACEBOOK, TWITTER.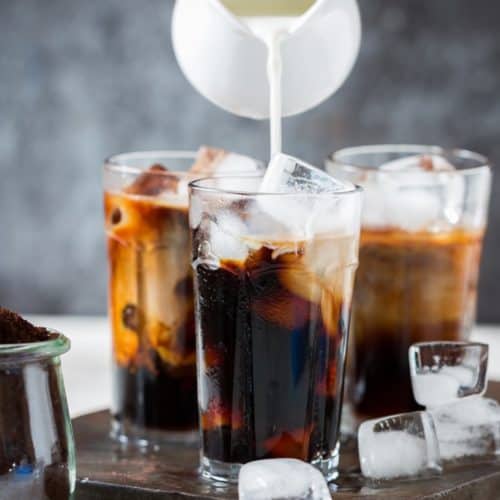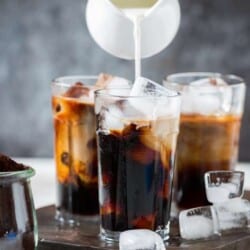 Iced Coffee
With just 4 ingredients and under 5 minutes(with all prep work done), this refreshing coffee is ready to beat the heat. If you are a coffee lover, then this one is a must try! Forget the gourmet, high on pocket take out coffee, make great tasting iced coffee at home everyday.
Ingredients
1 cup strong coffee made from 3 cups good quality coffee powder
4 tablespoons of half and half
For serving-
⅓ cup chilled water or ice cubes
Scoop of vanilla ice cream optional
Instructions
Brew coffee in coffee maker. I usually brew my coffee previous night so the coffee is ready and cooled down to room temperature. We are making iced coffee, hot coffee is no-no. We need coffee at room temperature or chilled.

To make simple syrup – stir sugar and water in sauce pan over medium heat. Keep stirring until the sugar is completely dissolved. Remove from heat and cool completely.

Pour coffee, simple sugar and half and half into serving glass, Stir well. Top it with ice and serve it immediately.
Notes
If you like frothy iced coffee , then just blend the coffee mix in blender for few seconds and serve it immediately. I also like to sprinkle some fresh roasted coffee powder over my coffee before serving. This step is completely optional.
Pic from 2016
Nutrition
Serving: 0gCalories: 155kcalCarbohydrates: 34gProtein: 0gFat: 2gSaturated Fat: 1gCholesterol: 7mgSodium: 14mgPotassium: 64mgSugar: 33gVitamin A: 70IUCalcium: 21mg
You may also like: