Asian healthy shrimp stir fry recipe with snow peas recipe takes 15 minutes to make. It's low-carb, gluten free, and a great weeknight meal.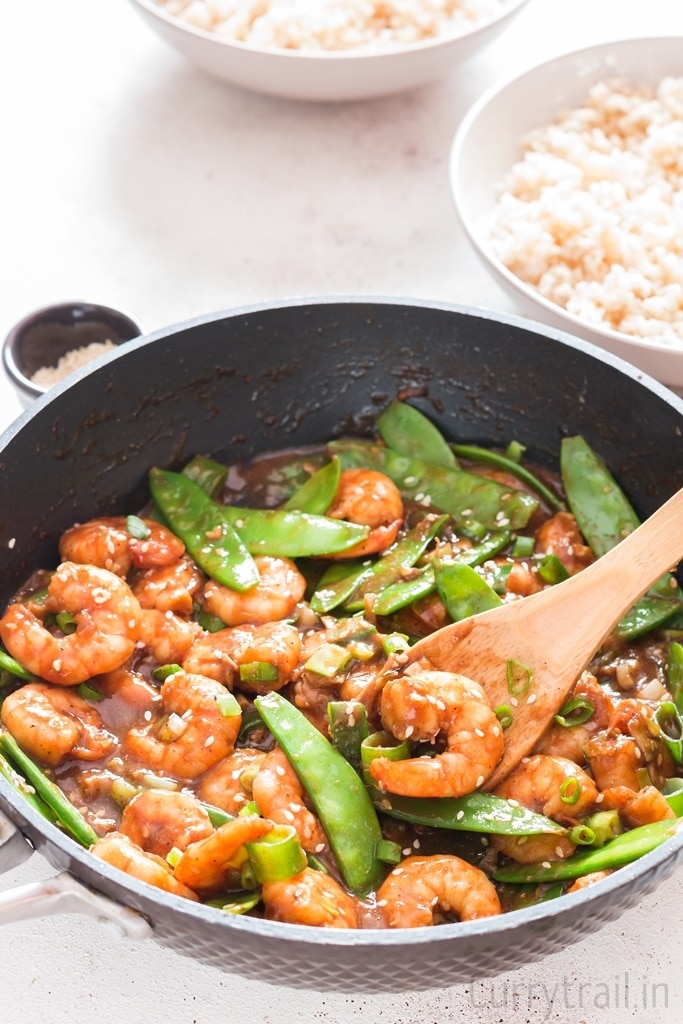 Why Should You Try This Shrimp Stir Fry Recipe?
Stir fry recipes are generally very healthy and it's loaded with vegetables and proteins. You throw in almost any vegetable of your choice into the pan, stir fry for few minutes and viola your meal is ready.
If you are looking for quick-fix meal for your family dinner on a busy weekday,  shrimp stir fry rice is perfect for you and your family.
Got shrimps in your freezer? Good! You can do a quick stir fry for dinner.
Snow peas always excite me. It's so hard to find it here in India. And whenever I see snow peas in the super market I immediately pick them up. I always prefer to stir fry snow peas.  Love the slightly crunchy bite to it when stir fry any vegetables.
Easily substitute any vegetables of your choice to this stir fry recipe. Throw in the snow peas, broccoli, zucchini or any other vegetables you have in your fridge to make quick and flavor packed dinner.
Flavor it with simple but amazing Asian flavors – soy sauce, ginger, garlic. Season well. Your meal is ready!
This soy glazed healthy shrimp stir fry recipe with snow peas was our dinner last week and I have repeated it twice already. None complained!
It tastes great and even better so easy to make, hardly takes 15 minutes tops from stove to table.
Shrimp and snow peas is a wonderful combination that worked. Fresh ginger julienne , soy sauce and red chili flakes does all the magic. I ran out of red chili flakes so had to substitute with pepper powder. But definitely use red chili flakes.
Ingredients To Make Best Shrimp Stir Fry Recipe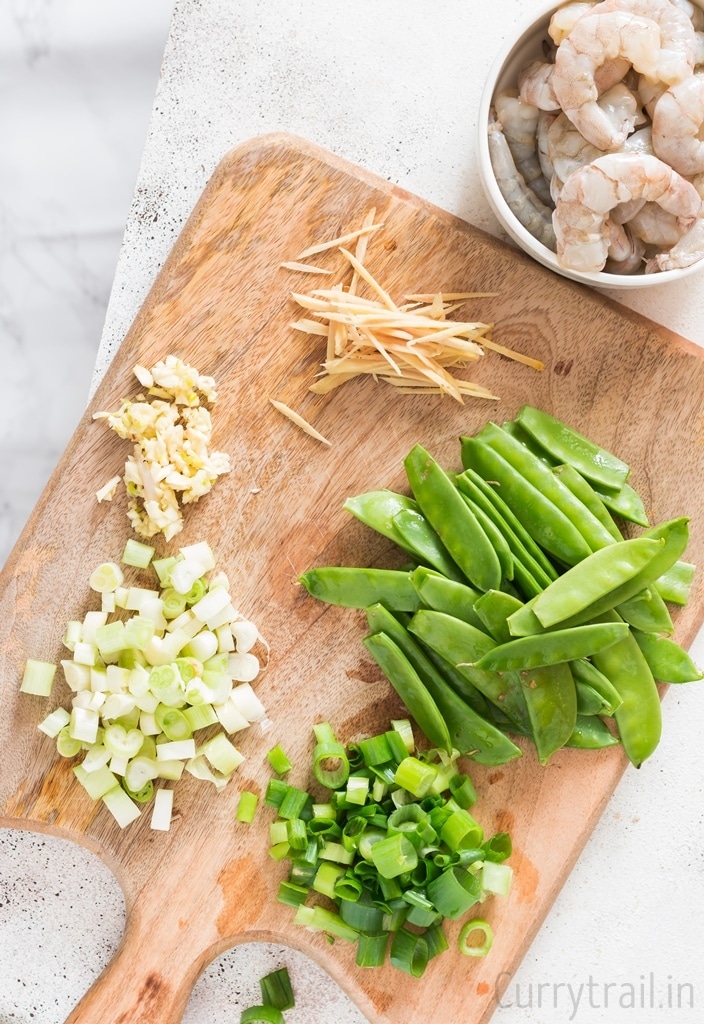 The ingredient that goes into this shrimp stir fry recipes with snow peas is very simple. Asian recipes calls for sesame oil. Soy sauce and ginger is like the heart of the dish, the flavoring agents here. I love garlic, who doesn't love the flavor of garlic, right!
Bland food is BIG NO for us. Chili flakes brings the dish alive. Corn starch or corn flour goes into almost all Chinese stir fry recipes to give that thickness and body.
I love serving shrimp stir fry with rice. Feel free to serve shrimp stir fry with noodles as well. Your kids would love this shrimp stir fry with noodles and they'll sure to wipe clean their plate.
You can also use rice flour instead of corn starch  for thickening. For those who want to go with corn starch please do. Mix corn starch sugar and pepper. Wait I said this dish is healthy, of-course. Cause I tried to make it healthy in all possible ways. Honey went in instead of sugar for making the sauce.
Equipment's Needed For Shrimp Stir Fry Recipe 
Wok-
Asian skillet or Chinese wok is best for any stir fry. If you have one definitely use that. Woks tend to heat up fast and works best for stir fry. High heat a wok, thrown in the vegetables and proteins, cook each ingredient 30 seconds or slightly more on high heat. That's it!
Delicious one pot/one skillet meals ready to be served.  I don't have a wok, so I managed it in a non stick pan. Make sure you pan that you are using is wide, helps in tossing easily.
Knife-
A good well sharped knife to cut all the ingredients. This recipe calls for very few cut ingredients. Ginger , garlic and scallions. Stir fry consists of cooking over high heat and it's really quick it's best to have all ingredients chopped and prepped.
And if you chop small bite size ingredients cooking is very fast. I did ginger julienne and finely chopped garlic. Took me about 5 minutes which as the most time consuming step. The rest is a breeze.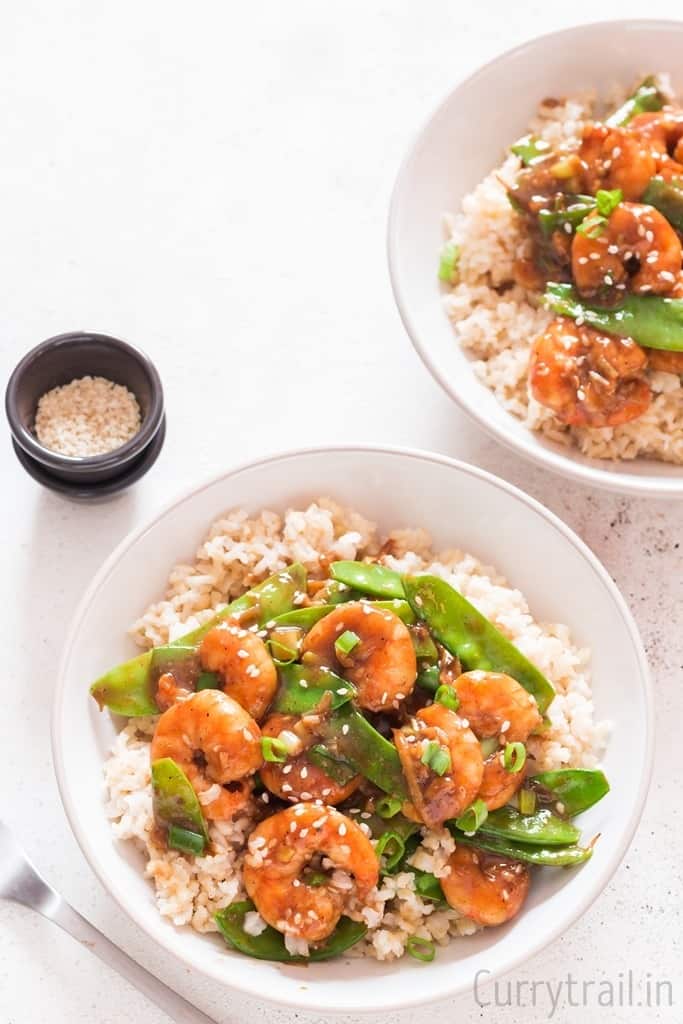 What Other Vegetables Can I Use With Shrimp Stir Fry Recipe
You can choose to use many different vegetables with this recipe. Shrimp stir fry recipe are so versatile you can try so many variations.
Use broccoli or green capsicum instead of snow peas.
Use chicken thighs instead of shrimp.
Make it a dry dish by adding less sauce. Make is more soupy types so you can have a nice gravy over the rice you are serving.
Don't like rice, serve it over Chinese noodles. My kids went, YES PLEASE!
Go ahead and experiment with your own variations.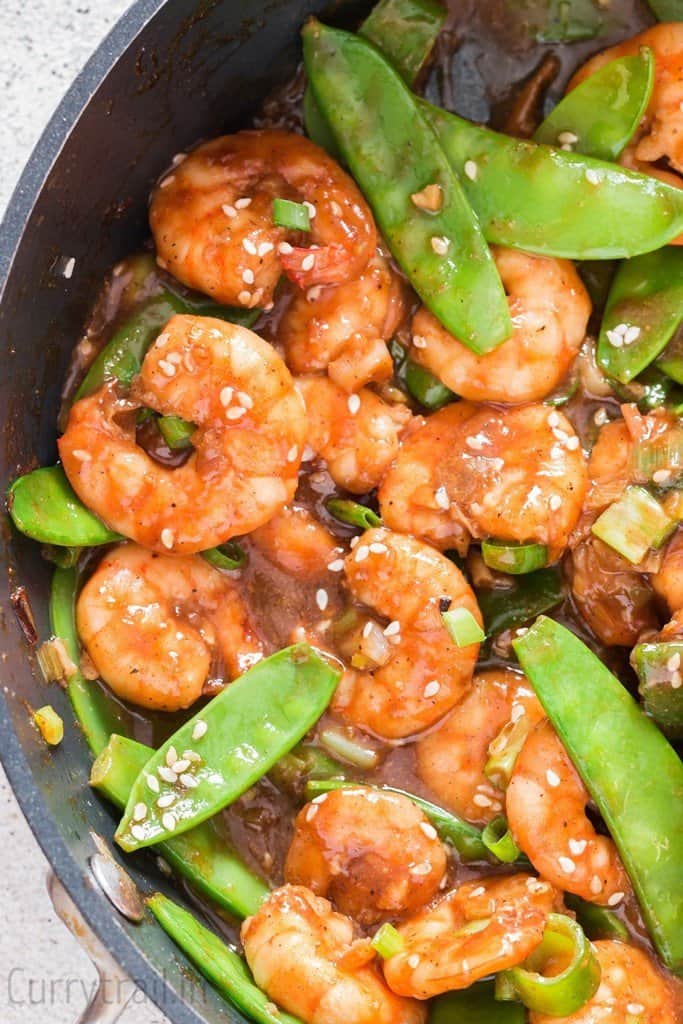 Love quick and flavor packed Asian recipes for weekday dinner just like us?
Check out our other Asian recipes that i know you'll love-
Don't forget to Subscribe to CurryTrail  Recipes below to get our newest recipes delivered straight to your inbox.
LOVE THIS RECIPE? KEEP IN TOUCH AND DON'T MISS OUT ON ANY OF CURRYTRAIL RECIPES! FOLLOW ME ON INSTAGRAM, PINTEREST, FACEBOOK, TWITTER.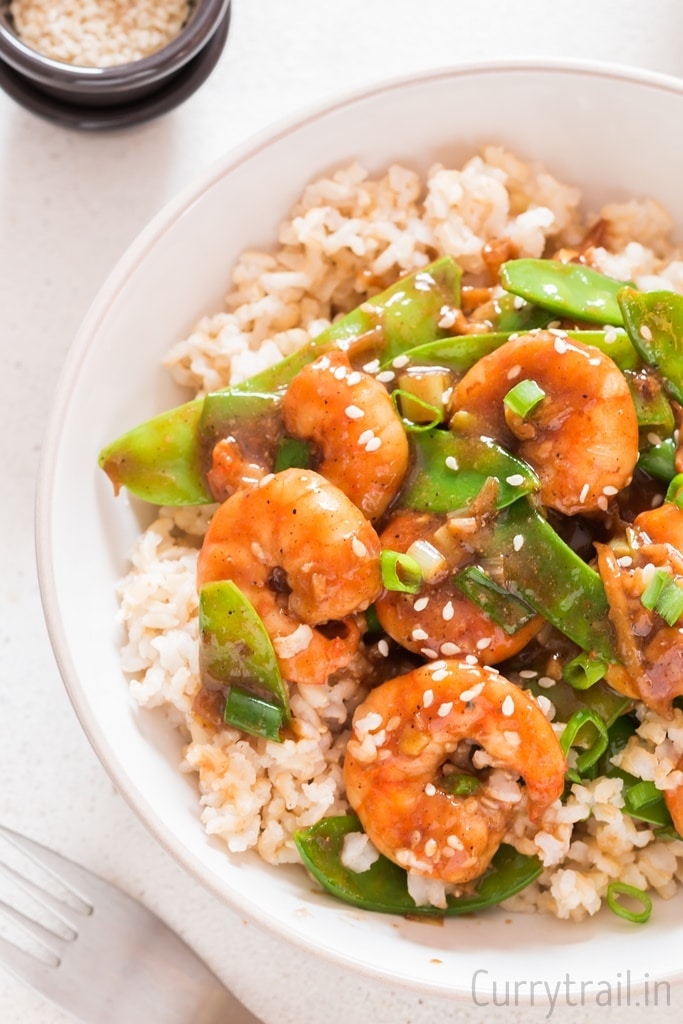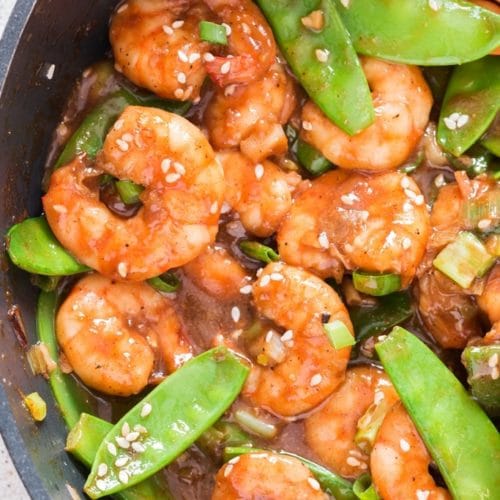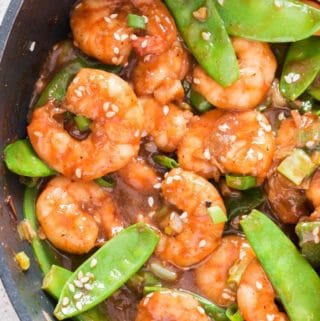 Healthy Shrimp Stir-Fry with Snow Peas
Quick shrimp stir-fry with snow peas is 15 minutes Asian dish that is going to be your family favorite. It's low-carb, gluten free, and a great weeknight meal. All reasons for you to enjoy it guilt-free!
Print
Pin
Rate
Equipment
Wok

Tongs

Small mixing bowl
Ingredients
1

lb

shrimp

1

cup

snow peas

3

tablespoon

sesame oil

1 1/2

tablespoon

ginger

julienne

1

teaspoon

garlic

finely chopped

1/2

cup

scallions

salt to taste
For sauce-
3

tablespoon

low sodium light soy sauce

1

tablespoon

corn starch

(Personally I prefer to use rice flour for no specific reason in place of corn starch)

1 1/2

tablespoon

honey

1

teaspoon

garlic

finely chopped

1 1/2

teaspoon

ground pepper

(you can use red pepper flakes instead of ground pepper)

2

tablespoon

lime juice
For garnish
Spring onions

Sesame seeds
Instructions
In a bowl whisk all ingredients mentioned under the list 'For sauce'.

High heat a wok. Add sesame oil and wait until sesame oil is really hot (toasted sesame oil).


Stir fry fresh ginger and garlic in the wok for 5 seconds. Add scallions and toss few times. Throw in clean shrimps and cook 30 seconds high heat. Season the shrimps with pepper powder (use red chili flakes) and salt.


Wash snow peas well. Trim off the stem and add them to the wok. Toss few times.

Pour the sauce and give it a good stir. Keep stirring to avoid sauce turning hard or turning into lumps.

Once sauce is slightly thickened, garnish with spring onions, sesame seeds and remove from heat.


Serve this gingered stir fry shrimp and snow peas with brown rice immediately.

Video
Notes
Oil : Use sesame oil for stir fry for best flavors and taste. 
Vegetables : Do not over cook vegetables and shrimp. We want them to be cooked to crunchy texture. 
Veggies Substitutions : You can swap snow peas with your favorite vegetable. Use broccoli, bell peppers instead. Or just use what ever vegetable you want.
Frozen Shrimps : If using frozen shrimp, defrost the shrimp in a bowl overnight in fridge (natural defrosting).  Discard all the liquids collected in the bowl during defrosting.  DO NOT defrost shrimp in microwave.
Nutritional Info – Please keep in mind that nutritional information provided is only a rough estimate and can vary greatly based on products used.
Nutrition
Calories:
358
kcal
|
Carbohydrates:
19
g
|
Protein:
34
g
|
Fat:
16
g
|
Saturated Fat:
2
g
|
Cholesterol:
381
mg
|
Sodium:
2186
mg
|
Potassium:
298
mg
|
Fiber:
2
g
|
Sugar:
11
g
|
Vitamin A:
520
IU
|
Vitamin C:
32.6
mg
|
Calcium:
253
mg
|
Iron:
4.7
mg