General Tso's tofu is favorite take out from American-Chinese restaurants. So delicious and so much better and healthier than the takeout!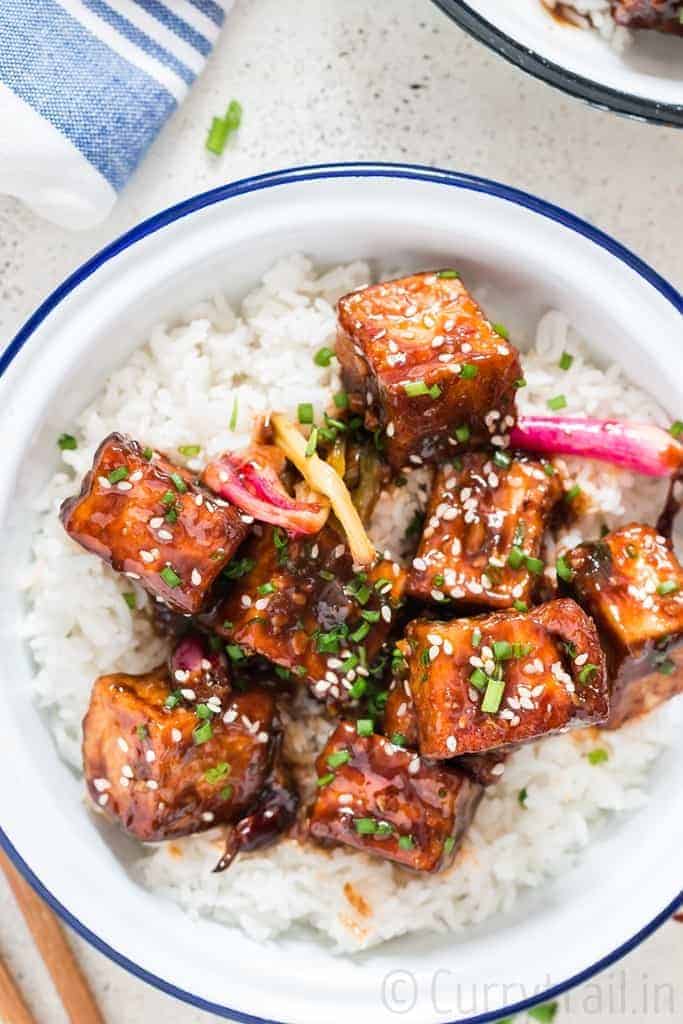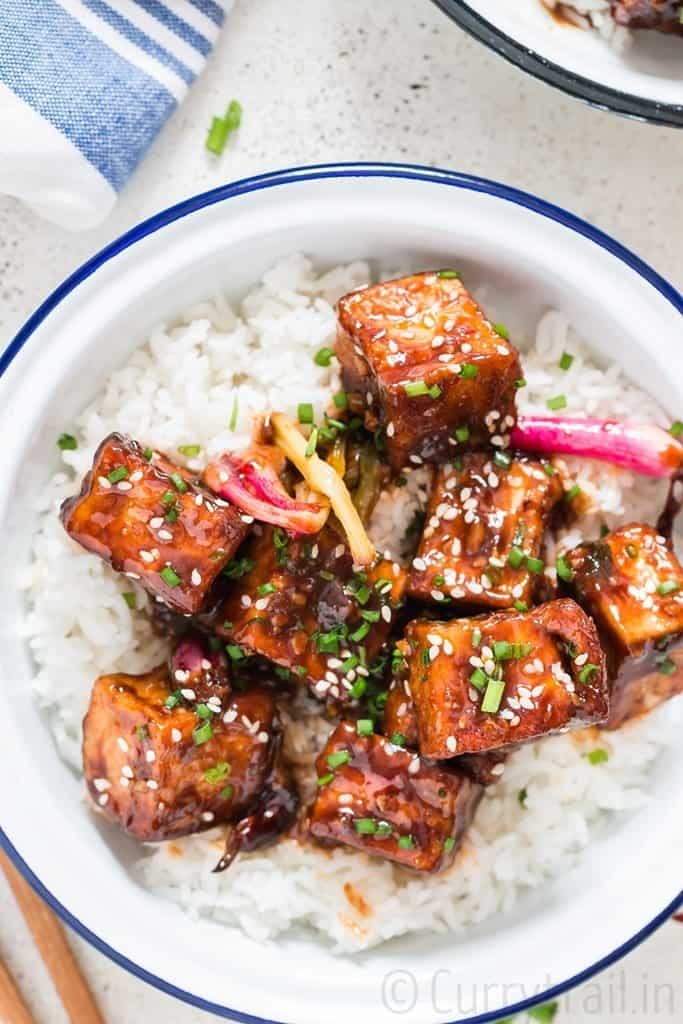 It's basically sweet, slightly spicy fried tofu stirred in a killer sauce which is believed to be invented by General Tso. The sauce is sweet, salty, slight spicy and has a wonderful flavor kick from ginger, garlic. This is vegan version of the famous General Tso's chicken – one of the most popular Chinese takeout in America.
Think of those late night Chinese takeout after a long days works, when you want to cuddle to your couch, watch tv and have your late night dinner. It's comfort food. It's time make your favorite Chinese take out and make is easily at home.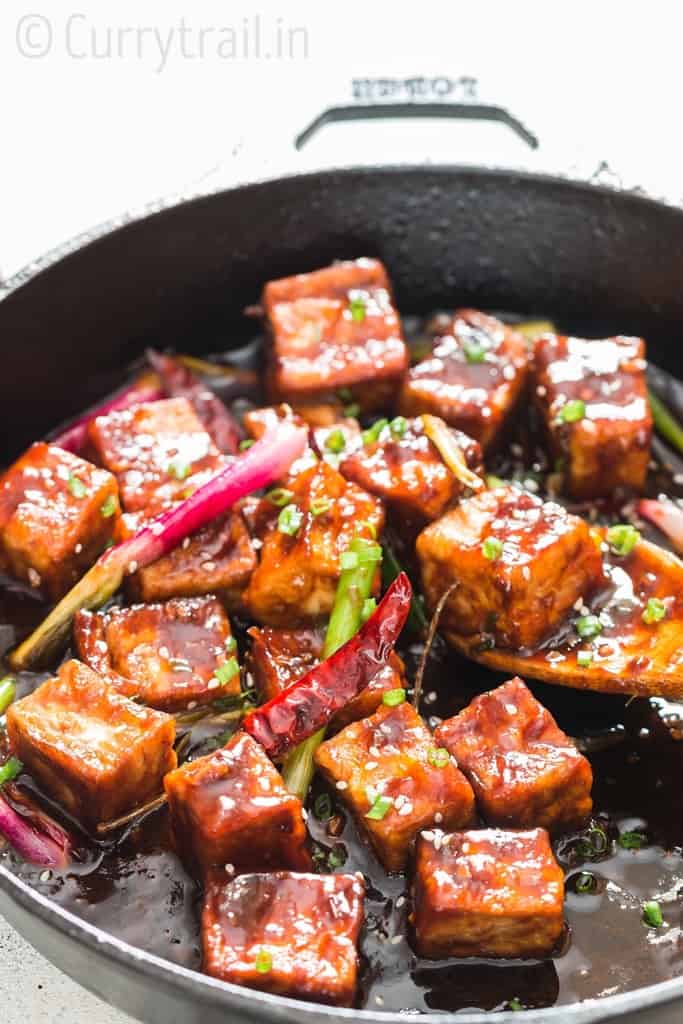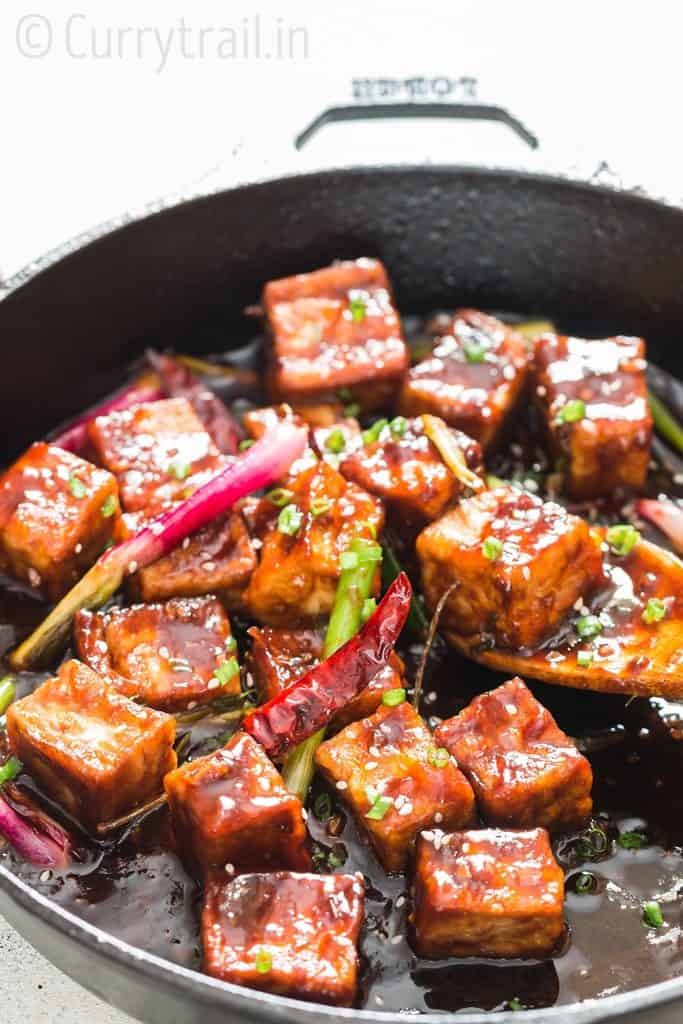 For all those who love Chinese food, you can't miss out this ridiculously easy to make, BEST tasting General Tso's Tofu. And for all those non-vegan readers – fret not, I'm gonna treat you guys as well with some unbelievable General Tso's chicken recipe very shortly. So stay right with us for few days. I guarantee you won't be disappointed.
General Tso's is NOT an authentic Chinese dish. Yes, that's true.
The dish is named after Zuo Zontang (TsoTsung-t'ang) a military leader from Qing's dynasty.   Eileen Yin-Fei Lo states in her book The Chinese Kitchen that the dish originates from a simple Hunan chicken dish and that the reference to "Zongtang".. The dish or its variants are known by a number of names, including Governor Tso's chicken, General Tao's Chicken, General Gao's / Gau's chicken, General Mao's chicken, General Tsao's chicken, General Tong's chicken, General Tang's chicken, General Cho's chicken, General Chai's chicken, General Joe's Chicken, T.S.O. Chicken, General Ching's chicken, General Jong's Chicken, House Chicken, or simply General's Chicken – Info source – Wikipedia!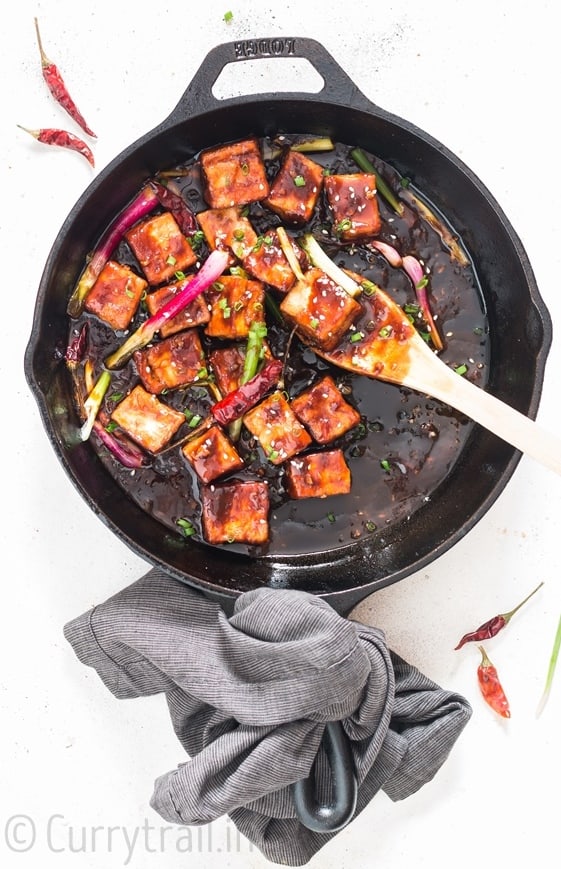 What is General Tso's Tofu?
It's a crispy, deep fried tofu in a flavorful sauce that is not too spicy and not too sweet.  This is vegan lovers delight, the popular General Tso's chicken gets a vegan make over by replacing meat with tofu.
For vegetarian options you can easily replace tofu with cauliflower or even baby potatoes and create amazing General Tso's vegetarian dish. This General Tso's sauce magic. It turns the otherwise bland and flavorless tofu into flavor bursting tofu stir fry kind of dish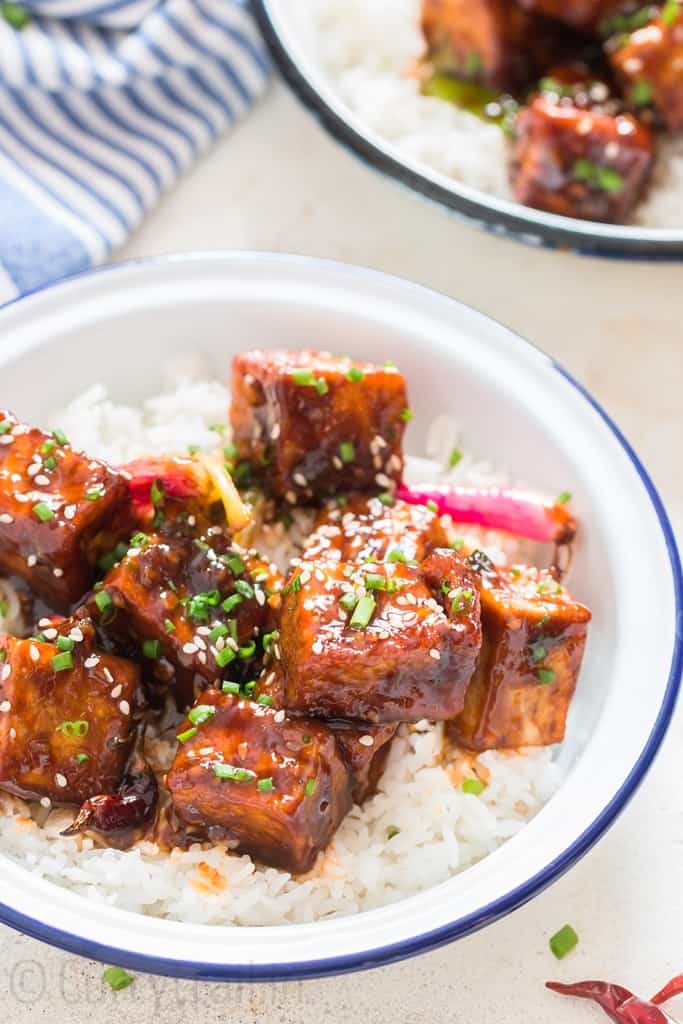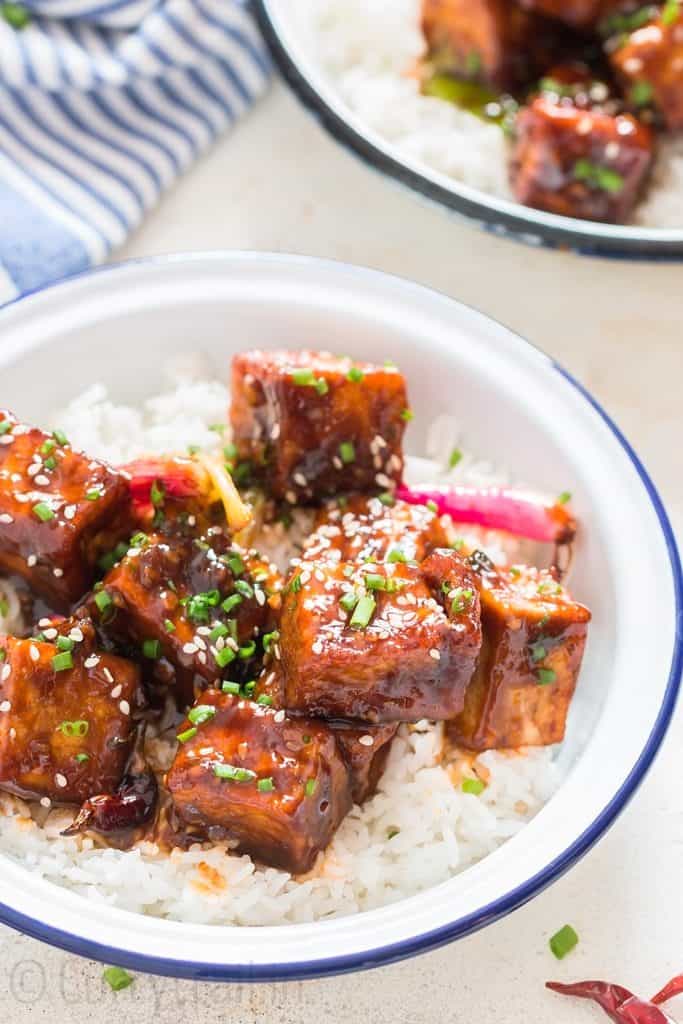 More quick and easy delicious stir-fry recipes-
Cantonese Style Chicken Chowmein
Cantonese Chicken with Mushrooms
This plant based tofu dish is spicy, sweet, salty and crunchy. A flavorful healthy and delicious alternative of the popular meat based General Tso's Chicken.
What is General Tso's Sauce
This sauce is magic! It's one of the amazing stir fry sauces you'll make using minimalist basic Asian sauces.
Traditional General Tso Sauce includes –
Ginger
Garlic
Dark and light soy sauce
Rice-wine vinegar
Hoisin sauce
Corn starch
Brown sugar or white sugar
And vegetable stock – because it's vegan.
We have tried to keep it vegan. Please check your sauce labels to see if there are any animal products in it. Also there is no guarantee that General Tso Tofu ordered in restaurant will be vegan as most restaurant might used fish sauce or chicken stock during preparation. So if you are particular about vegan , it's always better to try it at home.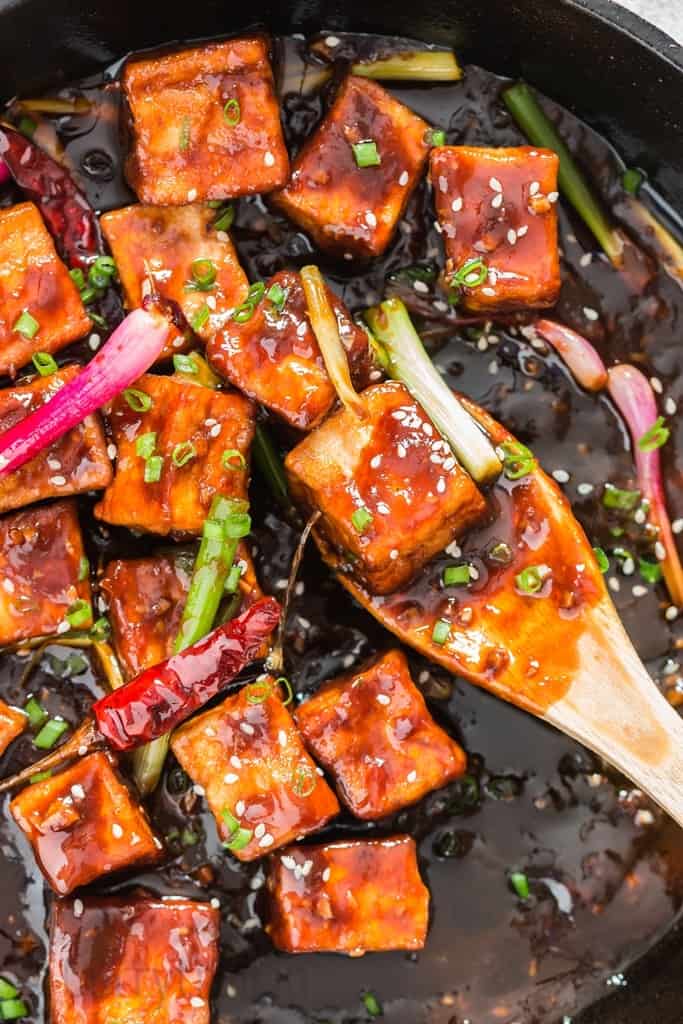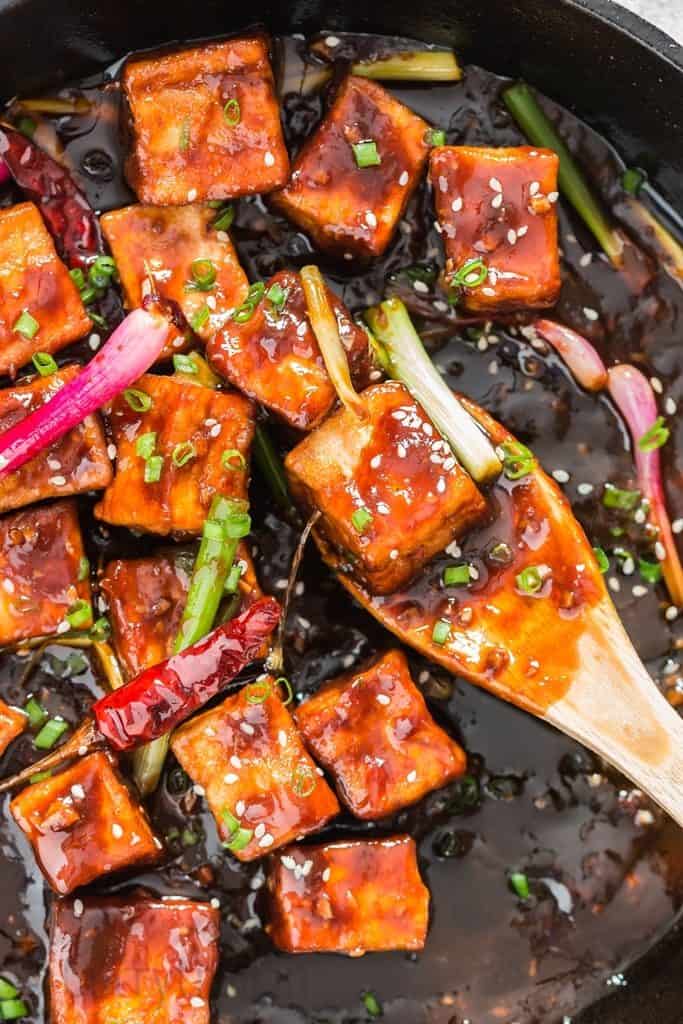 How to make general tso tofu
First, let's get on with the sauce. To make sauce, simply whisk garlic, ginger, red chili sauce, hoisin sauce, soy sauce, rice wine, brown sugar and corn starch in a bowl. Make a lump free sauce.
If using block tofu, make sure you have the firm tofu. Cut into 1" cubes. Put tofu in zip lock bag.
Pour rice wine vinegar, soy sauce into the bag, lock the bag and gently shake well to coat tofu pieces in sauce. Let it rest for 30 minutes.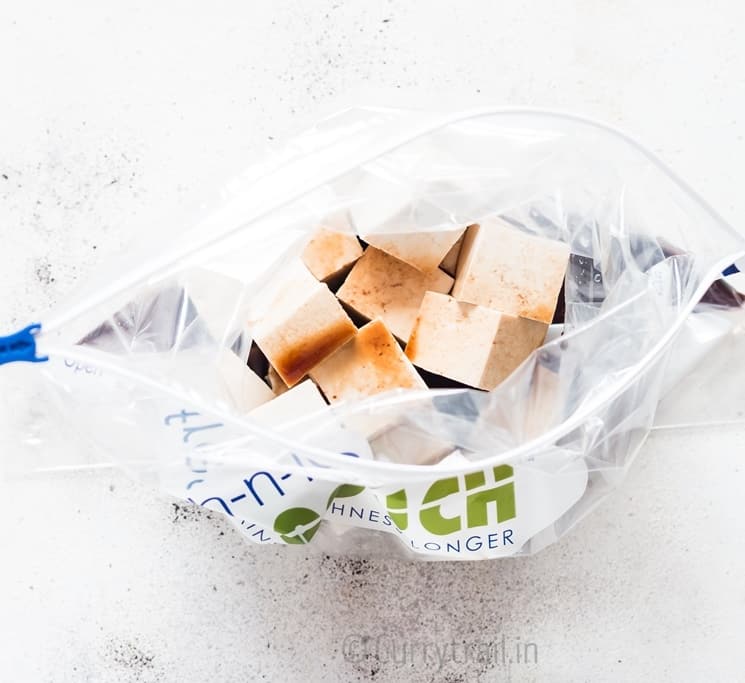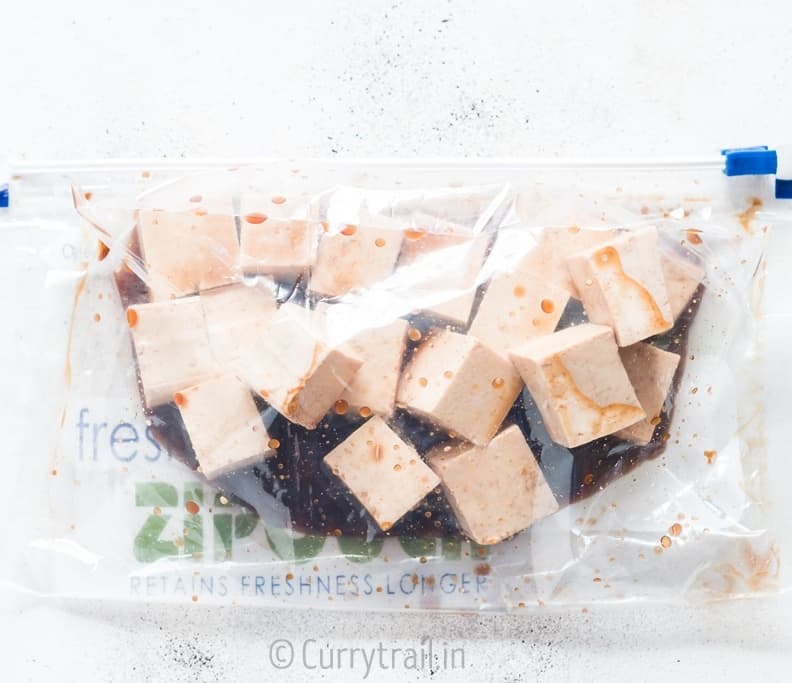 Drain out excess sauce into another bowl. Do not waste this. We can add this sauce back into the stir fry sauce while cooking.
Add corn starch, and coat tofu pieces well in the starch.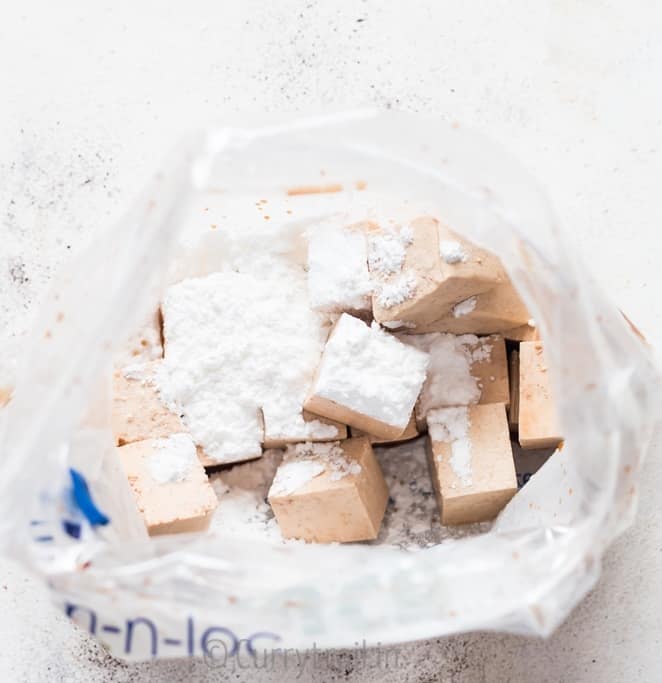 Toss to ensure all tofu cubes are coated well in corn starch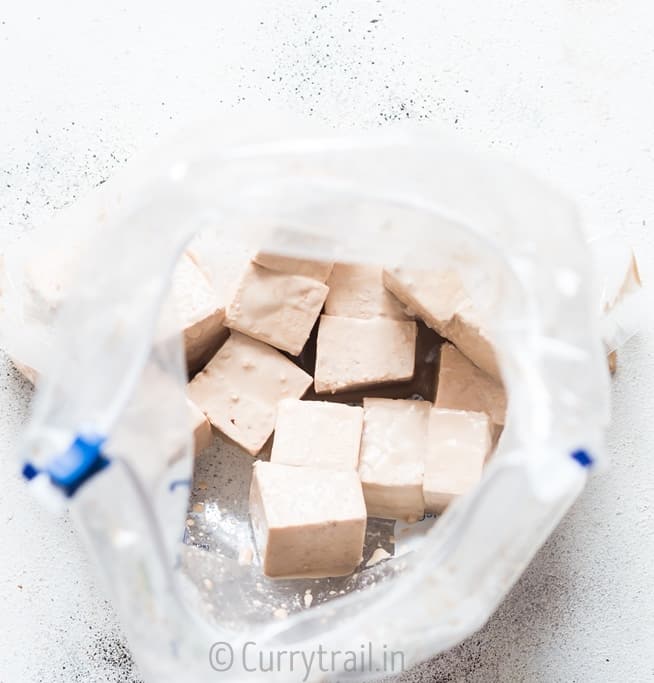 Heat oil in pan. Sesame oil, peanut oil, canola oil are best choices for stir fry. Use one of them.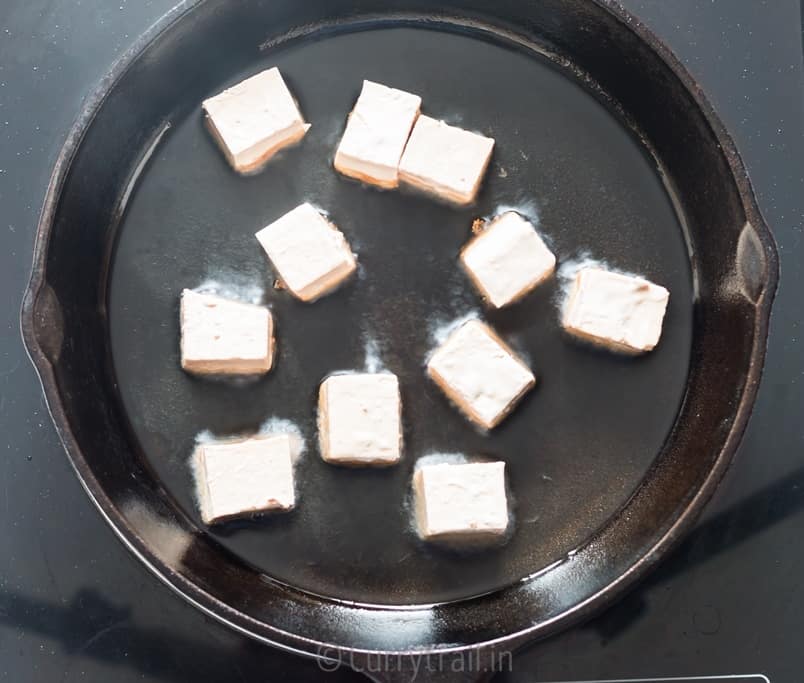 Into the hot oil, add tofu pieces and fry until golden brown. Turn over tofu and fry until golden brown on all sides. Do not crowd the pan. Layer tofu in single layer. Do in batches if you have to.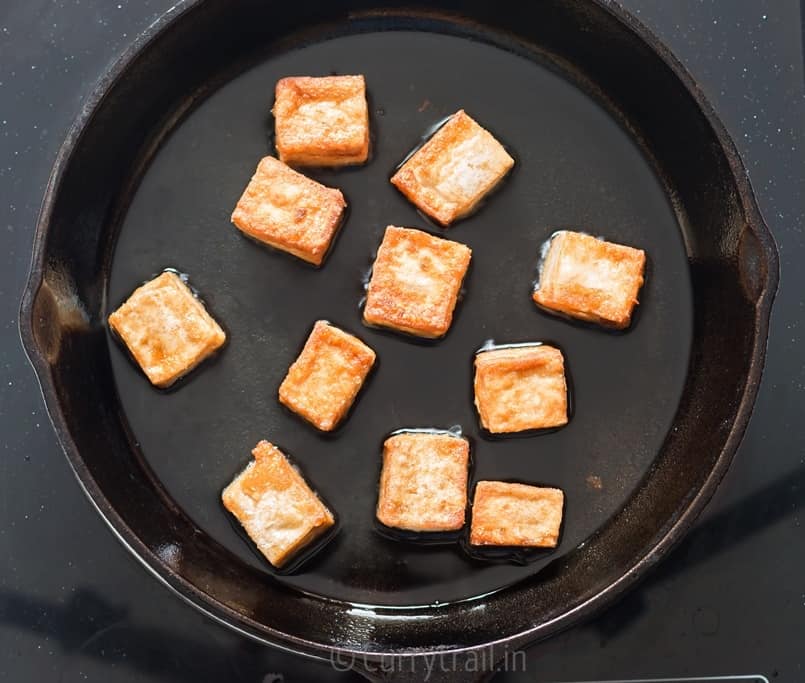 Remove fried tofu onto a plate.
Remove some of the oil from the pan (if too much is left over). Add dried red chilies.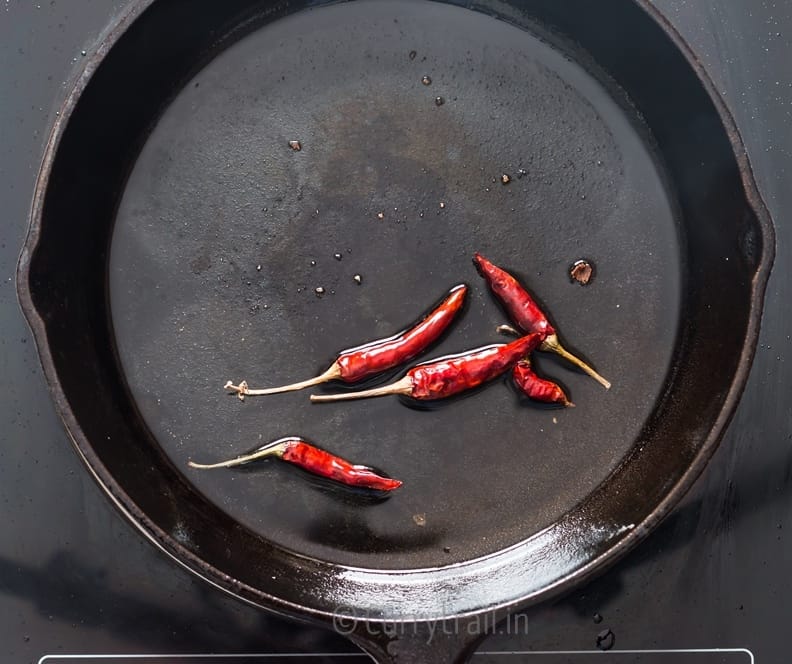 Pour in the prepared sauce. Stir constantly and cook for a minute or two.  Pour the left over sauce from the tofu marinade as well.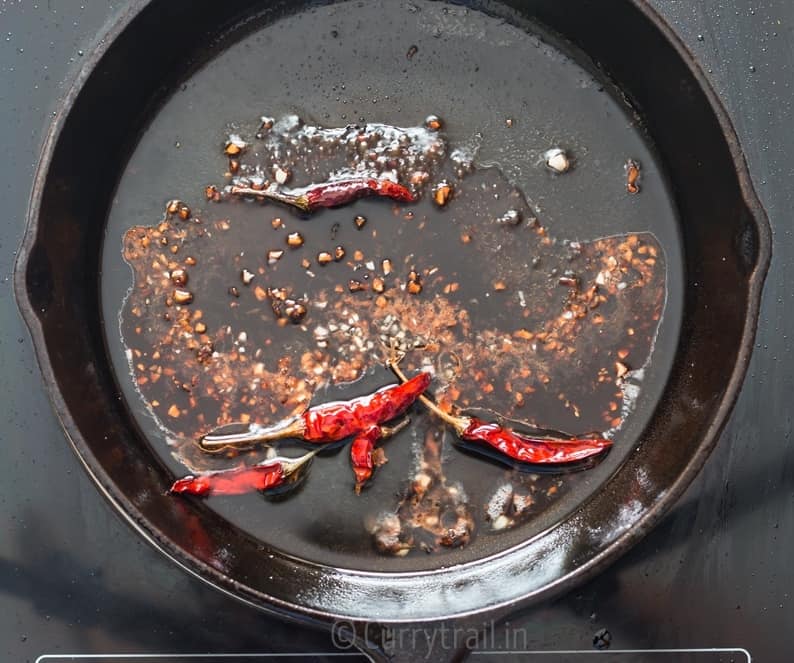 Throw in the scallions. Stir well.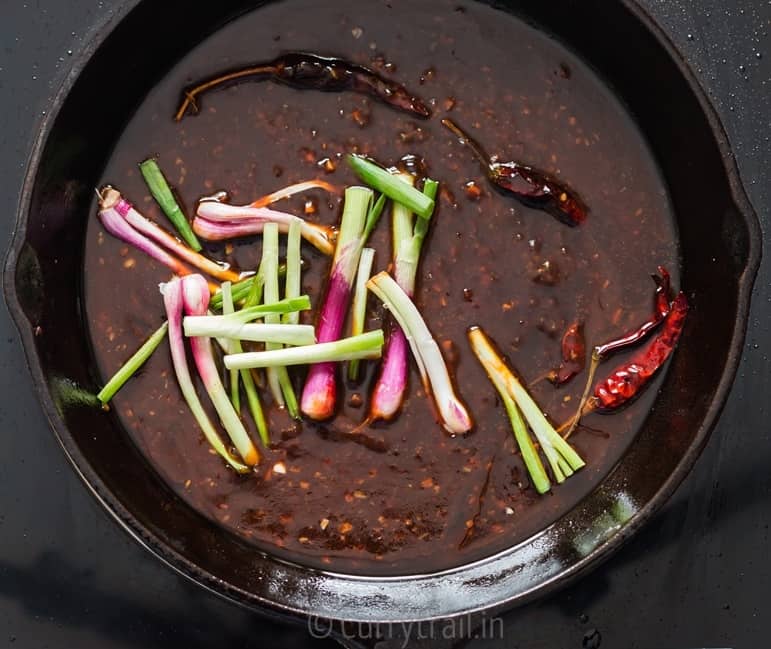 Add in fried golden brown tofu cubes. Toss until every tofu piece is covered evenly in sauce.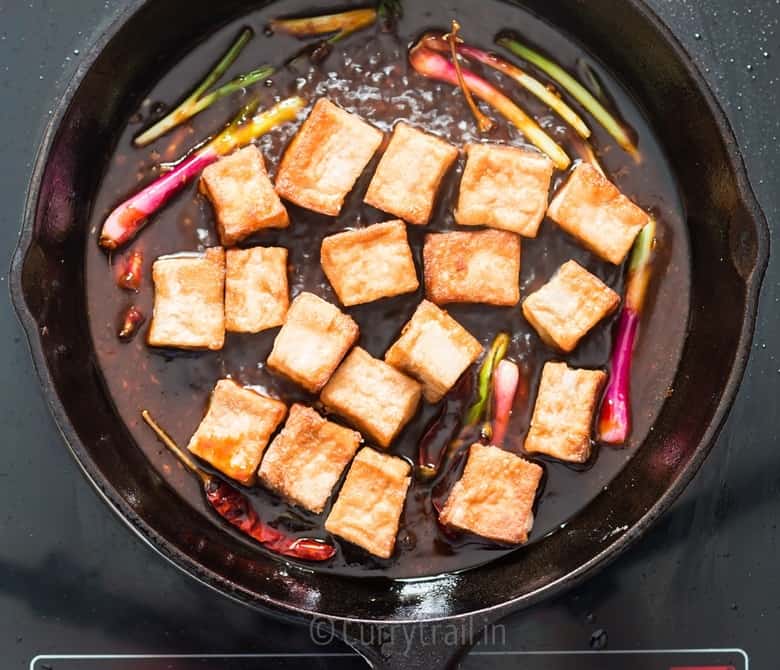 Remove the pan from heat.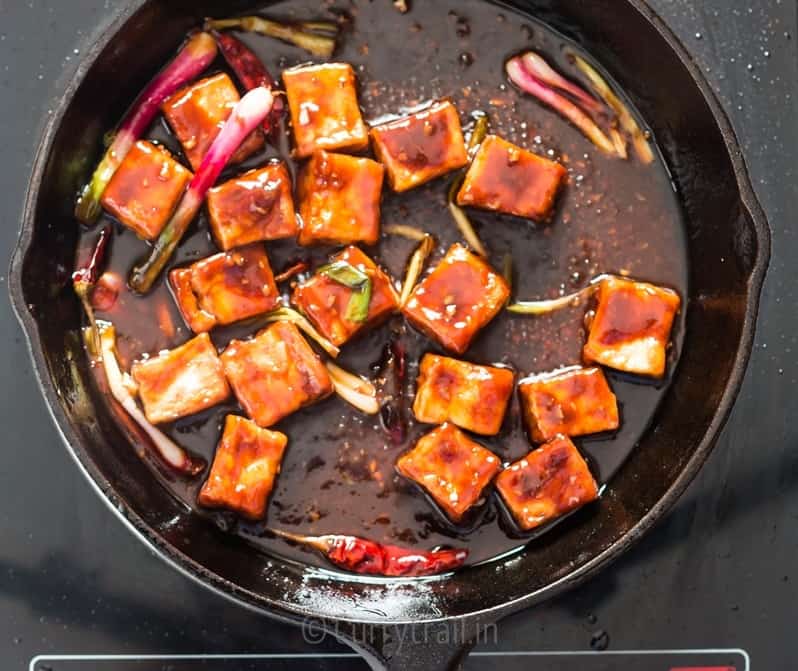 Serve this slightly sweet, slightly spicy, slightly salty, slightly crunchy General Tso Tofu over a bed of rice (or quinoa for lighter healthy option) garnished with green onions, sesame seeds.
Don't forget to Subscribe to CurryTrail  Recipes below to get our newest recipes delivered straight to your inbox.
LOVE THIS RECIPE? KEEP IN TOUCH AND DON'T MISS OUT ON ANY OF CURRYTRAIL RECIPES! FOLLOW ME ON INSTAGRAM, PINTEREST, FACEBOOK, TWITTER, GOOGLE+.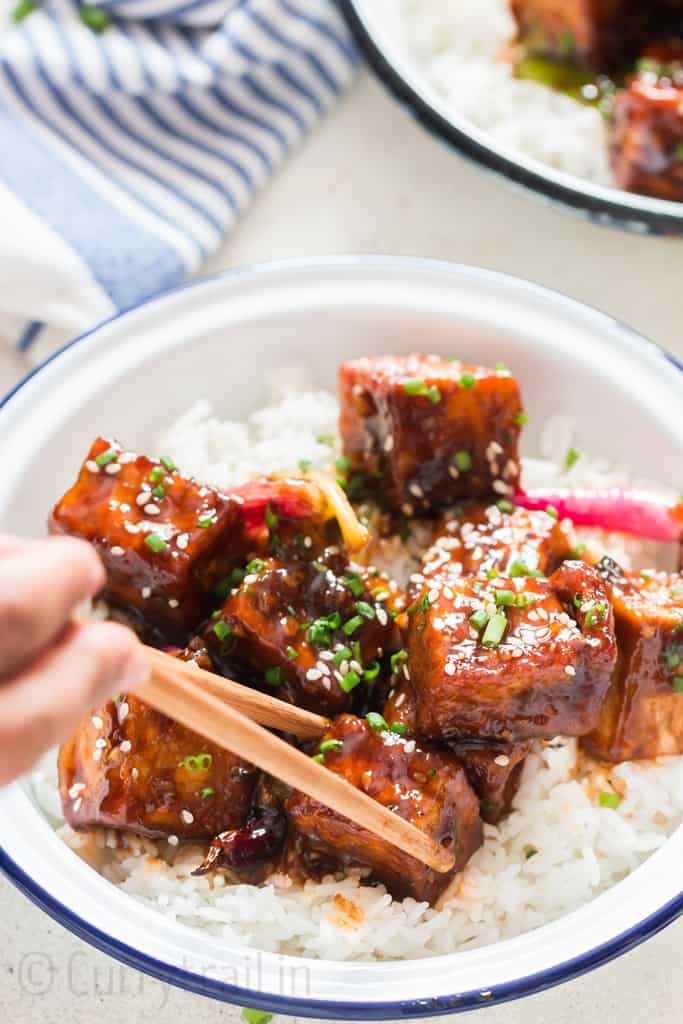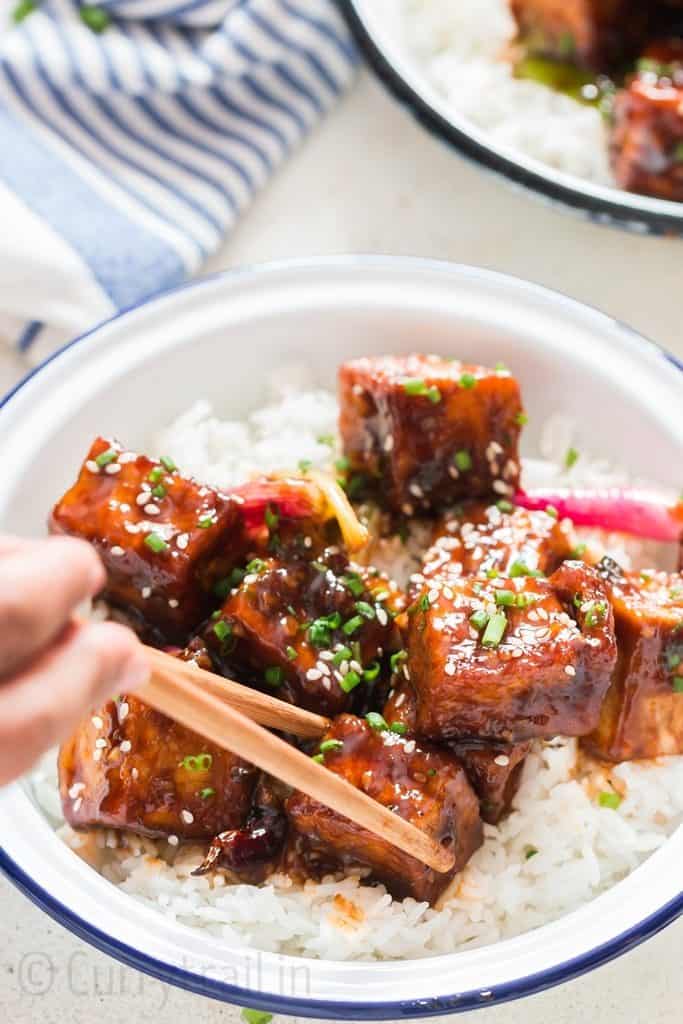 WATCH GENERAL TSO's TOFU RECIPE VIDEO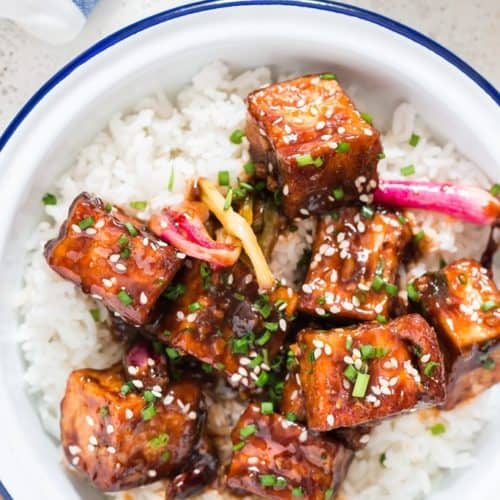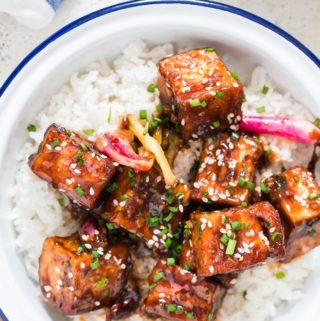 General Tso's Tofu
General Tso's tofu is favorite take out from American-Chinese restaurants. So delicious and so much better and healthier than the takeout!
Print
Pin
Rate
Ingredients
Tofu -
16

oz

firm tofu

cut into 1 inch cubes

1

tablespoon

rice wine vinegar

white

2

tablespoon

soy sauce

5

tablespoon

corn starch
Sauce –
1

tablespoon

garlic

minced

1

tablespoon

ginger

minced

1

tablespoon

red chili sauce

1

table spoon hoisin sauce

1

tablespoon

light soy sauce

1

tablespoon

dark soy sauce

2

tablespoon

Chinese wine

Shaoxing wine or any sherry

2

tablespoon

brown sugar

2

teaspoon

corn starch
Stir Fry –
4

tablespoon

canola oil

5-6

dried red chilies

or 3 fresh Thai red chilies

¼

cup

scallion
Garnish
Green onions

chives

Toasted white sesame seeds

Toasted black sesame seeds
Instructions
First stir in all ingredients for sauce in a bowl and keep it aside.

In a zip lock bag, add tofu cubes. Pour in rice wine vinegar and soy sauce into the bag. Lock it and shake well ensuring every tofu cube is coated in sauce evenly.

Set aside the bag and let it marinade for atleast 20-30 minutes.

Unlock the zip, drain out excess sauce from the tofu into a bowl. Do not discard this sauce. We will use it back in stir fry sauce.

Add corn starch into the bag, zip-lock and toss tofu well to coat evenly in corn starch.

Heat oil in a pan. Fry tofu coated in corn starch until golden brown on all sides. Fry tofu in batches if you have to. Remove fried tofu on to a plate.

Into the same pan add dried red chilies. Pour in the sauce prepared in step 1. Keep stirring.

Let it cook for a minute. Add left over excess sauce drained from tofu into the pan and cook stirring constantly.

Add scallion and stir again. Put fried tofu back into the pan.

Toss well until all tofu is evenly coated in sauce.

If the sauce turns thick during the cooking process, thin it by pouring a few tablespoons of vegetable stock or water.

Serve General Tso's Tofu with rice and some steamed or sauteed broccoli or beans on the side.

Garnish with green onions, sesame seeds.
Nutrition
Serving:
0
g
|
Carbohydrates:
0
g
|
Protein:
0
g
|
Fat:
0
g
|
Saturated Fat:
0
g
|
Polyunsaturated Fat:
0
g
|
Monounsaturated Fat:
0
g
|
Trans Fat:
0
g
|
Cholesterol:
0
mg
|
Sodium:
0
mg
|
Potassium:
0
mg
|
Fiber:
0
g
|
Sugar:
0
g
|
Vitamin A:
0
IU
|
Vitamin C:
0
mg
|
Calcium:
0
mg
|
Iron:
0
mg
"PIN IT" to your ASIAN BOARD