Kerala style egg roast on the side with flavorful rice , it's one of the kind of meal that will look forward to eagerly every single time. It's spicy, rich with onion flavor, easy to make and tastes incredibly delicious! Basic ingredients, make it as spicy as you want!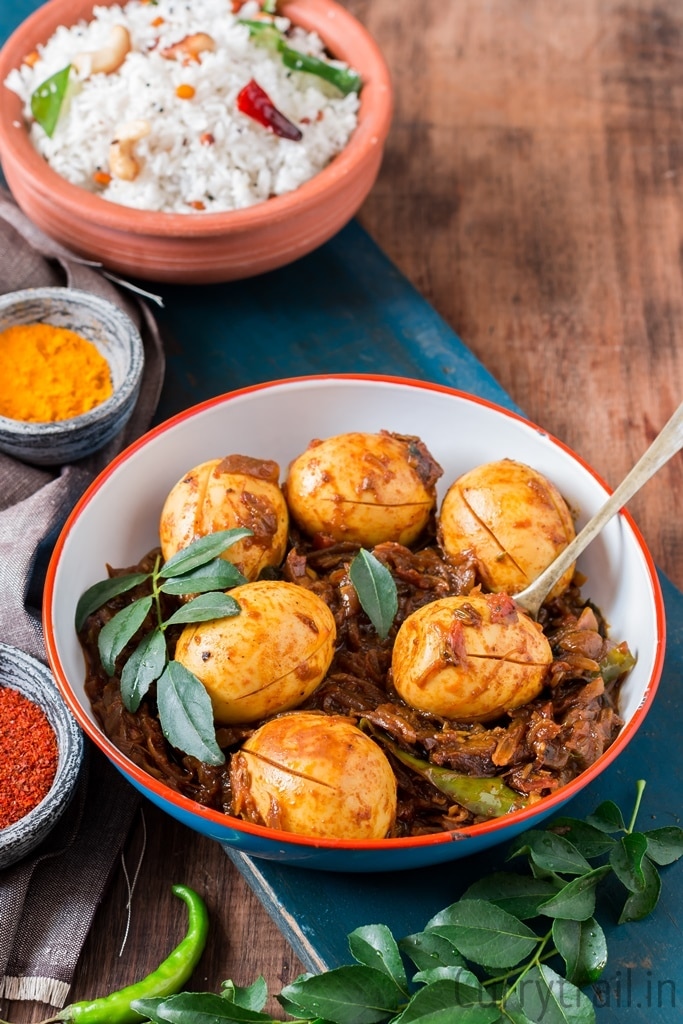 Eggs are the most versatile ingredient in any pantry. You can have them for breakfast, lunch, evening snacks and dinner and still not get bored of it at all! I don't get bored, eggs are my favorite! Stir eggs into a soup, fry a simple omelette, fry and add on top of breakfast bowl, make muffins out of them, put them in a curry….they all are delicious!
If you are someone who does not like eggs,….sorrrry, so sorry that you don't like it. You are really missing out a big deal, yes big deal I say!
If a certain preparation of egg puts you off, don't shy away from eggs. There are so many ways you can cook eggs and make it suitable for your liking. Runny yolks puts you off?(What!) Just make omelette, boil it, or simply scramble it. Boiled egg curry is one of the best things not to be missed in life! Let's talk fried eggs – with yolks fried and cooked well that you can add on top of your oatmeal bowl, over top of a bowl of rice, over salad bowl, anything!…see there are so many options when it comes to eggs!
Well, i'm not here to convert you into an egg lover, if you don't eat eggs, i'll leave it up to you!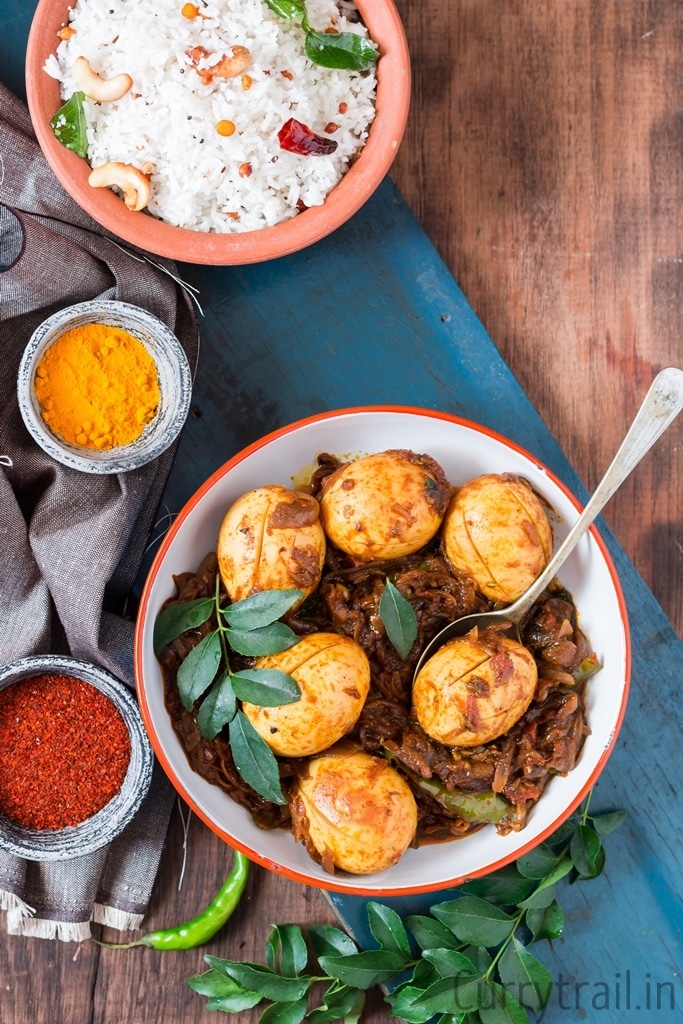 Egg roast is nothing but a simple egg masala recipe that is made using hard boiled eggs roasted in simple Indian spiced masala base. This easy egg roast recipe is the must-try recipe for you guys!
This version of egg roast recipe is egg roast Kerala style which is locally called as nadan mutta roast. This mutta roast is a dry dish, a dry egg roast recipe. Eggs in Tamil/Malayalam is called mutta. Traditionally this is spicy egg roast as people down South India love spicy food. But don't get scared off from trying this Kerala egg roast recipe if you are faint-hearted :D. You can totally reduce the spices as per your preference, just reduce the number of green chilies and chili powder (or leave it off totally if you can't take any spice at all) stick to the recipe you will still get decent egg roast. Coriander powder will give that must have egg roast flavor and very little heat to the dish that would be just perfect!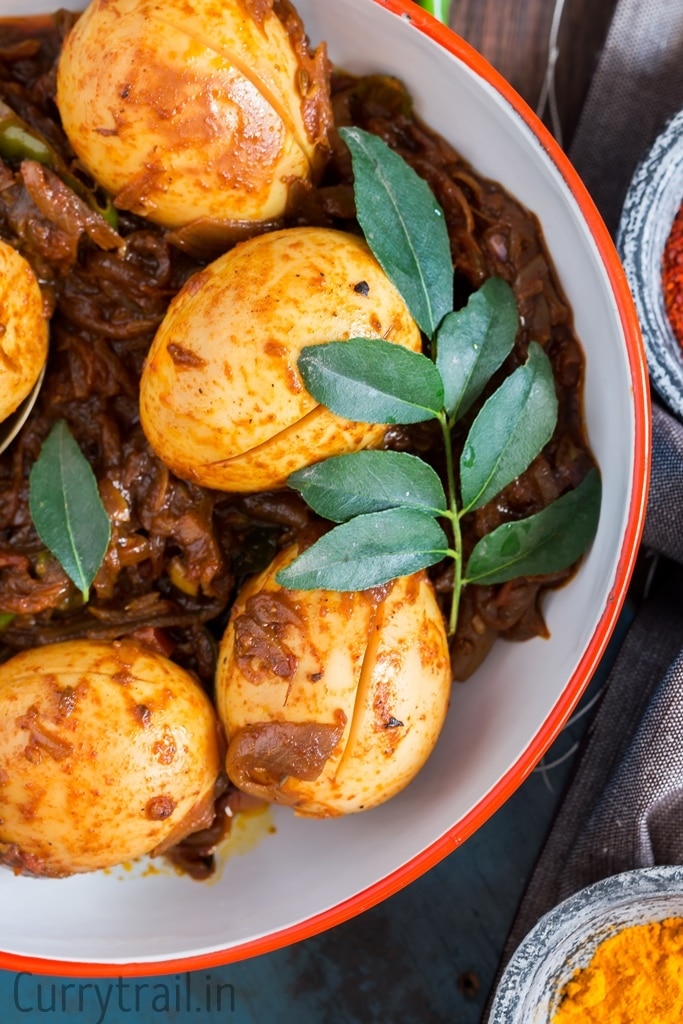 How To Make Egg Roast
Egg roast recipe is rich with onion thus making it richer and sweeter plus the spices gives it the heat needed to balance out the sweetness from onions. Loads of onions is required to make rich and tasty egg roast.
Ginger-garlic-pepper corns-fennel seeds is ground to a coarse mix. Fry that in oil until raw smell of the paste is gone (takes about 2-3 minutes)
Thin sliced onions are sauteed in oil until it gives out all it's rich taste and aroma when it turns brown. The key to a good egg roast recipe is to wait until onions are browned well. Do not hurry up on this step. Since we are adding loads of onions, the recipe calls for 5 large onions, cooking onions until brown will take a bit of time. Once onions begin to turn brown, add slit green chilies and curry leaves and continue to cook onions till it turns fully brown.
To brown onions, all the spice powders and chopped tomatoes. Cook until everything comes together and forms a thick saucy base.
The last step is adding hard boiled eggs to the onion gravy base. Before adding eggs, slit boiled eggs till the yolk center and add it to the sauce. This will help all the flavors from the thick saucy gravy to penetrate into the eggs giving it flavor and taste.
The consistency of Kerala egg roast can be as you prefer. Make it dry by cooking it further for few extra minutes, or leave it as saucy gravy with eggs in it by adding in tablespoon of water to the pan before turning off.
How To Serve Egg Roast
If you make dry egg roast, you can serve it as side dish along side rice like
ghee rice,
Lemon Rice or
If you prefer to make it gravy consistency, then make sure you make it slightly gravy and not too runny. This can be served as side dish for Idliyappam and Appam or dosa.
What Type Of Eggs To Use For Egg Roast Recipe
Egg roast recipe works best with birds eggs. Hen's eggs, duck eggs, goose eggs and even quail eggs will work. Hen's eggs are so easily available while the others are a little bit more difficult to get hold of, so most egg roast recipe is invariably hen's egg roast recipe.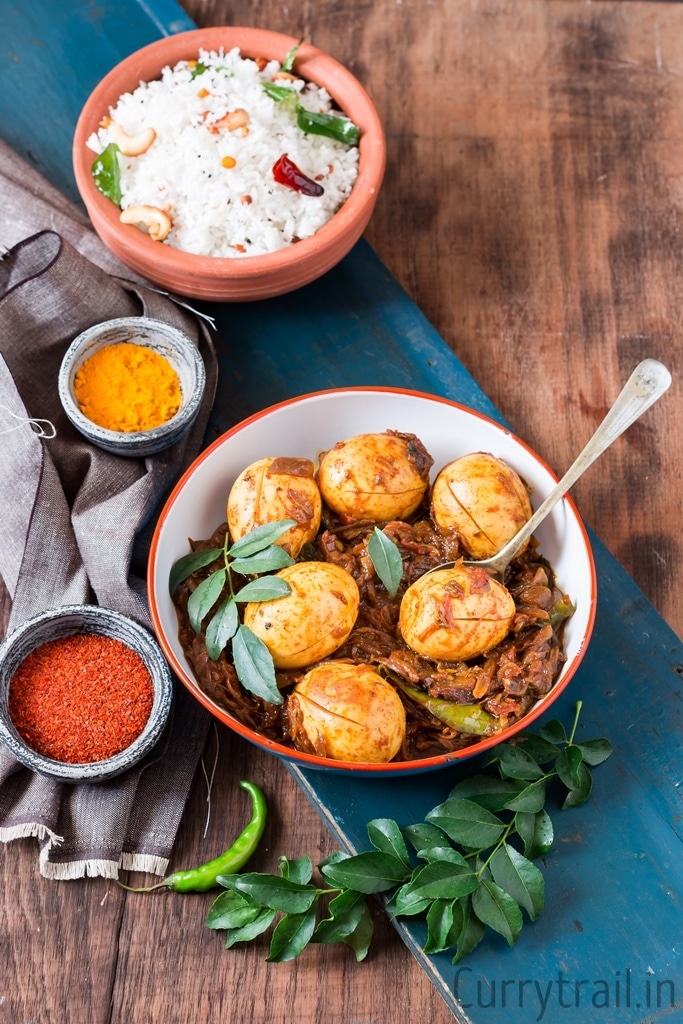 IF YOU LIKE EGGS DO TRY OUR OTHER EGG RECIPES, THAT ARE TOO GOOD TO BE MISSED –
Don't forget to Subscribe to CurryTrail Recipes below to get our newest recipes delivered straight to your inbox.
LOVE THIS RECIPE? KEEP IN TOUCH AND DON'T MISS OUT ON ANY OF CURRYTRAIL RECIPES! FOLLOW ME ON INSTAGRAM, PINTEREST, FACEBOOK, TWITTER, GOOGLE+.
WATCH HOW TO MAKE KERALA EGG ROAST – QUICK VIDEO
Click play to watch video or you can scroll down to recipe card if you want written recipe.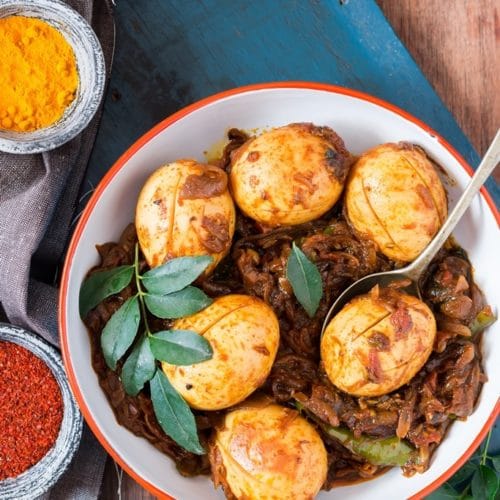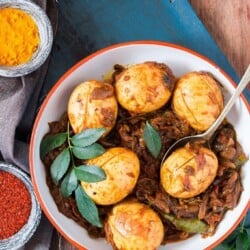 Kerala Style Egg Roast
Kerala style egg roast on the side with flavorful rice as the main dish, it's one of those meal that will look forward to eagerly every single time. It's spicy, rich with onion flavour, easy to make and tastes incredibly delicious! Basic ingredients, make it as spicy as you want!
Ingredients
5 onions, sliced
1 tomato, chopped
4 green chilies, slit
1 sprig curry leaves
¼ teaspoon turmeric powder
1 tablespoon red chili powder
1 tablespoon coriander powder
1 teaspoon garam masala powder (optional)
salt to taste
3 tablespoon coconut oil
For masala paste-
7 cloves garlic
1 ½ inch ginger
1 tablespoon black pepper corns
1 tablespoon fennel seeds
Instructions
First the prep - Boil eggs for about 11 minutes, so it is hard. Remove eggs from hot water and immediately dip them in ice cold water for few minutes. Then peel the shell off the eggs.In a mortar pestle pound garlic, ginger, black pepper corns and fennel seeds into a coarse paste.

Cooking process of egg roast- Heat coconut oil in a pan. Roast the paste in oil until it's cooked through and doesn't smell raw.Add in the onion slices and roast them on medium heat for about 20 minutes. Onions is the base of this dish. We want to get that rich onion flavour in the roast by cooking in thoroughly in oil. Add green chilies and curry leaves and continue to cook. We are looking for onions nicely browned and rich in color. At this step we add the spice powders – turmeric, red chilli powder, coriander powder, and garam masala powder along with salt. Until the spices blend into the onion mix, keep stirring.Chopped ripe tomatoes in and stir well. Cover and let it cook away until the moisture form the tomatoes is released into the masala. At this step you add about ½ cup water if you prefer to make this into slightly gravy egg masala roast. I wanted dry egg roast so I did not add any water.Cover and cook again for few minutes. Make 4 opposite slits on eggs(do not make deep slits, go till the yolk). Add them to the masala and coat eggs with roasted masala. Cover and cook in medium flame until all moisture in the masala gets evaporated and turns dry. Serve dry spicy egg roast or nadan mutta roast with ghee rice or any other rice of your choice!
Notes
Adjust spice as per your preference.
Coconut oil is must in the dish. You won't get the authentic taste if you substitute coconut oil with any other type of oil.
Nutrition
Calories: 388kcalCarbohydrates: 32gProtein: 15gFat: 23gSaturated Fat: 15gCholesterol: 327mgSodium: 382mgPotassium: 680mgFiber: 9gSugar: 11gVitamin A: 1625IUVitamin C: 36mgCalcium: 168mgIron: 3.7mg
"PIN IT" TO YOUR EGGS BOARD