Presenting to you one of the quickest lunch recipe that simple and delicious. It's lemon rice which is one of the most popular lunch box recipes most South Indians opt for. It needs no fancy ingredients, can be made in less than 20 minutes.
Ask any South Indian which is that one recipe they swear makes their life easy, and you will most probably get an answer 'lemon rice', 'elumichai sadam' . Be it for your quick lunch for busy mom's at home, or pack it in your lunch boxes, lemon rice makes it's way to most household weekly menu. Lemon rice is also the most popular rice that people love to pack for their travel.
My mom still packs her food during her travel, even if the travel is as short as 2 hours.  I still remember those travelling days by train and when we travel we carried our food from home. BTW I still love trains over planes. Nothing can match the experience of train travel.
For long journey travel mom would mostly pack lemon rice with boiled eggs. The other favourite dish that she loves to pack is tamarind rice(puliogare).  And when we are not in mood for rice, she has he next fixed dish – chapathis and onion-tomato gojju.
Lemon rice is a life saver when you are not in a mood to spend elaborate time in the kitchen. It can be made in a jiffy and you have a flavour packed, delicious, comforting rice that can be eaten as it is or serve it with papad, potato chips or even some pickle(why not!) The tang in the pickle and the tang in lemon rice makes you feel wanting for more. If you love tangy things! 😀
Does lemon rice remind you of something else? Yes! Temples!
South Indian temples gives out 'prasadam/prasad'(eatables that are considered to be divine) to all devotees visiting the temple. And the taste of the prasadis something so unique that you wont be able to replicate it at home or anywhere else. The most common and most liked Prasad is ofcourse lemon rice and puliogare.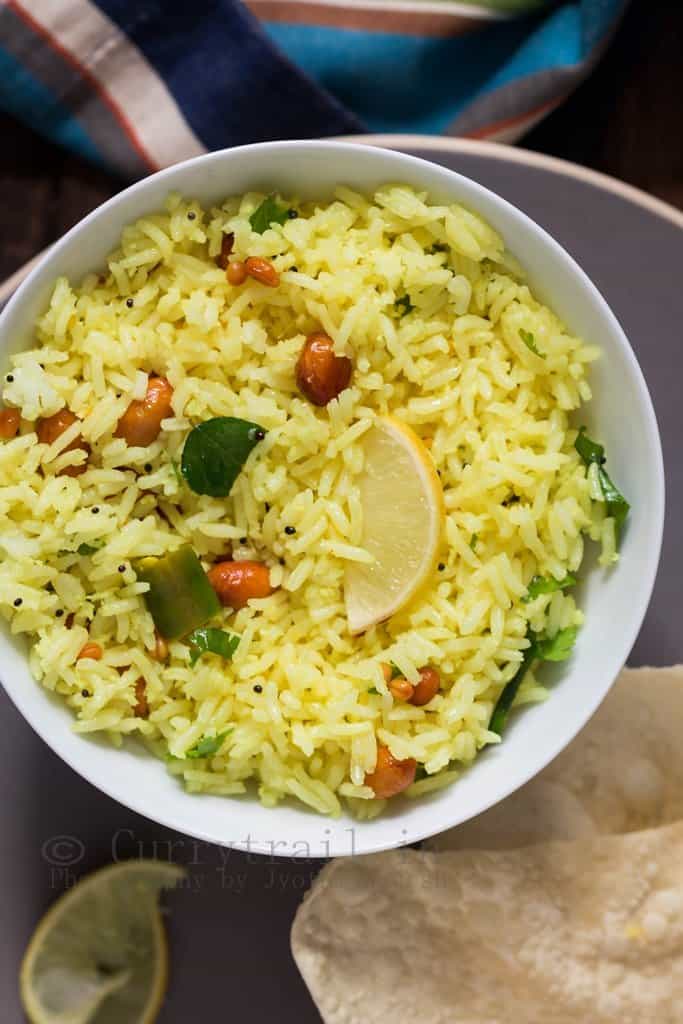 Ingredients
2 cups rice(cooked)
2 tablespoon oil
1 teaspoon mustard seeds
1 teaspoon ginger(chopped)
1 teaspoon asafoetida
2 teaspoon urad dal
2 teaspoon channa dal
2 tablespoon peanuts
1 sprig curry leaves
2 dried red chilies (broken)
3 green chilies (chopped)
1 teaspoon turmeric powder
Salt to taste
2 lemon (juice extracted)
4 tablespoon fresh grated coconut
2 tablespoon coriander leaves
Method
Heat oil before adding mustard seeds. Let the seeds splutter. Put urad dal and channa dal and wait till they turn brown.
Add peanuts and saute till peanuts are browned.
Curry leaves goes in and then add ginger and asafoetida.
Add chopped green chilies along with dried red chilies. Add turmeric powder, salt to taste, mix well.
Remove the pan from stove and the mix cool completely.
Now pour lemon juice, give it a good mix.
Add this mixture little at a time to cooked rice and mix gently. Mix as much lemon mixture you need to the rice, check by tasting in between.
Add grated coconut along with chopped coriander and give one final mix.
Serve immediately with papad or potato fry.