Creamy Instant Pot Chicken Marsala is one of the easiest and fanciest Italian classic dish fit for any day any occasion. It's so easy and fast to make in Instant pot that you can make it even on a weekday. Takes less than 15 minutes! Sounds like a perfect weeknight dinner, doesn't it!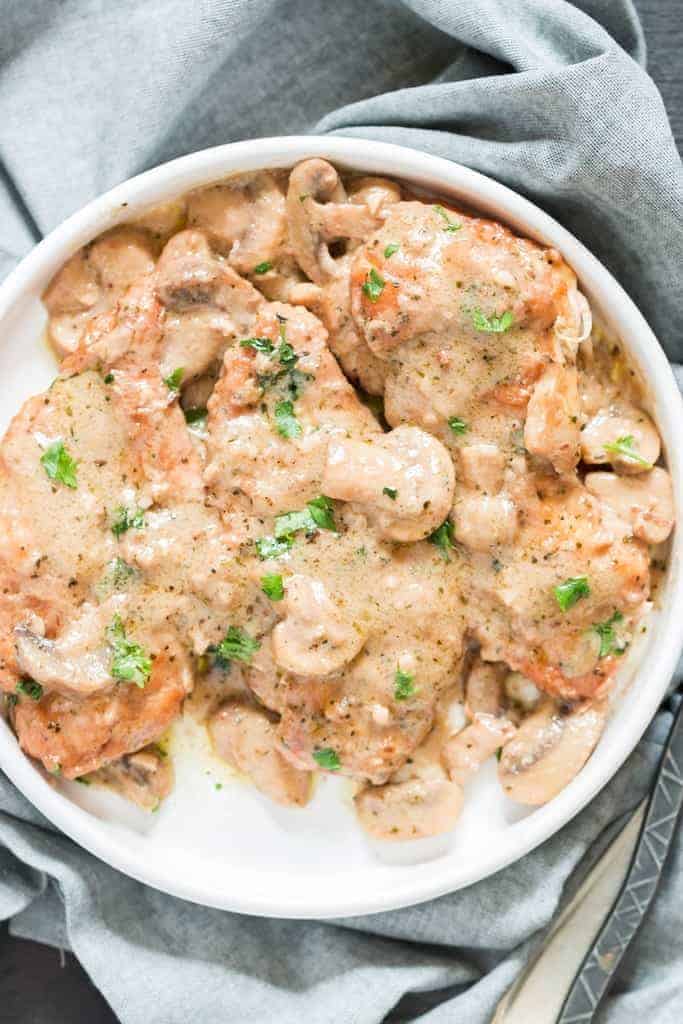 Instant pot has made cooking so much convenient that some of the most amazing dishes that needs constant attention and long-hours to cook can be made in a flash. You saute ingredients or dump them, close lid, set timer. Walk off and do your chores.
No babysitting. Instant pot chicken marsala is easy, fast and delicious Instant pot chicken recipe. This creamy decadent savory dish is low-carb and gluten-free as well. It's perfect of any busy weeknight or as a fancy party meal with friends. It's fancy enough to make for date night as well.
Instant pot chicken marsala is scrumptious easy dish that is full of flavors. Juicy tender chicken floating in creamy flavor packed mushrooms and Marsala wine sauce is a perfect mood lifter. It's sooooo good that you will instantly be transported to a happy heaven with its taste.
Don't get intimidated just by reading the word Marsala wine. You really don't have to spend $100's on the wine just to cook one dish. You get a lot of cheap varieties of Marsala wine some less than $10. Just look out for cheaper version of Marsala in liquor store nearby.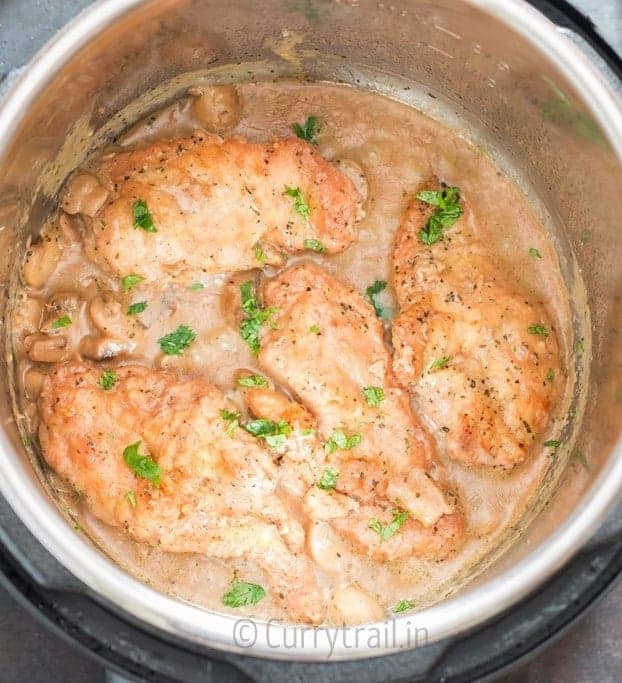 What is Marsala Wine and What Can you Use Instead of Marsala Wine
I read and explored a little but about Marsala wine. Marsala is a wine produced in the region surrounding the Italian city of Marsala in Sicily. It's actually a brandy-fortified wine with a unique taste and flavor to it. It's dry a little sweet.
Marsala wine is red wine which is slightly thicker than your red wine. It can be compared to your sherry and port wine to an extent.
Marsala wines have a unique sweetness, and most of the Marsala wines are REALLY expensive. But these days you do get a lot of cheaper bottles too (just try to look for it in liquor store or big fancy shopping mall near you).
You never know, you might get just lucky. Another place to look for is in airports or shopping malls when you travel – yup that's how I got myself a small bottle of it.
However, you can't always have the real thing on hand, and there are times you just need a quick alternative.
Chardonnay or Cabernet are popular as alternatives to Marsala wine.
Use Madeira wine if you want similar taste to a dish
Mix port wine and sherry in equal amounts to substitute for Marsala.
Use Red wine with Brandy – for ¼ cup of wine, use 1 teaspoon brandy.
For non alcoholic version – use ¼ cup grape juice, 1 tablespoon vanilla and 2 teaspoon sherry vinegar.
What is Chicken Marsala
Chicken Marsala is a classic Italian recipe in which chicken breast is cooked in creamy wine infused mushroom sauce.
When you cook with wine, the alcohol evaporates during the process. So if you are apprehensive about serving this dish for kids, know the fact that the dish won't have the alcohol content.
So yes, you can serve it for kids but if you really aren't comfortable with the thought of wine in the dish, please don't. Skip the wine completely if serving this dish just for kids.
Or you could try this delicious garlic shrimp pasta for kids while you enjoy some creamy easy chicken Marsala for your self.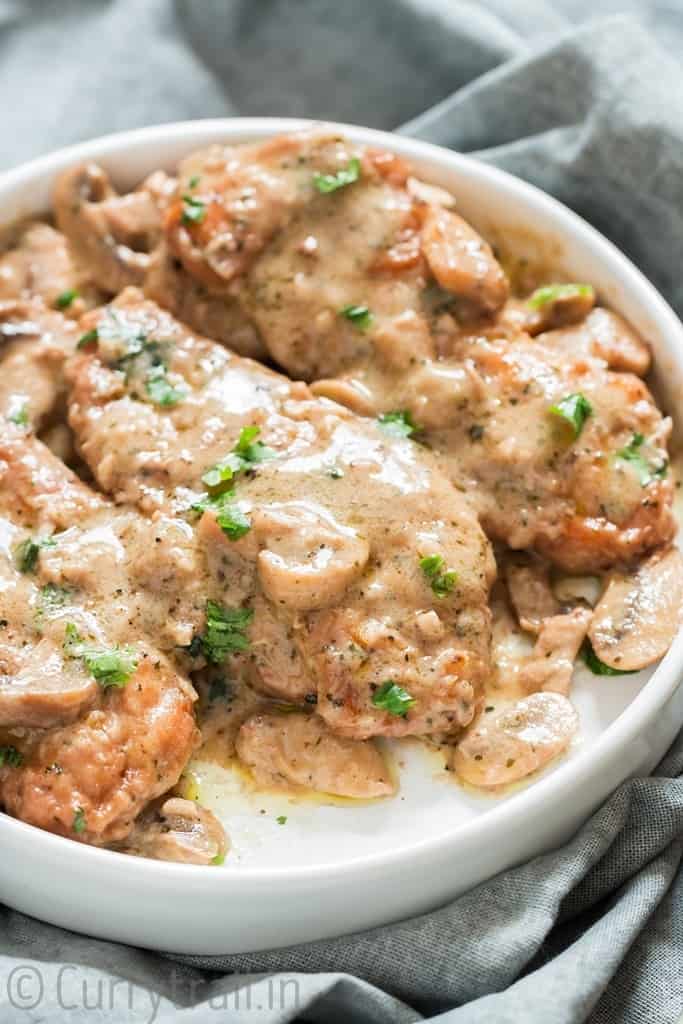 How to make instant pot chicken Marsala
White creamy mushroom sauce is one of the popular Italian sauces that is used in so many ways. Creamy white sauce finds its use in pasta, to cook risotto, to cook chicken.
Adding Marsala wine to the creamy mushroom sauce makes it rich, decadent and fancy too.
Chicken steaks made of chicken breasts are coated in seasoned gluten-free flour, flash fried in oil. Make sauce by cooking mushrooms and garlic in Marsala wine, chicken stock, cream.
Dunk the flash-fried chicken into the sauce, simmer for few minutes. Remove the chicken pieces again (so they don't break while you stir to sauce to thicken it).
Finally thicken the sauce by adding little gluten-free flour mixed with water and pour into the pot.
Serves great with mashed potatoes.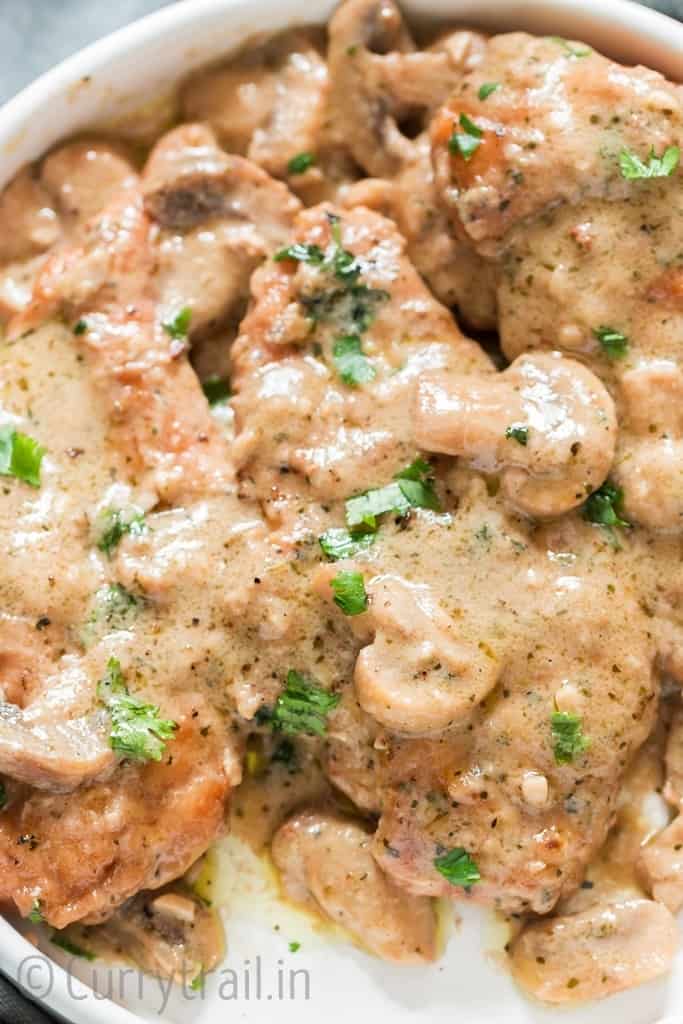 What to serve with instant pot chicken Marsala
Chicken Marsala serves great with mashed potatoes. If you prefer lighter version you can serve with any other types of mash. We are thinking lighter mash like bean mash, cauliflower mash.
It's so creamy and saucy that you can mix in pasta, serve it alongside rice or even serve with some steamed/sauteed vegetables like beans, broccoli, blistered tomatoes…
HUNGRY FOR MORE INSTANT POT RECIPES? TRY OUR TOP FAVORITE RECIPES:
INSTANT POT GARLIC BUTTER HERB ROASTED POTATOES
INSTANT POT CHICKEN SPINACH CURRY
CREAMY INSTANT POT MAC N CHEESE
HOW TO COOK RICE IN INSTANT POT
Don't forget to Subscribe to CurryTrail Recipes below to get our newest recipes delivered straight to your inbox.
LOVE THIS RECIPE? KEEP IN TOUCH AND DON'T MISS OUT ON ANY OF CURRYTRAIL RECIPES! FOLLOW ME ON INSTAGRAM, PINTEREST, FACEBOOK, TWITTER.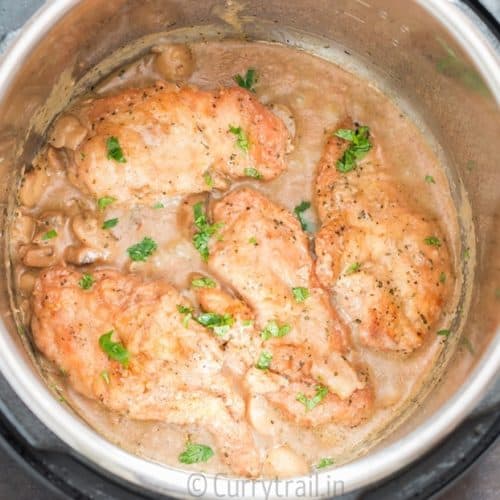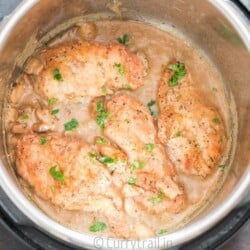 Instant Pot Chicken Marsala
Creamy Instant Pot Chicken Marsala is one of the easiest and fanciest Italian classic dish fit for any day any occasion. It's so easy and fast to make in Instant pot that you can make it even on a weekday. Takes less than 15 minutes! Sounds like a perfect weeknight dinner, doesn't it!
Ingredients
2 chicken breasts
10 oz button mushrooms – wash pat dry, slice it thin along with stem
4 cloves garlic minced
1 ½ tablespoon olive oil
2 tablespoon butter unsalted
For creamy white sauce
⅓ cup Marsala wine
¼ cup chicken stock
1 tablespoon lemon juice
5 tablespoon thick whipping cream or heavy cream
Salt to taste
ground pepper to taste (adjust quantity to your taste)
2 teaspoon rice flour mixed with little water
1 teaspoon dried oregano
For flour mixture
⅓ cup rice flour you can use plain flour or corn flour
1 ½ teaspoon salt
1 teaspoon crushed pepper
1 teaspoon garlic powder
Instructions
Prepping chicken steaks–
Wash chicken breasts well and pat dry it completely. Cut chicken breast(length-wise) in the center making 2 fillets of about ¼ inch thick. Alternatively you can pound the chicken breasts with meat mallet so chicken stays moist with amazing texture. This step is optional though.

Into a bowl of rice flour add salt, crushed pepper, garlic powder and mix well.

Coat a piece of chicken into the flour on both sides, shake off all excess flour and place the chicken coated in flour on a plate. Repeat for all chicken breast pieces.
Browning chicken -
Set instant pot to SAUTE MODE. Once pot turns hot, add half the olive oil and half butter into the pot. Place chicken fillets coated in flour into pot making sure they don't touch or overlap each other. Cook few chicken pieces or in batches if you have to.

Cook for about 2-3 minutes per side or until chicken is seared well. Once chicken is browned on both sides, remove it onto a plate. Place all the browned chicken in one layer and cover with aluminum foil to keep it warm.
Creamy chicken marsala sauce-
Into the pot add remaining oil and butter.

Add the mushrooms, cook for 2 minutes stirring in between.

Add minced garlic and saute until garlic is fragrant.

Season with salt and pepper.

Pour Marsala wine, lemon juice and chicken stock. Stir.

Add heavy cream.

Sprinkle in dried oregano.

Stir everything well into a creamy white sauce.
Bring it all together-
Place back the browned chicken pieces into the pot.

Cover lid and ensure pressure release knob is secured in SEALING POSITION.

Select PRESSURE COOK option and alter the timer to 4 minutes.

Once cooking time is done, manually release pressure immediately by turning the valve to RELEASE POSITION.

Open lid.

Remove carefully cooked chicken pieces as we are going to thicken the sauce and we don't want to break chicken fillets.

In a bowl whisk rice flour with little water. Whisk into lump free liquid. Pour into pot. Stir everything well. Set the pot to saute mode?

Once the sauce thickens off the pot and add back the cooked chicken pieces so it soaks in some of the creamy sauce into it.

Garnish with freshly chopped parsley.

Serve immediately warm.
Notes
Do not overcook chicken breasts. It's important to remove chicken breasts between steps to get the sauce cooked but chicken breasts takes in all flavors without getting overcooked.
We have used rice flour to coat chicken breasts(only because I love rice flour), plain flour or corn starch works absolutely best. You can use the same quantity of plain flour as rice flour quantity.
Heavy cream gives a nice consistency to the sauce. Use half n half if you like it.
Nutritional Info – Please keep in mind that nutritional information provided is only a rough estimate and can vary greatly based on products used.
Nutrition
Serving: 0gCalories: 822kcalCarbohydrates: 40gProtein: 56gFat: 43gSaturated Fat: 19gCholesterol: 227mgSodium: 2178mgPotassium: 1445mgFiber: 2gSugar: 8gVitamin A: 970IUVitamin C: 10.5mgCalcium: 62mgIron: 2.2mg
How to Make Instant Pot Chicken Marsala: Step -by-Step Recipe
1. Dust chicken with flour mixture (rice flour, salt, pepper and garlic)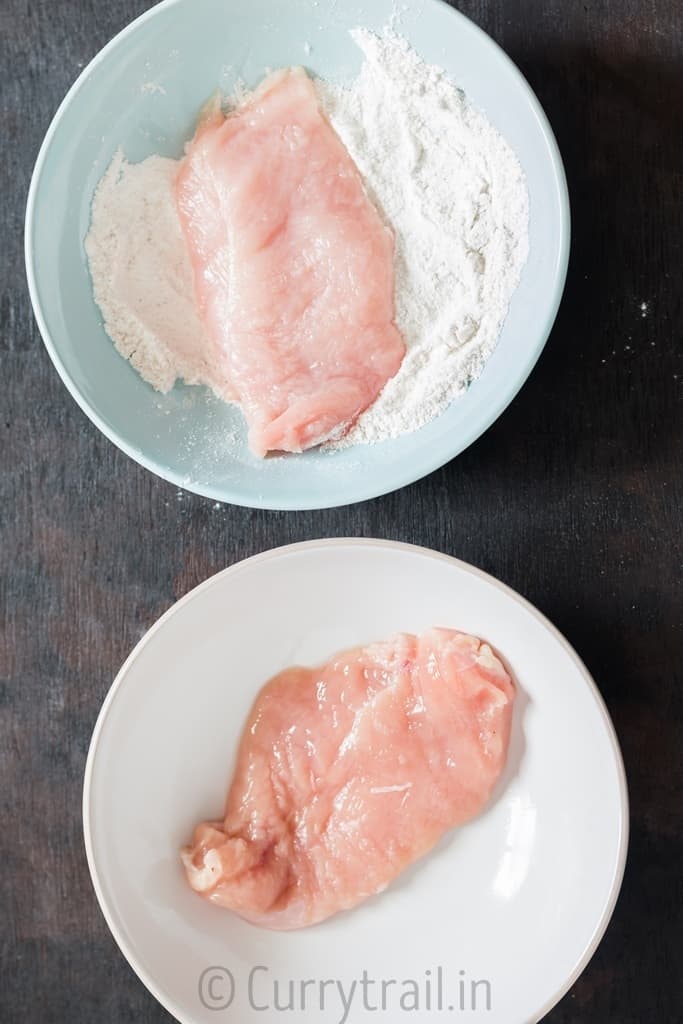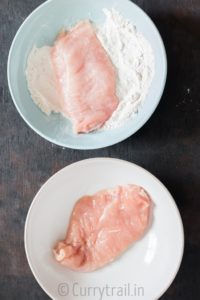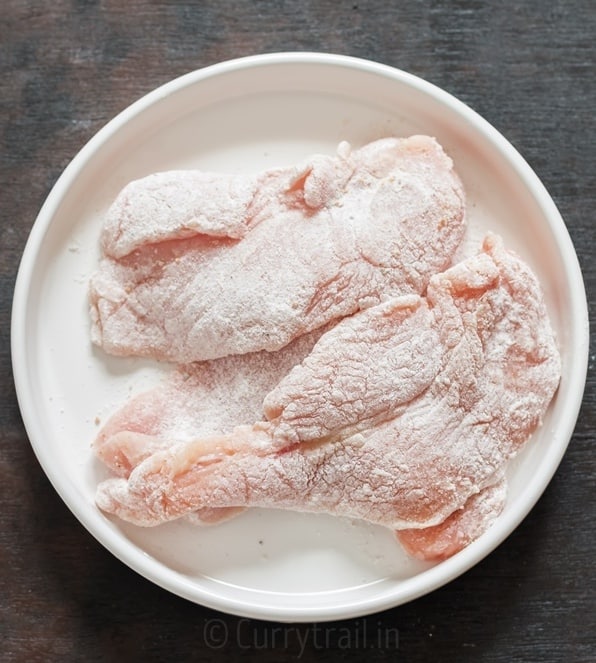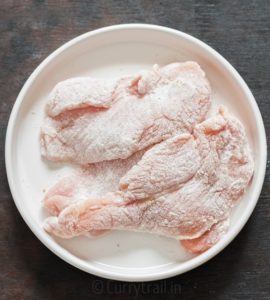 2. Brown chicken in Instant Pot on each side for 2-3 minutes.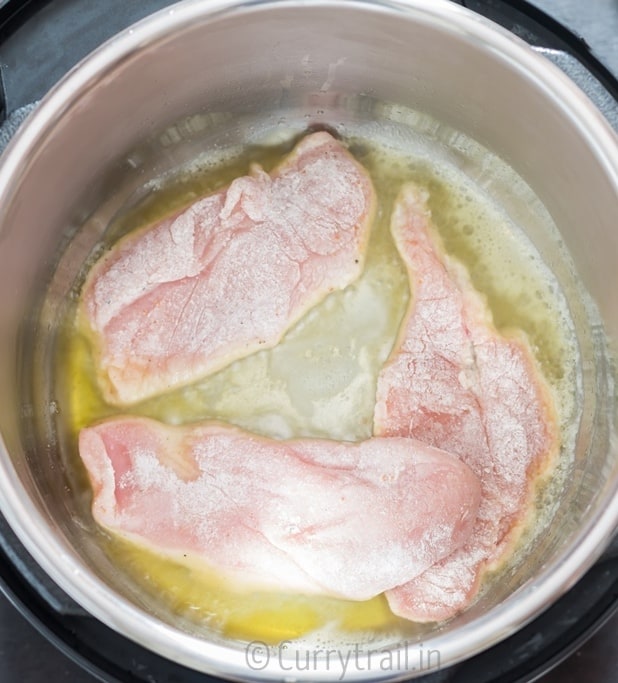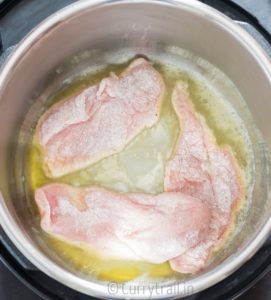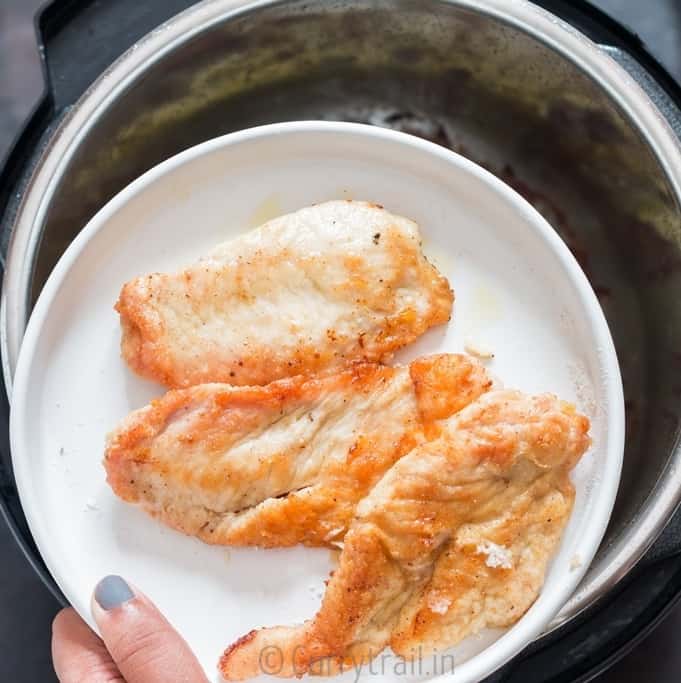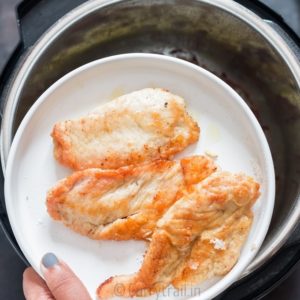 3.To make Mushroom Marsala sauce – Cook mushrooms in oil and butter. Add in garlic continue to cook. Season with salt and pepper, oregano. Pour lemon juice, Marsala wine, chicken stock and heavy cream. Whisk well.
Place back browned chicken breasts into the pot.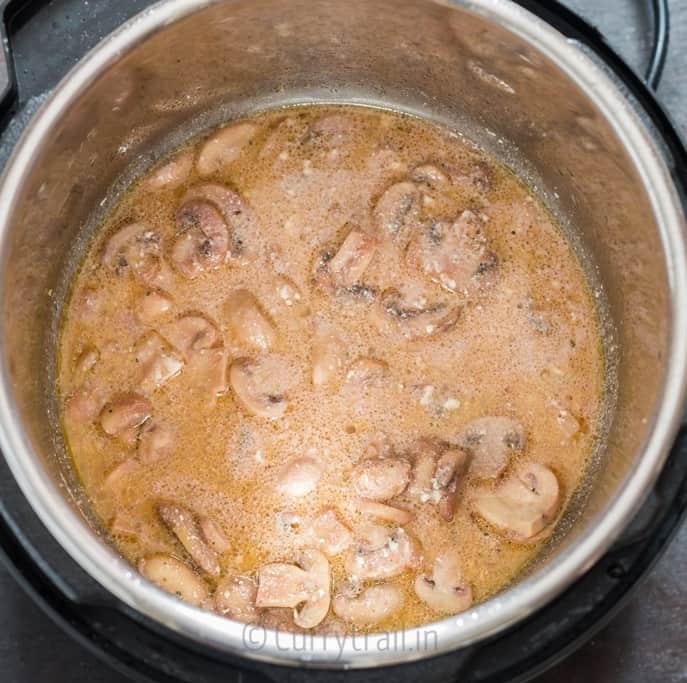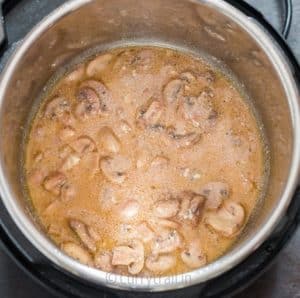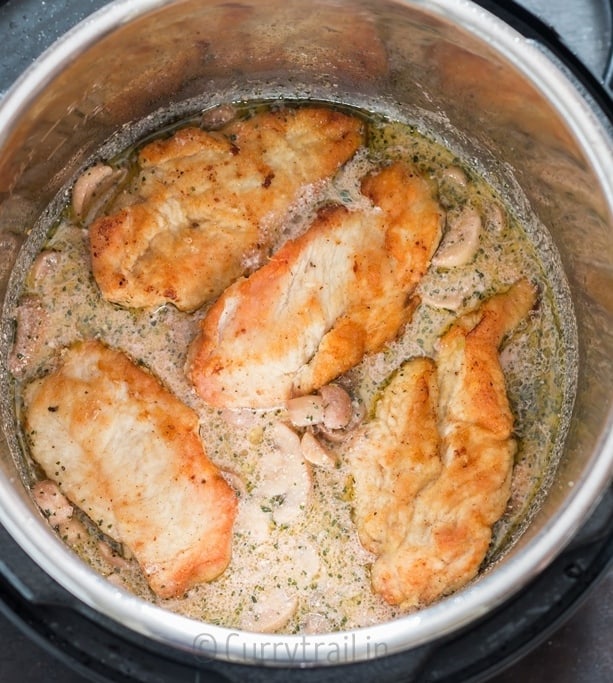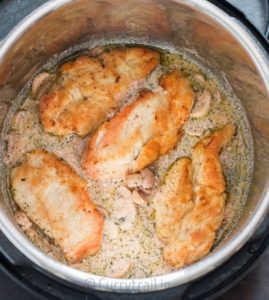 4. Cover and cook for 4 minutes.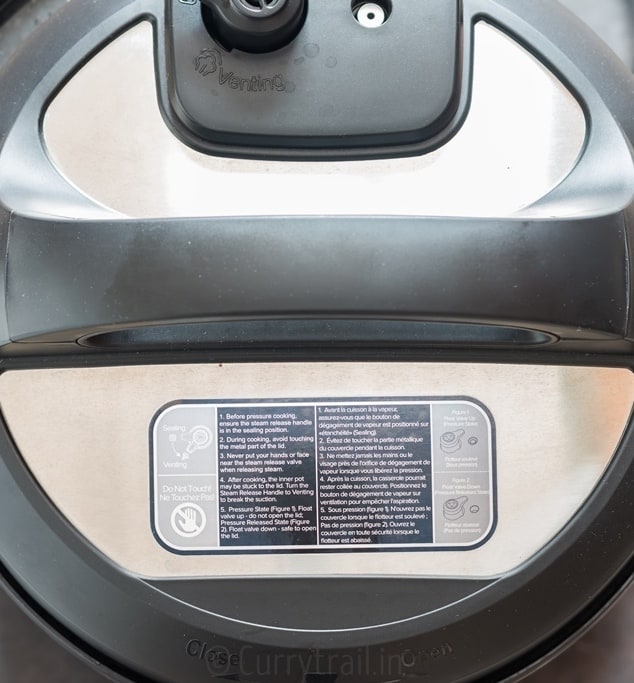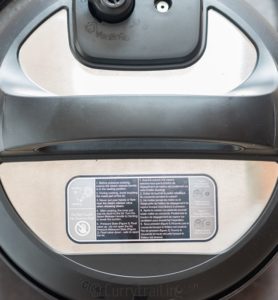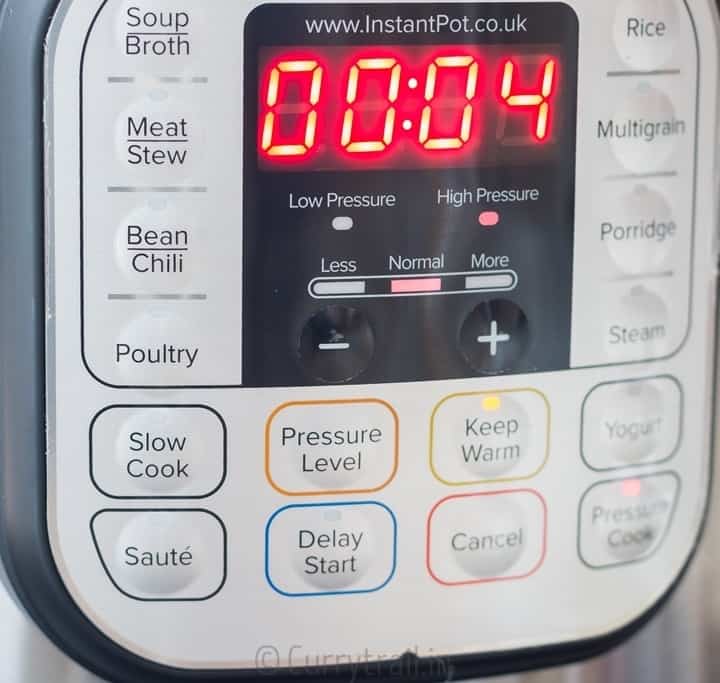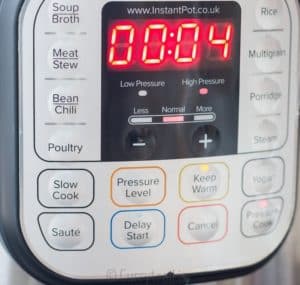 5. After cooking time, manually release pressure by turning the pressure valve to RELEASE POSITION. Open lid, remove the chicken pieces (so it doesn't break) while we thicken the Marsala sauce.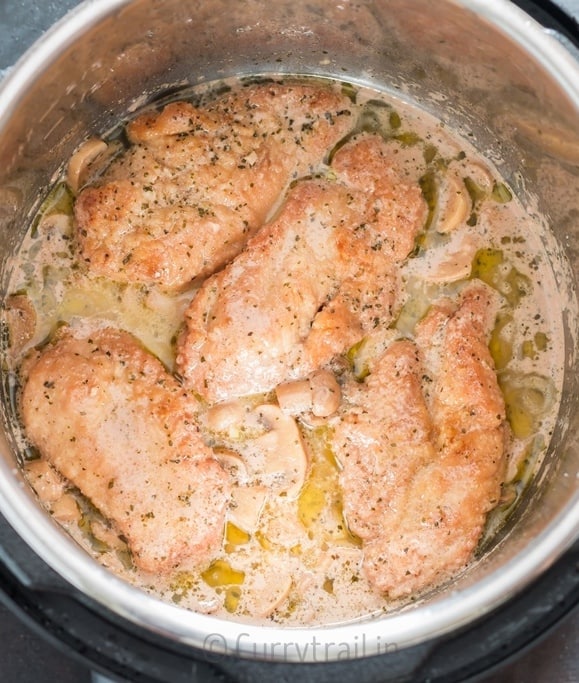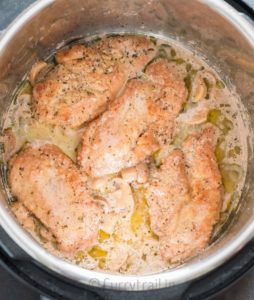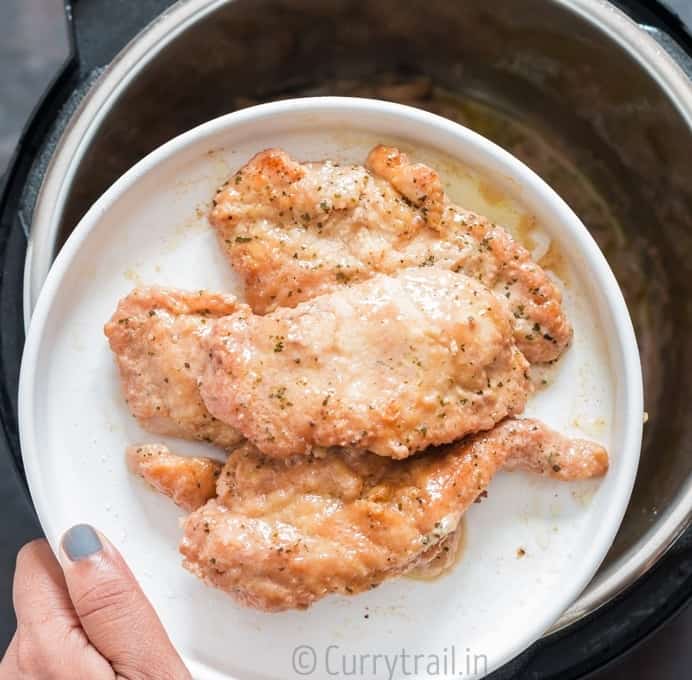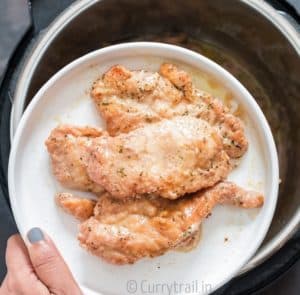 6. Thicken sauce by adding in rice flour whisked with water. Stir well and simmer for 2 minutes until sauce thickens.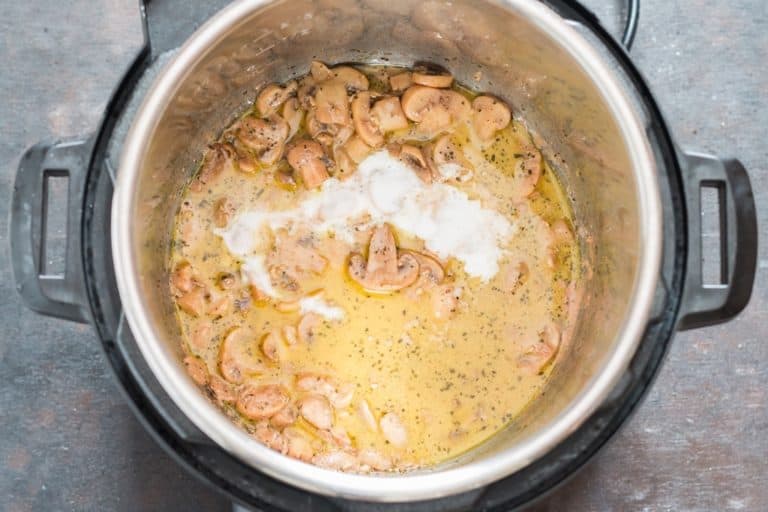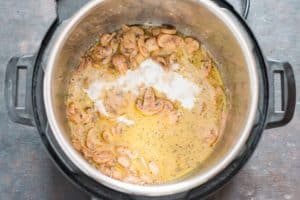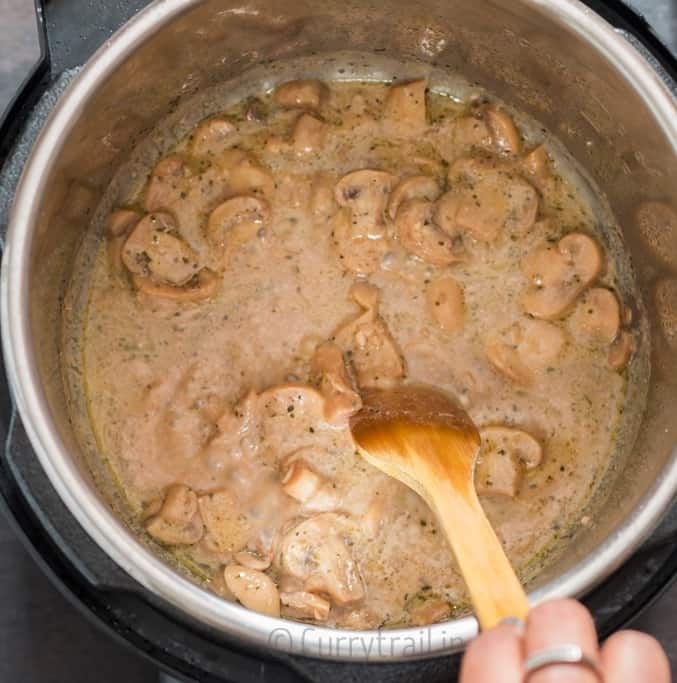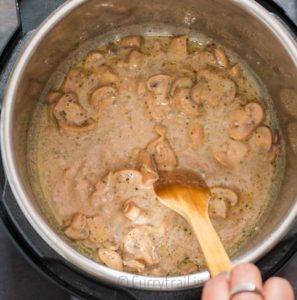 7. Place the chicken breasts back into the pot. Cover it sauce. Let it cook for a minutes. Turn off pot. Garnish with chopped parsley.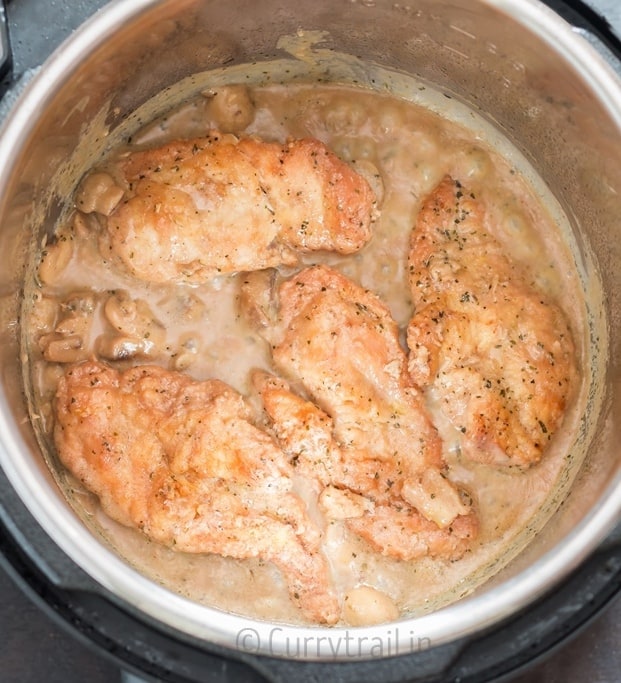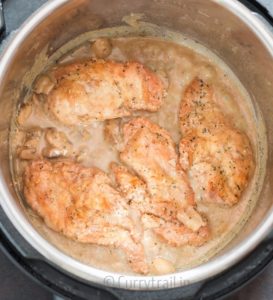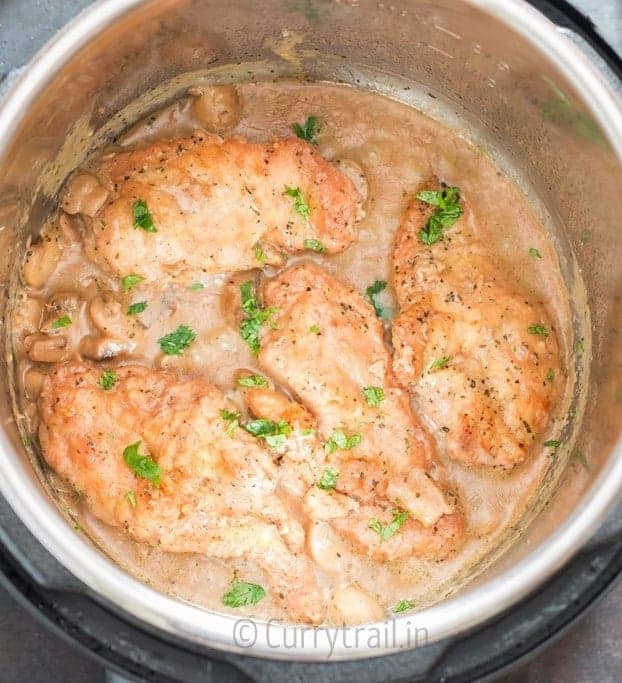 8. Serve immediately.