Baked potato roses are ultimate party starter or simply the most gorgeous potato side dish for your every-day-meal plan! Doesn't it look pretty? And these are healthy too!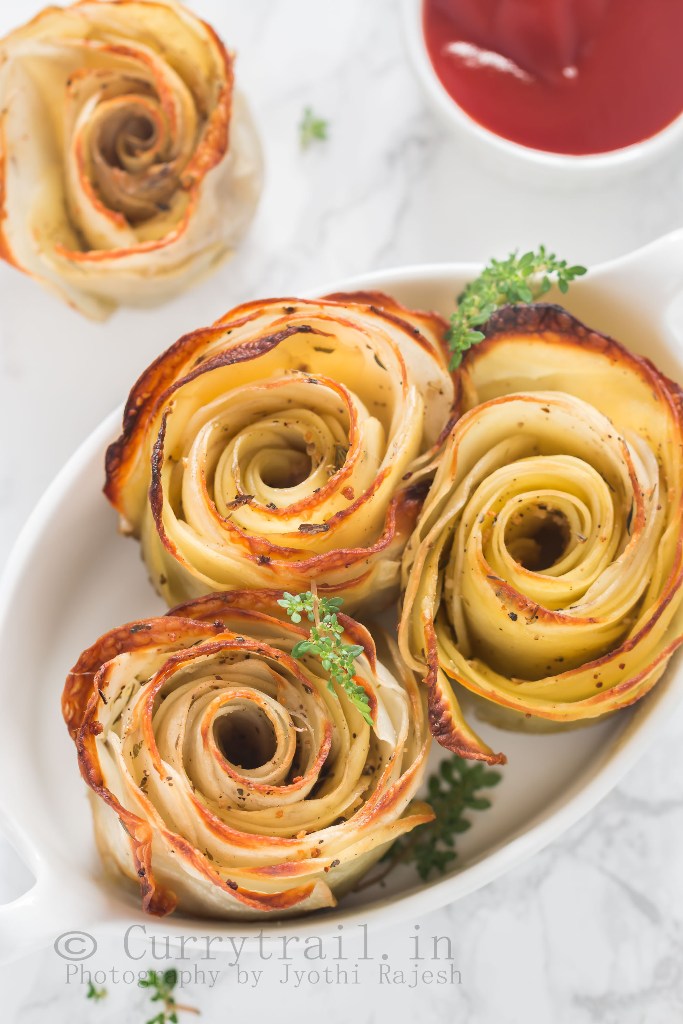 Re-posting this recipe from August 2016.
Why Should You Try This Recipe?
It's hard to say no to potatoes. Thin sliced potatoes stacks rolled into beautiful rose shape that are then baked in muffin trays making it look like roses (It's perfect for Valentines Day dinner!)
It's perfect starter to impress your friends or to just munch on as a snack when you're feeling fancy. Perfect crispy edges, well-baked potatoes with Italian seasoning — you can't go wrong with this one. These pair nicely with any kind of dipping sauce.
These are healthier and vegan too! We do not use butter. Olive oil, dried herbs and seasoning gives you crispy baked roses! Make these to impress your guests!
Whether you plan to spend the weekend at home in your PJ's binge-watching Netflix or invite friends over for a weekend party.
Bored of the same old mashed potatoes and fries for side dish? Give this unique and most appealing side dish idea a try for your meal.
Whatever your plan is, you have to make these beauties. Cause it's time for indulgence and this time I will help you indulge with no guilt.
Without a doubt, simply the most beautiful potato dish you'll ever make! And if you're looking for ways to use up all the potatoes in your pantry and impress your guests with delicious and pretty side dish.
Thin potato slices dressed in olive oil, herbs, salt n pepper, then arranged and rolled up to look like a pretty flower. These are then baked in muffin tins to make soft and tender potatoes with crispy edges. You can't simply stop admiring these beauties!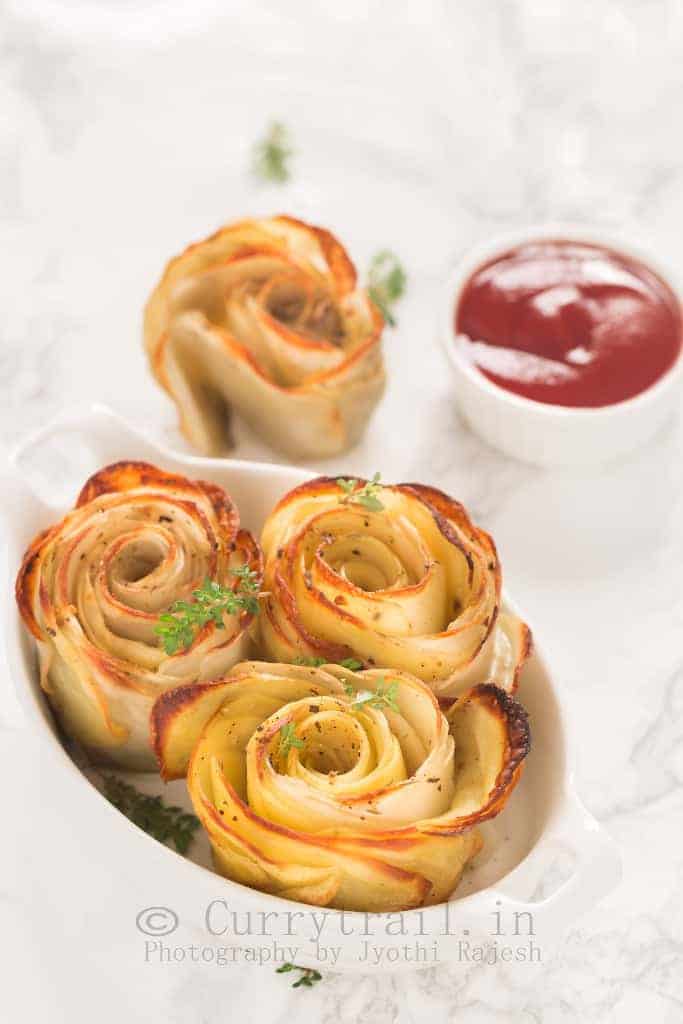 Perfect crispy edges, well baked potatoes with Italian seasoning – you cant go wrong with this one. No excuses to miss these, just bake them and relish.
Side Note: This was my first attempt in trying a video recipe, a lot of new things I learnt today and a lot more to learn in the coming days if I decide on continue the video recipes. For that I need your honest feed back. Tell me, how did you find my amateurish video? 😀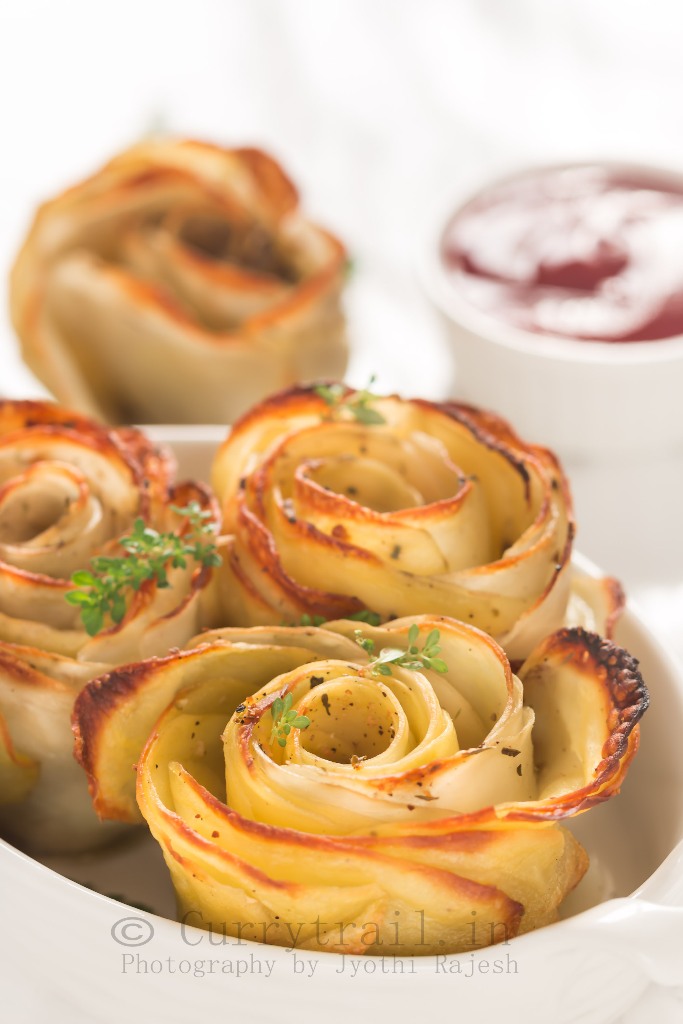 Helpful Kitchen Tools:
*this is an affiliate link and I might get a commission if you buy the product through the link at no extra cost to you.
How To Make Baked Potato Roses
Floury potatoes like Yukon gold potatoes works best for this recipe. Peel skin off potatoes and make thin slices using mandolin slicer.
Leave the potato slices in water for 10 to 15 minutes, to remove any excess starch. This step is important, don't skip it.
Cook's Notes : Removing starch from potato slices ensures these baked roses turn crispy(this step is not shown in video, but make sure you soak potato slices in water (ice cold water)).
Drain well and using a muslin cloth pat dry potato slices. Keep aside.
In a small bowl whisk together olive oil, garlic powder, dried herbs, salt and pepper. Whisk well.
Pour over potato slices, toss to coat every slice evenly with oil and seasoning.
Stack potato slices one over the other. Brush olive oil mix over the stacked slices.
Roll stacked slices to resemble rose shape.
Place these in greased muffin tins.
Bake in pre-heated oven at 200 degree centigrade for 30-35 minutes or until potatoes are cooked through. Note – stacked potato slices will be soft and tender in the middle and outer petal edges will be crispy.
Can I Make Ahead?
Yes, you can be made ahead of time. Bake, cool and store in refrigerator. Just before serving heat it up in over for few minutes and serve with an amazing dipping sauce like boom boom sauce.
Are you an ardent potato lover, just like me?! Good!
Because I've got some amazing potato recipes for you guys to try and i'm sure you'll enjoy these potato side dish recipes completely!
Instant Pot Garlic Herb Potato Roast
Crispy Oven-Baked Sweet Potato Fries
Super Crunchy Baked Potato Wedges
Don't forget to Subscribe to CurryTrail Recipes below to get our newest recipes delivered straight to your inbox.
LOVE THIS RECIPE? KEEP IN TOUCH AND DON'T MISS OUT ON ANY OF CURRYTRAIL RECIPES! FOLLOW ME ON INSTAGRAM, PINTEREST, FACEBOOK, TWITTER.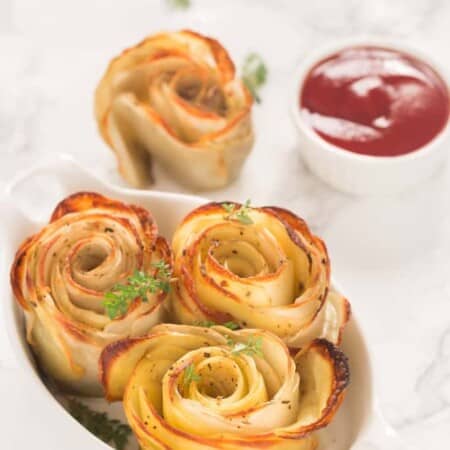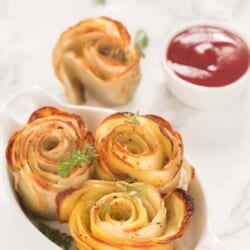 Baked Potato Roses
Baked potato roses are ultimate party starter or simply the most gorgeous potato side dish for your every-day-meal plan! Look no further for an vegan and healthy appetizer that will surely impress your guests!
Ingredients
4 Yukon Gold Potatoes
¼ cup olive oil
1 ½ teaspoon salt
1 ½ teaspoon pepper powder
2 teaspoon garlic granules or powder
2 teaspoon dried thyme
2 teaspoon dried oregano
Instructions
Wash and peel potatoes. Slice them using a mandolin slicer. Keep aside.

Whisk together olive oil, salt, pepper powder, garlic granules, dried thyme, dried oregano. Keep aside.

Arrange about 15 potato slices over lapping one another. Brush olive oil mix over the top.

Roll carefully holding on to all the slices to get a beautiful rose. (make a rose size that fits in your cup cake mold)

Place these on a greased cup cake mold.

Bake in pre heated oven at 200 degree centigrade for about 30 to 35 minutes. The edges should turn brown and crisp, and potatoes cooked through well.

Remove from oven and serve immediately with any dipping sauce of your choice.
Notes
Don't care too much about vegan options? Then I suggest you to use butter in place of olive oil, for a richer tasting potato roses. Potatoes and butter - the best combination ever, and who can deny it!
Add a pinch of smoked paprika or cayenne pepper to add kick to the dish.
Seasoning potatoes generously in the key.
Line your baking tray with muffin liners if you don't want to messy tray to clean.
Nutritional Info – Please keep in mind that nutritional information provided is only a rough estimate and can vary greatly based on products used.
Nutrition
Calories: 917kcalCarbohydrates: 94gProtein: 19gFat: 55gSaturated Fat: 7gCholesterol: 0mgSodium: 3563mgPotassium: 2990mgFiber: 20gSugar: 0gVitamin A: 1390IUVitamin C: 80.8mgCalcium: 306mgIron: 26.9mg