Let's see what these baked zucchini chips truly are – ✓ healthy, ✓ delicious, ✓ low fat, ✓ guilt free, ✓ low carb, ✓ very easy to make. Ticks all the right notes on your healthy snack list.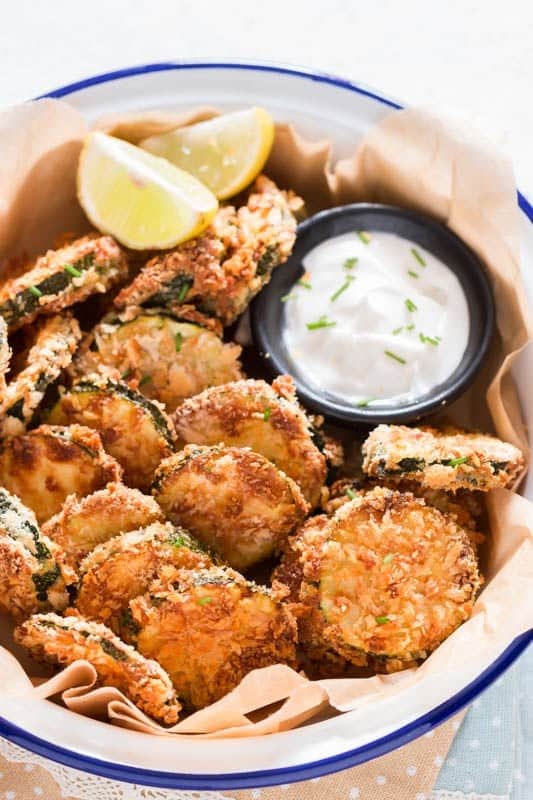 Super crunchy outer layer and soft delicious baked zucchini inside, it's just perfect to munch on any time. Let me tell you this one is super addictive too.
We all simply love recipes that are so easy to follow and results in amazing dish. Snack is an important part of your diet to give you that extra boost of energy in the middle of the day to keep you going.
A healthy snack between meals can decrease your hunger and keep you from overeating at meal time.
Baked zucchini chips happened just like that, with no prior plans. I had a couple of zucchini lying in my fridge and I looked at them and instantly decided to make baked zucchini chips. Because you see I ALWAYS have my craving for chips and love it as my mid meal snack.
So I decided why not make baked zucchini chips. The only thing about this baked Parmesan zucchini is time required to bake these unique but delicious snack.
As you fold them in seasoning, spices and Parmesan and bake it in oven it turns crispy on the outside, but still has soft zucchini inside. I stuck my head close to the oven door watching and waiting for these to turn crisp. I'd say the wait was totally worth it. They turned out super crispy outside and zucchini was baked beautifully.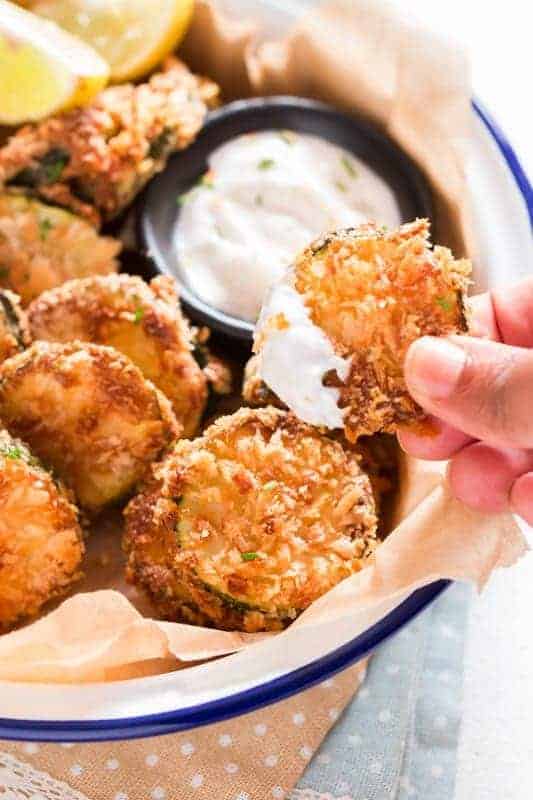 Will it turn out to be crispy if they are not fried? That was the question I had in my mind just while I was prepping these. I thought using panko bread crumbs than regular bread crumbs helps this oven baked zucchini to turn crispy on the outer layer.
Also coating the zucchini pieces evenly in seasoned flour, and egg wash will ensure the panko bread crumbs sticks well and evenly all over the veggie.
This baked Zucchini slices is pure love, and you are going to get addicted to the baked zucchini recipe. Make these baked Zucchini chips now and make sure you do a BIG batch, cause you will get request for repeats on their plates from people you are serving it up. Trust me, there won't be any leftovers. They are sooooo goooood!
How To Make Baked Zucchini Chips
One of the best ways to use up summer heaps of zucchini from the market is to turn it into baked zucchini chips.
To make baked zucchini chips, simply slice zucchini, coat it in salt and pepper seasoned flour, then in egg wash and finally in panko bread crumbs.
If you wish you can do double coating, by dipping panko coated zucchini slices again in egg wash and once again in panko. This will give you well coated zucchini slices making it crunchier on the outside after it's baked.
Bake in preheated oven until golden brown and wonderfully crispy.
These baked zucchini recipe is super addictive.
How Long To Bake Zucchini
This panko crumb covered baked zucchini slices are so delicious and healthy, you can eat it as much as you want. Getting it crispy in the oven does not take long time really.
In a pre-heated oven at 300 F bake these baked zucchini slices for about 20 – 25 minutes. You want to bake it until it turns golden crispy on the outside.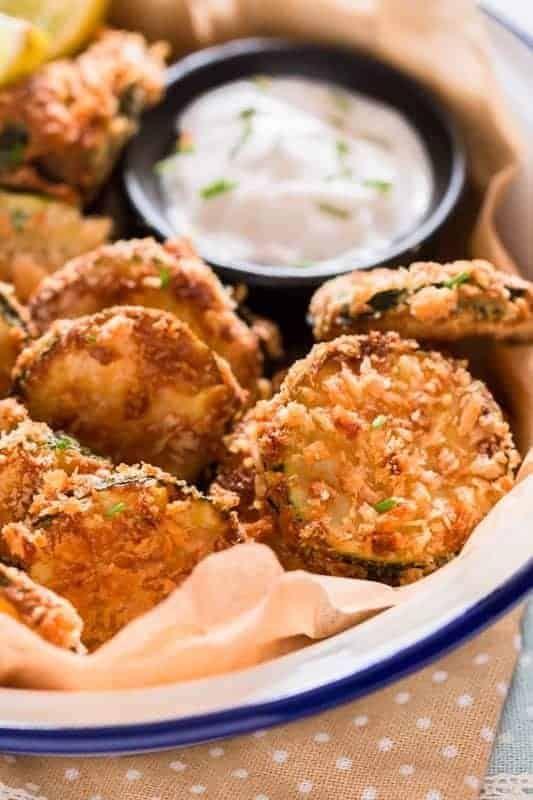 LOOKING FOR MORE ZUCCHINI RECIPES? TRY THESE –
Don't forget to Subscribe to CurryTrail Recipes below to get our newest recipes delivered straight to your inbox.
LOVE THIS RECIPE? KEEP IN TOUCH AND DON'T MISS OUT ON ANY OF CURRYTRAIL RECIPES! FOLLOW ME ON INSTAGRAM, PINTEREST, FACEBOOK, TWITTER.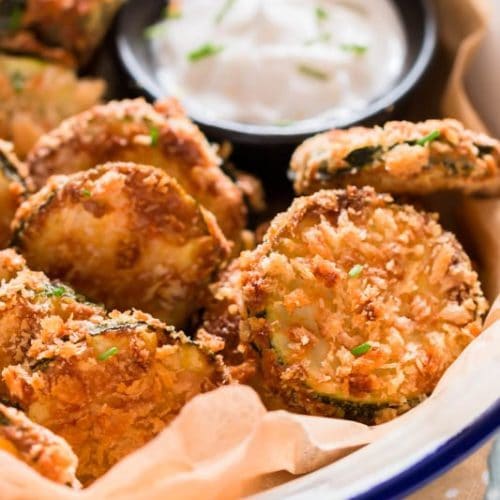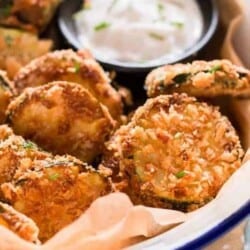 Baked Zucchini Bites
This is Zucchini love, and you are going to get addicted to the recipe. Make these baked Zucchini bites now and make sure you do a BIG batch, cause you will get request for repeats on their plates from people you are serving it up. Trust me, there won't be any leftovers. They are sooooo goooood!
Ingredients
2 Zucchini
1 cup Plain flour
Salt to taste
1 teaspoon ground pepper
1 teaspoon Garlic powder
2 Eggs
1 cup Panko bread crumbs
Olive oil for greasing
¼ cup Parmesan (freshly grated)
Instructions
Pre heat oven at 300 degree F.

Wash and pat dry Zucchini. Slice it into ½ inch thick rounds.

In a plate mix plain flour-pepper powder-salt.

Beat 2 eggs in a separate bowl and keep aside.

Spread panko bread crumbs in another plate. Mix in freshly grated Parmesan cheese with crumbs. Note-forgot to mention it in video.

Sprinkle garlic powder over sliced zucchini, coat evenly.

Coat zucchini slices in plain on both sides, shake off excess flour.

Dip in egg wash next.

Then coat panko-Parmesan bread crumb mix evenly over the zucchini rounds.

Arrange all zucchini bites on a greased baking tray. Spray little olive oil over all the zucchini rounds.

Bake zucchini chips in pre heated oven for about 25 to 30 minutes or until turn golden brown.

Broil for another 10 minutes to crisp the zucchini bites. This will make your baked zucchini chips golden brown on the outside and crispy too.

Serve immediately hot with garlic aioli/mayonnaise/yogurt dip/ketchup.
Notes
Use Panko bread crumbs and not traditional bread crumbs. Because pancho bread crumbs helps in getting that crispy outer layer.
You many want to double or triple this recipe because your guests will be coming back for more!
Nutritional Info – Please keep in mind that nutritional information provided is only a rough estimate and can vary greatly based on products used.
Nutrition
Calories: 300kcalCarbohydrates: 52gProtein: 12gFat: 5gSaturated Fat: 1gCholesterol: 109mgSodium: 200mgPotassium: 477mgFiber: 4gSugar: 5gVitamin A: 420IUVitamin C: 23mgCalcium: 80mgIron: 4mg
Don't Go Yet! REPIN This Easy Appetizer To Your Appetizer Board