Apple enchiladas are delicious apple desserts. Apple slices spiced with cinnamon, sweetened with sugar then rolled in flour tortillas, smothered in brown butter sauce.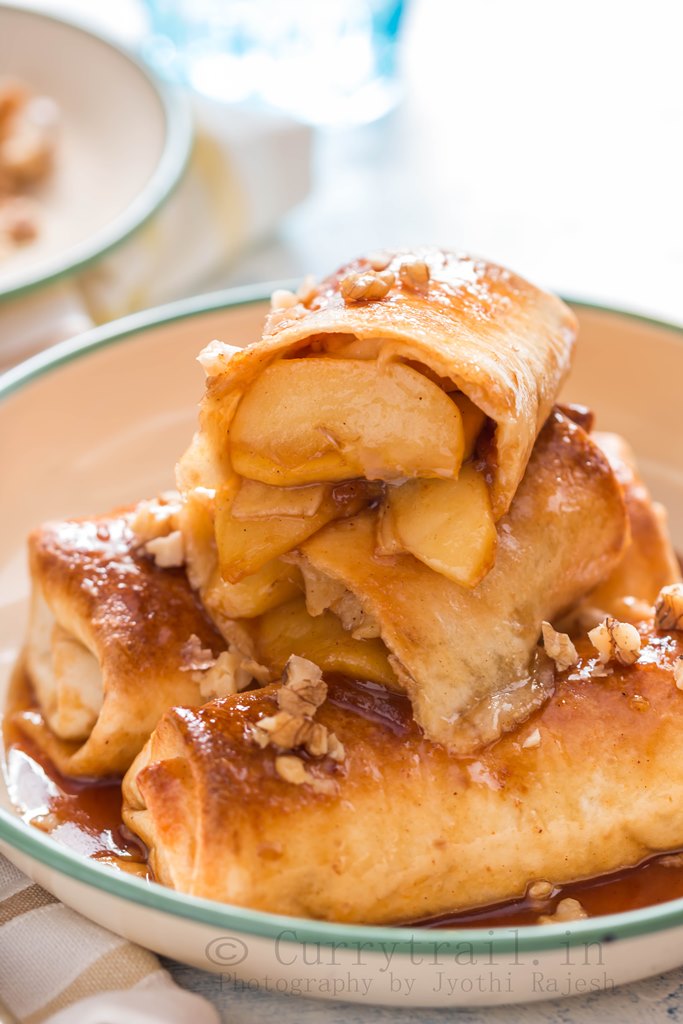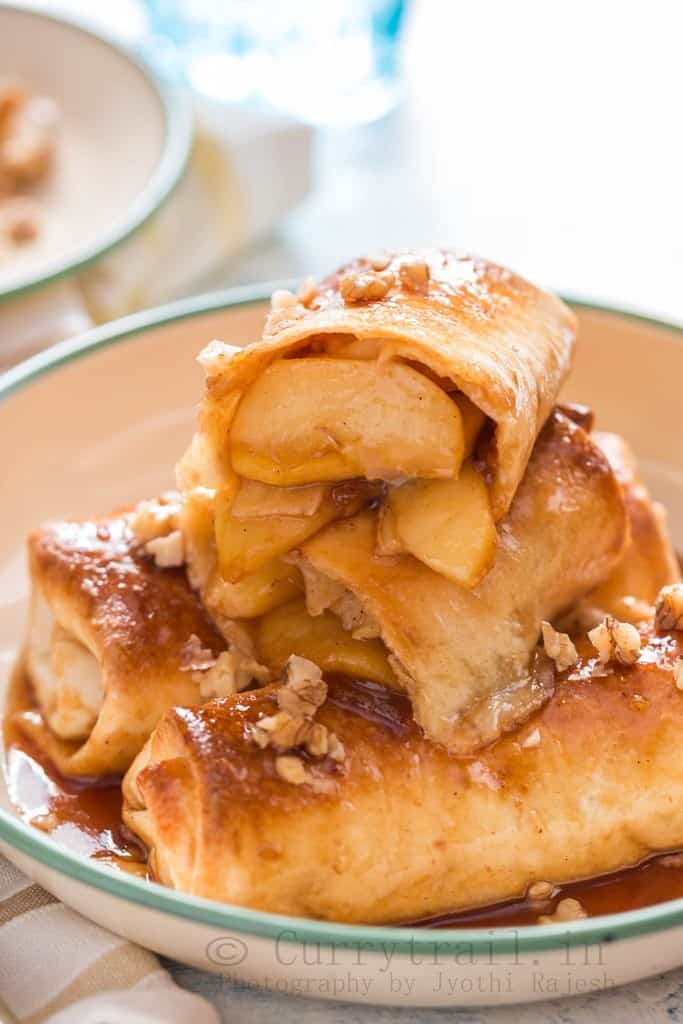 Baked to golden brown, topped with sauce, nuts and ice cream. Do I need to say more? If this doesn't tempt you enough, I don't know what will!
Enchiladas are popular Mexican dish that is made by stuffing vegetables and baked beans folded in corn tortillas, enchilada sauce and cheese are added to it and then baked in oven. While that is savory enchilada there is sweet version too, which usually uses fruits in the stuffing.
Instead of savory sauce we have sweet sauce made of butter and brown sugar. This sensational sauce is the highlight in apple enchiladas.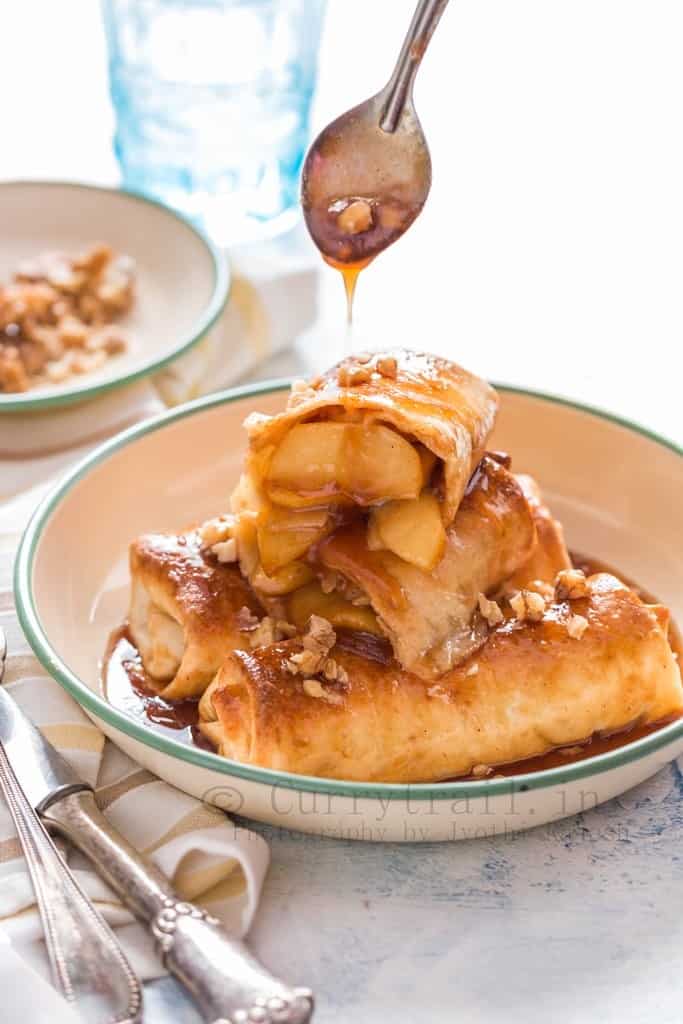 HOW TO MAKE APPLE ENCHILADAS
I'm using apples here. You can easily substitute with peaches or any other fresh fruit of your choice. Sweet apple enchiladas with cinnamon powder, butter and sugar in it makes it a rich delicious dessert. But feel free to serve it for breakfast too. Who wouldn't want a indulgence breakfast right? Apples are breakfast items right?!
It's warm, satisfying and so good! Baked apple pie enchiladas has all the goodness of apple pie, warm cinnamon spiced apple pie filling securely stuffed into tortillas and baked in oven to perfection in brown sugar caramel style sauce.
It doesn't stop there, we drizzle all the left sauce over these baked apple pie enchiladas! Cutting through these juicy enchiladas, taking the first bite will immediately transport you to a whole new world. We can it Heaven!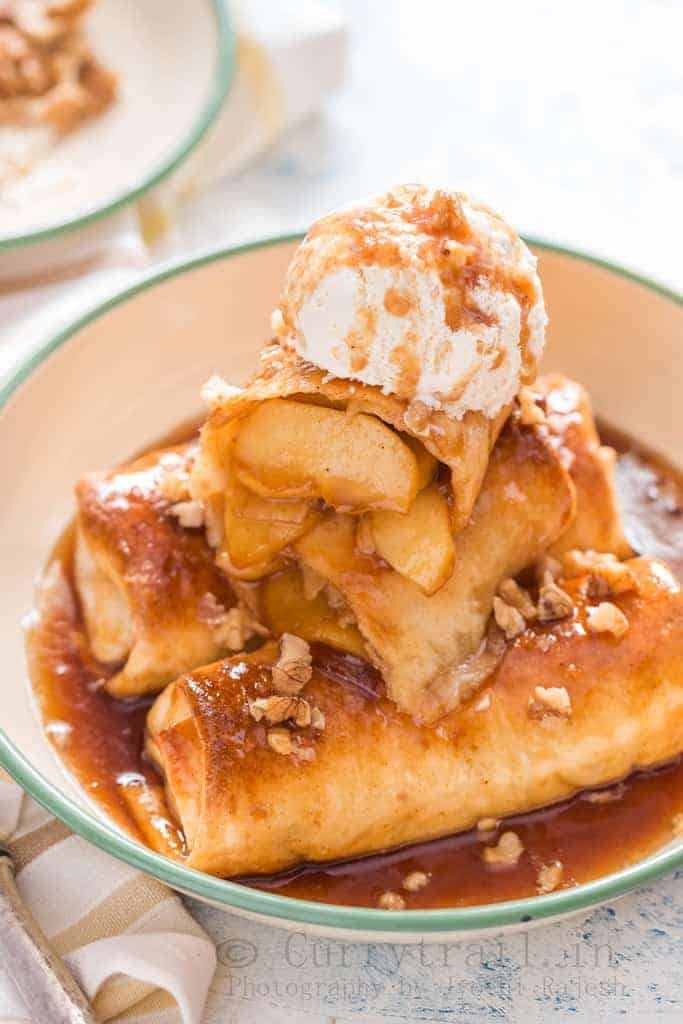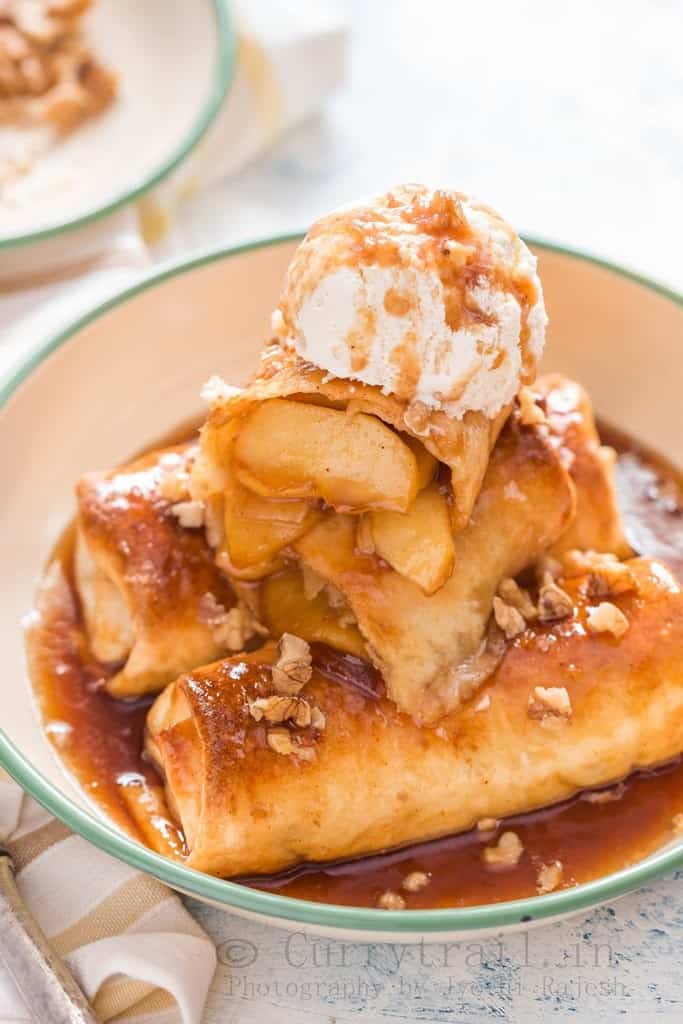 The aroma that fills the house when you bake apple enchiladas is divine. It's simple to make and straight forward dessert. It's like apple pie, in a wrap!
Yous tart by making apple pie filling first. Chunks of apples are cooked in bubbling butter and sugar mix until apples are tender but still holds it's shape. Homemade apple pie filling is that easy to make. Comes together in about 15 minutes. But if are looking for shortcut to save some time, go for store bought apple pie filling. I will work.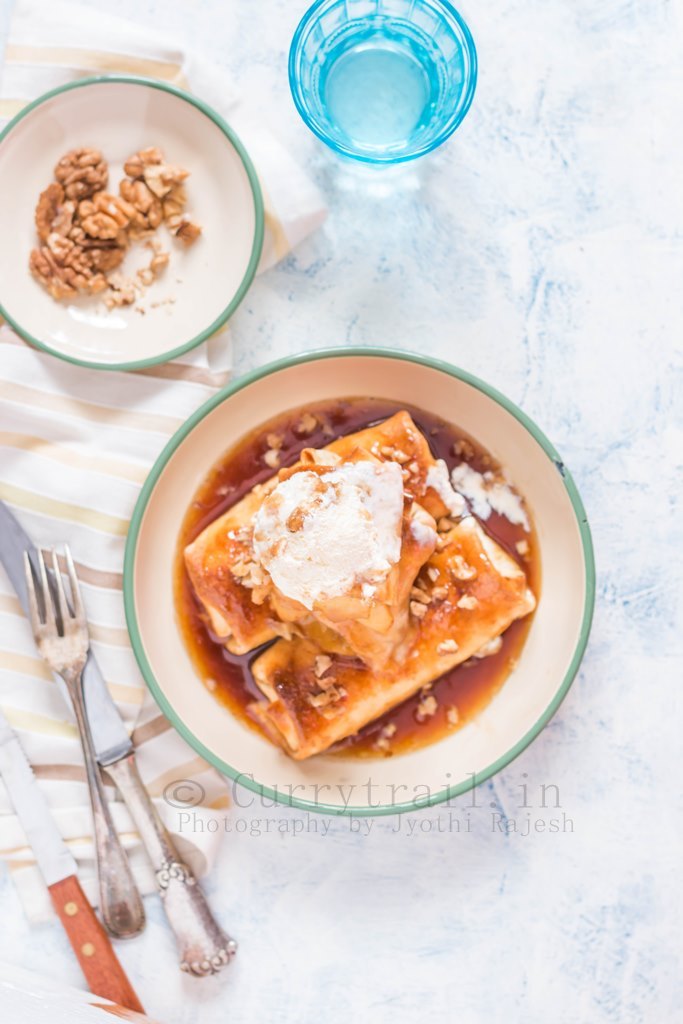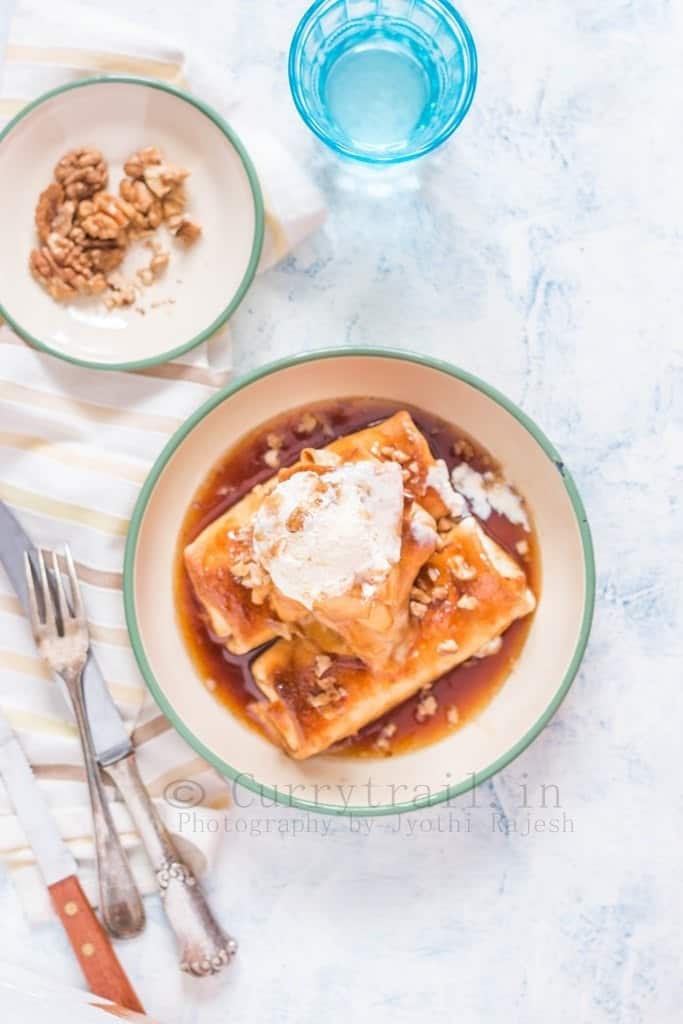 LOVE YOURSELF SOME FALL DESSERTS? CHECK THESE OUT –
Boozy Coffee Chocolate Pudding
Don't forget to Subscribe to CurryTrail Recipes below to get our newest recipes delivered straight to your inbox.
LOVE THIS RECIPE? KEEP IN TOUCH AND DON'T MISS OUT ON ANY OF CURRYTRAIL RECIPES! FOLLOW ME ON INSTAGRAM, PINTEREST, FACEBOOK, TWITTER.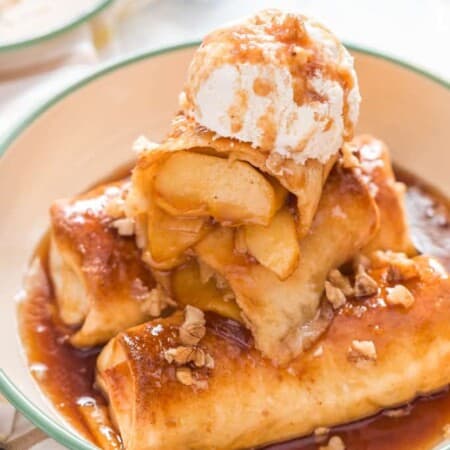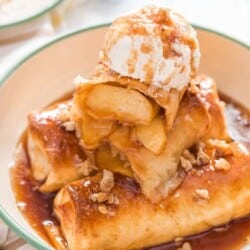 Apple Enchiladas
Apple enchiladas are delicious apple desserts. Apple slices spiced with cinnamon, sweetened with sugar then rolled in flour tortillas, smothered in brown butter sauce.
Ingredients
3 corn tortillas
2 apples
1 tablespoon unsalted butter
2 teaspoon cinnamon powder
½ teaspoon lime juice
1 tablespoon brown sugar
For brown sauce
2 tablespoon brown sugar
2 tablespoon white sugar
⅓ cup butter
½ cup water
A pinch of salt
Toppings
Vanilla ice cream or whipped cream
Chopped walnuts
Instructions
Peel the skin on apples, and slice then lengthwise.

Heat 1 tablespoon butter in a pan. Add apple slices and cook for 3 minutes until softened. Add sugar and cinnamon powder, mix well. Continue to cook for another 4 to 5 minutes. Turn off flame and let it cool completely.

To prepare the brown sauce – mix all the ingredients mentioned in the list in a sauce pan. Heat the pan and bring it to boil. Once it starts boiling, keep whisking and continue to boil. In 3 to 4 minutes the sauce will thicken up a bit. Remove from flame.

Lightly warm the tortillas so it doesn't break while rolling.

Place 2 full spoons of apples one end of the tortilla. Fold the two sides of the tortilla over the apples. Hold the end where apples are placed and carefully roll tucking in the sides as much possible and roll tight. Repeat for rest of the tortilla.

Grease a pan with butter. Place the rolled tortillas on baked tray. Pour the sauce generously over the tortillas. Let the tortillas sit for about 15 minutes.

Pre heat oven at 180 degree centigrade. Now bake for 20 minutes or until tortillas turn golden brown.

Remove from oven.

Transfer to serving plates. Top with chopped walnuts and scoop of vanilla ice cream. Serve immediately.
Notes
Nutritional Info – Please keep in mind that nutritional information provided is only a rough estimate and can vary greatly based on products used.
Nutrition
Calories: 414kcalCarbohydrates: 49gProtein: 2gFat: 25gSaturated Fat: 16gCholesterol: 64mgSodium: 199mgPotassium: 178mgFiber: 5gSugar: 33gVitamin A: 812IUVitamin C: 6mgCalcium: 54mgIron: 1mg