What's a better breakfast? It's got to be breakfast pizza. You heard it right, hot fresh pizza served for breakfast. A spinach and egg breakfast pizza it is for today!
The most important meal of the day is breakfast and breakfast has to be nutrition packed, healthy and at the same time delicious one. Only if we can start every day on a delicious note like this one, Monday blues or Tuesdays grey wards off easily.
When we talk about breakfast, eggs are a must. So a breakfast pizza according to me has to have eggs in it. Add spinach to make it interesting and healthy. Eggs, cheese, and spinach – all on top of a deliciously flavored, wheat pizza crust. Good salt and pepper brighten the whole dish and make the flavors jump in your mouth.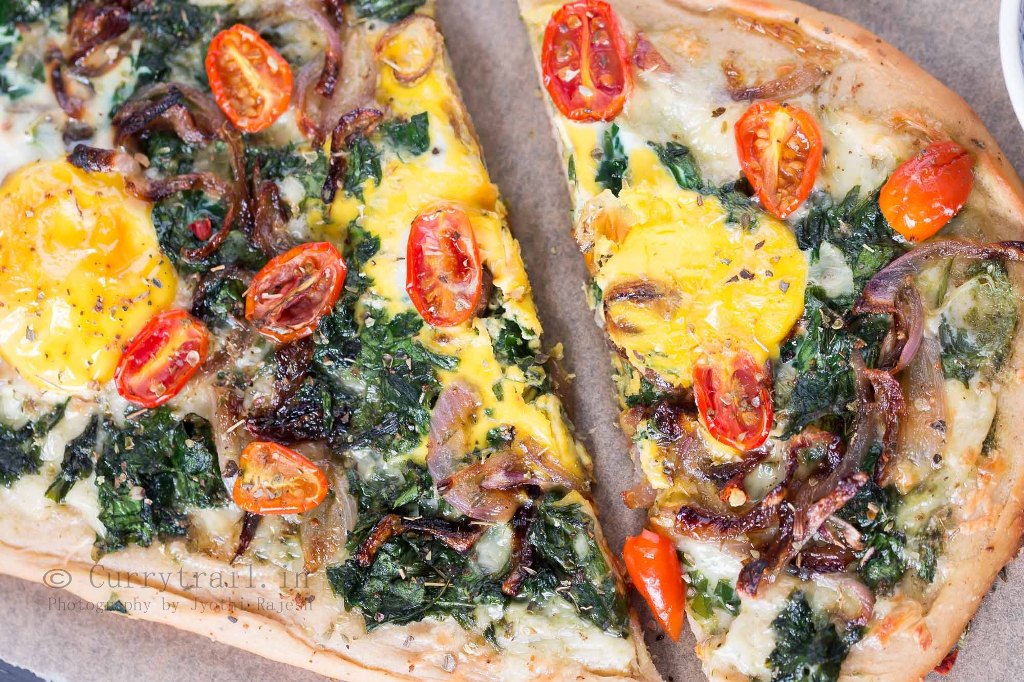 I am a person who never misses breakfast, never, ever have! And I have this habit, I need 'proper food' when I am hungry. And anybody offers me biscuits or cake during that time, I snap them angrily.
Raj learnt it the hard way. Every time we go on a road trip and when it's time to eat my meal, he used to push it further in search of a 'decent' place to eat our breakfast/lunch. And the more he delayed the more "hangry" I would get. Yeah "hangry" – hungry + angry.
We got into a food fight quite often cause I was not fed food on time :P. Once he tried to offer me biscuits that we packed for snacking on during a road trip. Biscuits, reall? – during lunch time!!? I felt like slapping him, no not just him, and anybody for that matter. The rule is when I am hungry and I'm overdue for a feed, you give me 'proper food'. Yeah. It has to be sandwich or idlis/dosas that kind for breakfast and meals or rotis or pizzas kind for lunch. If anyone tries offering me biscuits and telling me to fill up and live on biscuits for that day, they had it! 😛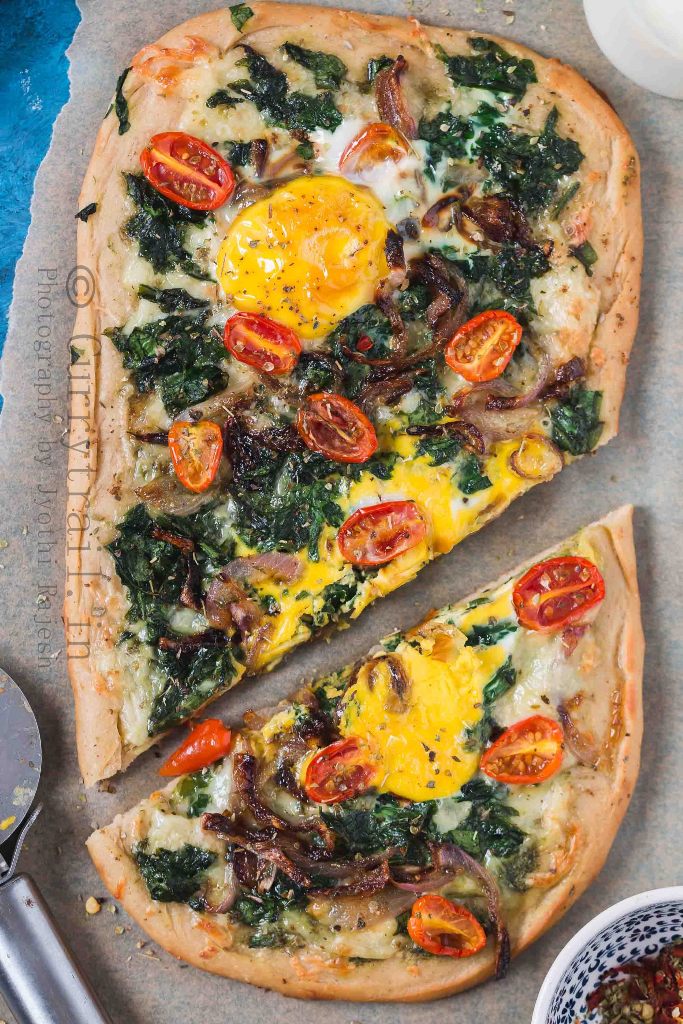 Now that I have told you about it, you know what you should do when I am with you and I'm HUNGRY!! 😀
Ingredients
For wheat pizza crust
1 cup all purpose pizza
1 cup wheat whole
1 tablespoon yeast
½ cup warm water
1 teaspoon sugar
1 teaspoon salt
For topping
1 cup mozzarella cheese, grated
1 cup spinach(palak)
½ cup cherry tomatoes
½ cup caramelized onions
3 to 4 eggs
1 teaspoon red chilies flakes
1 teaspoon oregano
Method
Add yeast, sugar in a bowl and pour luke warm water and let it sit for 5 minutes until the yeast starts bubbling. If the yeast doesn't react discard it and start another batch.
In another bowl, add all purpose flour, wheat flour, salt and mix with your fingers, make a well in the center and pour in the yeast mixture. Mix well. Knead in the same bowl for about 5-10 minutes.
Clean thoroughly counter surface, dust with flour, transfer the dough onto the counter and start kneading. Knead until smooth, soft and shiny dough.
Place the dough onto the bowl used for kneading, and cover it with a damp cloth. Set it aside for 1 to 1.5 hours, for the dough to prove. After 1 to 1.5 hours dough would have risen and it would be double the size.
Cut onions in slices and fry it in oil until it caramelizes. Remove from pan and keep aside. Chop spinach into small pieces and sauté it too for about a minute or two. Remove from pan and keep aside. Cut cherry tomatoes lengthwise into half. Grate cheese and keep it in a bowl, covered.
Once the dough is proven, knock down the down (punch it with your fist), this is done to release all the air that would have collected. Gently knead for another 2 minutes and pizza dough is ready to use.
Make two equal portions of the dough. Take a portion and flatten the pizza base to the shape and size you wish. Using a fork prick holes on the base to allow it to bake uniform all over the dough.
Pre heated oven at 180 degree centigrade.
Apply olive oil on the baking tray. Place the flattened pizza crust on the baking tray.
Sprinkle cheese, add spinach, and sprinkle caramelized onions, place cherry tomatoes, sprinkle red chili flakes, oregano. Finally break eggs on the top. Bake in pre heated oven for 30 to 35 minutes on until fully cooked.
Serve hot immediately for breakfast.