Mushroom rice is easy and flavor packed midweek dinner, everything made in one pot. This nutritious, power packed dish can be served as vegetarian main or as side dish with nearly anything.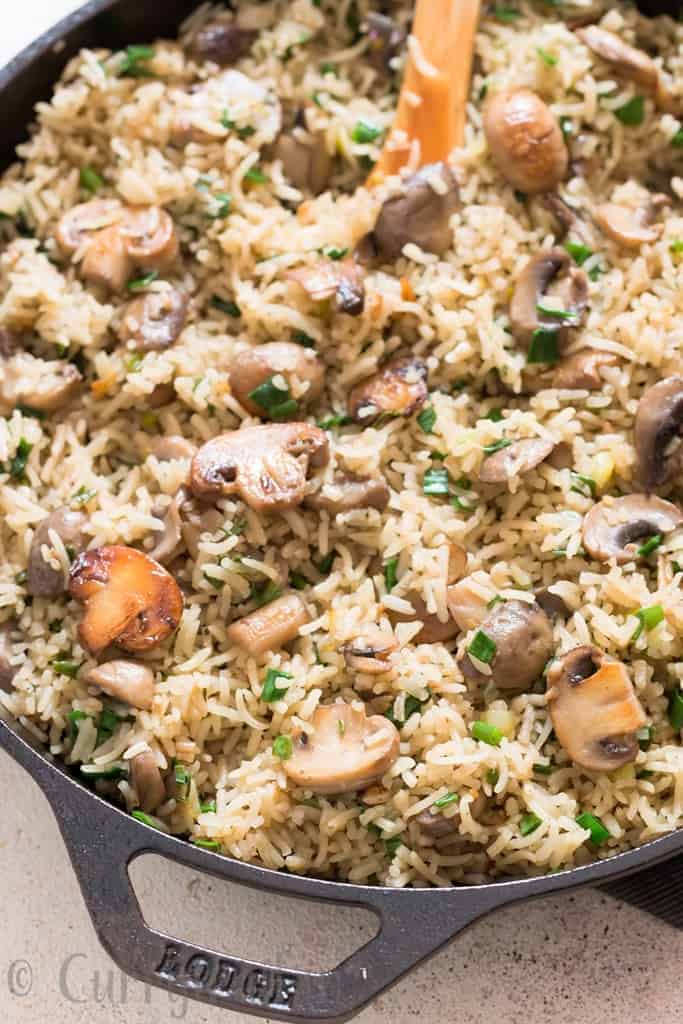 Fluffy rice, browned earthy mushrooms, and a whole lot of onions, garlic and seasoning – sooo good! I bet you can easily make a meal out of this easy mushroom rice.
Add fried egg on top for a great vegetarian main dish, or simply toss it with grilled chicken or pork for non vegetarian main dish. Have some leftover chicken or pork ? Great, toss it with mushroom rice recipe and you have a meal ready in under 30 minutes. Yes 30 minutes, including cooking rice from the start!
Do you also believe mushrooms can turn any dish into most hearty and delicious dish?! I do! I can't stress on how much I love mushrooms not just for all the healthy nutrients it holds, but also for it's amazing earthiness.
If you're looking for a side dish that is hearty and filling, mushroom rice recipe would come in handy. Days when roasted veggies seems to plain, simple and probably boring, make a quick mushroom rice and serve it with chicken, pork or beef.
It's not just an easy side dish, it needs very minimal prep work and everything is cooked in ONE POT! Clean up after dinner would be a breeze.
Some call it mushroom pilaf, some call it mushroom rice. So what is the actual name of the dish?
To me, a pilaf should have some more added whole spices and flavors. Like bay leaves, cinnamon stick, cardamom all these spices is what makes a rice dish to be called a pilaf!
To me cooking rice in chicken stock does not count as rice pilaf. It needs to have whole spices, it needs to have all other wonderful ingredients that goes in making a pilaf.
There is nothing wrong in calling rice cooked in chicken stock as pilaf, but I wouldn't because I need more flavors in my pilaf dish. If you want to call this mushroom rice recipe as mushroom pilaf, please do it. It's what you want to call your dish, your wish. No wrong at all!
If you like mushrooms you will definitely like this simple mushroom rice recipe. The key step in mushroom rice recipe is sauteing mushrooms until it's browned.  Browned mushrooms packs loads of flavor and you will have the best mushroom rice dish.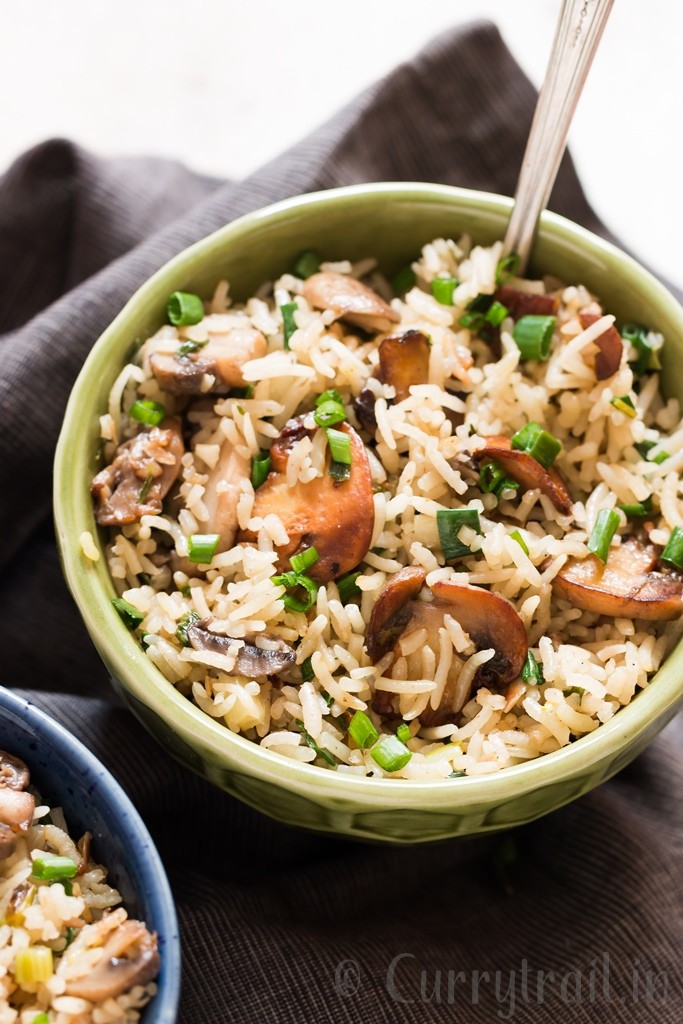 Is this mushroom rice same as mushroom fried rice then?
No, not really. It though comes very close to mushroom fried rice in terms of taste. There are no sauces like soy sauce, vinegar and chili sauce added to the rice dish. Those sauces that makes Chinese style fried rice, none are used in this recipe.
So it's not mushroom fried rice, and it's not mushroom pilaf either.
It's a simple, quick and easy one pot meal recipe; even rice is cooked in the same pot.  It definitely bags the flavors and it's ridiculously delicious!
How to Make Easy Mushroom Rice (Step-By-Step)?
Clean mushrooms well and slice it thin. Heat skillet on high heat. Make sure the pan in really hot before tossing mushrooms in to the pan.
Melt butter and add sliced mushrooms. DO NOT STIR. Wait for few minutes before stirring so mushrooms are browned on one side.
Pro-Tip: Use wide skillet to brown mushrooms and do not crowd the skillet.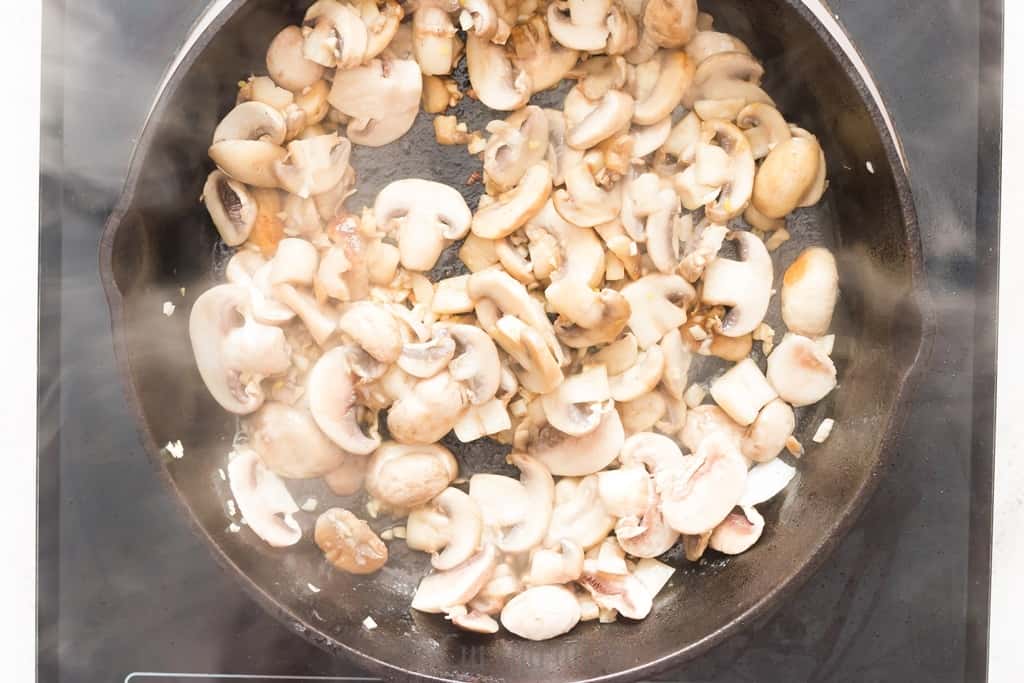 To flavor mushrooms add little minced garlic and salt into the skillet along with mushrooms. Once browned on one side, stir and allow mushrooms to brown on all other sides.
Remove browned mushrooms from skillet.
Into same skillet add olive oil. Add white (or red) onions, minced garlic. Saute and cook for 2 minutes.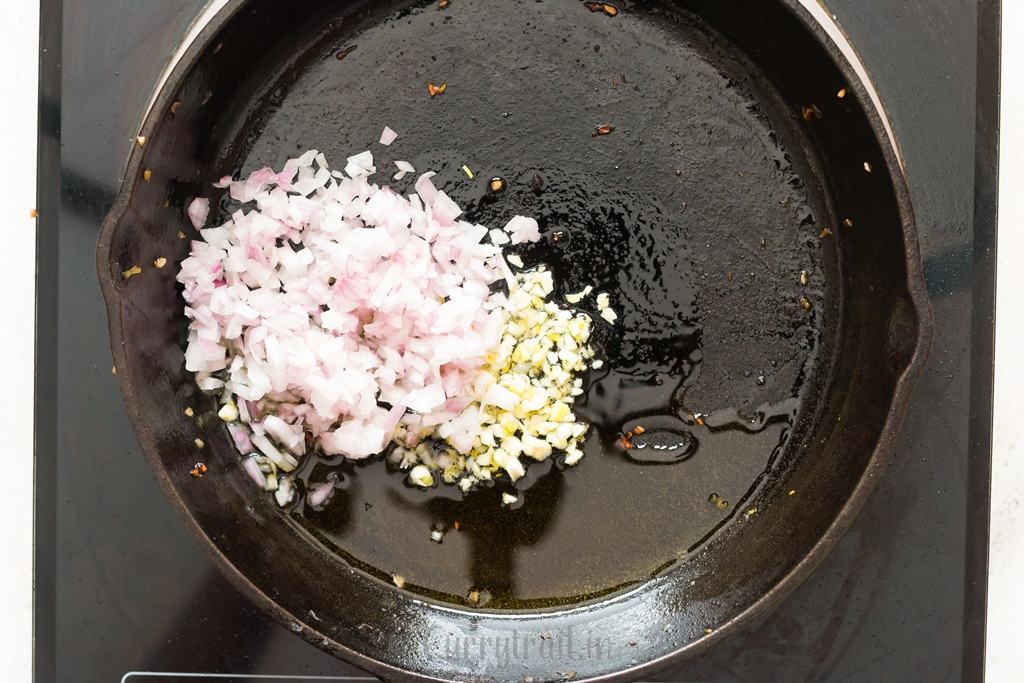 Add white part of green onions, saute for a minute. Add salt and pepper to taste.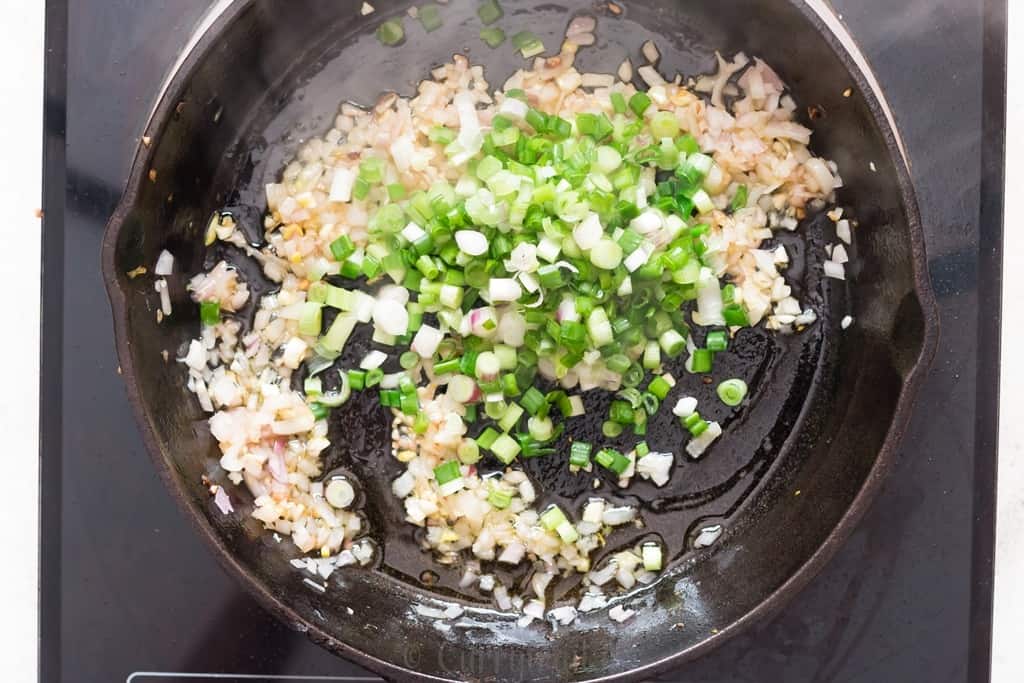 Once onions turn translucent, add rice.
Pro-Tip : I ALWAYS rinse and soak rice before cooking. This helps rice cook faster and also rinsing helps remove excess starch hence you get fluffy perfectly cooked rice, each grain separated.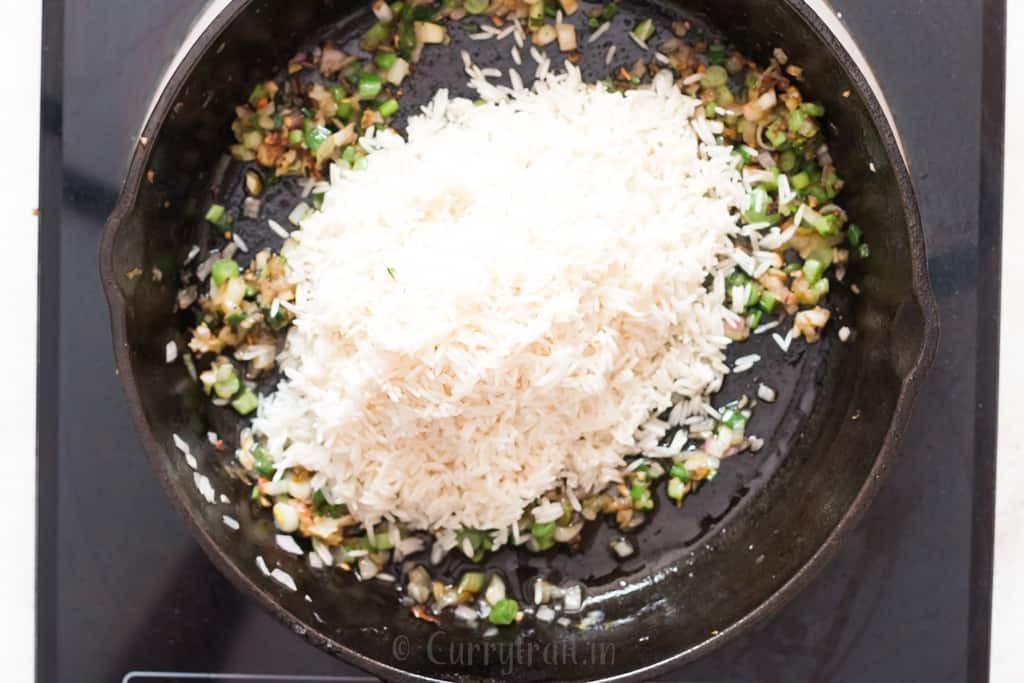 Saute rice in skillet for a minute.
Add chicken stock, fresh thyme and give it a good stir.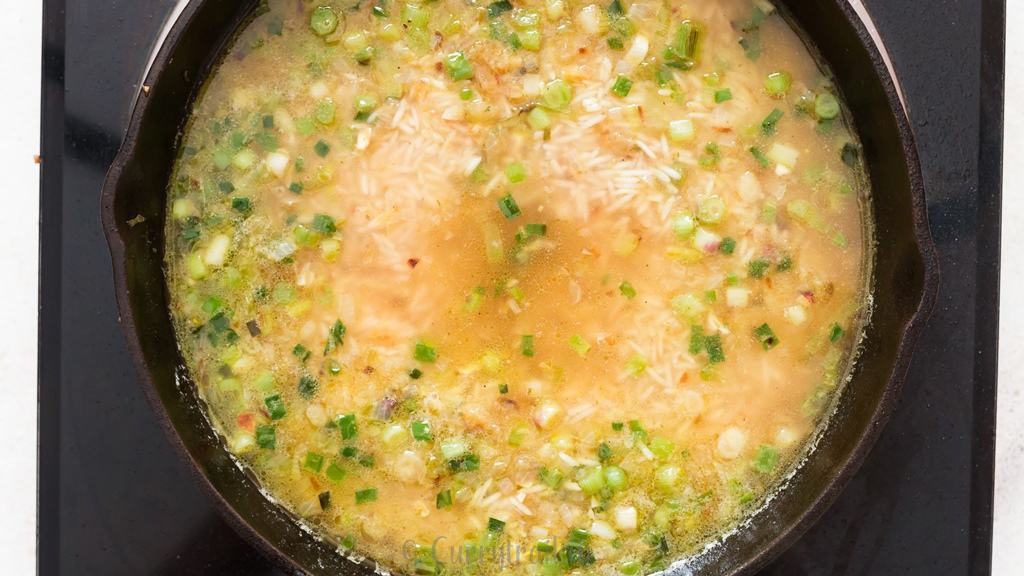 Add back browned mushrooms. Cover with lid and cook on low heat for about 15 minutes or until rice is cooked perfectly and all liquids are dried out.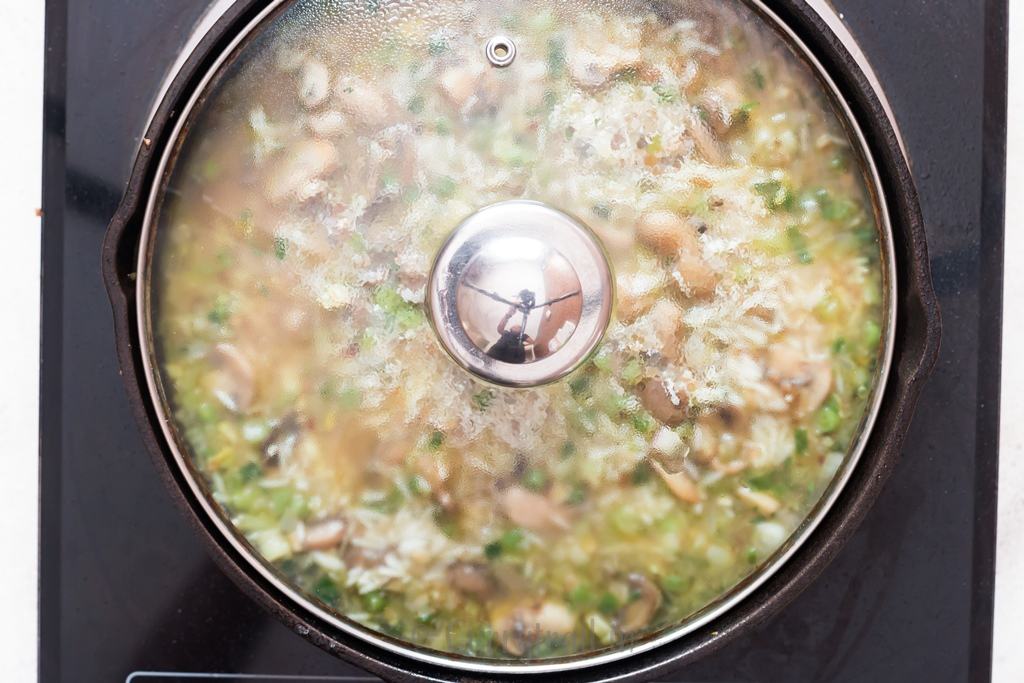 Turn off flame, leave the pan covered for about 10-12 minutes. This will make rice fluffy and have perfect soft texture.
Stir in chopped green onions and serve immediately.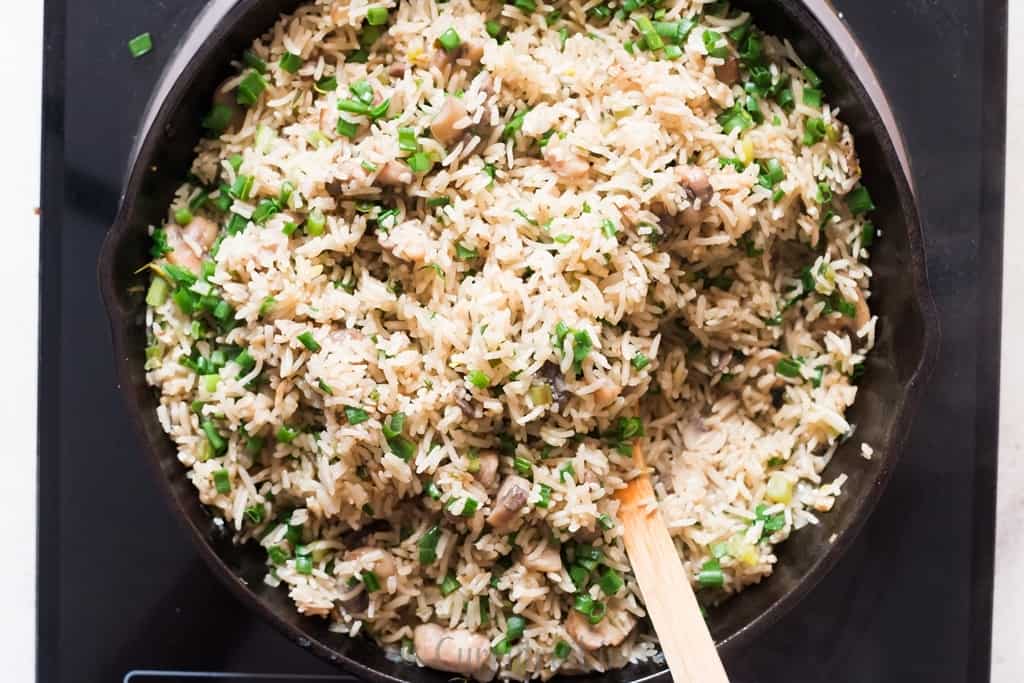 For a complete meal option, top a fried egg on top of mushroom rice.
Tips to Make Best Mushroom Rice
Browning Mushrooms – Make sure all mushrooms are sliced evenly. Add mushrooms to a skillet only after it turns very hot. Avoid the temptation to stir mushrooms as soon as you add it in. Wait until mushrooms are browned on one side and then stir. Use wide skillet to brown mushrooms.
Cooking Rice – I recommend to rinse rice until clear water runs through. Soaking rice in enough water ensure rice cooks fast and perfect. If you want perfectly cooked, soft texture, fluffy rice, rinse and soak.
Rinsing rice removes excess starch, no more sticky, gluggy rice.
Liquid – Cook rice with chicken stock so it's packed with more flavors. If you are a vegetarian, use vegetable stock instead of chicken stock. Rice to liquid ratio for long grain rice is 1:2 ½.
Packing in Flavors – Browning mushrooms enhances flavor of mushroom rice. Do not keep stirring mushrooms. Leave it to cook until browned and then flip or stir.
Don't skimp on garlic. Loads of garlic is what I have added to mushroom rice. Make sure you mince garlic well. Not a garlic fan? Well, reduce the quantity a bit, but do not skip it out. You need garlic in mushroom rice.
I have also added a mix of red onion(since I did not have white onion) and white part of green onions. Why two types of onions? Well, because I believe both these onions have different texture and taste which only enhances the flavors.
Finally loads of green onions is added after rice is cooked for extra crunch and freshness to the dish.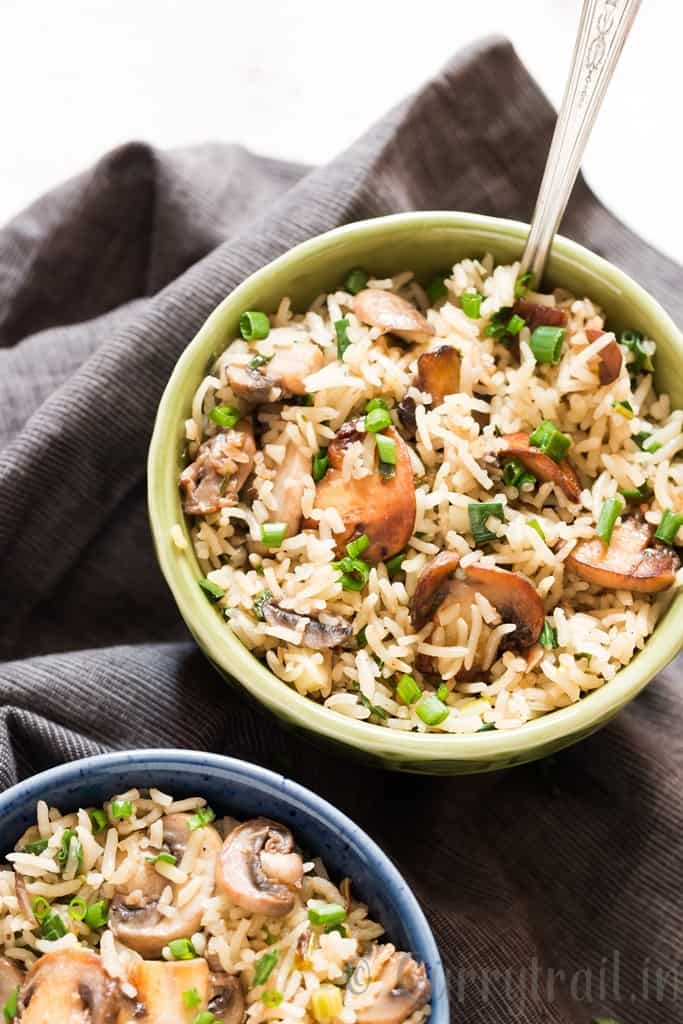 Can I Use Leftover Rice to Make Mushroom Rice?
Yes, you can absolutely use left over rice. It's much simpler and fast with pre-cooked left over rice. Any left over rice from previous night can be used up to make mushroom rice.
Saute mushrooms until browned, remove from pan. Then saute onions, garlic. Add in the seasoning and finally stir in left over rice and browned mushrooms. Add lots of green onions , mix gently and serve.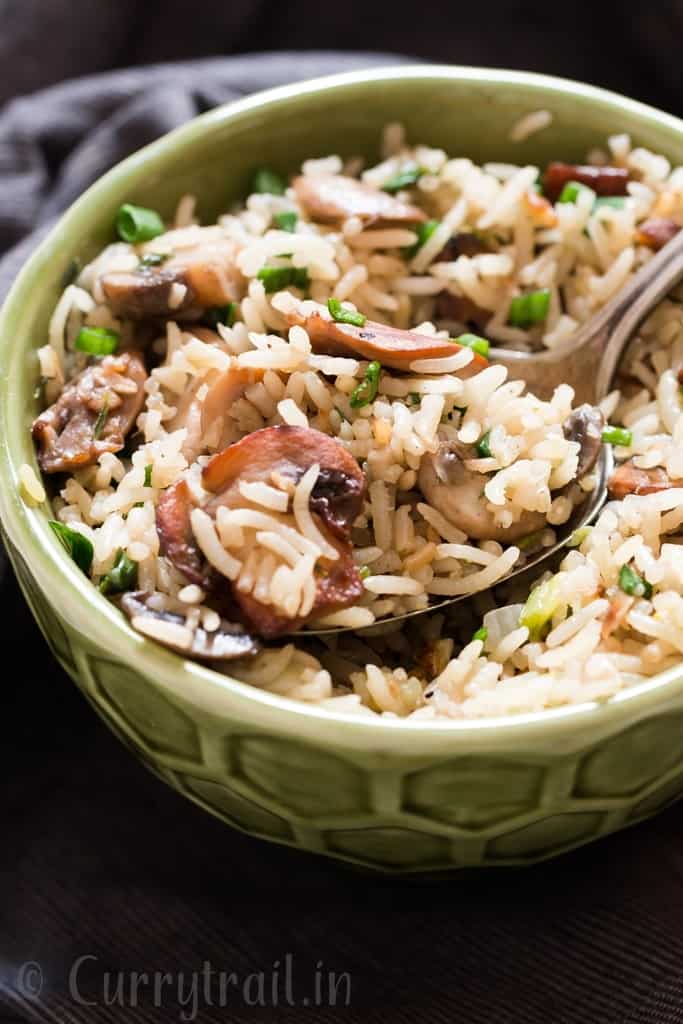 Can I Make Mushroom Rice Ahead of Time?
Yes. Absolutely. Make it previous day and store it in fridge. Before serving, microwave it for few seconds.
Pro-Tip : To keep rice from drying out and turning hard, add a tablespoon of two of chicken stock to mushroom rice, stir and then reheat.
LOVE MUSHROOMS? TRY OUR OTHER FAVORITE MUSHROOM RECIPES –
Cantonese Chicken With Mushrooms
Garlic Butter Sauteed Mushrooms
Don't forget to Subscribe to CurryTrail  Recipes below to get our newest recipes delivered straight to your inbox.
LOVE THIS RECIPE? KEEP IN TOUCH AND DON'T MISS OUT ON ANY OF CURRYTRAIL RECIPES! FOLLOW ME ON INSTAGRAM, PINTEREST, FACEBOOK, TWITTER.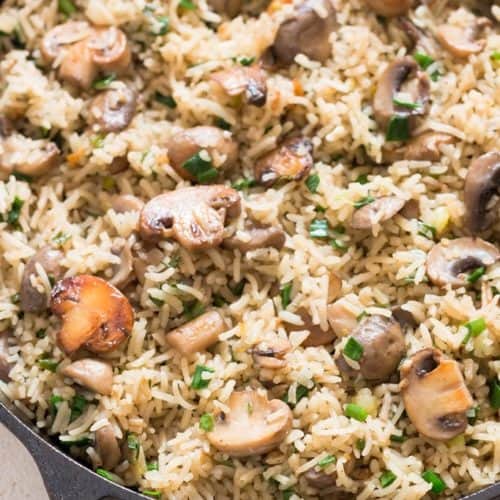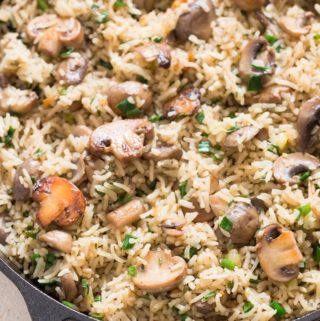 One Pot Mushroom Rice
Mushroom rice is easy and flavor packed midweek dinner, everything made in one pot. This nutritious, power packed dish can be served as vegetarian main or as side dish with nearly anything
Print
Pin
Rate
Ingredients
1 ½

pound

button mushrooms

cleaned and sliced

1 ½

cup

long grain rice

rinsed and soaked

1

tablespoon

unsalted butter

1

tablespoon

olive oil

2 ¾

cups

chicken stock

1

onion

big size

1

cup

white part of green onions

8

cloves

garlic

minced

Salt to taste

Pepper to taste

1

tablespoon

thyme leaves

fresh

1

cup

green onions

chopped fine
Instructions
Prep – Clean mushrooms either by wiping it with kitchen towel to remove all dirt or rinse in under running tap. If you rinse in water, make sure to dry mushroom well, this ensure mushrooms brown nicely. Slice mushrooms evenly.

Finely chop onions. Chop white part of green onions separately and keep it aside.

Mince garlic.

Rinse rice by gently rubbing rice in your finger (do not break rice). Soak in enough water for about 10 minutes.

Cook – Heat up a wide skillet on high heat. Wait until skillet turn really hot. Add in sliced mushrooms and spread it over the skillet to ensure they do not overlap. Do not crowd the pan. Wait for 3-4 minutes before stirring. This will ensure mushrooms are browned well on one side.

When mushrooms are browned on one side, stir and flip them over. Now add a teaspoon of minced garlic to ensure flavor of mushroom. This step is optional, but we loved the extra layer of flavor in the mushrooms.

Add little salt to taste and cook mushrooms until browned on all sides.

Remove mushrooms from skillet, keep aside.

I used the same pan to cook rice. You could use deep pan to cook rice.

Add olive oil. When oil turns hot, throw in garlic and onions. Saute and cook for 2  minutes.

Now add white part of green onions and cook for 1 minute.

Add salt and pepper to taste.

Add soaked and drained rice. Saute.

Add fresh thyme leaves, chicken stock. Stir.

Add back browned mushrooms. Stir. Cover and cook on low flame until rice cooked perfectly and all liquids are drained out.

Turn off flame, leave rice covered for about 10 minutes.

Then open lid, add in green onions, stir and serve.
Notes
Since mushrooms are added back to rice while cooking, you can expect it to loose it's slight crispness that it gets from browning. 
You can reserve some browned mushrooms to be added after rice is fully cooked. 
Can you add mushrooms directly to rice without browning? 
NO, i wouldn't recommend it. Browning mushrooms is crucial step that brings out a lot of wonderful flavors. If you add mushrooms directly to rice without browning, your mushroom rice is going to lack flavors.
Nutritional Info - Please keep in mind that nutritional information provided is only a rough estimate and can vary greatly based on products used.
Nutrition
Calories:
355
kcal
|
Carbohydrates:
60
g
|
Protein:
12
g
|
Fat:
7
g
|
Saturated Fat:
2
g
|
Cholesterol:
9
mg
|
Sodium:
206
mg
|
Potassium:
805
mg
|
Fiber:
3
g
|
Sugar:
6
g
|
Vitamin A:
535
IU
|
Vitamin C:
16
mg
|
Calcium:
72
mg
|
Iron:
2.4
mg