Easy homemade tahini recipe that is better than store bought is made with just 2 ingredients! Sesame seeds and oil, nothing else!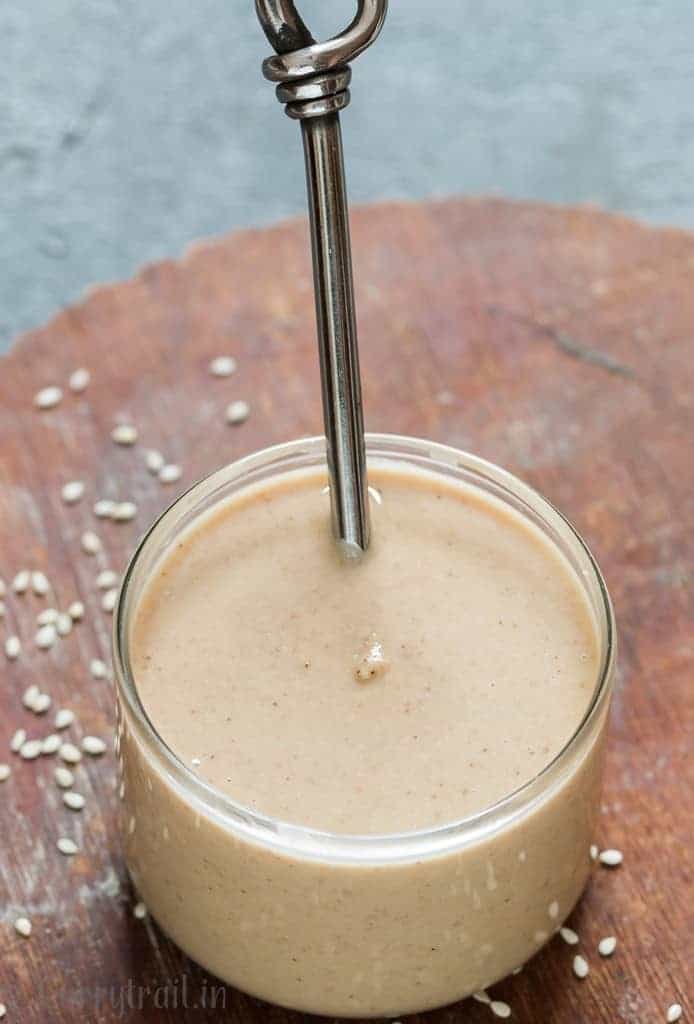 Learn to make tahini paste at home with super easy step-by-step instructions along with video recipe.  With just 2 ingredients and 2 simply steps you have the freshest tahini ready. And trust me guys, your homemade tahini is so much better than store bought bottles. It's cost effective and makes just the amount of tahini paste you think you'd use. And, like I always tell and the truth – homemade always tastes better!
Tahini recipe can be made oil-free too. Just roast white sesame seeds in pan and ground it in your food processor until you get creamy tahini paste. You need a high speed blender for this.
What is Tahini Paste?
Tahini paste is Middle Eastern sauce made from sesame seeds.  A staple in Mediterranean cuisine, this tahini paste is used as dressing for salads, falafel, secret ingredient that makes hummus taste the best, as spread for pita bread and sandwich or even used as dip.
Tahini sauce is also used in cookies and cake recipes.
Make it as thick or as thin you want. It's up to you! No matter how you make, you get creamy, luscious, vegan, gluten-free paste that is perfect for hummus, baba ganoush, salads, desserts and more.  Popularly called tahini or tahina.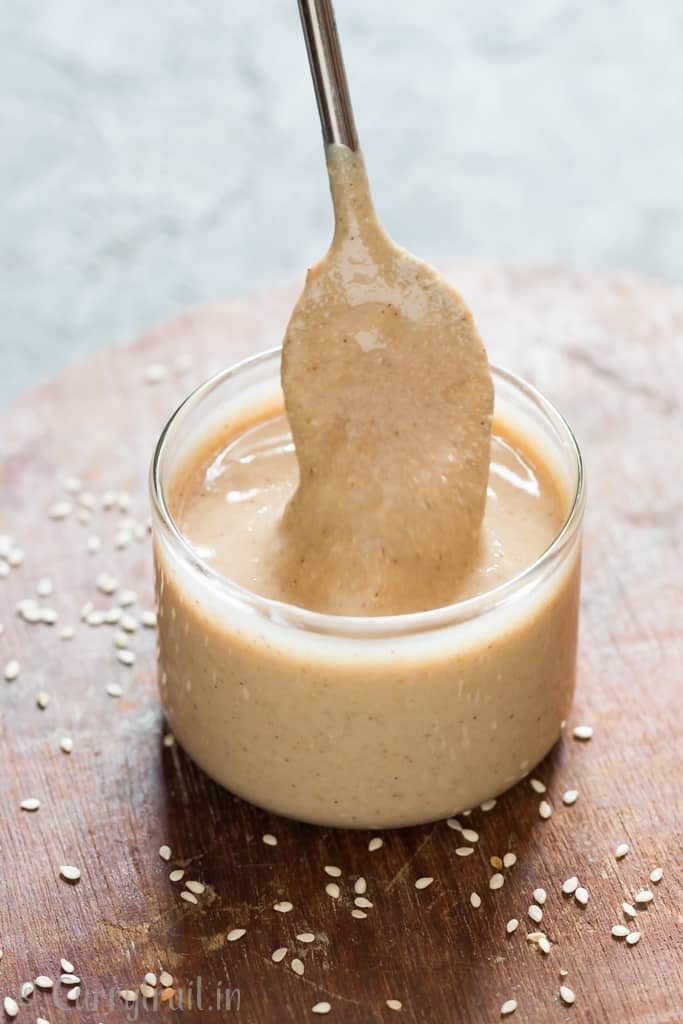 How To Make Tahini
You won't believe how easy tahini recipe is. 2 ingredients – hulled sesame seeds and olive oil and 5 minutes, is all you need for tahini sauce recipe.
Using good quality hulled white sesame seed to make tahini sauce recipe is the key here. Sesame seeds stored in pantry for longer time turns rancid and that would make your tahini sauce taste weird.
Usually I buy hulled white sesame seeds that aren't roasted. So it's mandatory to roast sesame seeds before gridding to make tahini.
Pro-Tip : If you buy roasted sesame seeds from stores, I still recommend you to lightly roast them before grinding.
Roasting helps sesame seeds to warm up and when you grind sesame seeds warm it release it's oil and aroma to the dish which btw is simply amazing.
To roast sesame seeds, heat up a pan on medium flame. When pan turns warm, add hulled sesame seeds. Stir continuously and keep roasting it until you get the aroma of sesame seeds. It takes about 2 minutes (depending on the quantity of seeds you use).
Alternatively you can roast sesame seeds in oven at 150 degree F for about 8 to 10 minutes. Keep an eye on the seeds, also roasting time hugely depends on the quantity of sesame seeds spread on baking tray to roast. Adjust time accordingly!
Transfer roasted sesame seeds into a food processor and blend by adding olive oil few teaspoon at a time.
Once you have smooth tahini paste, transfer to clean, dry jars with air tight lids.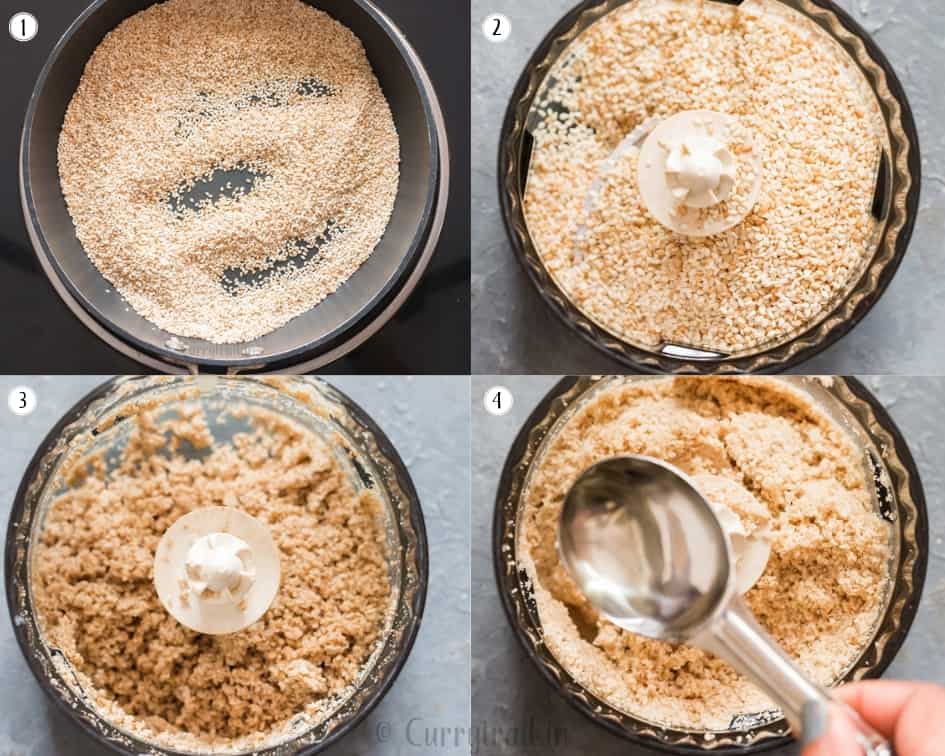 Tahini stays good at room temperature for 5-6 day. For longer storage upto 4 weeks, you can refrigerate it.
Tahini Recipe Ingredients
You need simple pantry ingredients – sesame seeds and olive oil. Yes that's right, just 2 ingredients. You could also make tahini with just 1 ingredient – sesame seeds.
I like the texture and consistency of tahini paste when it's made with olive oil, so I always make it this way.
Hulled white sesame seeds: If you use un-hulled sesame seeds, tahini will turn a little dark and will have faint bitterness!
Olive oil: use it as much depending on the consistency of the sauce you are aiming to get.
Recipes Using Tahini
Tahini is irreplaceable in hummus and baba ganoush.
But that's just not all.
Tahini or tahina is also used as spread for pita bread, mediterrean inspired burgers.
Drizzle tahini over roasted vegetables – my go-to healthy sides with minimal work.
It's a great condiment for falafel and pita pocket recipes.
Tahini also finds its use in cookies, cake and brownie recipes. I will share an amazing dessert dish made of tahini under this category very soon.
Tahini is best for salad dressing. Simply add lemon juice, salt, pepper, roasted cumin powder to tahini paste and drizzle it over salads for ultimate salad dressing idea.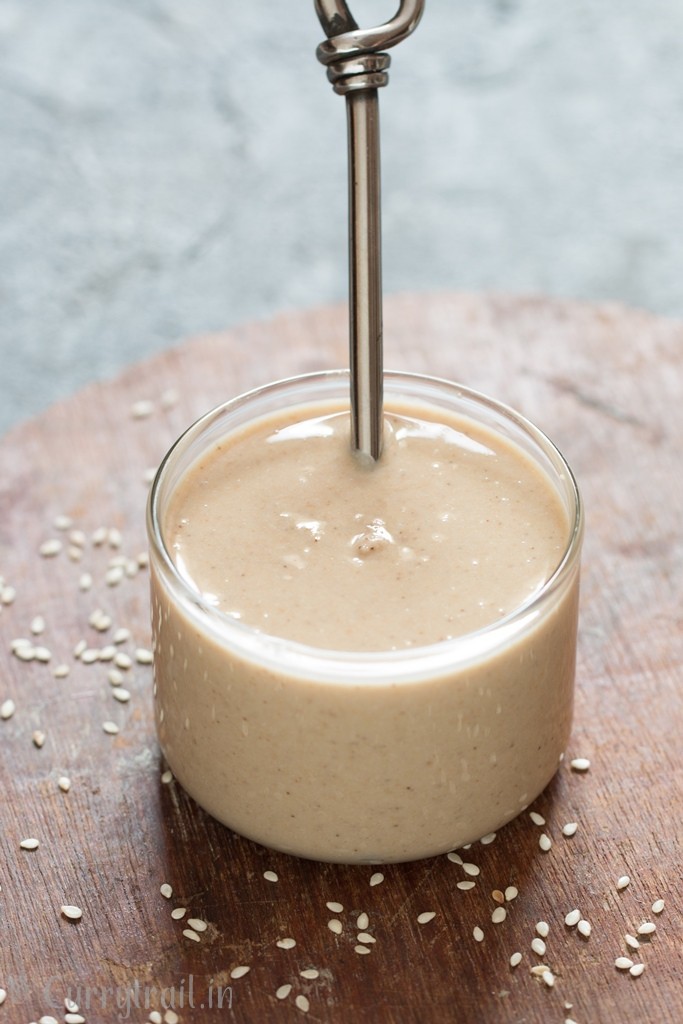 Tahini Recipe Variations
If you're feeling experimental and want to change the flavor of tahini you could do that easily. One of the below tahini recipe variation ideas will help you to get started-
Green Goodness Tahini – To 1 cup tahini add ½ cup parsley and 3 tablespoon dill leaves. 2 cloves of garlic, salt, pepper, lemon juice. Blend everything together into smooth sauce.
Curry Tahini – To 1 cup tahini add ½ teaspoon turmeric powder, 1 teaspoon curry powder and ¾ teaspoon cayenne pepper. Blend into smooth paste.
Cumin Tahini – To a cup of tahini, add 3 tablespoon yogurt, salt to taste, pepper powder to taste and roasted cumin powder. Blend into smooth paste.
You should check out other sauce recipes that my readers love:
Don't forget to Subscribe to CurryTrail  Recipes below to get our newest recipes delivered straight to your inbox.
LOVE THIS RECIPE? KEEP IN TOUCH AND DON'T MISS OUT ON ANY OF CURRYTRAIL RECIPES! FOLLOW ME ON INSTAGRAM, PINTEREST, FACEBOOK, TWITTER.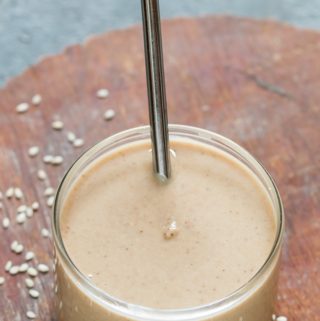 Easy Homemade Tahini Recipe with 2 Ingredients! | How to Make Tahini
Best homemade tahini recipe that is better than store bought is made with just 2 ingredients! Sesame seeds and oil, nothing else!
Print
Pin
Rate
Ingredients
1

cup

white sesame seeds

hulled

2 to 4

tablespoon

olive oil
Instructions
Dry roast hulled sesame seeds in warm pan on medium heat for about 2 to 3 minutes stirring constantly.

Transfer to high speed blender and blend roasted sesame seeds until it begins to form a paste.

Add olive oil gradually and blend until you get smooth tahini paste.

Optional – add kosher salt to taste if you like.

Store in clean, dry, air tight container.

Use fresh homemade tahini as and when required in your favorite dish.

Stays good for 4-5 weeks if refrigerated.
Nutrition
Calories:
859
kcal
|
Carbohydrates:
35
g
|
Protein:
26
g
|
Fat:
74
g
|
Saturated Fat:
10
g
|
Cholesterol:
0
mg
|
Sodium:
16
mg
|
Potassium:
702
mg
|
Fiber:
17
g
|
Sugar:
0
g
|
Calcium:
1463
mg
|
Iron:
21.8
mg