Cranberry margarita is gorgeous colored refreshing cocktail with a perfect balance of sweet and tart. This holiday drink is made with fresh cranberry juice, orange liqueur, tequila and lime juice – a combination that is fit for any party, or simply for a relaxing weekend.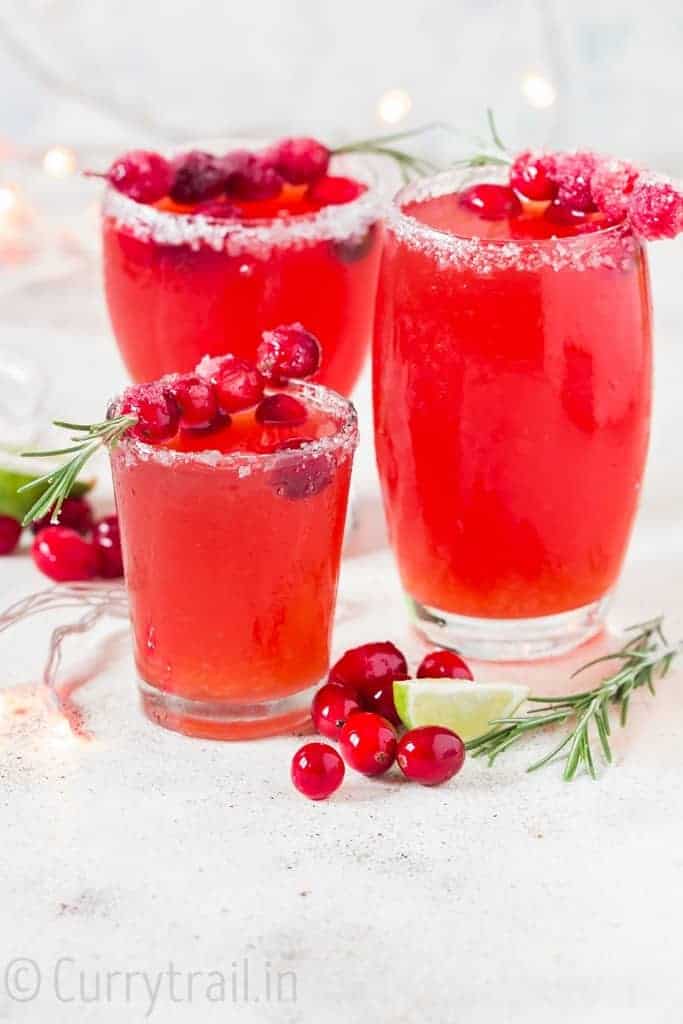 Who's ready for New Year 's Eve? We sure are! Just a few hours away to the Eve's party, and along with setting the party table ready, I'm also squeezing in time to quickly write to post to share this amazing cranberry margaritas recipe with y'all.
We are keeping the celebrations real quite with just us the family with simple but delicious food and drinks to ring in it the New Year 2019. We love finger food and drinks for any party/celebrations. Finger food with small portions are the best kind to start any party.
On the New Year's Eve menu we have
Potato wedges, and
On the drinks menu –
There's ofcourse cranberry margarita,
red wine,
Bloody Mary (my absolute favorite, making it just for me),
The mandatory beer, bourbon for little extra
Coke for the kids.
I made watermelon mocktails as well, but kids don't bother about anything else where there is coke, they sure still haven't understood the 'real deal' stuffs. Hopefully they will take a few glasses of freshly made watermelon mocktail as well.
Main course is our most favorite any party, any weekend dish – Chicken Biryani!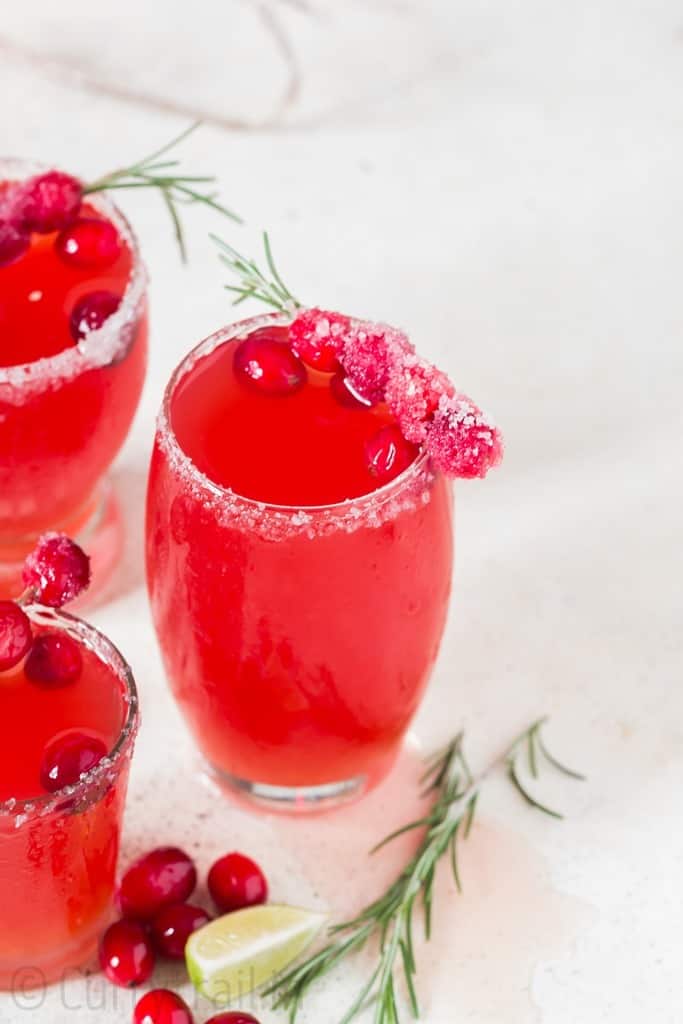 That's it. That's our simple but sophisticated enough for a party menu that we have ready to ring in the New Year 2019.
And no, there is no dessert today. The family didn't want to spend time cooking up a dessert, as they know for sure they will be tried and sleepy by the time the party winds up and they don't want to be awake for desserts. I'm alright about it. You see, I'm not a person with sweet tooth, as long as there are savory dishes, I'm happy.
This cranberry margarita is perfect holiday drink that you shouldn't be making just for Christmas eve if that's what you have been doing. Why not extend the celebrations all the until New Year with this easy cranberry margarita.
Cranberry Margaritas are fun drink that entire family would love and it's best enjoyed on special occasions like Christmas eve, New Year's Party, kitty party or a fun weekend party with friends.
Gorgeous ruby red color of cranberry margarita screams – pick me up and drink! It's so festive, it's so merry, it's so gorgeous!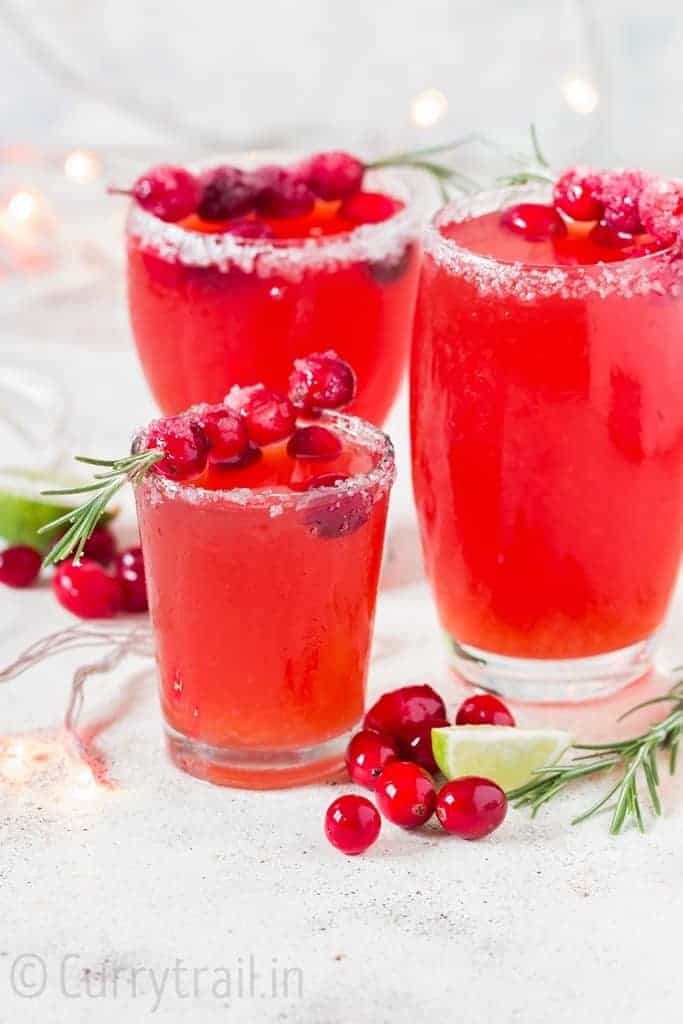 Let's discuss
How to Serve Cranberry Margaritas
The traditional way to serve any margarita is to have a coarse salt around the rim of margarita glasses. We don't want to skip any traditions here, so yes we can add our own little twist to the traditions.
Coarse salt and caster sugar together makes it great as well.
Serve cranberry margaritas in different glass wares to give it a fun, unique look. Serving in margarita glasses would be great without a doubt as well.
Make Your Own Fresh Cranberry Juice
Using fresh juice gives you the best tasting margaritas.
If you have a juicer, thrown in fresh cranberries and juice it. Making your own cranberry juice from scratch won't take much time. Balancing the tartness of the cranberries is done with sugar or any sweetner.
You can puree fresh cranberries, and squeeze the heck out of them. Then add sugar accordingly to balance out the tartness of fresh cranberries.
Alternatively ….
Into a sauce pan add cranberries, sugar and water. Bring it to boil. After 8 to 10 minutes cranberries will turn soft. Mash it a little and turn off flame.
Allow the cranberry juice to cool a little. Then strain off using fine mesh sieve and squeeze out as much juice as you can.
Let cranberry juice cool down completely before using it in margarita. Make a sauce of cranberries and then juicing it helps you get rid of the slightly different taste of cranberries that usually I don't like.
If you can't make your own cranberry juice, use the store-bought-cranberry juice. Recommend you to use brand that is 100% juice). It's easy to make, convenient and tastes GOOD too!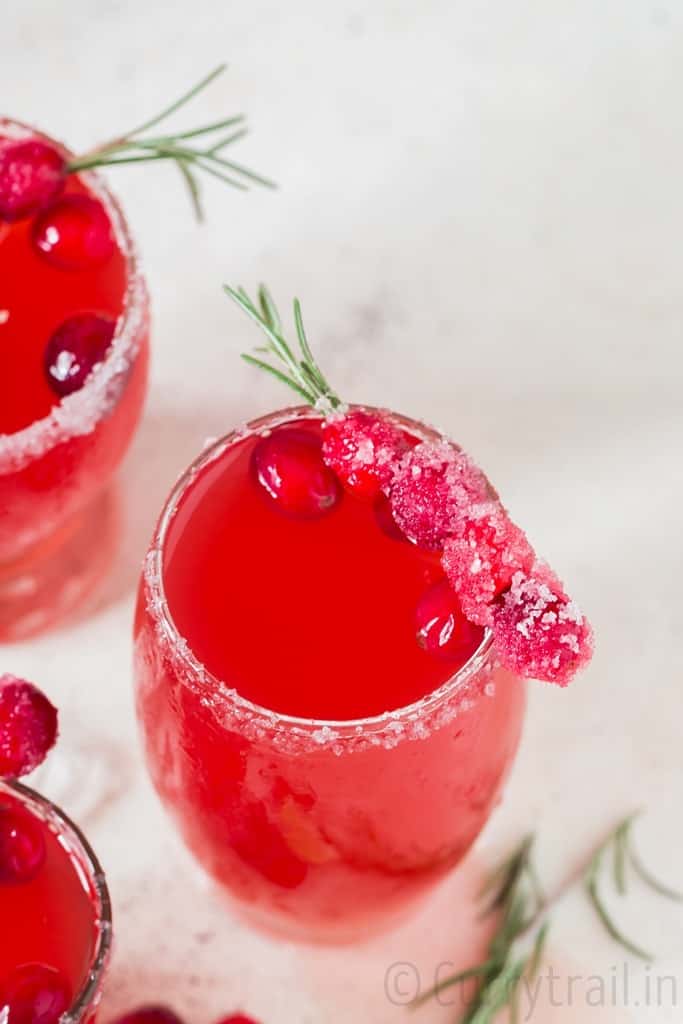 How to Make Cranberry Margaritas
To fresh cranberry juice (or store bought juice) squeeze in lime juice.
Into the cocktail shaker add ice cubes, cranberry juice with lime, fresh orange juice, orange flavored liqueur, silver tequila, Shake well until all ingredients blends well.
In a small wide bowl, mix coarse salt and caster sugar (not powdered sugar, sugar with fine crystals).
Take a lime wedge and run it around the rim of the glass in which you want to serve cranberry margarita. Dip rim of the glass in salt sugar mix and make sure it coats evenly around the rim.
Drop a few ice cubes into the serving glasses.
Pour cranberry cocktail into the serving glasses.
Garnish with few fresh cranberries, a lime wedge and serve and sugared cranberries over rosemary sprig.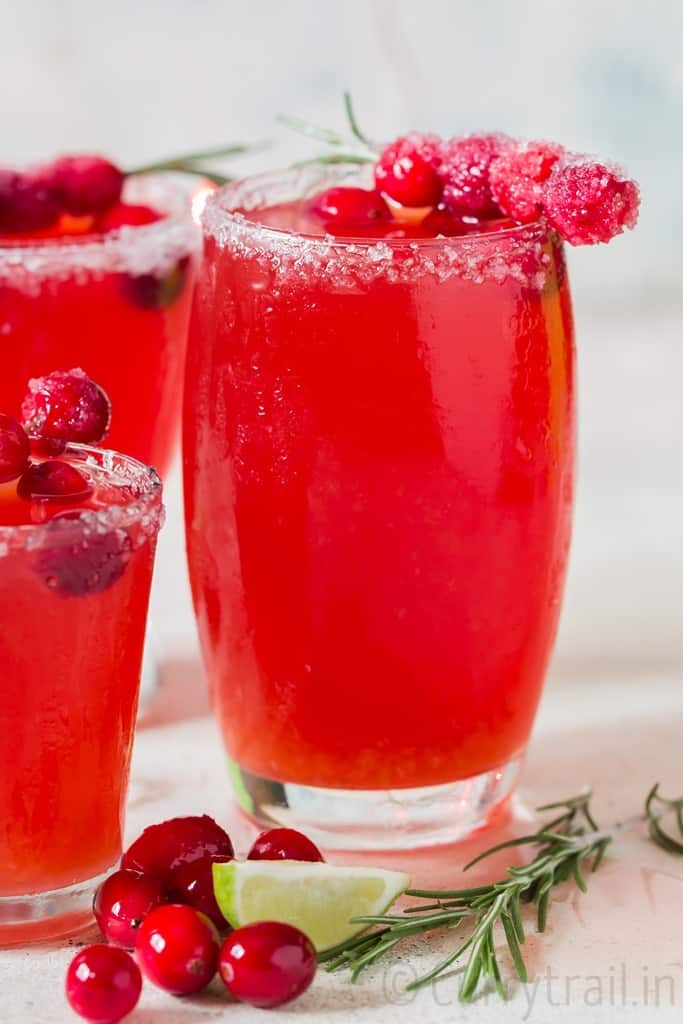 Don't forget to Subscribe to CurryTrail Recipes below to get our newest recipes delivered straight to your inbox.
LOVE THIS RECIPE? KEEP IN TOUCH AND DON'T MISS OUT ON ANY OF CURRYTRAIL RECIPES! FOLLOW ME ON INSTAGRAM, PINTEREST, FACEBOOK, TWITTER, GOOGLE+.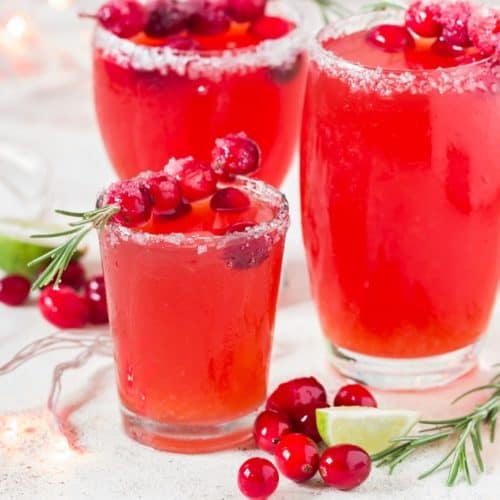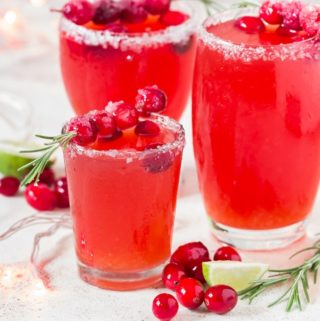 Cranberry Margarita
Cranberry margarita is gorgeous colored refreshing cocktail with a perfect balance of sweet and tart. This holiday drink is made with fresh cranberry juice, orange liqueur, tequila and lime juice – a combination that is fit for any party, or simply for a relaxing weekend.
Print
Pin
Rate
Ingredients
To make fresh cranberry juice –
2

cups

fresh cranberries

¼

cup

water

⅓

cup

sugar
To make cranberry margarita-
2

cup

fresh cranberry juice

4

tablespoon

lime juice

¾

cup

tequila

½

cup

fresh orange juice

½

cup

orange-flavored liqueur

Cointreau or Triple Sec

Ice cubes
Garnish –
Fresh cranberries

Lime wedges

Sugared cranberries

Rosemary sprig

Ice cubes

Margarita salt  or Salt and caster sugar mix

to coat the rim of serving glasses
Instructions
To make cranberry margaritas, first rim the ridge of your serving glass with a lime wedge and dip in margarita salt.

Fill the glass with ice cubes.

In a cocktail shaker, combine cranberry juice, freshly squeezed orange juice, triple sec, tequila, lime juice with ice cubes. Shake for about 30 seconds.

Pour over ice and squeeze in lime slices.

Garnish with sugared cranberries, lime wedges.
Notes
Taste cranberry juice before adding it to the cocktail. If too sour, add simple sugar syrup to balance out the sour taste. 
Nutrition
Calories:
358
kcal
|
Carbohydrates:
52
g
|
Protein:
0
g
|
Fat:
0
g
|
Saturated Fat:
0
g
|
Cholesterol:
0
mg
|
Sodium:
7
mg
|
Potassium:
228
mg
|
Fiber:
2
g
|
Sugar:
46
g
|
Vitamin A:
150
IU
|
Vitamin C:
38.4
mg
|
Calcium:
18
mg
|
Iron:
0.5
mg
"PIN IT" TO YOUR COCKTAIL BOARD