5 minutes super creamy roasted beet hummus , the name says it all – takes 5 minutes to whip up this pink summery dip(when prep work is taken care before hand).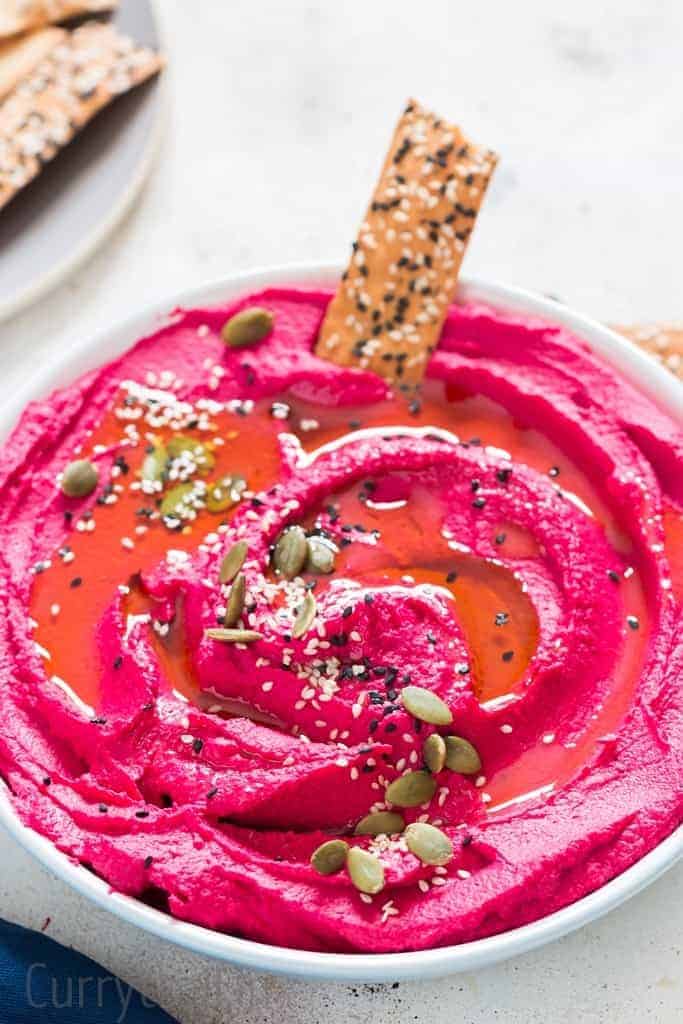 Originally posted in August 2015, gave this post a new lease of life in June 2018
Old pic (covering my face with embarrassment)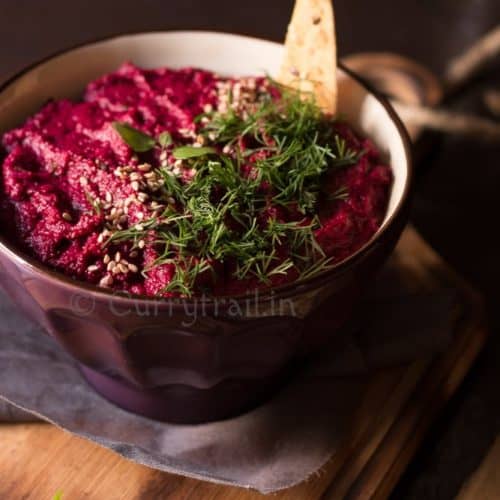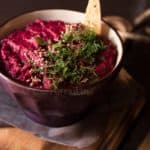 We are in love with vibrant pink color of this roasted beet hummus. Beetroots adds slight sweet earthy flavors to the hummus with a burst of electric pink color, I've always been taken with the color! It's excellent dip with raw veggies, chips, pita bread.
What do you do when you get fresh beetroots from farmers market? You use them in making delicious hummus! Yes, beetroots make a very good choice of vegetable to make hummus.
Classic hummus is definitely the best,and when you add root veggies likes carrots, beets, hummus surely becomes amazing.
I regularly make beetroot hummus, which is delish and has an awesome fuchsia color that my little girls love! The beetroot gives the hummus a sweet earthiness. Purple/Pink hummus is perfect for parties, and if you have a lot of kids around you are sure gonna be happy to see kids licking the hummus off their breads/chips/nachos.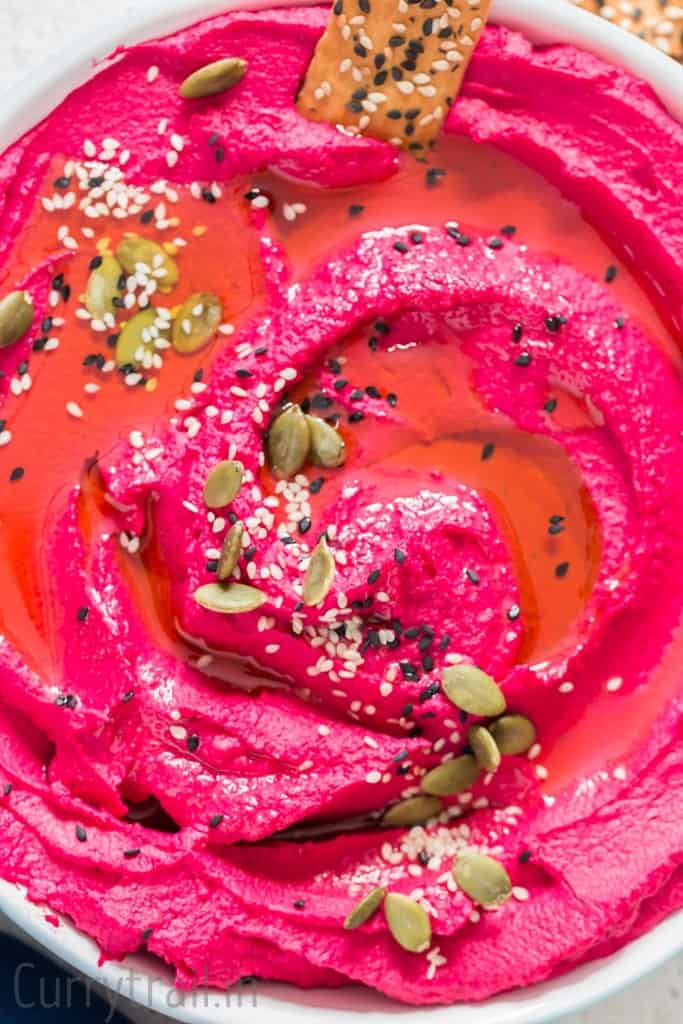 As much as I rail against gender norms in most aspects of my life, the little girl in our household is a lover of pink and princesses. She would buy all her stuffs that is either pink or purple(well, most of the stuffs). She's got about 5 pink shoes, quite a few pink and purple dress, pink jackets, pink bands, and even when she choose candies and lollies she goes for pink! :O
So when I made this hummus, she was so excited just by the color of the hummus. Girls, I say! She just went licking off the hummus. She was curious to see if her tongue turned purple with the hummus, so she would lick, lick, lick and run to the mirror put her tongue out to see if it changed color.
When she found her tongue has no change, she ran back to the hummus bowl licked, licked, licked and ran again to the mirror! LOL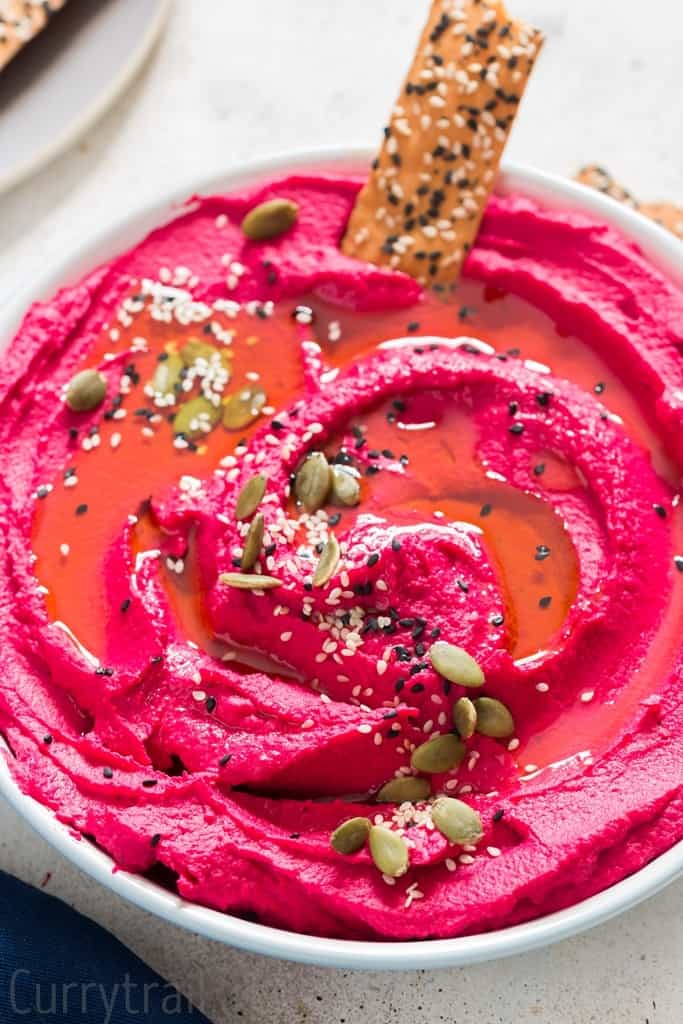 This continued for at least half the bowl of purple hummus was finished and her tongue did not change color at all :P. Finally she came back to me asked, "why isn't my tongue changing color?". I laughed and said, "try finishing off the full bowl, maybe then your tongue might turn purple" :P.
Evil mind of a mother was doing some tricks to get the little girl eat her hummus :D. Come on don't judge me, I'm sure you too would have made up some stories to get your little one eat veggies!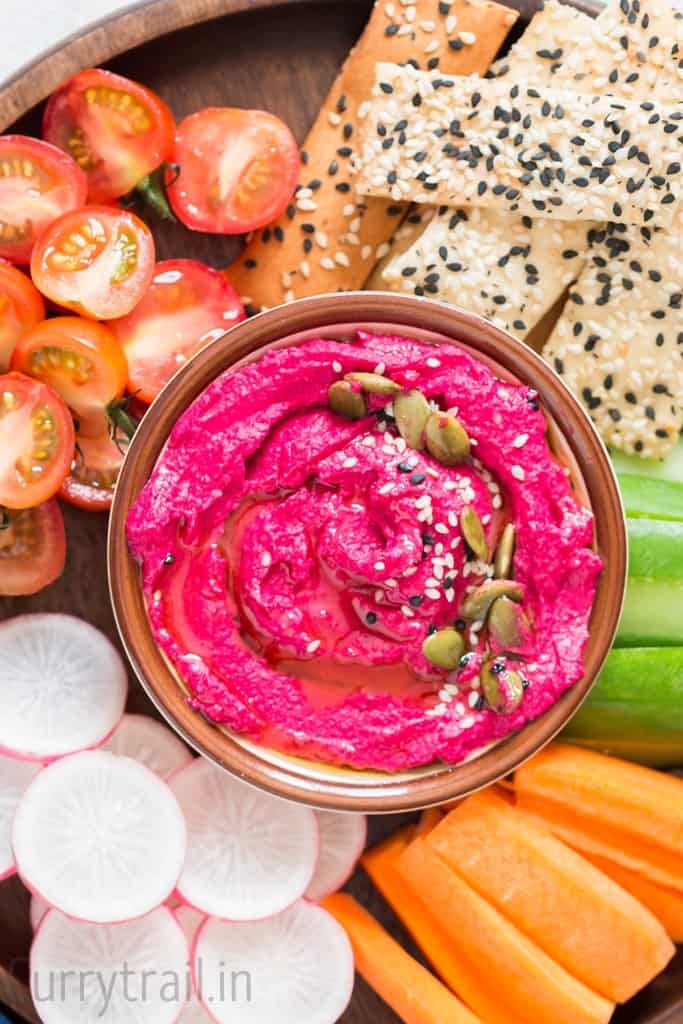 She finished the bowl and finds that her tongue has changed to a slight purple color which was barely seen! She was disappointed. She comes to me again with the same question, this time I had to make up something else.
I couldn't think of anything. All I said was "we will buy beets from a different shop and make this hummus again, maybe then our tongue would change color! Poor thing, she believed me and was all prepared for a second round of colorful hummus.
So what stories do you makeup to make your kids eat veggies? Let's hear it!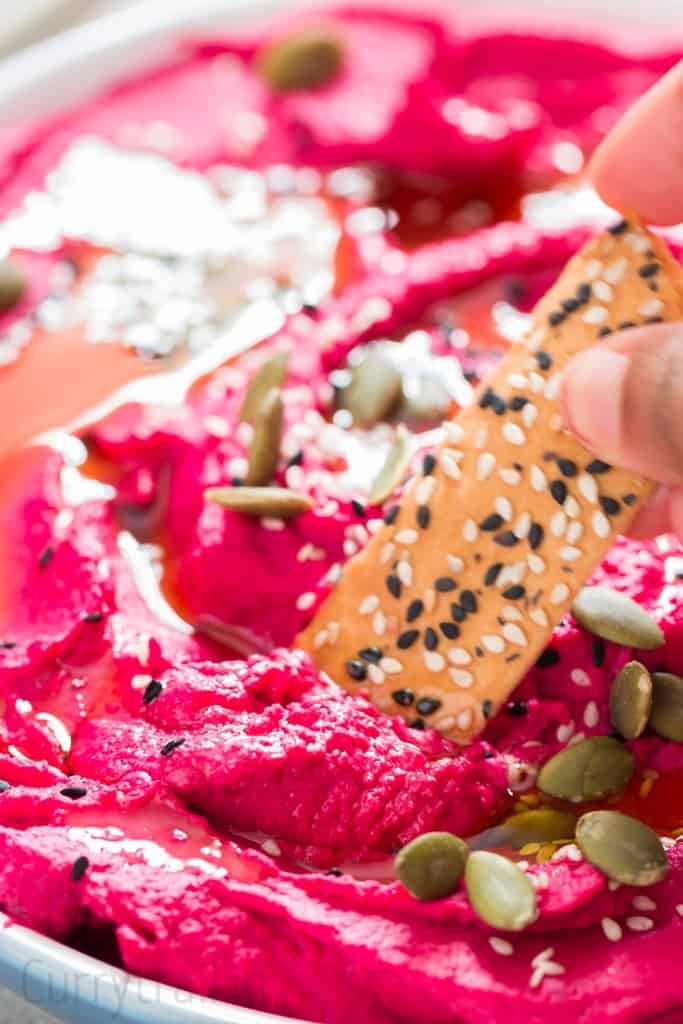 Helpful Kitchen Tools:
How To Make Creamy Roasted Beet Hummus
This beet hummus recipe is very simple and easy to make if you have roasted beetroots already. Roasting beetroot is the only time consuming prep, which I recommend you to do ahead and keep ready while whipping up hummus.
There is a subtle earthy flavoured sweetness from the roasted beetroots and the creaminess from chickpeas, olive oil makes it great for scooping with vegetables, smearing over a toast, or to drizzle over your burger patties.
Roasted beets along with cooked chickpeas, garlic, pepper powder, lime juice, salt, tahini paste, basil leaves, olive oil and water(a little), blend them into hummus paste and serve. That's it.
Watch How To Make Beet Hummus Recipe Video
Click play to watch video or you can scroll down to recipe card if you want written recipe.
Loving this easy colorful beet hummus? You might be interested in these as well, check these out –
LOVE THIS RECIPE? KEEP IN TOUCH AND DON'T MISS OUT ON ANY OF CURRYTRAIL RECIPES! FOLLOW ME ON INSTAGRAM, PINTEREST, FACEBOOK, TWITTER.
HAVE YOU TRIED ONE OF MY RECIPES? I'D LOVE TO SEE WHAT YOU'VE MADE! TAKE A PICTURE AND USE THE HASHTAG #CURRYTRAIL ON INSTAGRAM SO I CAN SEE! I'LL DO A HAPPY DANCE IF YOU TRY MY RECIPE AND SHARE IT WITH US!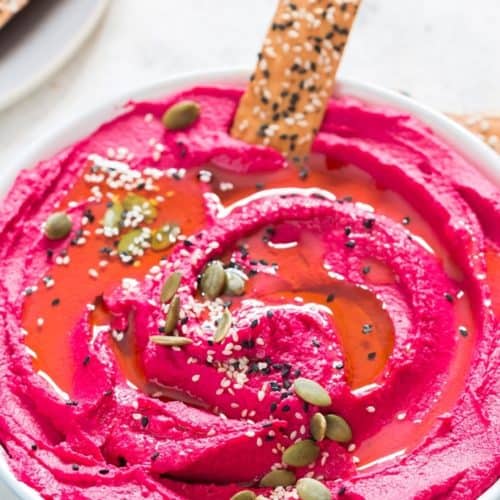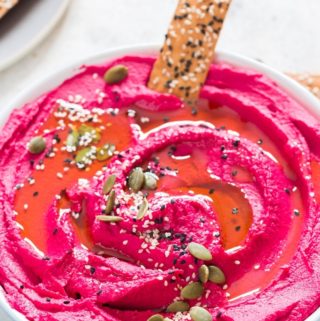 5 Minutes Super Creamy Roasted Beet Hummus
It takes 5 minutes to whip up a pink summery hummus, this is 5 minutes super creamy roasted beet hummus. We are in love with vibrant pink color of this roasted beet hummus.
Print
Pin
Rate
Ingredients
2

beetroot

2

cups

chickpeas

8

garlic cloves

1

tablespoon

pepper powder

Salt to taste

3

tablespoon

tahini

Juice of 1 lime

¾

cup

olive oil

Water as required
Garnish –
Olive oil

White and black sesame seeds

Pumpkin seeds
Instructions
Soak chickpeas over night. Next day pressure cooks with a pinch of salt. Once cooked, drain excess water, keep aside.

Wash peel the skin of beetroot. Chop them roughly, drizzle olive oil(about 1 tspn) and salt(a generous pinch) and roast in pre heated oven.at 400F for about 40-50 minutes(time depends on the size of your beets). Make sure to turn beetroot once or twice during roasting.

In a blender add all the ingredients and blend until you get a fine, smooth paste.

Transfer to a serving bowl garnish with olive oil, sesame seeds, pumpkin seeds. If you prefer fresh herbs, use dill, basil leaves for garnish. Serve them with nachos, pita bread, spread it over sandwich or use it as a dip for veggies. They are simply delicious!
Notes
Hummus stays good for a week inside fridge
Nutrition
Serving:
0
g
|
Calories:
786
kcal
|
Carbohydrates:
42
g
|
Protein:
13
g
|
Fat:
65
g
|
Saturated Fat:
8
g
|
Cholesterol:
0
mg
|
Sodium:
58
mg
|
Potassium:
630
mg
|
Fiber:
11
g
|
Sugar:
9
g
|
Vitamin A:
740
IU
|
Vitamin C:
8.5
mg
|
Calcium:
98
mg
|
Iron:
4.8
mg
PIN IT FOR LATER