This 3 ingredient white chocolate fudge is dense, rich, fudge-y and of course sweet! It's a delicious no bake sweet treat to make for parties or any other celebrations! FUDGE IS WONDERFUL! And you only need 3 main ingredients!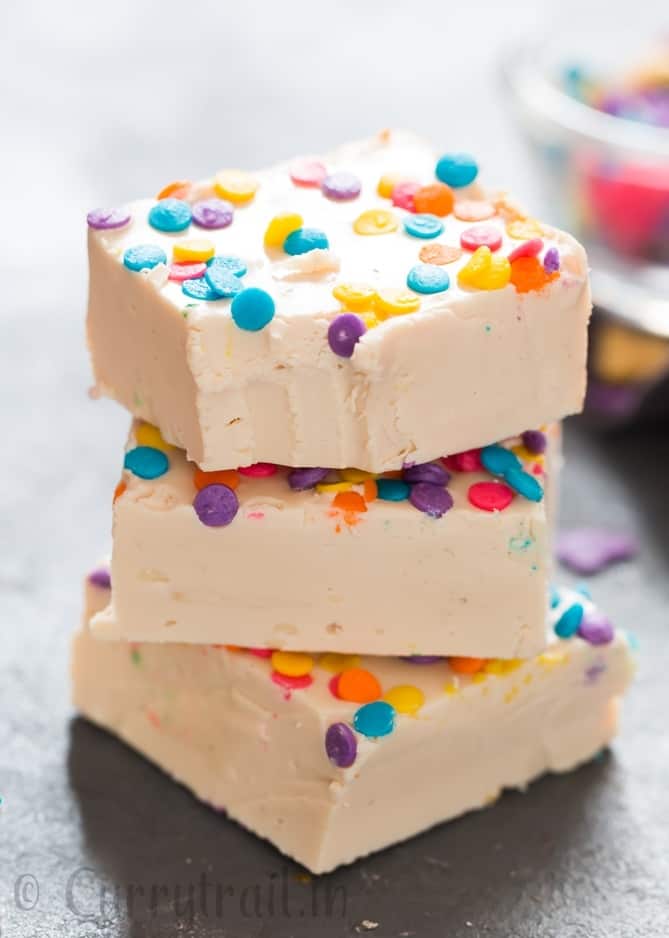 What I Love About This White Chocolate Fudge?
3 ingredients dessert! Don't under estimate the power of simple recipes! In matter of no time, this no bake white chocolate fudge comes together.
It's stunning to see a simple mixture of white chocolate and condensed milk make ultra delicious dessert for all your sweet tooth cravings called the WHITE CHOCOLATE FUDGE.
White chocolate fudge made with just white chocolate and condensed milk is rich, fudge-y sweet treat perfect for any occasion or just to satisfy your sweet cravings. Don't forget the sprinkles! Sprinkles are FUN!
Yes, only 3 main ingredients needed to make a sweet treat that is fit for any occasion.
5 minutes hands-on work and few hours of waiting for fudge to chill. Then you'll have the easiest white chocolate fudge. It's perfect for sudden sweet tooth cravings.
Anyone can make this fudge. It's very easy and comes together very fast. My kids did a batch without my assistance.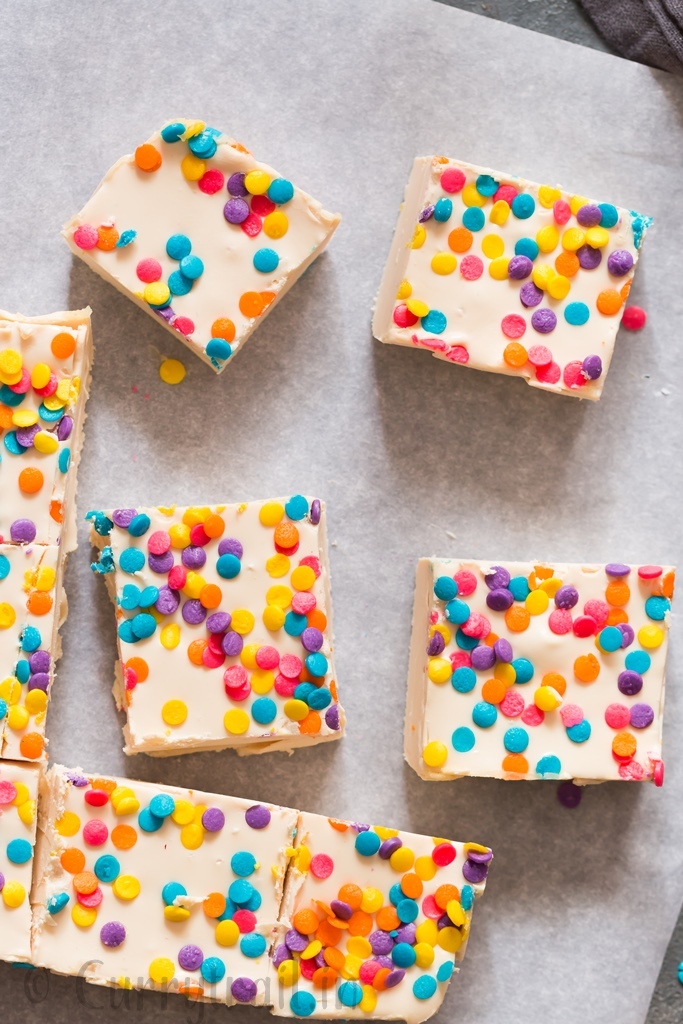 This White Chocolate Fudge Is Different!
Please don't compare this easy white chocolate fudge recipe to traditional way of making fudge.
There is definitely going to a minor change in texture of the fudge, as this white chocolate fudge recipe is microwave recipe (can be made on stove-top) and it uses condensed milk.
Traditional fudge recipe uses sugar, milk, butter boiled to right consistency in sauce pan over stove top. Replacing sugar and milk with condensed milk for this easy white chocolate fudge recipe makes a minor difference in the texture of the fudge.
Chocolate fudge made with condensed milk results in a little dense and has a tad chewy texture, but it tastes incredible.
For all you sweet tooth lovers, you won't be disappointed with this fudge recipe.
The chocolate to condensed milk ratio is important to achieve the best microwave white chocolate fudge.
Use this recipe as a base and you can add any toppings or sprinkles of your choice.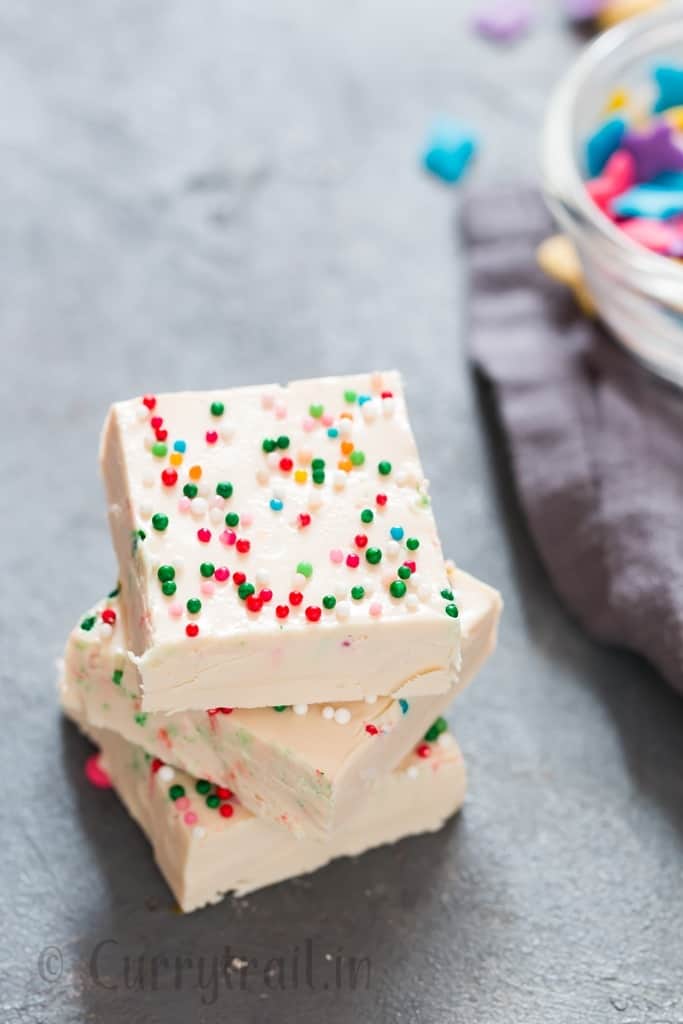 Ingredients You'll Need
This is what you'll need:
3 cups white chocolate chips (Ghiradelli is best)
14 ounce can sweetened condensed milk
1 teaspoon vanilla extract or use 1 vanilla bean, scrapped
pinch of salt
sprinkles of your choice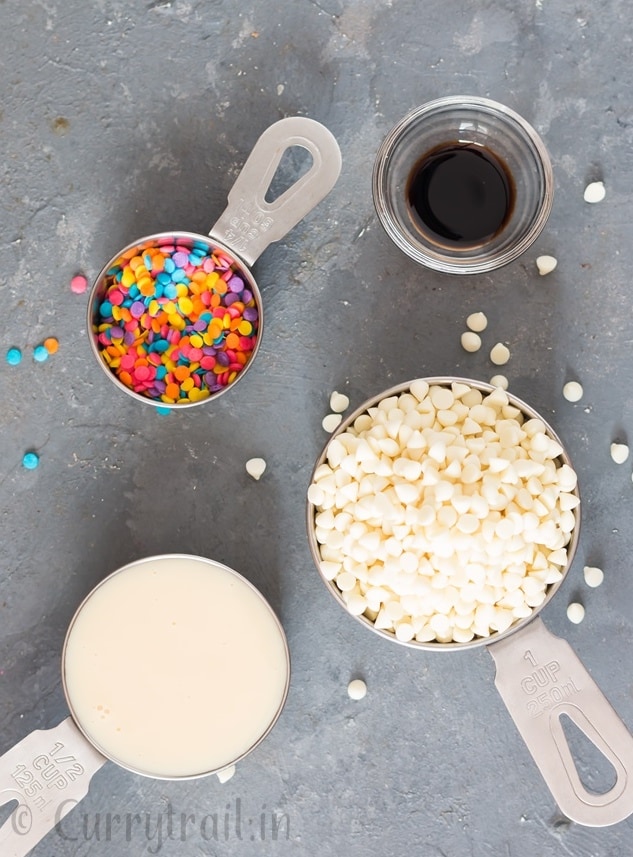 How to Make White Chocolate Fudge
Combine good quality white chocolate with condensed milk in deep large microwave-safe bowl. Microwave for 30 seconds interval for about 3 to 5 minutes or until white chocolate is melted. Keep stirring every 30 seconds to a minute.
Keep an eye on your chocolate. DO NOT OVER HEAT chocolate or burn it.
You can melt white chocolate separately first and then mix in condensed milk. I prefer to heat both white chocolate and condensed milk together and stir it all together.
You can add in extras like a pinch of salt and vanilla extract to make chocolate fudge more delicious. Skip it too if you prefer that way, you really won't miss a thing.
Finally, pour the melted chocolate mixture into a greased dish and refrigerate it until set. This will take around 3-4 hour. Best chill it over night. You can also set it on the counter at room temperature, but it'll take more time to set.
Once completely set, remove dish from fridge, and slice into small squares. Enjoy!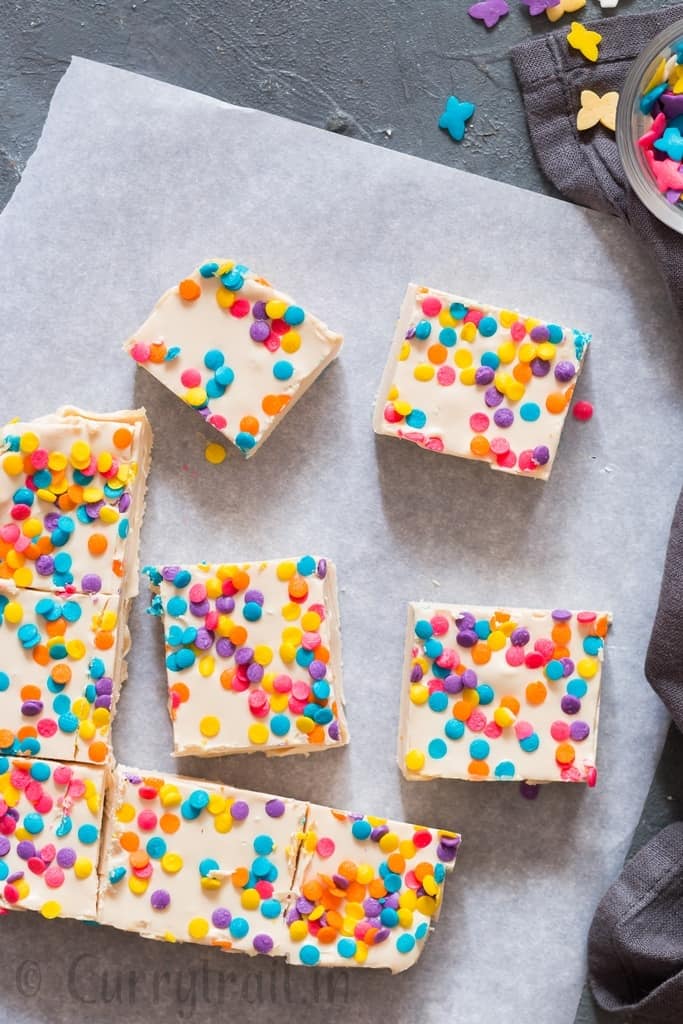 Tips for Making White Chocolate Fudge
White chocolate – Use best quality white chocolate. Ghiradelli chocolate is great.
Stir – keep stirring every 30 seconds. Do not heat chocolate in microwave for longer time at a stretch. Take out chocolate from microwave every 30 to 60 seconds and stir.
Do not over heat chocolate. You will loose beautiful texture of the fudge if chocolate is over heated.
Microwave or stove-top – either! Easy white chocolate fudge works on both microwave and stove-top. If using stove-top method, use double boiler.
Pan – any chocolate fudge is best set in square dish. Use 8×8 or 9×9 square dishes to set your fudge. It makes cutting fudge into squares easy. Glass dish or metal dish can be used.
Cool – do not get tempted to slice white chocolate fudge before it sets. Allow fudge to cool completely before cutting into squares. To speedup things, cool fudge in fridge.
Toppings – get creative and add any toppings you like. Colorful sprinkles always attracts me and my kids. So my safest bet for topping is sprinkles. Few topping options are:
Nuts – crushed walnuts, pistachios, chopped pecans
Dried fruits – cranberries, cherries
Candy – M&M's
Colored sugar
Pretzels
Reese cups
Cinnamon chips
Short bread cookies
Dark choco chips
Cereal
How Long Can you Store White Chocolate Fudge
Microwave white chocolate fudge stays good for 1 week in fridge.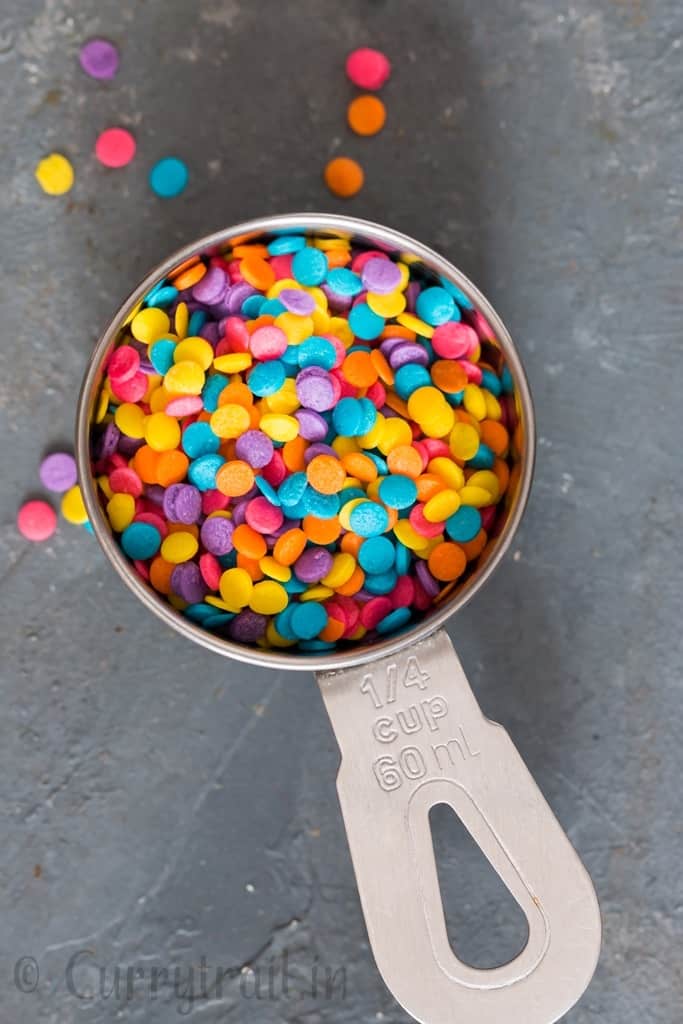 If you like this recipe, be sure to have check our other favorite microwave desserts–
Microwave Boozy Coffee Chocolate Pudding – Would be perfect for Valentine's Day dessert
Saffron Infused Milk Fudge (Kesar Peda)
Few No-Bake desserts as well, just for you guys!
No-Bake Vegan Chocolate Mousse
Don't forget to Subscribe to CurryTrail Recipes below to get our newest recipes delivered straight to your inbox.
LOVE THIS RECIPE? KEEP IN TOUCH AND DON'T MISS OUT ON ANY OF CURRYTRAIL RECIPES! FOLLOW ME ON INSTAGRAM, PINTEREST, FACEBOOK, TWITTER.
HAVE YOU TRIED ONE OF MY RECIPES? I'D LOVE TO SEE WHAT YOU'VE MADE! TAKE A PICTURE AND USE THE HASHTAG #CURRYTRAIL ON INSTAGRAM SO I CAN SEE! I'LL DO A HAPPY DANCE IF YOU TRY MY RECIPE AND SHARE IT WITH US!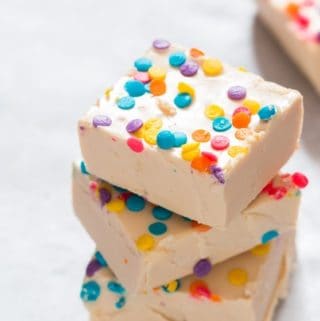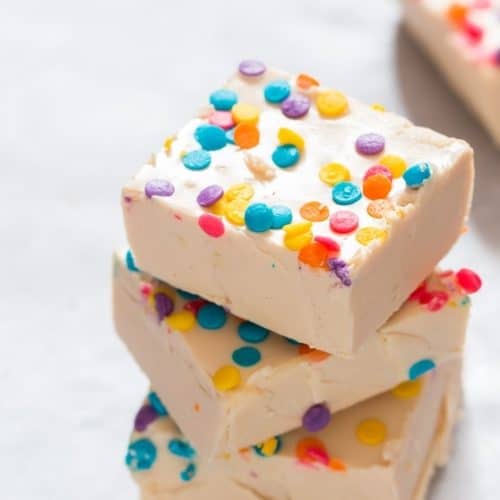 3 Ingredients White Chocolate Fudge
This 3 ingredient white chocolate fudge is dense, rich, fudge-y and ofc ourse sweet! It's a delicious no bake sweet treat to make for parties or any other celebrations! FUDGE IS WONDERFUL!
Print
Pin
Rate
Ingredients
3

cups

white chocolate chips

Nestle or Ghiradelli

14

ounce

can sweetened condensed milk

1

teaspoon

vanilla extract

or use 1 vanilla bean, scrapped

pinch of

salt
Instructions
Prepare an 8x8 or 9x9 square dish by brushing melted butter or spraying flavor less oil. Line up greased parchment paper if you prefer. You can use Pyrex dish or any square baking dish.

In a deep large microwave-safe bowl mix in white chocolate chips and condensed milk for 30 seconds interval, stirring every 30-60 seconds. Stir very well. Residue heat of the bowl will melt the chocolate. Keep eye on chocolate. Do not overheat chocolate.

Any mix-ins you want to add, should be added now. I added pinch of salt and vanilla extract. Mix well. Any nuts, dry fruits, candy can be added at this stage.

Scrape down the mixture into the prepared dish. Spread chocolate fudge mix evenly in the dish. Toss sprinkles on top and press down lightly.

Chill in refrigerator for at least 3 hours. Best, chilled overnight.

Slice them up into squares. You can make bigger or smaller squares.

Serve immediately. Any left-overs can be stored in refrigerator for about a week to 10 days.
Notes
I cut into 2 inch squares and got approximately 18 fudges
Nutrition
Calories:
233
kcal
|
Carbohydrates:
29
g
|
Protein:
3
g
|
Fat:
11
g
|
Saturated Fat:
7
g
|
Cholesterol:
13
mg
|
Sodium:
55
mg
|
Potassium:
167
mg
|
Fiber:
0
g
|
Sugar:
29
g
|
Vitamin A:
70
IU
|
Vitamin C:
0.7
mg
|
Calcium:
122
mg
|
Iron:
0.1
mg