Ven pongal or khara pongal is ultimate comfort food traditionally served for breakfast in Southern parts of India. Ven pongal as popularly called is that breakfast dish that you want to make it every week and I personally wouldn't mind everyday too. It's soothing, comforting and satisfying.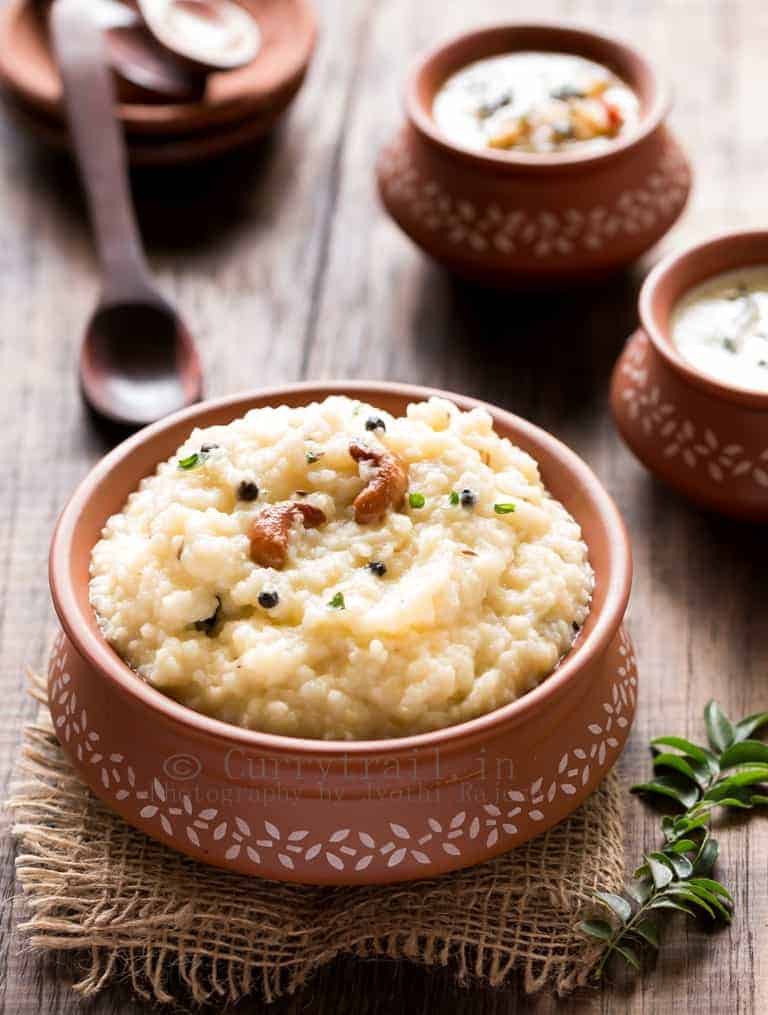 Pongal is a festival that celebrates the renewal of the earth, the bountiful harvest and the turnaround of the sun when winter shifts to spring and days gets longer. Pongal is a celebration of prosperity of harvest and crops in the villages, it is celebrated to thank the sun, rain and land. It is almost like a thanksgiving festival of South India. And these thanksgiving festival calls for making Pongal in the most traditional way possible, cook newly harvest rice in clay pots.
I have been fortunate enough to witness and celebrate pongal in a harvest land in front of temple in a most authentic way. This festival is celebrated most grandly in the villages and I had a chance to be in one such village. It was during the childhood days, but the memories are so fresh and strong that I can still remember it. My dad's sister(my aunt) had farm land and in their the festival was a grand occasion. It's a 4 day celebration. First day is bhogi. We clean the house and collect all the unwanted items. Bhoji starts as early as 4 or 5 AM. At home we take bath first and then make a bon fire of all unwanted items we collected. The entire lane would have bon fire lit in front of their houses and we all would sit in front to warm our selves.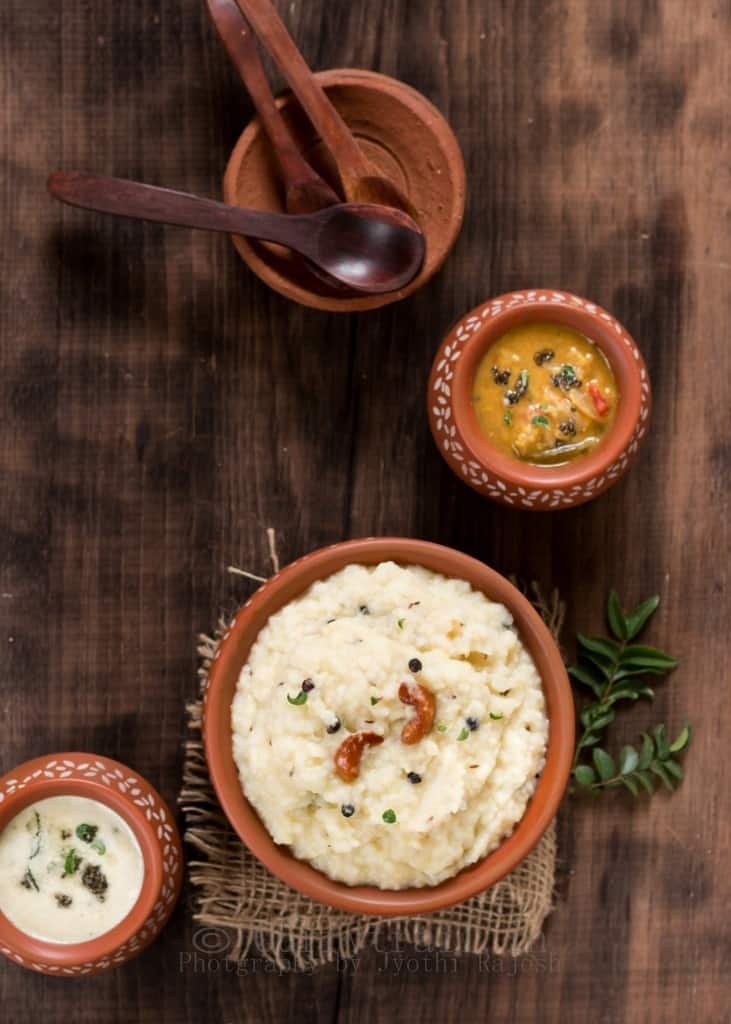 The second day is more significant day, Surya pongal , a day to thank the Sun. The day starts early, where first the women of the house cleans the grounds in front of the gateway entrance. Cow dung in mixed with water and sprinkled on the grounds(if you are not from India, you would probably be giving me a grimace. Villagers workship cow as their God and they never mind to touch dung with their hands. Also it is believed that waxing the floor with cow dung is supposed to have antiseptic properties). And then grounds are decorated with fine rice flour or kolam powder. Rice powder is used to invite ants and birds as a symbol of harmonious co existence. The kolam(rangoli) is filled with colored powder to add more beauty. The green ground(due to cow dung water) with white and colorful kolam makes the whole house look beautiful. It gives a traditional warm feel to the whole set up. Every house makes different kolam designs and woman of the house specializes in this art. They practice different designs on everyday basis. In villages people go to temples where their new harvest would be stocked. Clay pots are decorated by tying up ginger, turmeric, sugarcane piece and banana at the neck. New harvest is used to make pongal. Rice is cooked in milk in clay pots over a wood fire stove in open grounds(usually near temples) . Sugar or jaggery is added for sweet pongal. The Pongal dish is offered to the Sun god as thanksgiving and eaten as 'prasad'. It is made at the auspicious time. People exchanged greetings and Chakarai Pongal with their neighbors.
Third day is maatu pongal, when bulls and cows are bathed and their horns are painted and cattle's are worshiped. Later people also organize a cattle race to have fun.
Fourth day is Kannum pongal, a day to meet relatives and greet them all. That's how 4 days of grand PONGAL FESTIVAL is celebrated in South India!
How to Make Ven Pongal
Ven pongal(savory version) is made along with sakarai pongal(sweet pongal). To accompany the ven pongal, people eat brinjal (eggplant) sambar (stew), vadai, idli, and spicy accompaniments.
Rice and moong (yellow lentils) are cooked with excess water to get porridge consistency and then it's seasoned with cumin, whole pepper corns, ginger pieces, curry leaves and cashews all fried in ghee. Ghee or clarified butter is MUST for any pongal recipe. Don't skip on ghee!
Served for breakfast dish along side coconut chutney or spicy sambar (lentils stew) is simply irresistible combination and totally comforting!
Traditionally, ven pongal is cooked in clay pots. But in cities pressure cooker is used to cook the rice and lentil. Ven Pongal or Khara Pongal is a very popular and comforting south Indian breakfast dish made from rice and moong dal. It's texture resembles risotto! I can call it South Indian Risotto.
It's one pot meal that is spiced with pepper corns, cumin and even green chilies. Serve it hot with coconut chutney and sambar, delicious.
I can eat this dish for breakfast, lunch or dinner and I'm satisfied.
Don't miss to check 15 amazing recipes that you should try for pongal festive-
Don't forget to Subscribe to CurryTrail Recipes below to get our newest recipes delivered straight to your inbox.
LOVE THIS RECIPE? KEEP IN TOUCH AND DON'T MISS OUT ON ANY OF CURRYTRAIL RECIPES! FOLLOW ME ON INSTAGRAM, PINTEREST, FACEBOOK, TWITTER, GOOGLE+.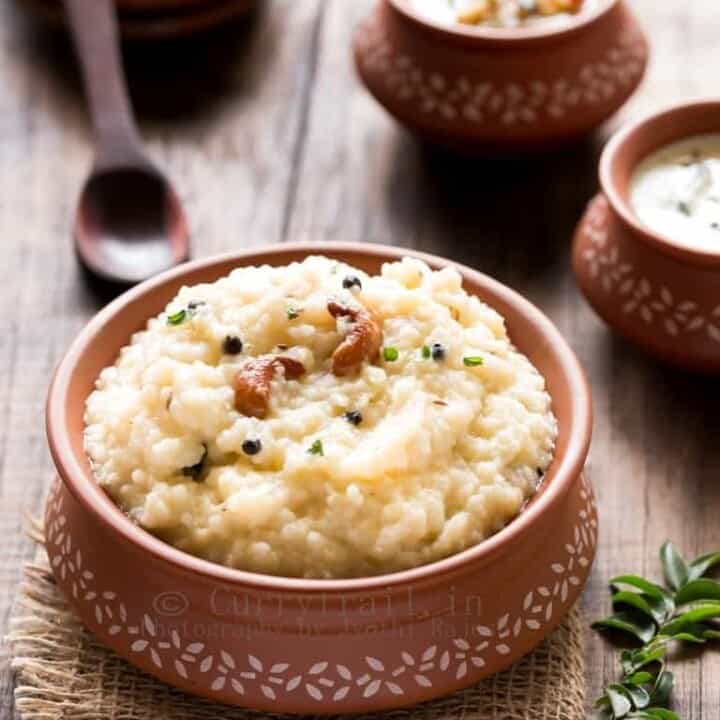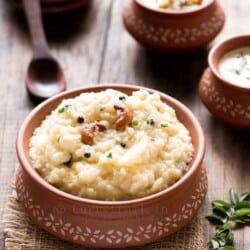 Ven Pongal
The ultimate comfort food traditionally served for breakfast in Southern parts of India. Ven pongal as popularly called is that breakfast dish that you want to make it every week and I personally wouldn't mind everyday too. It's soothing, comforting and satisfying.

Ingredients
½ cup rice
½ cup yellow moong dal
2 green chilies
1 ½ teaspoon cumin seeds
2 teaspoon black pepper corns
1 sprig curry leaves
10 cashews
1 teaspoon ginger, chopped fine
3 tbspn ghee
1 tablespoon oil
salt to taste
Instructions
Dry roast rice and moong dal in a hot kadai. This will bring out nice aroma of the pongal.


Wash & Soak rice and moong dal together for about 15-20 minutes. Soaking helps in faster cooking.

In a pressure cooker add the soaked rice and dal and 4 cups of water, whole green chilies(slit) and pressure cook for 3-4 whistles.

Once pressure is released, remove the cooker lid and mash the mixture using a ladle.

In a deep bottom pan, add ghee and roast cashews in hot ghee until they turn golden brown. Remove cashews and keep them aside.

Into the same pan add oil, once hot, add cumin seeds, pepper corns, asafoetida, salt, chopped ginger and curry leaves. Saute for a minute or 2.

Now add cooked rice dal mix and mix it well making sure no lumps are formed. Reduce the flame and cook it for 5 minutes.


Serve hot with coconut chutney and sambar or even spicy pickle goes well with pongal.
Notes
Do not miss the step of dry roasting rice and dal separately. This will bring the flavors out and results in pongal that tastes as good as from your favorite restaurant.
Ghee is MUST while making pongal. The flavor and taste of pongal all depends on how much ghee you use. Loads of ghee = amazing tasty pongal 😀
I always soak dal and rice together before cooking in pressure cooker. This helps cook rice-dal faster.
Adding green chilies to rice-dal in pressure cooker is optional. If you like spicy pongal then green chilies does it's magic.
Nutrition
Calories: 451kcalCarbohydrates: 51gProtein: 12gFat: 22gSaturated Fat: 9gCholesterol: 37mgSodium: 114mgPotassium: 126mgFiber: 5gSugar: 2gVitamin A: 90IUVitamin C: 16.9mgCalcium: 45mgIron: 2.8mg
"PIN IT" TO YOUR BREAKFAST BOARD