Apple nachos with peanut butter and chocolate is one of the most delicious and healthy snack. No more complaints of boring apples. This is truly my favorite way to eat apples.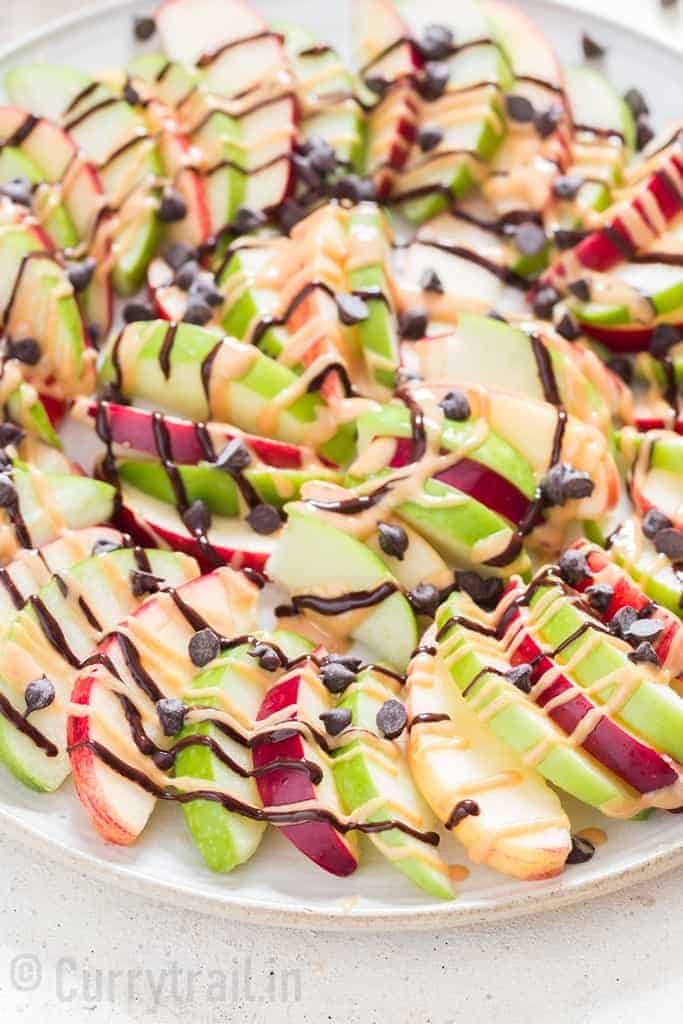 A fun and delicious nachos that's packed with proteins and nutrients, which you won't mind feeding to your kids who love nachos. This apple nacho loaded with peanut butter makes for a great after-school snack and ideal to cure your sweet tooth cravings without the guilt!
My kids hate that I give them apples for their school snack box almost every other day and they constantly complain about it. While searching for snacking options on the net, I accidentally landed on something that looked so simple and easy but made me drool. It was apple with peanut butter along with chocolate drizzle and choco chips.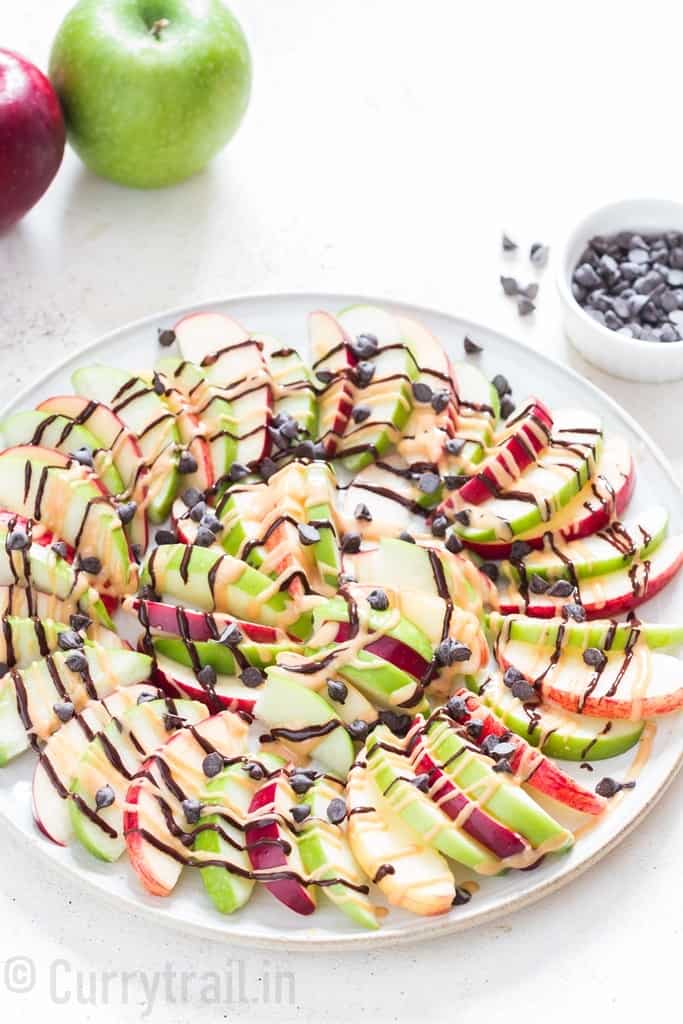 These were called 'apple nachos'! What a fun name isn't it!? I couldn't resist myself from making these healthy yet delicious apple snack for my kids. And trust me both my kids gobbled up a plate full of apple nachos with peanut butter and chocolate (5 apples). I couldn't be more happier when my kids requested me to make apple and peanut butter nachos time and time again.
Let me describe how incredible this apple snacks taste –
Crisp apple slices drenched in peanut butter and chocolate along with choco chips! Can you picture this – pop a slice of fresh crisp apple drenched in luscious peanut butter and a bit of chocolate drizzle with that bite of choco chips in between! Did that make you drool!?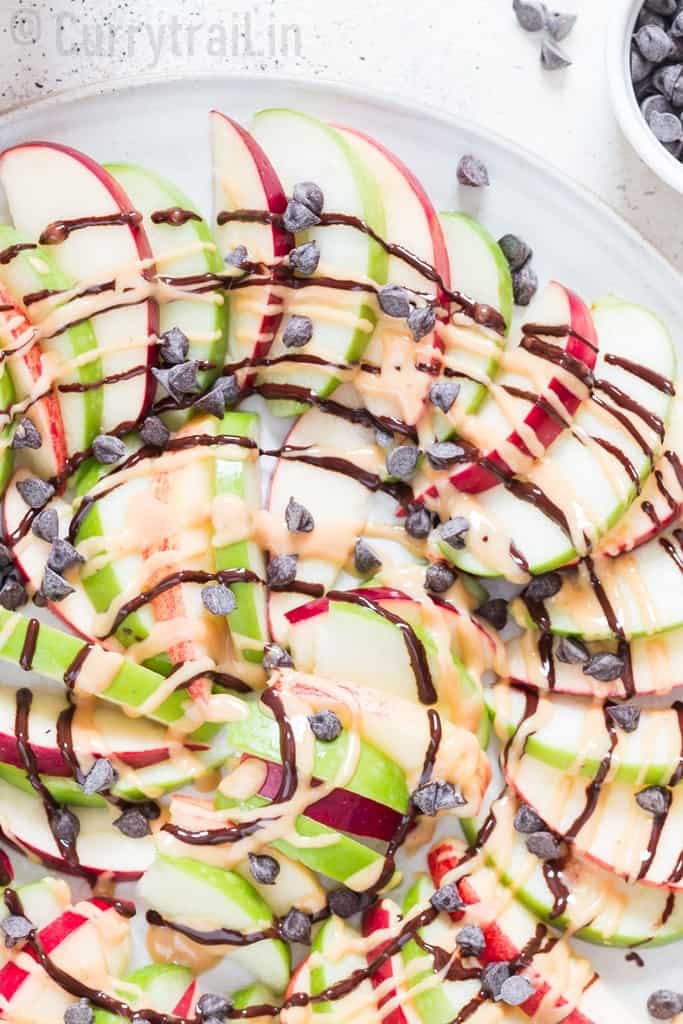 The saying "apple a day" is going to be a way of healthy indulgence from now on with these apple and peanut butter nachos.
This apple with peanut butter nachos are not your regular 'average' nachos. Nachos are supposed to be loaded with chips, cheese and all things that can be bad for your waistline.
Apple nachos on the other hand are fresh, delicious and you can gobble up all without the guilt.
Not a fan of peanut butter (whaaaaat?! Really?), don't fret, this recipe is 100% customization. Just add any topping, any fun topping of your choice and enjoy a new fun way to eat apples.
What toppings can I add to apple nachos?
There are a plenty of fun and playful toppings for apple nachos.
I have used-
Peanut Butter with honey
Dark chocolate melted with tad coconut oil
Choco chip
The other topping options for apple nachos which I think would work great are –
Caramel drizzled on top with choco chip
Fruit spread
White chocolate and peanut butter
Loaded apple nachos with peanut butter, whipped cream, mini marshmallow, M&M
Granola and cranberries
Chocolate drizzle with sprinkles
Caramel, white chocolate, chopped pretzels, Heath bars
Peanut butter, dessicated coconut, choco chips
Chocolate drizzled, peanut butter choco chips
Just go wild with your creation.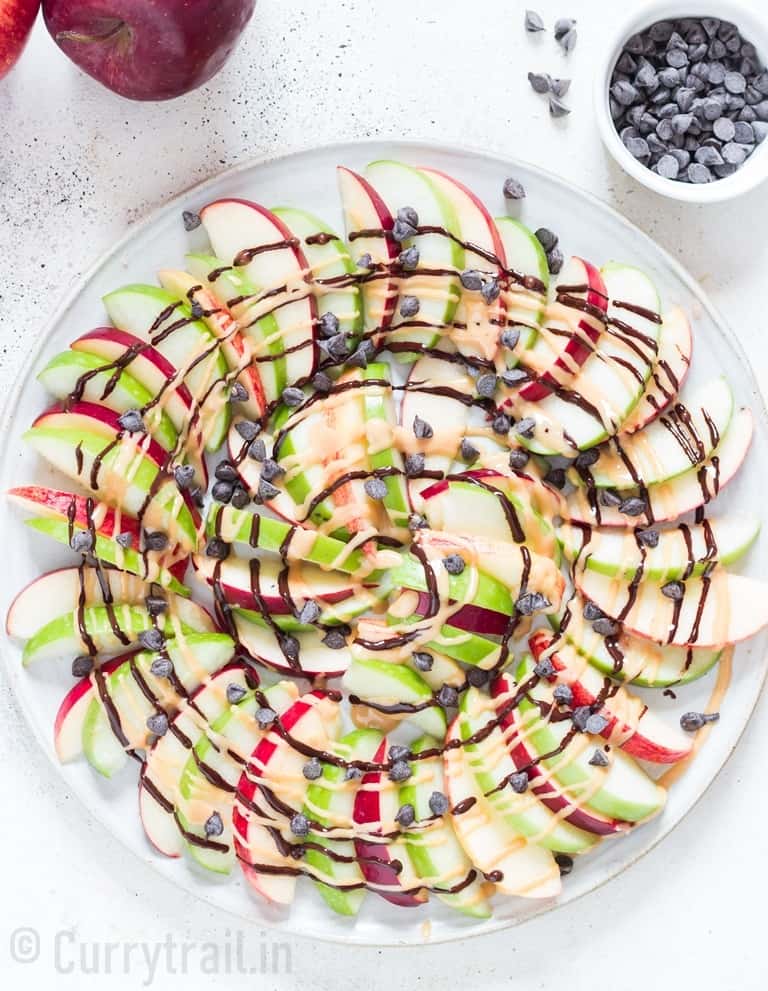 Why should you be making apple nachos with peanut butter and chocolate?
It's healthy
Packed with protein and nutrients
It's healthy fat
A great healthy alternative for your sweet tooth cravings
Whip it up in 5 minutes
Serve it as appetizer – your guests won't mind
It's vegan, guilt free, gluten-free
BEST DESSERT SNACK EVER!
How to make apple nachos
Making apple nachos (do you call it apple snack?) can't be easier than this.
The recipe starts with apples. A combination of Granny smith, Red Gala and Fuji apples. The reason to use mix of apples is each has it's own texture and taste and you'll enjoy the variation when you bite through.
Slice up apples. Use mandolin slicer or the 8 piece apple corer.
Take each piece and cut into 2 or 3 slices depending on how thick or thin you like your apple nachos to be.
Squeeze lemon juice over apple slices to prevent it from browning. Do not add too much of it, the apples will have predominant sour taste.
Arrange apple slices on a plate overlapping each other.
In two separate bowls melt dark choco chip with ½ teaspoon coconut oil and peanut butter with honey in microwave. Start with 15 seconds interval. Take out the bowl mix well with spoon and pop back into microwave until melted completely.
Drizzle as much to your hearts content peanut butter and chocolate melt over apple slices.
Sprinkle choco chips and any other toppings like desiccated coconut, seeds and nut of your choice.
Serve immediately.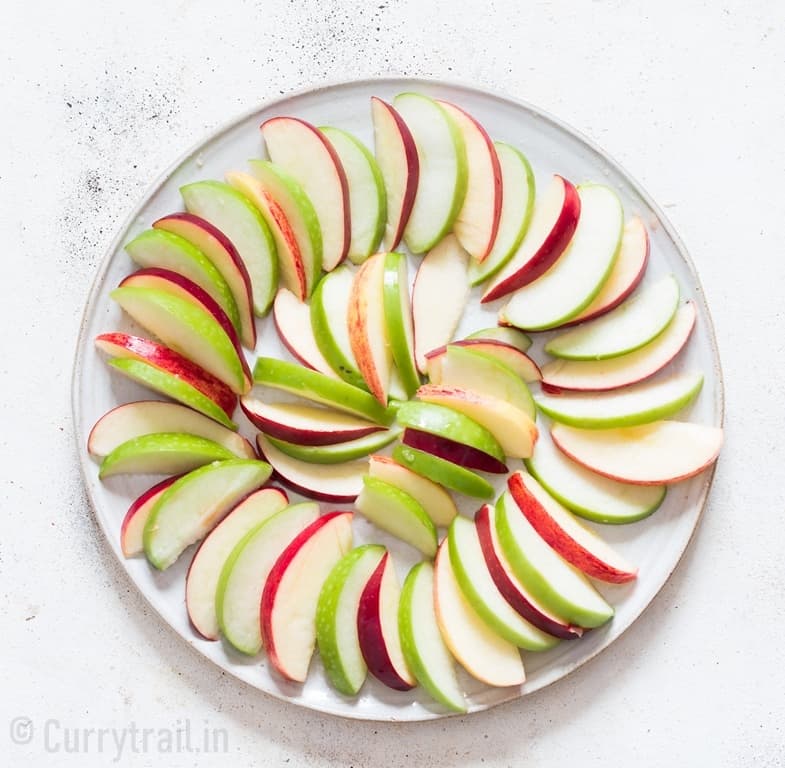 Love apples? Check out few other apple recipes –
Don't forget to Subscribe to CurryTrail Recipes below to get our newest recipes delivered straight to your inbox.
LOVE THIS RECIPE? KEEP IN TOUCH AND DON'T MISS OUT ON ANY OF CURRYTRAIL RECIPES! FOLLOW ME ON INSTAGRAM, PINTEREST, FACEBOOK, TWITTER.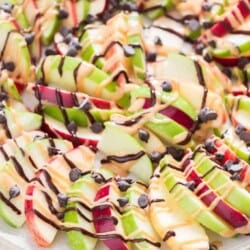 Apple Nachos with Peanut Butter and Chocolate
Apple nachos with peanut butter and chocolate is one of the most delicious and healthy snack. No more complaints of boring apples. Being a snack girl this is truly my favorite way to eat apples.
Ingredients
2 apples one each Granny Smith, Red Gala, Fuji or use same variety
1 ½ teaspoon lemon juice
½ cup creamy peanut butter unsweetened
1 ½ tablespoon organic honey
¼ cup dark choco chips + extra for sprinkling
½ teaspoon coconut oil
For Toppings-
Use all or any of the below
Dark choco chips
Desiccated coconut
Toasted nuts
Instructions
Wash apples and pat dry using kitchen towel.

Using mandolin slicer or apple corer slice apples. If using 8 piece apple corer, slice each piece into 2 or 3 slices, as per preference.

Pour lemon juice over sliced apples. Toss gently to coat each slice in lemon juice. This will prevent apples from browning.

Arrange sliced apples on a plate. Keep aside.

Add dark choco chips and coconut oil in one bowl and creamy peanut butter with honey in another

bowl.

Pop both bowls in microwave and melt for a period of 15 seconds. Remove both bowls and whisk separately choco chip and peanut butter. If it's not melted fully, put the bowls back into microwave and melt.

Drizzle peanut butter over apple slices and then chocolate. Pour peanut butter and chocolate into small zip-lock bags and drizzle if you want neat even drizzles.

Sprinkle choco chips and any other toppings that you want to use.

Serve immediately.
Notes
Drizzle as much as peanut butter and chocolate as you like. Make apple nachos just before you want to serve. Apples will loose lovely crisp and turn soft and almost soggy if you leave them to sit for longer.
Nutrition
Calories: 1305kcalCarbohydrates: 127gProtein: 37gFat: 81gSaturated Fat: 28gCholesterol: 0mgSodium: 645mgPotassium: 1511mgFiber: 18gSugar: 91gVitamin A: 195IUVitamin C: 19.6mgCalcium: 214mgIron: 3.4mg