The only dish I never prefer to eat then. The only dish I LOOOVE to eat all day long now! This is roasted vermicelli cooked with Indian spices and vegetables. From breakfast-dinner you can eat it as a meal, or a snack. A healthy and a light breakfast. Semiya Upma is simple dish that you can prepare in a jiffy. Perfect anybody-can-cook dish suitable for bachelors, beginners, amazing mom's who cook amazing food, ALL!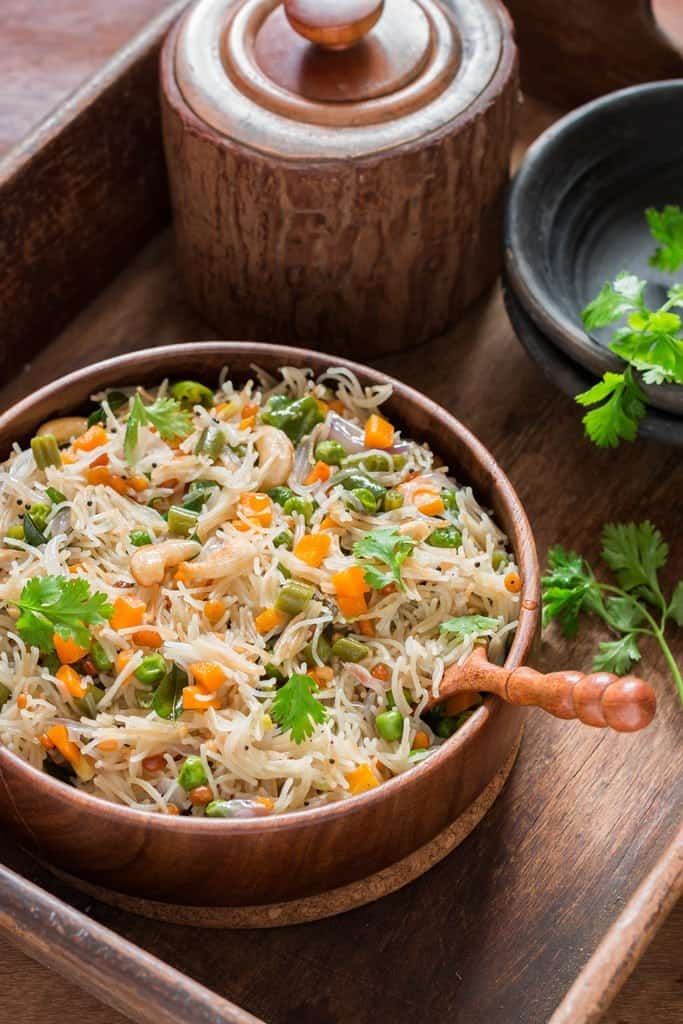 One of the most popular South Indian dish that you can cook and serve for breakfast-lunch-evening snack-dinner. It's that dish that you can make in a jiffy. Suitable for bachelors, beginner cooks or even for those amazing experience cooks.
A healthy and light breakfast.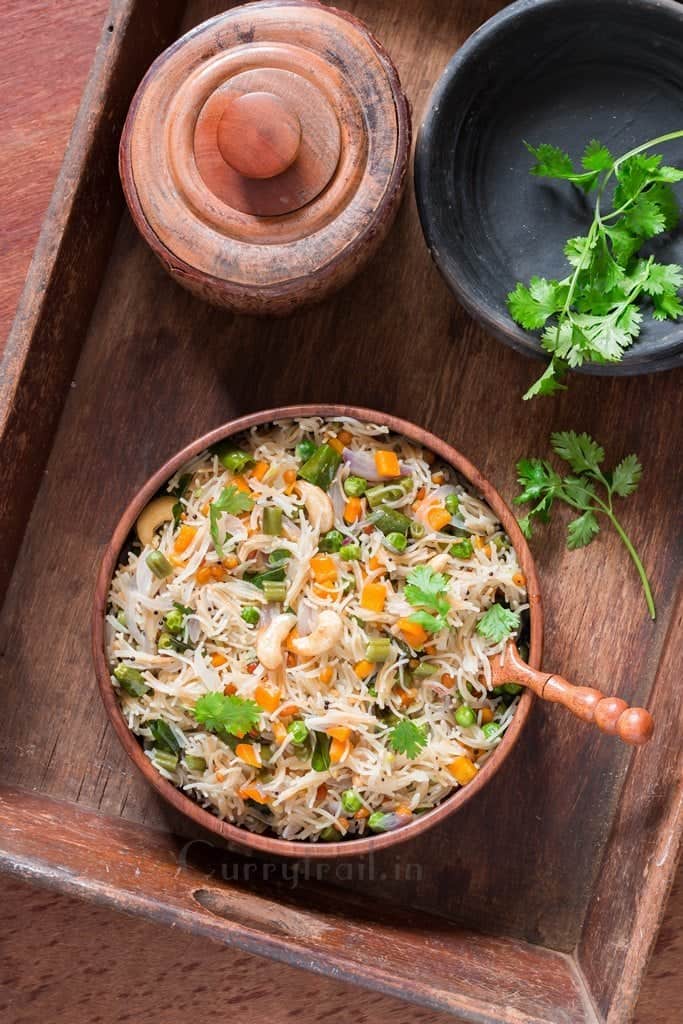 I've had a love-hate relationship with upma,. When I was kid I the moment I hear thats on menu, I used to go hide in my closet. I really don't know why but just hearing the word upma made me sad and I never wanted to eat it all my life. Mom would sometimes not give up trying and she would feed me the upma with sugar. It worked, I could push down upma with sugar, actually loads of sugar each bite.
I can't believe I actually had likings for sweet or sugar just like that those days. I even remember sneaking into the kitchen one evening scooping out jam from the bottle and infact finished off the entire bottle in one go! I'm serious! Was I feeling okay after gulping down almost half the bottle of jam? NO. Boy my tummy hurt so bad that night, I couldn't see. Yea obvisouly I was also on sugar rush you see!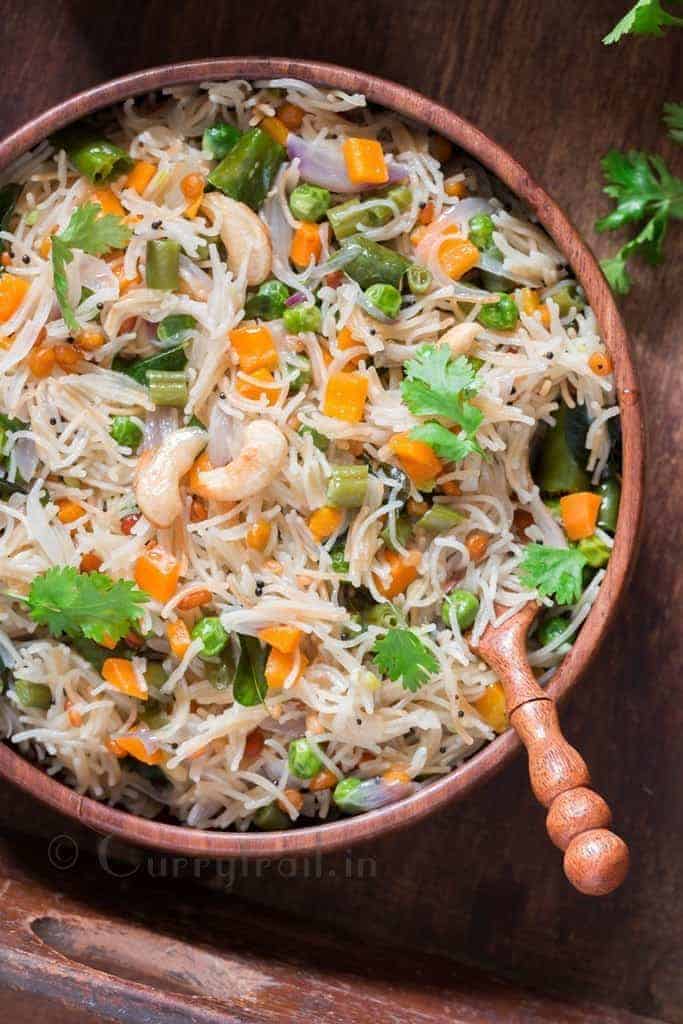 All things have so changed. Now the sight of jam, sugar doesn't excite me at all. In fact I can't even eat(even a bit) my morning bread with jam. If there is bread for breakfast there has to be spicy omelette.
During my college days I started eating upma. Slowly I even started liking it then. During my first pregnancy I hated the upma all over again. The sigth of upma made me feel nauseauted. After my daughter was born, I started cooking upma like for the first time in my life. I have always eaten mom's upma but never really wanted to cook. When we started introducing our daughter to solids, that's when I started cooking all dishes. Upma is one of the easy to eat and healthy too when you add more vegetables. Upma with a dash of ghee is absolutely delicious – that's what I thought when I tasted upma made for our daughter :D. Amazing how our feelings/likings towards a particular thing changes, sometimes for no reason at all. Upma has been that to me. Hated it , loved it, back to hating it, and rolling back to loving it all over again. As of now I simply LOVE upma. I guess a good texture of the upma not mushy at all would make it the best dish. 😀 I cant believe i'm saying that!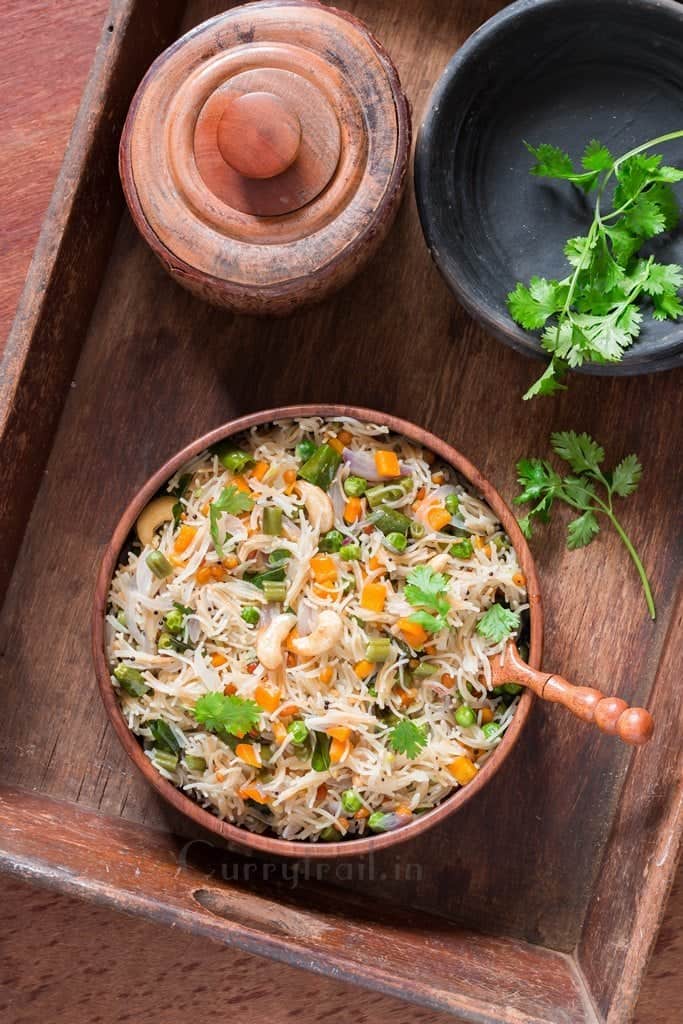 Looking for more more recipes?
Check these out, you'll love it.
Foxtail millet upma | Thinai Arisi Upma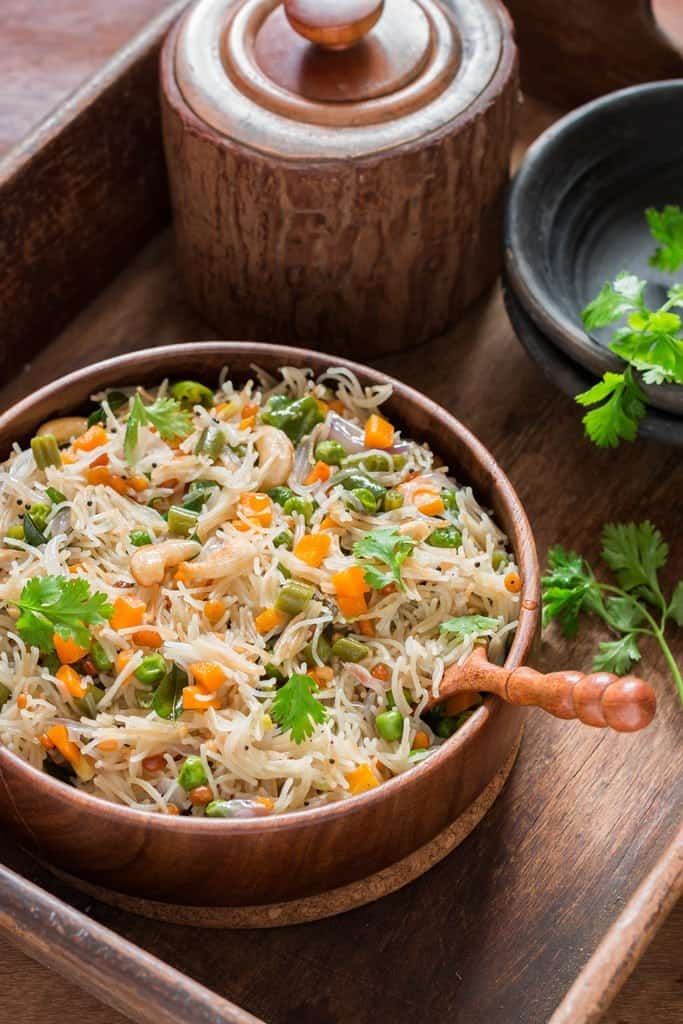 This post really dragged me to the memory lane. Sorry if I bored you guys!
Do you hate or love upma?
Are you a upma lover convert like me?
Let me know, would to hear your stories!
Watch step by step video of how to make semiya upma.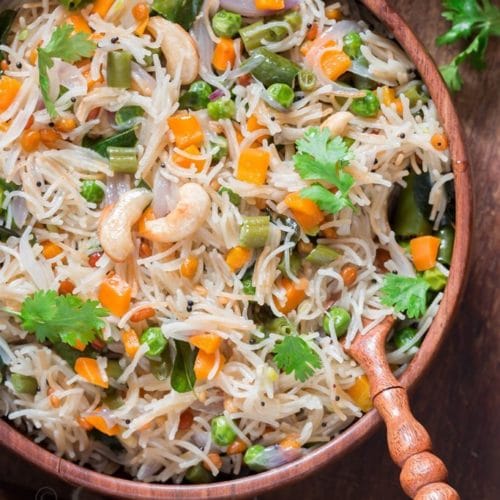 Semiya Upma
One of the most popular South Indian dish that you can cook and serve for breakfast-lunch-evening snack-dinner. It's that dish that you can make in a jiffy. Suitable for bachelors, beginner cooks or even for those amazing experience cooks.A healthy and light breakfast.
Ingredients
1 cup semiya/vermicelli
1 large onion(sliced thin)
5-6 nos green chillies (or use as per taste preferenec)
1 inch ginger
1 sprig curry leaves
1 large carrot (finely chopped)
3 nos beans(finely chopped)
½ cup fresh/frozen peas
10 whole cashews
1+1 teaspoon ghee
2 tablespoon oil
1 teaspoon mustard seeds
1 tablespoon channa dal
1 tablespoon urad dal
Salt to taste
2 cups water
Instructions
1. Cook finely chopped veggies(carrot, beans, peas) with a small pinch of salt. Keep aside.

2. Heat 1 teaspoon ghee. Roast semiya in ghee until it begins to turn golden brown. Remove roasted semiya onto a plate.

3. Heat 1 teaspoon of ghee and oil in a deep bottom pan. To hot oil add mustard seeds and wait till they crackle. Add urad dhal, channa dal and saute for a minute or till they turn golden brown.

4. Add ginger, curry leaves, green chilies. Give it a stir.

5. Saute thin slices of onions. Chuck in the cashews and saute it until cashews begin to turn golden brown.

6. Add salt to taste and boiled vegetables mix well, fry for 20 seconds.

7. Pour 2 cups of water. When water comes to boil add the cooked veggies stir and cook covered on low flame for few minutes until semiya is cooked well(not mushy).


8. Garnish with finely chopped coriander leaves. Serve hot with spicy coconut chutney, pickle or the way my daughter likes it with sugar(Oh, I hate to eat my upma with sugar! But I see kids love to eat it that way

)
Notes
My Notes-
1. Use any veggies of your choice, sweet corn, capsicum, mochaikai ..will be good options.
2. Use more green chillies if you like it spicy.
3. Add a dash of ghee once the upma is cooked just immediately after switching off the flame. Will enhance the flavor and taste of the dish.
4. Can easily replace semiya/vermicelli with millet of your choice for very healthy options.