Dhaba style dal palak is dal (lentils) cooked with palak (spinach). This restaurant famous spinach dal is full of flavors, economical and loaded with nutrition!  Comforting and tasty dal palak it easy to make! Best when paired with rice or roti…PURE BLISS!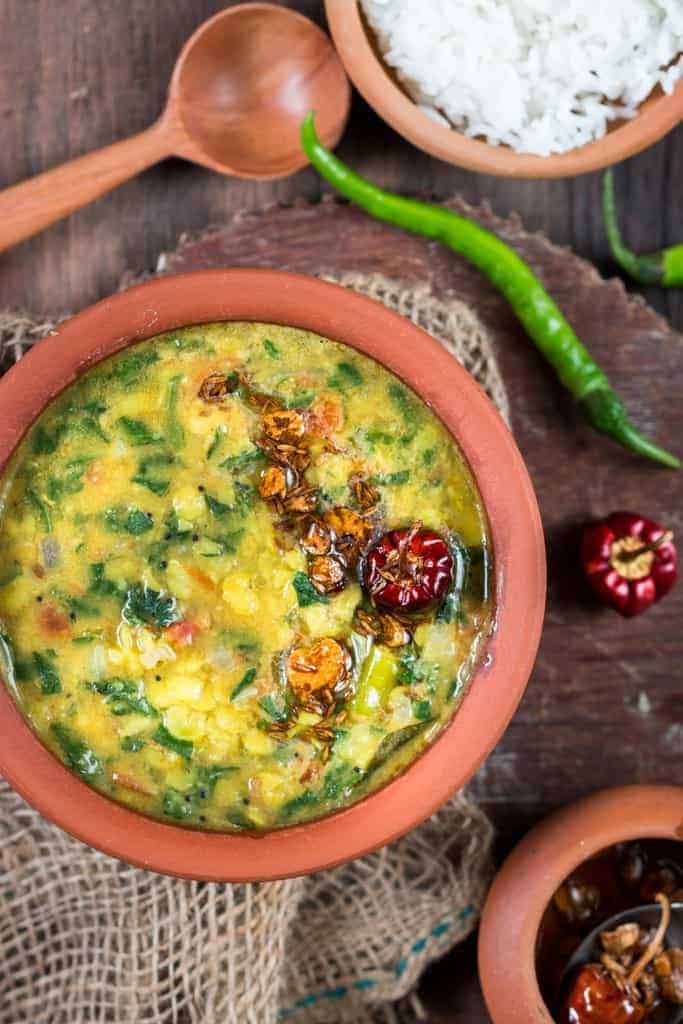 "Curly Hair Saga!!!
My son has curly hair. I mean he has REAL curly hair. Me, Raj nor Diya has curly hair, it's just him. Well, my maternal side ancestors had curly hair, who I haven't seen nor met till now. My brother does have wavy hair, but not "curly"! My husband's ancestors some one generations back had curly hair, he thinks!
So the day this naughty little angel was born and I first held him in my hand, my eyes went straight on his hair and in all the pain I had, I first asked Raj, "curly hair?".He barely heard me first, I had to gather up my strength and say the words again. He laughed first, and then said, "I was wondering too!" 😛
No not weird, but it's just the curiosity that we both have to know why and how our son got curly hair. Not a racial act.
As he grew up, his hair was getting curlier by the day. We follow this religious custom of not cutting the baby hair even a bit until we offer the first baby born hair to a Hindu Lord called Venkateshwara before the kid turns 1 year.
Hindus follow a ritual of offering the new born baby hair to the Lord (in the temple we shave the babies hair after taking the Lords name). This is usually done when baby turns 11 month old. Some even do it in the 7th month. The practice is we give away the hair in the odd months of the baby age.
And until that is done, we do not cut the baby's hair at all (neither at home, nor in a parlor). Yeah, talk about religious customs, some are of them are just hard to understand. I am not a religious person, and I do not go on the track of following all the customs with hard and fast rule, some of which don't make sense to me.
But I do certain things for the sake of my family, for the sake of Raj's family. Parents from both sides wanted us to offer the baby's first hair to the Lord and that too in the temple, so we made up our mind to do it for the family sake, just once for both the baby's.
So after son's hair was shaved off, a lot of people said to me, he will get back normal straight hair, and I watched his head everyday, hoping his hair grows straight. There's this 'belief' that people have, hair structure change after it's been shaved off using razor! I eagerly waited for the hair to grow. Looking at the hair springing up from the follicle,  It looked like it was growing back into curly hair.
Friends, family where super happy about it. I…I was even more curious! His hair was adorable and he looks damn cute with or without them. But I don't know what caught on my head; I took him to a parlor this time to shave his head again after the hair grew back. After second time, it came back curly. I took him again and shaved his head, and this time too no miracle happened. I did it for the 4th time again. We believe the more you get the haired shaved off, the healthier and better it grows, so I wasn't really hurting my baby. Please don't judge me. 
About last summer—I made him sit on the high chair, the salon guy covered him with a Mickey Mouse printed cloth, secured the velcro joints well to ensure no hair falls on his body, then asked me, "maam, summer cut?" I don't know what made me say those words; I had really not planned in my mind.
But those words just fell out of my mouth. I told him, "No, shave his head with a razor!" Oh boy! I did it, no idea why, I repeated that. And the count is gone up to 5!! Yes till now I got my son's hair shaved 5 times!! I went back home hubby and daughter laughed though, they said, "awww he is looking so cute!"
And daughter could not take off her hands from her brother's soft head for 2 days. I told my friends to kick my butt when they meet me! 😛
End of hair saga!!!"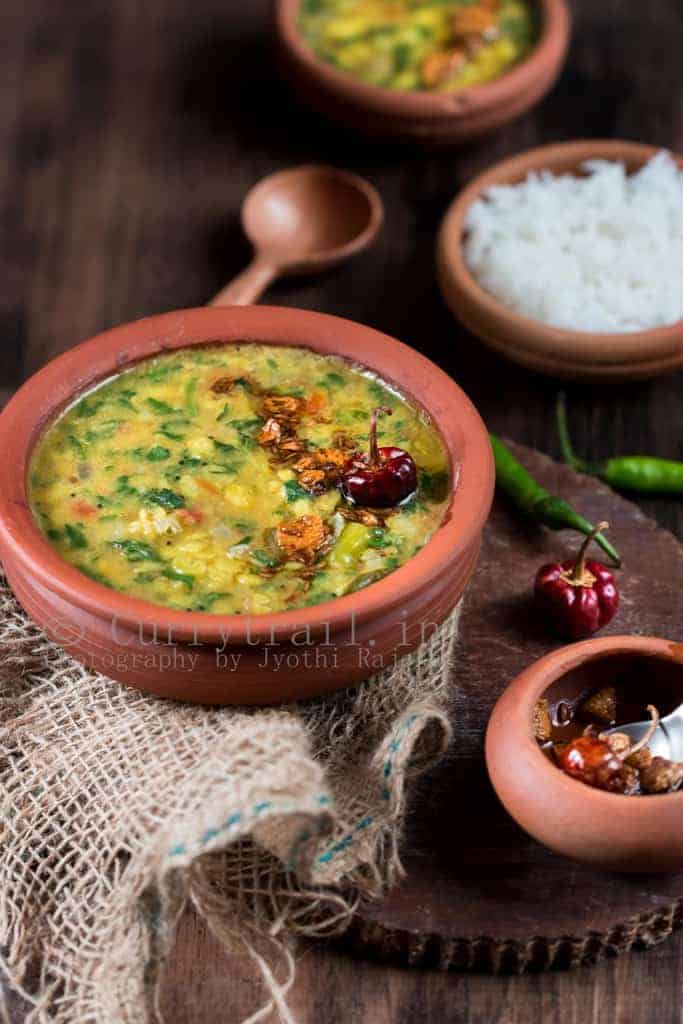 It was about yesterday I was working in my garden, plucking off the weeds and spraying natural disinfectant over my bed of vegetables and spinach that had grown in full length. Plants looked glorious and bright. Cherry tomatoes flooded one of vegetable patch, one another patch was full of vibrant green palak (spinach).
Just looking at the produce made me super elated. After all it's a pride to grow your own vegetables (at least as much as you could) and super satisfying to cook using your own organic product in your day-to-day meals.
Btw the time I was almost done with garden work, It was close to lunch time and I had to quickly make something for lunch. The dal was pressure cooked and ready. Plucked out all the spinach from my vegetable patch which gave me about 2 fresh bunches of palak leaves(spinach).
I did not want to refrigerator fresh spinach, I decided to use it right away. Nothing can beat the taste of fresh spinach. I decided to make dal palak recipe dhaba style to do justice to the fresh produce. The dal palak turned out super delicious, we licked out plates off, literally.
Dal palak recipe is Indian Lentils and Spinach Curry that is packed with flavors and loads of nutrition! It's vegan, gluten-free naturally. This Indian dish is made is made with a hand full of lentils, along with spinach, a few spices and lots of love.
In India any dal dish is not complete without a tadka (or tarka). Tadka is basically spice garnish – whole spices and garlic tempered in hot oil. The splutters and sizzles of whole spices in hot oil is completely magically and your home is going to be filled with 'strong' aroma of these spices cooking in oil.
You may want to be careful, if you are not used to strong spice aromas then cover up your nose and mouth with a mask.
This garnish of spices tempered in hot oil is poured always in the last over cooked dal palak. This tadka adds delicious nutty flavor to dal palak.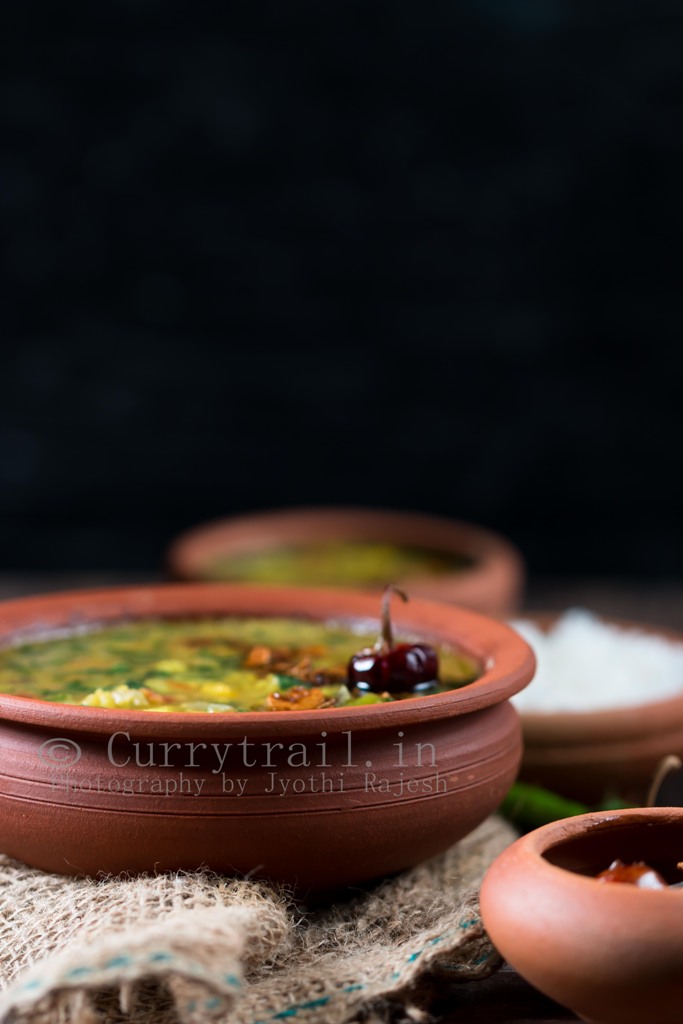 How To Make Dal Palak
To make dal palak, first get dal(yellow lentils) cooked and ready. Preferably you cook lentils until soft mushy. I always cook my dal in pressure cooker. Instant pot works great as well. It should take 10 minutes on high pressure manual mode to get lentils cooked in instant pot.
Chop veggies and spinach and keep them all ready.
In a pan heat oil. Vegetable oil or canola oil is best.
Splutter mustard seeds in hot oil. Wait until all the seeds are cracked.
Put whole cumin seeds and wait for few seconds.
Add chopped ginger-garlic and saute until raw smell of ginger and garlic is gone.
Whole slit green chilies goes in next. Add as many as you want , green chilies for heat.
Saute chopped plum tomatoes until soft and mushy.
Add asafeotida.
Add all the spice powders.
Next chopped spinach and cook for 3-5 minutes, until spinach is completely wilted.
Add cooked dal along with the water in which it is cooked.
Season salt to taste.
Mix well.
Let it simmer for 5-7 minutes.
Meanwhile, heat 2 teaspoon of oil in small pan.
Add mustard seeds and let it splutter.
Add cumin seeds and wait for 10 seconds.
Add sliced garlic and saute until it turns golden brown.
Add asafoetida, dried red chilies and saute for 15 to 20 seconds.
Remove pan from heat.
Pour it over hot dal palak.
Stir it. Turn off flame.
Serve hot with steamed rice or even rotis.
More Dal recipes for you to try-
Don't forget to Subscribe to CurryTrail  Recipes below to get our newest recipes delivered straight to your inbox.
LOVE THIS RECIPE? KEEP IN TOUCH AND DON'T MISS OUT ON ANY OF CURRYTRAIL RECIPES! FOLLOW ME ON INSTAGRAM, PINTEREST, FACEBOOK, TWITTER, GOOGLE+.
This is how I made my dal palak dhaba style-
DHABA STYLE DAL PALAK RECIPE VIDEO
Click play to watch video or you can scroll down to recipe card if you want written recipe.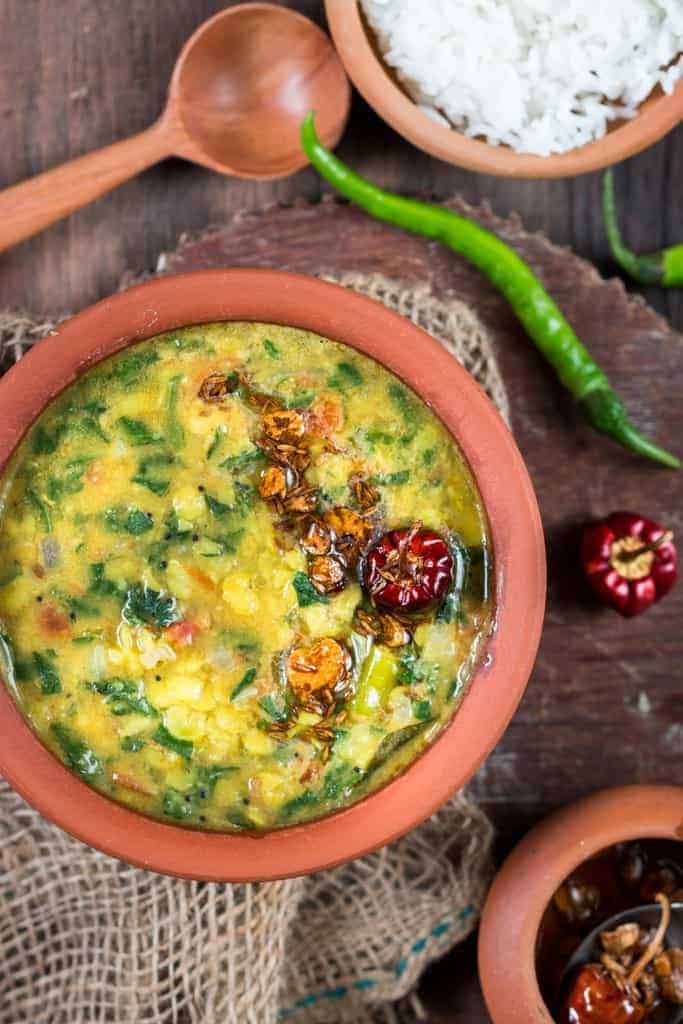 Dal Palak - Dhaba Style
Dhaba style dal palak is dal (lentils) cooked with palak (spinach). This restaurant famous spinach dal is full of flavours, economical and loaded with nutritions! Comforting and tasty dal palak it easy to make! Best when paired with rice or roti...PURE BLISS!
Print
Pin
Rate
Ingredients
1

cup

toor dal

or use yellow moong dal

1

cup

palak leaves/spinach

tightly packed

1

large onion

1

large tomato

3

green chilies

1

tablespoon

ginger pieces

1

tablespoon

garlic pieces + 1 teaspoon extra

1

tablespoon

oil

1

tablespoon

ghee

1

teaspoon

cumin seeds

½

teaspoon

mustard seeds

2

dried red chilies

¼

teaspoon

turmeric powder

1

teaspoon

red chili powder

Salt to taste

1

pinch

asafetida
Instructions
Rinse dal 2 to 3 times. Soak dal in enough water for about 20 minutes. Pressure cook the soaked dal in enough water with ¼ teaspoon turmeric powder for about 2 to 3 whistles(i.e pressure cook dal for 20 minutes).

Note : Pressure cooked dal for mentioned time will give you mushy texture dal and that's how we want it. If you are after slightly gritty textured dal, pressure cook for lesser time probably about 10 to 12 minutes. Pro-Tip : While cooking dal add generous pinch of turmeric powder and 5-6 cloves of garlic.

Pick palak leaves(spinach) and rinse it under water to remove all the dirt from the leaves. Chop it fine as possible, keep aside.

In a wok add 1 tablespoon ghee plus ½ tablespoon oil. Add cumin seeds and will till it turns slightly brown. Add finely chopped garlic and ginger pieces. Saute till the raw smell of ginger garlic goes off.

Next add finely chopped onions and green chilies, cook until onions start to turn brown.

Add finely chopped tomatoes and cook till tomatoes turns soft and release the juices.

Add finely chopped spinach leaves. Cook till spinach is completely cooked.

Add turmeric powder, red chili powder, and salt to taste and mix well. Saute for a minute.

Note : You can skip red child powder and just add green chilies like you see in the recipe video. If adding red child powder, note the color of the dal would change.

I love yellow-dish dal, so I skipped red chili powder.

Add cooked dal and mix well. Cover and cook for about 4 to 5 minutes. Turn off flame.

In another small pan heat remaining ½ tablespoon oil. Add mustard seeds wait till it splutters. Add cumin seeds and wait till it starts to turn brown. Add thin sliced garlic and sauté till garlic turns golden brown. Add asafetida and dried red chilies, let it cook for 20 seconds and turn off flame. Add this tempering to the dal.

Serve hot with steamed rice with a dollop of ghee on top. Pure bliss!
Notes
To get the BEST results -
ALWAYS serve dal palak immediately hot with steamed rice. With a spoon full of ghee (clarified butter) over piping hot dal .... outrageously DELICIOUS!!
Nutrition
Calories:
1078
kcal
|
Carbohydrates:
145
g
|
Protein:
54
g
|
Fat:
32
g
|
Saturated Fat:
10
g
|
Cholesterol:
38
mg
|
Sodium:
532
mg
|
Potassium:
2383
mg
|
Fiber:
67
g
|
Sugar:
15
g
|
Vitamin A:
4265
IU
|
Vitamin C:
52.2
mg
|
Calcium:
196
mg
|
Iron:
17.6
mg
"PIN IT" TO YOUR CURRY BOARD