Creamy chia breakfast pudding is quick and easy fix breakfast. Don't just serve it for breakfast, because these are great snack, healthy dessert option when you crave for healthy sweet dish.
It's not the weather, it's just me. Recently, I have been grappling with the idea of boredom. The very word that can make anyone yawn just by looking at it. Even though I have loads to work on, I just feel like turning into a couch potato. The question is, do I have that luxury all the time! And answer is simple, NO.
I have things to take care of, things connected to my business, things at home, and things connected to blog. The latter is something I don't mind doing most of the days.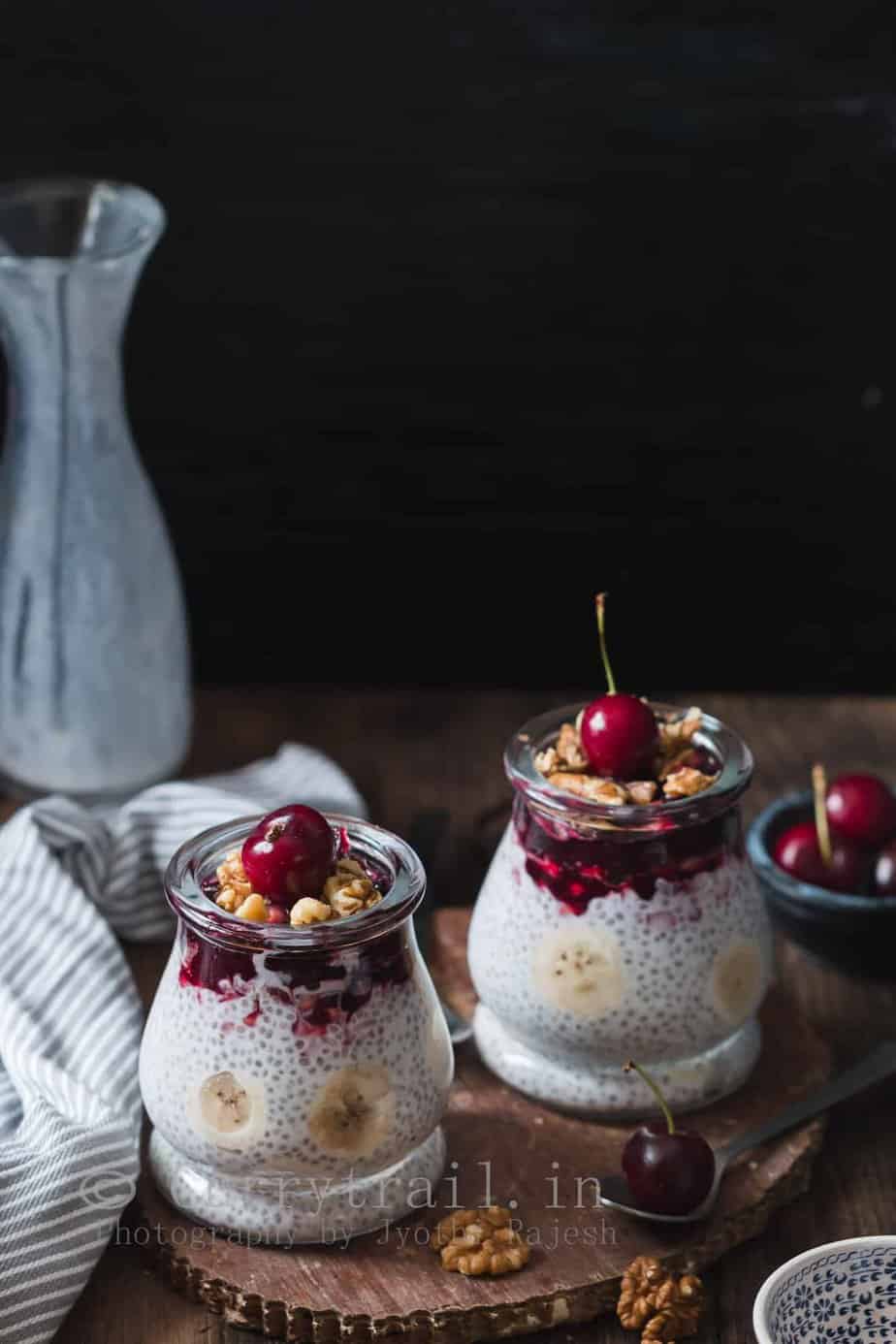 I even got bored of the usual humdrum of my morning breakfast. I needed to bring some change, some refreshments to the usual. So in order to break that monotony for myself and I made this refreshing, cool, healthy breakfast, a very new breakfast for the whole family.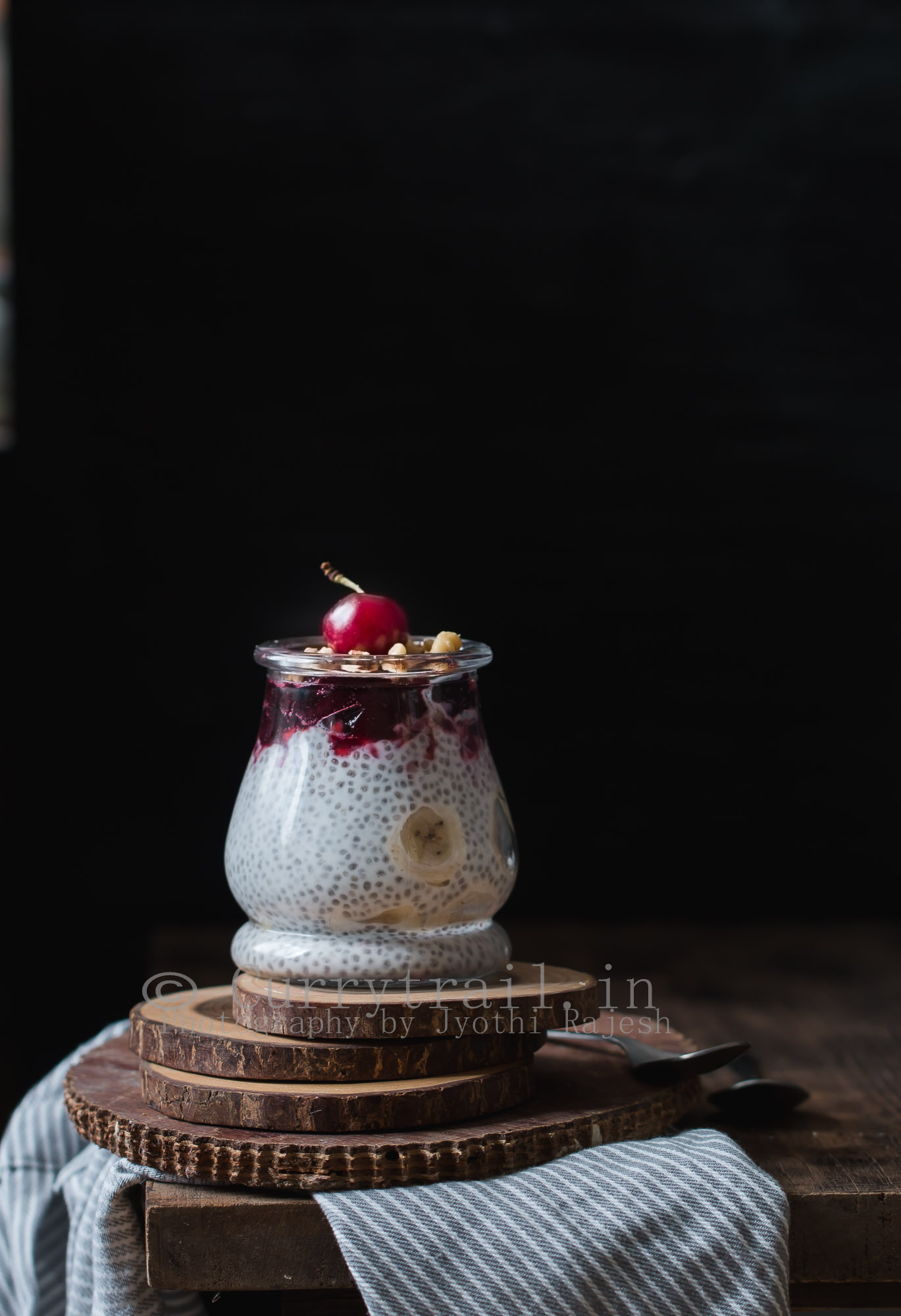 I recently picked up chia seeds from a super market that I usually visit for my weekly shopping. Chia seeds have been on my list of ingredients to try since almost a year. And when I actually saw a packet of chia seeds I instantly picked it up. I never I had to buy it even though it was expensive. I was curious to taste it. I was curious about the texture, the taste.
Returned home with an idea of breakfast pudding. The idea flashed in my head while I was driving back. So the recipe was set. Just like that in no time. Creamy Chia Seed Breakfast Pudding it is!
The pudding is a perfect balance of creamy, frutty and nutty. If you love over night oats, you will love this pudding. A pudding for breakfast sounds exciting isn't it!? This is a no-fuss breakfast dish. For all you healthy eating people, here's a easy dish that's a super food.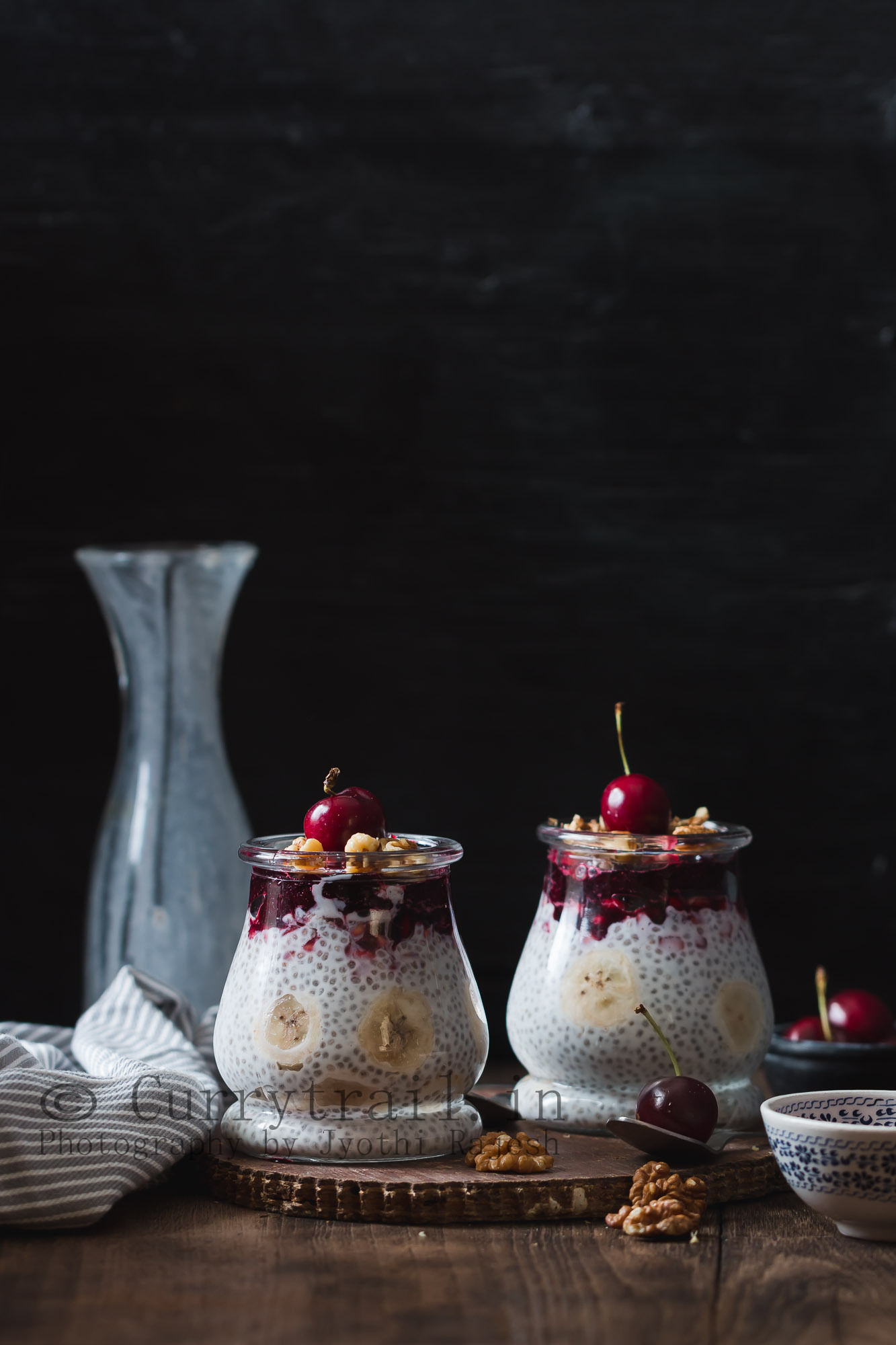 You may want to check our other pudding recipes as well-
Another overnight breakfast recipe we have –
Overnight French Toast Casserole
Don't forget to Subscribe to CurryTrail Recipes below to get our newest recipes delivered straight to your inbox.
LOVE THIS RECIPE? KEEP IN TOUCH AND DON'T MISS OUT ON ANY OF CURRYTRAIL RECIPES! FOLLOW ME ON INSTAGRAM, PINTEREST, FACEBOOK, TWITTER, GOOGLE+.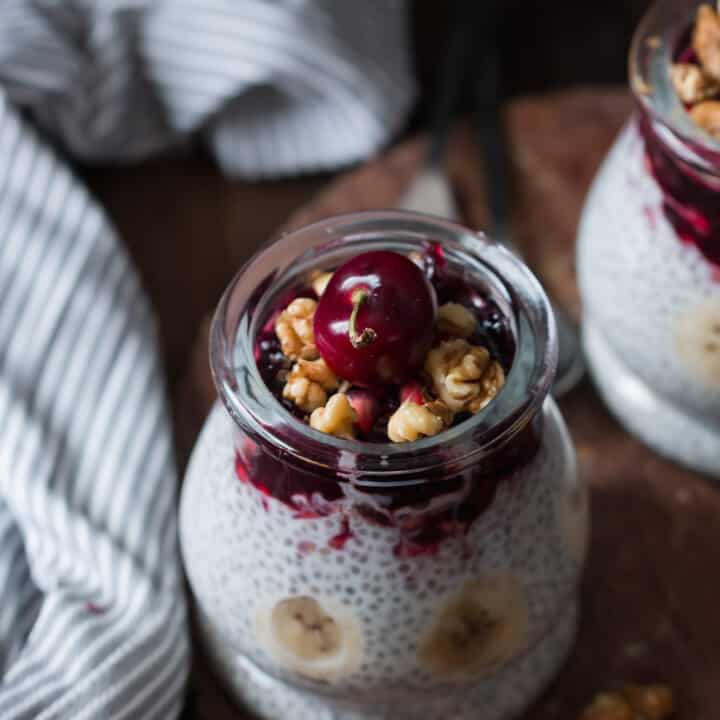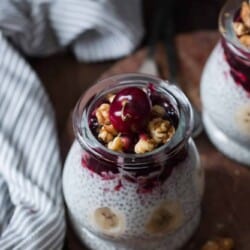 Creamy Chia Breakfast Pudding
Serve it as breakfast, snack or light dessert.
Ingredients
½ cup chia seeds
1 ½ cup thick coconut milk
1 ½ tablespoon maple syrup or honey if you cant get maple syrup
½ cup cherry puree
¼ cup pomegranate seeds
4 ripe bananas
Nuts of your choice
Instructions
In a small bowl combine chia seeds, coconut milk and maple syrup. Let it sit for 15 minutes. Then refrigerator overnight.

Chop the pitted fresh cherries into small pieces. Place the chopped fresh cherries(about ½ cup) and 2 tablespoon sugar. Cook on medium flame stirring constantly. While stirring keep mashing the cherries with the back of the spoon. Once cherry turns soft, and turns thick turn off flame. Keep aside.

Just before serving, place sliced bananas into the serving cup. Divide chia pudding into two cups. Top with cherry puree or any fruit puree you like (best with berries), pomegranate seeds and nuts. Serve.
Notes
Note : Prep Time is inclusive of soaking chia seeds in milk overnight. 
Nutrition
Calories: 587kcalCarbohydrates: 80gProtein: 9gFat: 33gSaturated Fat: 22gCholesterol: 0mgSodium: 22mgPotassium: 1007mgFiber: 15gSugar: 41gVitamin A: 100IUVitamin C: 16.7mgCalcium: 221mgIron: 6.5mg
"PIN IT" TO YOUR BREAKFAST BOARD