Overnight baked French toast casserole is warm, comforting and easy to make! Get all the prep work done the previous night and next morning just sprinkle the crumb and bake.
Spiced with cinnamon it's that comforting breakfast you want to have on a lazy morning!
Nothing comforts like warm cinnamon French toast early in the morning like Nutella Strawberry French Toast Roll Ups , French toast sticks , coconut French toast. Also check out our French onion tart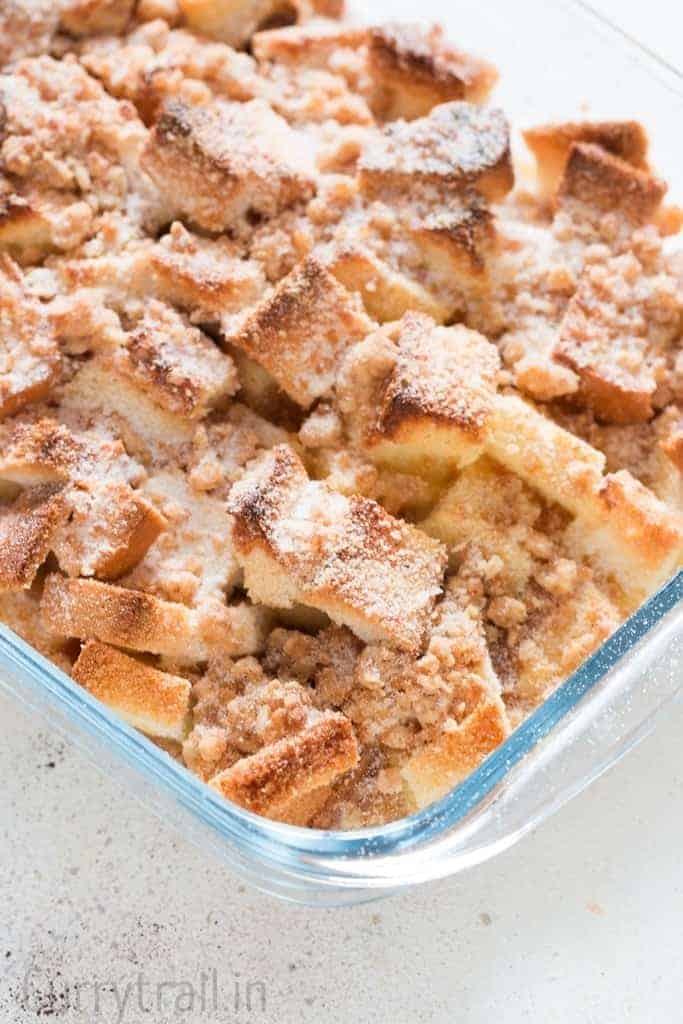 Jump to: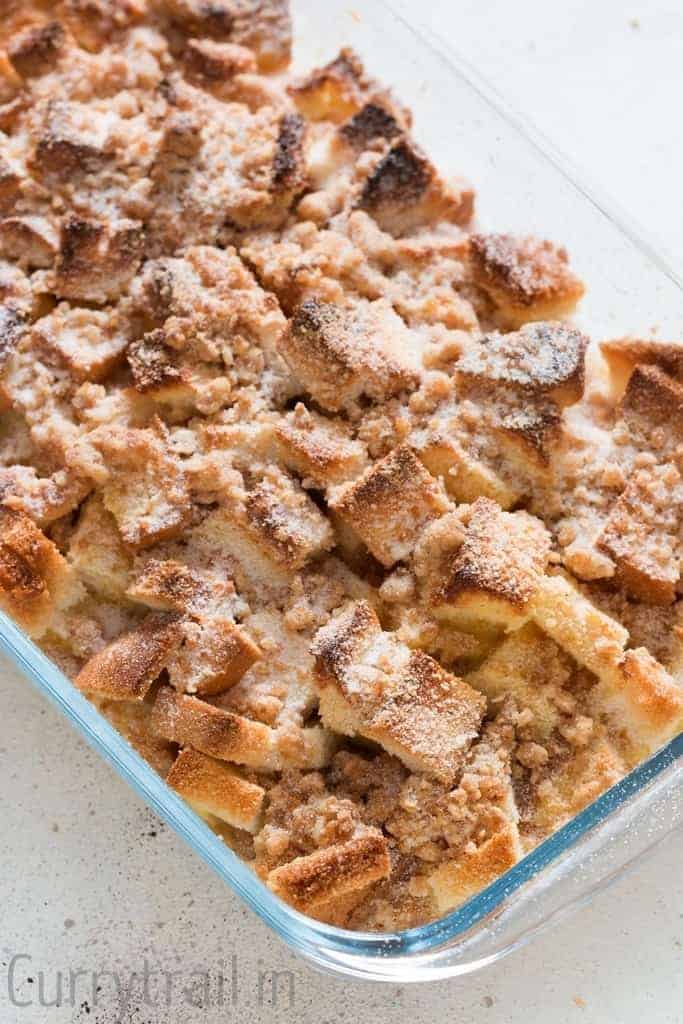 Ingredients you'll need
Here's what you'll need-
1 French bread (or any white bread)
6 eggs
½ cup sugar (I used 2 tablespoon less from ½ cup)
2 cups milk
1 cup heavy cream (or half and half)
1 tablespoon vanilla extract
¼ teaspoon salt
½ cup flour
½ cup brown sugar
1 teaspoon cinnamon powder
¼ teaspoon salt
½ cup unsalted butter (cut into cubes)
How to make overnight French toast casserole
Slice bread into cubes. Spread bread on the casserole.
Whisk eggs, sugar, milk, cream and vanilla essence. Pour the mix over the bread and shake it well to ensure all the bread cubes are soaked in the liquid.
In separate bowl crumble flour, brown sugar, cinnamon powder, salt and butter into crumbly mix.
Cover both and let it chill overnight in the fridge.
Next morning sprinkle butter-sugar-cinnamon crumble mix on top.
Bake in preheated at 350F for 20-25 minutes or until golden brown.
Dust with powdered sugar. Pro-tip: do not use icing sugar because the moment you sprinkle it, it's vanished. For the look and for better texture on the top using powdered sugar.
Serve and enjoy!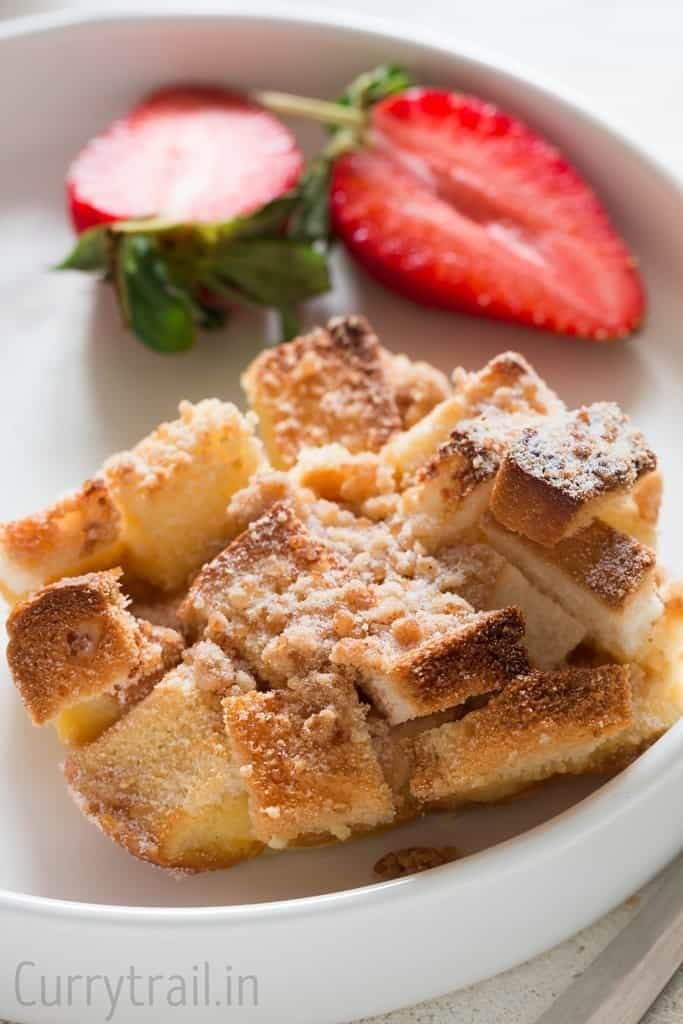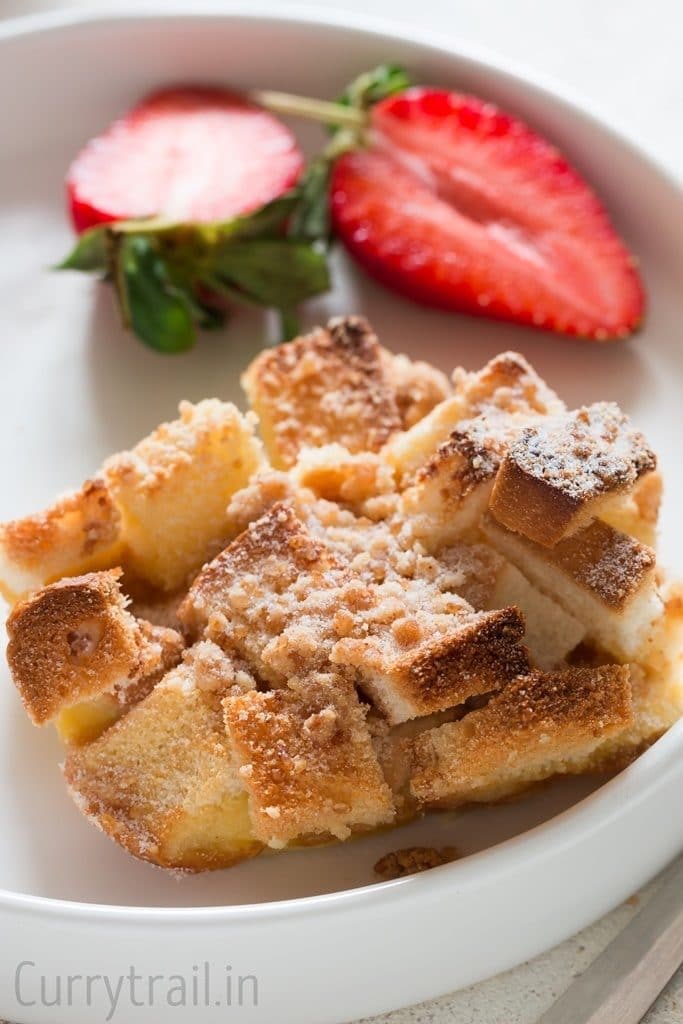 FAQS
Best breads to use for baked French toast casserole?
French dry bread are best. Avoid bread that are too soft as it will turn very soggy when egg mix is poured over.
Apart from French loaf you can possibly use cinnamon rolls, croissants, Challah bread, bagels, even biscuits. Digestive biscuits, broken into chunks and spread on casserole with egg-milk-cream liquid to soak it up and crumble on top.
If you are experimenting with biscuits, I recommend you to do the entire prep process just before baking. Don't make it ahead and in refrigerator overnight.
Can I make French toast baked casserole without overnight prep?
Yes you can. You follow the same process and the recipe as it. Instead of prepping previous night, chilling in fridge overnight, you make the whole thing in the morning or just when you want to bake. You slice the bread, pour egg-milk-cream-sugar liquid over the top, sprinkle the butter-cinnamon-sugar crumble on top and bake. It should turn out ok I guess.
Can I use cast iron to bake French toast?
You definitely can.  That's the goodness of these wonderful cast iron pots and pans you have. They can be used to cook on stove top and also slide them in oven for baking. It does wonders. For the quantity mentioned in the recipe you probably want to split into 2 cast irons (entirely depends on the size of the cast iron pan).
How to make French toast casserole that does not taste egg-y?
I don't know about you, but soggy egg-y bread is not my favorite. Few tips that you can use to make your French toast bake non soggy-
After soaking bread in the casserole overnight, you may shake the casserole to bread down any scrambled eggs on the bottom, or else you could transfer into new casserole just before baking. This ensures the egg gets spread out instead of sticking to one portion and making a scrambled egg around that portion.
Use a wide casserole or baking sheet to ensure even browning without getting soggy.
Can this be made ahead?
Yes, you can. Do the prep work overnight and bake the next morning as instructed.
If you are thinking of preparing the casserole much ahead i.e more than 8 hours (overnight), remember bread and raw eggs soaking in the bread might not be good after 2 days. Don't let uncooked eggs and bread sit for longer than 12 hours in the fridge.

Once baked you can store leftovers covered with foil or plastic wrap (to prevent it from drying) and refrigerate it. Use it within a day.
BREAKFAST RECIPES TO TRY:
Nutella strawberry French toast roll-ups
Don't forget to Subscribe to CurryTrail  Recipes below to get our newest recipes delivered straight to your inbox.
LOVE THIS RECIPE? KEEP IN TOUCH AND DON'T MISS OUT ON ANY OF CURRYTRAIL RECIPES! FOLLOW ME ON INSTAGRAM, PINTEREST, FACEBOOK, TWITTER.
HAVE YOU TRIED ONE OF MY RECIPES? I'D LOVE TO SEE WHAT YOU'VE MADE! TAKE A PICTURE AND USE THE HASHTAG #CURRYTRAIL ON INSTAGRAM SO I CAN SEE! I'LL DO A HAPPY DANCE IF YOU TRY MY RECIPE AND SHARE IT WITH US!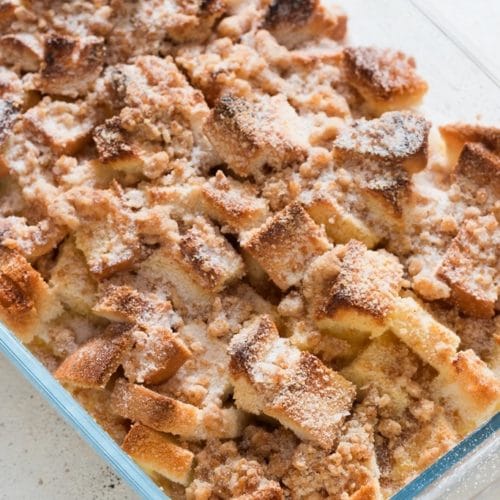 📋RECIPE: Overnight Baked French Toast Casserole
Overnight Baked French toast casserole is warm, comforting, wonderful and easy! Get all the prep work done the previous night and next morning just sprinkle the crumb and bake. Spiced with cinnamon this breakfast is the perfect breakfast you want to have during that lazy morning any weather! A warm brunch on a weekend is a delight!
Print
Pin
Rate
Ingredients
1

French bread )

(or white bread

7

eggs

½

cup

sugar

(I used 2 tablespoon less from ½ cup to make it less sweeter)

2

cups

milk

1

cup

heavy cream

(or half and half)

1

tablespoon

vanilla extract

¼

teaspoon

salt

½

cup

flour

½

cup

brown sugar

1

teaspoon

cinnamon powder

¼

teaspoon

salt

½

cup

unsalted butter

cut into cubes
Instructions
Grease a 9 X 13 inch casserole or baking tray with butter.

Use a serrated knife to cube the bread into one inch pieces and put into the casserole.


In a big wide bowl beat eggs, sugar, milk, cream, vanilla extract and salt.


Slowly pour liquid over the bread, evenly over the bread. Cover with cling film and refrigerate it overnight.


In another bowl crumble flour, brown sugar, cinnamon powder, salt and butter cubes. Let the mixture be crumbly. Cover with cling film and chill it in fridge overnight.


Take the casserole out of the fridge when you are ready to bake.


Pre heat the oven to 350 degree F.

Sprinkle the butter-cinnamon-sugar mix generously over the soaked bread.


Bake for 30-35 minutes till browned.


Remove the casserole from the oven. Sprinkle with powdered sugar. Cut out a portion of it into a serving plate and drizzle some maple syrup while the baked French toast in still warm. Serve immediately.
Notes
The baking time depends on the size of the casserole and how deep it is. The deeper the casserole the longer it will take to bake to golden brown. Please adjust the time as per your casserole or baking tray size.
Nutritional Info – Please keep in mind that nutritional information provided is only a rough estimate and can vary greatly based on products used.
Nutrition
Calories:
575
kcal
|
Carbohydrates:
65
g
|
Protein:
14
g
|
Fat:
29
g
|
Saturated Fat:
17
g
|
Polyunsaturated Fat:
2
g
|
Monounsaturated Fat:
8
g
|
Trans Fat:
1
g
|
Cholesterol:
221
mg
|
Sodium:
500
mg
|
Potassium:
254
mg
|
Fiber:
2
g
|
Sugar:
31
g
|
Vitamin A:
1099
IU
|
Vitamin C:
1
mg
|
Calcium:
151
mg
|
Iron:
3
mg